In:
It's August and Royal Caribbean news this week really heated up with lots of news and changes.  It's hard to pinpoint the biggest but if I had to pick one, it would be centered around Royal Caribbean's two newest ships.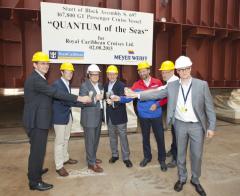 On Friday, Quantum of the Seas and Anthem of the Seas moved one step closer to being built...at the same time! Quantum of the Seas kicked things off with its official keel-laying, which officially begins formal construction of the ship.  
Right after that, Anthem of the Seas had her steel-cutting ceremony.  We're still about 18-24 months away from both ships taking passengers but it's starting to get exciting!
Royal Caribbean News
Join us for the first ever Royal Caribbean Blog Cruise!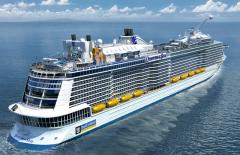 We're so excited to announce the first ever group cruise for readers and staff of RoyalCaribbeanBlog.com aboard Quantum of the Seas!  This is an exclusive group where we are inviting you, our readers, to join us on one of the first Quantum of the Seas sailings on an 8-night cruise to the Caribbean.
This Royal Caribbean Blog group cruise is all about enjoying this brand new ship with other fans who are big fans of Royal Caribbean.  Don't miss this opportunity to check out the brand new cruise ship as well as be a part of exclusive events for those that book with our group!
For more details on booking the cruise, the itinerary and prices, check out the Royal Caribbean Blog group cruise page and if you have any questions, email me!
Royal Caribbean Around the Internet
The Miami Herald's readers helped another reader who wanted the recipe for a salad dressing that was offered on Royal Caribbean cruises back in the 1980s.
Cruising with Kids? Fox News has a list of what the cruise lines do to accommodate children.
Speaking of kids, Royal Caribbean thinks cruising is a family affair and all generations can enjoy it together.