In:
Liberty of the Seas is one of three Freedom Class cruise ships in Royal Caribbean's fleet, and offers some incredible amenities and activities onboard. Here are five really fun things to enjoy while aboard Liberty of the Seas.
5. Sabor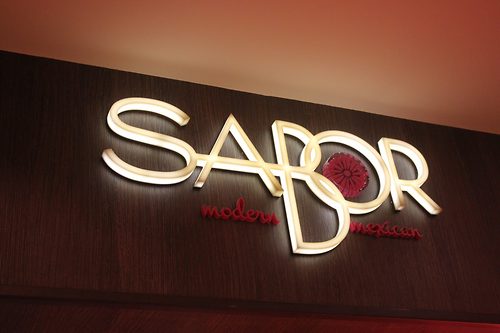 What can we say, we really like Sabor Modern Mexican on Royal Caribbean's shjps and if you happen to go on a Liberty of the Seas cruise, a visit to this specialty restaurant is a must do.
Sabor distinguishes itself by offering excellent quality Mexican food.  This is not a run-of-the-mill forgetful Mexican food. Rather, you get creative dishes made from fresh ingredients.
By far, the freshly made guacaomole is the star of Sabor. Sure, we cannot get enough ahi tuna tacos, Chicken-Stuffed Jalapeños or those wonderful margaritas, but the guacamole is just so good that it alone is worth the visit.
4. Splashaway Bay Aqua Park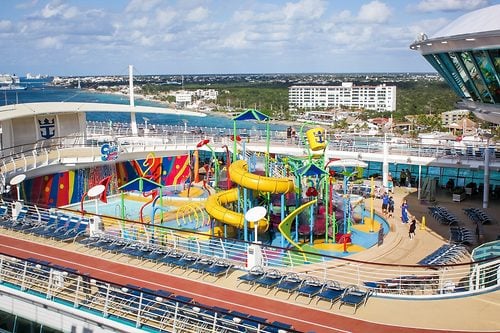 Liberty of the Seas is one of the few Royal Caribbean ships to offer its guests the cruise line's newest take on aquatic adventure park.  In fact, Liberty of the Seas was the first ship in the fleet to recieve Splashaway Bay.
So what makes Splashaway Bay so cool? This fun spot is full of waterlides, water cannons, waterfalls and more.  It is the kind of place kids will never want to leave. The gigantic drench bucket and a multi-platform jungle-gym mean not only will the kids get (and stay) drenched while playing there, they are going to have a great time doing it.
What makes Splashaway Bay special is the fact it is the latest and greatest water play area option in Royal Caribbean's fleet.  Including some of the fun things to do included later on in this blog post, it makes Liberty of the Seas one of the best ships if you are cruising with kids.
3. Panoramic staterooms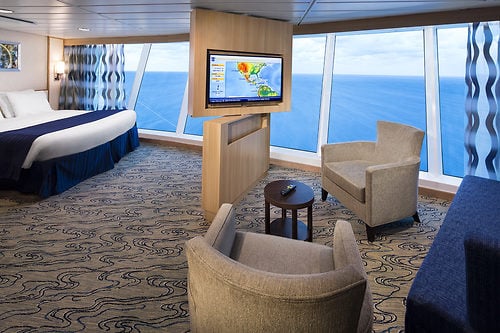 If you think staterooms on a cruise ship are the same from ship to ship, then you need to see the panoramic oceanview staterooms on Liberty of the Seas.
A few years ago Royal Caribbean began adding staterooms that have floor-to-ceiling glass windows that provide a spectacular view.  Granted, these rooms lack a balcony, but having such an unobstructed view at your disposal is such a treat.
Ranging in size from 191 to 215 square feet, the panoramic oceanview staterooms on Liberty of the Seas offer lots of space and a view you never tire of seeing.
2. Saturday Night Fever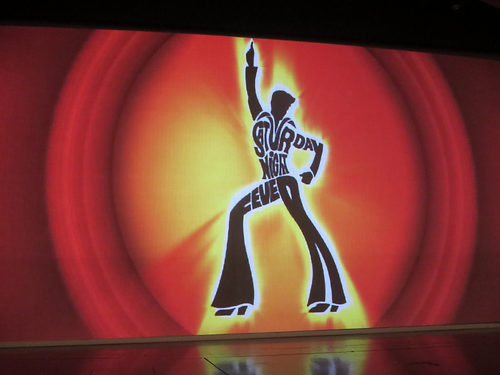 Select Royal Caribbean ships offer Broadway shows for their guests to enjoy, including Liberty of the Seas. Since 2011, Liberty of the Seas has been offering guests the opportunity to see Saturday Night Fever onboard, and the show is included with their cruise fare.
The musical depicts Tony, an ambitious Brooklyn teen who spends his Saturday nights disco dancing. It is a nostalgic look back to the 1970s with plenty of classic music to enjoy.
1. Waterslides
No sailing aboard Liberty of the Seas is complete without a few rides down its amazing "Perfect Storm" waterslides. 
Liberty of the Seas features the first Boomerang style waterslide at sea, named Tidal Wave.  The hair-raising slide features a steep drop that propels riders up a near vertical wall for a moment of weightlessness and into free fall.
There are also two racer slides, Cyclone and Typhoon, which promise even more thrills, as guests shoot down each slide for a wet and wild finish.
Your favorite
What is your favorite thing about Liberty of the Seas?  Is it on our list or do you have something you think is worth the cruise fare alone? Tell us about in this blog post's comments!