I'm a big fan of taking cruises and over the years, I've grown fond of cruising with Royal Caribbean and my favorite thing to do when I'm not actually on a Royal Caribbean cruise is to share my passion for cruising on Royal Caribbean with other fans.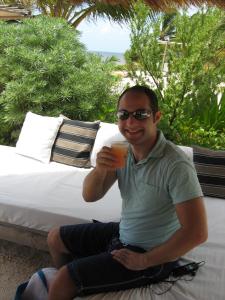 My name is Matt Hochberg and I've been focusing on Royal Caribbean cruises for the last decade and this blog is an extension of my passion for talking, documenting and sharing everything Royal Caribbean.  I don't work for Royal Caribbean, and I'm not a travel agent.  I just really, really like cruising with Royal Caribbean. 
My hope is this blog acts as an outlet for you just as much as me to relish in getting as much Royal Caribbean information as possible.
Royal Caribbean Information
Royal Caribbean Blog offers daily coverage of news and information related to the Royal Caribbean cruise line along with other relevant topics of cruising, such as entertainment, news, photo updates and more.  
Here's hoping that this blog will offer you a little view into the many offerings Royal Caribbean features.  Whether you cruise multiple times per year or you're new to cruising, I hope you find this blog a useful resource for keeping up to date with what's new and exciting with Royal Caribbean.
Accolades
Royal Caribbean Blog has been lucky enough to be recognized by mainstream news media, the cruise community and others for its quality content.  Here are just a few of the distinctions this blog has been bestowed with
2014 USA Today Readers' Choice Award
2015 Cruise Chat Favorite Cruise Blogger
2015 Cruise Chat Favorite Cruise Podcast runner up
2016 Cruise Chat Favorite Cruise Podcast runner up
Commentary
Royal Caribbean is always changing how it operates, from shifting ships from one port to another to building brand new cruise ships that defy what I thought were the limits of a cruise ship, there's almost always something to talk about and this site is not only our forum for sharing our thoughts, but also a place for you to feel free to share what's on your mind with us and our other readers.
Advertising
If you are interested in advertising with Royal Caribbean Blog, please click here for more information.
Royal Caribbean Blog does allow paid advertising such as banner ads, cruise booking leads and partnerships in the form of complimentary goods and services in exchange for reviews.  We are not owned or operated by any travel agency.  In fact, we are completely independent, but like many web sites these days, we do look for ways to make some money on the side to help with the costs of running a web site.
We assure you that despite our advertising endeavors, we are committed to being as fair-minded and unbiased as possible.  Our advertising relationships are great and help pay for things like site costs, shore excursions and new site features.  But at the end of the day, this site was built for Royal Caribbean fans, by Royal Caribbean fans. Period. 
Royal Caribbean Photos
We all love pictures, so I'll post as many as I can. PLEASE send in yours as well (info @ royalcaribbeanblog.com), and be sure to let me know how to credit your work in the blog!
Please note: Royal Caribbean Blog does not claim to represent Royal Caribbean International in any way and is not employed by or affiliated with Royal Caribbean International.