In:
If you have a Royal Caribbean cruise booked, or are thinking of booking one, then you probably have a lot of questions.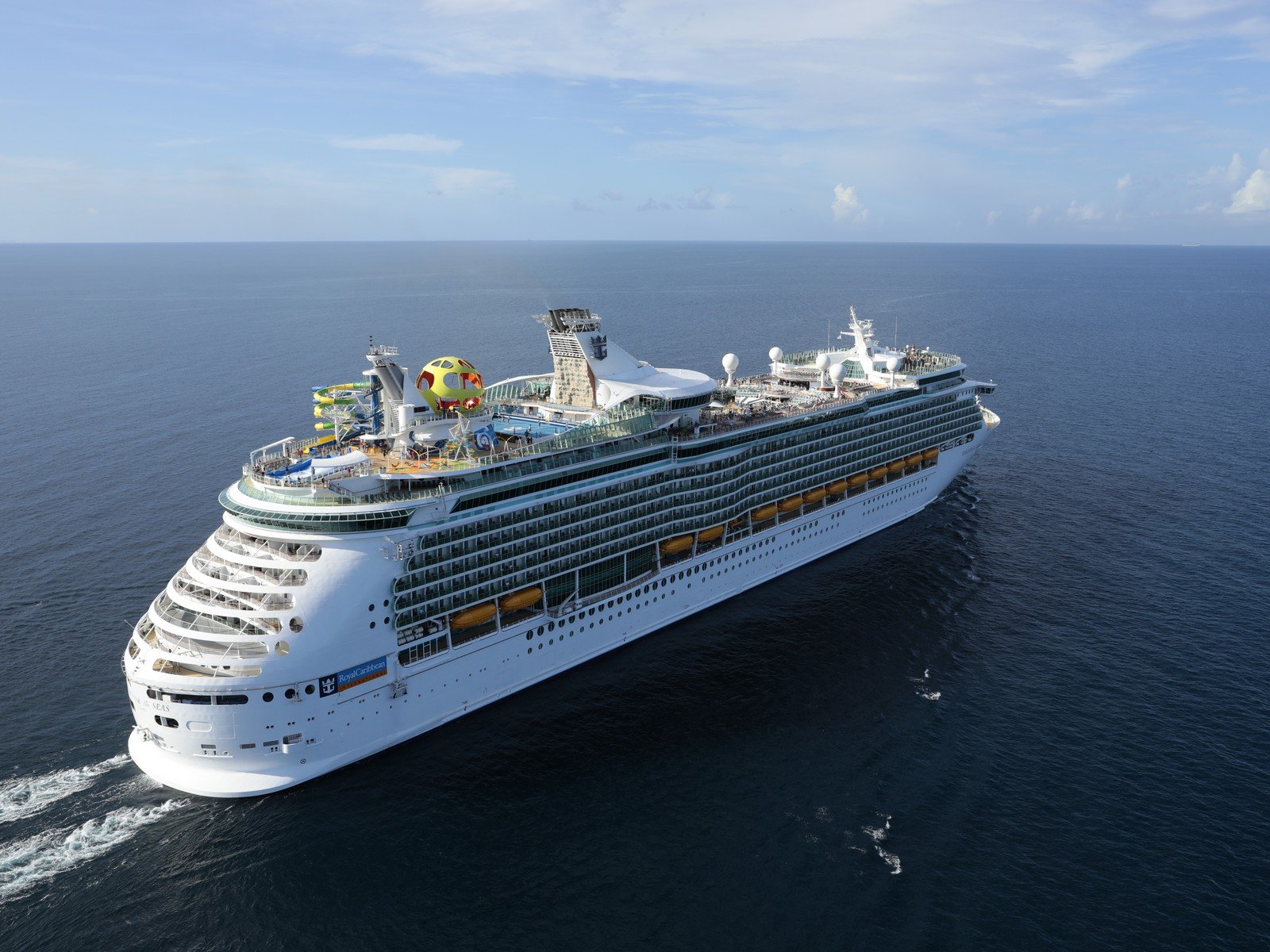 Even the most seasoned cruisers will have a query or two, so I have compiled a list of the most frequently asked questions about Royal Caribbean.
Hopefully these will save you time later and put your mind at ease with what to expect on your cruise.
Booking a cruise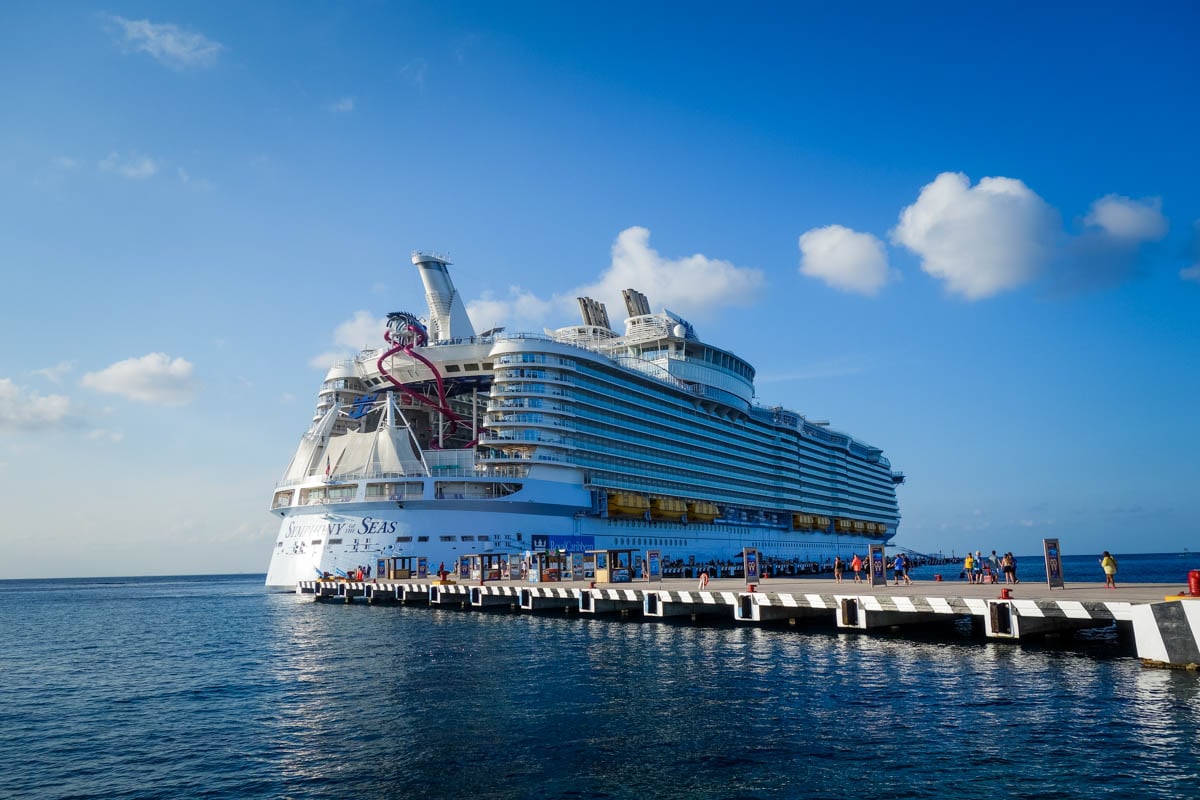 When should I book a cruise?
If you want to get the best possible price on your cruise, then you should try to book as soon as you can.
Ideally, you can take advantage of lower prices by booking a cruise 12, 18 or even 24 months in advance so that you can find the best cabin selection and lowest prices.
Once a sailing is open for booking, you may reserve a cabin at any point all the way until the week of the sailing.  Of course, capacity is limited and options will dwindle while prices rise over time.
How do I get the best deal on a cruise?
There are a few good strategies for getting the best price on a cruise and spend less overall.
Cruising on the cheap means looking beyond the obvious choices for a cruise. Here are a few good ways to save money:
I also recommend working with a good travel agent to not only find the best pricing, but to help answer common questions and concerns. A good travel agent should cost you nothing to use, and they are very helpful in scenarios you never even imagined.
The ships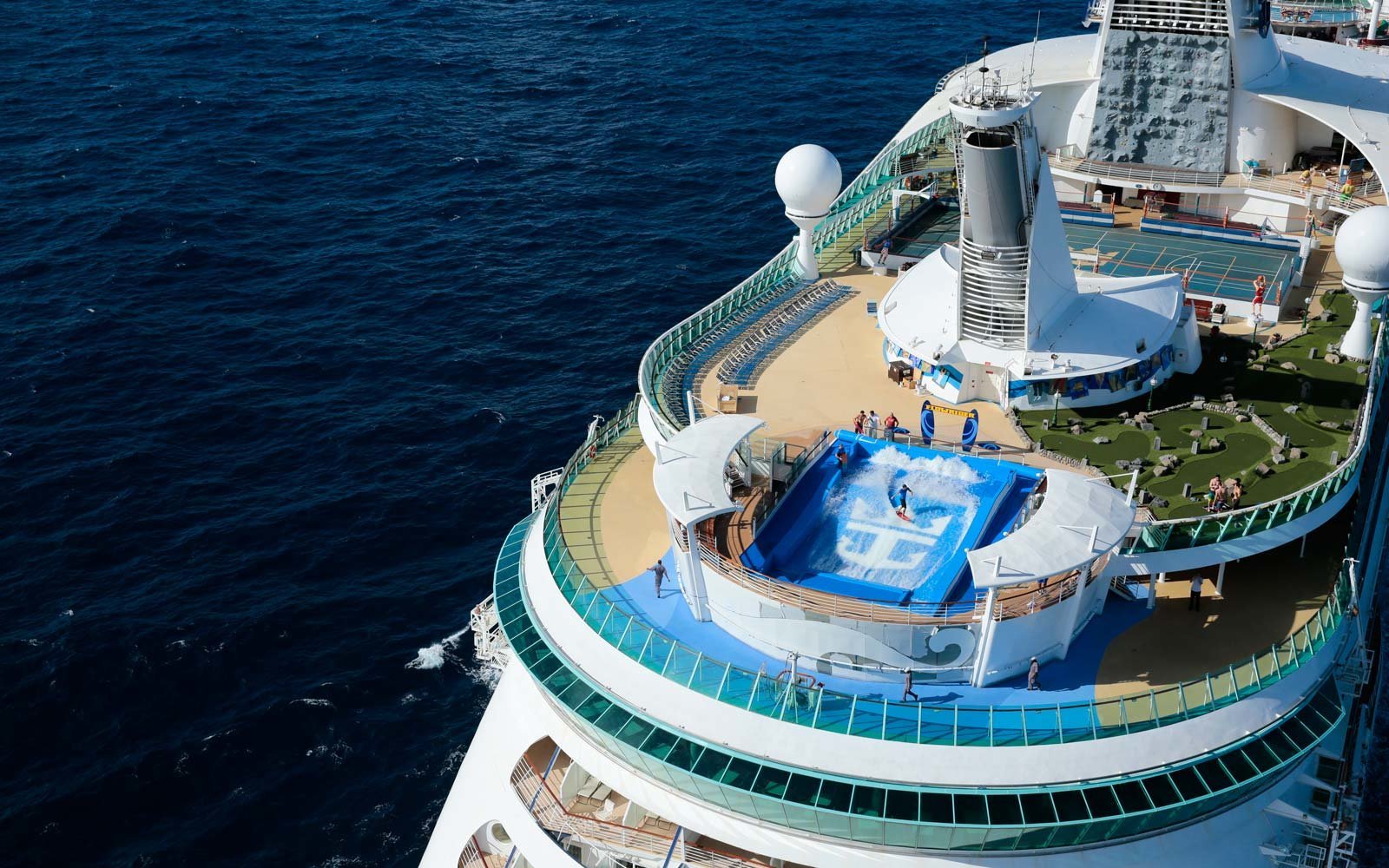 Which is the best Royal Caribbean cruise ship?
While this is a common question, the best cruise ship depends on what you want and like for your cruise.
Each ship offers different activities, amenities, entertainment and special features. The key is finding the ship that offers the right combination of these that appeal to you, while also sailing to the places you would like to visit.
Some important considerations you should look at in any ship is what it offers in:
Kids Programming
Signature activities (waterslides, Broadway shows, thrill attractions, open spaces, et al)
Where it is sailing
What are the different classes of Royal Caribbean ships?
Royal Caribbean categorizes its cruise ships into classes, similar to auto manufacturers creating different models of cars.
There are eight different Royal Caribbean ship classes, and within each class there can be a differentiating options and add-ons that make ships different from each other.
The Oasis Class ships are the largest ships in the world, while the Quantum Class offer some of the latest innovations with a large size as well.
The Freedom and Voyager Class ships are a generation older, but are still large cruise ships that have recently been upgraded as part of the Royal Amplified program.
The Radiance and Vision Class ships combine a small size with many activities that have been added over the years. These are stylish ships that offer a refined and fun cruise atmosphere.
Majesty & Empress of the Seas are the oldest ships in the fleet, but they offer a more intimate setting than other larger classes.
Packing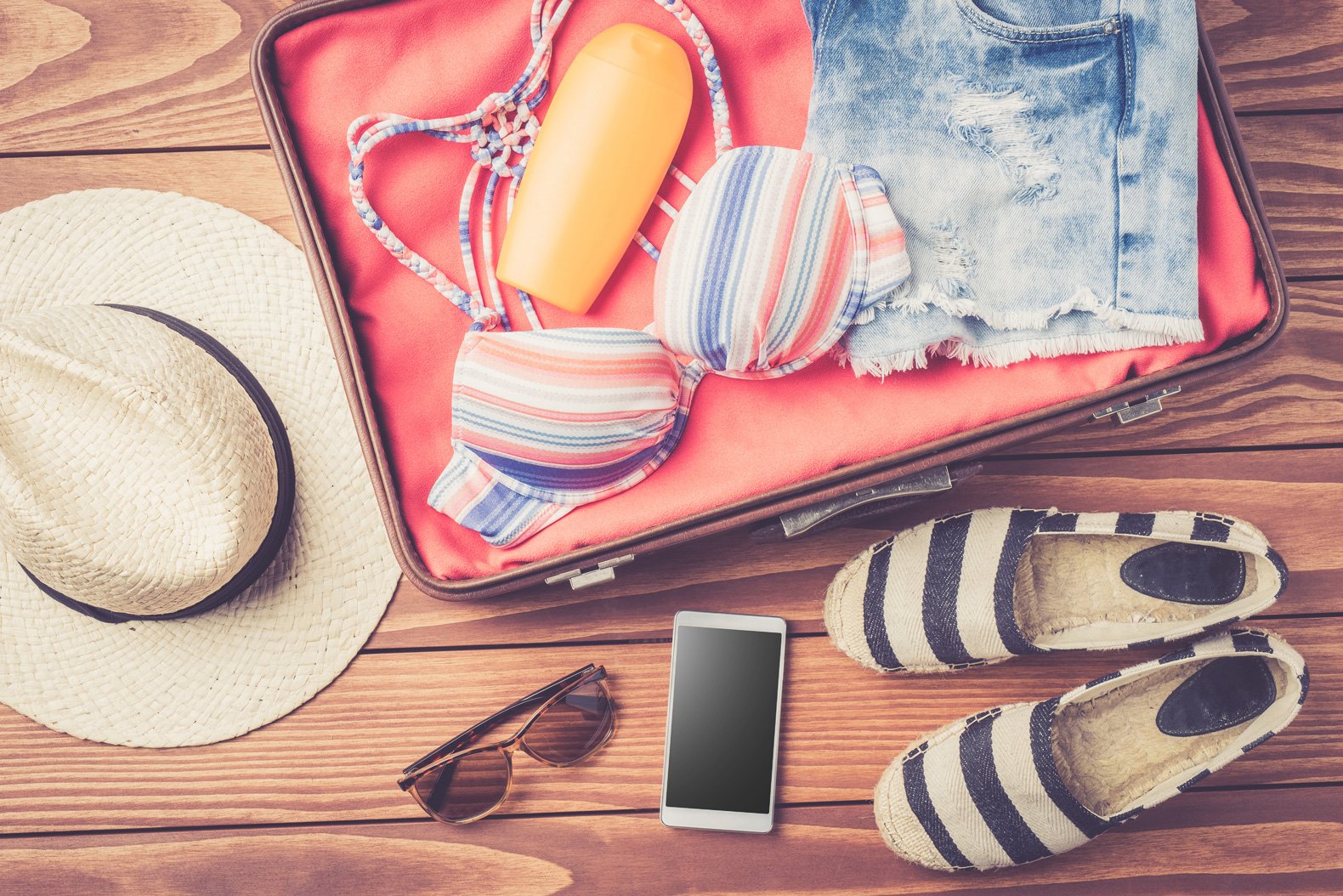 What should I pack for my Royal Caribbean cruise?
We all know that feeling... you are getting ready for your vacation, but you cannot shake that feeling that you are forgetting something.
You should begin with personal items that you will need during your cruise, such as medications and prescription medicine.  It is a good idea to pack extra medicine in case of a travel delay getting home.
Onboard the ship, you will need not outfits and clothes for time onboard, on shore, in the pool, and out for dinner. If you are cruising to the Caribbean, Mexico or other warm weather destinations, bring a hat for protection from the sun. If your cruise vacation will take you to Alaska, Canada & New England or Northern Europe, be sure to pack a jacket and several sweaters.
Be sure to pack a bathing suit, but you will not need towels as you can borrow them from the cruise line anytime you want.
What are dress codes?
The dress code rules for Royal Caribbean provide dress suggestions for the three types of dress codes onboard: casual, smart casual and formal.
Casual: You're on vacation – relax! Jeans, polos, sundresses and blouses are all the right amount of laid back. Please keep swimwear to the Pool Deck. Shorts are welcomed for breakfast and lunch.
Smart Casual: Think of this as a step up from your typical dinner wear. Dress to impress with collared shirts, dresses, skirts and blouses, or pantsuits. Jackets, sports coats and blazers are snazzy and welcomed. 
Formal: Make it a night out in your best black-tie look – suits and ties, tuxedos, cocktail dresses or evening gowns. There can be 1-3 formal nights during a sailing and is at the ship's discretion.
In practice, dress codes are infrequently enforced by the main dining room staff. 
If you are asking does everyone dress up to that extent, the answer is a resounding no. If you walk the Royal Promenade or around the Centrum of a Royal Caribbean ship around dinner time on formal night, you will spot plenty of people dressed to these specifications, but many opt for a more casual (but still dressed up) approach. Collared shirts with no jacket or tie for men, or blouses and skirts or leggings for ladies is common as well.
There can be 1-3 formal nights during a sailing and is at the ship's discretion.
Dining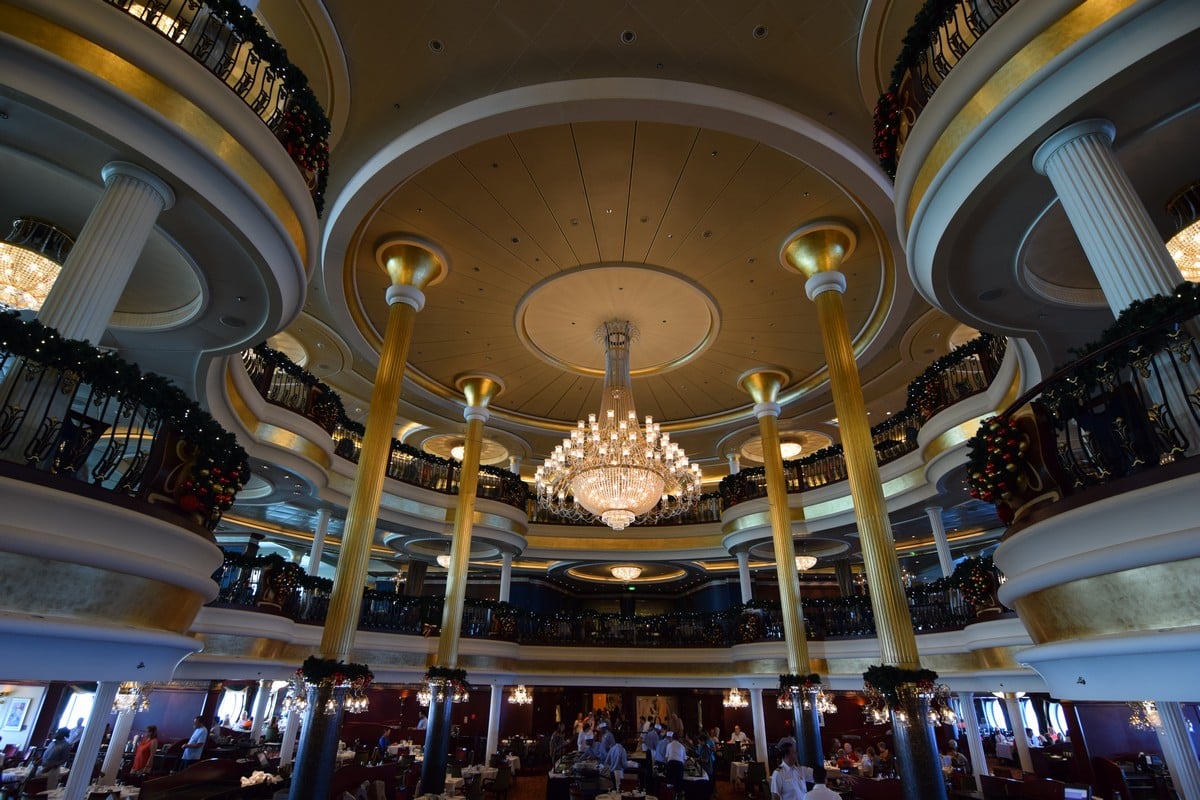 What dining options are included on my cruise?
Every Royal Caribbean ship offers a combination of complimentary and extra-cost dining choices. Keep in mind there is a great variety of complimentary dining choices that will cost you nothing extra.
Full meals for breakfast, lunch (on sea days) and dinner are available in the main dining room, as well as the Windjammer buffet.  Depending on the ship, there are also complimentary grab-and-go dining choices you can go to for a snack or even a meal.
You also have the choice of specialty restaurants that cost extra, but offer different cuisines and atmosphere not available elsewhere on the ship.
What if I have special dietary requirements?
Royal Caribbean is very accommodating when it comes to guests who have special dietary needs. The cruise line can handle a number of requests, such as food allergies, Gluten-free, Kosher, Low-fat, and Low-sodium.
Vegetarian Meals (including Indian-style vegetarian) are available on all menus in the Dining Room and Windjammer Cafe every day. Guests do not need to make a special request for these meals.
Lactose-free/soy milk, Ensure, and kosher meals are available no extra charge. All you have to do is notify Royal Caribbean at least 45 days prior to sailing (90 days for European/South American Itineraries).
For any and all dietary requests, contact your travel agent or Certified Vacation Planner and request that the remark be noted in your reservation details. If you made your reservation online at royalcaribbean.com you may add your request to the "update personal information." section. You may also send an e-mail request to [email protected]; please include in the e-mail the guests' names, booking number, ship name and sail date. E-mails will receive an automated response. 
Drinks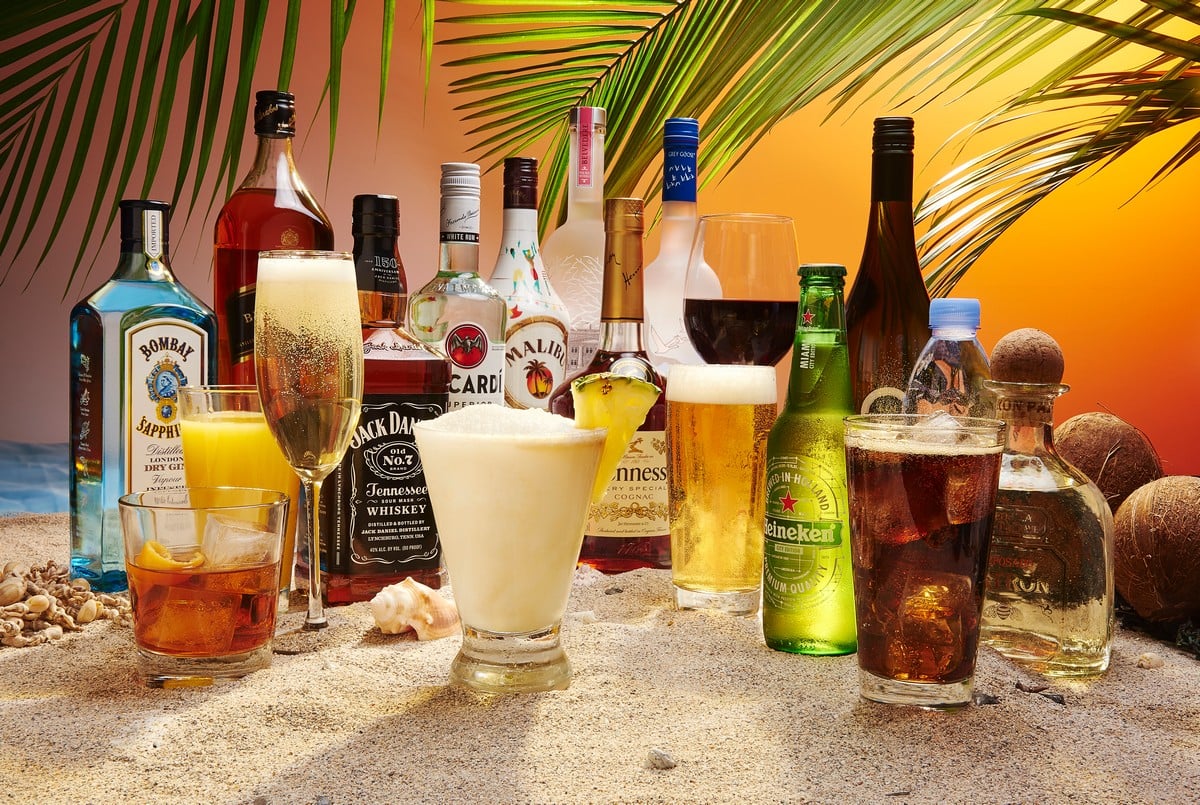 What drinks are included with my cruise?
Royal Caribbean provides all its guests on all its cruise ships a few different drinks throughout the day that are included in your cruise fare.   These drinks include
tap water
milk
tea
coffee (regular and decaf)
lemonade
iced tea
flavored waters
juices (at breakfast and not fresh squeezed)
Hot chocolate (via instant packets)
These drinks are available throughout your cruise at a number of locations, so there will always be somewhere to get something to drink for free.
Other beverages, such as beer, wine, soda, espresso and bottled water cost extra.
Is a Royal Caribbean drink package worth it?
A very popular choice for guests who want to enjoy unlimited extra-cost beverages for a fixed cost is to buy a drink package.
There is no denying that a drink package has the potential to save money, but it depends on how you maximize its value.
If you can drink enough every day of the cruise, want to sample a wide variety of beverages, and like the convenience it offers, then a Royal Caribbean drink package is definitely worth it.
You do not need to get a drink package, but for many guests, the ability to lock in the price of a drink package and enjoy unlimited drinks without concern of spending too much is a very popular incentive.
Costs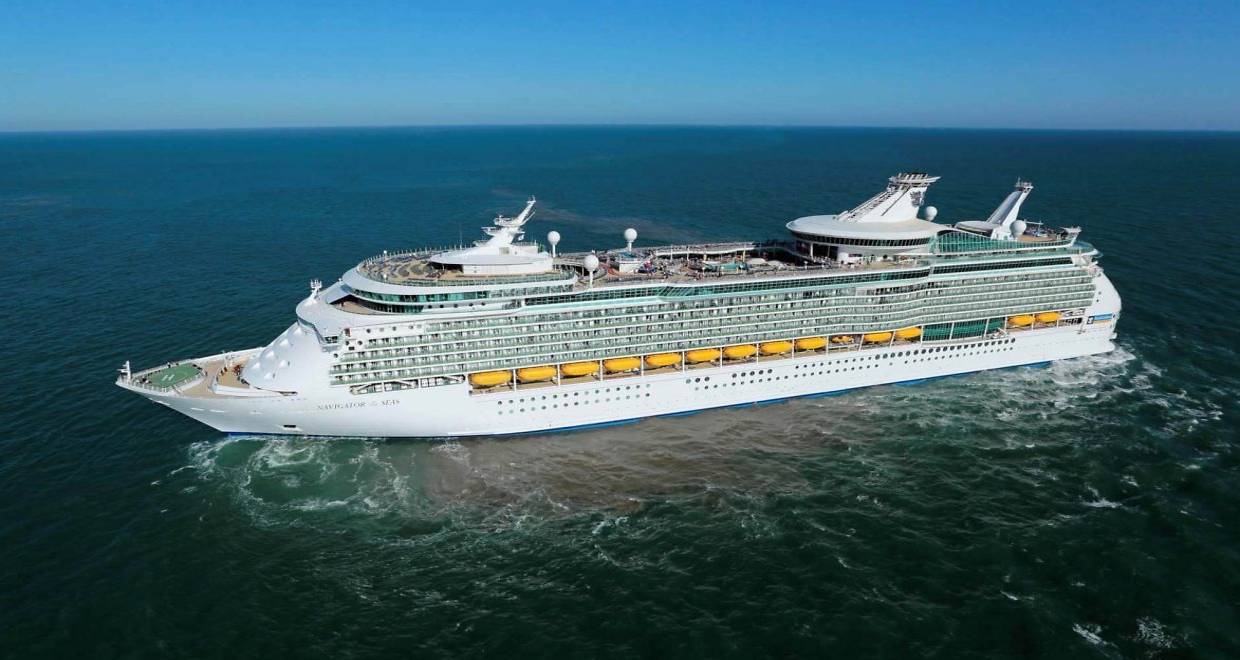 What is included in my cruise fare?
A cruise remains a really good vacation value, especially when you factor in meals and entertainment.  Over the years, Royal Caribbean has realized some of its guests prefer to add onto the core experience, and began offering more options to tack onto their vacation.
Your cruse fare includes some basics:
Entertainment & Nightlife

Broadway shows
Live music and comedy shows
Aqua shows and ice-skating shows
Parades and parties on the Royal Promenade
Comedy and live jazz club
Nightclubs, karaoke and sing-along piano bars
Lounge games and contests, such as trivia, Battle of the Sexes and more

Signature Activities

FlowRider® surf simulator
Rock Climbing Wall
Quantum Class

RipCord® by iFLY® skydiving simulator
North Star observation capsule
SeaPlex play space with bumper cars, roller skating, trapeze school, video games and more

Oasis Class
Multi-level waterslides and slides on select ships

Meals, beverages & room service

Main dining room
Breakfast, lunch, dinner and snacks in various venues throughout each ship
Windjammer casual buffet on every ship, open for every meal
Variety of juices, teas, coffees, soft drinks and water throughout the ship and with meals

Kids & Teens

Adventure Ocean Youth Program
DreamWorks Experience
Fuel teen club
Teen lounge area with movies, games and live DJ

Fitness Center & Sports Activities

State-of-the-art fitness center
Table tennis
Full-size basketball and sports court
Group fitness classes, such as sunrise stretch, fab abs, dancing, meditation and more
Seminars on topics like weight loss, reflexology, stargazing and more
Deck Games — Volleyball, pool games, tug of war and other active challenges
Running / jogging track

Pools & Outdoor amenities

Outdoor poolside movies
Adults-only Solarium
Multiple whirlpools
Traditional swimming pools plus beach ambience areas and sports zones
H2O Zone and Splashaway Bay for kids
Royal Caribbean cruises are not all inclusive, but you can certainly go your entire cruise without spending anything extra.  
Royal Caribbean has designed its ships to be "modular", where you can choose to add certain extras if you prefer.
Are shows included on Royal Caribbean?
The stage shows, and so much of the live entertainment onboard, is included with your cruise fare.
Royal Caribbean is known for its Broadway shows, as well as original productions found in various theaters around the ship. These are all included in your cruise fare.
Other activities and events, such as trivia, game shows and dance classes are also included.
Sometimes Royal Caribbean may offer an experience or backstage tour that costs extra, but these are not required to experience the performances.
Important rules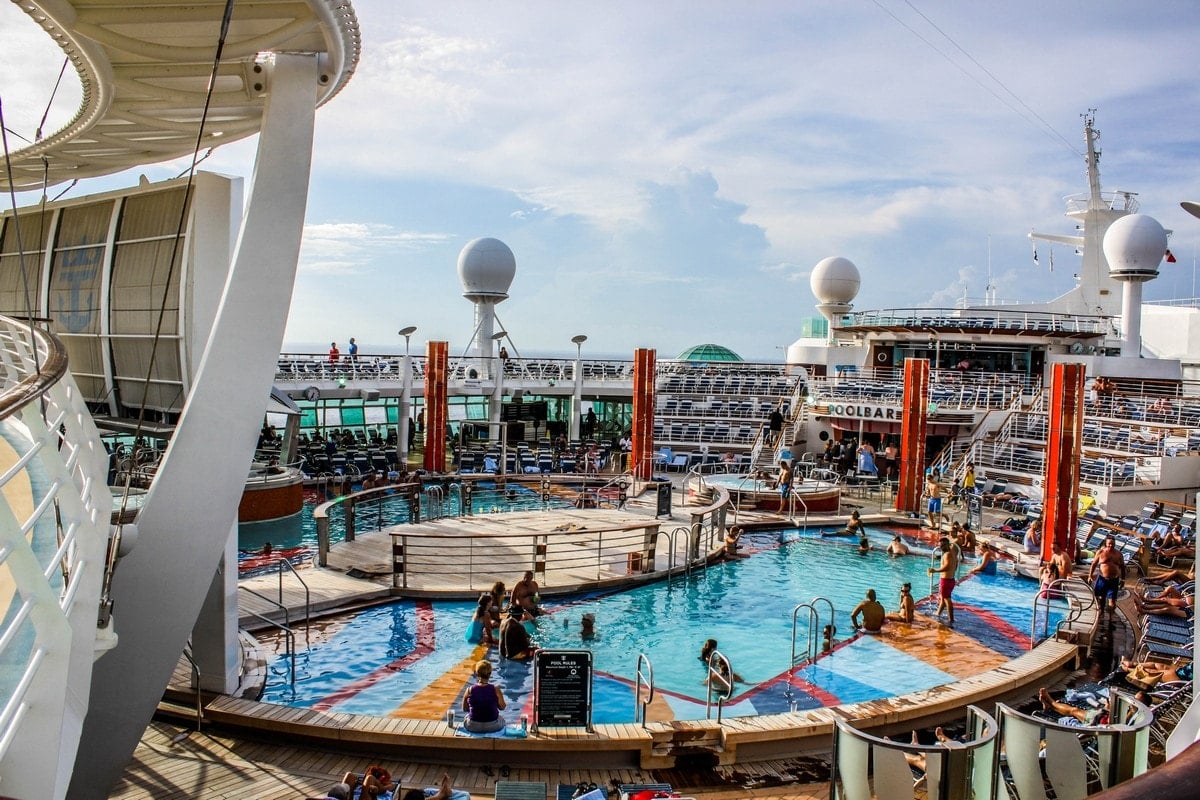 What you aren't allowed to bring onboard
You should be aware there are some important rules about what you cannot bring on a Royal Caribbean cruise.
For the safety and well-being of all guests, certain items are prohibited from being brought onboard.
Prohibited items that may not be brought on your cruise include:
Firearms & Ammunition, including realistic replicas.
Sharp Objects, including all knives and scissors. (Note: Personal grooming items such as safety razors are allowed. Scissors with blade length less than 4 inches are allowed.)
Illegal Drugs & Substances
CBD Oil / CBD Products
Candles, Incense, Coffee Makers, Clothes Irons, Travel Steamers & Hot Plates. (Items that generate heat or produce an open flame. This includes heating pads, clothing irons, hotplates, candles, incense and any other item that may create a fire hazard. NOTE: The only exception to this policy are curling irons and hair straighteners. Matches and normal lighteners are allowed onboard. However ""torch lighters"" and novelty lighters that look like guns are not allowed onboard. Torch lighters emit a powerful concentrated flame, and therefore are prohibited.
Hoverboards
Martial Arts, Self Defense, and Sports Gear, including handcuffs, pepper spray, night sticks.
Flammable Liquids and Explosives, including lighter fluid and fireworks.
Hookahs & Water Hookah Pipes.
HAM Radios
Baby Monitors
Electrical Extension Cords
Dangerous Chemicals, including bleach and paint.
Perishable Food & Meat Products
Alcoholic Beverages (except two bottles of wine on embarkation day)
These and other similar items will be confiscated upon being found. Alcoholic beverages, illegal drugs, flammable liquids, explosives, and dangerous chemicals will not be returned.
You cannot share drink packages
Let me be perfectly clear: it is absolutely forbidden to share the Royal Caribbean drink package benefits with anyone else. Period.
Royal Caribbean warns that guests who share a drink with someone who does not have a drink package can risk having their drink package benefits revoked with no refund.  
The package is intended for only the guest who buys the package.  If you want to buy a drink for someone else, you can do so and pay for it individually along side your drink package transaction.
Kids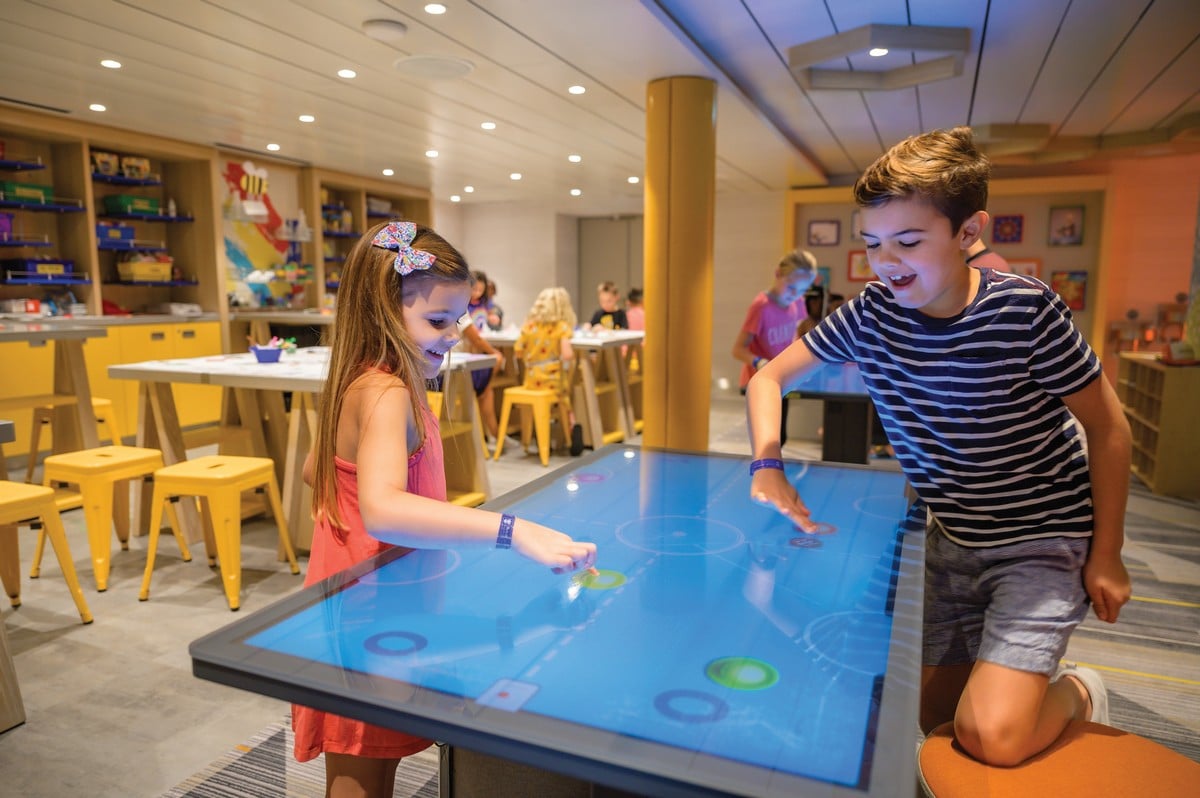 What's available for kids on a Royal Caribbean cruise?
The heart of Royal Caribbean offerings for kids is the Adventure Ocean program, which offers supervised programming for children of nearly any age.
Nurseries are available on most ships for toddlers 6 months to 36 months old, where parents can drop children off throughout the day and evening. Use of the nursery comes at an hourly charge. Young children can enjoy soft play areas and age-appropriate toys, as well as cribs and cots for napping or sleeping.
For children 3 years old through 11 years old, Adventure Ocean is available for no additional cost every day of your cruise. There's a lot for kids to do here and the programs specialize for each age group.  It's a mix of learning, play time and socializing.
Kids are checked in and out by parents and it's fully supervised by Royal Caribbean staff. The requirement for children to participate is to be at least 3 years old and be fully potty trained.  There are after hours programs offered as well in Adventure Ocean for an hourly fee if parents want their kids to have supervision later into the evening.
The teens club is for older kids through 17 years old, which is about empowering teens to do their own thing but still offer activities and fun events to help introduce everyone.
There are teen-only spots onboard the ship where they can come and go as they please. Each day there are teen only events planned in the Cruise Planner, where teens can have dedicated time to enjoy special activities. 
WiFi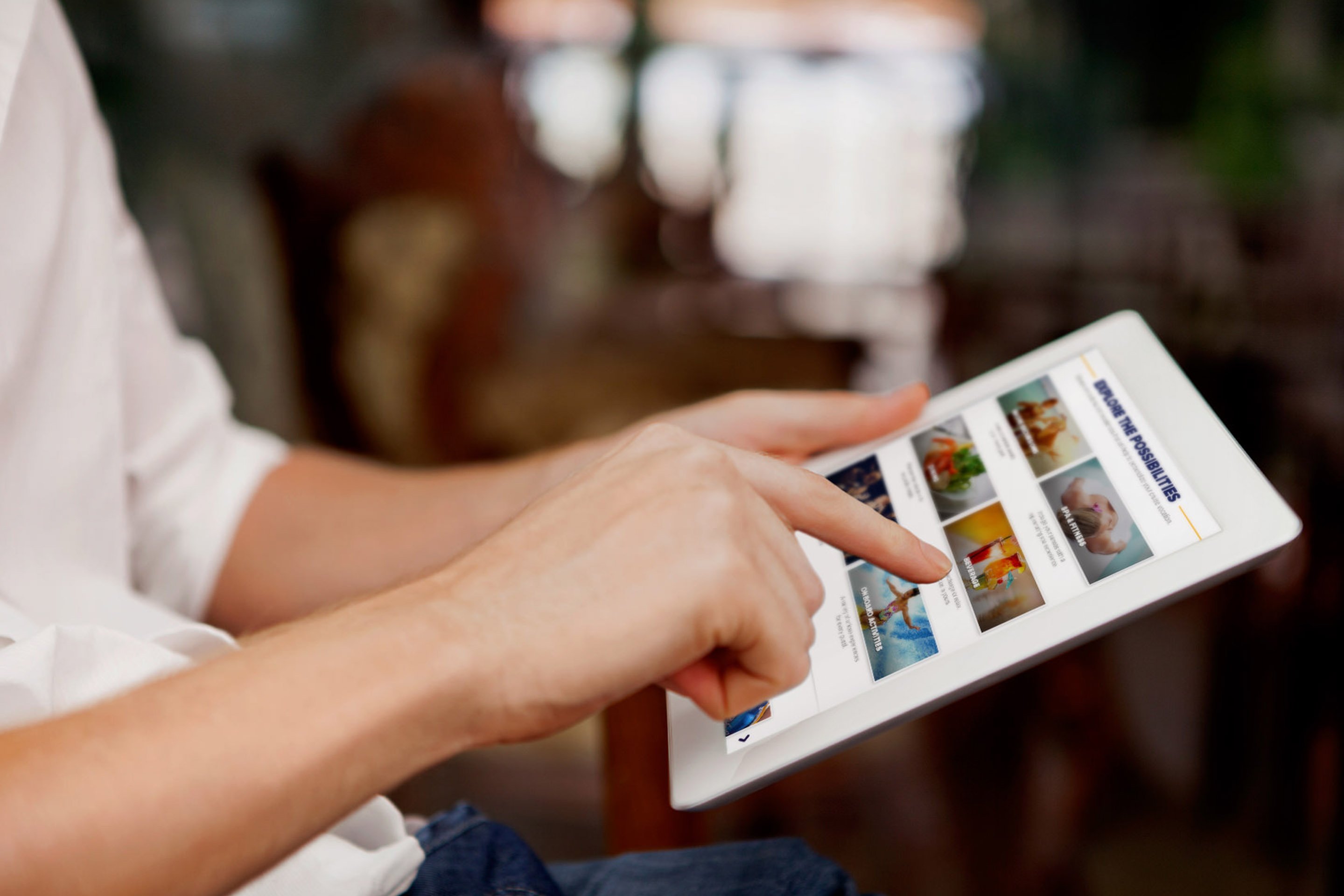 Is internet access available on Royal Caribbean?
All Royal Caribbean ships offer internet at sea access for an additional cost.
Royal Caribbean calls its internet service "Voom", and it relies on satellite technology for staying connected.
Depending on the ship, the actual speeds and performance will vary. On Oasis and Quantum class ships, you can easily stream video from services like Hulu or Netflix, or engage in Facetime and Skype video calls.
Some other ships, notably Royal Caribbean ships that spend time outside the United States, the speeds may not be quite as fast, but fleetwide, the Voom service is significantly better than onboard internet available through other cruise lines.
How much does WiFi cost?
The cost of a Wi-Fi internet package varies depending on the number of devices and the service package purchased. 
Royal Caribbean offers unlimited plans that can be purchased onboard the ship or pre-purchased prior to the cruise. 
Without a doubt, you will save money by pre-purchasing your Voom internet package via Royal Caribbean's Cruise Planner site.
Prices begin at $15.99 per device, per day for 1 device on the Surf (slower) access plan, and $19.99 per device, per day for 1 device on the Surf & Stream (faster) access plan.
Still have a question?
If you still have a question, or are unsure about something mentioned here, be sure to ask a question on our message boards!