In:
Planning a cruise often starts with setting a budget, which sometimes means forgoing the cruise cabin of your dreams for something smaller and cheaper.
In the past, you could only switch your cabin category by paying the "sticker price" on an upgraded stateroom, but now there's a second option: RoyalUp.
RoyalUp is Royal Caribbean's stateroom bidding program that allows passengers to bid on higher cabin categories before their cruise, offering the chance to "win" an upgraded stateroom.
RoyalUp upgrades often come at a lower price than upgrading your stateroom on your own, making it an attractive option for those looking for the best deal on a better stateroom. Whether switching from an interior to balcony or Junior Suite to Grand Suite, here's what you need to know about Royal Caribbean's RoyalUp program.
How RoyalUp works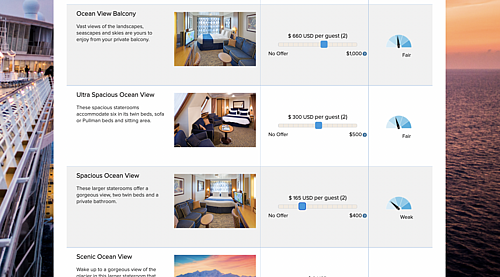 When RoyalUp bidding opens for your sailing, you'll receive an email offering you the chance to bid on select stateroom options. The bidding process has a few steps:
Browse through the stateroom options available and choose the amount you're willing to pay for each upgrade. You don't have to make bids on every room category, so just bid on the staterooms you're interested in.
You will enter your credit card information when making the bid. If you win the bid, you'll receive an email confirmation and your card will be charged the bid amount automatically. Note that your card is not charged unless you win the bid.
Once you win the upgrade and have your credit card charged, you are automatically switched to the higher-category stateroom!
Note that RoyalUp is non-refundable, although cancellations and modifications are allowed prior to a bid being accepted. Bids can be accepted up to 2 days before your sail date.
Related: How to upgrade your cabin on Royal Caribbean
How to increase chances of a RoyalUp upgrade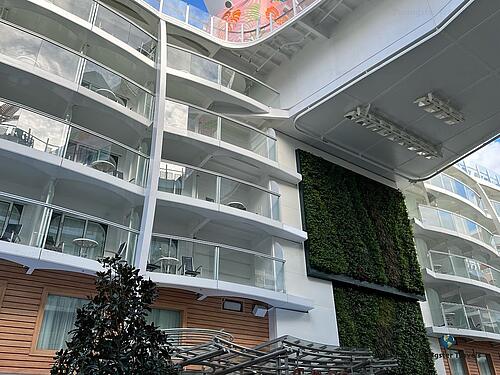 Sailing at less busy times of the year
You may have a higher chance of winning a RoyalUp bid on a cruise with less capacity. Cruises during the off-season may have fewer guests onboard, meaning there are more rooms available.
Even if your cruise will likely be at near-full capacity (cruising during peak season, during holidays, etc.), it doesn't hurt to make a bid. Stateroom categories can open up through last-minute cancellations, meaning you can still have a chance to be upgraded even on the busiest of sailings.
Related: The best time to go on a Caribbean cruise
Bid higher than the minimum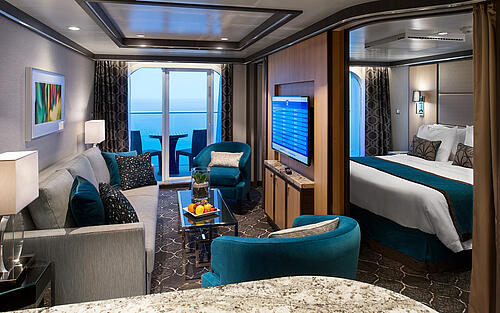 RoyalUp bids have a minimum and maximum bid. Minimum bids depend on the stateroom category, with some upgrades starting at $30 per person whereas other bids may begin at $200+ per person. Bid amounts on RoyalUp range from weak to strong.
While no winnings are guaranteed, it's recommended to bid at least a little bit higher than the minimum bid. Many passengers may bid the minimum and hope they win the upgrade, but if your bid is even $10 more than another passenger, you will have a higher chance of receiving the upgrade.
Top things to consider before bidding through RoyalUp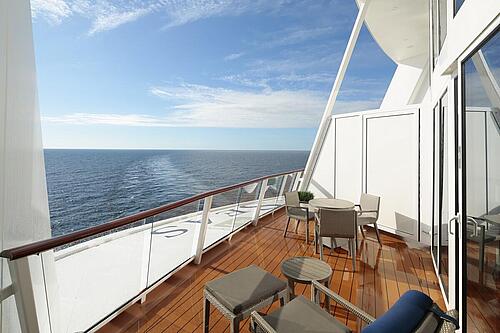 If you're on the fence between bidding and not bidding for a stateroom upgrade through RoyalUp, there are a few key considerations that may help you decide if it's right for you. While the idea of receiving a cabin upgrade may seem appealing, RoyalUp comes with its own set of pros and cons.
Look at the cost to upgrade yourself before bidding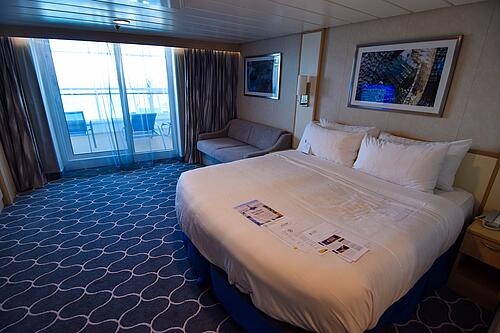 Before bidding on an upgraded stateroom category with RoyalUp, contact your travel agent or Royal Caribbean to check how much it would cost to upgrade your cabin outright instead of through RoyalUp.
Sometimes you may discover that the cost to upgrade your cabin without RoyalUp is not unreasonable. In fact, it's not unheard of to upgrade your cabin for the same price of a low bid or even less! Be sure to check to see what the cost of a (guaranteed) upgrade is before placing a bid through Royal Up.
Related: Royal Caribbean suites guide & review
Understand the room category and possible cabin locations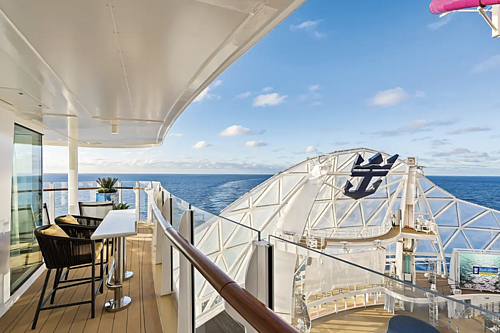 RoyalUp cannot guarantee a specific cabin location, so if location is of utmost importance to you, it may be better to upgrade a stateroom on your own instead of through the bidding process.
If you're bidding on an upgrade from a midship Grand Suite to an AquaTheater suite, for example, your new cabin will be located at the very aft of the ship, which can be prone to more motion throughout the cruise.
Additionally, if you bid from an ocean view to a balcony, you have no control over where the balcony will be located. It may be located midship, or it might be far forward or aft, close to the pool deck, etc.
Bidding is priced per person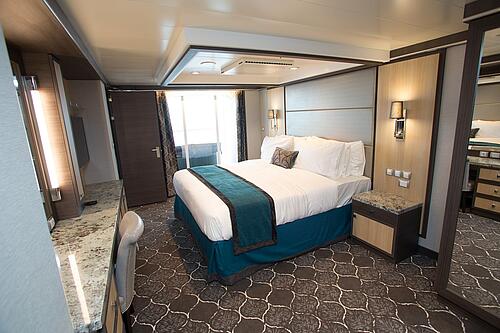 Keep in mind that bids placed through RoyalUp are priced per person on a double capacity basis. If you are a solo traveler, you'll still have to pay the bid amount x2, which can make upgrades more expensive for those cruising solo.
If your stateroom has more than two people, however, you'll only be charged the bid amount for 2 passengers in the stateroom category. Therefore, a $500 bid per person in a room with four guests will only be $1000 total instead of $2000.
Gratuity amounts increase
If your RoyalUp bid takes you from an interior, ocean view, balcony, or Junior Suite to a Grand Suite or above, your daily gratuities will increase from $14.50 per person, per day to $17.50 per person, per day. This will add $21 per person to a 7-night cruise.
RoyalUp will not maintain connecting rooms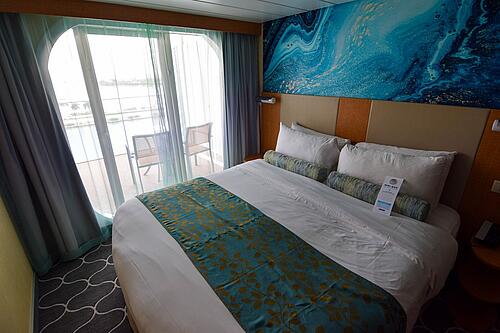 One important note for families before bidding on RoyalUp is that the bidding program will not maintain connecting rooms. If you originally booked a connecting room with friends or family, ensure you are comfortable with the fact that you will no longer be in a connecting room if you win a RoyalUp upgrade.
Related: What's the best cruise ship cabin for my family?
You won't receive double Crown & Anchor Society points
If you're upgrading from a standard stateroom (interior, ocean view, balcony) to a suite, keep in mind that you won't receive double Crown & Anchor Society points through RoyalUp.
RoyalUp stateroom categories available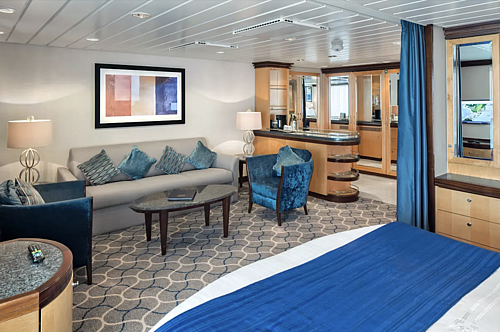 RoyalUp upgrade opportunities differ based on the original stateroom you booked. Usually you'll be able to upgrade on stateroom categories that are 1-2 steps up from your original cabin.
If you booked an interior cabin, for example, you won't typically see the opportunity to bid on staterooms like Owner's Suites and Loft Suites. You will, however, be able to upgrade to ocean view and balcony cabins. The exact room categories available to book depend on the ship.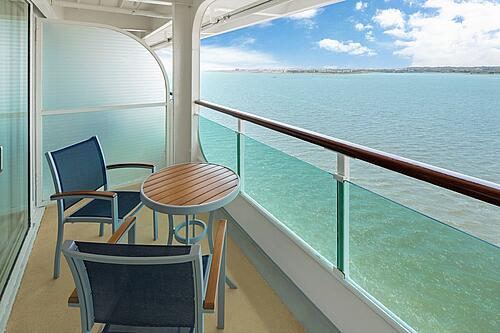 Many passengers bid on suites with RoyalUp, as you can often find a lower price through bidding than upgrading to the suite category outright.
One possibility of a RoyalUp upgrade is from a regular suite category to Star Class, Royal Caribbean's top-tier suite level. Star Class benefits include a personalized Royal Genie service, complimentary specialty dining, complimentary deluxe beverage package, complimentary VOOM internet, and more.
Related: A beginner's guide to sailing in Star Class
How can I access RoyalUp?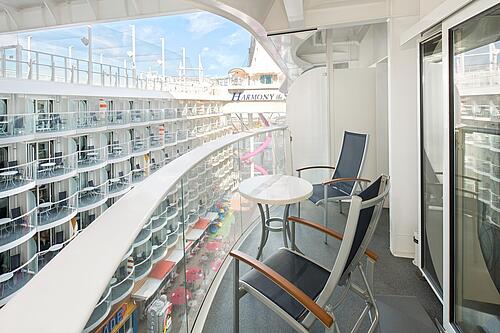 You should receive an email a couple months before your cruise offering you the chance to bid with RoyalUp.
If you haven't received an email, make sure to opt-in to Royal Caribbean International's marketing emails. To do this, sign up on the Royal Caribbean website, opt-in during online check-in, or through the My Reservations area on Royal Caribbean's website.
You can also check if you're eligible to bid on RoyalUp on Royal Caribbean's RoyalUp portal.
Bidding rules and cancellations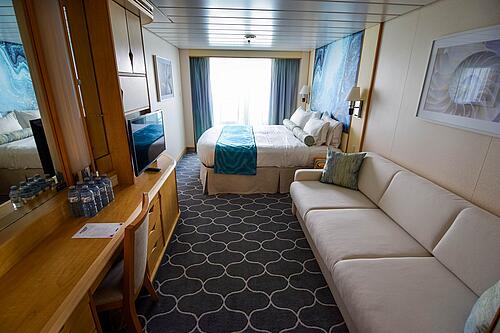 If you bid on RoyalUp and later decide you don't want to upgrade your stateroom, you can choose to cancel the bid. Likewise, if you prefer to modify the bid to a higher or lower offer, you can modify each stateroom category's bid. Be sure to make any modifications or cancellations right away, as you never know when you might receive an upgrade confirmation.
Always be sure to double check your bids before hitting submit, too. While it's unlikely that your RoyalUp bid will be accepted immediately after bidding, be sure to double check your bid amounts. If you meant to bid only $200 per person on an upgrade, do a double check to make sure you didn't accidentally move the slider to $300 or $400!
Learn more about cruise ship cabins and upgrades: