In:
Are you looking for information about the latest news, cruise ship information, or offering by Royal Caribbean? You're not alone.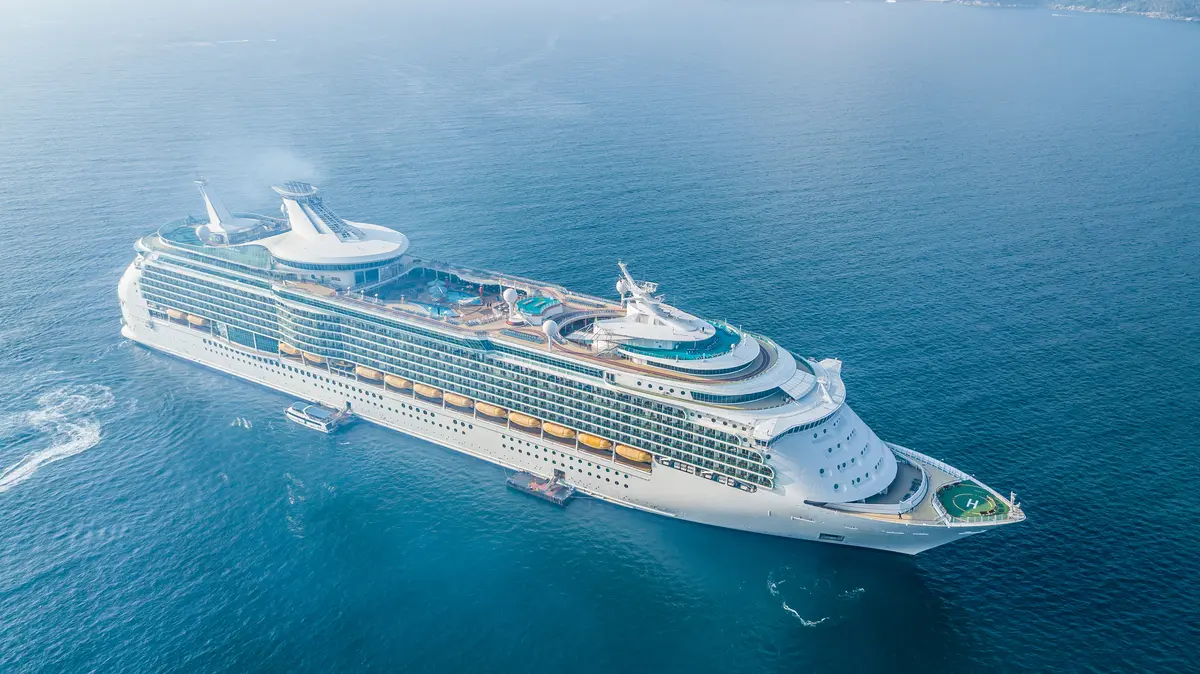 New ships, incidents, and things you can buy for a cruise were among the list of most-Googled things about Royal Caribbean, according to data from Google.
Searches for the popular cruise line rose in January at the start of Wave season and then peaked again in July.
The internet has always been a useful place to get Royal Caribbean news and updates, and interest surrounding a Royal Caribbean cruise nets quite a lot of search traffic.
At Royal Caribbean Group's most recent earnings call, the company reported a doubling in website visits compared to 2019.
In looking at Google's search trends, we get a look at what people are predominately interested in, especially topics that are noteworthy at the time.
Top 10 Royal Caribbean related searches
Google categorizes its search data in two segments: top searches and rising searches.
Top searches are the overall most searched phrases, while rising searches are the things people Google a lot at once, almost always related to something newsworthy.
Think of it like searching for "New York" vs "New Years eve in New York".  The first can be searched throughout the year, but the latter is only relevant in the weeks leading up to the holiday.
Let's look at the rising data, which gives insight into the hottest search trends of the year.  I've omitted queries that are essentially the same phrase, but worded differently:
1. Royal Caribbean cruise man overboard
Just like a car accident on the side of the road, the public can't seem to not be interested when someone jumps or goes overboard from a cruise ship.
Unfortunately there have been a few cruise ship passengers that have gone overboard because of either jumping or doing something they shouldn't do that gets them in a precarious situation.
The media jumps on news related to people going overboard cruise ships because it seems to get attention, probably because people who aren't familiar with cruises may not understand how it could happen.
A 2022 article from The Points Guy points out that cruise ship railings are sufficiently high enough on all decks and balconies to ensure someone does not slip and fall overboard.
"The only way you risk a fall is if you're standing on furniture to peer over the side or climbing somewhere you're not supposed to," the article's author states.
"It's not possible for you to trip over a door frame or slip on a wet deck and fall off of a vessel."
Not being somewhere you're not supposed to, or doing something you're not supposed to, is key to safety at sea, "Play by the rules and remain in control of your actions, and you don't have to worry about inadvertently falling overboard from a cruise ship."
2. Royal Caribbean premier pass
Royal Caribbean made an "oopsie" in March when guests were able to book a VIP pass that didn't actually exist.
Royal Caribbean added a new Premier Pass to its website that appeared to be a new extra cost pass. It included WiFi, exclusive tours and more at a bargain price.
Unfortunately, it was too good to be true. 
An email went out a few days later to inform anyone that bought the Premier Pass was a "system glitch" and was never intended to be put on sale in the first place. Any purchases made were cancelled.
An uproar ensued because people wanted the cruise line to stand by the option, especially in cases where the guests cancelled another purchase in lieu of the Premier Pass.
3. Utopia cruise ship Royal Caribbean
Royal Caribbean's next (and final?) Oasis Class ship will be Utopia of the Seas, and it generated a lot of interest when Royal Caribbean revealed details about the ship.
Utopia of the Seas will debut in summer 2024 and offer 3- and 4-night cruises only, which is a big change for Royal Caribbean.
Typically, new cruise ships start off with 7-night cruises because demand is so high and more lucrative for these cruises.  Older ships usually offer short cruises.
Utopia will instead do short cruises with a stop at Perfect Day at CocoCay, Royal Caribbean's private island in the Bahamas.
Royal Caribbean seems to want to embrace the new to cruise market and target people who have never taken a cruise with a ship that stands out from the competition. The hope is new cruisers that aren't sure they will like a cruise or not tend to go with short cruises, and by giving them one of Royal Caribbean's newest and best ships, it will hook them to this kind of vacation.
Read more: Royal Caribbean has a plan to dominate short cruises with a new ship and private destinations
4. New Royal Caribbean ship 2024
There's actually two new Royal Caribbean cruise ships entering service in 2024, which is a bit unusual.
Icon of the Seas will join the fleet first and sail weeklong itineraries to the Caribbean from Miami. Each cruise also stops at Perfect Day at CocoCay.
In July, Utopia of the Seas will start offering cruises from Port Canaveral. 
5. Royal Caribbean Icon of the Seas
The next new Royal Caribbean cruise ship has garnered a lot of attention, Icon of the Seas.
Icon of the Seas will be the first ship in the Icon Class. She will be 250,600 tons and hold up to 7,600 passengers, both of which are stats that eclipse the current largest cruise ship, Wonder of the Seas.
Not only is she big, but Royal Caribbean is loading her up with all sorts of new offerings.
Icon will have new types of cabins, a water park, new neighborhoods, and plenty of activities inbetween.  It will also offer a bigger array of dining venues, bars and deck-top attractions than any cruise vessel ever built.
6. Royal Caribbean cruise ship storm
There have been a few tropical storms that have had an impact on Royal Caribbean ships this year.
Hurricane Hillary, Idalia, and Lee all forced the cruise line to change plans to avoid the path of the storm.
Cruising in hurricane season has its challenges, but an itinerary change is usually the worst to come out of it. When there is a tropical disturbance, a lot of people take to Google to figure out if there have been any changes or cancellations to their cruise.
Royal Caribbean's chief meteorologist works with ship captains to chart an optimal course and avoid the worst of any storm.  
7. Royal Caribbean cruise 2024
Most likely if you're searching for a Royal Caribbean cruise in 2024, you're looking to plan a cruise for next year.
One of the best strategies is to book a cruise many months in advance (instead of at the last-minute), so people searching for 2024 cruises is about trying to find the best Royal Caribbean cruise to sail on next year.
As previously mentioned, there are two new Royal Caribbean ships debuting in 2024, and that could also contribute to additional interest in a 2024 cruise.
8. Royal Caribbean drink package 2023
Perhaps no extra-cost add-on is as popular as Royal Caribbean's drink package.
There's three primary drink packages you can buy for a Royal Caribbean cruise, in addition to a water package and coffee card.
Drink packages are very popular because they provide an easy and convenient way to let guests enjoy unlimited drinks without having to worry about paying for each drink.
9. Royal Caribbean cruise 2023
It's not surprising there's interest in a cruise this year as well.
The cruise planning process extends to the months and weeks leading up the actual sailing.
From shore excursions to spa treatments to things to do onboard the ship, you can always learn more about your cruise ship and plan around what to do.
10. Carnival Celebration
Not sure if Google goofed on this to include a Carnival ship with Royal Caribbean results, or a lot of Royal Caribbean fans are simply curious about Carnival's newest ship.
The second in the Excel Class, Celebration can accommodate 6,600 guests.