In:
Wonder of the Seas is the largest cruise ship in the world, measuring over 1,100 feet in length and featuring a capacity for almost 7,000 passengers.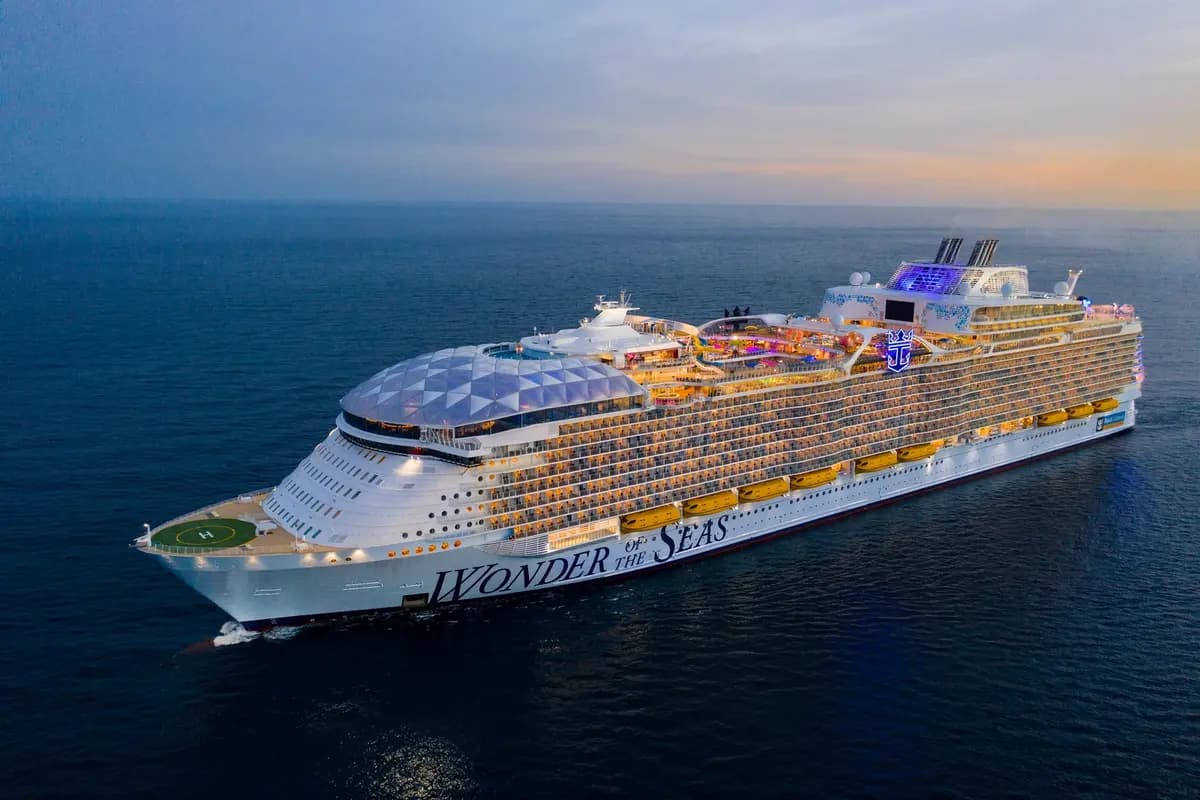 With its opulent furnishings, top-of-the-line amenities, and attentive staff, the Wonder of the Seas offers guests a once-in-a-lifetime cruising experience.
The ship features a range of exciting activities and attractions for guests of all ages, including a casino, spa, swimming pool, fitness center, and multiple dining venues. Plus, with its variety of cabins to choose from, there is something for everyone aboard the Wonder of the Seas.
One of the standout features of Wonder of the Seas is its state-of-the-art design. The ship's sleek and modern exterior is sure to turn heads, and the interior is just as impressive. With its spacious and luxurious staterooms, multiple dining options, and exciting onboard activities, Wonder of the Seas is the ultimate floating resort.
We've put together a guide to help you plan a cruise on Wonder of the Seas and learn more about the amenities, features, staterooms, activities, dining, and entertainment available onboard.
Wonder of the Seas overview
Wonder of the Seas is Royal Caribbean's newest cruise ship, whose inaugural sailing was on March 4, 2022.
She is currently the largest cruise ship in the world, taking the title from her sister ship Symphony of the Seas. At 1,188 feet long, 210 feet wide, and with a gross tonnage of 236,857, Wonder of the Seas is a massive vessel.
She has a capacity of 5,734 guests at double capacity and 6,988 guests total. With 2,300 crew onboard, the total capacity for Wonder of the Seas is 9,288 passengers!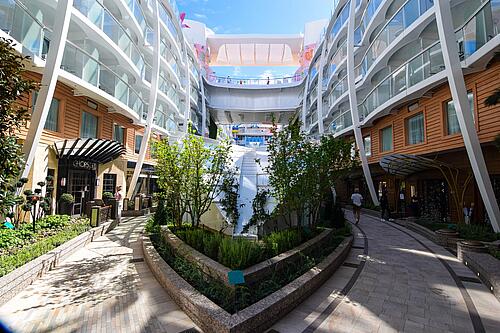 Despite having such a high capacity, it's unlikely that Wonder of the Seas will feel extremely crowded. Due to Royal Caribbean's innovative Oasis Class ship design, Wonder of the Seas is split into several neighborhoods.
The neighborhoods are designed to space out guests and provide a diverse experience throughout the ship, with each neighborhood offering different amenities, activities, and dining.
Like other Oasis Class ships, Wonder of the Seas has the following neighborhoods:
The Boardwalk, meant to evoke nostalgia for oceanfront boardwalks of the past. The Boardwalk is complete with an arcade, candy store, hot dogs, sports bar, and Johnny Rockets.
Pool & Sports Zone, where guests can enjoy the ship's pools, hot tubs, and signature activities on the Sports Court
Central Park, a tranquil area where guests can walk and relax along thousands of plants and flowers. Central Park is home to several restaurants, retail stores, bars, and artwork.
The Royal Promenade, the main thoroughfare on Wonder of the Seas where guests can enjoy bars and lounges, shop, and grab a coffee
Entertainment Place, the hub of signature entertainment on Wonder of the Seas, complete with a comedy club, ice skating rink, theater, and casino
Youth Zone, home to Adventure Ocean programming, an arcade, and teen club
Vitality Spa & Fitness, a peaceful spa and salon with a diverse range of treatments available. The fitness center is available at no extra cost to guests.
Wonder of the Seas differs from her Oasis Class sisters, however, in that she has an eighth neighborhood onboard, the Suite Neighborhood.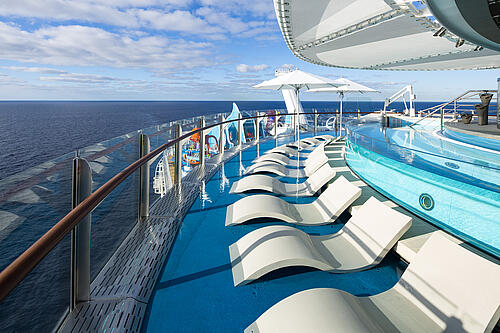 The Suite Neighborhood is an exclusive enclave available just for suite guests on Wonder of the Seas. Located at the top of the ship, suite guests can enjoy a private neighborhood that features the Coastal Kitchen restaurant, Suite Lounge, and private Suite Sun Deck.
While other Royal Caribbean ships have a private sun deck for suite guests, Wonder of the Seas takes this concept one step further. The Suite Sun Deck on Wonder of the Seas is a large outdoor space featuring comfy loungers, its own bar, and a plunge pool. The sun deck overlooks both the ocean and sports deck area.
While not the "ship within a ship" concept other cruise lines have, the Suite Neighborhood on Wonder of the Seas is Royal Caribbean's most expansive enclave for suites guests on any ship in its fleet.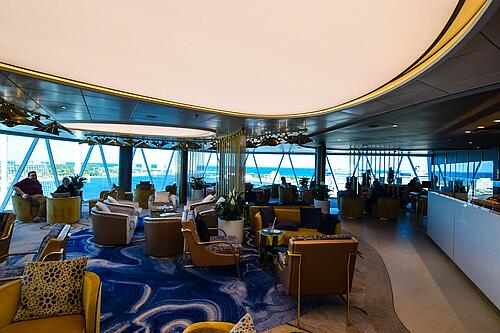 The Suite Neighborhood offers an exclusive experience for guests looking to enhance their cruise experience, and can be a selling point for those deciding between booking a suite or not.
This area is truly designed to be a destination for suite guests to enjoy with less impetus to leave the suite decks.
Wonder of the Seas dining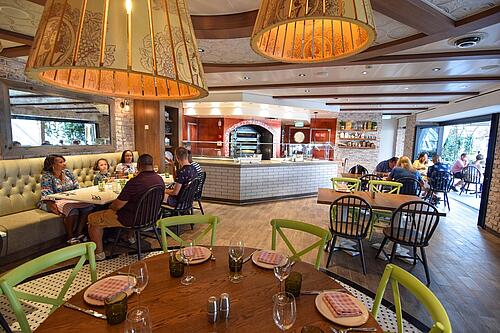 As an Oasis Class ship, there is no shortage of dining options found on Wonder of the Seas. Both complimentary and specialty dining options are available and come in a wide range of cuisines and styles, meaning there is something for everyone to eat onboard.
With so many restaurants included in your cruise fare, it's entirely possible to eat only at the complimentary venues on Wonder of the Seas. From Mediterranean-inspired dinners at Solarium Bistro to American breakfast at Johnny Rockets, it's unlikely you'll get bored with the complimentary restaurants available.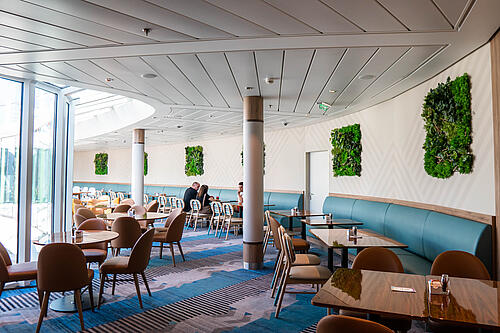 Wonder of the Seas also has a wide selection of specialty dining venues. Specialty restaurants come at an extra cost, but offer cuisines and dining experiences not found elsewhere onboard.
Specialty restaurant meals can be purchased individually or as part of a dining package. Purchasing a dining package allows you to try several different restaurants at a lower cost than purchasing each meal individually.
Dining package availability is limited, so it's a good idea to book a dining package early via the Cruise Planner website. Both a 3-night Dining Package and Unlimited Dining Package may be available depending on the cruise.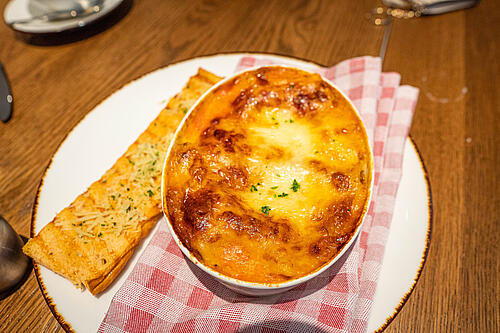 Wonder of the Seas complimentary dining options:
Main Dining Room
Windjammer Cafe
Solarium Bistro
Park Cafe
Cafe Promenade
Sorrento's Pizza
Boardwalk Dog House
El Loco Fresh
Vitality Cafe
Coastal Kitchen (suites only)
Room service (continental breakfast only)
Johnny Rockets (breakfast only)
Wonder of the Seas specialty dining options:
Chops Grille
Giovanni's Italian Kitchen and Wine Bar
Wonderland
Izumi Hibachi & Sushi
Hooked Seafood
150 Central Park
Sugar Beach (ice cream and candy only)
Playmakers Sports Bar & Arcade
Starbucks
Johnny Rockets (lunch and dinner)
The Mason Jar
Chef's Table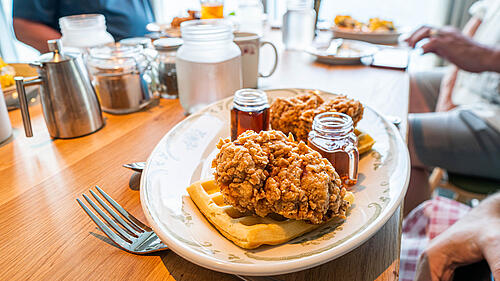 A restaurant brand new to Wonder of the Seas is The Mason Jar, a southern-inspired venue featuring dishes from diverse regions of the American south.
Open for brunch and dinner, menu highlights at The Mason Jar include Meemaw's Fried Chicken N' Waffles, Stuffed French Toast, Crab Beignets, Classic Po'boy, Lobster N' Crawfish Gumbo, Shrimp N' Grits, and the Southern Burger.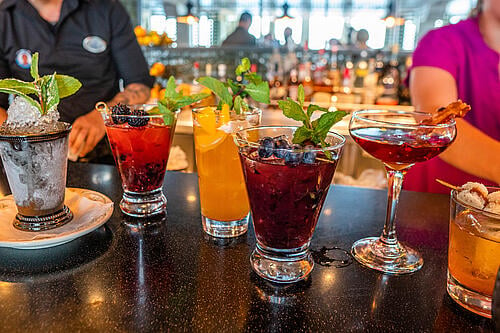 Adjacent to the restaurant is The Mason Jar Bar, serving specialty cocktails including the PB&J Old Fashioned, Mississippi Moonlight, and All Shook-Up shake.
Read more: The Mason Jar Southern food restaurant on Wonder of the Seas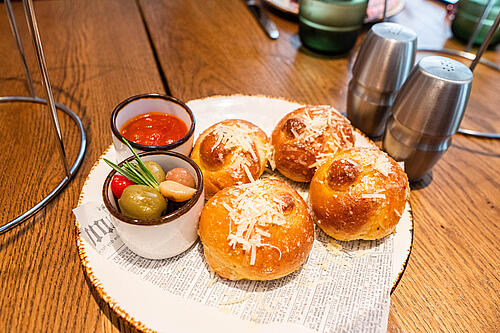 Wonder of the Seas is the only Oasis Class ship to feature Royal Caribbean's newest Italian restaurant, Giovanni's Italian Kitchen.
Guests can dine on Italian-American cuisine, with menu highlights including chicken parmesan and spaghetti carbonara. Giovanni's Italian Kitchen also has an extensive pizza menu with pizzas made to order in the restaurant's own pizza oven.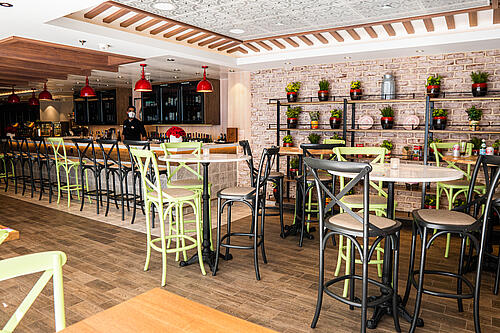 Next to Giovanni's Italian Kitchen is Giovavnni's Wine Bar, which offers a selection of Italian wines. Guests at the wine bar are also able to order food from Giovanni's Italian Kitchen next door, although the menu is limited and not included in the dining package. However, this can be a nice option for those wanting to try just an appetizer or pizza from the restaurant, and the prices per item are quite reasonable.
Wonder of the Seas Bars & Lounges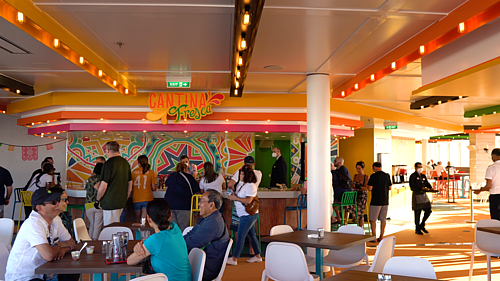 Just like dining venues, Wonder of the Seas has no shortage of bars and lounges to explore. Two brand new bars were brought to Wonder of the Seas: Cantina Fresca and The Vue.
Cantina Fresca is a Latin-themed bar focusing on Mexican-inspired cocktails. This is the place to go onboard for margaritas, with flavors including pineapple jalapeño, strawberry, mango, and passion fruit. Mexican agua frescas are also available here, the first ever offered on a Royal Caribbean ship.
Cantina Fresca is conveniently located next to El Loco Fresh near the Sports Court, offering the perfect beverages to go along with burritos, nachos, and quesadillas.
The Vue is the second new bar on Wonder of the Seas. Taking the place of what would have been a second cantilevered hot tub, The Vue offers picturesque views of the ocean during both day and night. The bar is partially covered by a mosaic canopy, which lights up at night in a kaleidoscope of color.
Other bars and lounges on Wonder of the Seas include:
Schooner Bar
Trellis Bar
Boleros
Rising Tide Bar
Solarium Bar
Bionic Bar
Cask & Clipper Pub
Wipe Out Bar
The Attic
Playmakers Sports Bar & Arcade
The Lime and Coconut
Shows & Entertainment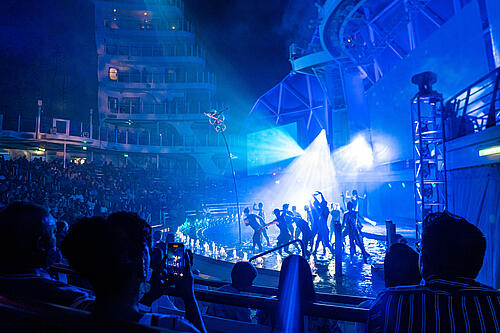 Wonder of the Seas is packed with entertainment venues and shows to satisfy thousands of guests per week. All shows and entertainment are included in your cruise fare, although reservations are usually required for signature performances. It's a good idea to open the Royal Caribbean app as soon as you get onboard and reserve your preferred time slots for shows.
There are three main entertainment venues on Wonder of the Seas: the AquaTheater, the Royal Theater, and Studio B.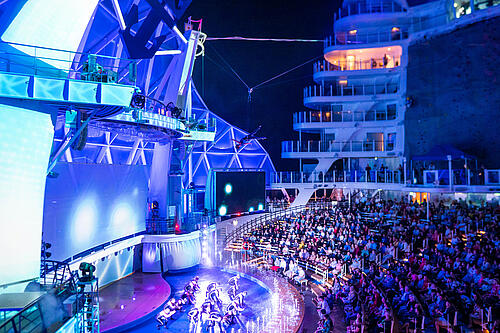 In the AquaTheater guests can enjoy inTENse, the first AquaTheater show to feature an all-female cast. As the name implies, inTENse is an intense performance with aerial acrobatics, slacklining, high diving, tumbling, and synchronized swimming. Adding to the performance are immersive lighting and sound effects that are sure to leave guests inspired.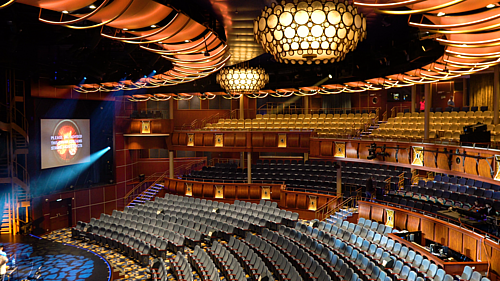 The Royal Theater is home to two headliner performances: Voices and The Effectors II. Voices: An Intimate Performance on a Grand Scale, is a hybrid virtual and live show featuring vocal, musical, and dance performances.
The Effectors II: Crash 'n' Burn is a sequel to the original show found on Spectrum and Odyssey of the Seas. Royal Caribbean's cast of superheroes returns to the stage in this performance to battle their archnemesis known as Crash (and his sidekick Burn).
The Effectors II uses dramatic and state-of-the-art technology to create scenery, imaging, and storytelling throughout the show. 
While not a show that was offered when the ship launched, it began performances in June 2022.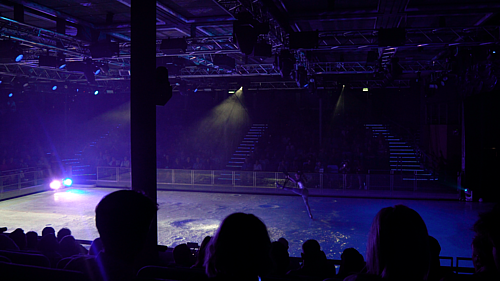 In Studio B, the ice rink onboard, guests can travel through the year's seasons with 365: The Seasons on Ice. The Wonder of the Seas ice show tells the story of Earth's changing seasons through projection mapping, lighting and sound, costumes, and set design. The ice show features a talented cast of professional figure skaters and includes an impressive performance from an aerialist.
Outside of the main headliner shows on Wonder of the Seas are a variety of other entertainment options. Guests can enjoy live music throughout the ship, from piano tunes at Schooner Bar to acoustic guitar at the pub.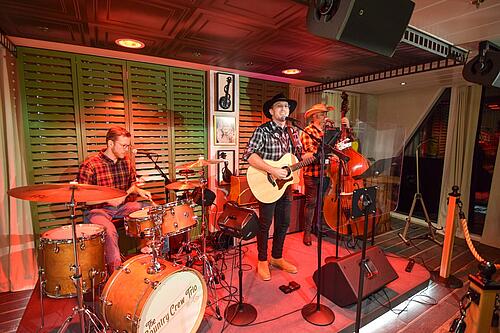 Something new to Wonder of the Seas is live country music at The Mason Jar. On most evenings (and some afternoons), a country band performs at the bar. Guests here can listen to live tunes while sipping a drink from one of the comfy rocking chairs found throughout the bar.
Comedy shows are performed throughout the cruise as well, either in the Royal Theater or in The Attic comedy club.
Pool deck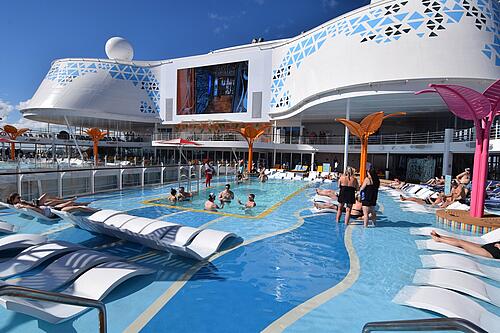 The pool deck on Wonder of the Seas is a hub of activity throughout the cruise, for both guests looking to relax in the sun and those wanting to participate in onboard activities.
The pool deck's design shares many similarities with other Oasis Class ships. There are three main pools, several jacuzzis, and one Splashaway Bay location for kids.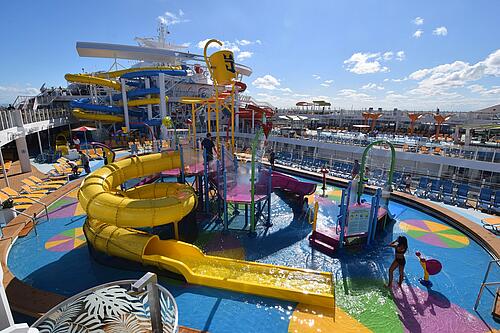 Parents with young children will especially enjoy Splashaway Bay, as it provides a splash pad and aqua park area with water sprayers, slides, and dump buckets.
The Perfect Storm waterslides are also found on the pool deck. These are a set of three waterslides: two racing and one that ends with guests sliding around a "champagne" or "toilet" bowl to the bottom. Waterslides are complimentary and open for most of the day.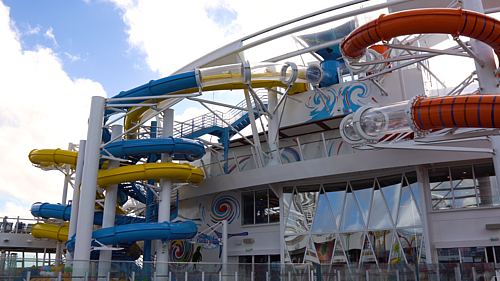 Wonder of the Seas features a Caribbean-style pool deck, complete with colorful decor and The Lime and Coconut bar. There are three Lime and Coconut locations on the pool deck. Two are found next to the pools on either side of the ship, and the other is located on the upper pool deck.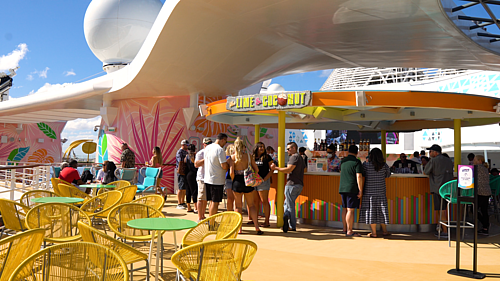 The location above the pool deck offers comfy seating with panoramic views of the ship and ocean, and is sure to be a popular hangout spot on sea days. Signature drinks to try at The Lime and Coconut are the Rum Runner, Mai Tai, Watermelon Rita, and Lime and Coconut.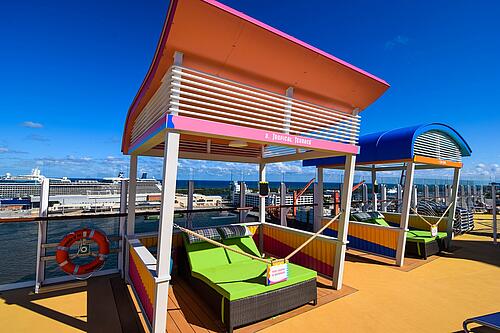 In addition to the ample seating around the pool deck, Wonder of the Seas has several casitas available for reservation. These come at an extra cost and provide a covered daybed option for guests looking for a bit more comfort. The casitas on Wonder of the Seas are all located on the upper pool deck on deck 16.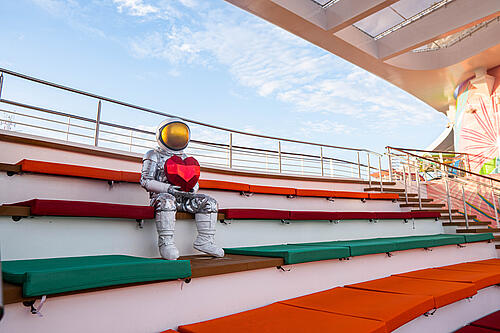 Wonder of the Seas has more diverse pool seating compared to other Oasis Class ships. Across from the massive television overlooking the pool are padded theater chairs. These chairs are accessible throughout the day for guests looking to relax or watch a movie.
Solarium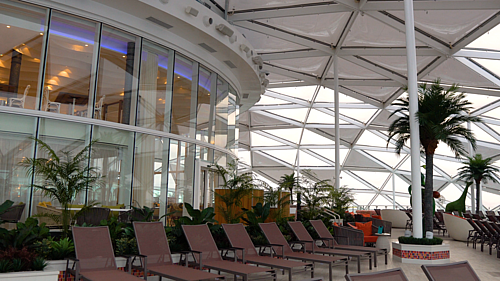 Like all Royal Caribbean ships, Wonder of the Seas has an adults-only Solarium. Available to guests 16 and older, the Solarium offers a peaceful escape from the hustle and bustle found elsewhere onboard. 
The Solarium on Wonder of the Seas differs from other Oasis Class ships in that It is fully enclosed and climate controlled. This ensures guests are able to enjoy the Solarium in any type of weather.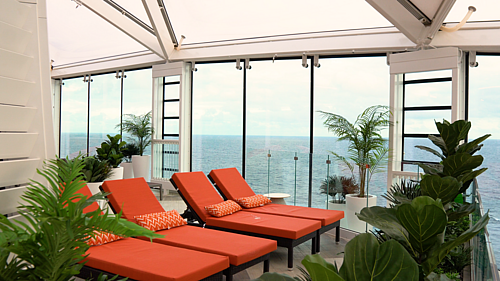 Inside the Solarium are hot tubs, a small pool, and plenty of pool chairs to lounge in. Padded chairs, mushroom loungers, and sofas are available to sit in as well, leading to maximum comfort for guests.
Here guests can also find the Solarium Bridge wings, one of the hidden secrets on Wonder of the Seas.
Also located in the Solarium is the Solarium Bistro, open for breakfast, lunch, and dinner. The Solarium Bistro is a complimentary dining venue that usually has fewer crowds than other venues onboard. Above the Solarium Bistro is Hooked Seafood, where guests can dine on New England style seafood dishes.
Signature activities on Wonder of the Seas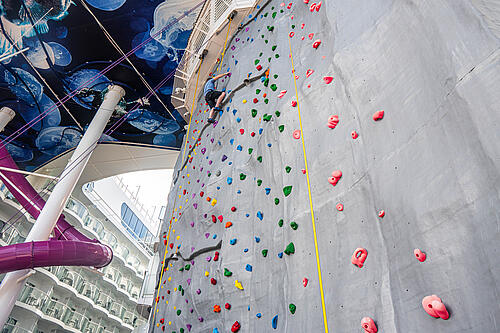 Wonder of the Seas is packed with immersive, thrilling, and unique activities for guests of all ages. Most signature activities on Wonder of the Seas are included in your cruise fare. Most are open every day of the cruise, although exact days and times can be found on the Cruise Planner or in the Royal Caribbean app.
Something new to Wonder of the Seas is the Wonder Playscape, an underwater-themed playground with climbing walls, nets, games, puzzles, slides, and plenty of nooks and crannies to discover.
The Wonder Playscape is intended for kids up to 12, but seems to be geared more toward younger children.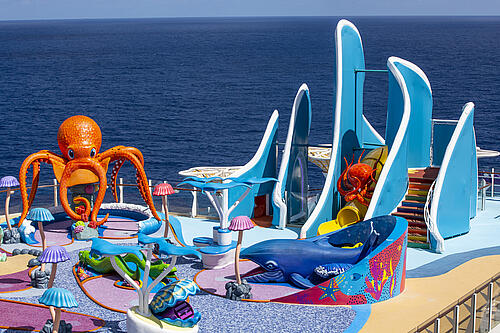 Other activities on Wonder of the Seas include:
The Ultimate Abyss, a dry slide taking guests nine decks down from the Sports Court to the Boardwalk neighborhood
The zipline, during which guests fly over the Boardwalk neighborhood
FlowRider, a surf simulator for boogie boarding and standup surfing
Escape from Planet Z laser tag
Wonder Dunes mini golf
Rock climbing walls
Sports Court area for activities like basketball, pickleball, soccer, ping pong, etc.
Ice skating rink in Studio B
Carousel
Wonder of the Seas is set to have an Escape Room located next to Adventure Ocean, but it is not currently built. Once constructed, the Escape Room will likely come at an extra cost.
There are also two arcades onboard: a large arcade near Adventure Ocean and a small set of games next to Playmakers on the Boardwalk. The arcade has an additional cost.
Other activities found on Wonder of the Seas include trivia, game shows, scavenger hunts, karaoke, pool games, and more.
Adventure Ocean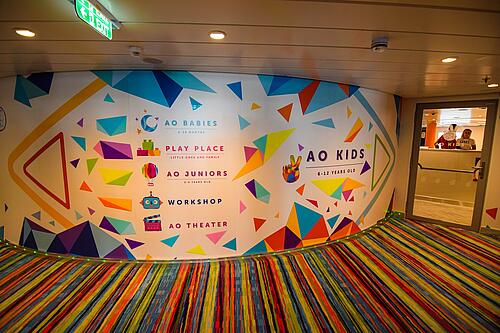 Wonder of the Seas follows Royal Caribbean's updated Adventure Ocean programming, with childcare and activities for children aged 6 months to 17 years.
Adventure Ocean is free for guests, with the exception of the nursery (6-36 months) and childcare after 10pm.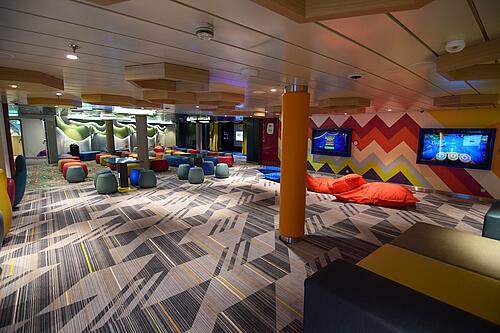 The following areas are offered in Adventure Ocean on Wonder of the Seas:
AO Kids, for children aged 6-12, which features a large open area for games like dodgeball, as well as video games, interactive digital tables, and hangout spaces
AO Juniors, a space for kids 3-5 years old with age-appropriate activities and open play areas
AO Babies, a nursery area for children between 6 and 36 months
AO Theater, where movies, talent shows, games, and performances are held
The Workshop, home to craft and science lab activities
Play Place, a play area for kids featuring climbing and playground equipment. This area is open throughout the day for parents to visit with their children.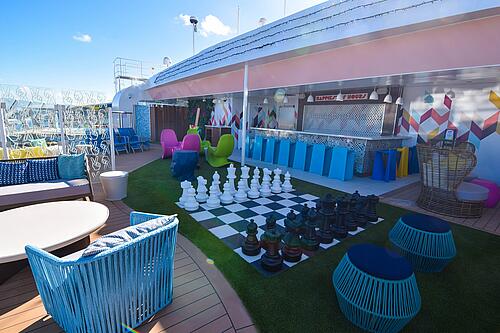 Teens aged 13-17 onboard Wonder of the Seas also have their own designated spaces. The teen areas of Adventure Ocean are less structured than those for other age groups, with teens free to come and go as they please.
The first teens-only space onboard is Social100. This space has plenty of comfy seating and hangout space, video games, books, a vending machine, foosball tables, and interactive digital tables.
Teens also have access to the Social100 Patio, located outside on deck 17. The Social100 patio features its own hot tub, non-alcoholic bar, beanbag chairs and other lounge seating, selfie photo spot, and giant chess set.
Wonder of the Seas staterooms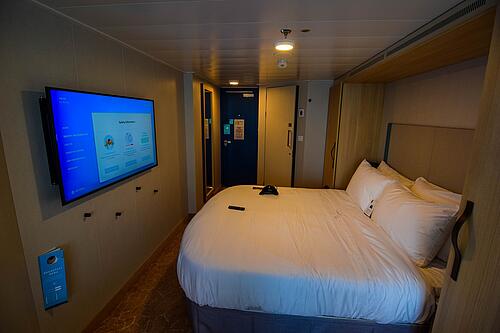 With a capacity of 6,988 guests, there is an array of stateroom categories to choose from when booking a cruise on Wonder of the Seas. In fact, there are a total of 2,867 staterooms found onboard.
Choosing which stateroom to book ultimately depends on your budget and vacation style. Some guests may prefer booking an interior or ocean view room and putting the money saved towards add ons like a drink package or shore excursion. Others may value the extra space and privacy a balcony or suite provides, even if it comes at a higher cost.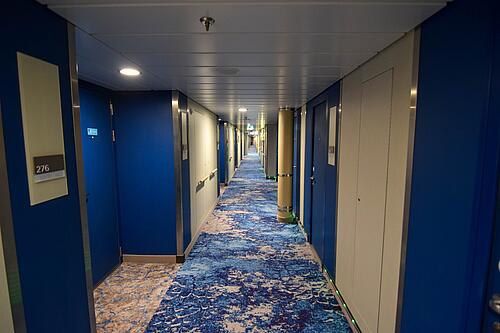 No matter which stateroom you choose, all cabins come with a private bathroom, television, vanity/desk area, dresser, couch or lounge chair, outlets, a mini fridge, and storage.
Here are the non-suite staterooms available on Wonder of the Seas:
Interior
Interior with Virtual Balcony
Promenade View Interior
Central Park View Interior
Ocean View
Central Park View Balcony
Boardwalk View Balcony
Ocean View Balcony
Ocean View with Large Balcony
Accessible staterooms are also available in most room categories, which come with extra space including wider doors, ramps, lowered sink and vanity, lowered storage and safe, etc.
The following suites are available to book on Wonder of the Seas:
Junior Suite with Balcony
Grand Suite - 1 Bedroom
Owner's Suite - 1 Bedroom
Crown Loft Suite with Balcony
Royal Loft Suite
Spacious AquaTheater Suite - 1 or 2 bedrooms
Ultimate Family Suite
Read more: A look at the big suites on Wonder of the Seas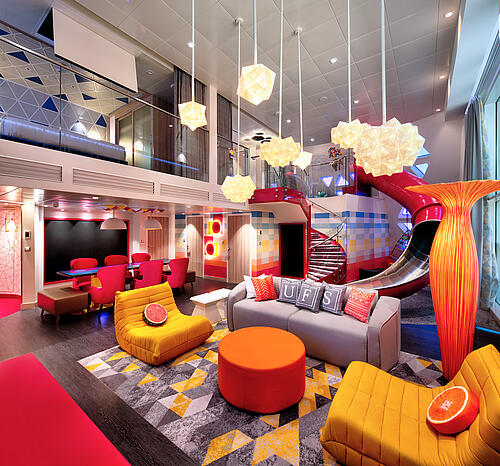 Wonder of the Seas is the third ship in Royal Caribbean's fleet to have the Ultimate Family Suite. Complete with an in-suite slide, colorful step climbers, interactive piano staircase, three bedrooms, a jacuzzi, and a movie/game room, the Ultimate Family Suite is sure to impress all kids onboard.
Wonder of the Seas itineraries
Since November 2022, Wonder of the Seas offers year-round sailings from Port Canaveral.
Destinations range from Perfect Day at CocoCay and Philipsburg, St. Maarten, to Charlotte Amalie, St. Thomas; and Cozumel, Mexico.
How much does Wonder of the Seas cost per person?
The exact cost of a cruise on Wonder of the Seas will depend on which cabin you book, time of year you sail, and how far in advance you book.
The cost of a Wonder of the Seas cruise begins as little as $800 per person and goes up to $1,500 per person.
Meet Wonder of the Seas' Godmother
Marie McCrea is the Godmother of Wonder of the Seas, after being nominated in a contest held on TikTok.
Marie McCrea is a mom, wife and cancer survivor. Marie overcame adversity with incredible strength, and at the center of her story are the memories she inspired and made with her family through it all. 
Wonder of the Seas frequently asked questions
How much did Wonder of the Seas cost to build?
Royal Caribbean paid $1.35 billion to the Chantiers de l'Atlantique shipyard in Saint-Naizaire, France to build the ship.
It took them three years to build the ship, which included a construction delay due to the global health crisis in 2021.
How many restaurants are on Wonder of the Seas?
There are more than 20 different places to eat on Wonder of the Seas. 
Not all the restaurants are free to dine, as some have an extra cost to dine there.
Main dining room
Sorrento's
Windjammer Marketplace
Cafe Promenade
Boardwalk Doghouse
Giovanni's Italian Kitchen & Wine Bar (extra cost)
Playmakers Sports Bar & Arcade (extra cost)
Hooked Seafood (extra cost)
El Loco Fresh and Cantina Fresca
The Lime & Coconut (extra cost)
Izumi (extra cost)
Wonderland (extra cost)
150 Central Park (extra cost)
Johnny Rockets (extra cost)
Starbucks (extra cost)
Sugar Beach (extra cost)
Chops Grille (extra cost)
Is Wonder of the Seas sailing at full capacity?
Yes, all of Royal Caribbean's ships are sailing at or near full capacity since Memorial Day 2022.
While the ship sailed at reduced capacity when it first debuted, the amount of passengers have steadily gone up since then and has reached full capacity in summer 2022 sailings.
Is there an escape room on Wonder of the Seas?
Not yet.
It looks like there's a space for it near Adventure Ocean, but the venue is not open. Royal Caribbean has not commented on what the escape room will entail, nor when it might open.
More Wonder of the Seas resources:
Interesting facts you may not know about Wonder of the Seas