In:
Wonder of the Seas is packed with lots to see, do, and eat onboard, and you likely want to know where everything is onboard.
Royal Caribbean designed Wonder of the Seas to offer a lot, and be easy to navigate.  Being the biggest cruise ship in the world means it has to be simple for passengers to get around to avoid a negative experience.
All Oasis Class ships are separated by neighborhoods, with each area being visually distinguished from the others. Essentially, after you see one neighborhood, you should be able to quickly get a sense of what is offered there. In fact, Wonder of the Seas is the first Oasis Class ship to have eight neighborhoods instead of seven.
Before you step foot on Wonder of the Seas, here is what each neighborhood has to do, including dining and entertainment.
Boardwalk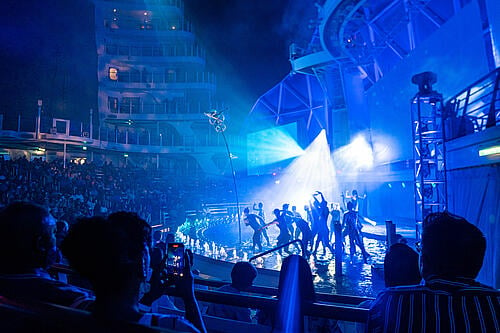 Location: Deck 6
The Boardwalk neighborhood is meant to evoke a feeling of the old the seaside piers that dot the coast of England and the nostalgic boardwalks of yesteryear such as Coney Island.
Located on the back of deck 6, it is an outdoor area that has dining and entertainment.
As soon as you walk onto the Boardwalk, you will be greeted by a handcrafted carousel. It is a full-sized, traditional carousel and complimentary to ride day or night.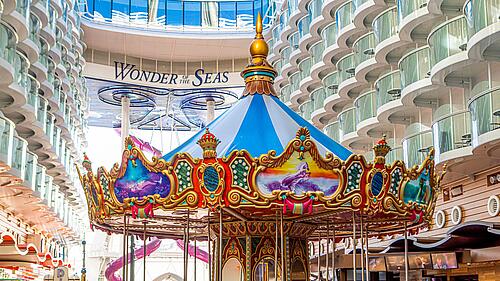 If you're hungry, you will find lots of great dining choices for guests of all ages.
Playmakers Sports Bar & Arcade takes up one entire side of the Boardwalk, and features as many television as they do beers and food to enjoy while you watch. There's also an arcade with fun games to play between innings or during halftime.
Boardwalk Dog House is where you can grab a hot dog customized just the way you like it and served quickly so you can be on your way.
Sugar Beach candy and ice cream shop is the sweet spot on the Boardwalk with more than 100 types of candies, a variety of ice cream flavors and toppings.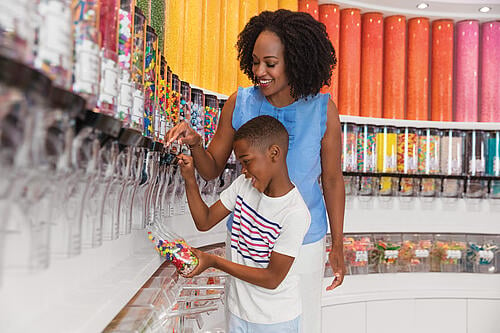 Filling out the nostalgic factor for the Boardwalk is Johnny Rockets restaurant.
You will also find the AquaTheater at the very rear of the Boardwalk, which is an amphitheater-style entertainment space. You can expect movie screenings and game shows by day and stunning aqua acrobatics and high-diving performances by night.
Pool and Sports Zone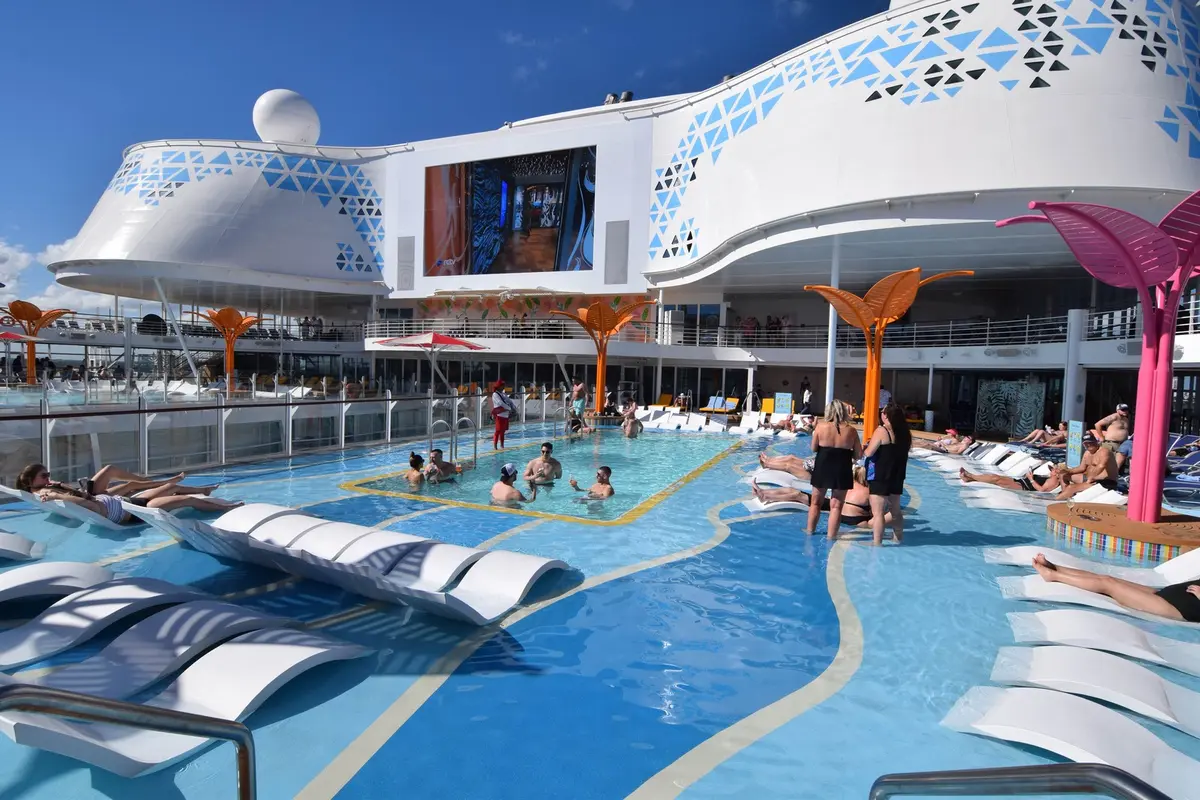 Location: Decks 15 & 16
Whatever kind of active fun you are into is sure to be available in the Pool and Sports Zone on Wonder of the Seas. Pools, slides, simulators and hot tubs are all available to enjoy every day of your cruise.
The adults-only Solarium is located at the front of the ship, which is enclosed in glass and offers a relaxed pool and lounging experience.
If you want a little more thrill with your pool fun, check out the Perfect Storm waterslides. The multistory waterslides' clear sections offer sliders views of Central Park down below.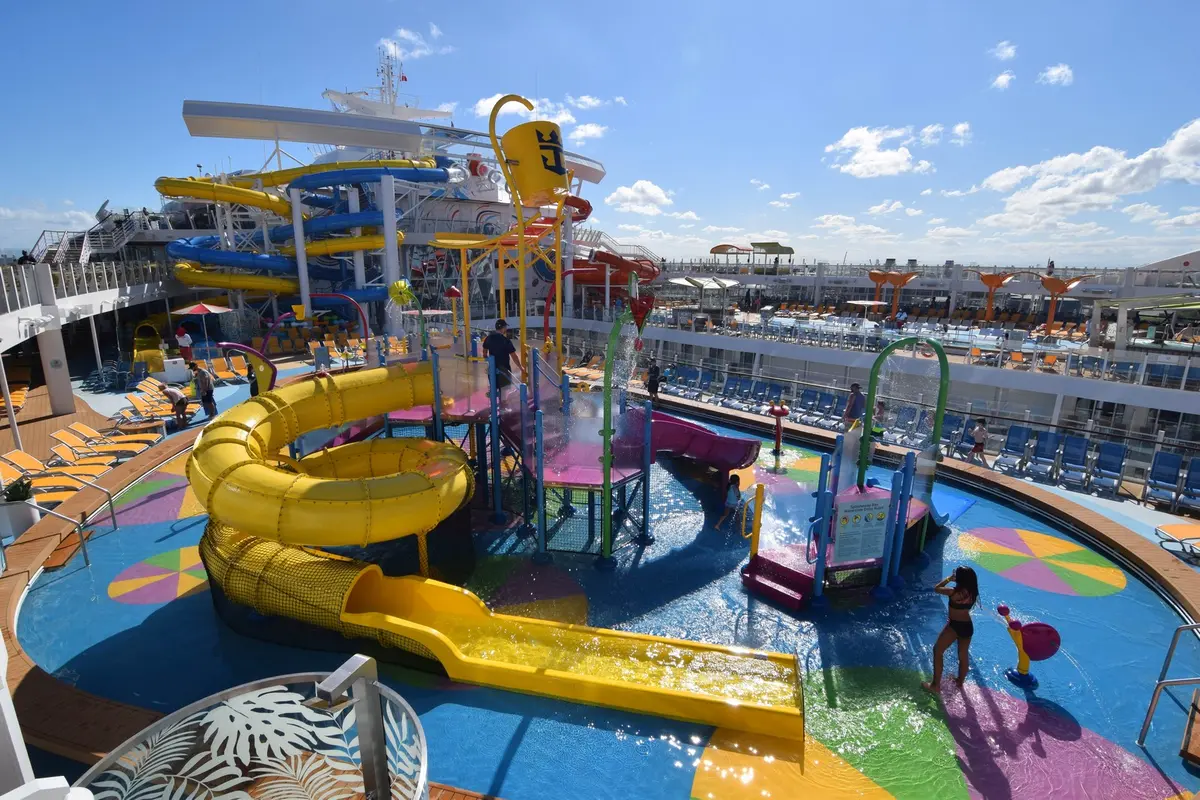 Kids can also splash to their hearts' content at Splashaway Bay, which has water cannons, slides, drench buckets and more.
Wonder of the Seas has a resort-style Caribbean vibe to the pool deck, centered around the Lime & Coconut.  You can find two poolside bars and live music.
In fact, Wonder of the Seas has the largest poolside movie screen in the Royal Caribbean fleet.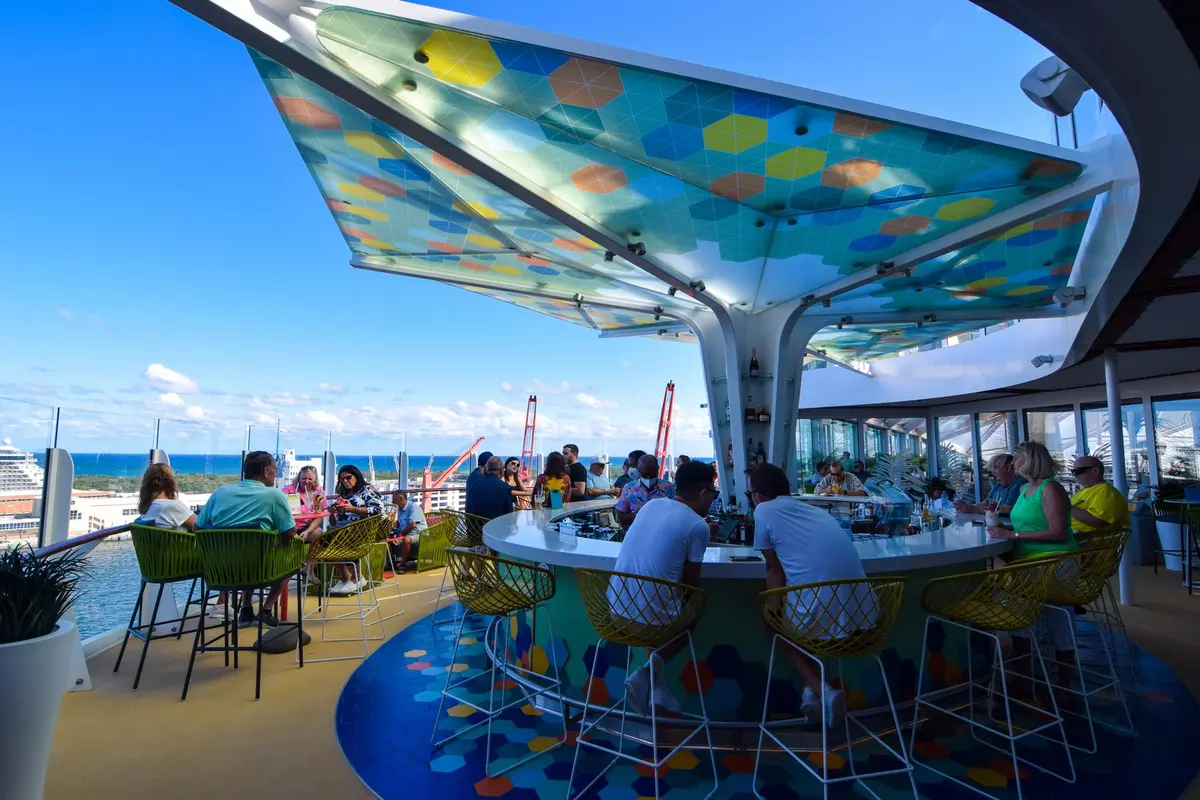 Something else new for Wonder of the Seas is The Vue, which is a new cantilevered bar. The Vue offers panoramic ocean views from high above on the pool deck all day, and after sunset, it shines bright with a colorful mosaic canopy overhead.
If that isn't enough, Royal Caribbean came up with another new concept for the Sports Zone in Wonder Playscape. This is an underwater-themed play area with slides, climbing walls, games, an interactive mural activated by touch and puzzles.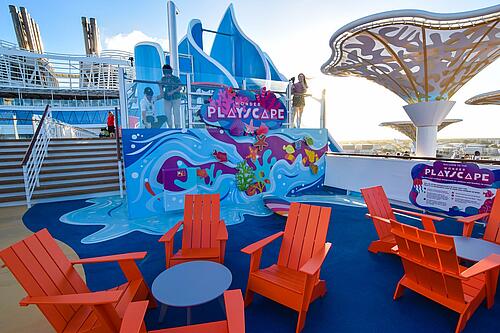 Of course, no Oasis Class cruise ship is complete without signature activities Royal Caribbean always includes: the tallest slide at sea, The Ultimate Abyss; Wonder Dunes mini-golf; the FlowRider surf simulator, twin rock-climbing walls and the ten-decks-high zip line. 
If you're hungry, you will find quite a few options for dining in the Pool and Sports Zone.
Solarium Bistro
Windjammer Cafe
Unnamed specialty restaurant (to be announced later)
Hooked Seafood
El Loco Fresh
Cantina Fresco
Central Park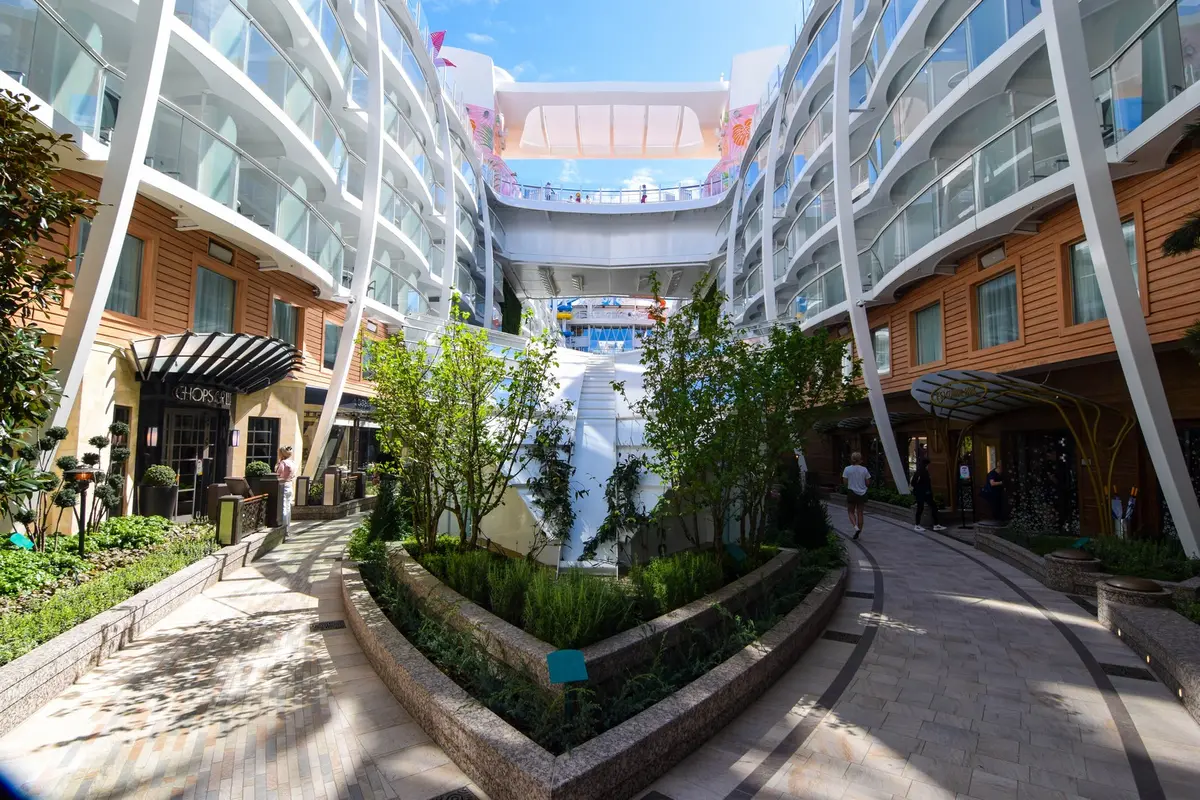 Location: Deck 8
The outdoor park found on Oasis Class ships is an open-air venue with lots of plants, trees, and shrubs that surround restaurants and retail venues.
There are quite a few specialty restaurants in Central Park, beginning with the new Giovanni's Italian Kitchen and Wine Bar.
Royal Caribbean revamped its Italian restaurant with a new menu that also extends into the nearby wine bar. Giovanni's Italian Kitchen is a new take on authentic Italian dishes, including made-to-order pizzas hand tossed front and center, and baked in the new, in-house pizza oven.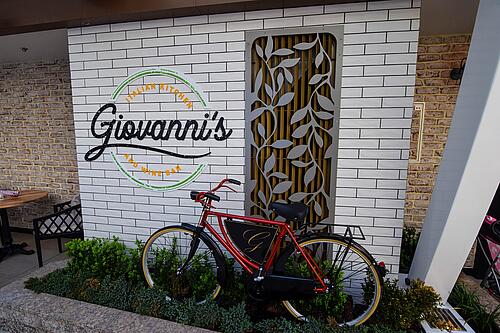 150 Central Park is known for its seasonal menu, while Chops Grille is the cruise line's well-known steakhouse.
At Park Cafe, you can enjoy breakfast, lunch, and snacks, including the Kummelweck roast beef sandwich.
While in Central Park, you can take a ride on the Rising Tide bar, which moves slowly between Central Park and the Royal Promenade. The bar slowly rises and descends between the two decks, giving guests a great view all along the way.
Right outside Central Park is Music Hall, which is a dance venue that features live musical acts in a club atmosphere.
Royal Promenade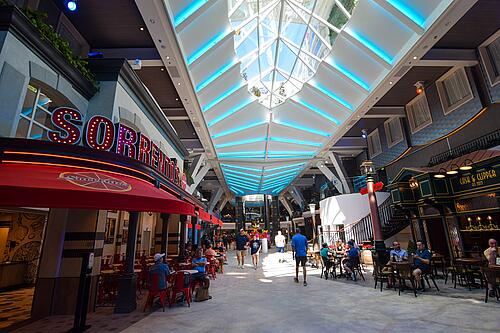 Location: Deck 5
Royal Promenade is like the downtown of Wonder of the Seas.  It is a busy thoroughfare with lots happening around its services, dining, bars, and entertainment.
Spotlight Karaoke is a dedicated venue for everyone that loves to either sing or see others try to sing well-known songs. There are even private karaoke booths if you prefer to sing without the audience to judge.
Boleros is Royal Caribbean's latin-themed bar where you will find music, mojitos, and mexcal.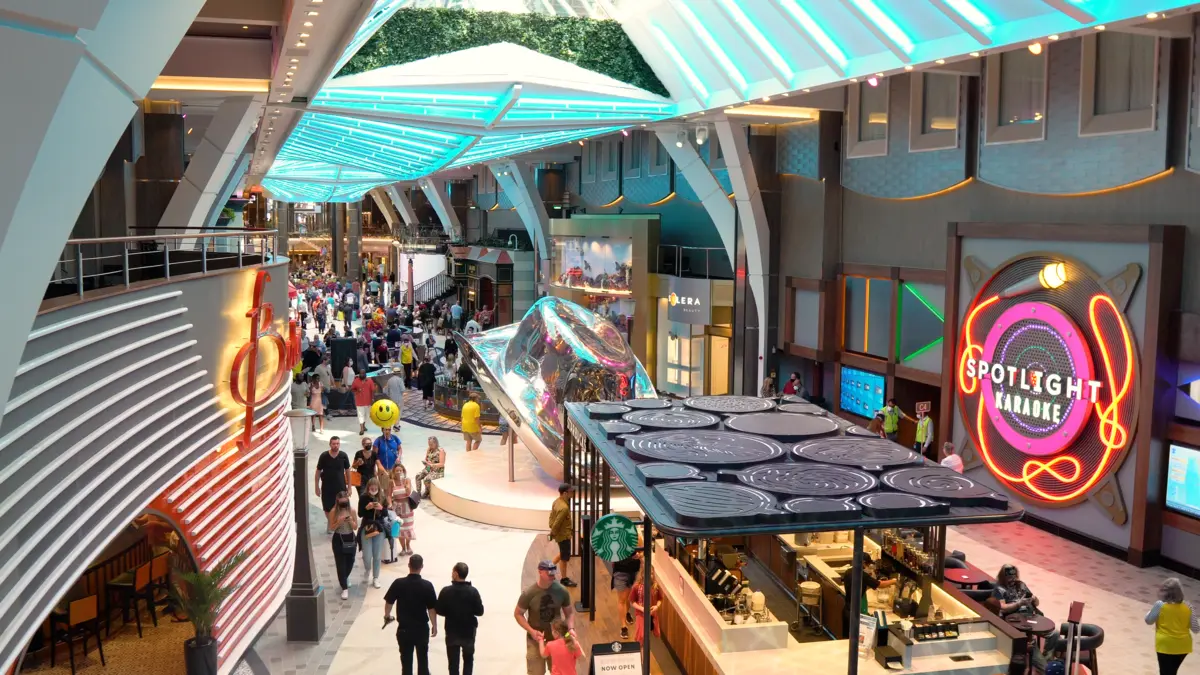 The English-style pub has the widest selection of beers onboard, as well as a guitarist each evening.
After all that singing and drinking, a slice of pizza hits the spot.  Sorrento's serves up plenty of it most hours of the day and night for no additional cost.
Speaking of no additional cost, Cafe Promenade is where to go to get a cup of coffee or tea, a sandwich, and maybe a cookie.
There is also shopping to be done on the Royal Promenade, where you can pick up souvenirs and duty-free goods. 
You can also book another Royal Caribbean cruise at the NextCruise office, which gets you bonus onboard credit for simply booking something while onboard.
Wonder of the Seas has its own set of robot bartenders at Bionic Bar.  Use tablets to order your favorite cocktail, and a robot arm will shake, stir, and serve it.
You will also find one of the main dining room decks on deck 5. The main dining room is a staple of dining on any cruise ship, and it serves up meals for breakfast and dinner every day (plus lunches on sea days).
Entertainment Place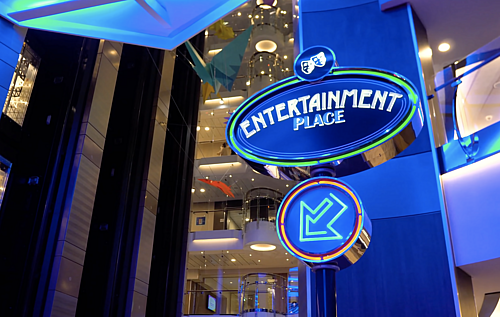 Location: Deck 4
Whether you are looking for a show, drink, or performance, the Entertainment Place neighborhood is the spot for you.
At the front of the ship is the Royal Theater, home to nightly live entertainment, including shows, comedians, and performers.
Studio B is at the heart of the space. Studio B is an ice skating rink that hosts regular performances (as well as open skate sessions for guests).  It can also be used for a glow-in-the-dark laser tag game.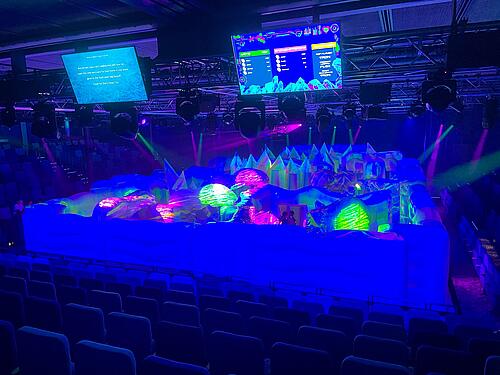 The signature ice skating show on Wonder of the Seas is 365: The Seasons on Ice, which brings guests on a journey through Earth's changing seasons through figure skating, aerial performances, and lighting and sound effects.
The Attic is where to go to see comedy shows.
Diamond, Diamond Plus, and Pinnacle Club members in the Crown and Anchor Society have a dedicated lounge to enjoy drinks, hors d'oeuvres, and meet other guests.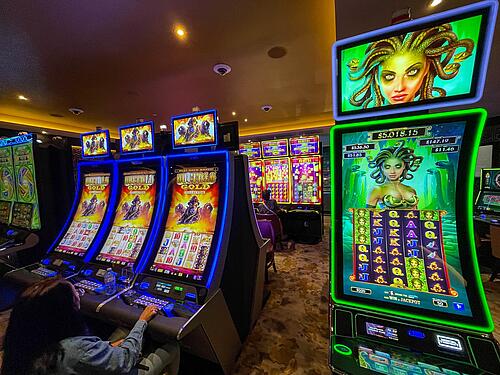 Since Wonder of the Seas was originally designed for the Chinese cruise market, extra casino space was allocated. The Golden Room is an extra casino room designated for high-roller casino guests, although this space is currently open to everyone. On other Oasis Class ships, this space is a jazz music lounge.
Speaking of gambling, Casino Royale is also found in the Entertainment Place neighborhood. All of your favorite casino games can be found here to try your luck at.
Royal Caribbean's Japanese cuisine restaurant, Izumi, is also found on deck 4. Maki, nigiri, and hand rolls are all available here, in addition to the crowd-pleasing hibachi tables.
Youth Zone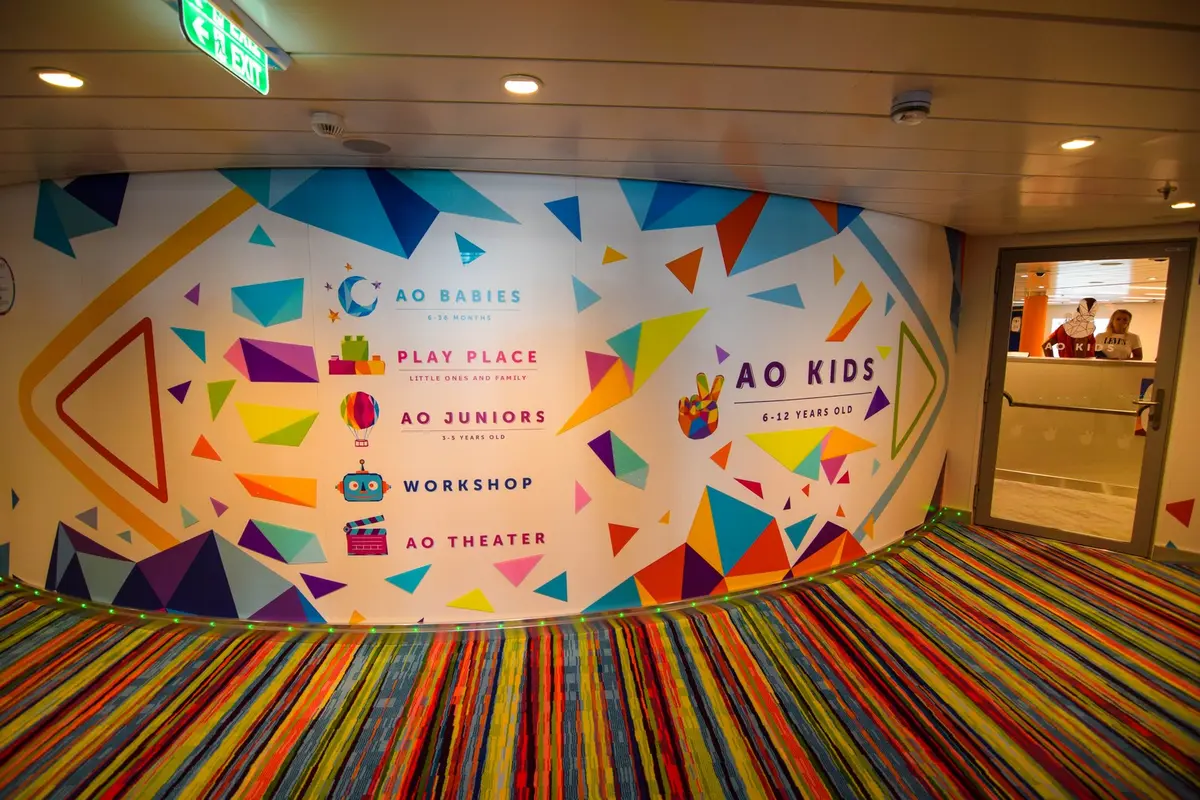 Location: Deck 14
Wonder of the Seas has a lot of great programming for kids and teens to enjoy. Adventure Ocean covers kids as young as 6 months old, and through their teenage years.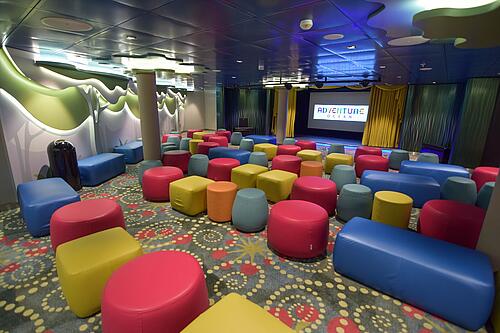 Adventure Ocean on Wonder of the Seas follows Royal Caribbean's updated programming and design, including areas like as The Workshop, where kids can participate in craft and science activities. There are also newly designed teen spaces, with both an indoor and outdoor patio for guests aged 13-17.
The age groups each have a dedicated space: AO Babies, ages six months to two years; AO Juniors, ages 3 to 5; and AO Kids, ages 6 to 12.
Vitality Spa and Fitness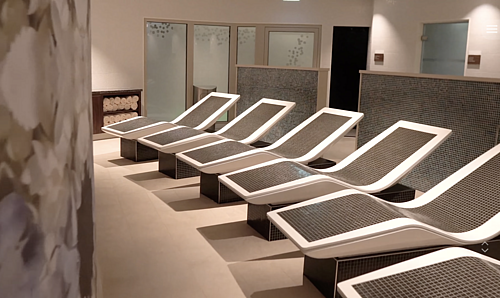 Location: Deck 5 & 6
If you are looking to relax and indulge at the same time, the Vitality Spa is the spot for you.
The Vitality Spa includes a Thermal Suite, featuring heated ceramic loungers, saunas and steam rooms; more than 50 facial and body services in various treatment rooms, including the Thai Herbal Poultice Massage, acupuncture and medi-spa services.
In addition, the space offers a beauty salon and barber shop for hairstyling, hair treatments, manicures, pedicures, a clean share and more.
For those that want to get in shape during their cruise, the Vitality Fitness Center offers a wide selection of exercise machines, including the latest cardio and resistance equipment.
Suite Class Neighborhood
Location: Deck 17 & 18
Wonder of the Seas is the first Oasis Class cruise ship to feature an eighth neighborhood, dedicated exclusively to suite guests.
What makes the Suite Class neighborhood different? Royal Suite Class guests have their own plunge pool, bar and plenty of loungers and nooks.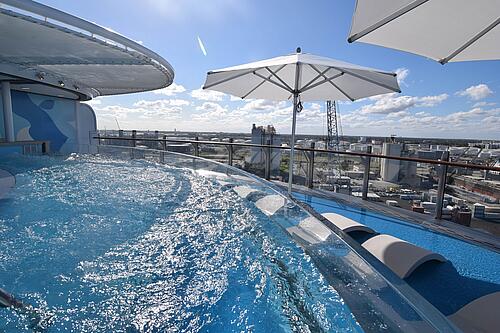 There are also suite favorites including the suites-only restaurant Coastal Kitchen and the Suite Lounge.
Wonder of the Seas also has the biggest Ultimate Family Suite on an Oasis Class ship yet, able to accommodate a family of ten.