In:
Every crew member plays an integral part is making sure that you have a memorable vacation, from those who you directly interact each day of your cruise with to those who work behind-the-scenes.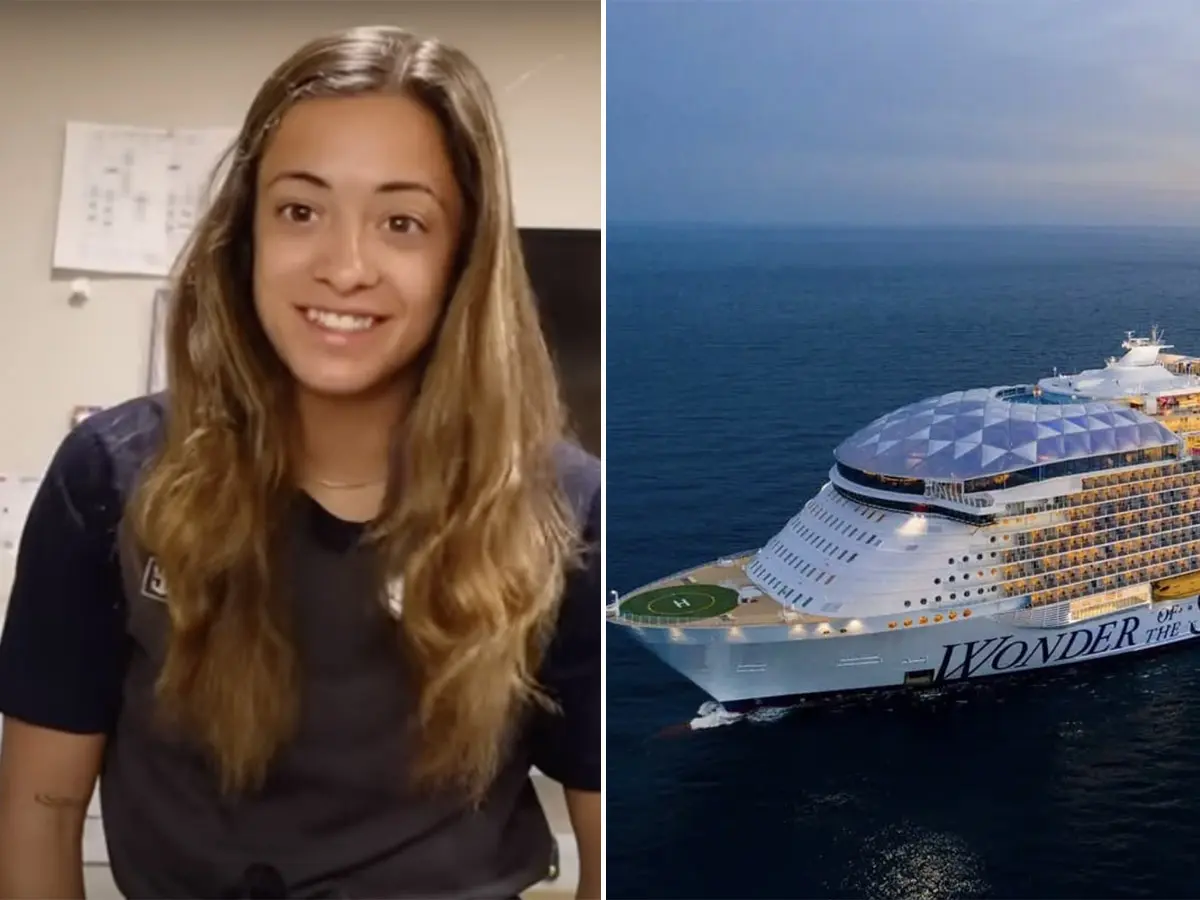 The responsibilities of crew members, however, often entail more than what you see at the surface, and thanks to social media, we are able to get a more in-depth view as to what working as a crew member onboard a cruise ship is really like. 
Jordan Bauth, a 25-year-old professional figure skater working onboard Wonder of the Seas, documented her week in a recent YouTube video. The video blog spans the course of one week from April 9 to April 16 and shows what she does in addition to skating during the ice shows. 
Jordan's YouTube channel has amassed over 60,000 followers and 8,130,476 views. While she posts a lot of content about her life as a cruise ship crew member, she also enjoys making videos about fitness, health, figure skating, and travel. 
Keep reading to learn more about crew life from Jordan's perspective working in entertainment!
Day 1
Jordan begins the video on turnaround day, when Wonder of the Seas was docked in Port Canaveral and a new set of excited guests boarded the ship. 
Since the two ice skating shows were not until later that evening, she was able to get off of the ship for awhile with some other crew members to run errands, with their first stop being the port to pick up some packages. 
Next, she visited Walmart to pick up some snacks and other necessities. "Our holy grail for turnaround said," she chuckled, "we're ready to spend some money!" 
After what she claimed to be a successful Walmart trip, they made a stop at Starbucks before going to eat at Thai Thai Sushi Bar. 
When they returned to the ship, she had a little bit of downtime before she had to get ready and warm up for the first of two shows. At 6:45pm, she and her fellow cast members met to discuss some notes before hitting the ice. 
"It was so rocky...that was a tough show to do," she said after finishing the first show of the evening. 
It was not until afterwards that she was able to eat dinner, which was some oatmeal with bananas. 
Day 2
The first full day of the cruise started out differently, as she was scheduled to work at the Voom internet desk in the Royal Promenade from 9:00am to 12:00pm.
Immediately after her shift, Jordan had to change into a pirate costume and meet the other cast members for the parade. 
This was followed by lunch before heading to the ice rink at 5:00pm ahead of the warm ups for the 8:30pm and 10:30pm shows. 
"Today's been like a chill yet productive day," she said in the video.
"I did work Wi-Fi from nine to noon, then I went straight to parade at twelve o'clock call, had lunch, and then I edited for a couple of hours and watched an episode of Euphoria." 
Day 3
The third day of the cruise was the first of three in a row where there were no ice shows. With her free time, she hung some LED string lights that she purchased at Walmart on turnaround day. In the video, she got excited talking about how she could change the color of the lights with a small remote! 
After walking around the jogging track soaking up some sea day views, she made her way to the fitness center for a bit, grabbed some lunch, and then returned to her cabin to work on some editing for a few hours and repaint her nails. 
Day 4
On Day 4, Wonder of the Seas was docked in St. Kitts along with Celebrity Apex, Carnival Magic, and Marella Explorer 2. Jordan got off of the ship and went to a nearby resort for a little while to relax. 
This was the only time she would be in St. Kitts during this contract, so she made the most of her time here by lounging in the sun, reading some of The Seven Husbands of Evelyn Hugo, and grabbing a vegetable plate to eat.
Despite not having any shows that day, she had to return to the ship to work All Skates, which is when Studio B is open for guests to skate. 
To prepare, all of the helmets and skates have to be moved out into Studio B. "...we had to set up all of the skate racks; they're quite heavy as you can see," she said, "It's taller than I am by a bit. [We also] set up all the helmets, chairs, and we're waiting to open the doors."  
Afterwards, she went to the crew dining room to eat dinner. 
Day 5
On Day 5, she had more ship-wide responsibilities than the previous day. 
First was the all crew drill, which she claimed gets repetitive. Once the announcement was made, she headed to her muster station to complete the drill and then got off the ship to spend some time in St. Thomas.
She and a few other crew members headed to the Crown Bay Marina to eat at Tickles Dockside Pub. On the way there, they admired the large yachts that were docked. "Just boat shopping," she joked!
At Scoops and Brew, she got an iced latte with almond milk and caramel that she ate with her wrap and fries from Tickles. 
Note: Tickles Dockside Pub is actually right across from Dock D, which is where you can board a short ferry to visit Water Island. 
Jordan had an early all aboard time due to the second "Anchors Away Street Spectacular" parade of the week, and she used her GoPro camera to capture some live footage during the parade, which was full of energy and confetti. 
Afterwards, she headed to the gym and was surprised that the stair master was available! Here, she watched the ship sail away from St. Thomas before doing some pilates and stretching. 
"I had such a good little gym session," she said, "My lower body feels really just tight today, so a nice long stretch was very much needed." 
She returned to her cabin to shower before a 5:30pm meeting and did laundry before going to bed. 
Day 6
On the second to last day of the cruise, Jordan started off the day by showing her breakfast. After three days off from shows, there were two that evening at 7:00pm and 9:00pm. Beforehand, though, she walked around the track outside, made some phone calls, and worked on editing a video. 
"I'm really excited to perform," Jordan said, "because it feels like ages since our last show day." At 6:15pm, she and the other cast members reported to discuss notes. At 11:00pm, she was finally able to eat dinner, and she used some quinoa that she took from lunch to make a salad. 
Day 7
Is any cruise to the Caribbean complete without a stop a Perfect Day at CocoCay? Jordan went to South Beach thinking it would be less crowded than other areas; however, she was surprised to find it just as busy! In fact, she had to walk around for a bit before she was able to find an open chair. 
She was not able to get off first thing because she had a meeting about brand standards. 
While on the island, Jordan was able to enjoy the island's buffet and had half of a portobello mushroom salad, some french fries, and a taco salad. 
"One thing I will never able to comprehend is the size comparison between any oasis class ship and the other ships in the fleet," she remarked on her way back to the ship. 
At 4:00pm, she had to report to understudy rehearsal and then warmed up before the final ice skating show of the cruise, and per usual, she ate her dinner afterwards. 
Jordan ending the vlog by saying, "It's been such an eventful cruise. I'm grateful everyday to be here and loving every second! I appreciate you all for being on this journey with me."