In:
Crew members on Royal Caribbean cruise ships work incredibly hard to provide an excellent vacation, and there are so many examples of times someone's vacation has been improved thanks to the crew.
The more you cruise, the more likely you will run into an exceptional crew member who really cares about an issue or request you have while onboard. Royal Caribbean's internal credo is "Passionate Friendly Committed" and that mantra applies to the crew's attention to guests.
To that point, Royal Caribbean International President and CEO Michael Bayley posted on Facebook this week, "Our crewmembers are undoubtedly the greatest in the industry!" and took the time to thank the hard working crew members.
"Thank you to our entire crew, who are the faces of the unforgettable vacations that our guests expect!"
Mr. Bayley's words a reminder of how much impact a crew member can have on a vacation, and it got me thinking about examples of when crew really step up.
I asked the RoyalCaribbeanBlog community to share examples of times that Royal Caribbean staff have gone above and beyond to provide exceptional customer service for their family while sailing.
On the Harmony in August debarkation day Coastal Kitchen was packed and breakfast coming out delayed. By the time we finished the concierges were done with their 3rd and final escort downstairs. I asked if there were any more and was told no, they were done. No worries, we gathered our things and made our way to wait for elevator. The concierges came out and said they would make an exception and do one more! We were whisked off in lightening speed. Very very kind, in no way did they have to do that. 

Neesa
On Liberty a week ago, we went to Johnny Rocket's for our autistic son's 31st birthday.   Our waiter figured it out, discreetly checked with us, and came out with a piece of cake with a candle in it.  He and another waiter sang happy birthday.  I'm not sure where he got the piece of cake, but I'm pretty sure it wasn't there at Johnny Rocket's. 

teddy
My wife loves chocolate croissants. At some point during our 7 nights on Indy in July, I think she mentioned it to the server who puts out the Diamond Lounge breakfast pastries because we hadn't seen any all trip in any of the locations we would normally find them. 

I went up to get coffee from the machine on one of the last mornings and there was a covered plate sitting on the concierge's desk. The server finally came across some chocolate croissants, remembered, and set aside about 5 of them for my wife. Small gesture but definitely above & beyond to me given that we had barely spoken to him. It's not like he was our stateroom attendant and we had gotten to know him over the course of a week.

OCSC Mike
Our stateroom attendant on Allure for our 2 bedroom Grand Suite made sure one in our travel party got the bodywash and conditioner she liked. On every cruise I have been on there is always a crew member who remembers me and what I like.

Ampurp85
Our stateroom attendant on Voyager let us use his hotspot from his international sim card when in port to download some maps because the onboard internet sucked in the Baltics this summer.

MLH
On symphony at Jamie's my then 4 year old wanted mac and cheese. They didn't have on the menu so I asked her to pick something else. Our waiter said not to worry and went to get a bowl of it from Chops!

Marlena
My last cruise there was a bar server on the pool deck that would find me everyday no matter where I lounged and gave me great service the rest of the day! 

Jerseygirl98
I think for me it's any crew member that makes me feel special. I've experienced this with a Head Waiter on Jewel, Waiter team on Freedom and a Bartender on Oasis. They took the time to get to know me/spend time with me, to spoil me with extras and of course make my experience even better.  Maybe that's my love language. I appreciate that more. 

D Alt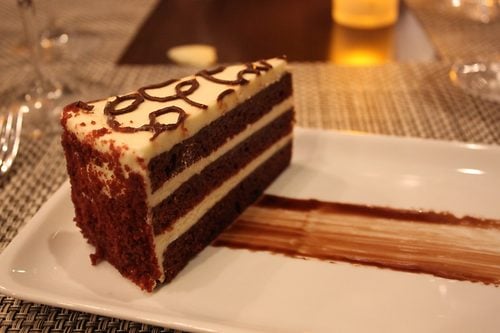 I love red velvet cake. My waiter made sure I had it every night. He went to Chops and got it for me. I will never forget his act of kindness.

Sweety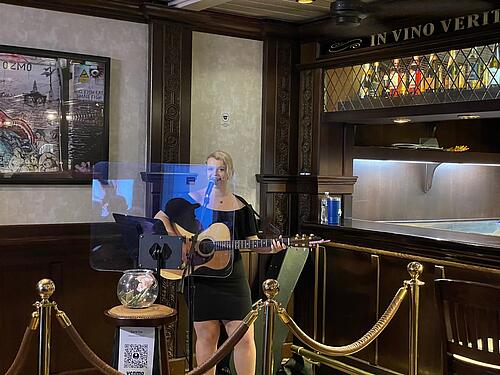 Darla Fox  went above and beyond as a pub singer.  She was engaging and entertaining and understood what her job was.  She made it a point to learn requested songs for our group and would come back later in the cruise and play them for us.  She made an effort to get to know her audience and interacted with them more than I've seen any other entertainer on a cruise ship ever do.  

AshleyDillo
A concierge (Dudley), currently on Mariner, who went way out of his way to ensure there were gluten free appetizers for my wife in the suite lounge.

smokeybandit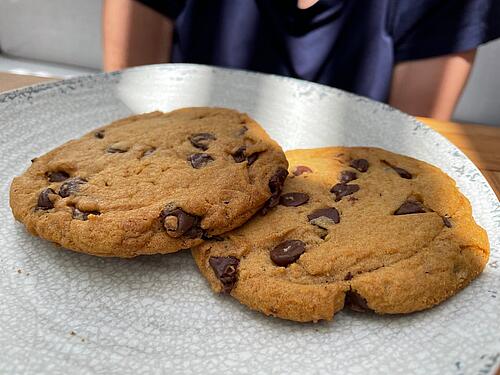 Every night for dessert, my youngest wanted chocolate chip cookies for dessert.  I don't know what it was about those cookies, but he was obsessed with them.  Our server Amilia and another server were assigned to cover the unexpected large party.  Amilia came over to take our dessert order, and of course my youngest orders cookies.  A few minutes later, she comes back to tell us that they're out of cookies in Coastal Kitchen, but not to worry, she called down the Main Dining Room galley and they're going to send up some fresh ones. Fifteen minutes now, and Amilia comes flying out of the back, all of our desserts in hand.  She then proceeds to apologize to us for the wait and ran down there herself to get one order of cookies for a 7 year old.  We apologized to her and told her she didn't have to do that, we could have just run to the Windjammer or the MDR or even ordered them to the cabin from room service!  Without batting an eye, she just matter of factly stated, "There's no way I was going to let him leave on his last night without his cookies."  

USCG Teacher
While dining in Giovanni's on Allure back in 2019, the waiter ran over to Chops to grab a specific brand of wine we discovered and enjoyed that was not on hand at Giovanni's. My wife still asks for it by name on every Royal cruise now!

JohnK6404
Were at Izumi's and we asked if they had Yummy Yummy sauce to the waitress, most places have it at their Hibachi.  She went in the back and came back with sauce that one of the cooks made by looking the recipe on his phone, made the meal so much better.  Next we had Jamie's booked before we board, but till it was coming up on the night realized that was the 2nd formal night in the dinning room, which means that was lobster night and would miss it.  Was a little bummed, the waiter always asked if he would see us the next night, but told him we would be going to Jamie's and bummed we were missing lobster night.  We are sitting there our apps come that we ordered and then our main dish comes out.  A few minutes later our waiter comes back with 4 lobster tails and said the head waiter sent these up for us. 

dustfsu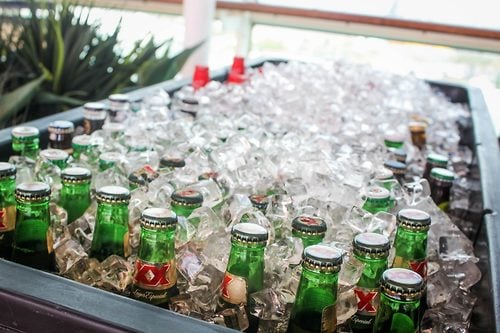 In 2010 the first year Bud Light Lime was available towards the end of the cruise the pub ran out. Our server disappeared after taking our order and he came back maybe 10 minutes later( an unusually long time) walking down the promenade. He appeared a bit sweaty and then apologized.  He had gone to 5 different bars looking for the beer.

constable145
On Oasis and I requested a memory foam topper to go on top of the hard bed.  I was told they had no such thing.  The stateroom attendant inquired of any special requests.  I mentioned having had a memory foam mattress on Oasis in May and how I could not sleep comfortably on the regular mattress.  When we moved into our new cabin my side of the bed was quite comfy, great for my back.   The attendant inquired if all was well and he showed me how he doctored my side of the bed with mattress pads and blankets.  He was one of the nicest attendants I ever met.

Pattycruise
When we have been fortunate/able to eat in Coastal Kitchen on our sailings, there is a black truffle butter pasta that I weep over. It's not even the pasta itself as much as it is the sauce. I said something to our server the first night we were dining there and then, the chefs came out at one point and made their way over to our table and I let them know how much i enjoyed it, that it is my favorite dish in all of Coastal Kitchen and that i could now die happy, having been reunited with my favorite dish on the seas. For the remaining nights of the cruise, I had black truffle butter pasta for dinner.

asquared17
Cruising with my in-laws, there was a night after Coco Cay when the kids were too tired for the Main Dining Room. So our wait staff sent our usual desserts to be delivered by the in-laws. I was wowed!

BowTieBrigade
After getting the first towel animal, I left a cute note saying I wanted to keep it, success in used to royal breaking them down the next morning. For the rest of the 8-night cruise we had towel animals every night. This is our fifth cruise and we've never had animals every night. It's a small thing but coming back every night to see an adorable animal on the bed waiting for me had me smiling every night.

Crimson Cruiser
Daughter, 7 at the time, decided to try the climbing wall.  She did ok but just could not get past one point and was frustrated.  Next time she came to try again, one of the (female) sports staff put on the harness and climbed alongside her, pointing out where to put the foot or where to grab, and eventually literally pushing my daughter's bottom up to help through the challenging spot.

roundabout
I happened to see a chef walking towards Jaime's on the Anthem right before opening time. I quickly mentioned to her (Chef Sharon) how much I loved the food. She then brought me into the closed restaurant and had her entire kitchen staff come out to meet me. That was an amazing experience to see the smiles and appreciation from those who work 'back of house'.

BrianB
I did two cruises on Navigator in fairly quick succession this last year.  I apparently spent far too much time in the Schooner Bar because not only did the bartenders remember me, and called me by name, but they remembered how to make the 'Kat-tini' that I had showed them how to make in November.  Wow!

BeachGal
I love the towel animals! And love that Royal committed to continuing delivering them. In an article I read about Royal continuing them they said they deliver them every other night, but the stateroom attendants have discretion to provide them more frequently based on request or "guest enjoyment", so your thank you note likely played into getting them every night.

Jack805
My husband had taken his tux to be altered before we left and somehow his tux shirt did not get back into the suit bag. Out of desperation I asked the concierges if they still have shirts onboard from when they rented them out while knowing that my chance was about .00032343% of that happening.  It turns out that she knew the tailor on the ship and called him. Within 15 minutes he met us in our cabin, measured my husband for a shirt and left.  Within 15 additional minutes he returned with a tux shirt that fit my husband freshly pressed and ready to wear.

AlohaLivin
We mention to our waiter's and our head waiter on our last two cruises, that we love Indian curry dishes.  They have brought us a fantastic dish every night with dinner...Most of the time from the crew mess.

Psycho and Barb
What are some examples of times that Royal Caribbean staff have gone above and beyond to provide exceptional customer service for you or your family?