Whether you want Royal Caribbean alcohol prices or Royal Caribbean drink prices, here is your complete list to know how much they will cost before they get onboard.
We present here our list of Royal Caribbean drink prices that are regularly updated to give you the best idea of how much enjoying a drink will cost you.
Keep in mind Royal Caribbean adds an 18% gratuity charge to each drink order.
This information last updated: December 27, 2019
This information is valid for Adventure of the Seas, Allure of the Seas, Anthem of the Seas, Brilliance of the Seas, Enchantment of the Seas, Explorer of the Seas, Freedom of the Seas, Grandeur of the Seas, Harmony of the Seas, Independence of the Seas, Jewel of the Seas, Legend of the Seas, Liberty of the Seas, Majesty of the Seas, Mariner of the Seas, Navigator of the Seas, Oasis of the Seas, Ovation of the Seas, Quantum of the Seas, Radiance of the Seas, Rhapsody of the Seas, Serenade of the Seas, Splendour of the Seas, Symphony of the Seas, Vision of the Seas and Voyager of the Seas.
In our experience, drink prices tend to be a bit higher on Oasis and Quantum class ships than the rest of the fleet, because those ships have premium pricing associated with them.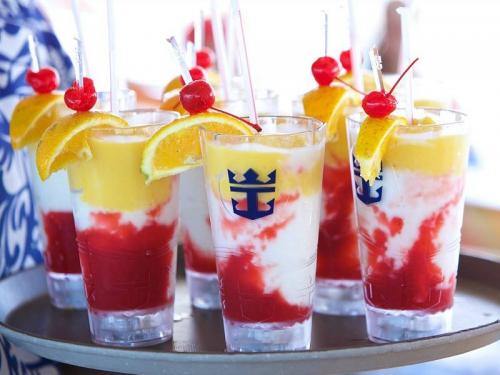 If you are looking for ballpark Royal Caribbean drink prices, here is what you can reasonably expect (prices listed below are before gratuity)
| | |
| --- | --- |
| Drink | Price |
| Beer | $7.99 (American); $7.25 (Import) |
| Glass of wine | $9.00 - $25.00 |
| Bottled water | $2.25 |
| Cocktail | $10.00 - 13.00 |
| Hard Cider | $7.25 - $7.99 |
| Can of Soda | $3.25 |
| Drink of the Day | $8.00 |
| Latte | $4.25 |
| Bottle of water (500 ml) | $3.25 |
It is worth noting the drink prices across Royal Caribbean's fleet do vary to some degree. Specifically, drink prices on Oasis or Quantum Class ships are usually a bit more expensive (50 cents to one dollar more) than on other ships in the fleet. Not to worry, an unlimited Royal Caribbean drink package still includes most drinks.
Here is the full drink menu
Old Fashioned
Classic Old Fashioned: Angostura-soaked sugar muddled with orange rind and maraschino cherries and a lengthy measure of Bulleit bourbon: $12
Hennessy Old Fashioned: The French cousin of the classic Old Fashioned brings some French flair to the cocktail by substituting bourbon for Hennessy Fine Champagne Cognac: $12
Pyrat Old Fashion: Orange flesh and amaro cherries muddled with soft brown sugar, a dash of bitters and Pyrat rum: $12
Tropical Old Fashioned: Muddled cherries and pineapple stirred together with orange bitters and Malibu Coconut rum: $12
New Fashioned: Soft brown sugar drenched in orange bitters, muddled with pink grapefruit and fresh raspberries and a glamorous serving of Southern Comfort and a grapefruit twist: $12
The Greats
Brandy Alexander: Remy Martin VSOP and creme de cocoa dark shaken hard with half-and-half and double-strained and dusted with fresh nutmeg: $12
Baton Rouge: Captain Morgan Original Spiced rum, Hennessy Cognac and pear syrup with bitters and lemon juice: $12
French 75: Hennessy Cognac, fresh lemon and powdered sugar stirred together, then given a float of Domain Chandon. $12
Champagne Cocktail: An Angostura-doused sugar cube topped with Domaine Chandon and garnished with an orange twist: $12
The Sidecar: The classic 8-2-1 recipe: Remy Martin VSOP, Grand Marnier and lemon juice: $12
Meet the Collins'
John Collins: Vodka - Ketel One vodka shaken up with powdered sugar, lemon and topped with club soda: $12
Sandy Collins: Whisky - Crown Royal and maple syrup whisked with lemon juice and ginger soda: $12
Pierre Collins: Cognac - Remy Martin VSOP cognac and wile raspberry syrup lengthened with lime and club soda" $12
Pedro Collins: Rum - Bacardi 8 rum, fresh mint and pmegranate syrup mixed up with lime and club soda: $12
Tom Collins: Gin - Tanqueray No. Ten gin with lychee syrup, lemon juice and topped with club soda: $12
Royal Caribbean rum prices
El Floridita: Where it all began: fresh lime juice, powdered sugar and Bacardi 8 rum: $12
Papa Doble: Bacardi Superior rum, maraschino liqueur and grapefruit juice: $12
Lavender Daiquiri: Bacardi Superior rum with the addition of lavender syrup to give an elegant floral finish and a contemporary twist to this classic: $12
Spiced Daiquiri: Soft brown sugar drenched in Angostura bitters and lime, shaken hard with Zacapa rum double-strained and served up: $12
Habanero & Grapefruit Daiquiri: A spicy take on this Cuban classic when Bacardi Gold rum joined with a habanero and grapefruit syrup: $12
Royal Caribbean wine prices
Sparkling
Chandon, Brut, "Classic"
Ruffino, Prosecco
White/Rose
Beringer, White Zinfandel
Chateau d'Esclans, Rose, "Whispering Angel"
Kim Crawford, Marlborough, New Zealand
Robert Mondavi, Private Selection, Sauvignon Blanc
Danzante, Pinot Grigio, delle Venezie, Italy
Penfolds, Chardonnary, "Koonunga Hill", South Australia
Kendall-Jackson, "Vinter's Reserve", Riesling, California
Chateu d'Ausseries, Chardonnay "Aussieres", Vin de Pays d'Oc, Languedoc, France
Clos du Bois, Chardonnay, North Coast, California
Conundrum, California
Red
Castle Rock, Central Coast, California
Estancia, Pinot Noir, Monterey County, California
Terrazas de los Andes, Malbec, Mendoza, Argentina
Clos du Bois, Merlot, North Coast, California
Castle Rock, Cabernet Sauvignon, Columbia Valley, Washington
Kendall-Jackson, Cabernet Sauvignon, "Vitner's Reserve", Sonoma County, California
Torres, Ribera del Duero, "Celeste", Crianza, Castilla Y Leon, Spain
Royal Caribbean beer prices
Beers
Amstel Light $6.95
Blue Moon Belgian Ale  $6.95
Bud Light (16oz)  $7.25
Budweiser (16oz)  $7.25
Coors Light (16oz)  $7.25
Corona Extra  $6.95
Dos Equis  $6.95
Heineken  $6.95
Michelob Ultra (16oz)  $7.25
Miller Lite (16oz)  $7.25
Paulaner Weiss  $6.95
Red Stripe  $6.95
Other
Foster's Oil Can $7.95
Strongbow Hard Cider $7.50
Rekorderlig Pear Cider $7.25
Rekorderlig Passion Cider $7.25
Non-alcoholic $7.00
Spirits and Liquor prices
Vodka
Absolut $7

Citron $7
Mandarin $7
Vanilla $7
Oak $8

Belvedere $7
Hangar 1 $9
Grey Goose $9
New Amsterdam $7
Stoli $8
Tito's $7
Rum
Bacardi $7

Bacardi 8 $9
Bacardi Limon $7

Leblon Cachaca $8
Captain Morgan $7
Goslings $8
Kraken $7
Malibu $7
Miami Club $8
Myer's $7
Pyrat XO $9
Ron Zacapa $9
Gin
Aviation $9
Beefeater $7
Bombay Sapphire $8
The Botanist $8
New Amsterdam $7
Tanqueray $7
Tequila & Mezcal prices
1800 $8
Avion Silver $8
Camarena Gold $8
Jose Cuervo
Del Maguey Vida Blanco $8
Zignum Silver $9
Patron

Silver $9
Reposado $10
Anejo $11
Scotch
Chivas Regal 12 $8
The Glenlivet $9
Dewar's
Whiskey
Johnnie Walker
Canadian Club $7
Crown Royal $8
Fireball $7
Gentleman Jack $9
Glenfiddich $8
Jack Daniel's $7
Jameson $8
Rittenhouse Rye $8
Whistlepug Straight Rye $9
Bourbon
Buffalo Trace $8
Maker's Mark $8
Four Roses Single Barrel $8
Cognac
Hennessy V.S $8
Hennessy Black $9
Remy Martin V.S.O.P $9
Aperitif
Aperbol $7
B&B $7
Campari $7
Fernet-Branca $7
Jagermeister $7
Pernod $7
Pimm's $7
Liquers
Bailey's $7
Kahlua $7
Disaronno Amaretto  $7
Cointreau $7
Midori Melon $7
Southern Comfort $7
Chambord $7
Frangelico $7
Sambuca $7
Drambuie $7
Grand Marnier Rouge $7
Pama Pomegranate $7
Complimentary drinks on Royal Caribbean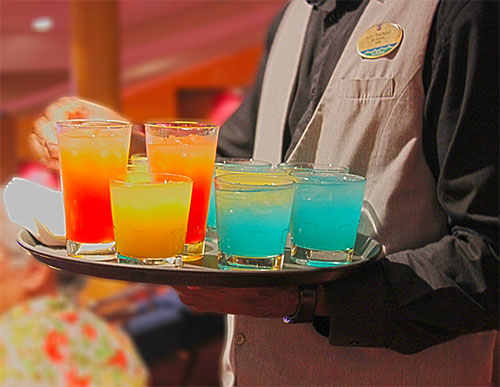 Guests who are Diamond, Diamond Plus and Pinnacle Club Crown and Anchor Society members also receive vouchers for complimentary drinks on each day.
Three drink vouchers per day will be applied to each eligible Diamond, Diamond Plus and Pinnacle Club members corresponding SeasPass card to be used to get a free drink at bars on the ship that can be used between 4:30pm and 8:00pm.
Royal Caribbean provides free drinks to guests that have access to the Diamond Club and/or Concierge club lounges. These lounges are specifically for guests that have attained at least Diamond level status in Crown and Anchor Society or guests staying in a suite onboard the ship.
Each cruise, Royal Caribbean will hold "welcome back" parties for its Crown and Anchor members.
At each event, complimentary alcoholic beverages are served and it can be a great way to enjoy free drinks while hearing about what is new and exciting about Royal Caribbean.
Royal Caribbean beverage packages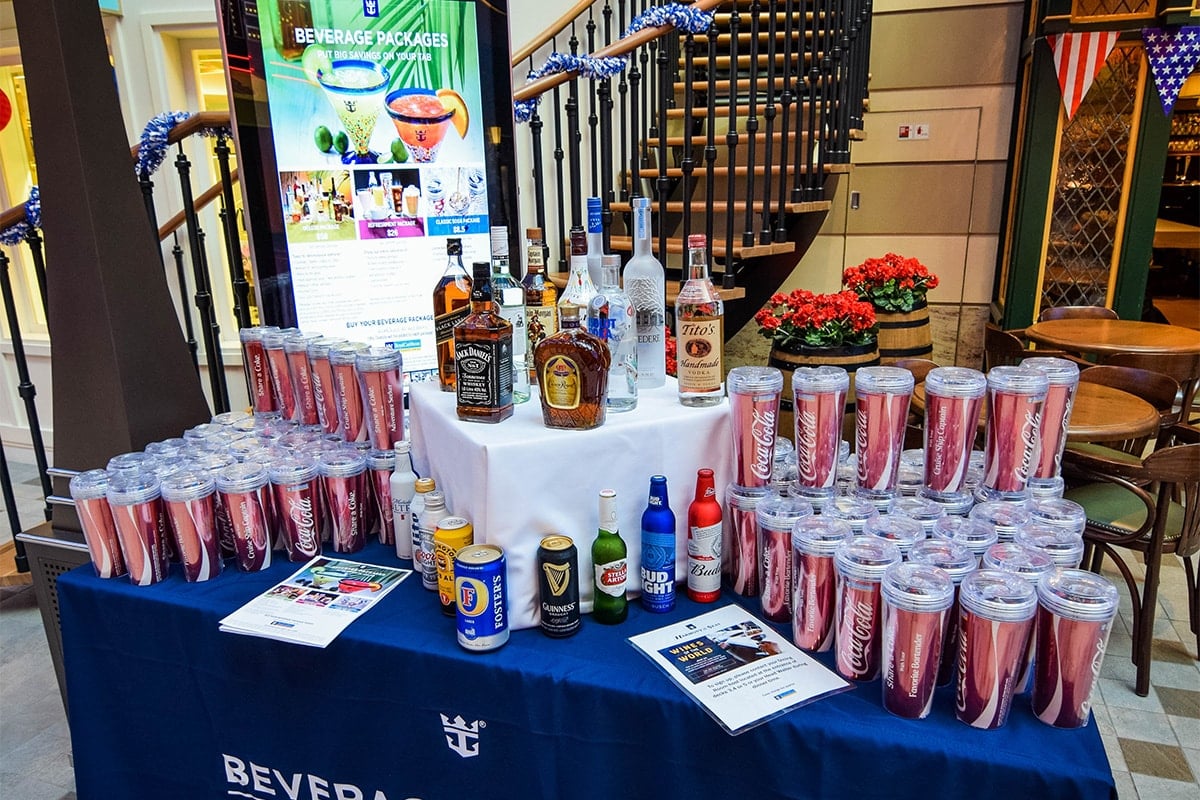 One way to lock in the price of your Royal Caribbean cruise is to purchase a drink package.
The unlimited alcohol package allows guests to enjoy as many beers, cocktails and other alcoholic drinks as they like for a fixed daily price.
Prices for drink packages last changed on October 15, 2018.
Deluxe Package - $63 - $70 per guest, per day (plus 18% service charge)
Guests can choose between beer, wine by the glass (up to $12 value, $13 on Oasis or Quantum Class ships) , mixed cocktails, frozen cocktails along with premium coffee, premium tea, bottled water (sparkling and still) , fresh squeezed juice, fountain sodas with the Coca-Cola souvenir cup.
More about Royal Caribbean drink prices and packages
Here are some more helpful articles about Royal Caribbean drinks and the unlimited alcohol packages