In:
Cruises and cocktails go together like peanut butter and jelly. Trying new cocktails is a must on any Royal Caribbean cruise, but it can be tough to know what to order.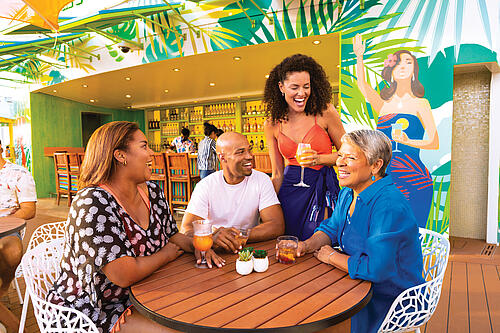 I engaged in some strenuous "research" on my recent cruises to taste some of the best cocktails Royal Caribbean has to offer. It's tough work here at Royal Caribbean Blog, that's for sure!
From a fruity daiquiri to a bitter old fashioned, here's our list of the top 10 cocktails to try on your next Royal Caribbean cruise.
Cucumber Martini at 150 Central Park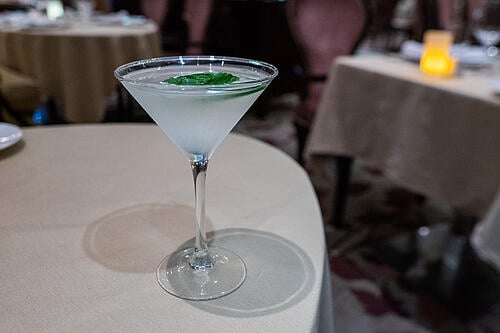 My experience with Royal Caribbean's signature Cucumber Martini started with skepticism and ended with pure bliss. I was (slightly) nervous it would feel like I was eating a salad as opposed to drinking a cocktail with my dinner, and I didn't want the cucumber flavor to be too overwhelming.
When my waiter rolled a cocktail-making cart over to our table, however, I realized this would be a beverage experience unlike any other onboard!
Cucumber Martinis at 150 Central Park—arguably Royal Caribbean's most elegant specialty restaurant—are prepared tableside. Our waiter mixed Grey Goose Vodka with lemongrass syrup, sweet and sour, cucumber wheels, and basil leaves to create a drink unlike any I've tried before.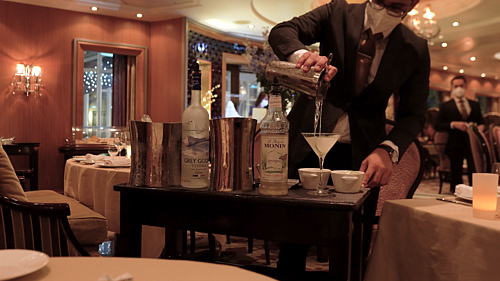 Related: 38 Royal Caribbean drink recipes perfect for any party
The Cucumber Martini is, to date, the most refreshing drink I've had yet on a Royal Caribbean cruise. The citrusy hint of lemongrass mixed with the cool, refreshing taste of cucumber was a unique, fresh flavor that impressed me like no other cocktail onboard.
I had heard excellent things about the Cucumber Martini before my cruise, and I can attest that it lived up to the hype. Outside of 150 Central Park, you can also find the Cucumber Martini at select bars in the fleet, most notably the champagne bars.
Espresso Martini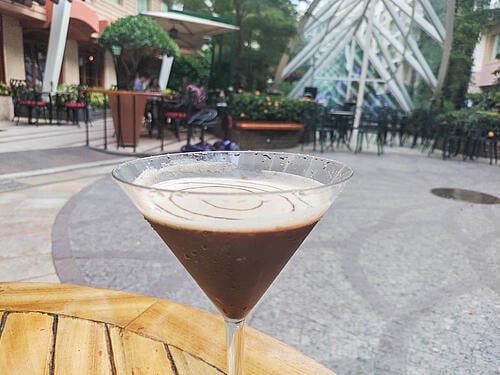 I'm not a night owl whatsoever. I always struggle to stay up late enough to take advantage of all the entertainment and activities offered in the evenings on a Royal Caribbean cruise.
Enter the Espresso Martini, my favorite "hack" to endless energy on a cruise. Made with vodka, coffee liqueur, and espresso, this cocktail is every bit classy as it is delicious.
Related: Royal Caribbean Drink Package Info, Tips, Pros & Cons
If you're sailing on an Oasis Class ship, be sure to order an Espresso Martini at Trellis Bar in Central Park. An evening spent sipping an Espresso Martini in the park with live music in the background? It doesn't get much more perfect than that!
Margaritas from Sabor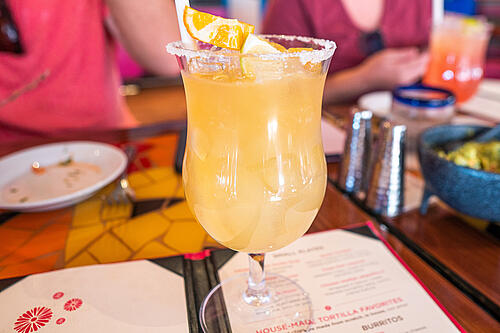 What goes better with chips and guacamole than a margarita? You can find margaritas on any Royal Caribbean cruise ship, but the biggest variety of flavors can be found on ships with Sabor or Cantina Fresca, two of Royal Caribbean's Mexican-themed bars.
Sabor, for example, highlights the following 3 margaritas on their menu:
Handcrafted Margarita: Patron Silver tequila, Cointreau, lime juice, agave syrup, muddled limes and oranges with a salt rim
Avocado Margarita: Patron Silver tequila, orange liqueur, avocado and lime juices, rimmed with Aleppo pepper and lime salt
Jalapeño-Cucumber Margarita: Patron Silver tequila, Cointreau liqueur, cucumber, jalapeño, cilantro, and lime juice
It's hard to go wrong with a margarita, and don't miss the opportunity to taste as many flavors as you can on your next Royal Caribbean cruise.
Mojito from Boleros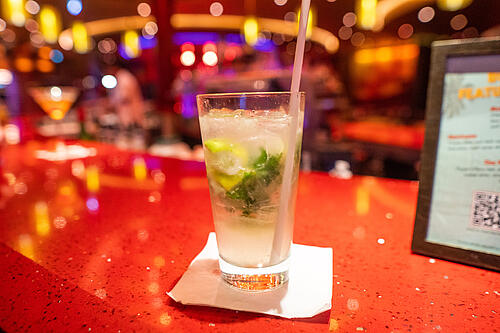 If you love Latin music, you'll love spending time at Boleros on a Royal Caribbean cruise. This Latin-themed bar is found on most Royal Caribbean cruise ships, and they make the best mojito found anywhere onboard.
This traditional Cuban cocktail is made with white rum, sugar, lime juice, soda water, and fresh mint leaves. It hits the spot every time, and you can even try different variations like strawberry mojitos or frozen mojitos. 
Related: Royal Caribbean drink package - your top questions answered
One of my favorite things to do onboard is sip a mojito while listening to the live salsa, merengue, and bossa nova performed at Boleros. And you'll have excellent people watching opportunities, too, as this venue almost always turns into a dance party.
Caribbean Mule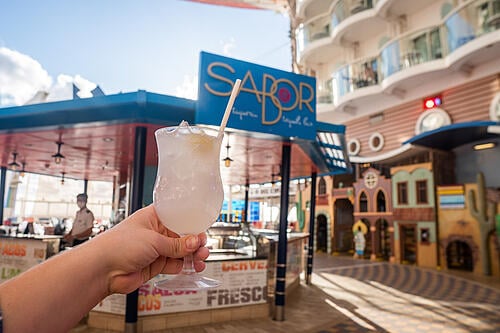 If you like Moscow Mules, you'll love the Caribbean Mule found on a Royal Caribbean cruise. Made with Absolut vodka, coconut syrup, lime juice, and Gosling's ginger beer, I find this drink to have the perfect balance of flavors.
I was originally nervous to order the Caribbean Mule because I thought the ginger flavor might be too strong, but it was just right. The ginger cuts down on some of the sweetness, so I much prefer this drink to an ultra-sweet drink like sangria.
Related: 8 mocktails to try on your next Royal Caribbean cruise
This cocktail is available at most bars and lounges onboard as it is on Royal Caribbean's standard fleetwide drink menu.
Lavender Daiquiri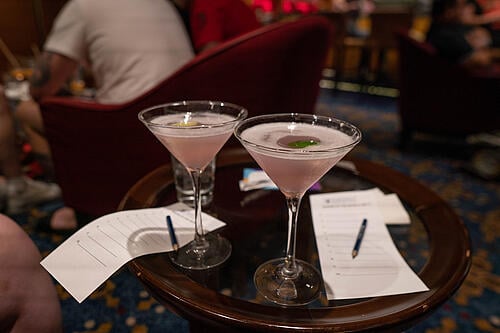 Lavender in a cocktail? It might sound a bit weird, but you should give the Lavender Daiquiri a shot on your next Royal Caribbean cruise.
Available at Schooner Bar, this cocktail is made with Bacardi Superior rum and lavender syrup. It's not overly sweet yet offers a unique lavender flavor that doesn't overpower the drink.
This is one of my go-to cocktails on any cruise, especially during a round of trivia at Schooner Bar.
Love Connection
Perhaps the prettiest drink on this list is the Love Connection. This drink has three layers of frozen, fruity flavors that are sure to be refreshing on a sunny pool day.
This drink combines layers of strawberry daiquiri, mango daiquiri, and piña colada for the ultimate tropical cocktail. You can order the Love Connection from any bar with a blender onboard a Royal Caribbean ship.
Related: Recipe: Love connection frozen drink
We ordered the Love Connection from Trellis Bar and it made for a fun drink to enjoy while relaxing in Central Park. While sweet, it's certainly tasty, and is easily converted into a mocktail by omitting the rum!
The Lime & Coconut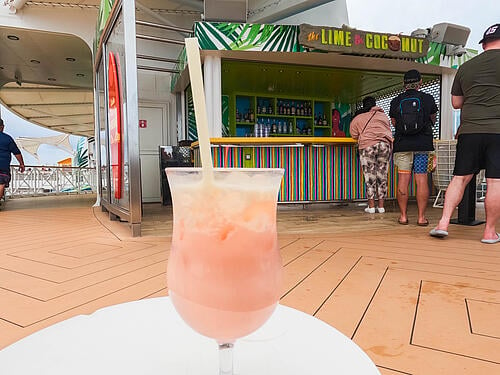 Available on Royal Caribbean ships with The Lime and Coconut Bar is the bar's namesake, the Lime & Coconut cocktail. Made with Malibu Coconut rum, coconut milk, coconut syrup, guava syrup, and lime juice, the Lime & Coconut will transport you directly to the tropics.
The Lime & Coconut is served over ice, although the coconut milk makes it slightly creamy. With the combination of guava and lime, the drink has a citrusy yet sweet flavor. The flavor profile of the drink, especially when adding coconut milk, is unlike any cocktail I've had before.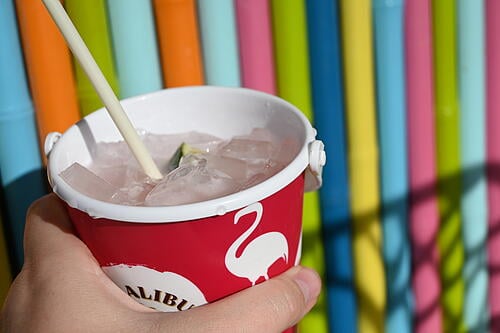 The Lime & Coconut is often served in a Malibu bucket, making for a fun way to enjoy the cocktail while on the pool deck. It's a vacation cocktail at its finest, so be sure to order The Lime & Coconut if you're sailing on a ship with The Lime and Coconut bar.
PB&J Old Fashioned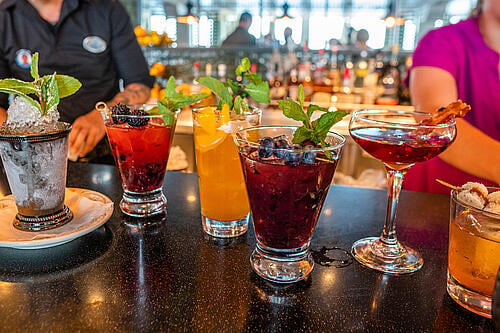 When Royal Caribbean debuted its first southern restaurant and bar, The Mason Jar, on Wonder of the Seas, they also debuted a cocktail menu with flavors and drinks not found elsewhere onboard. Everything from the Mississippi Moonlight—made with blackberry moonshine—to boozy milkshakes are available at The Mason Jar Bar.
Related: The Mason Jar Southern food restaurant review on Wonder of the Seas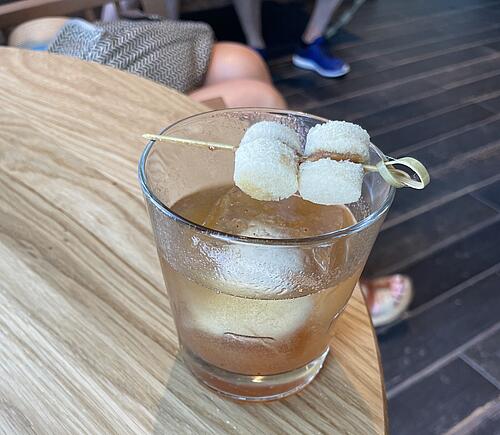 The bar's most popular cocktail quickly became the PB&J Old Fashioned. This cocktail is made with Skrewball peanut butter whiskey and bourbon, strawberry jelly, and walnut bitters. To top it off, the drink is garnished with a mini PB&J sandwich.
I heard nothing but raves from this drink onboard Wonder of the Seas. While I'll admit that the PB&J Old Fashioned was a bit too strong for my preference, if you love whiskey, you'll love this inventive rendition of a classic old fashioned.
Banana Colada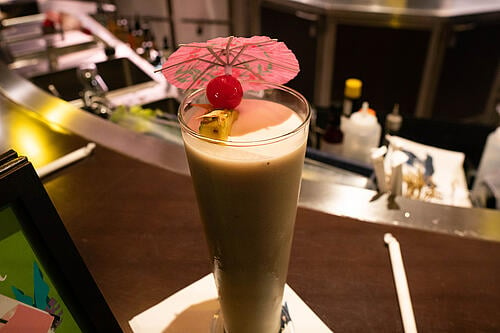 My all-time favorite cocktail onboard a Royal Caribbean cruise is also the first drink I ever ordered on my very first cruise: the Banana Colada. I have fond memories of boarding my first cruise on Mariner of the Seas and immediately kicking off the cruise with a drink. Little did I know the Banana Colada would remain, to this day, my favorite Royal Caribbean cocktail!
Related: Check out the signature cocktails at The Bamboo Room
The Banana Colada combines rum with the flavors of banana, coconut milk, and cinnamon into a frozen drink served, fittingly, with a mini umbrella. This drink screams vacation and a classic piña colada pales drastically in comparison to the Banana Colada.
My favorite Banana Colada can be found at The Bamboo Room, available only on Mariner and Navigator of the Seas. However, you can also find a rendition of this cocktail at bars on other Royal Caribbean ships.
Planning a Royal Caribbean cruise? Start here: