In:
Drinking may be synonymous with any cruise vacation, but there are plenty of nonalcoholic beverages to enjoy while on a Royal Caribbean cruise. Nothing hits the spot like a tropical, fruity drink, whether you're sun tanning on the pool deck or exploring one of Royal Caribbean's private destinations.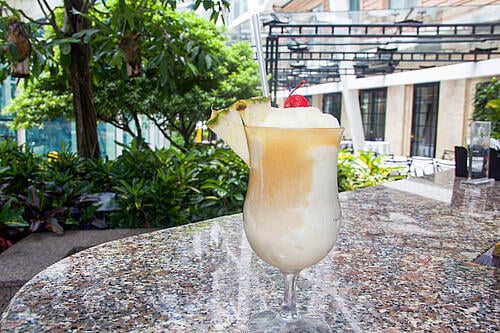 I was curious as to what types of mocktails are available on a Royal Caribbean cruise, so I engaged in some fun "research" to taste a variety of drinks around the ship during my recent sailing. While there are endless combinations of juices, fruits, and syrups that can be turned into tasty mocktails, here are 8 of my favorite options for when you're craving a nonalcoholic drink.
Mojito from Boleros
Boleros is the Latin-themed bar found on most Royal Caribbean cruise ships, and it is undoubtedly the best place onboard to order a mojito.
While the drink's exact birthplace is not entirely known, it's said that the mojito originated in Havana, Cuba. Combining white rum, lime juice, fresh mint, white cane sugar, and soda water, a mojito is both light and refreshing.
To order a virgin mojito, simply order a mojito without rum. The result tastes like an extremely fresh mint lemonade, and it was my favorite mocktail I tried while onboard.
Piña Colada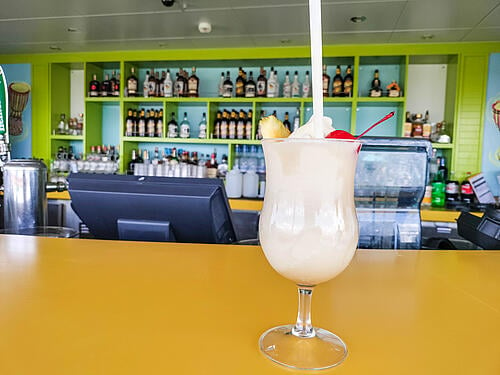 Perhaps the most famous vacation cocktail in the world is a piña colada, a frozen drink combining rum, coconut cream, and pineapple juice together. The piña colada originated in San Juan, Puerto Rico during the 1950s and has since become synonymous with a tropical vacation.
Most bars on any Royal Caribbean ship will be able to make a piña colada, although they are most commonly served on the pool deck. Ordering piña coladas without alcohol is very common and, due to the strong pineapple and coconut flavors, a virgin piña colada barely tastes any different than its alcoholic counterpart.
Not many drinks hit the spot on a warm Caribbean day like a piña colada does, and it is a must-have drink on any Royal Caribbean cruise.
Miami Vice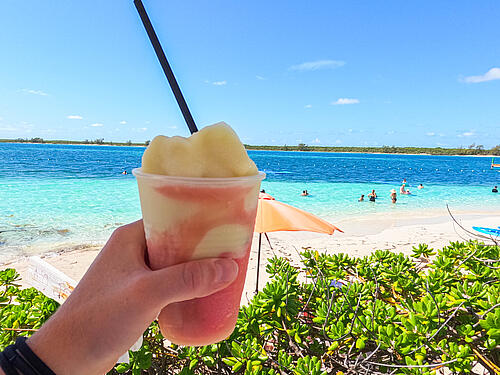 If you're having a hard time choosing between a piña colada and a strawberry daiquiri… why not both? A Miami Vice is another delicious mocktail to try on a Royal Caribbean cruise, made with one side strawberry daiquiri and the other piña colada.
The combination of pineapple, strawberry, and coconut is sure to be the best of both worlds of any tropical mocktail.
Mai Tai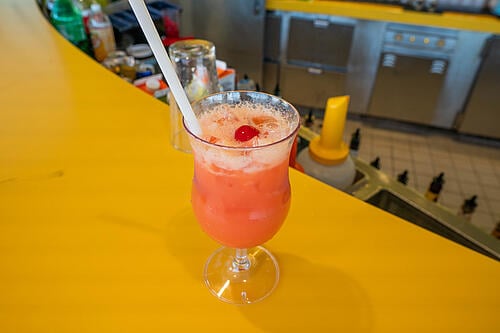 A Mai Tai is a classic drink to enjoy while at the beach or onboard a cruise ship. Made with Goslings Black Seal Rum, Myer's Dark Rum, amaretto, orange juice, sweet & sour, lime juice, and grenadine, a Mai Tai brings an explosion of flavor to a tropical drink.
A Mai Tai can easily be made into a mocktail by removing the rum. I ordered a virgin Mai Tai at The Lime & Coconut bar onboard Freedom of the Seas and it was one of the best drinks I enjoyed all cruise long!
Lime & Coconut from The Lime & Coconut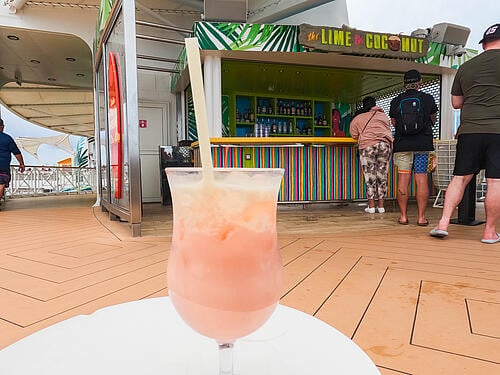 If you're sailing on a Royal Caribbean ship with The Lime & Coconut bar on the pool deck, be sure to order the signature Lime & Coconut drink without alcohol.
The Lime & Coconut is a creamy drink over ice that combines Malibu Coconut Rum, coconut milk, coconut syrup, Monin guava syrup, and lime juice for a unique fruity taste. I ordered the drink without rum to give the bar's signature cocktail a try.
Initially I was not sure if I liked it due to flavor combinations of guava, lime, and coconut, but the drink grew on me. While I think I preferred the Mai Tai I ordered from The Lime & Coconut, both mocktails make a good choice for a sunny day on the pool deck.
Being able to order this drink is not totally guaranteed, however. When I asked the bartender on Oasis of the Seas if he could make it, he initially seemed confused but said he would try to make a virgin version (to which he did). On Freedom of the Seas, though, my bartender said he didn't think it was possible to make it virgin and I was unable to order it.
It might be a good idea to just specify the drink order "without coconut rum" if the bartender seems confused whether or not they can make the drink without alcohol.
Coco Loco (or Labadoozie)
Royal Caribbean's private destinations of Perfect Day at CocoCay and Labadee each have the same signature cocktail, despite the name differing between the two destinations. The Coco Loco (CocoCay) or Labadoozie (Labadee) is a frozen drink made with orange juice, pineapple juice, papaya juice, coconut cream, dark rum, coconut rum, and grenadine.
As this drink is so popular while in port, there are usually pre-made blended drinks available, and bartenders simply scoop the drink into a cup. Fortunately, this pre-made blend is nonalcoholic as the alcohol is poured into the drink once it is in the cup, so it's an extremely easy mocktail to order.
In fact, if you're interested in making the Coco Loco at home, we have a full recipe available on the blog.
Smoothies from Vitality Cafe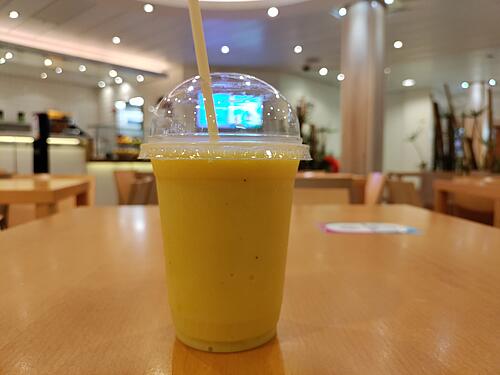 If you're sailing on an Oasis Class cruise ship, one of my go-to "mocktails" is a fresh smoothie from Vitality Cafe, located in the Vitality Spa. Not only is a fresh fruit smoothie healthier than a mocktail loaded with added sugar, but it is extremely refreshing as well.
Smoothies at Vitality Cafe are entirely customizable, from selecting which fruits you would like to the type of milk. My favorite smoothie to order has bananas, strawberries, and blueberries blended with almond milk. A bit of peanut butter makes for a great addition to the smoothie as well.
Smoothies are included in Royal Caribbean's drink packages, although if you decide to add protein powder to your drink an extra charge will be added.
Specialty coffee drinks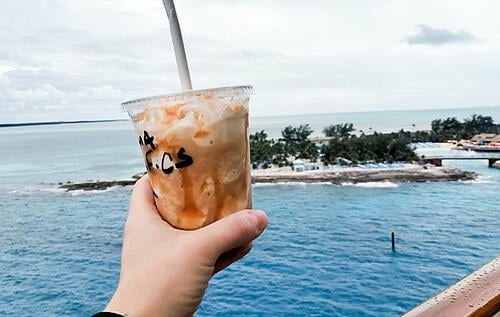 While not technically a mocktail, I always enjoy having frozen or iced coffee whenever I don't feel like drinking alcohol but still want to sip on a tasty drink. All Royal Caribbean ships have somewhere to order specialty coffees onboard, whether at Cafe Promenade, Park Cafe, Cafe Latte-tudes, Starbucks, or Cafe @ Two 70.
Select drinks will be on the cafe's menu, from frozen caramel "frappuccinos" to iced hazelnut or vanilla lattes. A variety of flavored syrups are available, though, so it's possible to customize a drink exactly how you would like. Frozen white chocolate coffee drinks and iced caramel lattes are two of my favorites.
What is your favorite mocktail (or cocktail) to enjoy on a Royal Caribbean cruise? Let us know in the comments!