In:
Booking a drink package on a Royal Caribbean cruise allows you to order unlimited drinks throughout your sailing. Whether a frozen margarita or spiked milkshake, there is a huge variety of drinks to enjoy while onboard.
If you're daydreaming about the drinks on your upcoming cruise, it's helpful to have an idea of which drinks are available. While you can always find classic cocktails like piña coladas and daiquiris, you can also try some seriously unique concoctions around the ship.
The advantage of a Royal Caribbean drink package is that you can order as many drinks as you like with no extra cost. Therefore, there's no harm in trying a drink you might not otherwise order at home. If you don't like a certain cocktail, you can always order something else!
Our team has tried dozens of cocktails on Royal Caribbean, and we wanted to share our favorite drinks with you. Here are 21 drinks to order if you have a cruise drink package.
Lime and Coconut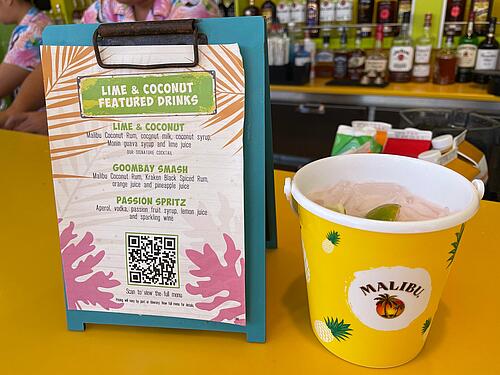 One of Royal Caribbean's newer cocktails is The Lime and Coconut, a creamy guava-flavored drink served at The Lime and Coconut bar. The cocktail combines Malibu Coconut rum with coconut milk, coconut syrup, Monin guava syrup, and lime juice.
If you've never tried a cocktail with guava before, you might be surprised with the sweet, tangy flavor of the fruit, which many people describe as a cross between a strawberry and a pear. The fruity flavor combined with the coconut milk and syrup brings a truly unique taste to the beverage.
Where to find the Lime and Coconut: The Lime and Coconut cocktail can only be ordered from The Lime and Coconut bar, found on Navigator of the Seas, Freedom of the Seas, Oasis of the Seas, Odyssey of the Seas, Wonder of the Seas, and Icon of the Seas.
Margarita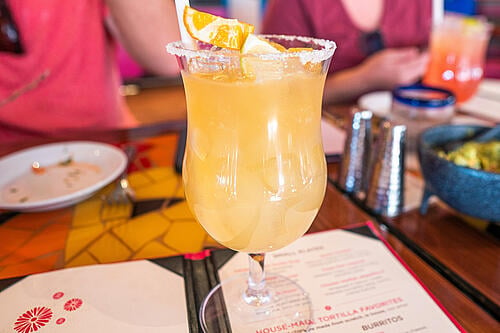 A margarita may be a classic cocktail, but that doesn't make it boring.
Margaritas are popular for a reason: they combine sweet, salty, and sour flavors together into one refreshing drink. Whether you order a margarita on the rocks or frozen, there's hardly a better choice for a drink while onboard.
You can order a margarita in plenty of flavors on a Royal Caribbean cruise, including traditional lime, mango, passion fruit, guava, pineapple, and even jalapeño!
Where to find a margarita: Unsurprisingly, it's not difficult to find a margarita onboard a Royal Caribbean cruise. Every bar on your ship should be able to craft a margarita, although the most innovative flavors can be found at Sabor or Cantina Fresca, two Mexican-themed bars available on select ships.
Aperol Spritz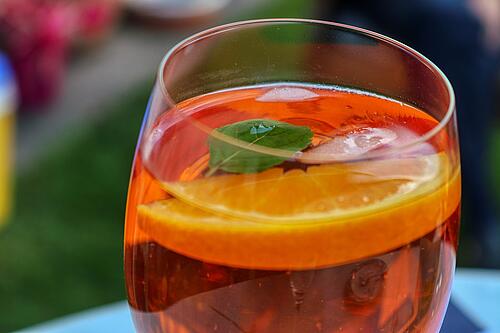 An Aperol spritz is a classic Italian wine-based cocktail that has gained popularity on cruises in recent years. If you see passengers sipping on a bright orange drink, it's most likely made with Aperol, an apéritif known for its distinct color.
This cocktail combines Aperol with prosecco, club soda, and fresh orange. It's both classy and refreshing, making it a nice drink to enjoy whether on the pool deck or watching a show.
An Aperol spritz is often quite bitter, which leads some people to dislike the drink. In our experience, the drink is not overly bitter on Royal Caribbean ships, making it more universally enjoyed while onboard.
Where to find an Aperol spritz: If a bar has Aperol stocked, they can make an Aperol spritz. We haven't had any problem ordering this drink from any bar onboard.
Frozen Mojito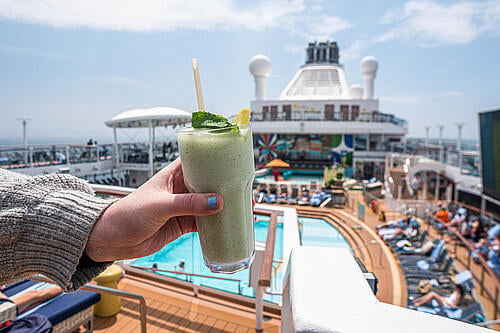 Mojitos are incredibly refreshing. Made with rum, lime juice, fresh mint, and simple syrup, a mojito will quench your thirst unlike any other drink onboard.
Traditionally, mojitos are served over ice, but we recommend ordering a frozen mojito instead. Frozen mojitos take all traditional ingredients and are blended with ice, and it makes the drink even more satisfying.
Where to find a frozen mojito: Most bars can make a frozen mojito provided they have a blender and mojito syrup.
Piña Colada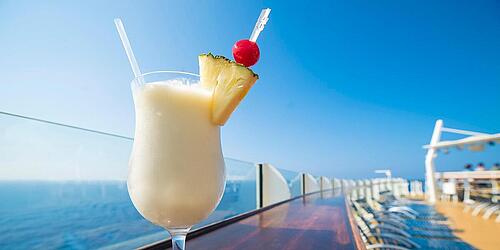 If there's one cocktail that immediately screams vacation, it's the piña colada. The drink originated in Puerto Rico in 1954 and combines pineapple, coconut cream, and rum into a frozen beverage.
This drink is among the most popular to order on a Royal Caribbean cruise. Not only is it the perfect drink to accompany your pool deck selfie, but it will keep you cool on the hottest of sea days.
Where to find a piña colada: A piña colada can be made at any bar onboard with access to a blender.
Lavender Daiquiri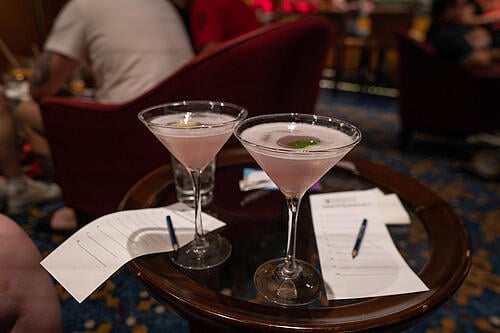 Attending a trivia session at the Schooner Bar? If so, there's no better drink to try than the lavender daiquiri, one of the bar's signature drinks.
At first glance, putting lavender in a cocktail may seem a bit strange, but trust us when we say it's delicious! The drink combines Bacardi Superior rum with lavender syrup, giving a floral twist to the traditional daiquiri.
Not only does the lavender drink taste wonderful, but its purple color makes it one of the prettiest drinks you can order on any Royal Caribbean ship.
Where to find the lavender daiquiri: The lavender daiquiri can be found at the Schooner Bar.
Rum Old Fashioned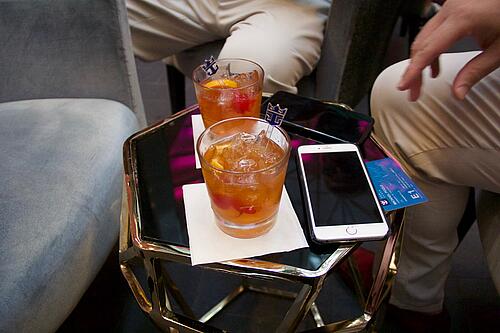 Another favorite at the Schooner Bar is the rum old fashioned, a sweeter and more tropical version of the traditional drink.
The rum old fashioned combines Bacardi Reserve Ocho rum with coconut syrup and Angostura bitters. The coconut syrup provides the ideal amount of sweetness to counteract the drink's bitters, and its coconut flavor gives the cocktail a more tropical vibe.
If you aren't someone who typically likes an old fashioned, don't be afraid to try the rum old fashioned. Because it's made with rum and coconut instead of bourbon or rye whiskey, it feels like a different type of drink entirely.
Where to find the rum old fashioned: The rum old fashioned is a signature drink at the Schooner Bar.
Hot Toddy
If you're cruising to a cold destination like Alaska or Norway, ditch the frozen drinks in favor of a warm alcoholic beverage like a hot toddy.
A hot toddy is made with hot water, whiskey, lemon, and honey, making it light and refreshing without being too sweet.
You'll often see a hot toddy as a drink of the day on Alaska cruises, which means you can enjoy this cocktail at a lower cost if you do not have a drink package.
Where to find a hot toddy: You can order a hot toddy from any bar capable of making hot drinks.
Mudslide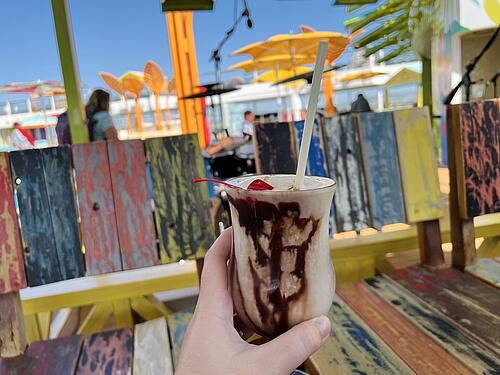 If you're in the mood for a chocolate drink, a mudslide is the perfect cocktail to try with your drink package. Mudslides are creamy drinks made with vodka, coffee liqueur, irish cream, and heavy cream.
Chocolate syrup is drizzled around the inside of the glass before pouring the drink, making it extra decadent.
The mudslide is not the lightest cocktail on our list, but if you're in search of a liquid dessert, it's a delicious drink option.
Where to find a mudslide: Most bars onboard should be able to make a mudslide, including those on the pool deck and in indoor lounges.
Cucumber Martini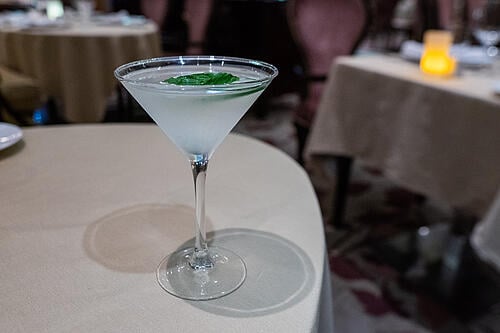 The cucumber martini is one of Royal Caribbean's most famous drinks, and you'll be hard pressed to find another drink so cool, crisp, and refreshing.
The drink is made with cucumber wheels, Grey Goose vodka, lemongrass syrup, sweet and sour, and basil leaves. Although the individual ingredients may seem like odd items to add to a cocktail, it's way more delicious than it appears on the menu.
Where to find the cucumber martini: You can find a Cucumber Martini on Royal Caribbean's Oasis Class cruise ships. The drink is most frequently enjoyed in 150 Central Park, but you can find it at the Champagne Bar as well.
Caribbean Mule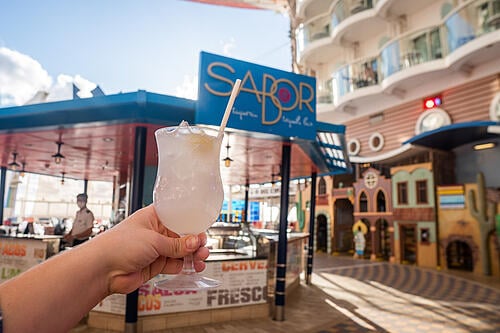 One of Royal Caribbean's signature drinks on the cruise line's pool deck menu is the Caribbean Mule. The cocktail is made with Absolut Vodka, Gosling's ginger beer, coconut syrup, and a twist of lime, and it's one of the most refreshing drinks on the menu.
Sailing through rocky seas? Well, ginger is a natural remedy for seasickness. Theoretically speaking, the more Caribbean Mules you drink, the less chance you'll have at feeling seasick onboard.
Related: Royal Caribbean drink package rules overview
You should, of course, take this advice loosely. Drinking ten Caribbean mules on a day with rough seas could make you feel more ill than you would have been without them!
Where to find the Caribbean mule: You can find a Caribbean Mule at any bars on the pool deck on your cruise ship, although other bars onboard can usually craft this ginger drink as well.
Espresso Martini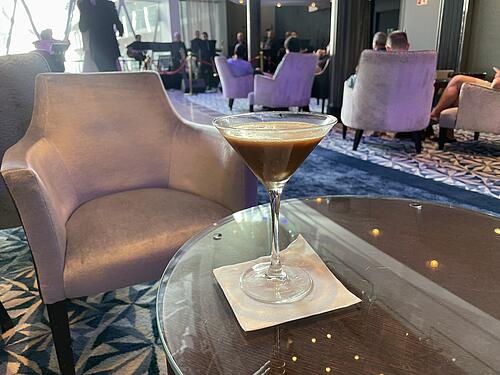 Espresso martinis are wildly popular on a Royal Caribbean cruise, particularly during the evenings. This cocktail, perfect for coffee lovers, combines espresso, vodka, and coffee liquor for a boozy, rich beverage.
An espresso martini is unquestionably sophisticated, and there's nothing quite like sipping a martini while listening to live music or a production show. As another plus, the caffeine will keep you awake into the night, allowing you to take advantage of everything your ship has to offer.
Where to find an espresso martini: Many bars, but not all, can make an espresso martini on a Royal Caribbean cruise. Your best bet for finding this caffeinated cocktail is in a bar in the ship's interior—think the R Bar in the Royal Promenade or Trellis Bar in Central Park. More casual bars, such as those on the pool deck, may not stock the espresso needed to craft the drink.
Whiskey Sour
A whiskey sour provides a satisfying blend of alcoholic and sour flavors. The drink combines bourbon with lemon juice and simple syrup, and it is traditionally garnished with an orange wheel.
Whiskey can be a strong choice of liquor, so the sour flavors in the drink help cover the strong alcohol taste. If you're not a huge fan of sweet drinks but would prefer something with more flavor than just liquor, a whiskey sour is a good choice.
Where to find a whiskey sour: You can order a whiskey sour from any bar on Royal Caribbean ships.
Banana Colada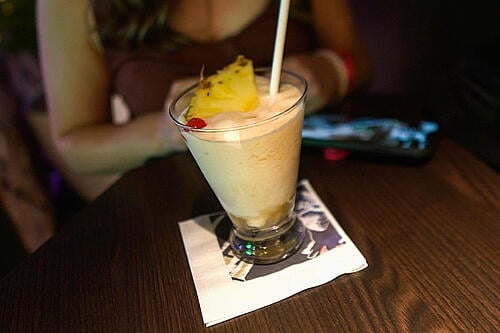 Combining Smith & Cross rum, Bacardi Superior rum, coconut milk, banana, and cinnamon syrup, the banana colada is a must-try drink on Royal Caribbean.
This frozen cocktail is found at the cruise line's tiki-themed bar, The Bamboo Room, and the bar's tropical vibe perfectly matches this frozen delight. The drink is more like a milkshake or smoothie than most frozen cocktails, and it immediately transports you to the tropics.
Where to find the banana colada: You can find Royal Caribbean's official banana colada at The Bamboo Room on Mariner of the Seas and Navigator of the Seas. However, you can order a similar drink from bars on other ships if the bar has any bananas stocked.
On The Run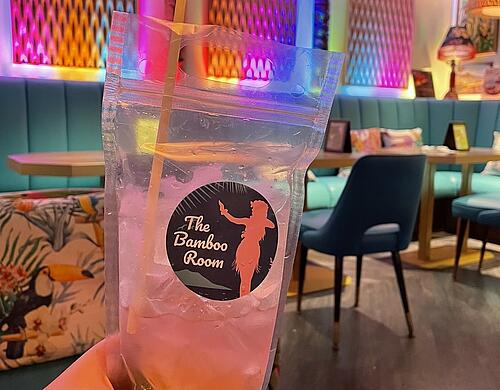 In need of a quick cocktail before hitting a show or activity? Head to The Bamboo Room and order the On The Run cocktail.
Unlike regular cocktails served in a glass, the On The Run is, essentially, an adult version of Capri Sun. Served in a juice box, the drink combines Bacardi Superior rum, watermelon juice, lime juice, guava syrup, St. Elizabeth Allspice Dram, and mint.
Drinking a cocktail from a juice box is undeniably fun, and there's no easier drink to carry with you around the ship.
Where to find the On The Run: You can order an On The Run cocktail from The Bamboo Room on Mariner of the Seas and Navigator of the Seas.
Miami Vice
If you're a fan of sweet, frozen cocktails, you'll love a Miami vice. This fruity concoction places a piña colada side-by-side with a strawberry daiquiri, creating a perfect blend of berry, coconut, and pineapple.
The best time to enjoy this drink is on a hot, sunny sea day, as the frozen cocktail will surely cool you off as you lounge by the pool.
If you're feeling adventurous, you could also combine other frozen flavors together, such as a mango daiquiri with a piña colada.
Related: Royal Caribbean drink package - your top questions answered
Where to find a Miami vice: This popular cocktail can be found at all bars onboard, provided they have access to a blender. As both piña coladas and strawberry daiquiris are frequently ordered onboard, most bars are able to combine the two with little fuss.
PB&J Old Fashioned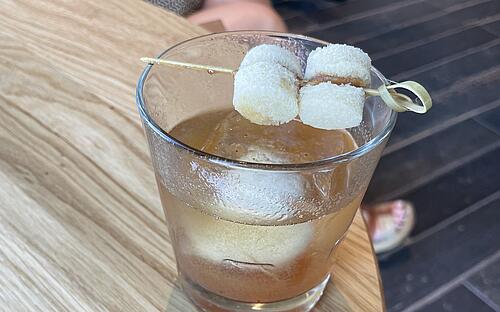 Peanut butter and jelly and… a cocktail?
Sure, it may seem a bit weird, but the PB&J Old Fashioned takes this kid-favorite sandwich to the next level. It combines Skrewball peanut butter whiskey with Kentucky bourbon, walnut bitters, and strawberry jelly, and a mini sandwich is placed atop the drink as garnish.
The PB&J Old Fashioned has quickly gained popularity with Royal Caribbean fans, but be warned: the drink is strong! Nonetheless, it's an excellent cocktail choice to enjoy at The Mason Jar bar while listening to live country music.
Related: The Mason Jar Southern food restaurant review on Wonder of the Seas
Where to find the PB&J Old Fashioned: The PB&J Old Fashioned is only found at The Mason Jar, Royal Caribbean's southern-inspired bar and restaurant. Currently this bar is only on Wonder of the Seas, but a second location will launch on Utopia of the Seas when she sets sail in 2024.
Blueberry Nojito
Trying to make the most of a drink package usually means you're drinking a lot more than you would at home. At some point during your cruise, you'll likely be tired of drinking alcohol, so why not order a mocktail?
Our favorite mocktail on Royal Caribbean is the blueberry nojito, which is a mojito without alcohol. This berry-flavored drink combines blueberry purée with lime juice, simply syrup, and fresh mint.
Related: 8 mocktails to try on your next Royal Caribbean cruise
You won't even miss the alcohol while drinking this sweet cocktail!
Where to find the blueberry nojito: The blueberry nojito is on Royal Caribbean's standard mocktail menu and is available at any bar.
Coco Loco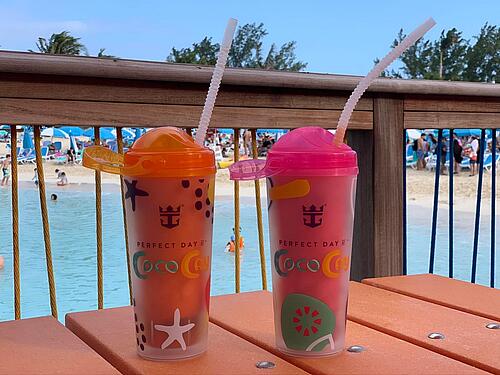 If your cruise visits Perfect Day at CocoCay, your drink package will work on the island, meaning you can enjoy your favorite drinks not only onboard, but also ashore.
Perfect Day at CocoCay's signature drink is the Coco Loco, a frozen concoction mixing an abundance of tropical flavors. The drink can be made with or without alcohol, and sipping the drink is a perfect way to enjoy your time on the island.
The Coco Loco combines:
½ oz orange juice concentrate
½ oz pineapple juice concentrate
½ oz papaya juice concentrate
½ oz coconut cream
¾ oz dark rum
¾ oz coconut rum
¼ oz grenadine
Crushed ice
Whether you make this signature drink at home or wait to try it while at CocoCay, it's sure to be a favorite drink you try during your cruise.
Where to find the Coco Loco: The Coco Loco can be ordered at Royal Caribbean's private destination of Perfect Day at CocoCay. If your cruise visits Labadee, the drink is also served there, but it's called the Labadoozie.
Cheshire Cat Cosmo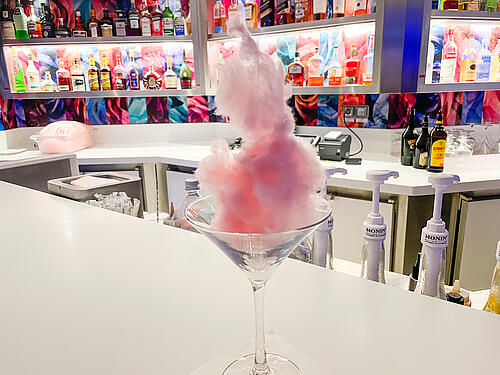 The Cheshire Cat Cosmo is a signature drink at Wonderland, Royal Caribbean's whimsical specialty restaurant.
If you order the Cheshire Cat Cosmo, you might be confused when your waiter brings it to the table. Instead of a liquid drink, your cocktail glass will be filled with cotton candy! To turn the cotton candy into a cocktail, your waiter will pour the cocktail mixture over the candy, immediately turning it into a liquid.
While a sweet drink, it's undoubtedly a fun cocktail to try while on a cruise.
Where to find the Cheshire Cat Cosmo: This cotton candy drink can only be ordered at Wonderland, available on Quantum and Oasis Class ships.
If you're sailing on an Oasis Class ship, you don't need to dine at Wonderland in order to try the restaurant's cocktails. The top floor of the restaurant has a standalone bar that any guest can access, and it has one of the most dreamy atmospheres anywhere on the ship.
Long Island Iced Tea
One of the strongest drinks you can order on a Royal Caribbean cruise is a Long Island iced tea. If you're looking for one of the quickest ways to feel buzzed onboard, this is sure to do the trick.
Long Island iced teas are made with vodka, gin, white rum, white tequila, triple sec, lemon juice, and cola.  With five liquors in the drink, it's a fun (yet dangerous) cocktail to order on a cruise.
Where to find a Long Island iced tea: A classic cocktail, a Long Island iced tea is available at all bars onboard.