In:
How do you pick a cabin on a Royal Caribbean ship that will be the right choice for you?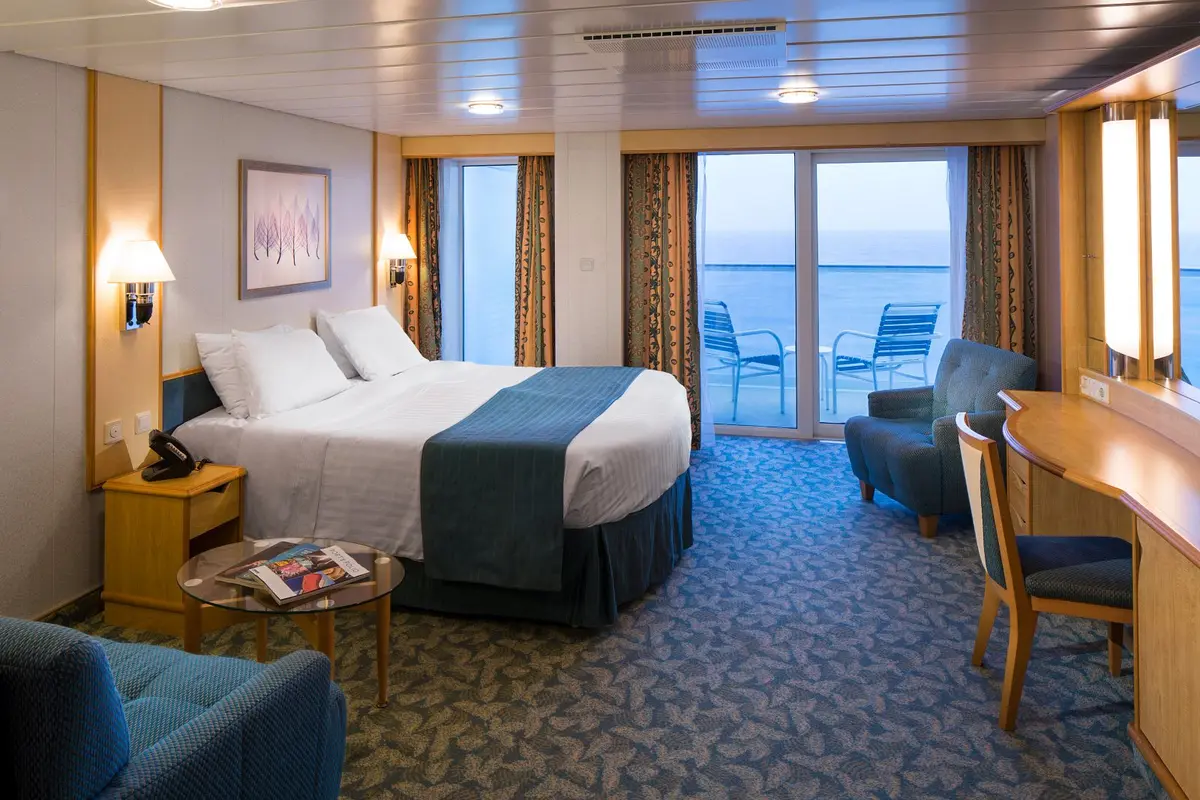 There are so many cabins you can choose from when booking a cruise, that the decision can be downright daunting. Royal Caribbean sails some of the biggest new cruise ships, and its newest ship will have 2805 rooms on just that vessel!
Besides the total amount of rooms, you also have to figure out the cabin categories.
As an example, Icon of the Seas has 28 unique cabin categories. Why so many? Primarily, Royal Caribbean wants to ensure they can offer something for everyone, and the goal is to be able to handle nearly any family onboard. Since cruisers come in all sorts of configurations, the cruise line has developed many cabin types to offer the most choices possible.
No matter which ship you choose, you'll find inexpensive windowless "inside" cabins that are small, but practical, to opulent and sprawling suites that seem more like an apartment.
In terms of cabins, Royal Caribbean has something for everyone. There are small, inside cabins that will get you on the cruise at a reasonable price to huge suites that add more benefits than you can probably use on a sailing.
Royal Caribbean cabin basics
You will find four main categories of cabins on any Royal Caribbean cruise ship: inside cabins, oceanview cabins, balcony cabins, and suites.
No matter which room you book, there is a base set of amenities any room will come with:
Bed that can be split apart and put together to sleep at least 2 people
Private bathroom with shower
Vanity with mirror and chair
Safe
Mini-fridge
Closet
Television
There are more balcony cabins than ever on Royal Caribbean's newer ships because the popularity of these rooms has become enormous.  Plus, balcony cabins cost more than interior rooms, so it's a win-win for the cruise line and consumer.
No matter which ship you consider, suites are the category with the least amount of rooms available. Suites take up more space, and so there just isn't enough room to build as many.  Between the few that are available and the surging demand for suites, they are typically the first category to sell out. If you want a suite, you will want to book a cruise as early as possible.
Read more: The 5 best cabin locations on a cruise ship
Within each category of stateroom are subcategories that divide up rooms by configuration.  As an example, you will see a Superior Oceanview Balcony compared to an Oceanview Balcony.  The Superior room is larger, with more square footage than the other cabin.
There are also accessible cabins for those with mobility needs, as well as very limited cabins designed for solo cruisers. 
Inside cabins on Royal Caribbean ships
Inside cabins are attractive to anyone looking to cruise on a budget. Inside rooms are usually the least-expensive choice when booking a cabin on a Royal Caribbean ship. Compared to higher category rooms, you could save quite a substantial amount of money by staying in an inside room.
Inside staterooms are distinguished from other rooms primarily because they offer no natural view of outside the ship. These rooms have no windows or balconies.  There's just four walls.
You will also find the smallest amount of living space in an inside cabin. A regular inside cabin on Icon of the Seas measures just 156 square feet, compared to a regular balcony cabin that has 204 square feet of space, plus 50 square feet of balcony space.
The compelling reason to book an inside stateroom is for the value, since they are often the least-expensive rooms you can book and that means it is the lowest entry point to getting on the cruise.  The exact size of the room will vary depending on the class of ship you are sailing on, but inside rooms will offer the least amount of space at the least price.
Read more: I always stay in an inside cabin on a cruise ship. Here's why I actually like these rooms
Over the years, Royal Caribbean has introduced new kinds of inside staterooms that retain the basic qualities of an inside stateroom, but with a new twist.
Promenade view: Promenade view staterooms are inside staterooms that feature a bay window that overlooks the Royal Promenade.  While the room has no view outside the ship, it does provide something to look at, with great opportunities for people watching as well as a great vantage point for events on the Royal Promenade.
Another added benefit of this room category is the bowed windows offer more square footage compared to standard inside staterooms.
The exact size of Promenade stateroom varies depending on the class of ships. Voyager and Freedom class ships Promenade staterooms are 160 square feet, whereas on Oasis class ships they are 193 square feet.
Read more: Royal Caribbean ship classes ultimate guide
Virtual Balcony: One of the newest innovations to the inside stateroom is the virtual balcony stateroom, which takes a conventional inside stateroom and adds an 80-inch LED high-definition television that provides live views around the ship.
The screens are 4K ultra high definition capable screens that stretch from floor to ceiling and receive a video feed from the ship's cameras that are mounted at the stem and stern of the ship.
With virtual balcony staterooms, guests can enjoy a balcony experience without the balcony price.
Oceanview cabins on Royal Caribbean ships
The next category up from an inside cabin is an oceanview cabin, which are slightly larger and have a porthole or window to the ocean. You can't open the window or get any fresh air, but there is natural light.
Generally speaking, oceanview cabins on Royal Caribbean ships are around the same size of a balcony cabin (minus the balcony space). In fact, some oceanview cabins at the front of a ship are substantially larger than balcony rooms, because of their odd shape.
Oceanview cabins at the front are a hidden gem because of how much more space they provide. Some are categorized as family cabins, and have bunk beds for the kids, along with separate bedrooms. Given their odd shape, you may find sloping walls and even a pole in the middle of the room.
Much like the inside staterooms, oceanview cabins are on the inexpensive side and provide guests with an affordable means of being on the ship and still have a view.  Natural light is important to many guests, and the ocean view provides that.   Essentially, oceanview rooms are slightly larger inside rooms with a window.
The reason to consider an oceanview room is if a view is important to you, but the price of a higher-category stateroom is not possible. Alternatively, sometimes the price difference between an inside room and an oceanview is not too large, and someone may want to upgrade their room option at not a lot of extra cost.
There is one variation on the oceanview stateroom, which offers even more of a windowed view without the balcony.
Panoramic oceanview: Panoramic Ocean View Stateroom gives much more of a view than a traditional oceanview room, with a floor to ceiling wrap around panoramic window that is 76 inches high by 103-321 inches wide.  That is a big window.
As you might imagine, the reason to book a stateroom like this is for the amazing views without the balcony view price.  
Balcony cabins on Royal Caribbean ships
The most popular stateroom category on Royal Caribbean ships are balcony cabins because they are an affordable way to get enough living space, fresh air, and private outdoor space.
Not only do you get a larger bedroom area, but you will get your own balcony attached to your room that you can step onto and enjoy the outside views.
Having your own balcony means you have a special spot on the ship just for you to enjoy, that provides views all around the ship, as well as that terrific ocean breeze. Many cruise fans swear by a balcony for the added space, private area and ambiance that only a balcony room can provide.
A balcony cabin gets you more indoor and outdoor space, and that means more room for everyone to maneuver and makes the room feel less crowded.  Additionally, having a balcony means you have a great spot for sail away, enjoying the ocean passing by, or seeing the port you are docked in from the comfort of your stateroom.
Read more: 8 reasons to book a balcony cabin
On Oasis Class ships, Royal Caribbean created balcony cabins that face inwards, rather to the ocean.
Central Park balconies: On Oasis-class ships, Central Park balcony staterooms are available that instead of offering a balcony that overlooks the ocean, this stateroom category offers a view of the Central Park neighborhood.
The Central Park balconies offer the same fresh air and light that ocean view balconies do but with the opportunity to enjoy the ambiance of Central Park along with the people watching aspect. In addition, Central Park view balcony staterooms are often slightly cheaper than ocean balconies.
The exact size of a Central Park view stateroom with balcony is 182 square feet with a 50 square foot balcony.
Boardwalk balconies: Just like the Central Park balcony staterooms, the Boardwalk balcony staterooms trade the oceanview of a traditional balcony for a view of the Boardwalk neighborhood.
In addition to the view of the Boardwalk fun, some Boardwalk balconies can offer views of the ocean and/or the AquaTheater, depending on where your room is located.  Boardwalk balcony rooms are also usually priced less than ocean balconies.
A Boardwalk balcony room offers 182 square feet of living space, with a private balcony between 47 and 52 square feet.
Suites on Royal Caribbean ships
If you want lots of space and benefits, you'll find a wide array of suites to choose from, with some even encompassing two decks in height.
Depending on which ship you select, there are various Royal Caribbean suite perks that you could choose between. There are rooms that come with a Royal Genie, which is kind of like a butler, and they will ensure you can get a spot in any restaurant, show, or venue and skip nearly every line.
Read more: Royal Caribbean suites guide & review
As you might imagine, suites will cost more than any other Royal Caribbean cabin. These rooms are designed to attract travelers who can afford to spend more, and want to pay extra to get an elevated experience that gives them certain perks that other passengers will not have access to. 
Suites offer a tremendous amount of personal space, higher-end amenities, special bonuses and exclusive access.
Royal Caribbean has a few suites that really stand out compared to other cruise lines.
Read more: 5 best cruise ship suites on Royal Caribbean
The AquaTheater suites on the Oasis Class ships are enormous suites at the back of the ship, with even larger wraparound balconies that provide an unfettered view of the AquaTheater venue below, as well as the ocean.
Loft suites are two-story cabins that configured like a mini-apartment, with soaring ceilings.
And then there's the Ultimate Family Suites and Ultimate Family Townhouse.
These over-the-top suites are built with families that want to splurge in mind. You will find an in-suite slide, leg room, cinema, play room, and an enormous amount of living space.
These family suites can sell for as much as $80,000 for a week.
From Junior Suites to Loft Suites, there are a number of options to choose from. Nearly all suites offer access to a concierge lounge and the services of the concierge host. Cabin suites usually consist of more than one room in your cabin and have the most space of any cabin.  
In addition to the impressive rooms, suite guests typically enjoy double Crown and Anchor Society points for each night of their cruise, concierge planning assistance, complimentary drinks and a private lounge, reserved seating by the pool and shows, and a whole lot more.
On Royal Caribbean's Oasis, Quantum, and Icon class cruise ships, the suite program is enhanced, and referred to as the Royal Suite Class.  Suites on these ships offer the most benefits and highest level of service, split across three tiers of benefits. 
More on picking a cruise cabin