In:
Is a balcony cabin worth paying extra for on a cruise?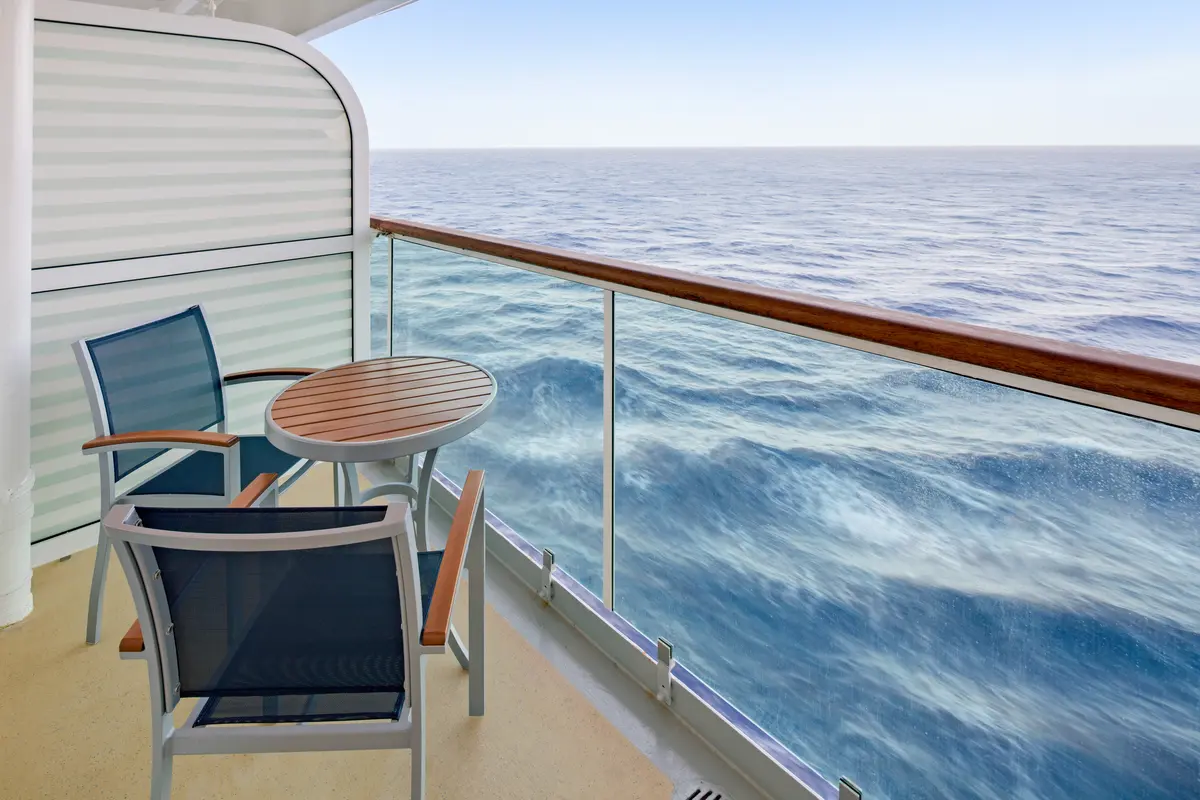 There are advantages and disadvantages to every choice you make, but I think a balcony cabin is indeed worth the cost in many cases.
Of course, a balcony cabin will cost more than an inside cabin, but in many cases, the price difference is not significantly more. Every dollar counts in your vacation budget, but I've found with advanced planning, you can usually get a balcony room for a reasonable upcharge compared to an inside room.
One major component to getting a good price is booking a cruise as early as possible to take advantage of lower prices. The gap seems to grow as the sail date approaches and inventory gets booked up.
For some people, even a small price difference is enough to warrant sticking with a windowless inside cabin instead.
It can be a matter of maintaining a budget, or a preference to spend the extra money it would cost to move up to a balcony on cruise extras, such as a shore excursion or spa treatment. In fact, it's hard to argue with the logic of having more money leftover for add-ons, especially if you'll get more enjoyment out of it.
Read more: The 5 best cabin locations on a cruise ship
Regardless, I came up with eight reasons the extra cost of a balcony cabin is worthwhile if you can afford it.
More living space
If you thought the first reason to book a balcony room is because of the veranda, I think that's actually secondary to the fact a balcony room is bigger than an inside room.
No matter if you are sharing your stateroom with one person or three people, every square foot of space counts and I find the more space you get with a balcony room worth the cost.
Royal Caribbean's inside cabins are around 149 square feet in side, whereas a balcony room starts at 180 square feet. That may not seem like a lot of extra space on paper, but experiencing it in person gives all the perspective you need.
Let's not forget about the extra 50 or so square feet of space you get with your balcony.
That extra space means more room to maneuver through the room and the more people in your cabin, the more it matters.
And if you happen to have connecting balcony rooms, you can often have the stateroom attendant open up the balcony divider to create a larger balcony. We often book connecting balconies when sailing with my kids, and it feels almost opulent having that large of a combined balcony.
Access to fresh air
When you think of a cruise vacation, you probably have the ocean air in mind, and a balcony cabin gives you ample access to it.
It's quite refreshing to be able to open up you balcony any time of day and get the breeze immediately. The connection to the ocean is such a critical component for many on why they enjoy to cruise.
Even when the weather may be a bit chilly, having access to the fresh ocean air is refreshing. On some ships, the balcony forms a bit of an alcove, and it protects you from the wind and allows you to enjoy the crispness of the outdoors.
I took an Alaska cruise in 2022 and stayed in an oceanview room that had large windows, but no outdoor access. I didn't think I'd mind, but I really missed the fresh air component, as well as being able to peek your head over the balcony railing and get a wider angle of views.
Beautiful sailaways & arrivals
While I enjoy a fun pool deck celebration on the first day of a cruise when the ship sails away, enjoying your ship departing and arriving from your balcony is definitely more enjoyable.
Since you have a private balcony to enjoy, you don't have to contend with anyone else to get a spot (other than your cabin mates).
More importantly, I've found that I like to take things in in spurts. Sailaway and arriving in port can sometimes take a long time, so I don't mind going out for a few minutes to see us leave shore, go back inside to do something else, and return outside when there's something more scenic to take in.
In certain ports, the arrival and departure is more impressive.  This includes San Juan, Puerto Rico, Tampa, Florida, and New Orleans, Louisiana. Because there's more to see in these ports, it makes being able to see it easily more important.
Taking a seat in a chair and watching the world go by is a big reason why I enjoy being in a balcony cabin.
A private retreat
Besides what you can see from your balcony, I really enjoy having the outdoor space as simply a place outside to be.
My wife will grab her book and sit on the balcony and read. I prefer to take my laptop outside and write blog posts while on the balcony. Unlike the pool deck, it's quiet on a balcony, and the ocean waves are the perfect background noise.
While you might still hear other passengers talking on their balcony, I've found it serene enough on a balcony to make it noticeably more relaxing than the pool deck.
Piggybacking on the sailaway rationale earlier in this post, not having to worry about finding a spot.
Better cabin locations
This is a generalization, but I prefer the cabin placement of a balcony compared to inside rooms.
When I book a cruise, I always ask my travel agent for a cabin near an elevator bank for the convenience of being able to quickly get to and from my room. You'll find plenty of balcony cabins right off the forward or aft elevator banks, and they're usually just a quick turn to get to.
You'll find inside cabins on the same hallway, but they tend to be further down the hall.  Some inside cabins loop back on an internal hallway. Not a big deal, but most cruise fans will advocate choosing a stateroom midship, and that's where you'll find lots of balcony rooms.
Read more: Royal Caribbean cabins to avoid
The views
There are certain itineraries where a balcony room cost is justified just for the views you can enjoy.
If you ever take an Alaska cruise or a Norwegian fjord cruise, it's worth spending extra on a balcony room just to be able to make it easier to see the outdoors.
I took a solo cruise to Norway in 2023 and booked a balcony cabin because I wanted to ensure I did not miss any of the beautiful scenery. Usually when I cruise solo I just book an inside room because a balcony seems unnecessary, but being able to see the beautiful scenery from the comfort of my room was such a nice treat.
When something caught my attention, or I simply wanted to peek outside, it was so convenient to go out and get a view from my balcony. Afterall, you never know what you might be able to spot from a cruise ship on these kind of cruises.
Just as important as the views of the mountains or ocean are wildlife spotting opportunities. With a balcony, it is so much easier to see passing wildlife than even an oceanview cabin. Because you can peer over and around your balcony railing, you'll be able to see more around you.  Quite often dolphins or whales are just below to see.
Eating on your balcony
A vastly underrated perk of staying in a balcony room is you can have a snack or meal on your balcony.
Whether you bring food back to your room, or order room service, you can enjoy it on your balcony.
Having your morning coffee while sitting on your balcony is something I will never tire of, and something I can never replicate at home.
If you order room service, you can have the crew member set up your meal on your balcony.  There's a table on every balcony to put the food on, and with the ocean breeze and sound of the waves, it's surreal to enjoy. I'd recommend everyone try this at least once, because eating on your balcony is another fantastic reason to book a balcony.
Being able to check the weather
This may not seem like a big deal, but when I'm not in a balcony room, I always regret not being able to easily check the weather.
Royal Caribbean has a television channel with the temperature and even a view from the bridge, but being able to step out on your balcony and feel exactly how hot or cold it is, as well as if it's muggy, windy, or raining makes a big difference.
Later in the day, you might want to see what it feels like when preparing for dinner too.
Having a balcony to easily get out and experience the weather conditions for yourself helps every time.
What to think about if a balcony cabin cost is worth it
Depending on how long your cruise is, the decision to get a balcony may be more important.
On shorter sailings, where the amount of overall time you have on the cruise limited, you may find a balcony unnecessary since there is not much to enjoy it. 
However, if your cruise is 7-nights or longer, that provides significantly more time to relax and enjoy the private balcony area, especially on sea days.
Part of the decision is to determine what your plans are for the cruise and how much you plan on taking advantage of the room.
Royal Caribbean ships offer an incredible amount of activities, places to dine, and things to do onboard that you may not find much reason to stay in your stateroom, balcony or not. For some cruisers, a cabin is where you sleep, shower, and not much else.
While rock climbing walls, the casino, water slides and other activities are compelling options for some, other guests know they prefer to enjoy the weather from the comfort of their balcony. Book readers often cite having a balcony as a favorite activity.
Read more: Inside cabin vs. balcony room on a cruise ship
Conclusion
Ultimately, a balcony cabin will almost certainly cost more than an oceanview or windowless "inside" cabin, but I think the cost is justified in so many cases.
New cruisers may see a balcony room as a good investment and opportunity to try cruising in an ideal environment.
Someone who been on multiple cruises and wants to book more cruises may look at this conundrum as an opportunity to save money for a future cruise and book an interior stateroom.  Plus, they have already experienced a balcony cabin in the past.
Having access to a balcony and the associated benefits it brings makes the decision to splurge on a balcony worth it.
Planning a cruise? Start here: