In:
Choosing a cruise cabin isn't easy. In fact, with so many options, it can be downright confusing.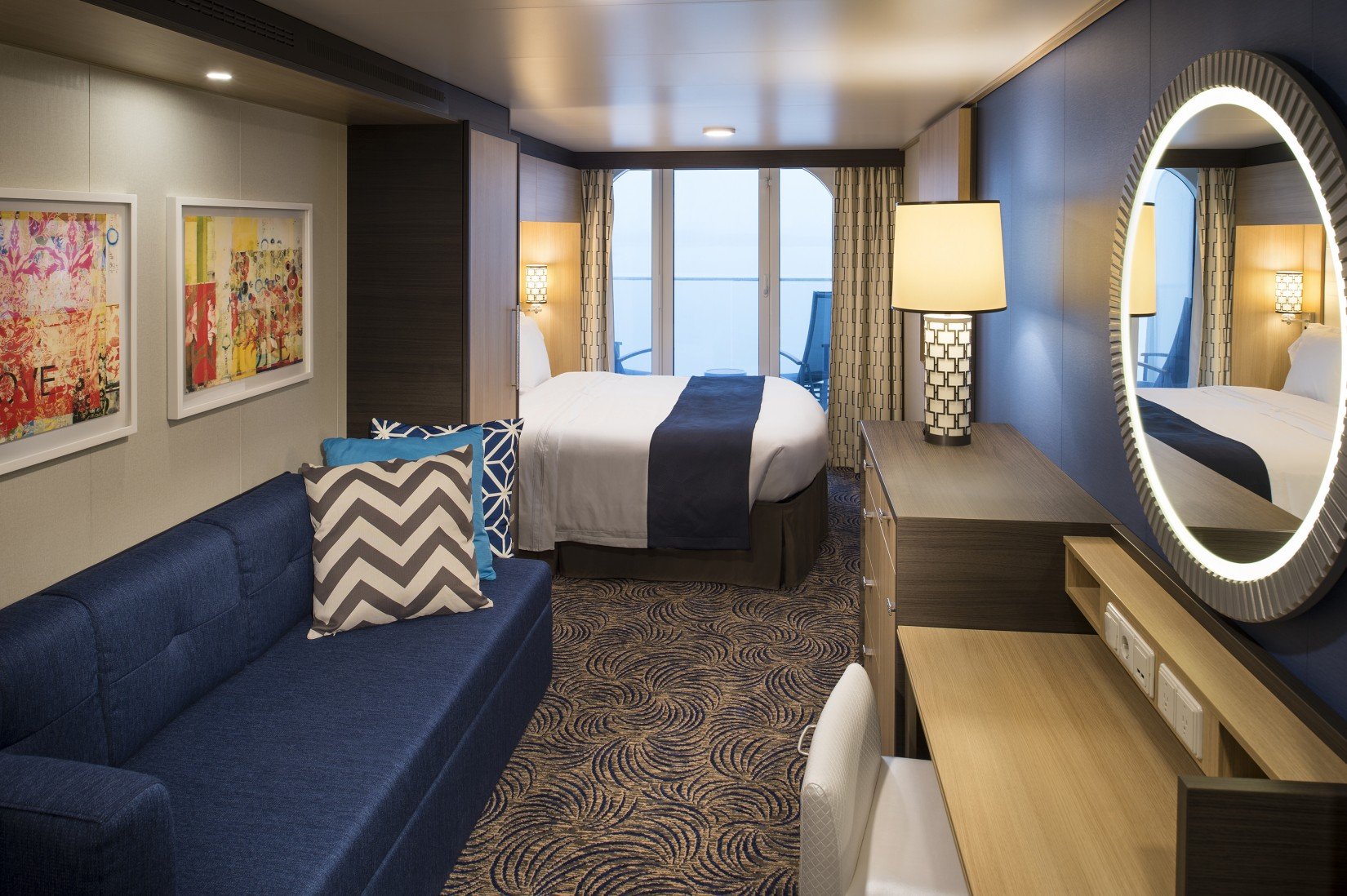 We've already broken down Royal Caribbean's cabin types for you, but below, we'll explore some of the most common questions we're asked about staterooms.
What do cruise ship cabins look like?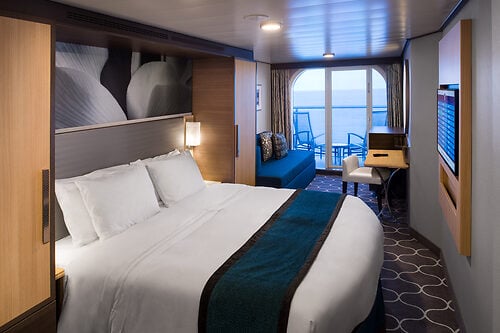 Cruise ship cabins look a lot like hotel rooms in many ways, albeit smaller in most cases. They're outfitted with carpeting, decorative lighting and wall art, along with plush duvets and throw pillows. Whether or not your stateroom has a view or a balcony with outdoor furniture will depend on the type you book.
Although layouts for special cabin types can vary by ship, rooms on all mainstream cruise lines' vessels include a bed that can be configured as a queen or two twins, at least one night stand, a vanity with a chair, and a coffee table.
Many also include a larger chair and/or a sofa, which may or may not convert into a bed. Some staterooms also provide bunks that pull down from the ceiling to sleep third and fourth passengers.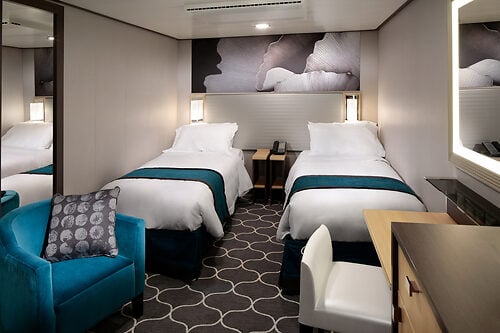 In each cabin is a bathroom with a shower (rarely a bathtub), sink, toilet, mirror and storage shelves, as well as towels and in-shower dispensers for basic toiletries that are likely to include body wash and a shampoo/conditioner combo.
Staterooms generally also come with interactive TVs that allow you to watch a limited number of channels, rent movies and check the ship's position and your onboard bill; a phone with the capability to call other cabins on the ship (shoreside calls cost a pretty penny); a hair dryer; reading lamps; and outlets for charging devices.
Each cabin will also have some sort of closet space with shelving, drawers and bars for hanging clothes. Additionally, the closet is where you'll find life jackets, robes and slippers (in higher-level staterooms), forms for requesting dry-cleaning and laundry services, and a safe for storing small valuables.
How big are cruise ship cabins?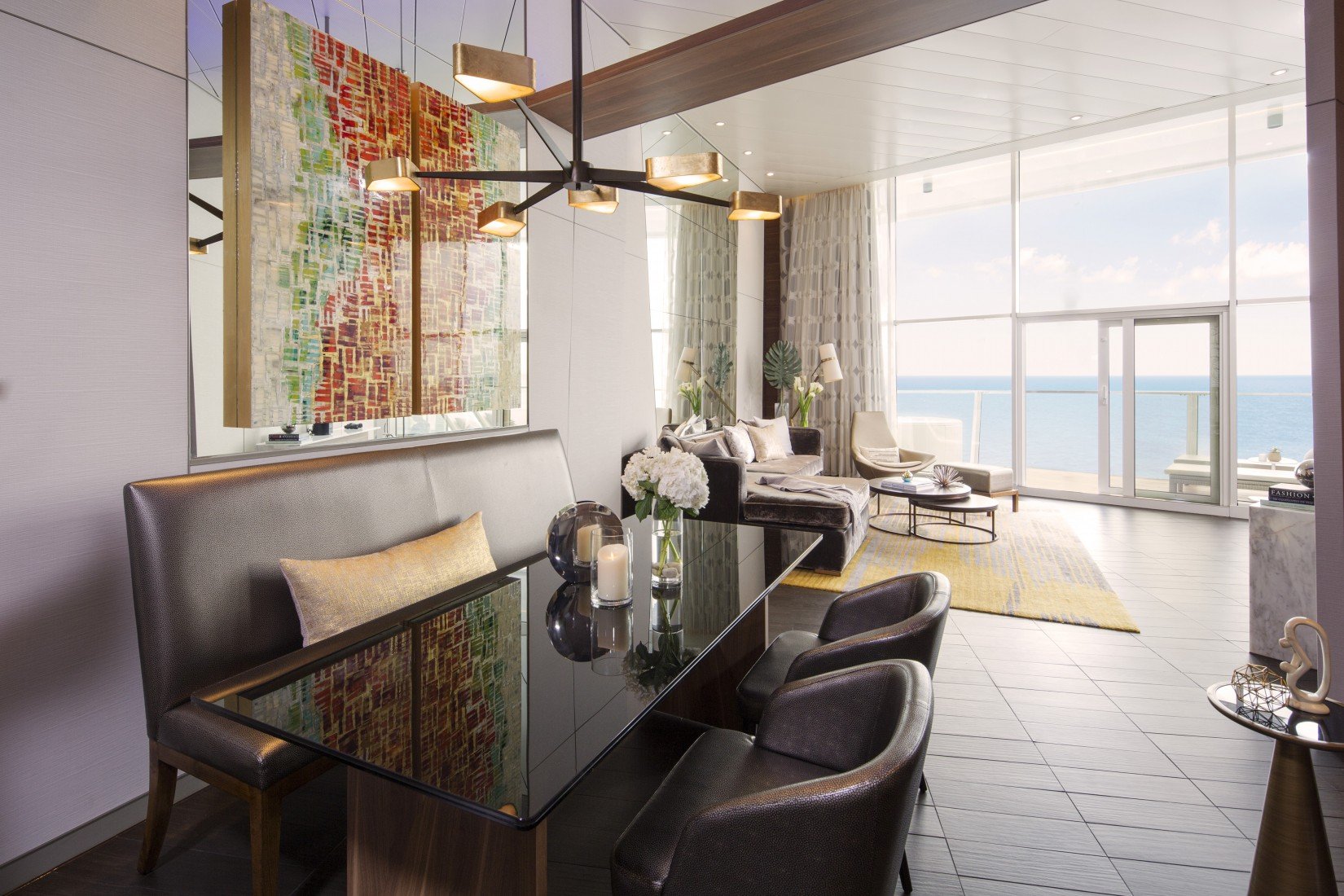 The size of your room will depend on the cabin type you book. As a rule, the larger the cabin, the higher the cruise fare. In general, the larger your view, the more interior space you'll have, as well.
Although sizes vary by ship across the cruise industry, insides (no view) generally start around 150 square feet, with outsides (porthole or fixed window view) offering just slightly more space. Veranda accommodations (with balconies) usually start around 175 square feet, not including the balcony.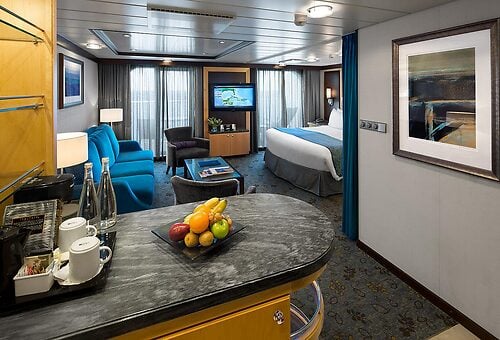 Suites, on the other hand, offer significantly more living area. One of the largest afloat includes the Regent Suite on luxury brand Regent Seven Seas' Seven Seas Splendor. The stateroom encompasses more than 4,400 square feet of space -- more than many large houses on land.
For questions about specific measurements for a cabin you're considering, check with your cruise line or travel agent.
What is the best deck to be on for a cruise?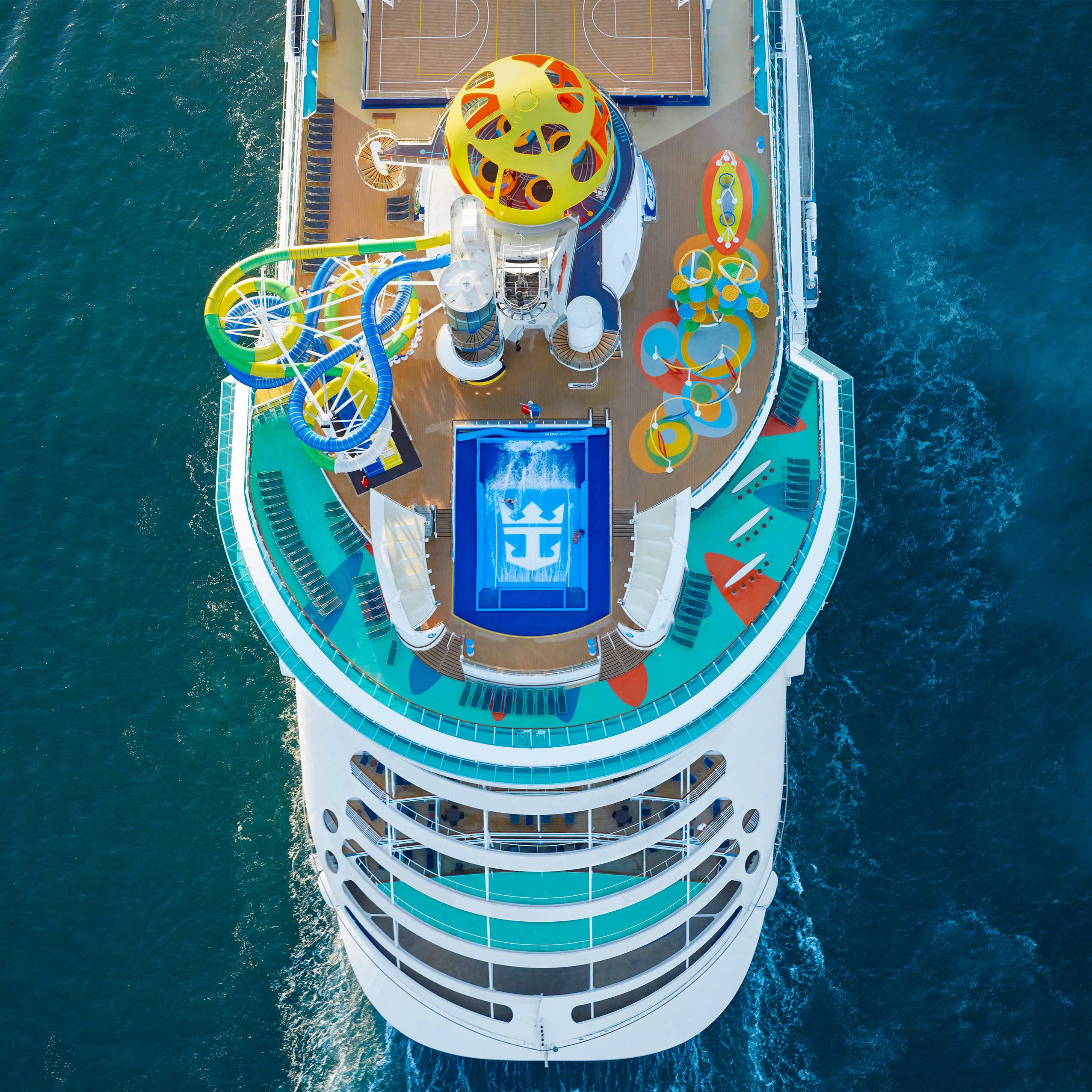 The best place to book a cabin on your ship depends on several factors.
If you're someone who is prone to motion sickness, you'll want to reserve a room on a lower deck, as close to the middle of the ship as possible. Make sure it's at least an ocean view cabin, as gazing at the horizon -- where the waterline meets the skyline -- can help to alleviate symptoms.
Looking for peace and quiet on your sailing? Avoid staterooms that are above, below or next to crew areas such as the galley, and noisy public spaces like the theater, pool deck or kids club. Your travel agent or cruise line representative can help. If all else fails, Google deck plans for your ship.
However, if breathtaking vistas are what's most important to you, we highly recommend staying in one of your ship's coveted forward- or aft-facing cabins. These are often pricey suites that are positioned on higher decks, but the wake and captain's-eye views they afford are worth every cent.
Is it worth paying extra for a balcony on a cruise?
It all depends. If you're someone who plans to go ashore in every port and squeeze as many onboard activities as possible into each day, you probably don't need a balcony because you won't be in your room except to shower and sleep.
There are also plenty of outdoor public spaces with railings where you can enjoy sea views if you don't want to miss out while respecting your vacation budget.
However, if your goal is to have some alone time or romantic time with your significant other, if you plan to enjoy your morning coffee with a view in your bathrobe, or if you're someone who feels claustrophobic in small spaces, we highly recommend balcony accommodations.
What do cruises do with unsold cabins?
They sell them at a discount. Cruise lines strive to fill ships completely, so if any staterooms are left unbooked one to two months prior to the embarkation date, you could snag a sailing for a steal if you're flexible. (Generally, that means being able to pay in full at the last minute and not being too picky about cabin type.)
Because it's less of a kick in the teeth for lines to discount their lower-end cabins, they will often try to coax already-booked passengers into upgrades from lower- to higher-tiered staterooms for a small added cost. That ensures balconies and suites are filled, and the vacated insides and oceanviews can then be offered at discounted rates.
The discounted rates are usually offered through large travel agencies and marketed to people who live near the ship's embarkation port.
How do you choose a room on a cruise ship?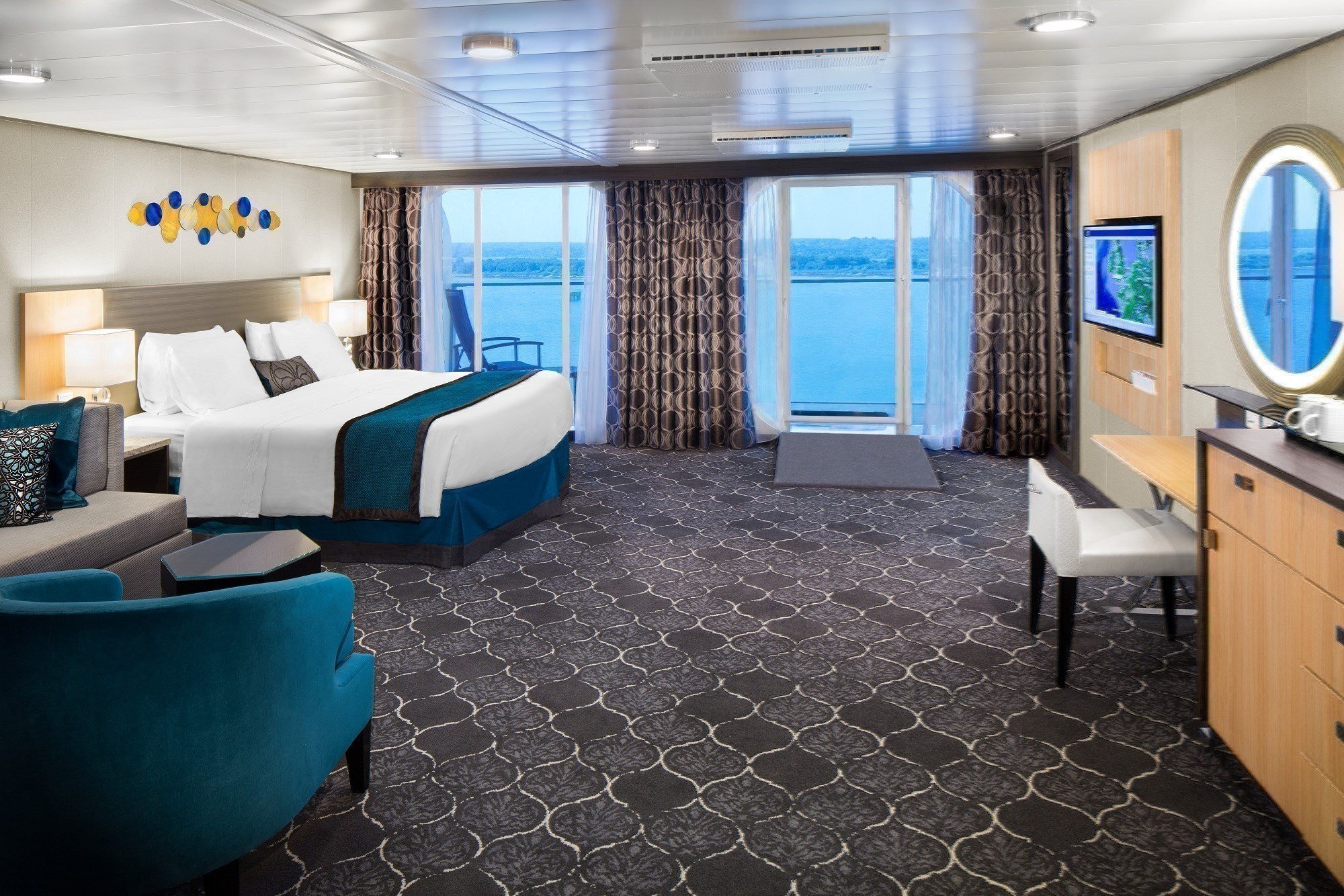 Picking a cabin can be difficult, particularly with the large number of types available on any given ship. Your best bet is to consider the following before making a decision:
Preferences: Do you need a room with a view? If so, does your view need to come with outdoor space?
Travel party: With whom are you traveling? Do you need space and beds for more than two people? Are you cruising alone? Do you need connecting rooms?
Location: If you're prone to seasickness, book low and middle. If you're a light sleeper, book away from noisy public spaces.
Price: Does the type of cabin you want fit into your budget? Sign up for price drops, and ask your travel agent about deals and discounts.
Status: Are bragging rights or high-level loyalty status important to you? If so, you'll want to book swankier digs.