In:
What are the different kind of cabins on a cruise ship, and which is the right one for you?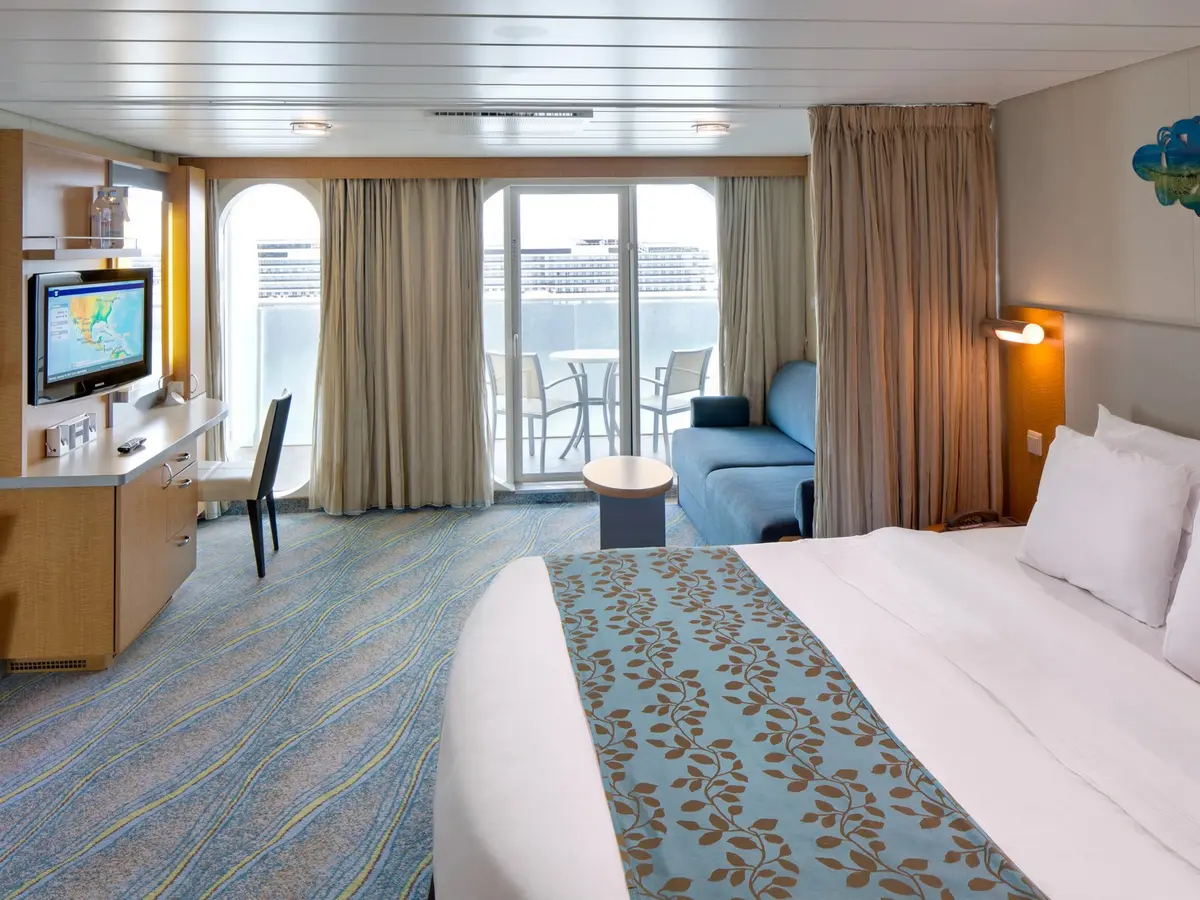 Your stateroom is your "home away from home" during a cruise, and when you book a cruise, you will have to choose which type of room for your family.
A Royal Caribbean cruise ship cabin vary considerably, from compact and utilitarian to lavish and large. There are rooms designed for just one person, and rooms designed for an entire family.
The exact room you need will depend on your budget, preferred location, and type of amenities you want in a room.
Royal Caribbean stateroom basics
Before we breakdown the types of cabins on a Royal Caribbean ship, there is a common distinction that every cabin has across the fleet.
All rooms on a Royal Caribbean cruise ship come with a bed, private bathroom, safe, shower, television, vanity area and closet.
Beyond that, the room you select may offer more amenities, but you should know that a cabin has some basics that you do not have to be concerned about missing out on.
Read more: How to choose your cruise cabin
Inside
Sometimes called interior or inside rooms, these cabins are the smallest and usually lowest cost rooms available.
These rooms can accommodate 2-4 guests (depending on the configuration), and feature no outside view beyond the cabin.  This means no windows, portholes or balcony rooms.
They may be smaller than other categories, but that does not mean they are necessarily cramped either. 
Most guests that book insider rooms cite the lower cost and fact there is so much happening onboard the ship that time spent in the room is minimal.
Read more: Why you should book a cruise ship inside room
Interior rooms with a view
In addition to traditional inside rooms, Royal Caribbean also has a few variations on the interior room concept.  These are rooms that lack a natural window view outside the ship, but have a feature that offers a view of something else.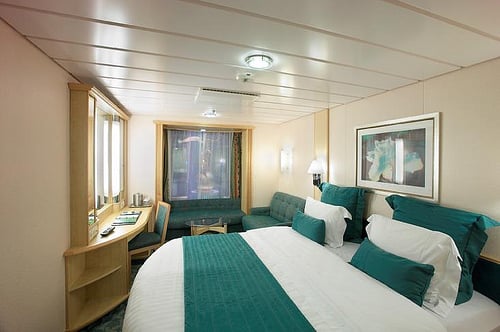 Royal Promenade View rooms: These rooms have a bay window that overlooks the Royal Promenade area. Pulling back the curtains allows for a view of what is happening on the Royal Promenade.
Virtual Balcony: A regular inside room that features a floor-to-ceiling HD television that shows a high definition real-time view of what is outside your cruise ship. There is even the silhouette of a balcony dynamically inserted into the view.
Central Park View: A window that offers a view into the Central Park neighborhood, rather than the ocean.
Read more: Unique Royal Caribbean staterooms
Oceanview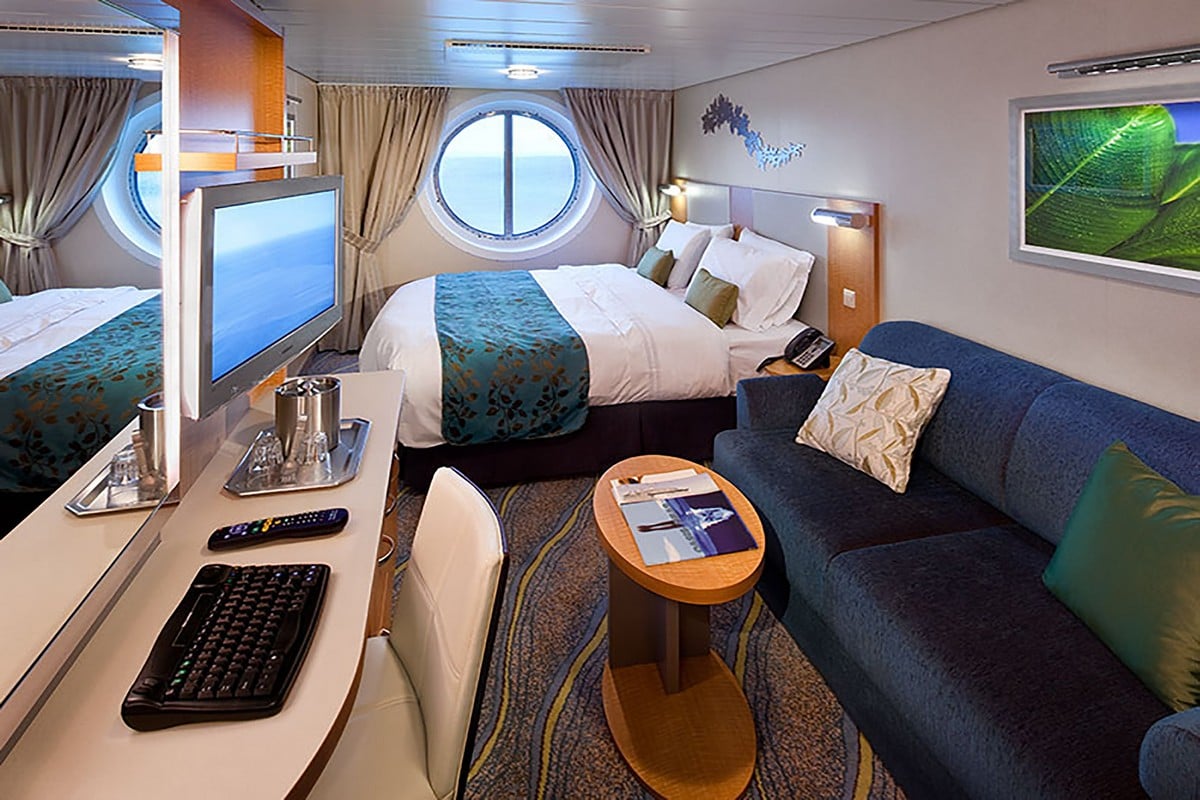 The next step up from a standard inside room is an oceanview cabin, which offers a bit more living space and an outside window or porthole.
The porthole windows do not open, but do offer a view of the ocean from you room. The exact size of the window will vary from ship to ship, but it is usually large enough to easily see through without having to be right up close.
These rooms usually cost a bit more than an inside room, and offer natural light.
Just like inside rooms, they can accommodate 2-4 guests.
Balcony
Perhaps the most popular category of stateroom is the balcony room, which offers a private balcony in addition to the standard accommodations.
A private balcony means you can go onto your balcony anytime you want to enjoy the view outdoors, along with the smells, sounds, and weather. Each balcony has a table and at least chairs to sit on.  Some larger balconies even have loungers.
There are a lot of different types of balcony rooms that are broken down by room size and location.
Read more: What are the differences between Royal Caribbean's 1D, 2D, 4D, etc balcony rooms?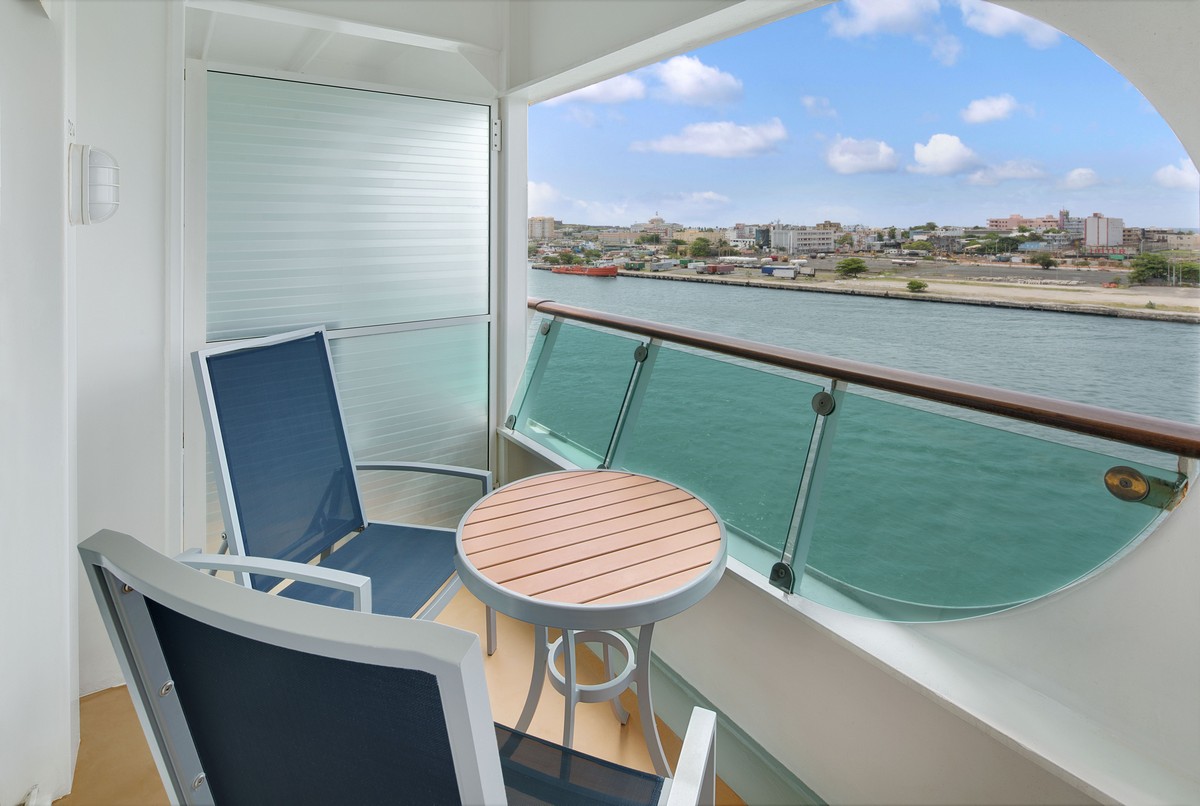 Balcony rooms can accommodate 2-4 guests.
Royal Caribbean also has balcony rooms on its Oasis Class ships that offer a view of the Central Park or Boardwalk neighborhoods, instead of the ocean. These balcony rooms tend to be priced a bit lower than an ocean balcony room.
The price for a balcony room is usually affordable, but greatly depends on other factors as well. Many cruisers find balcony rooms to be within their budgets and a desirable choice for the larger living space and open air balcony perk.
Read more: Is a balcony stateroom worth it?
Studio cabins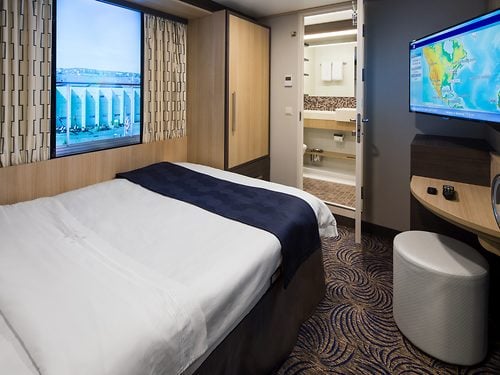 A lesser-known category of rooms are studio cabins, designed for someone going on a cruise alone.
These are smaller rooms that offer accommodations for a solo cruiser without the usual single supplement fee associated with going on a cruise without double occupancy.
These rooms are few and far between, and often book quickly because of demand.  Not every ship has one, and some ships only have a few rooms.
Solo cabins are a good idea if you want to save money while cruising by yourself, but they are sell out so quickly that they may not be available by the time you cruise.
Read more: Guide to Royal Caribbean's Single and Studio staterooms
Panoramic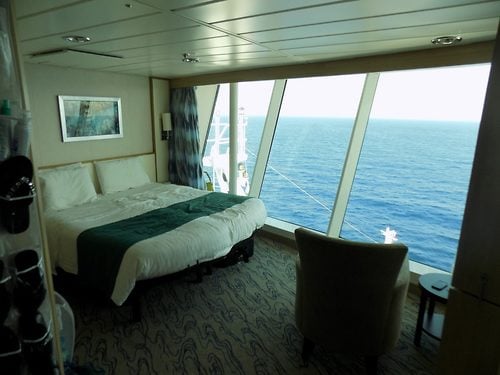 A relatively new type of room is a panoramic stateroom, which is as large as a balcony room but without an outdoor space.
Instead, the room features floor-to-ceiling windows that offer a wide angle of ocean views from anywhere in your room. The windows range between 103-321 inches wide, but rest assured you are getting a very large window.
Not only do panoramic rooms include a great view of the outside, the category VP Ocean View Panoramic Suite actually come with full suite benefits, such as concierge service and complimentary alcoholic beverages each evening.
Read more: Top 5 different staterooms you should consider for your next cruise
Suite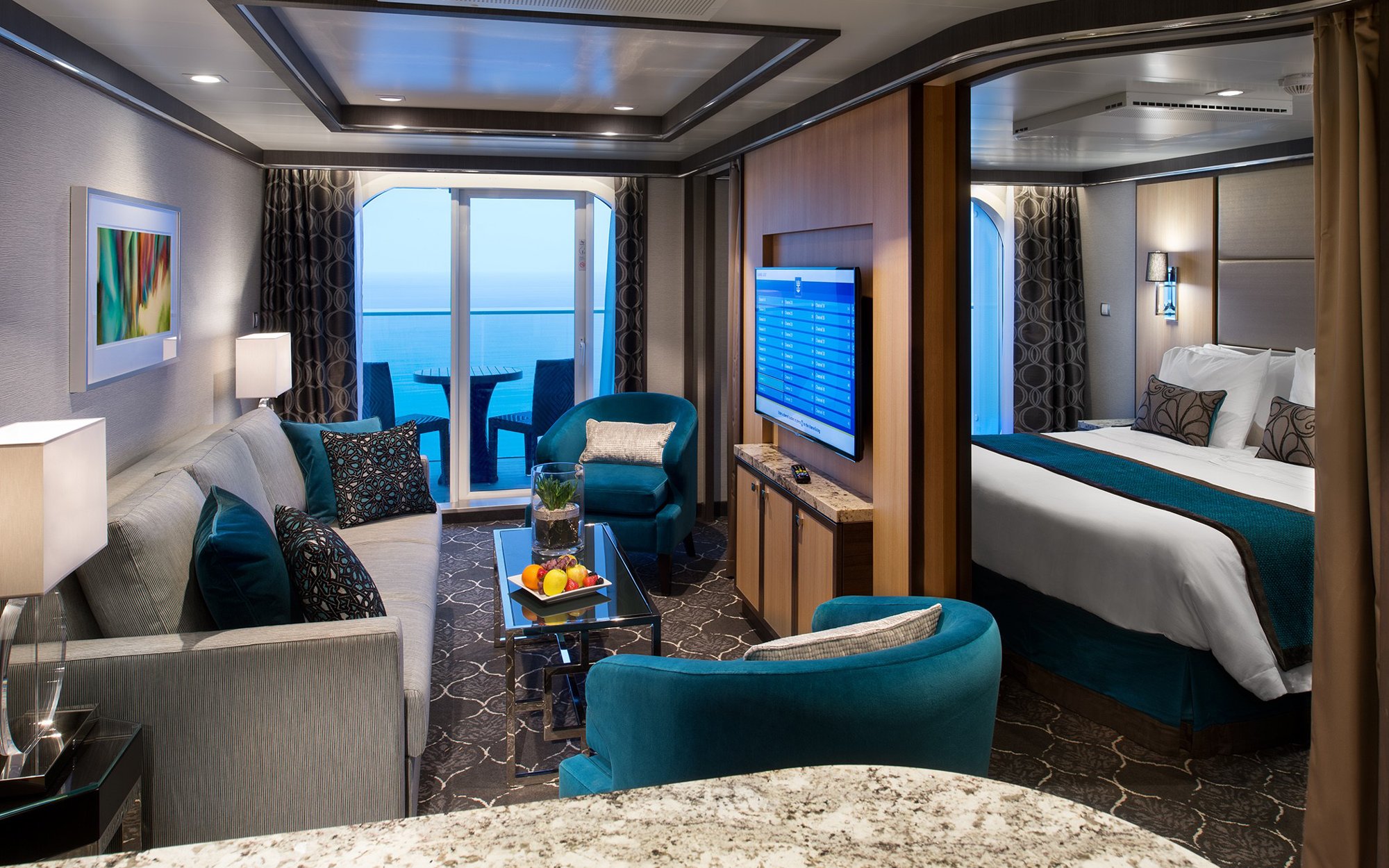 At the top of Royal Caribbean's stateroom offerings are the suite category, which combine luxury and upgraded accommodations.
There are quite a few types of suites that essentially differ based on their location, size of the room, how many people it can accommodate, and benefits.
The lowest tier of suites is the Junior Suite, which is really an "extra large balcony room" because it offers significantly more space without the full suite benefits.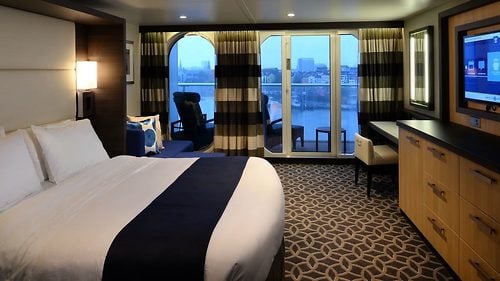 Grand Suites are where the true suite benefits begin, and each type of suite beyond a Grand Suite includes more living space.
The exact type of suites will vary from ship to ship.  On Royal Caribbean's Oasis and Quantum Class ships, there is a special program for suites known as the Royal Suite Class, which offers enhanced suite offerings.
There are a few notable suites that stand out from the rest as particularly enticing: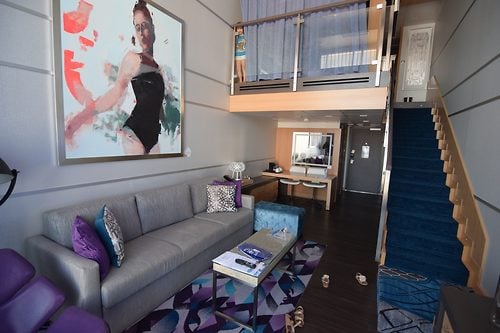 Royal Loft Suite: On Oasis and Quantum Class  ships, there are some suites that are two levels.  The loft suites come in a few sizes, that can sleep up to six guests, and feature a large window on top of a private balcony.
The split level design means there is lots of living space included in a flashy configuration.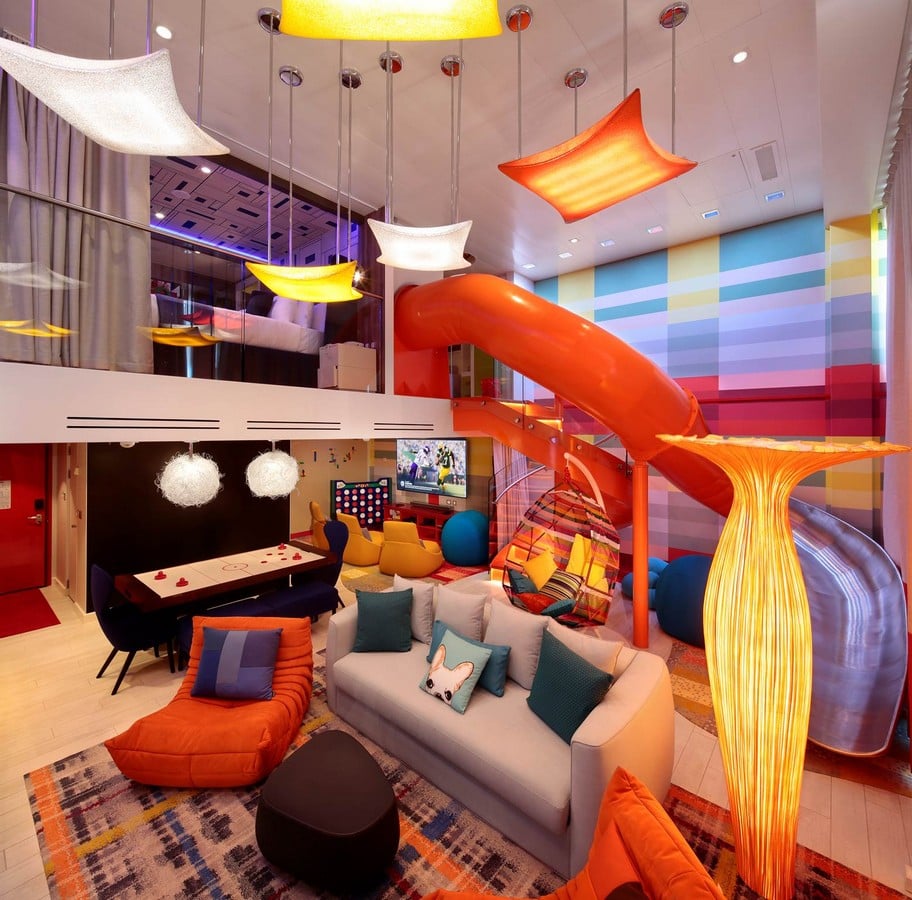 Ultimate Family Suite: Perhaps the most ornate cruise ship suite ever created, the Ultimate Family Suite lives up to its name by offering just about everything a family with kids would want in a room.
In-suite slide, air hockey table, table tennis, giant balcony, jacuzzi and more are part of the room. It is a large space with lots for families to enjoy while at sea.
The Ultimate Family Suite is available on Symphony of the Seas & Spectrum of the Seas.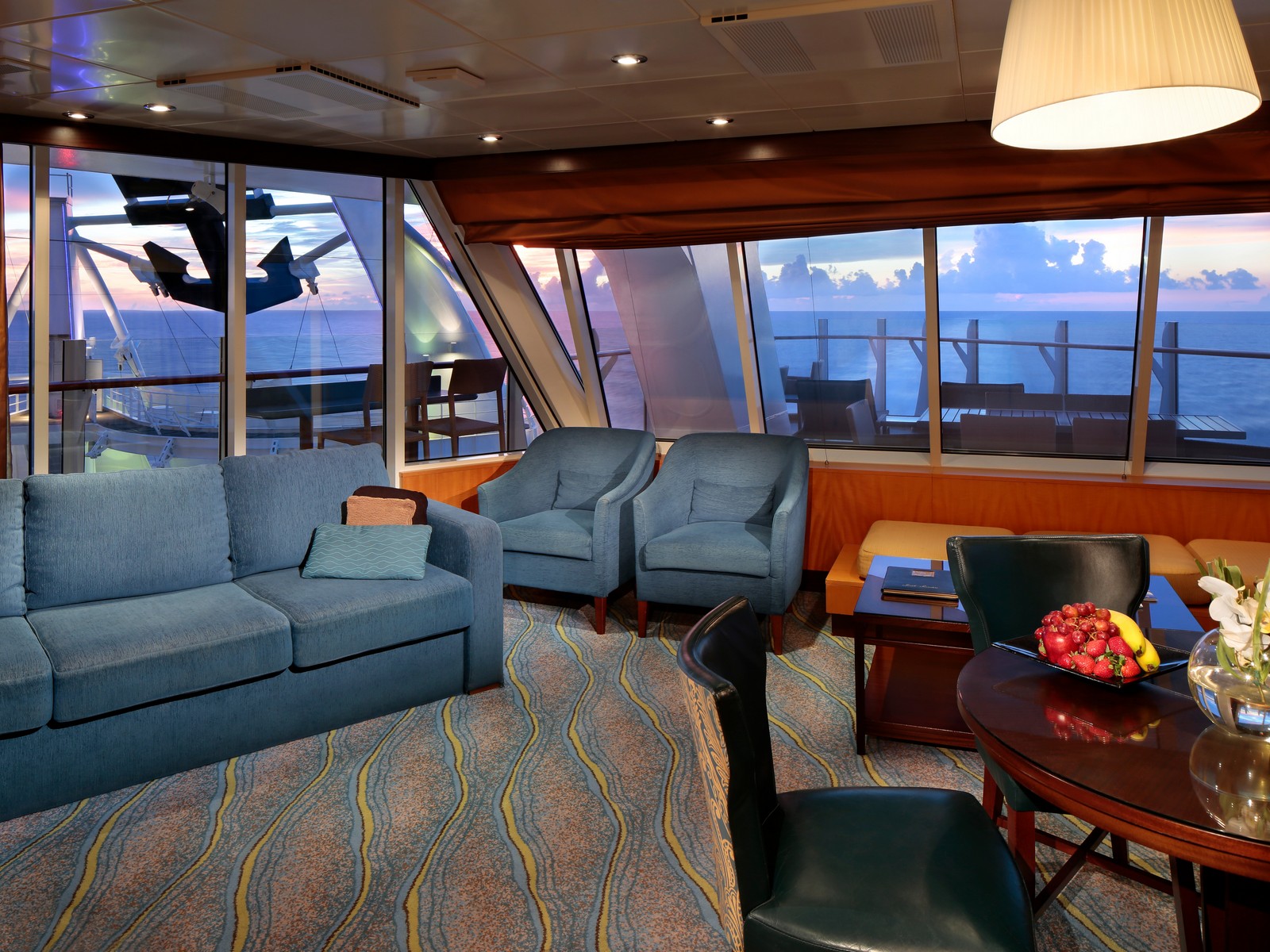 AquaTheater suite: Available on Oasis Class ships, the AquaTheater suite is a massive room that has a giant wrap-around balcony with views of the ocean and the AquaTheater below.
The outdoor views are what makes this type of suite truly stand out, as you can enjoy views of the AquaTheater shows right from your balcony. There is no need to go down and reserve a seat, and no one to compete with to get out of the Boardwalk once the show is over.
Read more: 5 giant suites you can book on a Royal Caribbean cruise ship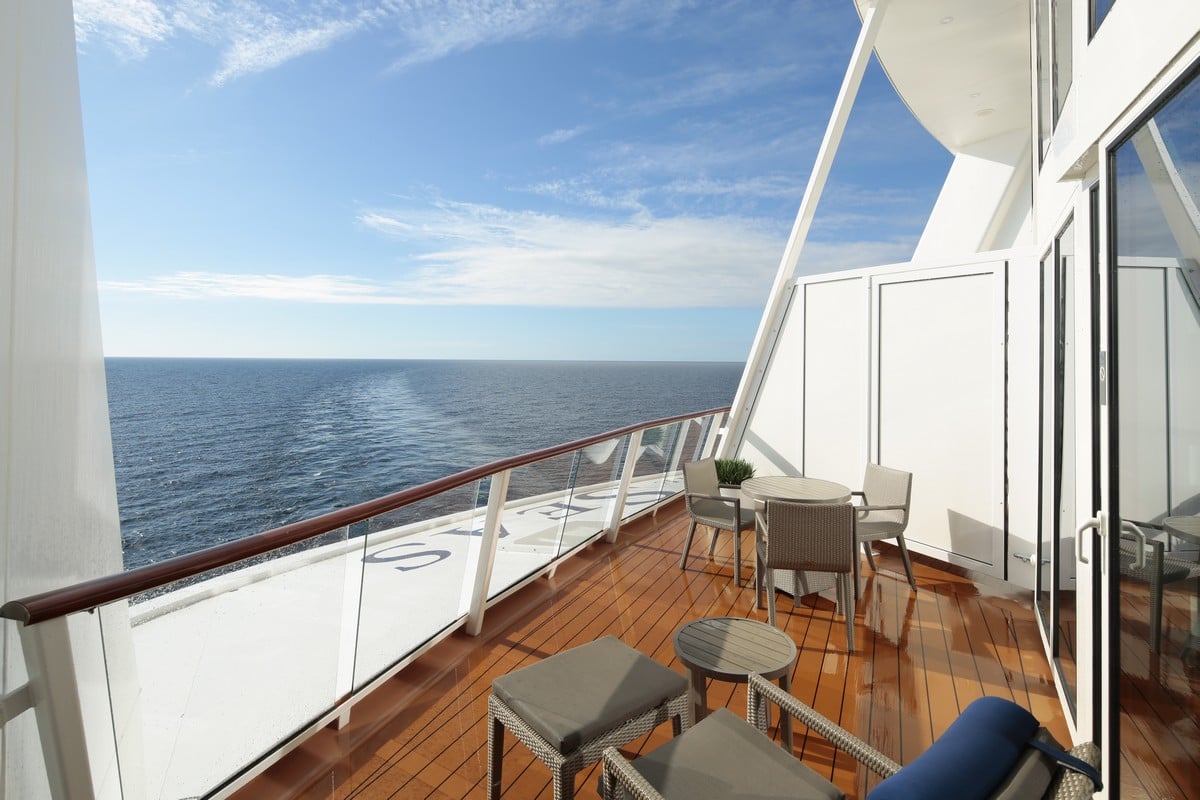 Suites are a splurge that offer the largest cabins on a cruise ship, along with special perks and amenities.  All of this comes at an increased price that usually is significantly more than lower categories of rooms.
The choice to book a suite is almost always about cost, and if your vacation budget can fit it.
What is the best cabin on a cruise ship?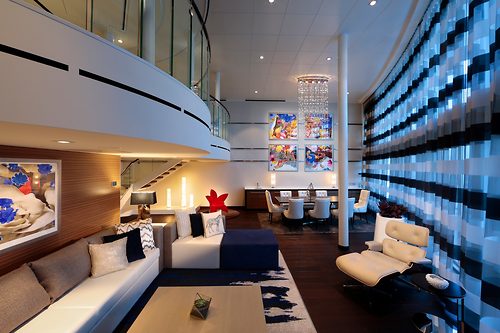 The  best cabin will depend on your preferences and budget.
There is no inherently bad cabin to pick, so it is a matter of choosing the right room that you can afford and would feel comfortable staying in.
Suites are attractive for their lavish offerings, but their price usually precludes them from most people's plans. 
A balcony room is a good mix of space at an affordable price, but you could save a lot of money by going down to an interior room and then using those savings to spend on shore excursions, drink packages or souvenirs.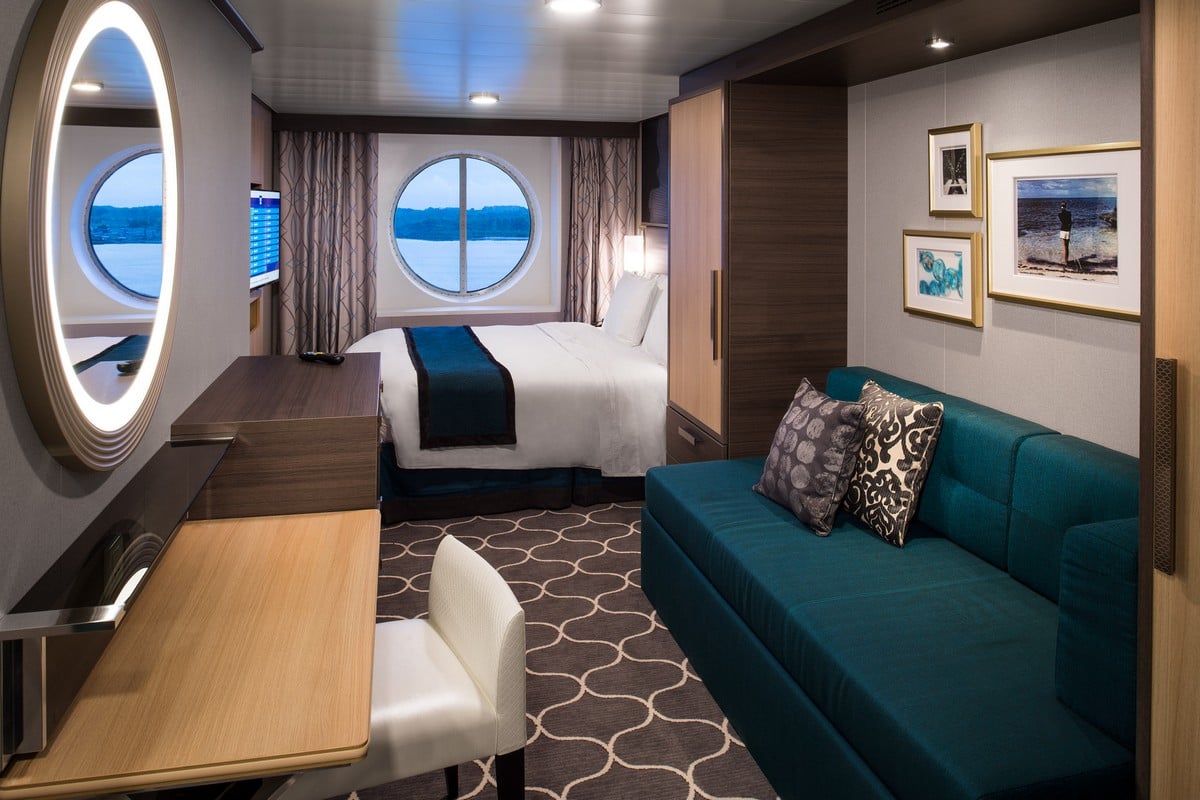 Ultimately, the decision on the best cabin will come down to price, size, and location. 
Read more: Where is the best place to stay on a cruise ship?
In general, it is hard to go wrong with a balcony room for nearly all first-time cruisers. A balcony room is usually a good value, and includes enough living space with the added bonus of that private balcony so many look for in a stateroom.
If money is tight, consider bumping down to an oceanview or inside room and plan to spend more time around the ship than lounging around in your room.
If you are accustomed to buying first class airfare or bigger rooms at a hotel, then a suite is a great choice.