In:
Choosing between an inside cabin and an oceanview cabin for your next cruise? These budget-friendly cabins are both excellent options for a cruise vacation, but there are several differences to know about between the two cabins before booking one over the other.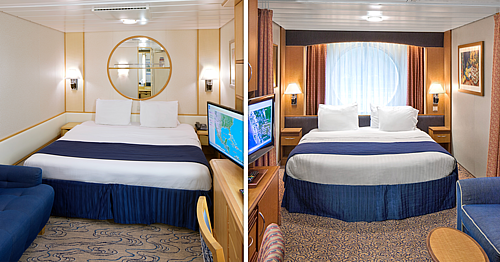 While inside cabins are the cheapest cruise cabins available, many cruisers prefer the natural daylight and views provided in an oceanview cabin. Others, however, don't mind the small size and darkness of an interior cabin provided it saves them money.
Let's take a look at the differences between inside cabins and oceanview cabins on a cruise ship. From more space to better locations, this guide will help you decide if the differences are worth an upgrade from an inside cabin to an oceanview.
What is an inside cabin on a cruise ship?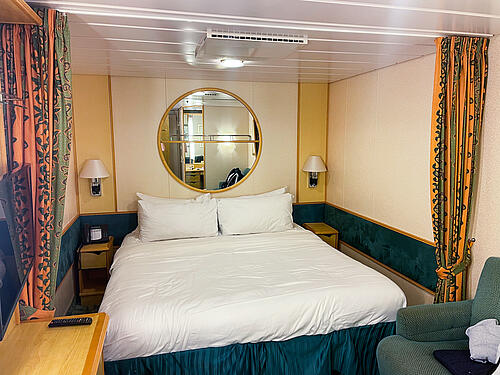 Inside cabins on a cruise ship are cabins without a window, balcony, or porthole to the outside. They are located in the ship's interior rather than along the ship's perimeter and are, more often than not, the smallest cabins onboard.
Most inside cabins are around 170 square feet and can accommodate 2-4 guests depending on the room's configuration. Aside from the lack of a balcony or window, inside cabins feature the same amenities as oceanview and balcony cabins, including:
King size bed (which can be separated to two single beds)
Plush chair or couch
Closet and drawer space
Vanity/desk area with a chair
Nightstands
Private bathroom with shower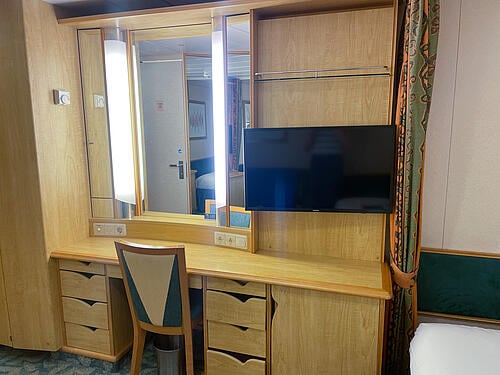 These windowless cabins are usually the cheapest option onboard, making inside rooms a great option for those cruising on a budget. Many guests who book interior rooms choose to spend money elsewhere during their vacation, such as on drink packages or exciting shore excursions.
The majority of inside cabins on a cruise ship have no view outside the room, but there are two alternatives: virtual balcony and Promenade view inside cabins.
Virtual balcony inside cabins
While no inside cabins will have a window to the outdoors, new or amplified Royal Caribbean cruise ships may offer virtual balconies.
These interior rooms feature a floor-to-ceiling television screen with a live view of the outside. By booking an inside cabin with a virtual balcony, you can check the weather, watch the scenery, and have a better idea of what time of day it is outside.
It's easy to get disoriented in a pitch black, windowless inside cabin, so many cruisers enjoy having the virtual balcony option.
Promenade view inside cabins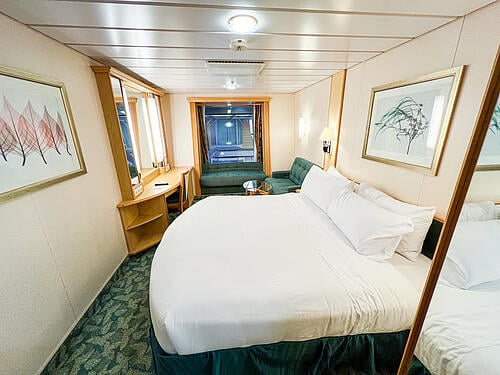 Promenade view cabins are interior cabins with a window facing the Royal Promenade on select Royal Caribbean ships. These staterooms are found on Voyager, Freedom, and Oasis Class ships. 
While you cannot see the ocean from these cabins, they offer nice people watching opportunities in the Promenade below and bring extra light into your room.
Related: Everything about Royal Caribbean's Promenade View staterooms
Priced only slightly higher than interior cabins, Promenade view cabins make a nice "trade off" for those who don't want to splurge on an oceanview or balcony, but want something nicer than a regular inside room.
In addition to Promenade view inside cabins, Oasis Class ships also feature Central Park view and Boardwalk view inside cabins, which look into their respective neighborhoods.
What is an oceanview cabin on a cruise?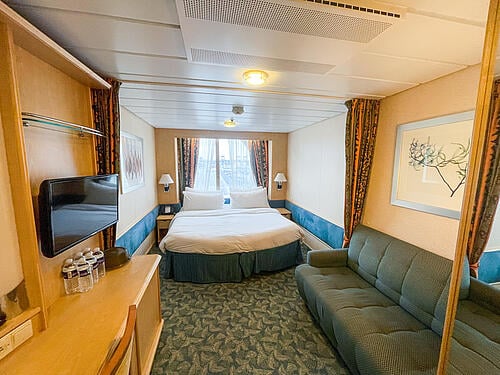 Oceanview cabins are a step up from an inside cabin on a cruise; they offer a private porthole with a view of the ocean.
This porthole window does not open (nor does it have a balcony) but the window provides natural sunlight to the cabin, which is a must-have for many cruisers. 
There are several types of oceanview cabins to book:
Standard oceanview cabin: 170-179 square feet
Spacious oceanview cabin: 211 square feet
Ultra spacious oceanview cabin: 293 square feet
The exact dimensions of an oceanview cabin can vary from ship to ship, although most are the same size as an inside cabin. This gives you enough space for a king size bed, vanity, and seating area, but leaves little walking space in the cabin.
Therefore, upgrading to a spacious oceanview or ultra spacious oceanview cabin can be a great option for those looking for more living space.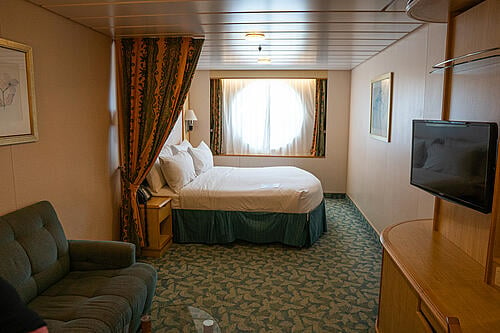 Related: I spent $250 to upgrade my cruise ship cabin: Was it worth it?
The majority of oceanview cabins overlook the ocean, but some have obstructed views. Oceanview cabins in the very front of the ship may overlook the ship's helicopter pad whereas others may have an obstructed view caused by lifeboats.
A unique type of oceanview cabin to consider booking is the panoramic oceanview cabin. These cabins take "oceanview" up a notch by offering a floor-to-ceiling, panoramic view of the outside. Compared to the small porthole in other oceanview cabins, the view from a panoramic view cabin cannot be beat.
What are the major differences between an inside cabin and an oceanview cabin?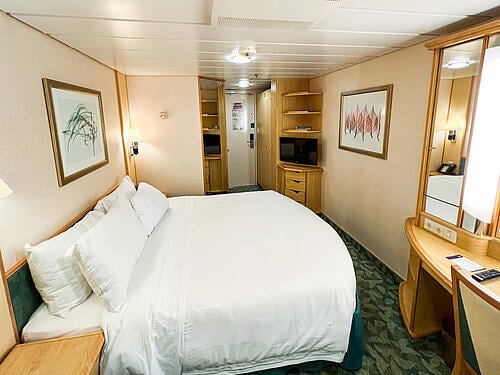 Size
Many cruisers upgrade to an oceanview cabin believing the cabin will be larger than an inside room, but that isn't necessarily the case.
Most oceanview cabins are the same size as inside rooms. If you prefer a larger cabin, you'll have to book a spacious or ultra spacious oceanview cabin.
These cabins come with a higher cost than a standard oceanview room, so be sure to compare the price of these cabins with the price of a balcony before booking. You may be surprised to find a balcony cabin at a lower cost!
Daylight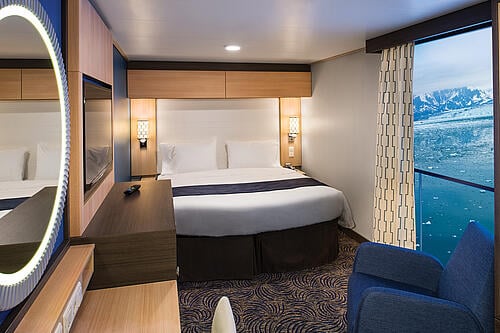 The biggest downside to cruising in an inside cabin is the lack of daylight.
Inside cabins are completely dark when you shut your cabin lights off. Without checking the clock, it's impossible to know whether it's 3AM, 8AM, or 12PM. Additionally, you won't have any idea what the weather is like outside from your cabin.
Many cruisers combat the lack of daylight in inside rooms by purchasing a sunrise alarm clock. The light on these alarm clocks remains off during the night and gradually turns on during sunrise, which can help you keep a normal sleep schedule.
Related: I tried the best inside cruise ship cabin hacks to see how well they worked
Location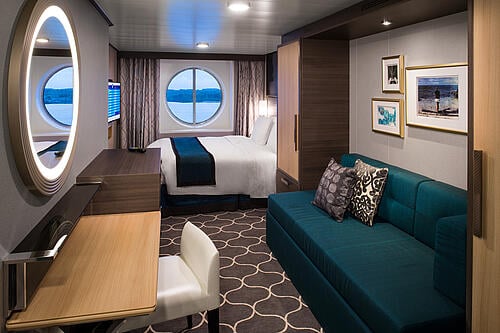 Inside cabins are located all over a Royal Caribbean ship, from the lowest to highest decks. Oceanview cabins, on the other hand, have fewer location options.
Oceanview cabins are primarily found on a cruise ship's lower decks closer to the ocean. It's not safe to build balconies so close to the water, so cruise lines build oceanview rooms there instead.
Related: Avoid these mistakes when picking a cruise ship cabin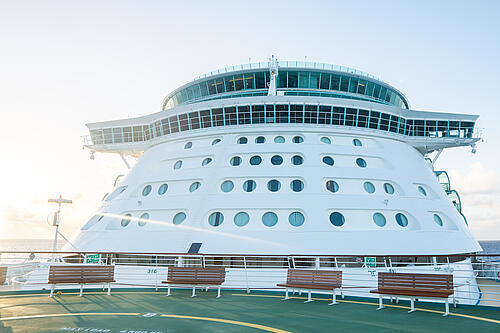 You can occasionally find oceanview cabins on higher decks, but they won't be in the best locations. For example, you'll find oceanview cabins in the very front of the ship overlooking the helicopter pad, but these rooms are prone to more motion than mid-ship cabins.
While there's nothing wrong with booking an oceanview room on a lower deck, many cruisers prefer the flexibility of cabin location they can find with other stateroom categories.
Price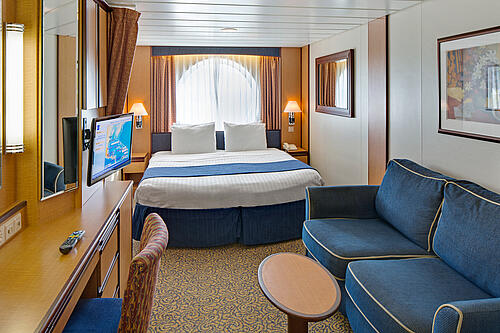 It's no surprise that oceanview cabins are more expensive than inside cabins, but just how much more will a room with a window cost?
Cruise pricing can vary drastically from ship to ship and sailing to sailing, but you can expect to pay around $25-40 more per night for a standard-sized oceanview cabin compared to an inside cabin.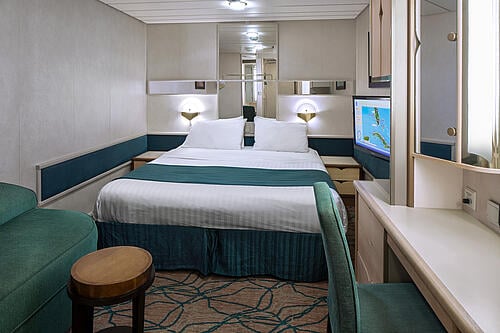 As an example, let's compare the price of a guarantee inside cabin versus a guarantee oceanview cabin on a 7-night Oasis of the Seas cruise.
For two adults in an inside cabin, the total price is $2834, or $404 per night.
For two adults in an oceanview cabin, the total price is $3034, or $433 per night.
The price difference between an inside cabin and an oceanview cabin is $200, or around $29 per night.
Pricing is always subject to change. It's possible to find an oceanview cabin for around the same price as an inside cabin, but they may also be priced significantly higher.
Are the differences worth an upgrade?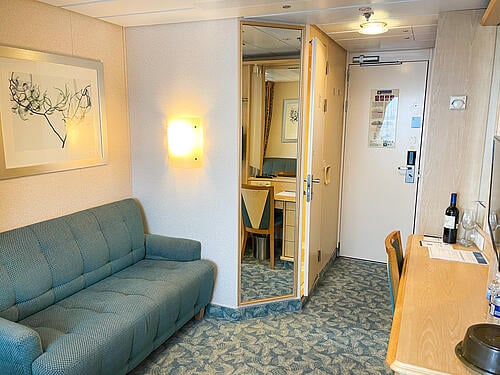 An oceanview cabin can certainly be worth the upgrade from an interior cabin, but there are several factors to consider before booking the upgraded cabin.
Understand your travel style
Before booking an oceanview room instead of an inside cabin, consider your cruising style. If you plan on visiting your cabin only to sleep, shower, and change, you might want to book an inside cabin to save money.
The $30-50 a day extra you would spend on an oceanview cabin could be spent on other onboard activities such as specialty dining or a spa treatment.
Related: 45 ways to save money on a Royal Caribbean cruise
On the contrary, if you plan to spend significant time relaxing in your cabin throughout the sailing, an upgrade could be well worth the cost.
It is, of course, important to look beyond just the price when comparing oceanview and inside cabins. If you fear feeling claustrophobic or disoriented in an inside cabin, booking an oceanview room is your best bet.
Look at the price of balcony cabins
If you've decided to upgrade from an inside cabin, first compare the price between an oceanview and balcony cabin. While balcony cabins are usually significantly more expensive than oceanview cabins, you might be surprised to find a deal on a balcony room.
If a balcony is only $100-300 more total than an oceanview cabin, it may be better to upgrade from an inside cabin to a balcony cabin instead of an oceanview.
Related: Oceanview vs Balcony staterooms on a Royal Caribbean cruise
Consider the itinerary
If you're cruising somewhere particularly scenic, such as Alaska or Norway, booking an oceanview room is recommended. You don't want to miss a single moment of scenery outside, and time spent in an inside cabin means missing views of fjords, wildlife, and snow-capped mountains.
While you can still cruise in an inside room on these itineraries and view scenery from public spaces onboard, many passengers enjoy the privacy of viewing these destinations from their cabin.