In:
Staying in an inside cabin on a cruise ship means you're probably saving lots of money compared to a balcony cabin (or suite), but it also means a lot less living space than usual.
For a lot of cruisers, that tradeoff is well worth it given the low prices an inside room usually costs. But that doesn't mean there aren't at least a few tricks for maximizing the space.
I've seen plenty of articles and videos over the years talking about easy ways to get more space out of a smaller cabin. Since I was booked in an inside cabin for a cruise on Mariner of the Seas, I picked out the best sounding tips to get an idea of how well they work.
I combed over a lot of cabin hacks, and settled on 10 of them from two really informative sources: Cruise Tips TV and Life Well Cruised.
Both of these ladies are cruise packing, planning, and travel hack experts. I figured if they shared them, these tips had to have some sense of usefulness.
In looking over the list, I was skeptical about some tips being actually useful.  I had no doubt they worked as intended, but would I actually find them such a benefit that I would not only recommend it, but adopt it in my own strategy.
After going through the cabin hacks, I had to purchase a number of items. Luckily, all of them were available on Amazon and I was able to get every single item in this article for just around $130 total with shipping. 
Given that they can be re-used over and over again from cruise to cruise, it's not much of an investment to try out.
I decided to rate each one from one of these labels:
Worth it
Meh/Indifferent
Not practical
Please note that I linked to each item on Amazon which contains an affiliate link. This affiliate link costs you absolutely nothing extra, but I make a small commission if you purchase it.
Let's see how they went!
Luggage under the bed trick
This is a cabin hack that works on any kind of cabin, not just inside rooms.
Did you know there's enough room under your bed to put your luggage underneath it?
This is actually a trick I've been using for years, and it works everytime. After unpacking, shove your empty luggage under your bed and it's out of sight until you need it when you have to pack.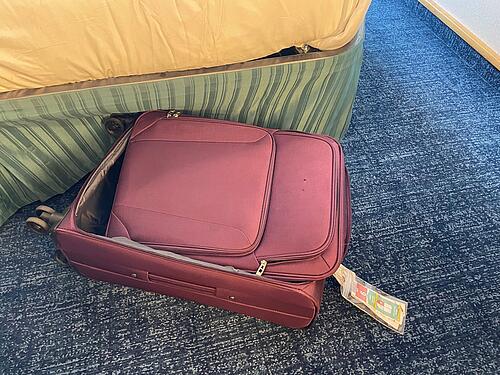 The only downside to this trick is if you either have a lot of luggage and/or your bags are oversized. Stacking the smaller bags inside the larger ones helps a lot, and I've found no issues with any of the luggage we ever had in getting it under the bed.
Conclusion: Worth it
The perfect outlet extender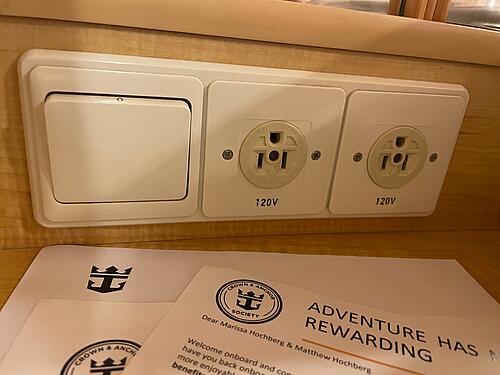 Even on the newest cruise ships, power outlets in your cabin are at a premium. Juggling devices with which to plug in and which to leave unplugged is not a fun game.
An appropriately named "Cruise ship power strip" by Cruise On seemed to be the perfect fit and it promises that it was designed to get around cruise ship rules that prohibit anything with a surge protector. The product description claims it is fully cruise compliant.
It takes up one outlet space and offers 3 new outlets along with 2 USB plugs.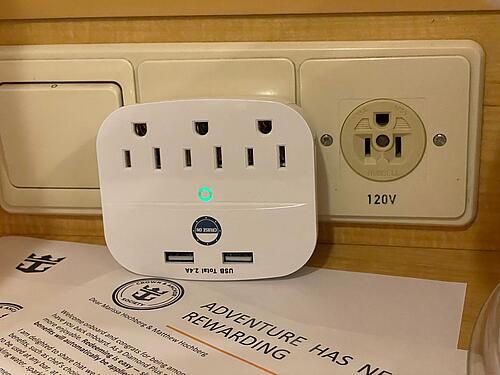 I've been using a USB hub up until now, but never had something for extra plugs too.
I left the power strip in my checked luggage and sure enough it made it through and my bags were delivered without incident.
Other than the fact the outlets are upside down for some reason on Mariner of the Seas, it worked as expected.
Not only would I recommend it, I would suggest buying two so that you can get enough USB plugs along with the outlets.
Conclusion: Worth it
Night light motion sensor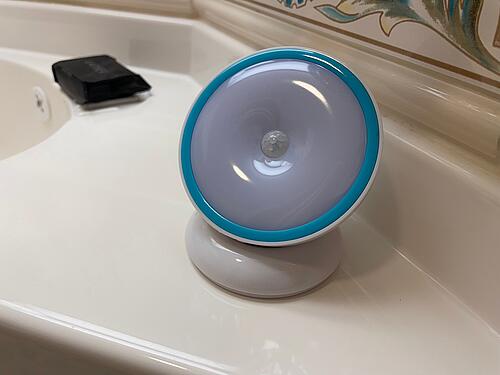 In addition to inside cabins being super small and inexpensive, they're also very dark.
Since there's no outside light, trying to navigate the room without lights on can be a challenge, such as when you wake up from sleeping and need to get to the bathroom.
The workaround I've always employed is to leave the bathroom light on, but that lets more light out than I would care for. I enjoy the pitch blackness of an inside room when it comes to sleep!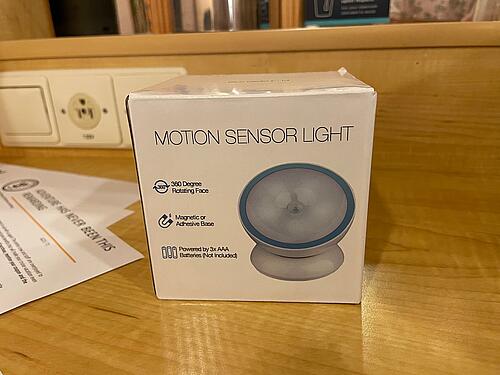 The night light not only offers lighting, but it will only come on when someone moves around.
The light itself pivots on its base in almost any direction, so you can position it.
It's powered by 3 AAA batteries and has LED lights that are activated when motion is detected. The base is magnetic too, so that means you can attach it to any wall or door in your cabin.
It worked as intended and gave me just enough light once the lights were out if I got out of bed. I positioned it near the bathroom so it wouldn't pick me up moving around in bed.
Conclusion: Worth it
Sunrise alarm clock
The idea is to not only have an alarm clock, but a light that will come on slowly to let you know there's daylight out.
Since you have no windows in your cabin, it's hard to know when you wake up on your own if it's 3am or 3pm. If you're like me, opening your eyes to check what time it is can be a dangerous game because you might end up waking up too much and find it difficult to go back to sleep.
The sunrise alarm clock has a gradual light, with two alarms and even has noise you can sleep to: birds, running water, white noise, and more.
There are 7 different light setting too, so you can choose the color you like.
As advertised, the light was off when I went to sleep and on when I woke up. The nice thing about this is when I woke up earlier than my alarm, I could sense no light without opening my eyes.
While it worked as intended, at this point in my life, I rarely sleep without an alarm set whether I am in a balcony or inside room. In my mind, if my alarm didn't go off yet, then it's not time to get up.
The benefit of this light would be if I woke up on my own a half hour early, I could more easily determine if I could just get about and go rather than turn over and try to fall back asleep. This is also common when nature calls in the morning.
I think this might be better for my kids, who seem to think noon is too early to get up while on a cruise.
Conclusion: Meh/Indifferent
Fridge magnets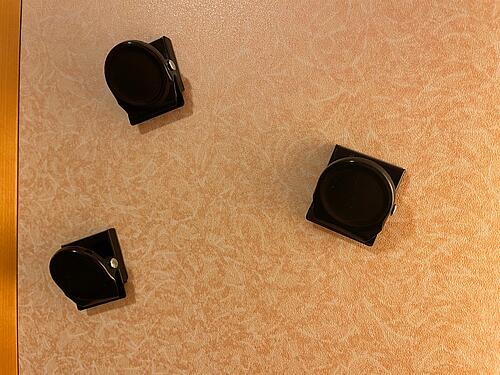 There are two kinds of magnets that make the list, and this one is more of a general purpose magnet.
The idea is since the walls are metal, you can put magnets up to get certain other items off the desk, couch, or floor and free up that space.
Things like hats, coverups, important paperwork and more would be ideal. In fact, these have clips to them (rather than hooks) so they can "grab" items that cannot otherwise be hung.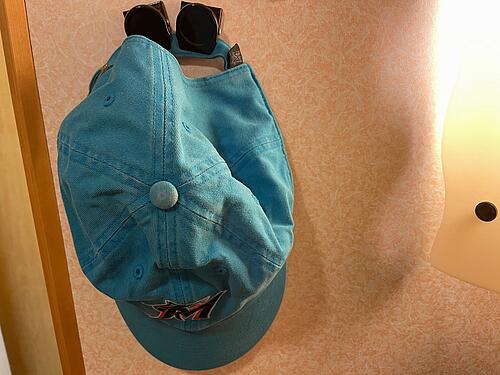 My only problem is the magnets I bought are rather underpowered. I needed two to be able to keep my hat on without the magnets sliding down.
Otherwise, this is a great cabin trick for any kind of room because the couch and desk end up the catch-all for all of our junk. It won't work for everything, but every little bit helps.
Conclusion: Worth it, but I need to find stronger magnets.
Laundry hamper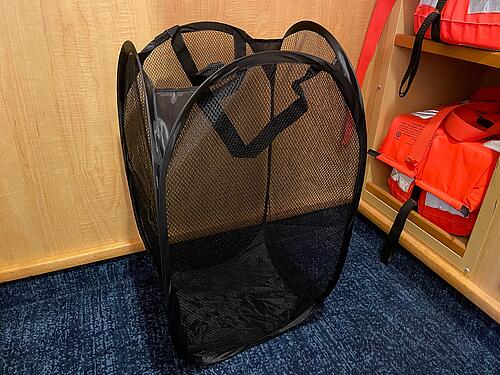 Another cabin trick I've used in the past is to buy a cheap laundry hamper.
You can find pop-up laundry hampers that are easy to pack and keep your dirty laundry more organized.
For years, we just picked a corner of the cabin and designated it "laundry corner" and tossed all the dirty laundry there. By the end of the cruise, it was a mountain of dirty laundry.
A laundry hamper means there's less of a mountain and just like one you have at home, it does the trick.
Before buying it on Amazon, you should check if there's one at your local dollar store since this is a commonly sold item at those stores.
While a pop-up laundry hamper won't result in any less dirty clothes, it will help keep them better organized.
Conclusion: Worth it
Over the door hanging shoe organizer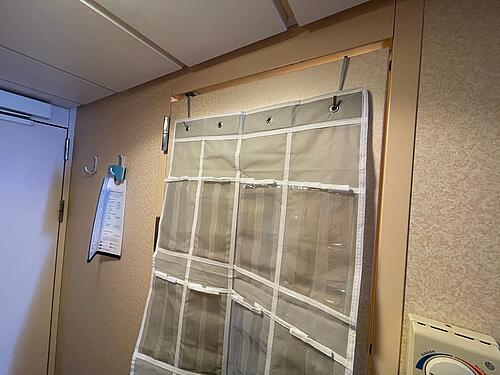 I've seen the shoe organizer trick for years and always thought it sounded better than it was.
The idea is you get a plastic shoe organizer to hang over the back of your bathroom door and put all sorts of things in one of the pockets.
You could fit shoes, snacks, sunglasses, sunscreen and something else that starts with the letter "s".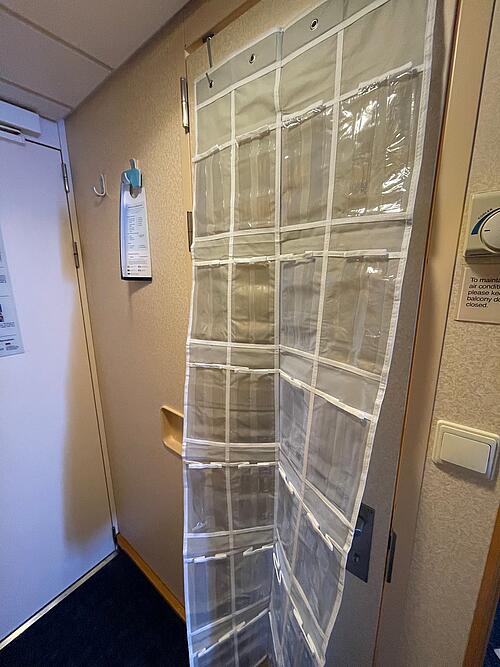 Because the pockets are designed for shoes, they are large enough to hold a lot of small items. 
It certainly did the trick for me and when I took the time to put a lot of things in there just to get a nice photo for this article, I realized I had gotten rid of a lot of little things off my desk.  I suppose that's an endorsement.
Conclusion: Meh/indifferent
Curtain divider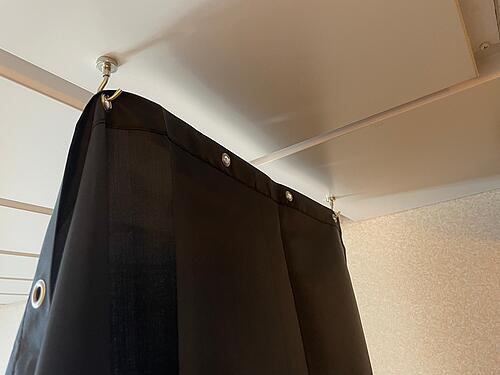 This was an interesting idea to get a shower curtain with magnetic hooks and get a divider for the room.
If you are sharing a cabin, privacy is always going to be at a premium. Royal Caribbean's cabins have a curtain in the middle, but it only goes a bit of the way. Frankly, I'm not sure why they exist in inside rooms unless someone is going to lay on the couch very still.
You hang the magnetic hooks from the ceiling (which is also metallic) and then attach the shower curtain.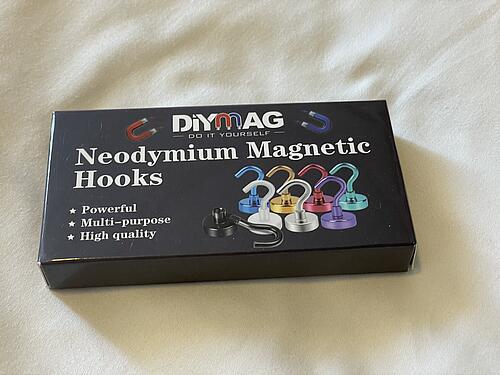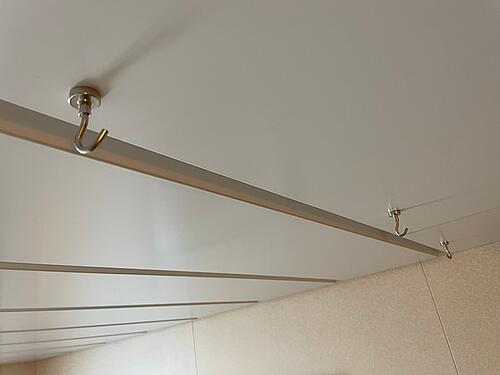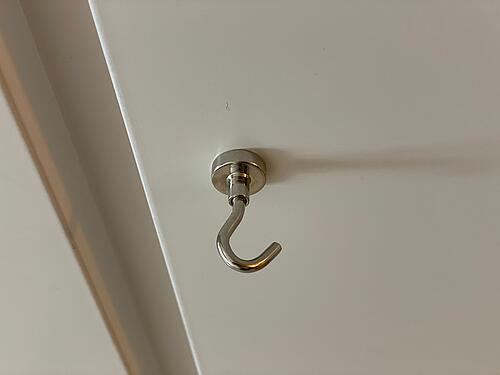 The particular shower curtain I bought was more see-through than I thought, so it would not give total privacy if someone needed to change.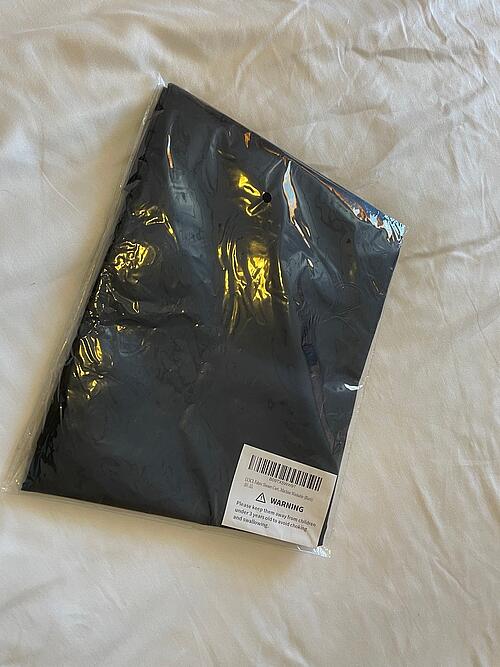 It also only went about 75% of the way across. When combined with the Royal Caribbean curtain, then it worked, but I would check if there was a longer and more opaque curtain next time.
If you shared a cabin and had the beds split, putting the curtain between the beds might give just enough privacy so you can feel like you have your own space.
Conclusion: Meh/indifferent
Outside TV channel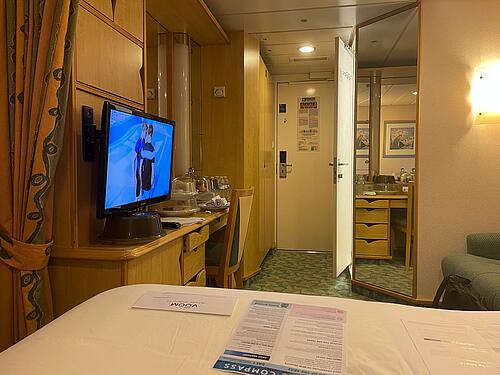 Rather than purchasing a sunrise alarm clock, a no-cost hack is to leave your cabin TV on and tuned to the channel that has a view from the ship's bridge.
The idea is you'll know when it's day time when the light show on TV illuminates the room.
This may work for some people, but wasn't good for me because I don't like the amount of light the TV emits even at night.
Moreover, the channel changes between the bridge view and a map view. Moving back to map view means more light than when it's on bridge view.
If you can sleep despite light from the TV, then it could work for you.
Conclusion: Not practical
Bed configuration
I never considered the layout of the bed can help with providing more space.
Whether you are sailing solo or sharing the cabin with someone else, having the beds separated can actually create more space.
By asking your stateroom attendant to split the bids, you'll now get a walkway in the middle of the room between the beds. This extra space makes it much easier to get around your bed because when the bed is together, you have to move to the walls to get in and out of bed.
The only problem with this hack is you are giving up the luxury of having a larger bed by keeping it together. Personally, I prefer to keep the bed together to have a larger bed, but there's no doubt this trick works.
Conclusion: Worth it