In:
Situated on deck 6 of Royal Caribbean's Freedom-class ships is a promenade stateroom that's unlike any other cabin onboard.
Imagine a stateroom featuring cow-themed decor, vouchers for free ice cream and highly-coveted suite lounge access - all for the same price as every other inside promenade stateroom onboard.
Without a doubt, the Ben and Jerry's suite is the weirdest stateroom onboard any Royal Caribbean ship; and I was lucky enough to experience this bizarre stateroom for myself onboard Liberty of the Seas last weekend.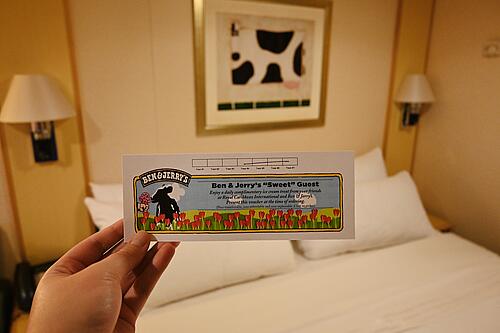 Found on Liberty of the Seas, along with Freedom of the Seas and Independence of the Seas, the Ben and Jerry's suite is the only inside cabin suite on any Royal Caribbean ship.
While cabin 6305 might look like a regular ol' promenade stateroom from the hallway, most don't realize this stateroom is perfectly situated right above the Ben and Jerry's ice cream parlor. Open the cabin's blinds and you'll find a front row view of two life-size cow's derriere (or should I say dairy-ere?)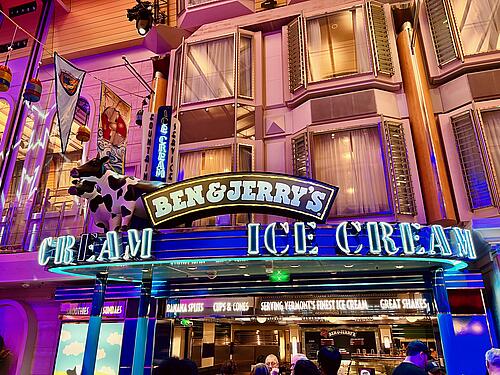 Here's what it was like staying in the weirdest Royal Caribbean stateroom.
Having never heard of the Ben and Jerry's Sweet, I did some preliminary research to see what I could expect staying in the promenade "suite." 
Legend has it that the cow-obstructed views were an oversight from Royal Caribbean during the construction phase of building the Freedom-class ships. Once it was discovered that these massive cows block most of the cabin's promenade view, Royal Caribbean decided to add a few freebies for guests.
Alas, the Ben and Jerry's Sweet was born!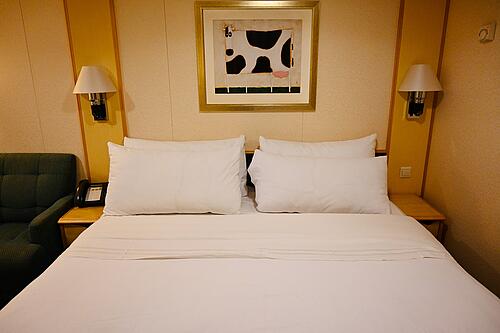 After learning about this peculiar promenade stateroom, I found an older article on RoyalCaribbeanBlog that provided some pictures, videos and details about the Ben and Jerry's suite.
Back in 2011, the Ben and Jerry's suite appeared to be covered with cow-themed decor from head to toe. From bedsheets and pillows with cow-prints to mini cow trinkets and clocks, the Ben and Jerry's suite was decked out with decor. The door of the suite even had a special plaque, which surely intrigued other guests onboard.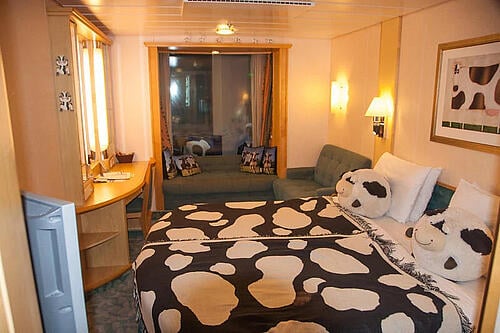 Booking the Ben and Jerry's suite was the same price as every other promenade stateroom on Liberty of the Seas
Because of the cabin's obscureness, it was difficult to find any updated or current photos of what to expect from the suite. With just 3 cabins existing in Royal Caribbean's entire fleet, the Ben and Jerry's suite is considered a hidden gem.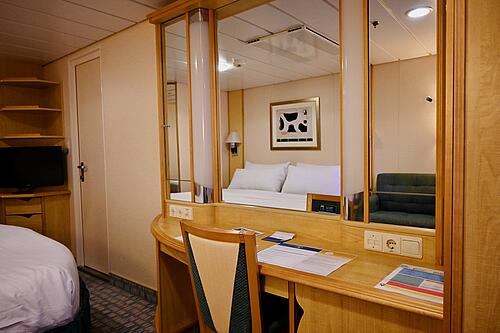 Although I've cruised many times on Royal Caribbean ships that feature promenade staterooms, or glorified inside cabins that have a window overlooking the lively promenade onboard, I've never actually booked one for myself.
I always worried that a promenade stateroom would be too noisy when trying to sleep at night, especially considering how busy the promenade is on any Royal Caribbean cruise. I was anxious to see whether I liked staying in a promenade stateroom and I was grateful to try out this cabin on a short, 3-night sailing.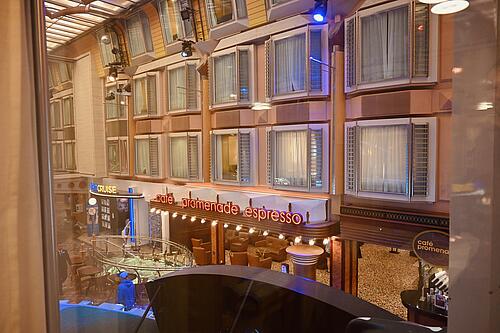 For this cruise, I'd be sailing with my husband. I warned him about expecting obnoxious cow decor in the stateroom while in the same breath sharing that we would presumably be receiving suite lounge access and free ice cream with the stateroom.  
While boarding, I was confused whether we could board with other suite guests, as we didn't receive any communication regarding the benefits of our room prior to boarding. As such, we boarded like everyone else so as to not potentially embarrass ourselves. 
Walking inside the stateroom for the first time after boarding, my husband looked to me and said "Uh, I don't think this is the Ben and Jerry's suite." 
Expecting to see an obscene amount of cow-themed decor, we opened the door to cabin 6305 to see a stateroom that initially looked like every other promenade cabin. There was no plaque on the stateroom door like I had seen in older pictures and videos.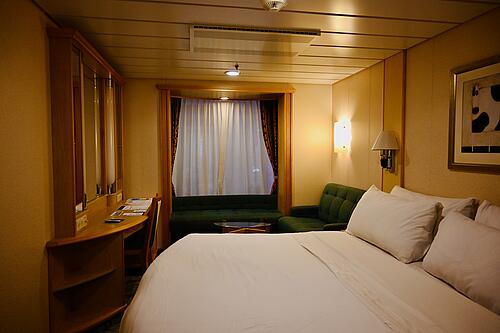 I gave a confused look to my husband and went inside the cabin further to investigate.
Once we were inside the promenade cabin, we quickly spotted a framed photo of a cow painting. The quirky artwork confirmed we were indeed in the Ben and Jerry's suite!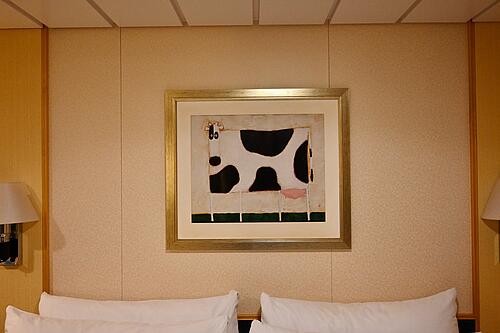 I looked out the window to find the life-size cows right above the Ben and Jerry's ice cream shop in the promenade.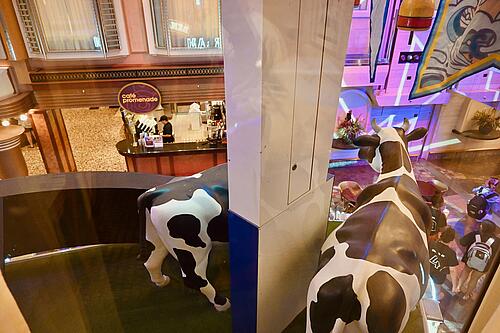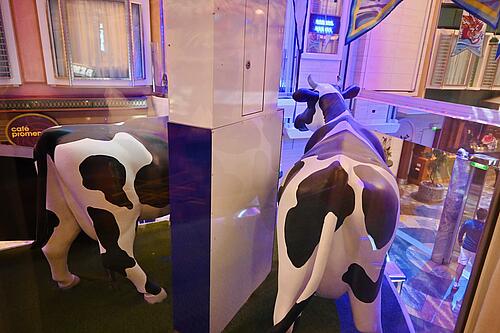 These massive cow structures blocked the majority of our promenade view - and it certainly made us laugh when seeing the cow posteriors for the first time.
On the stateroom vanity, we found a coupon that was titled "Ben & Jerry's Sweet Guest" with small boxes to check for each complimentary treat. 
The voucher said, "Enjoy a daily complimentary ice cream treat from your friends at Royal Caribbean International and Ben & Jerry's. Present this voucher at the time of ordering."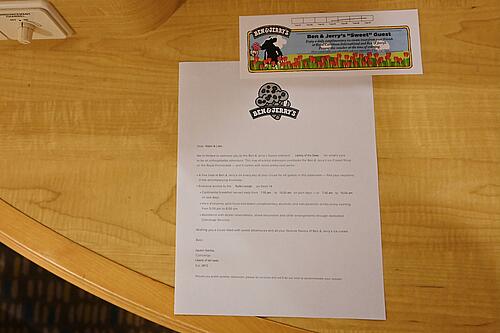 The voucher stated that the coupon was non-transferrable, non-refundable and non-replaceable if lost or stolen. Since the sailing was only 3-nights, the boxes for Treat 4 through Treat 7 were crossed out.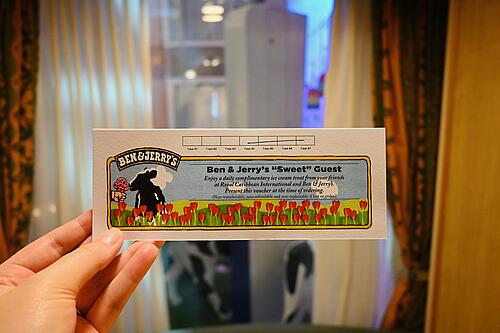 We also found a welcome sheet from the suite concierge welcoming us onboard, writing, "We're thrilled to welcome you to the Ben & Jerry's Sweet onboard Liberty of the Seas for what's sure to be an unforgettable adventure. This one of a kind stateroom overlooks the Ben and Jerry's Ice Cream Shop on the Royal Promenade - and it comes with some pretty cool perks."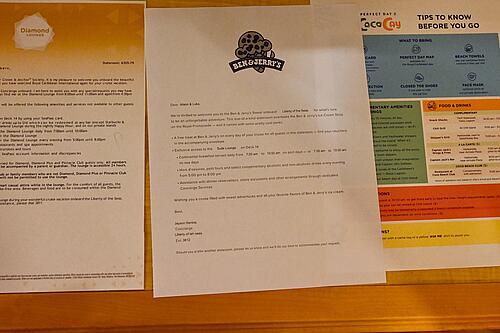 The perks listed on the sheet included a free treat at Ben and Jerry's on every day of our cruise for all guests staying in the stateroom, along with exclusive access to the Suite Lounge for continental breakfast and happy hour each evening from 5:00 pm to 8:00 pm.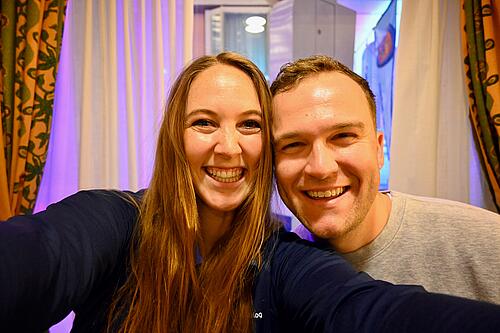 I've only ever stayed in a junior suite onboard a Royal Caribbean cruise, which confusingly enough did not come with Suite Lounge access. We were excited to see what the Suite Lounge was all about and compare it to the Diamond Lounge.
Of course, we couldn't wait too long to take the Ben and Jerry's voucher for a spin.
Voucher in tow, my husband and I went to Ben and Jerry's for a little ice cream treat after boarding and dropping off our luggage.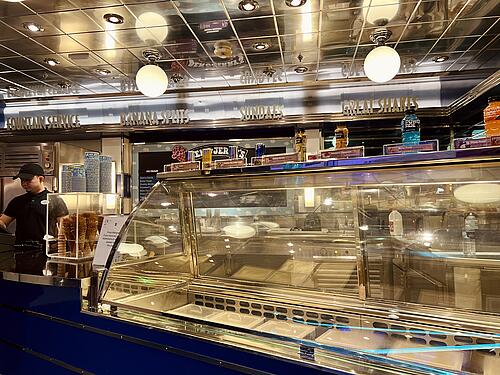 Proudly displaying the voucher to the crew member working at Ben and Jerry's, we inquired about what exactly our "complimentary treat" entailed. The crew member seemed a bit confused at first and didn't entirely know what would be included. 
We told him that the description said in our room that we could each have a daily complimentary treat, but he still seemed unsure about what the voucher was all about.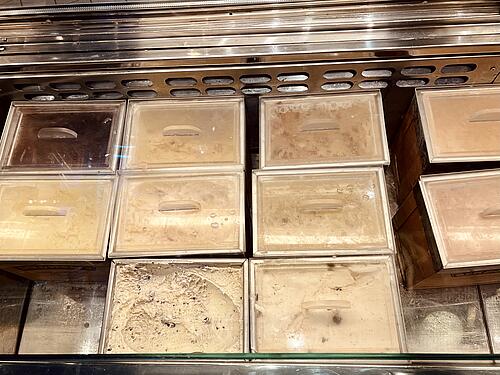 Eventually, he said we could pretty much have whatever we wanted, including any size of ice cream. I opted for a small Phish Food while my husband tried the Cookies and Cream.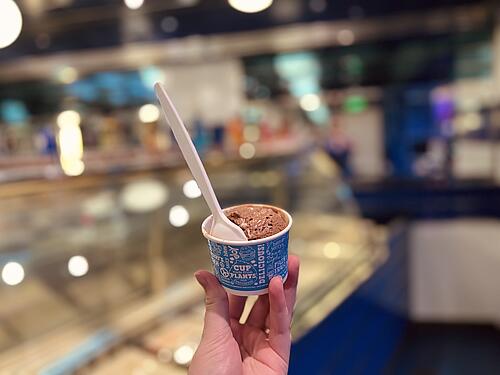 After serving up our ice cream, he checked off Treat 1 on our voucher. We were surprised that using the voucher seemed to be confusing for the crew members, as there must be guests on each sailing that have this benefit.
Access to the suite lounge, including complimentary happy hour, was a huge benefit of the Ben and Jerry's suite.
I'd look at a cow's derriere (or are we saying dairy-ere?) each day of a cruise if it means I can enjoy complimentary happy hours each evening!
As I mentioned, I've never had access to the Suite Lounge. This gal is a cheap cruiser, so I normally stay in an inside cabin guarantee and enjoy my complimentary Diamond + drink vouchers.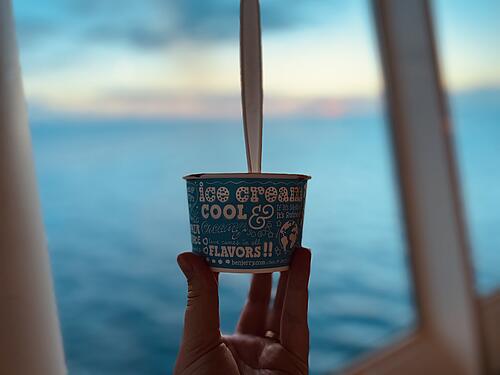 We were giddy as we took out our SeaPass cards to enter the suite - I even took my phone out to film us waltzing into the Suite Lounge. We had big smiles until the card reader flashed red over and over again. We tried both cards until we finally accepted our fate that the cards were not going to let us in.
After waiting for someone else to enter, we rode their coat tails and spoke with the suite concierge who assured that he would fix our cards. We enjoyed a few drinks in the Suite Lounge before heading to dinner with others in our travel group.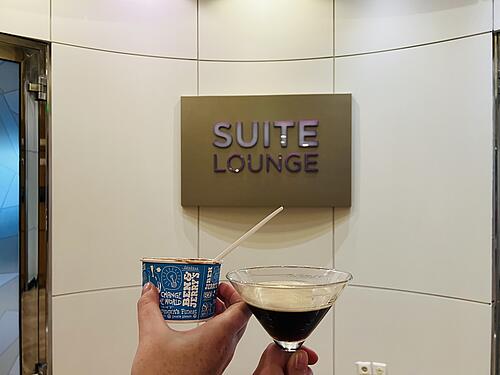 I was surprised to find that the Suite Lounge has the same assortment of appetizers and snacks as the Diamond Lounge. I always assumed that the Suite Lounge would have a more desirable spread during happy hour, but this wasn't the case when I went into both lounges on the same night. 
The following evening, our cards still didn't work, so the concierge issued us brand-new cards to use. While we confirmed they worked for the lounge, we were unable to access our stateroom that night; my husband had to go get us new cards at guest services around midnight. 
With two SeaPasses in my lanyard, it was slightly frustrating to have these issues between the lounge and our stateroom - which were two of the most important places we needed access to!
Luckily by the last evening, we had access to the lounge and statement without any issues. 
The promenade stateroom was indeed noisy, especially at night and during certain events.
We felt there were two major drawbacks of the promenade stateroom: the noise and the privacy. On the plus side, the promenade stateroom feels pretty similar in size to an inside cabin, although it does have two seating booths around the window nook. It was also nice to have a view of something other than a blank wall or a giant mirror.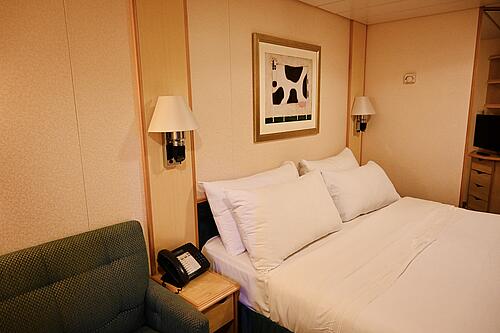 We had to be very mindful of the curtains being closed while changing, as it would be very easy to forget about onlookers in the promenade. Because the cows block most of the views from our window, we would forget that people could easily look into our window if we weren't cautious of closing the blinds.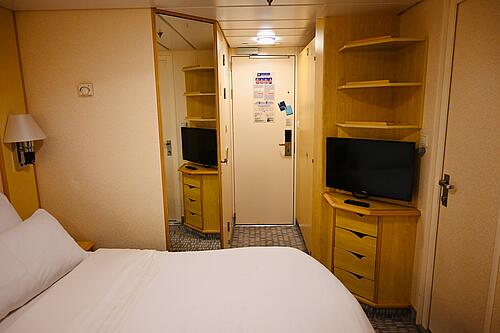 Another major drawback of the promenade stateroom was how noisy it can be in the evenings. I would argue that the promenade had loud music playing each evening until midnight. The final evening of our cruise, my husband tried to go to bed at a reasonable time because we had an early morning flight the following day.
While trying to fall asleep, the 70s disco inferno party started in the promenade. He said it sounded like a concert was taking place inside our cabin and that it was actually vibrating from the music.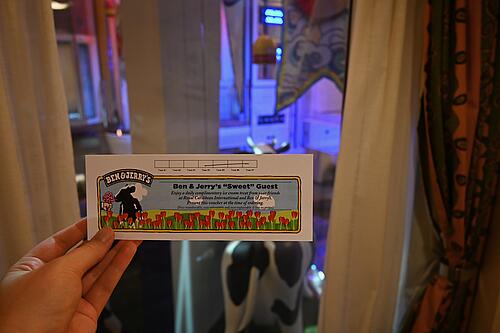 He texted me that it was so noisy, "They might as well be performing in our stateroom!" To investigate, he got out of bed to open the curtains and see what was happening. He was taken aback to find the performers were literally standing next to the cows on the small platform right outside our window!
He said he couldn't close the window quick enough, especially considering he was dressed to go to bed. 
We both agreed we would stay in the Ben and Jerry's suite again, but probably not any other promenade stateroom.
The perks of the Ben and Jerry's suite make this promenade stateroom worthwhile, but I don't think I am sold on promenade staterooms in general.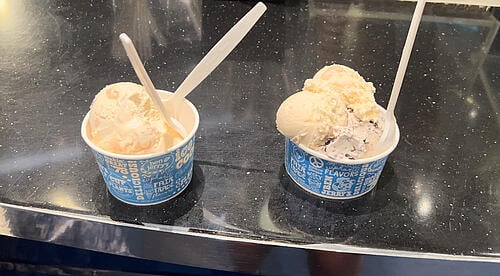 Of course, access to the Suite Lounge with complimentary, nightly happy hour is a huge perk of booking the weirdest cabin on a Royal Caribbean ship. Considering the Ben and Jerry's suite doesn't cost anything extra compared to other promenade staterooms, it's truly a great deal.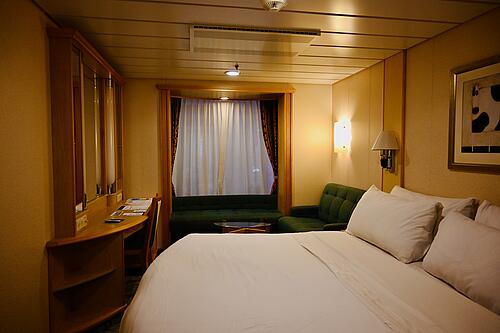 As a sweets lover, it was a fun daily treat to have Ben and Jerry's ice cream. It did feel as though the crew members at Ben and Jerry's didn't know the rules of the voucher or suite, as we always seemed to get different answers when inquiring.
For example, we asked about whether we could have a milkshake instead of ice cream and it wasn't entirely clear. On the last day, the voucher was taken after I ordered my daily treat, but my husband hadn't had the chance to get his.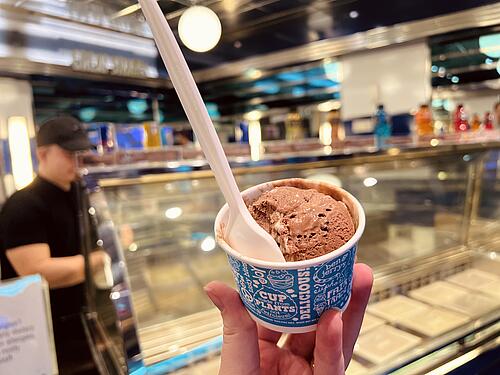 It was great to have the free ice cream vouchers daily, but I certainly wouldn't need to have daily ice cream on a longer cruise. The 3-night sailing was perfect for a daily ice cream treat after long days in the Bahamian sun.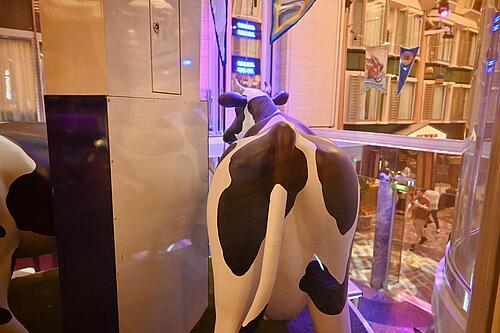 Again, I'd happily look at a fake cow's dairy-ere if it means I get free ice cream and complimentary happy hours with drinks each day. The noise and privacy of the promenade stateroom wouldn't always be worth it, but the Ben and Jerry's suite is a must if it's available!