In:
Is booking an inside cabin on your Royal Caribbean cruise a good idea, or a mistake waiting to happen?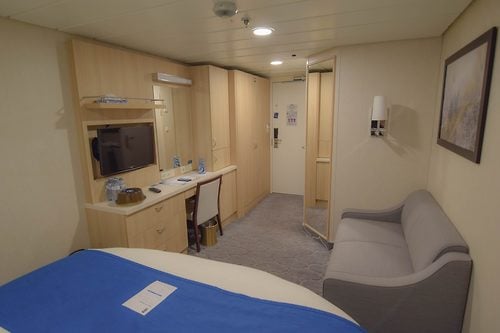 An inside stateroom is usually the cheapest option available when booking, and it offers a "home away from home" to enjoy during your cruise. In fact, a lot of people end up booking an inside room for a variety of reasons.
If you are deciding between room choices, here are a few good reasons why you should book an inside cabin for your Royal Caribbean cruise!
How much time will you really spend in your room?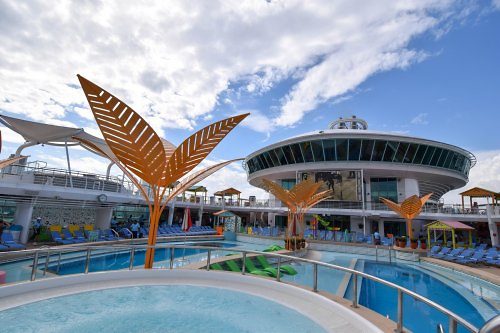 Royal Caribbean offers so much to see and do onboard its ships, and then there are all the activities you can do in the ports you visit, that you have to start wondering how much time will you actually spend in your room.
Unlike a hotel room, stateroom cabins are somewhere to get ready for your day ahead, but not a focal point of where you will spend your time. In practice, many guests find themselves outside of their room for most of the day, so why invest in space you will barely use?
An inside room and a balcony room offer the same basic amenities, but if you are going to be at the pool deck, exploring ruins, swimming, learning how to fold a napkin and dancing the night away, an inside room will still provide a place to shower, sleep and change.
Good idea if you are worried about getting sea sick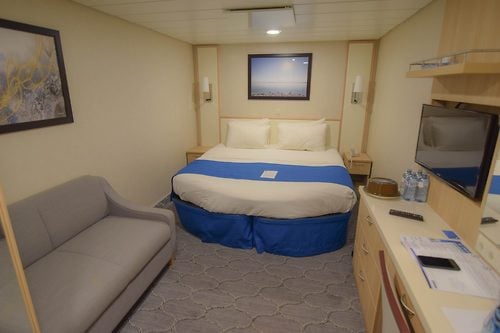 Experts say if you are prone to motion sickness, the best location for any stateroom is to be on as low a deck as possible, and towards the middle of the ship.  On most ships, that location is where the inside staterooms are located.
Obviously there are no guarantees that any room will be able to completely prevent getting sea sick, but the location of a room is among the most important factors in reducing the likelihood of it occurring the in the first place.
Inside rooms are not always tiny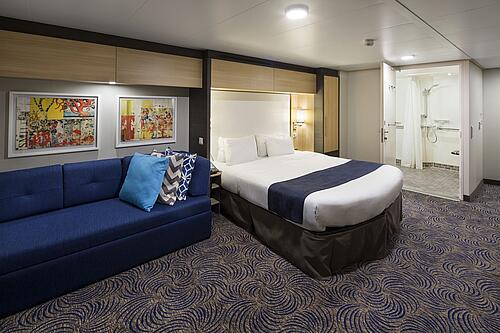 Some cruisers hear "inside stateroom" and think a closet posing as a cabin, but that is not always true.
Royal Caribbean offers a great variety of interior staterooms to choose from, especially on their newer ships. Larger interior stateroom category can offer up to 178 square feet of space, and family interior staterooms range between 260 square feet to 324 square feet.
While inside rooms are not the most spacious rooms on the ship, they do offer more space than you might be giving it credit for offering.
The best room for sleeping!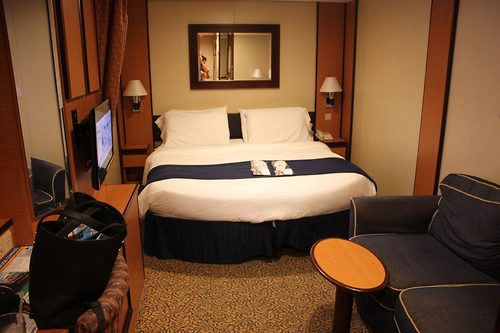 If you want the best sleeping conditions, an inside room is just what the doctor ordered.
Since there is no natural light in an interior room, your cabin can get pitch black when you turn off all the lights, and that means prime sleeping conditions.
Unlike at home or in a balcony room, where the morning light seeps in and wakes everyone up, 3pm and 3am look exactly the same in an inside room (so pack an alarm clock!).
The inside room X factor: virtual balcony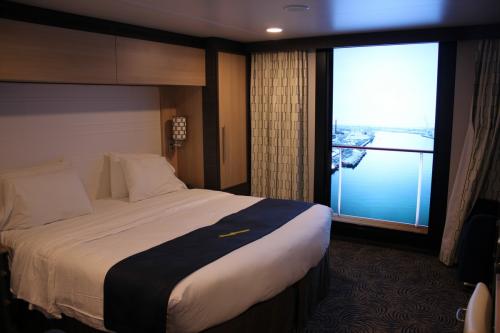 So you like everything so far about an inside room, but giving up that view of the world still bugging you? Try a virtual balcony!
Virtual balcony rooms are available on select Royal Caribbean ships and they are inside cabins that feature a floor-to-ceiling LED screen that offers real-time, high definition views of the outside world.
This fun application of technology provides an on-demand option to see what is going on outside, whether to see if the sun is shining, or catch a view of the port your ship is docking at, the virtual balcony provides a balcony experience, without the balcony cost.
Save money!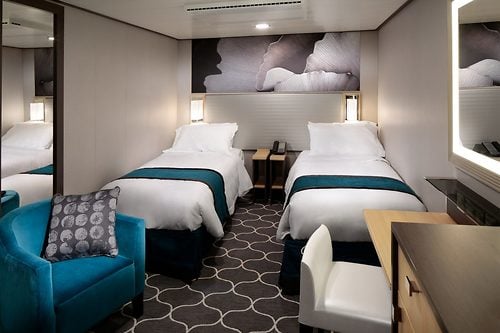 Perhaps the most compelling reason to book an inside room is the cost.
Without a doubt, the best reason to book an inside room is for the cost savings, relative to other stateroom categories.
Often, inside staterooms are the least expensive option, which means you can spend a lot less money on your cruise vacation, or have more money to spend during the cruise on things like drink packages, excursions, the spa and more.
Unfortunately, not everyone has a vacation budget for booking higher room categories, but an interior stateroom gets you on the same ship as people in a balcony or suite, and any cruise vacation is better than no cruise vacation!
The bottom line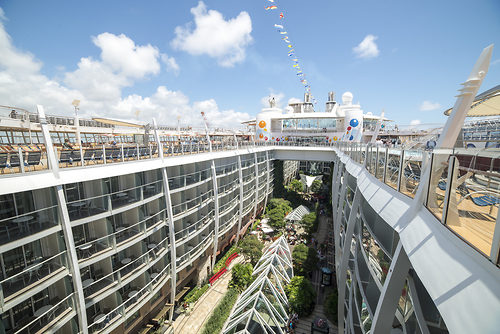 Anyone that typically books inside rooms will tell you that you will find lots of public space and open decks on the Royal Promenade, pool decks, helipad give you ample opportunity to go outside and enjoy the fresh air and passing scenery.
The interior rooms may not be the right choice for everyone, but if it is the difference between going on a cruise or not, I will gladly stay in an interior room!