In:
One of the first considerations when booking a Royal Caribbean cruise is the cabin you will select that will be your home for the duration of the cruise.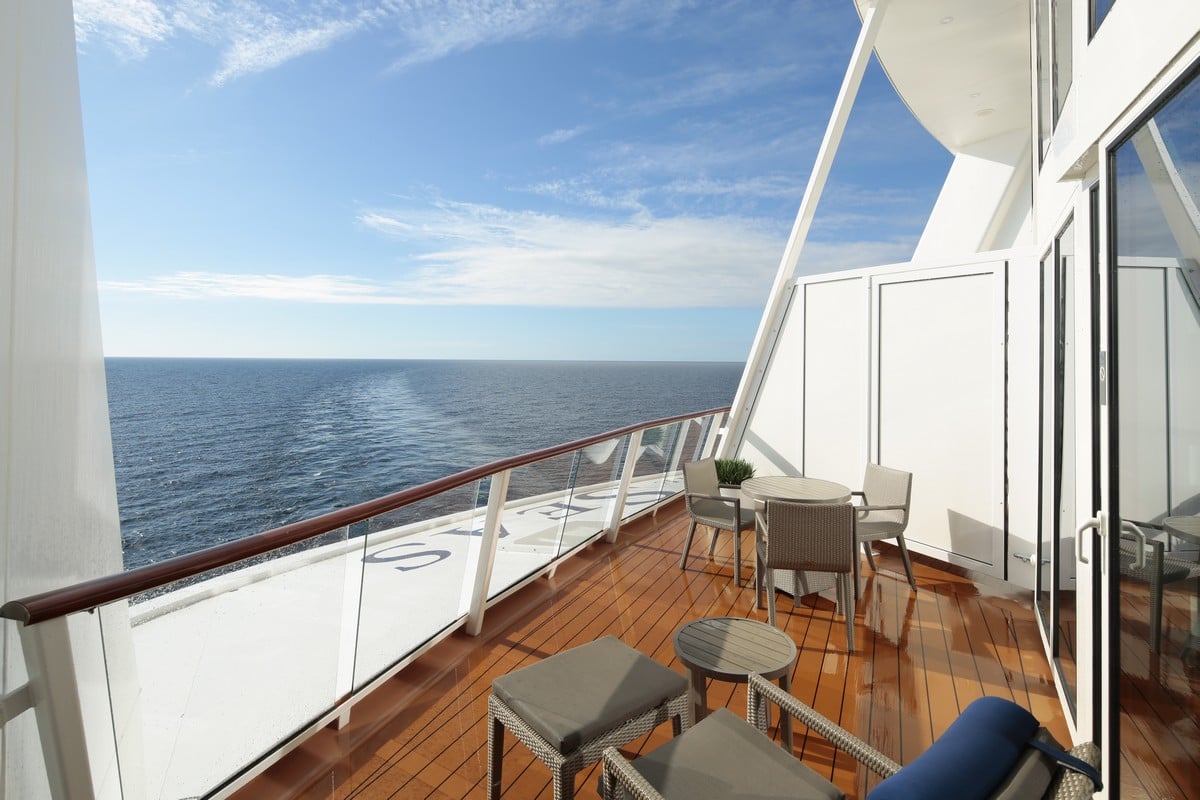 On any given Royal Caribbean cruise, there are plenty of cabins to consider across a number of stateroom categories.  There are many considerations to take into account, but choosing the right cabin for you should not be a daunting task.
Staterooms come in different sizes, layouts, views and even benefits.  What is important to one person might not be as important to someone else.  There really is no wrong cabin to pick, but there are definitely rooms you can choose that will enhance your cruise experience.
When considering the right stateroom for you, it is important to consider the differences between the various categories. 
Cabin categories
Inside cabins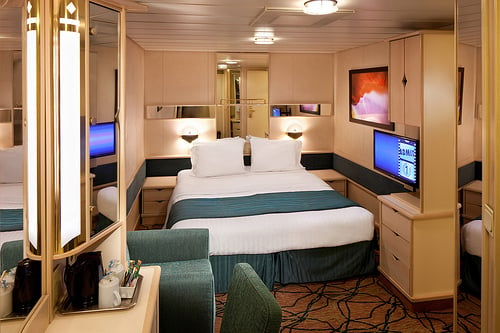 The most basic and smallest of the staterooms are inside staterooms.  Inside staterooms are distinguished from other rooms primarily because they offer no natural view of outside the ship.
Inside staterooms typically have no windows and no balconies.  
The compelling reason to book an inside stateroom is for the value, since they are often the least-expensive rooms you can book and that means it is the lowest entry point to getting on the cruise.  The exact size of the room will vary depending on the class of ship you are sailing on, but inside rooms will offer the least amount of space at the least price.
Over the years, Royal Caribbean has introduced new kinds of inside staterooms that retain the basic qualities of an inside stateroom, but with a new twist.
Promenade view: Promenade view staterooms are inside staterooms that feature a bay window that overlooks the Royal Promenade.  While the room has no view outside the ship, it does provide something to look at, with great opportunities for people watching as well as a great vantage point for events on the Royal Promenade.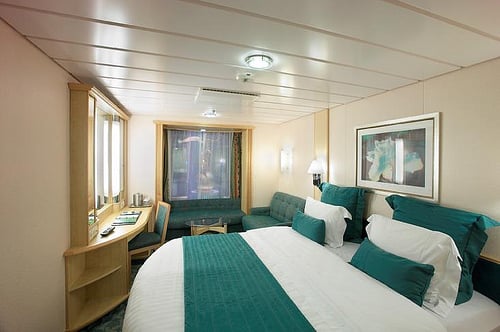 Another added benefit of this room category is the bowed windows offer more square footage compared to standard inside staterooms.
The exact size of Promenade stateroom varies depending on the class of ships. Voyager and Freedom class ships Promenade staterooms are 160 square feet, whereas on Oasis class ships they are 193 square feet.
Virtual Balcony: One of the newest innovations to the inside stateroom is the virtual balcony stateroom, which takes a conventional inside stateroom and adds an 80-inch LED high-definition television that provides live views around the ship.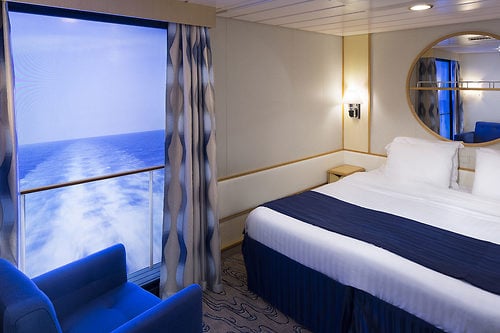 The screens are 4K ultra high definition capable screens that stretch from floor to ceiling and receive a video feed from the ship's cameras that are mounted at the stem and stern of the ship.
With virtual balcony staterooms, guests can enjoy a balcony experience without the balcony price.
Virtual balcony staterooms are available on Symphony of the Seas, Spectrum of the Seas, Navigator of the Seas, Quantum of the Seas, Anthem of the Seas, Ovation of the Seas, Harmony of the Seas, Voyager of the Seas and Explorer of the Seas.
Oceanview cabins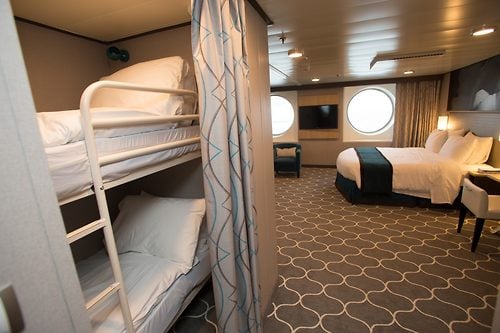 The next category up from inside staterooms are oceanview staterooms, which are slightly larger rooms that have a porthole or window to the ocean.
Much like the inside staterooms, oceanview cabins are on the inexpensive side and provide guests with an affordable means of being on the ship and still have a view.  Natural light is important to many guests, and the ocean view provides that.   Essentially, oceanview rooms are slightly larger inside rooms with a window.
The reason to consider an oceanview room is if a view is important to you, but the price of a higher-category stateroom is not possible. Alternatively, sometimes the price difference between an inside room and an oceanview is not too large, and someone may want to upgrade their room option at not a lot of extra cost.
There is one variation on the oceanview stateroom, which offers even more of a windowed view without the balcony.
Panoramic oceanview: Panoramic Ocean View Stateroom gives much more of a view than a traditional oceanview room, with a floor to ceiling wrap around panoramic window that is 76 inches high by 103-321 inches wide.  That is a big window.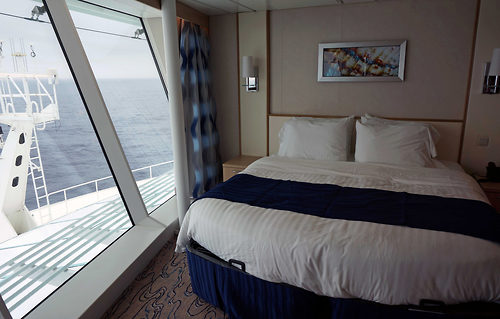 As you might imagine, the reason to book a stateroom like this is for the amazing views without the balcony view price.  
Panoramic ocean view staterooms are found on Navigator of the Seas, Freedom of the Seas, Liberty of the Seas, Enchantment of the Seas, Explorer of the Seas and Voyager of the Seas.
Balcony cabins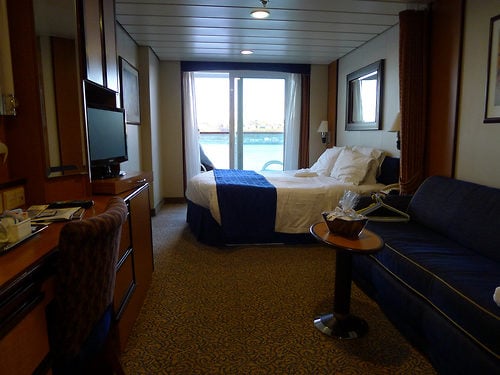 One of the most sought-after stateroom categories are the balcony cabins.  Balcony rooms offer the same kind of living space the previous categories did, but with a private balcony space.
Having your own balcony means you have a special spot on the ship just for you to enjoy, that provides views all around the ship, as well as that terrific ocean breeze. Many cruise fans swear by a balcony for the added space, private area and ambiance that only a balcony room can provide.
As you move up the categories of Royal Caribbean staterooms, balcony staterooms come with more space compared to interior staterooms.  As anyone that has cruised before will tell you, every square foot matters!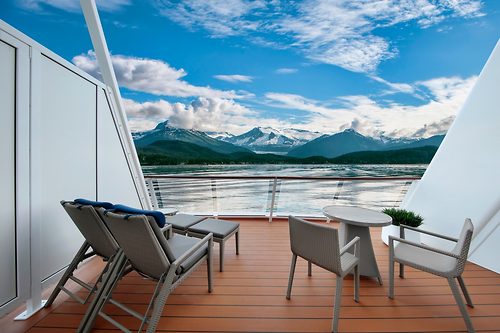 When you book a balcony stateroom, you get more inside as well as the space from your balcony.  It all adds up to more room for everyone to maneuver in and makes the entire experience less crowded.  Having a balcony means you have a great spot for sail away, enjoying the ocean passing by, or seeing the port you are docked in from the comfort of your stateroom.
There are a few variations on the traditional oceanview balcony cabin available on Royal Caribbean ships.  These are all the same balcony experience, but with a different vantage point.
Central Park balconies: On Oasis-class ships, Central Park balcony staterooms are available that instead of offering a balcony that overlooks the ocean, this stateroom category offers a view of the Central Park neighborhood.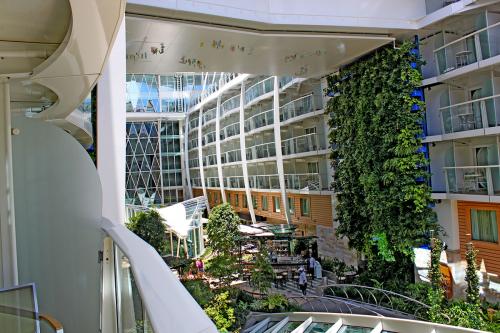 The Central Park balconies offer the same fresh air and light that ocean view balconies do but with the opportunity to enjoy the ambiance of Central Park along with the people watching aspect. In addition, Central Park view balcony staterooms are often slightly cheaper than ocean balconies.
The exact size of a Central Park view stateroom with balcony is 182 square feet with a 50 square foot balcony.
Central Park balcony staterooms are available on Oasis of the Seas, Allure of the Seas, Harmony of the Seas and Symphony of the Seas.
Boardwalk balconies: Just like the Central Park balcony staterooms, the Boardwalk balcony staterooms trade the oceanview of a traditional balcony for a view of the Boardwalk neighborhood.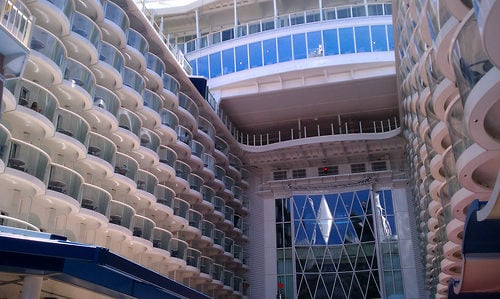 In addition to the view of the Boardwalk fun, some Boardwalk balconies can offer views of the ocean and/or the AquaTheater, depending on where your room is located.  Boardwalk balcony rooms are also usually priced less than ocean balconies.
A Boardwalk balcony room offers 182 square feet of living space, with a private balcony between 47 and 52 square feet.
Boardwalk balcony staterooms are available on Oasis of the Seas, Allure of the Seas, Harmony of the Seas and Symphony of the Seas.
Suites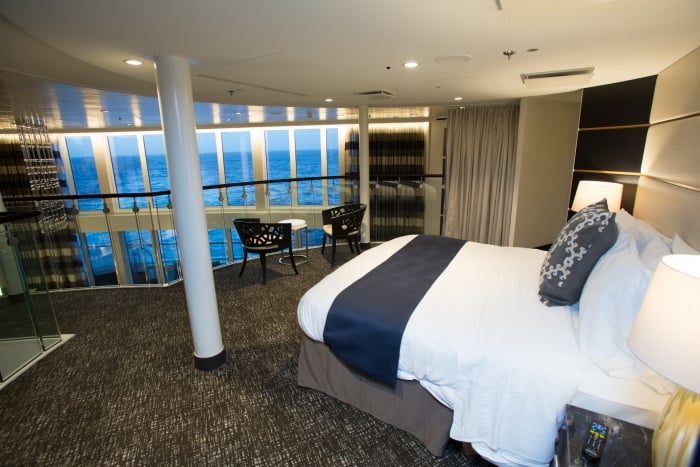 At the high-end of Royal Caribbean's stateroom options are the suite cabins, which offer the most luxurious and largest of all the staterooms.  As you might imagine, suites are also the most expensive.
The reason to book a suite is simple: you want to indulge on your cruise and splurge for something a bit more than the norm.  Suites offer a tremendous amount of personal space, higher-end amenities, special bonuses and exclusive access.
From Junior Suites to Presidential Suites, there are a number of options to choose from. Suites offer access to a concierge lounge and even a butler. Cabin suites usually consist of more than one room in your cabin and have the most space of any cabin.  It is difficult to convey just how much larger some of the suites really are, with balconies that exceed the size of some staterooms.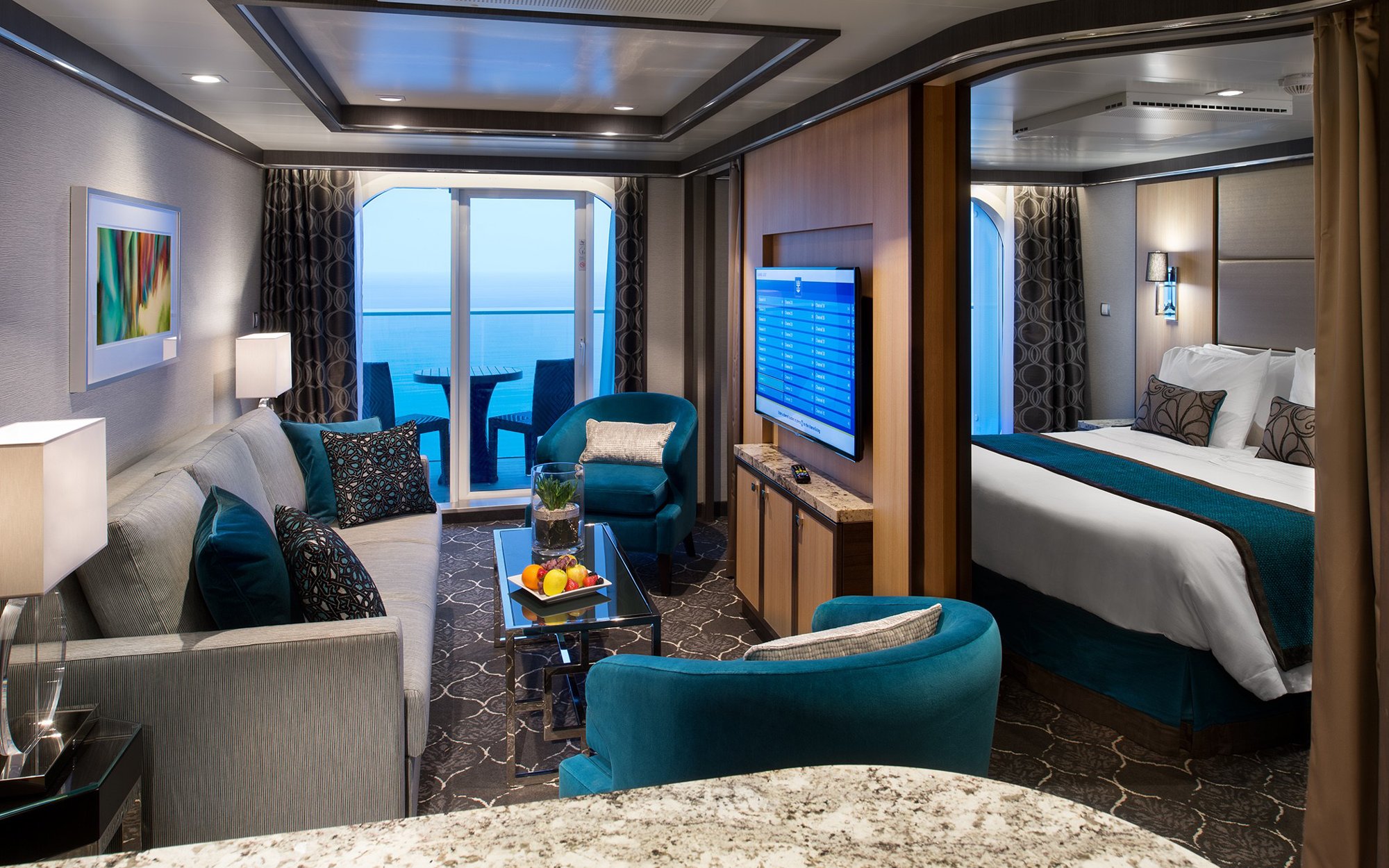 In addition to the impressive rooms, suite guests typically enjoy double Crown and Anchor Society points for each night of their cruise, concierge planning assistance, complimentary drinks and a private lounge, reserved seating by the pool and shows, and a whole lot more.
On Royal Caribbean's Oasis and Quantum class cruise ships, the benefits program has been refreshed and is dubbed, the Royal Suite Class.  Suites on these ships offer the most benefits and highest level of service, split across three tiers of benefits. 
Cabin amenities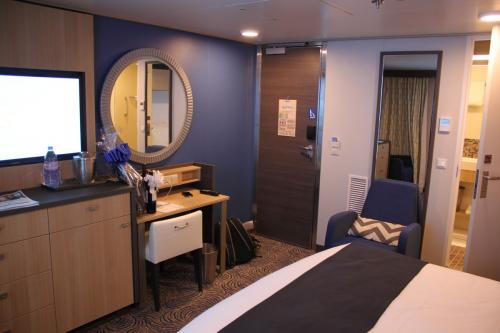 All Royal Caribbean staterooms come with private bathrooms that are equipped with showers.  Suites have bath tubs in addition to showers, so if you need a tub, be sure to look for that as an option.
Not all staterooms have the same level of amenities, depending on ship class, but there are some basics that all have:
Television
Private bathroom
Safe
Minibar
Sitting area
Be sure to refer to each ship's layout for specific accommodations and amenities.
Read more: What is the best room on a cruise ship?
Cabin location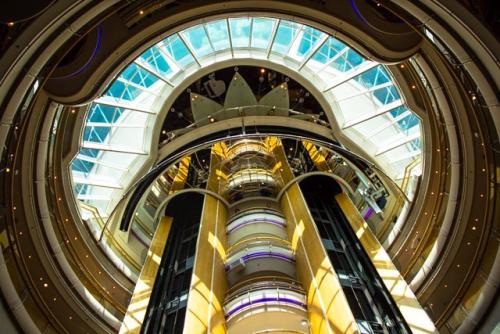 Where your cabin is located can be just as important a consideration as the type of room you select.  Royal Caribbean's cruise ships are massive, and picking your room location means you have to take into account access and convenience to a number of public areas on the ship.
It is important to note that there is no bad location on a cruise ship, it is just a matter of personal preference in terms of which location means more to you.  It is difficult to make generalizations about cabin locations because it can be a very subjective decision but here are some basic guidelines.
In general, the most sought after location for a stateroom is midship, simply because it is centrally located relative to all the amenities and spaces on the ship.  This is true of all cruise ships, and depending on your preferences and itinerary, this may or may not be important to you.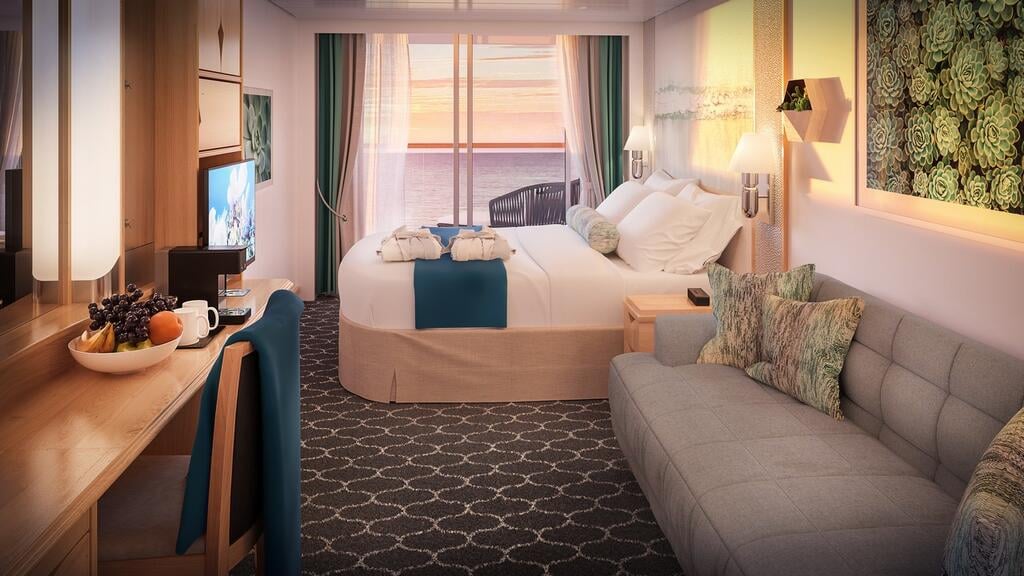 In addition, being centrally located is what most guests who are sensitive to motion on the ocean choose, because the center of the ship tends to have the least sensations of movement.  Those that can become easily sea sick, may want to take special consideration.
When it comes to picking a stateroom location, arguably the most important criteria can be how close (or far) your cabin is from certain onboard facilities.  Some guests prefer to be close to the pool deck, others like easy access to the Royal Promenade and others want to be in close proximity to elevators.  
As they say, it is all relative, but consider your cabin's proximity to public spaces near, above and below your room when selecting it.  On the larger ships, the time it takes to walk from one point to another is far more pronounced than on smaller ships, but no ship's walking distance is too great to truly be a concern (provided you suffer from no mobility issues).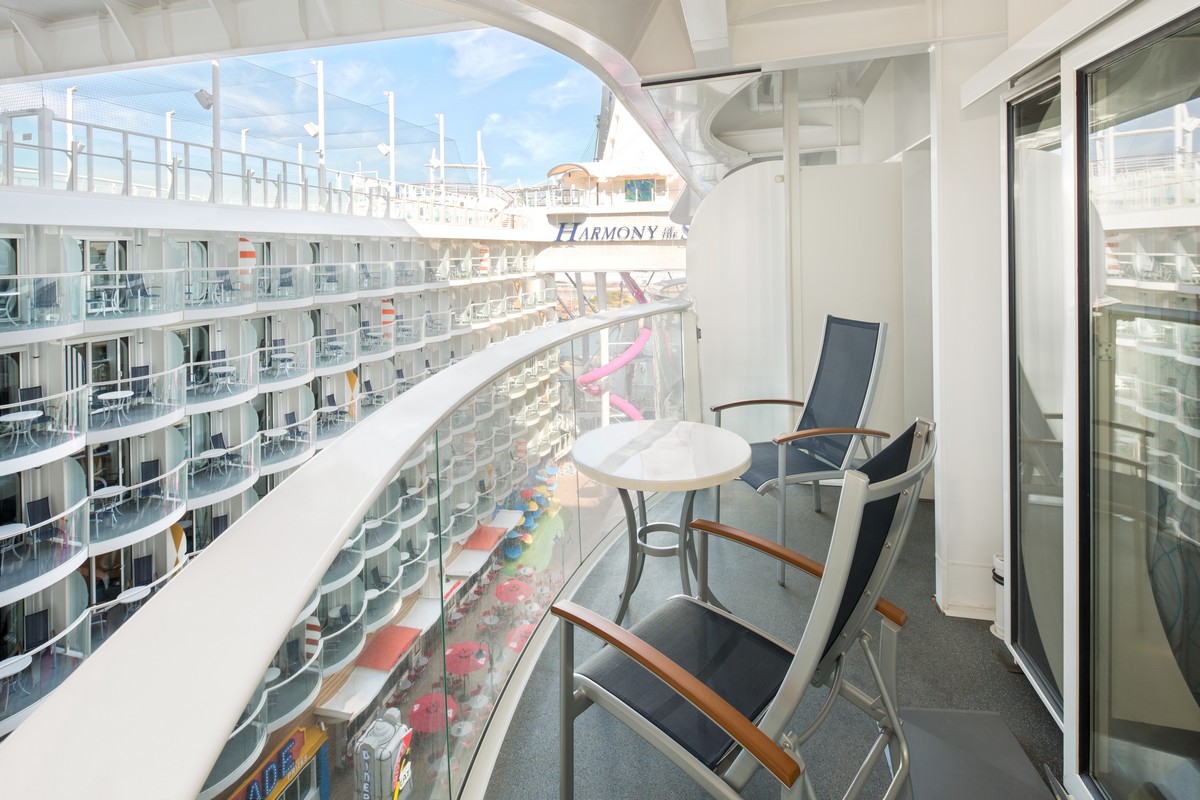 Speaking of location, you may also want to consult deck plans before choosing a room to look at how close your room is to public areas that tend to generate a lot of noise.  If you are a light sleeper, some rooms that are above or below a night club, restaurant, pool or some other public area can suffer from noise bleed. How much noise and how bad of an issue can vary from cruise to cruise and person to person.
If you're at all concerned about this, choose a cabin that has at least two decks above and below it and the nearest public area to assure quietness.
There is also the choice of having your room on the port (left) or starboard (right) side of the ship.  In my years of cruising, I have found this to be among the least important considerations, since you never know what you will be facing when, and both sides of the ship offer something to see and getting to the opposite side of the ship is quite easy.
Read more: What is the best location on a cruise ship?
Your cruising group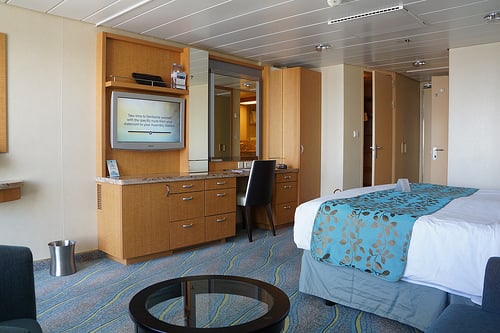 Much of the decision surrounding which stateroom to pick may have to do with whom you are cruising with. A couple cruising will have different needs than someone cruising with kids.
If you are cruising alone, keep in mind most staterooms come with a single supplement fee, which means you will pay extra to subsidize the lack of another passenger.  There are some staterooms that are specifically designed for solo cruisers, but they are rare and only on a handful of ships.
Families are at the heart of what Royal Caribbean offers, and those sailing with children may want to consider two additional alternatives to a typical room.  Family sized staterooms are extra large versions of regular staterooms that are designed with larger groups in mind.  They offer much more space without the typically higher prices that come with a room of that size. Family sized staterooms may not be available to see on Royal Caribbean's web site at all time and tend to have a minimum amount of guests in the room to become available.  Check with a travel agent for exact rates on these rooms.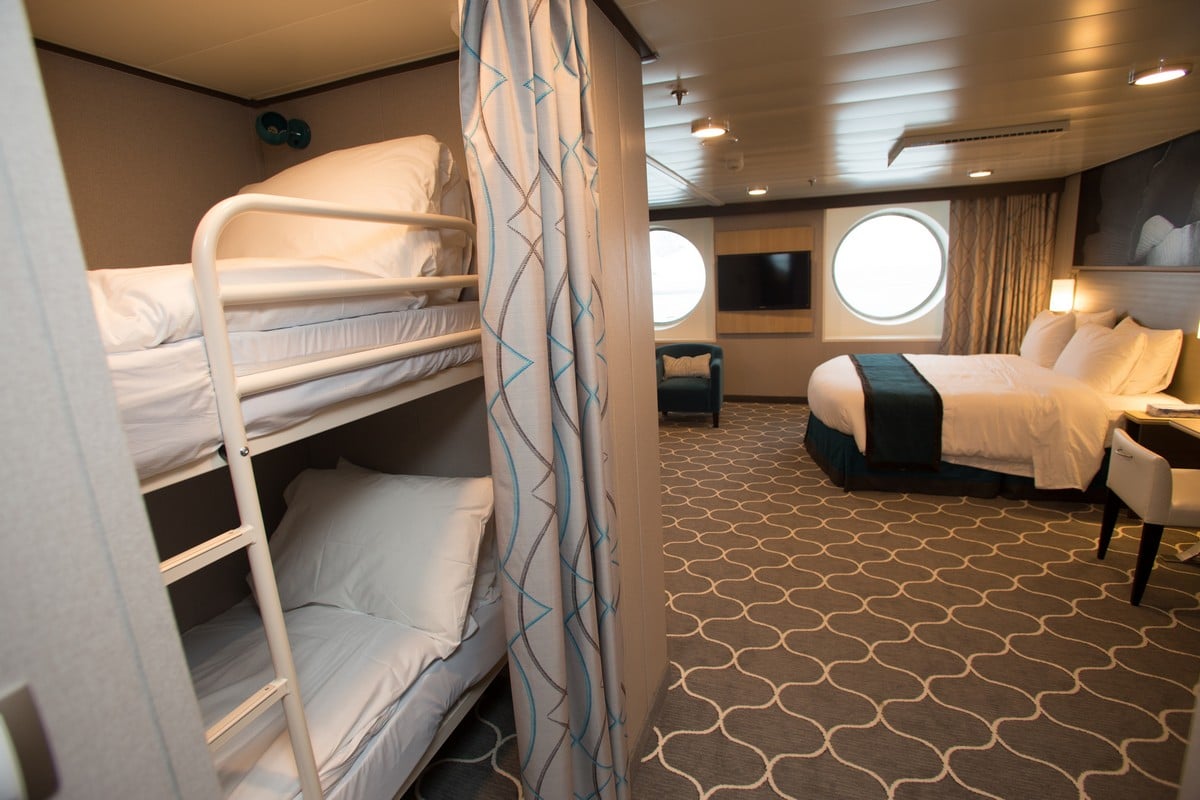 Families should also consider two adjacent or connecting rooms.  Having multiple rooms may sound expensive, but often it is not that much more and the added space and extra bathroom (!) make this a very attractive alternative.  Families with younger children will want to get connecting rooms to ensure easy access between the rooms, while older kids can probably be fine in a nearby room.  Regardless, a second room is an option to consider for larger groups that need more space.
Couples will find the most options to choose from, since staterooms are mostly designed for two guests per room. Nearly all rooms have twin beds that can be separated or combined to form a queen-size bed. You can request either configuration from your stateroom attendant.
Cruising with friends is another common choice, and like couples, bed configurations can be altered as needed.  In addition, some cabins have 3rd and 4th berths, which means options like sofa beds and Pullman beds (beds that pull-down from the ceiling) can fit everyone comfortably.
More help picking a cruise cabin
Your thoughts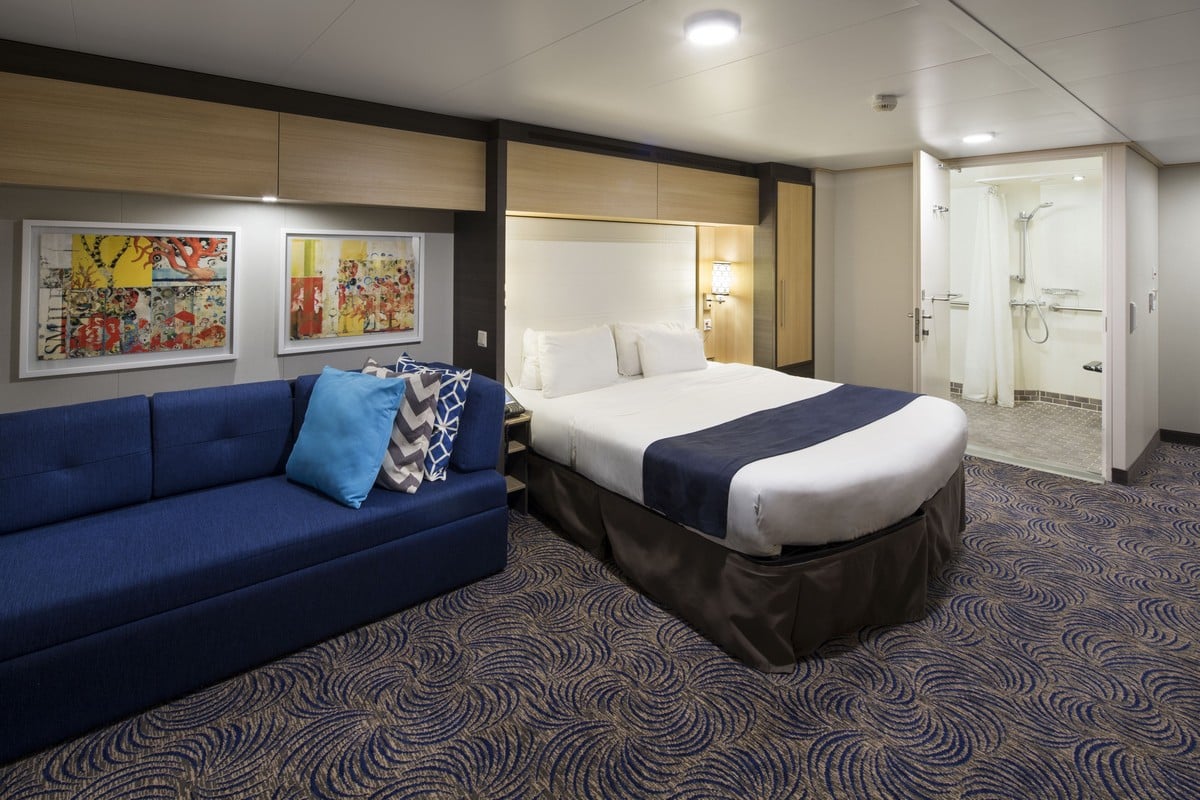 What cabin category do you usually book on a Royal Caribbean cruise?  Do you agree or disagree with our assessment of each category? Share any questions, tips, or additional thoughts you have in the comments!