In:
An iconic area on many Royal Caribbean ships is the Royal Promenade, a boulevard of shops, restaurants and bars.  
In addition, there are staterooms that look down on the Royal Promenade that offer sweeping views of the area so we thought it would be useful to look at what this stateroom does (and does not) include and why you might want to consider booking it for your next cruise.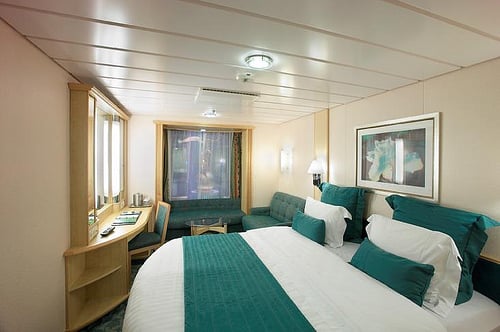 A look inside a typical Promenade stateroom - Photo by Royal Caribbean
What is a Promenade stateroom?
The Promenade stateroom is a lot like an ocean view stateroom, in that it's a category of stateroom that offers a window and more square footage, compared to a standard inside cabin.  
The attraction of a Promenade stateroom is it offers bowed windows that overlook the Royal Promenade.
The exact size of Promenade stateroom varies depending on the class of ships. Voyager and Freedom class ships Promenade staterooms are 160 square feet, whereas on Oasis class ships they are 193 square feet.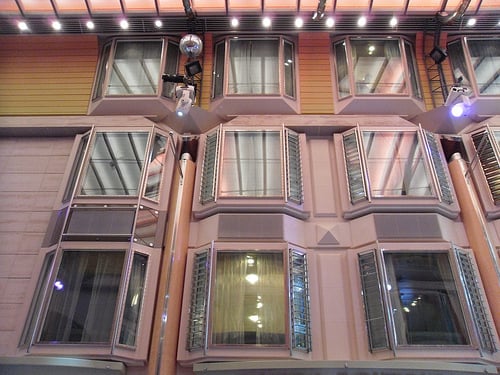 Promenade stateroom windows as seen from the Royal Promenade - Photo by TravnKC
There is also a special category of Promenade staterooms for families called the Promenade Family Stateroom.  It's only available on the Freedom class of Royal Caribbean ships but it offers a more than double the space, with 327 square feet.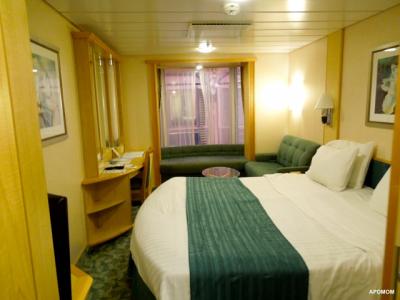 Family Promenade Stateroom - Photo by ADPMOM
What are the benefits of booking a Promenade stateroom?
The best part of a Promenade stateroom is the opportunity to watch the activities happening on the Royal Promeande.  From parades, to dance parties to just people watching, there's usually something going on and it's a fun way to scope everything out.
In addition, the bay windows included offer a nice place to sit and a little extra space in your stateroom.  For kids, being able to watch the Royal Promenade anytime from their room gives them entertainment anytime.
They tend to be an excellent value and the couch that is built into the bay window adds more another sitting area and of course, lots to see.
Since the Promenade staterooms surround the Royal Promenade, these rooms are right in mid ship, making the convenient to everywhere.
What are the disadvantages of booking a Promenade stateroom?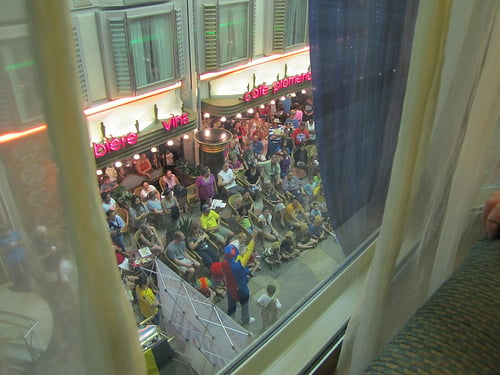 Parade going by - Photo by skjoiner
The same bay windows in a Promenade stateroom that let you look down on the activity on the Royal Promenade let everyone in the Promenade see right back into your stateroom.  Not to worry, Royal Caribbean provides two curtains to retain your privacy but for some people the idea is too voyeuristic.
In addition, the rooms can get noisy, especially during the parades.  The first night is usually the noisest due to the parade and cruise kick-off celebrations but it's usually very quiet after that.
Some cabins on the Oasis-class ships have pieces of the ship's structure or store fronts partially blocking the cabin's view. Not enough to ruin the view, but it's noticeable, especially compared to Voyager and Freedom class ships that have no blockage at all.
Read more: How to choose a cruise cabin
Summary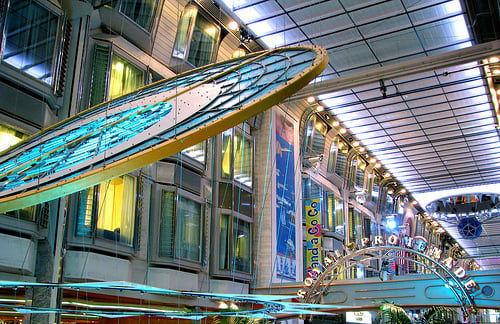 Promenade staterooms on Mariner of the Seas - Photo by Rennett Stowe
Overall, Promenade staterooms offer a fun view that is an unique Royal Caribbean experience.  Promenade staterooms are certainly more interesting than inside or ocean view staterooms and the extra couch in the bay window is a real plus.
The staterooms are conveniently located and for kids, it's a wonderful source of entertainment since they can constantly watch the Royal Promenade activities.  
Like nearly every stateroom category, it's important to note what is above and below your stateroom.  We've heard reports of noise from shops during early or late hours.  Noise bleed isn't unique to the Promenade staterooms but it is worth noting when choosing your exact cabin.
If you're wondering which level of staterooms to choose, it's a very subjective question. The lowest deck offers the closest views but with the most noise (relatively speaking).  The highest deck is a little far from the "action" but it gives you a little more privacy.  Generally speaking the middle and upper deck are the most popular.
Have you stayed in a Promenade stateroom? Do you want to stay in one? Post in the comments below and share your thoughts!