In:
Celebrity Ascent is the newest cruise ship to debut in the Edge class of ships, and it's name implies it's in a position to move up the ranks of the ships the preceded it.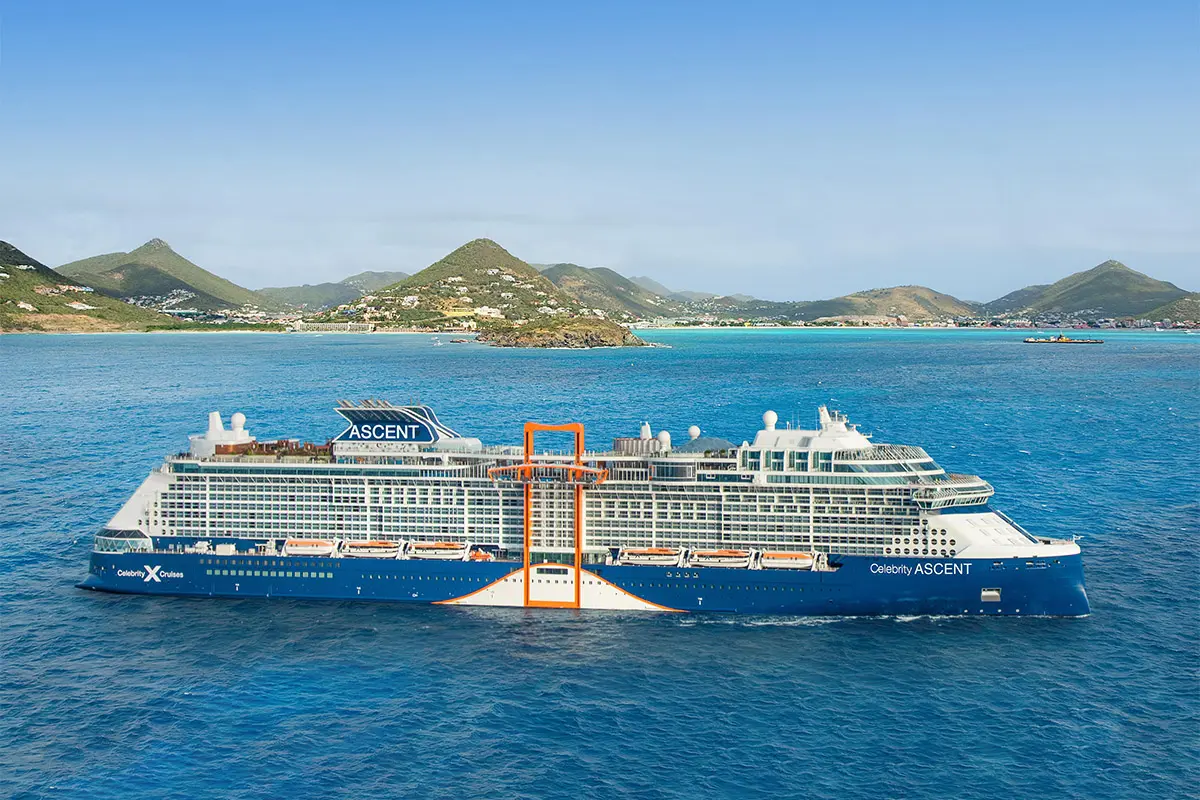 The fourth in a series of five ships, Ascent is a bit bigger than the first two Edge Class ships (Celebrity Edge and Celebrity Apex).  She's 20 meters longer and a deck taller.
There are 179 more cabins on Ascent than on Edge or Apex.  At double occupancy, Celebrity Ascent has a capacity of 3,260 passengers. The original Edge Class ships had a capacity of 2,918 passengers.
That extra space means the ship has more room to expand certain venues, such as The Retreat suites-only section of the ship and a larger Sunset Bar at the back of the vessel.
There's other touches as well, and, I was curious to know what makes this ship stand out from the rest.  Having just sailed on Celebrity Apex last week, comparing the two ships so closely together was an intriguing opportunity.
Celebrity Ascent will sail to the Caribbean out of Port Everglades in Fort Lauderdale.
Disclaimer: Celebrity Cruises invited me to sail on Celebrity Ascent for a quick two-night preview cruise that was open to travel agents and members of the press. I did not pay for this sailing.
Grand Plaza
As soon as you board Celebrity Ascent, you're going to notice the central hub of activity looks totally different.
The Grand Plaza is the epicenter of everything happening on the ship.  Since the first Edge Class ship, the Grand Plaza has been a focal point for the ship, and with Celebrity Beyond and Ascent, you get a different layout.
The LED chandelier is is more central, which really opens up the space and surrounds the deck with a beautiful glow.
If you loved the martini bar before, the new one is expanded is fully circular too.
Celebrity says it's "loftier" and "airier" and I think I was struck by how much different the layout makes in the feel of the venue compared to Apex.
Another nice change is the addition of World Class Bar to the atrium.
This bar is a fan favorite on other Celebrity ships, and has been included on both Celebrity Beyond and Celebrity Ascent. It serves up "bespoke cocktails" with great views of the Grand Plaza.
The Annex
When I boarded Ascent, the Annex wasn't even on my radar, but I think this is the sleeper hit of this new ship.
Brand new to Celebrity, the Annex is a private room you can rent for your family to enjoy.  It's multi-purpose, and allows you to customize the entertainment to your needs.
It has the choice of:
Golf simulator
Celebration Lounge
Personal karaoke party
Game day streaming
Movie night deluxe
Essentially, it's a place you can rent to have a special enclave for a party, celebration, or retreat.
The cost depends if you're renting it on a sea day or port day, and which private event theme you pick.  Celebrity says it will cost around $200 - $350 for the private event.
When I cruise with family or friends, I love any opportunity to have a special area for just us, and this seems like a great addition.
Sunset Bar
When I went on Celebrity Apex, everyone told me to check out the Sunset Bar. Clearly that message got back to the cruise line, because the Sunset Bar is larger and beautiful.
Views of the ship's wake have always been a favorite of cruisers, and this Sunset Bar doubles down on those views. This is the bar to go to on a sea day to enjoy a view of the ship's wake, the sun rising and setting, and the ocean breeze inbetween.
The theme is labeled as "international beach club ambiance", but I was getting some Spanish Mediterranean vibes sitting here. 
The extra space really makes it feel like a destination, rather than another bar. I love how much more seating there is, and how the bar doesn't dominate the entire space.
Rooftop Garden area
If I think of Celebrity cruise ship, I usually think of their lawn and garden top decks, and Ascent has an expanded area to enjoy.
You'll find more seating, new private nooks, and two new floating pools that are cantilevered over the side of the ship.
When there's not an event happening here, it's a great spot for "I want to be outside without being at the pool". It's serene, pretty, and I like how the area is arranged.
Rooftop Garden Grill has also been re-arranged, thanks to Ascent being a bit longer. It's less protruding into the garden area, and is the perfect sea day dinner.
The Retreat
If you're lucky enough to stay in a suite, Celebrity has greatly expanded its private suite area.
Known as The Retreat, the indoor space is 25% bigger than on Celebrity Edge or Apex.
Think of The Retreat as a suite neighborhood on an Oasis Class ship multiplied to threefold. 
The indoor space features au d'oeuvres, drinks, and plenty of seating. And it's open 24/7!
The personal concierge team is there to assist those in suites that don't have butler service.  The concierge team is split among four hosts.
Outside is more reserved seating for suite guests than I've ever seen on any Royal Caribbean ship.
The Retreat seating encompasses multiple decks, and has plenty of quiet nooks and crannies. Plus, there's a hot tub too.
You don't need to book a suite to have a great cruise, but it sure is nice to have this space if you do!
The Club
I spent less time in The Club than I would have liked on Celebrity Apex, but I think this space is vastly underrated.
As a Royal Caribbean fan, it reminds me a lot of Music Hall on the Oasis Class ships, but on Celebrity it feels much more open.
New for Ascent is "Smoke and Ivories", which is a musical event that is themed to a 1950s cabaret. It features a piano, hand-to-hand fights, tap solos, passionate duets, and aerial performances.
There was also a really neat augmented reality retro video game where people act as the player in the game in the center of the space to play arcade games like Breakout.
The space may not have a snazzy name, but I like the layout a lot.
Cosmopolitan restaurant
It's a small change, but the Cosmopolitan Main Dining Room restaurant has been re-themed.
Celebrity's Edge Class ships have four different Main Dining Rooms, with each having a unique theme. The core menu is the same across all four, but each restaurant has a few appetizers and entrees that are special to that venue.
On Apex, I enjoyed my dinners in Normandie, and this new space looks equally beautiful.
There's a lot of great specialty dining on Celebrity Ascent that gets a lot of attention, but don't overlook the Main Dining Rooms either.
Other notable changes to Celebrity Ascent
I noticed a few other changes Celebrity made with its fourth Edge Class ship.
The intimate and upscale restaurant Le Voyage has been redesigned, and it features a menu created by Chef Daniel Boulud. 
Fine Cut Steakhouse has an expanded seating space, which is larger than on previous Edge Class ships.
This means the restaurant has been expanded to the edge of the ship so that the restaurant has floor-to-ceiling windows on one side.