In:
Hi everyone! My name is Angie. I am one of the Social Media Managers for Royal Caribbean Blog. I am going to be taking over the rest of the live blog for this sailing!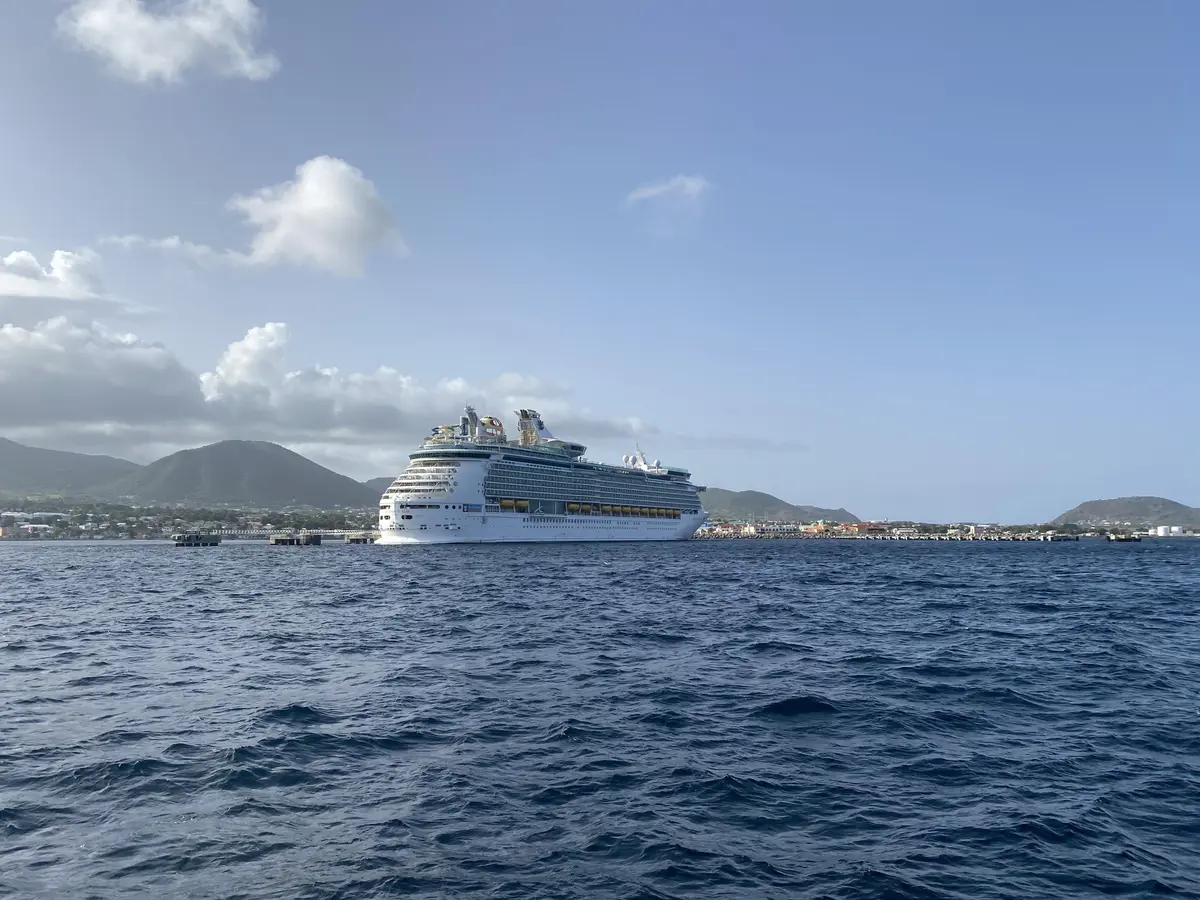 Today we arrived in St. Kitts. Joining me on this cruise is my mom, Patty, who loves cruising as much as I do.
We pulled into the port around 10:30 a.m., so we had plenty of time to enjoy breakfast in the Windjammer. We even got to see the mountainous and lush St. Kitts scenery while eating.
I always go for a sticky bun (they have different flavors every day), an omelet and cranberry bread (one of my all-time favorites). The last time I was on the Mariner in April, I was able to create my own omelet, but I could not this cruise. The standard ham and cheese combo is a good alternative.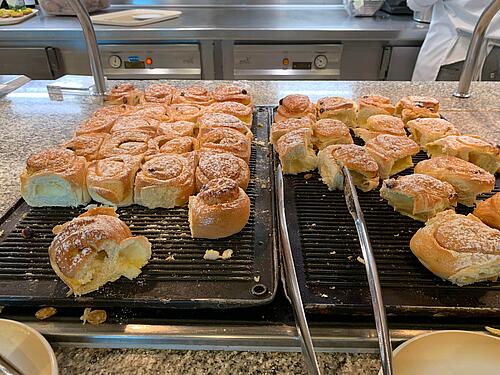 We had an excursion today - "Catamaran Fan-ta-sea to Nevis with Snorkel and Beach" - with those of us on the group cruise.
We were instructed to meet the group outside at the white tents at 11 a.m. Since everyone was getting off the ship at the same time, it was quite busy and we weren't sure if we would make it on time.
By 11:30 a.m., everyone had gotten off the ship and we were ready to board the 65-foot catamaran. It was a short walk to the catamaran, and I was glad we didn't have to go on a bus ride to get there.
Since I am prone to motion sickness, I took some Dramamine and I was ready to go!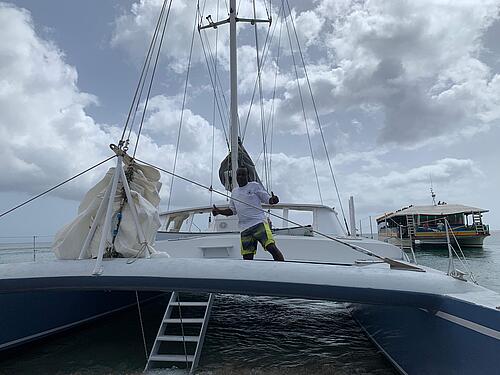 Once on board, we made our way about seven miles to Shitten Bay (I swear that is the real name). Here, we were able to snorkel or stay on the catamaran and enjoy the views. I opted for the snorkeling while Patty stayed on board and took photos.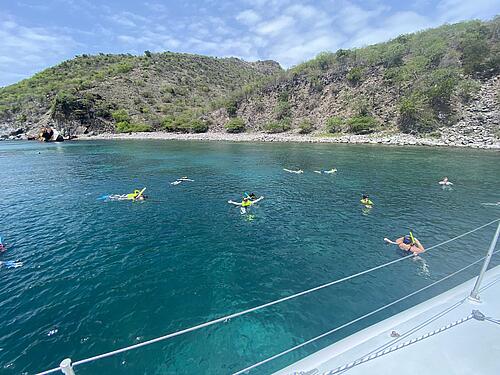 I had a fun time swimming around and seeing all the different kinds of fish, rocks, coral, etc. I saw tons of Sergeant Major fish as well as Trumpetfish. One of the workers even dove down to show us an octopus hiding under a rock, a rainbow fish, and some pretty shells.
We snorkeled for about 45 minutes, then we had lunch on the catamaran. The menu included jerk chicken, mac n cheese pie, sweet potato pudding, rice and beans, and a lettuce salad. Drinks were also included. I had some fruit punch while many had soft drinks, rum punch, or beer.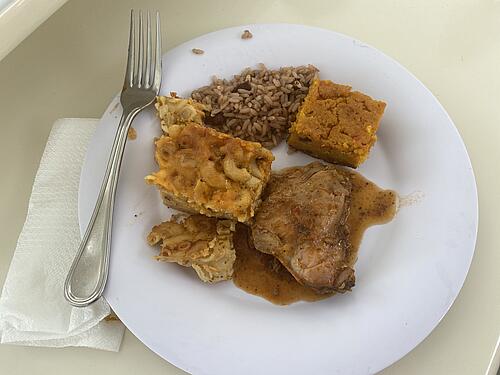 After lunch, they took us to Nevis, a nearby island, which was about another four miles away. They dropped us off on the beach where we could do our own thing for an hour. There were plenty of lounging chairs with umbrellas, but I assumed they would cost extra. To my surprise, we sat down and no one asked us to pay. After being in the sun for quite a while, I wanted to get under some shade, especially since I burn easily.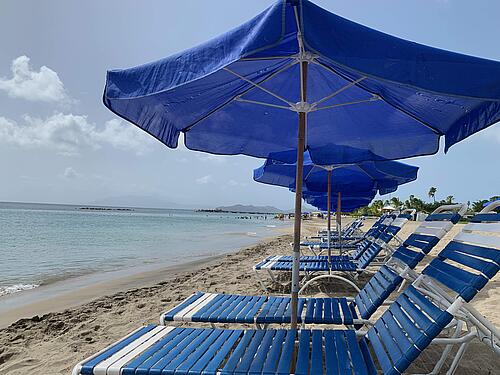 Not long after sitting down did we get bombarded by locals trying to sell us stuff - jewelry, hats, dresses, t-shirts. I was not looking to buy anything but Patty was suckered into buying two hats for $15. It ends up she did alright negotiating because someone else on our excursion paid more from the same salesman.
A dip in the cool, clear water and some lounging beach time went by fast, as the catamaran was soon back to pick us up and head back to the ship.
We had a leisurely, hour-long trip back to the starting point. It was choppy waters at first, but then the last half was smooth sailing. I laid down in the front of the catamaran and relaxed while enjoying the beautiful landscapes.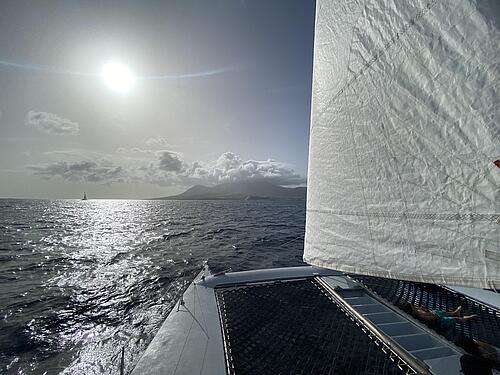 This excursion was a fun experience! All four workers were friendly, helpful, and personable. One took extra care of the passengers that needed additional assistance. Another was great with the kids and gave them snacks and seashells. Captain Phil and his crew were always smiling, offering drinks, and asking if we needed anything.
As we were leaving, one of them gave me a magnet of a frog that said "Nevis" on it - it was very cute.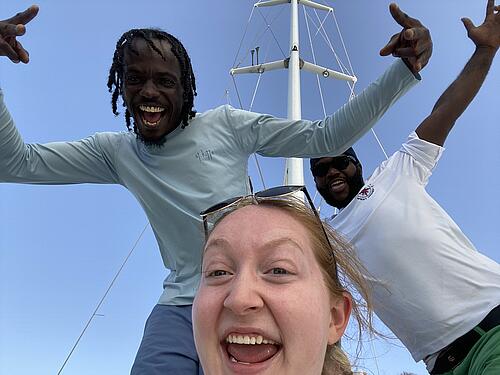 We arrived back at about 5 p.m. The ship was leaving at 5:30, so we did not have time to shop around. My mom always likes to get a t-shirt or two, but there was no time, so we headed back to the Mariner.
We have 5:30 dinner in the main dining room, and we were able to get there just a little late since we had to drop off things in our cabin and rinse off. Our waiters, Carol and Frederick, are always so accommodating and never make us feel bad if we arrive late.
Dinner was good as usual! My mom loves seafood, so she ordered the escargot, shrimp cocktail, and seafood cake. For the main course, I chose the chicken parmesan while mom decided to get the New York strip steak.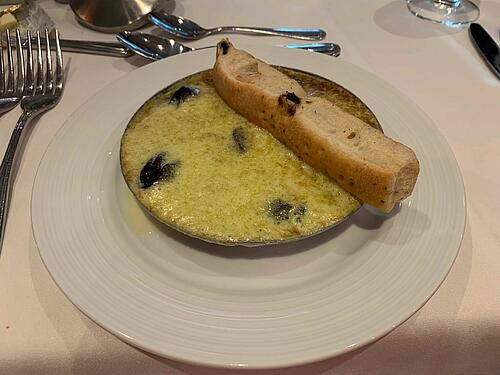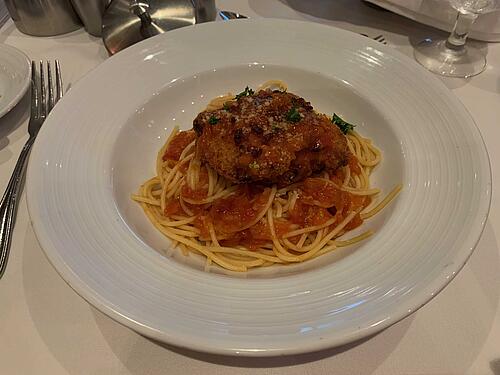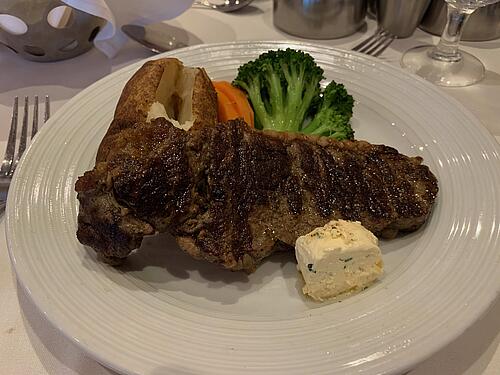 Dessert was tasty, as I got the Mississippi Mud Pie. Mom got the no-sugar-added dark chocolate custard. We also decided to share the lemon curd tartlet. All were great choices, but mom did say she wished the custard had some whipped cream on top.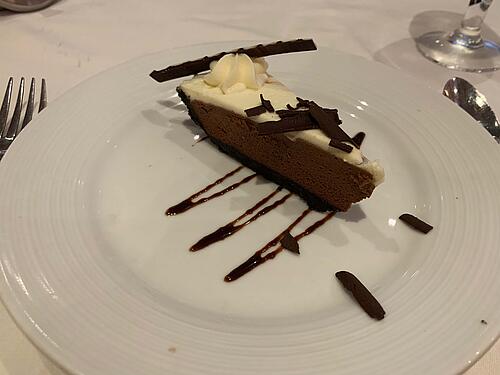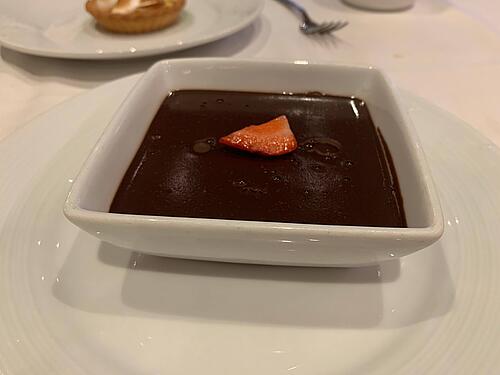 After dinner, we tried to attend the 7 p.m. ice skating show, but it was too late as the person at the front said the venue was full. However, I did notice others going in since they had people saving them seats. We had to wait and try the 9:15 show instead.
To pass some time, we checked out the casino. As Diamond Plus members, we have $6 free play on any machine in the casino. Patty chose to play some Jacks or Better poker. It entertained her for over an hour; she doubled her money at one point, but then lost it all. Isn't that how it usually goes?
Once it was almost time for the ice show, we got there early to snag seats. The venue was packed; there were even people standing behind the seats to watch the show. The show was "Ice Under the Big Top" and included lots of elaborate and colorful costumes and sets. It was an upbeat way to end a great day!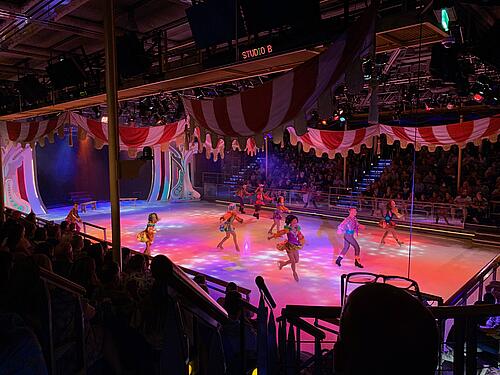 Tomorrow we will be in St. Croix.