In:
The virtual balcony stateroom on a Royal Caribbean cruise offers guests the chance to pay for an inside stateroom but get a balcony stateroom view. This amazing innovation is exclusive to Royal Caribbean and combines impressive technology with break taking views.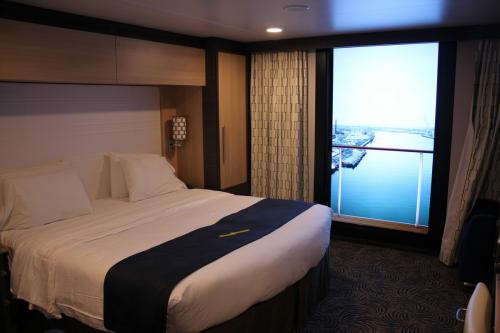 If you are considering booking a Royal Caribbean cruise, here is everything you need to know about virtual balconies and how they work.
What is a virtual balcony?
Virtual balconies are 80-inch LED televisions that are in inside staterooms on select Royal Caribbean ships that provide live HD views from outside the cruise ship, right into your stateroom.
The screens are 4K ultra high definition capable screens that stretch from floor to ceiling and receive a video feed from the ship's cameras that are mounted at the stem and stern of the ship.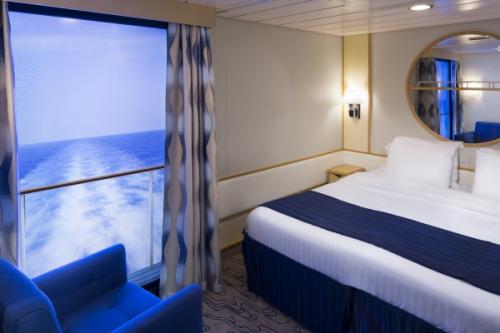 In your stateroom, you can turn the virtual balcony on or off at your discretion and enjoy a view just like if you had a real balcony stateroom.
Royal Caribbean even added sound and a computer generated balcony overlay to give guests the perspective someone with a real balcony stateroom would have.  Royal Caribbean has also provided the virtual balcony with curtains, just like the real thing.
Ships that offer a virtual balcony
The following Royal Caribbean ships have a virtual balcony stateroom
Navigator of the Seas
Quantum of the Seas
Anthem of the Seas
Ovation of the Seas
Harmony of the Seas
Voyager of the Seas
Explorer of the Seas
Tech behind the virtual balcony
Making the virtual balconies work was no easy task because of a variety of ship-specific needs that were not available when the project was first being developed.
The view of the ocean is provided by two RED Epic cinematic cameras.  These cameras have fantastic dynamic range and can support up to 240 frames per second.
The camera picks up just about what the human eye could see, so on evenings where there is no moon, on a real balcony you would see nothing but darkness and the same is true for the virtual balcony.
The virtual balcony recieves the feed and displays it on 80" 4K LED Sharp Aquos screens in each stateroom.  
Do you want to stay in a virtual balcony stateroom on your next Royal Caribbean cruise? Tell us in the comments below!