In:
Cabo San Lucas, Mexico is commonly visited on Mexican Riviera cruise itineraries. Located on the southernmost point of Baja California, Cabo San Lucas offers plenty of activities for all ages, from relaxing beach days to adrenaline-filled excursions.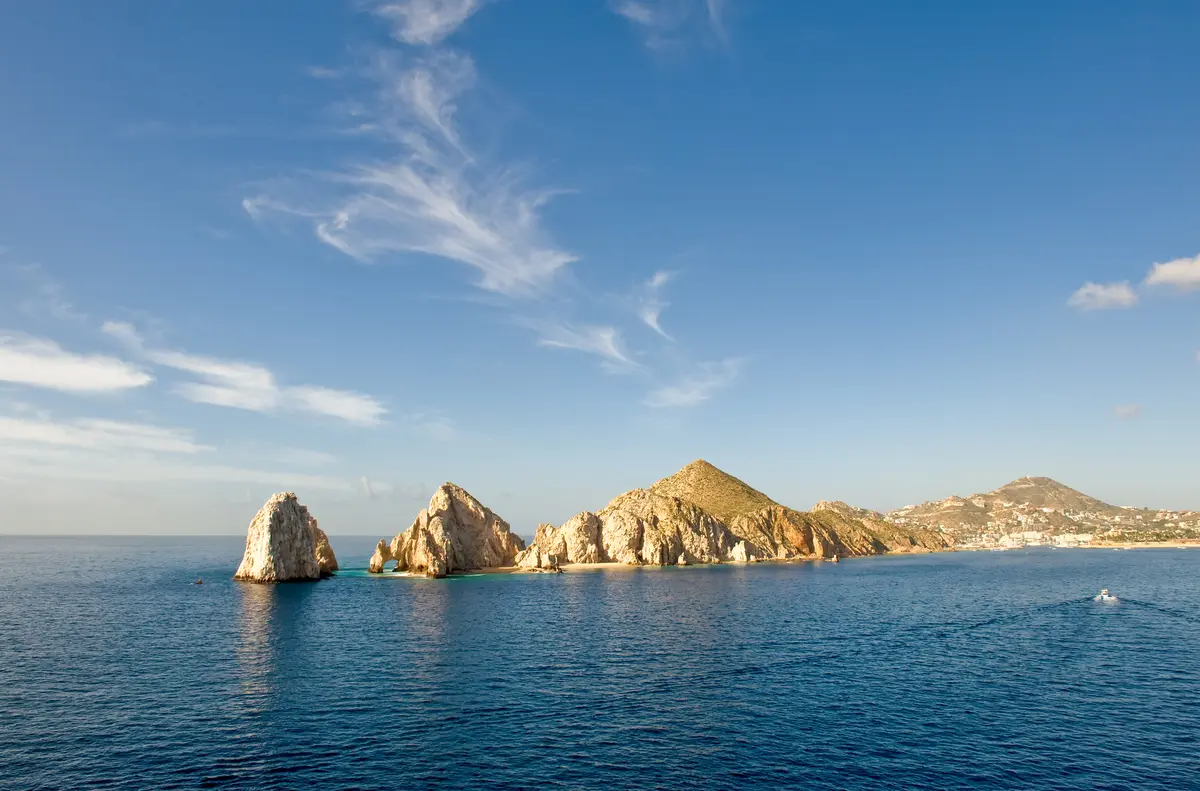 With its unique geography of desert landscapes mixed with sandy beaches, you can find a mix of land and sea-based activities in Cabo San Lucas. Here's our list of the top 10 things to do when visiting this vibrant cruise port.
Visit Land's End and its beaches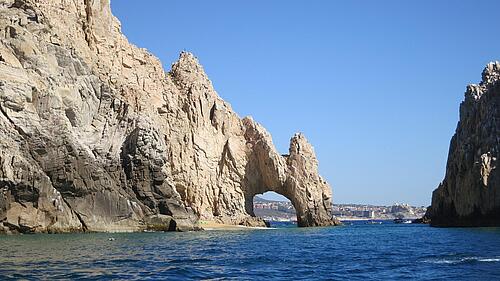 The first thing you'll see when your cruise ship arrives in Cabo San Lucas is Land's End, a rock formation that rises dramatically from the ocean at the southernmost tip of Baja California.
While your ship will sail past the formation on the way to Cabo, you can also take an excursion to get up close and personal with this impressive geographic landmark.
There are two beaches located at Land's End: Lovers Beach and Divorce Beach. Lover's Beach is ideal for swimming, as it's nestled in a cove, whereas Divorce Beach is prone to rough waters due to its position on the open Pacific.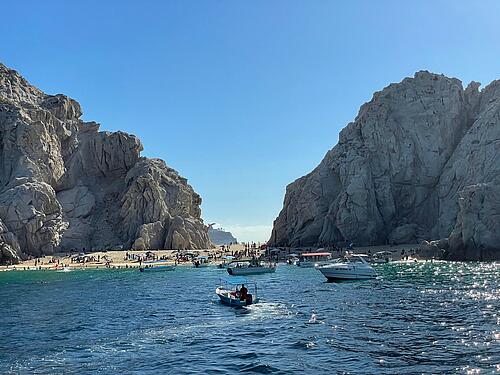 It's recommended to take a local water taxi to reach the beaches, as they are only accessible by boat. Some boat tours may include the beaches in the excursion's itinerary.
Go whale watching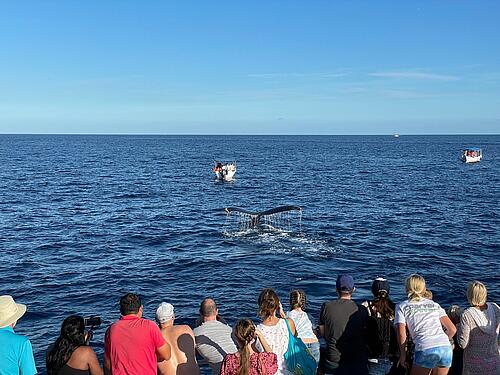 Some of the best whale watching in Mexico, and perhaps even the world, is found off the coast of Cabo San Lucas. Humpback whales and gray whales are common to spot between the months of December to early April as they enjoy the warmer Pacific waters before making their way back to Alaska for the summer months.
Related: Whale watching in Cabo San Lucas
Snorkel or scuba dive in Chileno Bay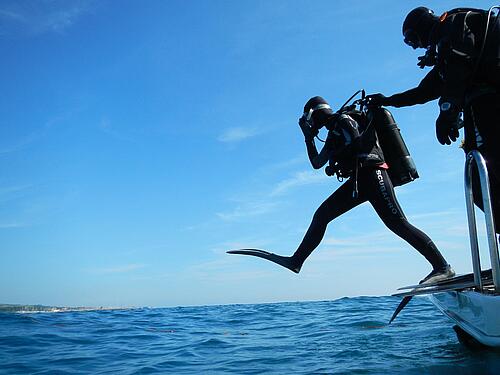 While some beaches around Cabo San Lucas are not recommended for swimming due to strong currents, the beach of Chileno Bay makes for excellent swimming, snorkeling, and scuba diving.
Snorkeling tours to Chileno Bay start and end with a scenic catamaran ride, which allows you to cool off in the Pacific ocean breeze and take in Baja California's coastal views.
Upon arrival at Chileno Bay, you'll have the opportunity to snorkel amongst angelfish, manta rays, parrotfish, and other marine life.
Additionally, if you have an open water scuba diving certification, you'll find that Chileno Bay offers some of the best diving opportunities in Cabo San Lucas.
Day trip to San José del Cabo
If you've been to Cabo San Lucas before or are looking to try something new, consider a day trip to San José del Cabo, located just 30 minutes from downtown Cabo San Lucas.
San José del Cabo is a more laid-back, artsy town compared to Cabo San Lucas, which is famous for its party atmosphere and beach resorts.
In San José del Cabo, you can spend the day wandering the town's colonial-influenced streets, browsing local art galleries, relaxing at the town square, dining at a local restaurant, and enjoying a slower pace of life.
Taste local cuisine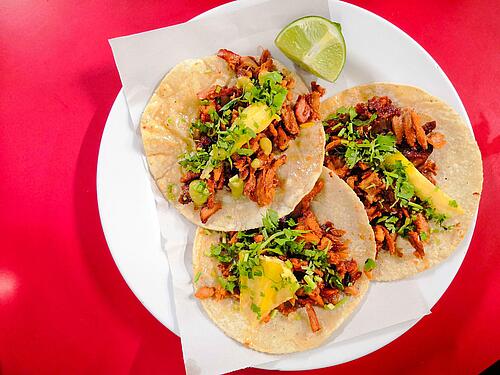 Tasting local cuisine is a must when visiting any cruise port in Mexico, and Cabo San Lucas is best known for an abundance of fresh seafood.
While the name may seem a bit odd, don't hesitate to taste chocolate clams while in port. While the clams do not contain chocolate, they are roasted on a stone bed and covered with rosemary, adding a unique flavor to this local delicacy.
You can't go wrong with fish tacos, either, and you'll find many restaurants and bars offering fish tacos made with marlin, which is a very common fish caught around the coast.
If you're not keen on seafood, try guemes tamales, which are pork and chicken tamales commonly found in Baja California.
4x4 through desert landscapes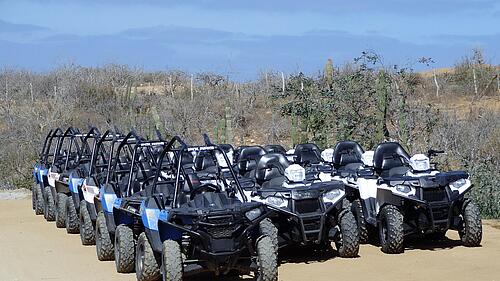 Cabo San Lucas is surrounded by dry, rugged landscapes along the coast of Baja California. If you'd prefer to escape the crowds and party scene found in town, consider a 4x4 tour to the "outback" of Cabo San Lucas.
4x4 tours take you off-road through scenic coastal paths, where your adrenaline is sure to get pumping as you drive along rocky trails and take in the dramatic change from desert to sea along the way.
Take a boat tour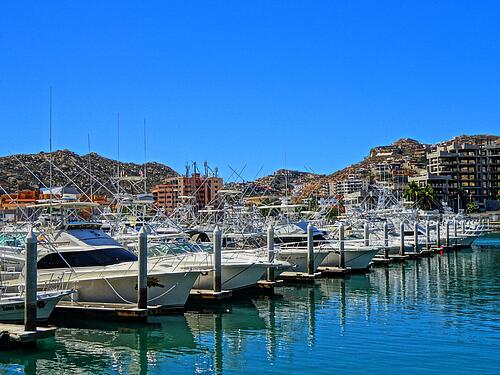 Excursions on the water always make for a fun way to spend time in port, especially on warm, sunny days. The unique geography around Cabo San Lucas can make boat tours even more intriguing, allowing you to get closer to places like Land's End and small coves along the coast.
If your cruise includes an overnight stop in Cabo San Lucas, you may want to consider an evening cruise for spectacular views of Cabo at sunset. Some tours may even include dinner, making it a romantic and beautiful excursion option.
Salsa, Salsa, and Margaritas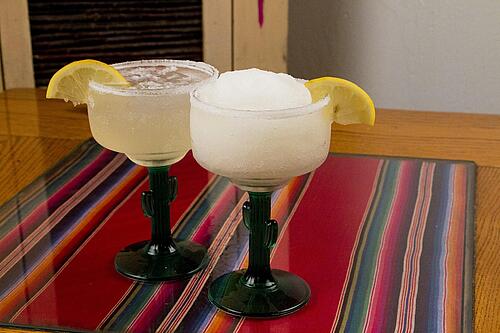 A fun shore excursion opportunity in Cabo San Lucas is "Salsa, Salsa, and Margaritas", which combines two types of salsas (the kind you eat and the style of dance) with authentic margaritas.
The excursion starts with a hands-on instruction during which you'll have the chance to make seven different types of salsas, from spicy red and green salsas to guacamole and pico de gallo. Salsas will be enjoyed with quesadillas, taquitos, and tortilla chips along with agua de jamaica (hibiscus tea) and all-you-can-drink margaritas.
Once filled up on fresh food and drinks, you'll get the chance to put your dancing skills to the test with a salsa dancing lesson taught by a local expert.
Visit El Médano Beach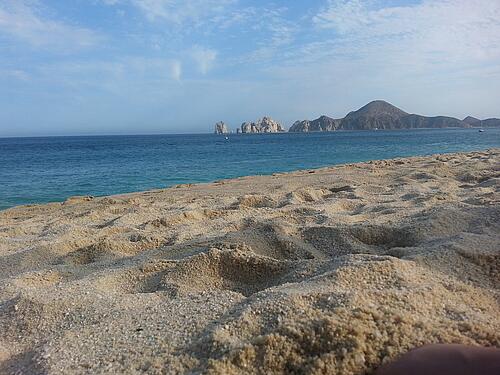 Another beach day option closer to downtown is El Médano Beach, one of the most popular beaches in all of Cabo San Lucas. Playa El Médano stretches several miles down the sand and is where you'll find many of Cabo's all-inclusive resorts and hotels.
The beach has relatively calm waters, as it is located in a small bay away from the open Pacific waters. Therefore it makes a nice swimmable beach option for visitors of all ages.
Playa El Médano can be accessed on foot from the Cabo San Lucas marina or via water taxi.
Spend the day at a resort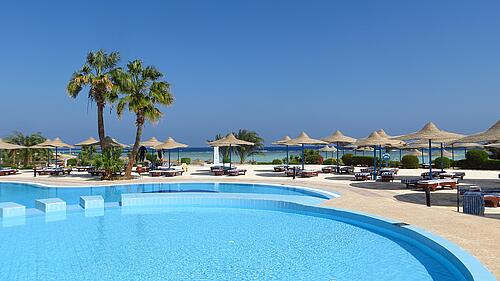 If you're planning to have a beach day in Cabo San Lucas but want to be spoiled with amenities, consider purchasing a day pass at a local resort.
Resort For A Day offers all-inclusive day passes to two resorts in Cabo San Lucas: RIU Palace and Solmar Resort Cabo San Lucas.
Day passes cost around $100-130 and are all-inclusive, so you can enjoy unlimited food and drinks while at the resort. As a day guest, you have access to the resort's amenities, including pools, whirlpools, beach access, towels, umbrellas, and chairs.
More Mexican Riviera cruise information: