In:
Our first port of call is Cabo San Lucas, although we don't get there until noon.
My morning routine was the same as yesterday. Wake up before the kids, head up to the pool deck and enjoy some fresh air while I catch up on blog posts.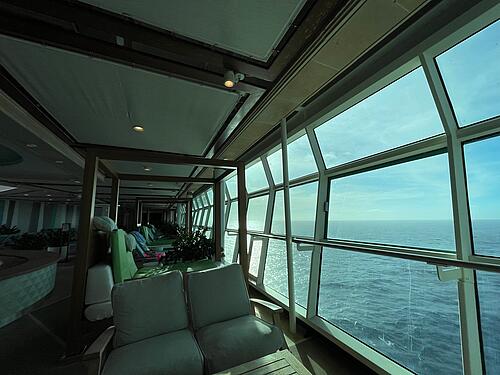 I noticed immediately the temperature had warmed up significantly from the last two days, and it was comfortable to be outdoors wearing shorts.
Once the kids did get up, we had breakfast in the Windjammer. We decided to go to brainbuster trivia after. Here's one question: What starts with "e", ends with "e", and has one letter?
The answer is envelope.
Navigator of the Seas made her way along the coast of Mexico as we drew closer to Cabo.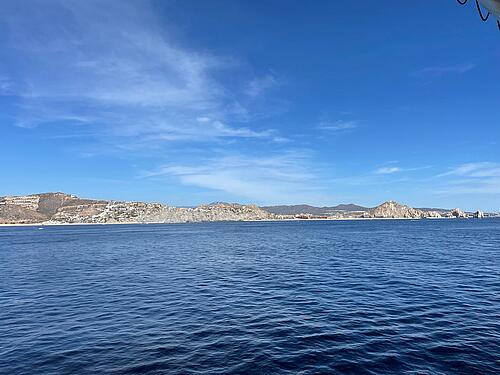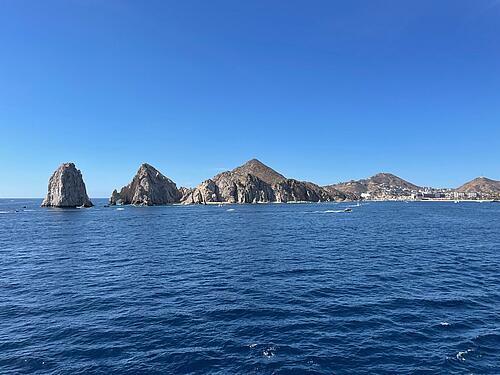 Cabo San Lucas is not a port you dock at. Instead, guests take tender boats to shore.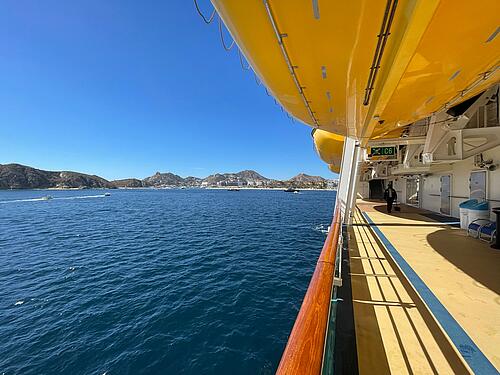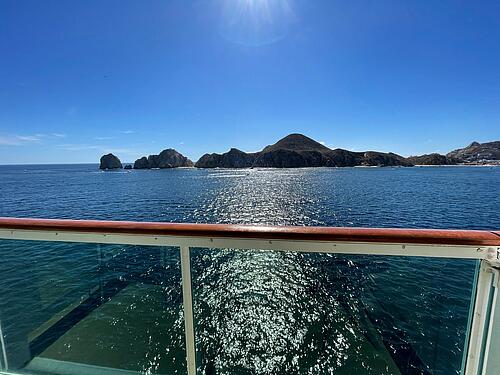 We booked the Deluxe Coastal Cruise for today, which is a 2-hour tour by water of the surrounding area.
We met in the Royal Theater and took a tender to shore before boarding a large boat for our tour. The tour listed it as a catamaran, but it looked like a giant tender boat.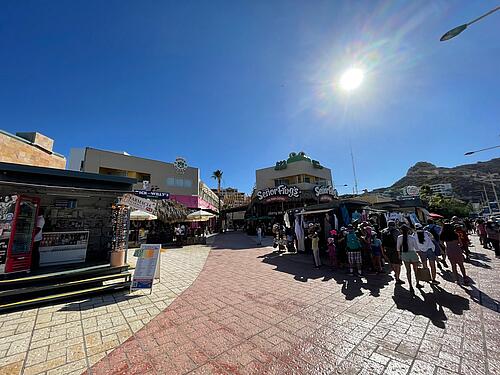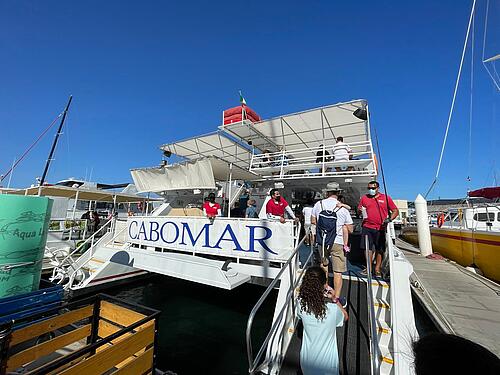 There were 3 stops: Land's End cliff-side beaches, Lovers Beach, and then wildlife viewing.
We started off heading out of the harbor and made our way right to Land's End.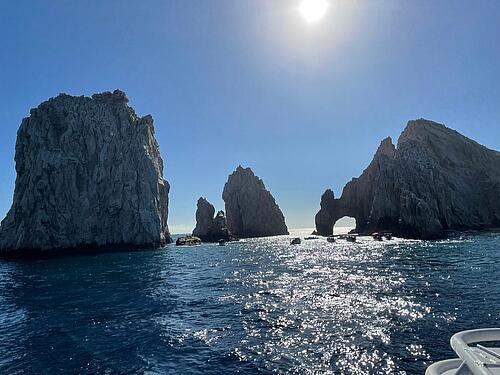 The rock formation is beautiful, although we basically saw it from our ship on the voyage in.  Still, this was a closer look and included a view of sea lions barking up a storm.
Around the rocks are beaches, including Lover's Beach. If I were to come back again, I think taking a water taxi here would be fun.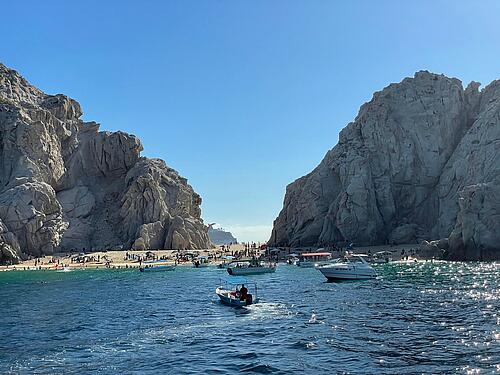 At this point, it was whale watching time. In the winter months, humpback whales migrate to Mexico from Alaska to mate.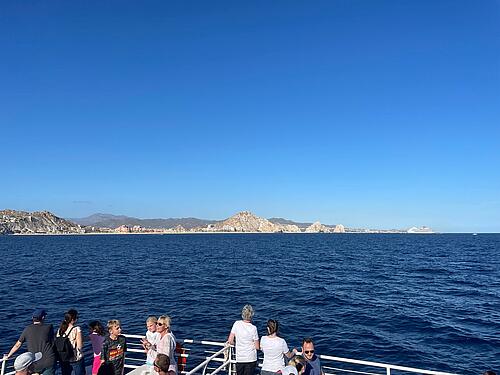 The crew passed out complimentary alcoholic and non-alcoholic drinks, including pre-packaged snacks like potato chips.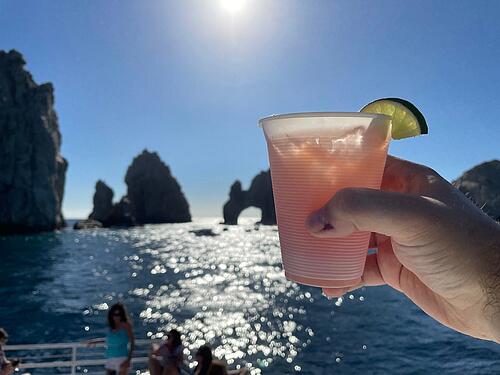 The drinks included mai tais, tequila sunrises, and even shots. Kids could have sodas, shirley temples and any drink that doesn't need a blender.
I was less than optimistic that we'd see any whales, but after a half hour we spotted our first pod.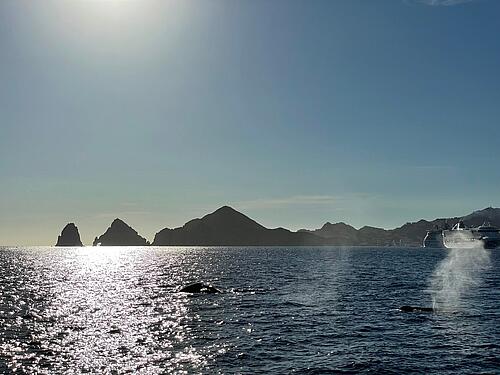 It was pretty far, but I saw two whales come up a few times.  By the time our boat got there, they had gone away.
I would have been pretty content with just that, but then we found the pod two more times, including one time where they came up directly in front of us.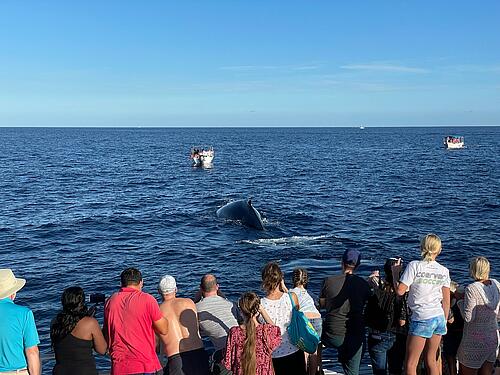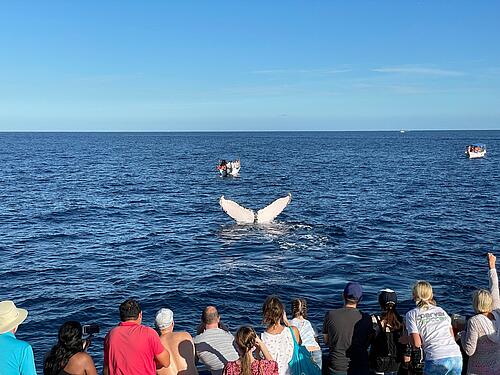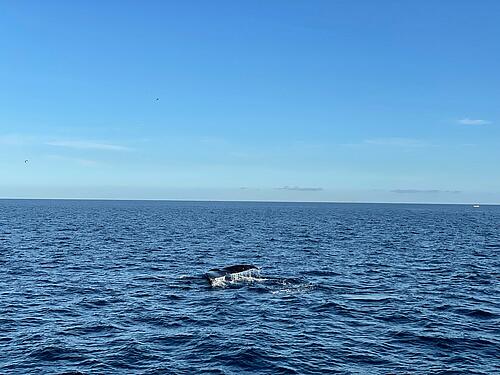 It was amazing to see these whales up-close, and my kids loved it.
The crew did a great job of keeping drinks and snacks handy, and played fun music along the way.
It was a great tour, and I really liked it.  The fact we saw whales a few times was incredible, and made the tour fantastic.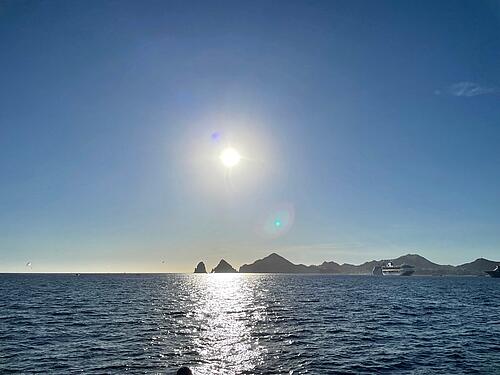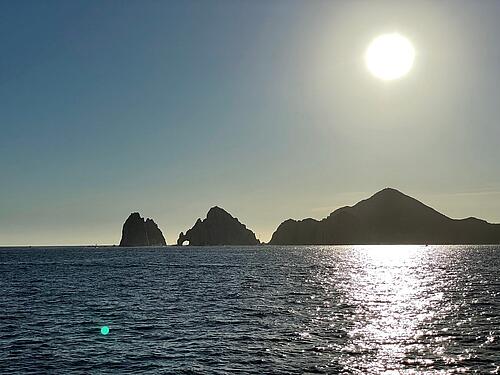 When the tour was over, we were dropped off at the pier. I took a brief walk around the port, but it looked a lot like Cozumel, so we headed back.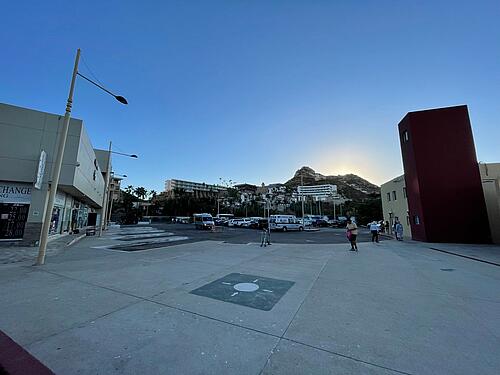 The tender ride back was pretty quick, and no lines to contend with.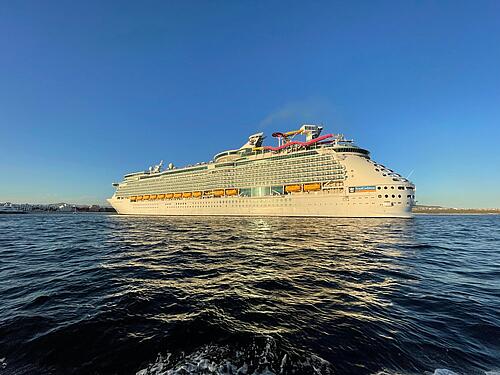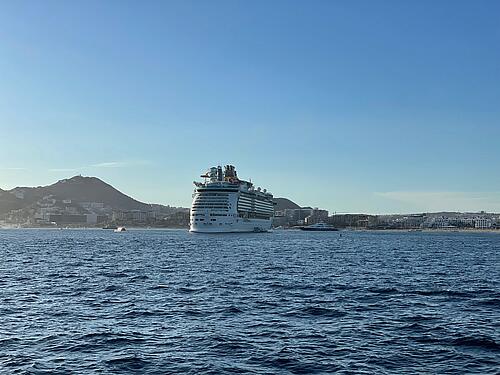 Back on the ship, we showered quickly before heading to dinner.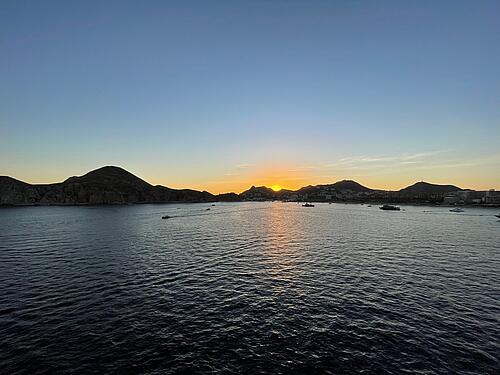 Dinner brought us back to Izumi.  My phone was charging in the room, so no dinner photos, but the poke bowl and sushi chef sampler were great.
Tomorrow we are in Mazatlan.
Stray Observations
I found another weird Royal Caribbean food in the Windjammer today, bangers!
Managed to get the kids into Adventure Ocean today without a reservation.  Got there when they opened, and after a few kids with reservations entered, we were admitted.