In:
Our final day on board the Navigator of the Seas was a sea day, as we headed back to Miami, Florida. I slept in a little late today and decided to head up to the Windjammer at 11AM. I was planning to eat and early lunch, but it doesn't change over until 11:30AM. No big deal, I'm not going to mind eating more bacon!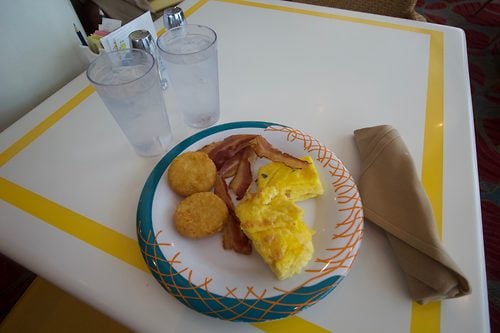 When I walked into the Windjammer, our waitress from the other night was standing outside of Giovanni's Table. She said they were running a deal for a BOGO lunch for $15 today. I was very tempted by this, but since we had Sabor again for dinner I didn't want to eat that much food today.
After lunch I just explored the ship and it was really busy on the Promenade deck. The T-Shirt sale was 2 for $20, and I think half the ship was shopping for a shirt today.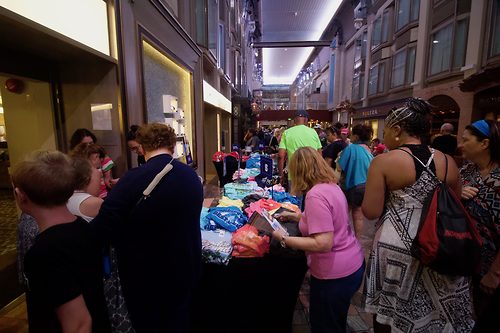 I didn't want to stay in this area very long, so I walked down to the Casino. I saw them making a lot of mimosa so I inquired what was going on. From 12PM-1PM on sea days they have a $2 mimosa hour. Who could pass that up, right? I enjoyed a few and I was surprised to see they let me keep my tab open and pay when I was ready to leave.
Nothing to report on for the afternoon, I slept for most of it. My group spent the day poolside, but I really needed some more sleep. If it was my last day of the vacation I would have pushed through, but I'm boarding Enchantment of the Seas tomorrow for 3 nights.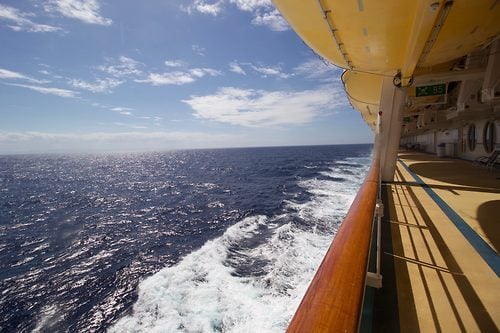 Evening on Board
For dinner tonight we went back to Sabor. It was fun having the same waiters and doing family style across the table. I went pretty basic and ordered the same two items as yesterday.
I noticed the restaurant wasn't that busy only 2-3 tables tonight. Our friend Raymond in the group was celebrating his birthday on board. I had the Diamond Lounge Concierge order a birthday cake to be brought out at dinner tonight. If you ever wanted to do something like this, the cake is $25 and it was amazing!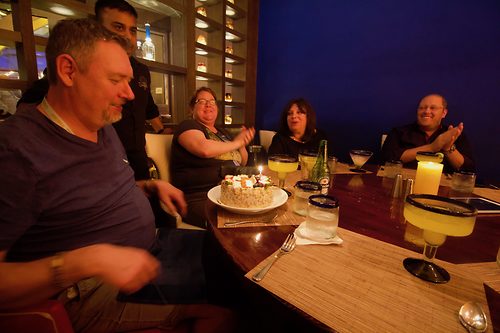 After dinner we stopped by the Schooner bar for a while, but it was at full capacity and no way 8 of us were finding a seat together.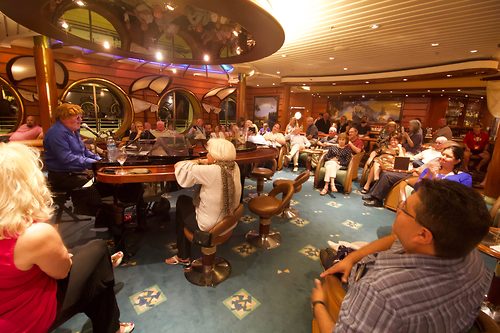 We decided to visit the casino and use our free spin to win tokens from Crown and Anchor. I didn't know this, but our friend is a Gold member and they still give you 1 token. Sadly, no one won anything other than a raffle ticket.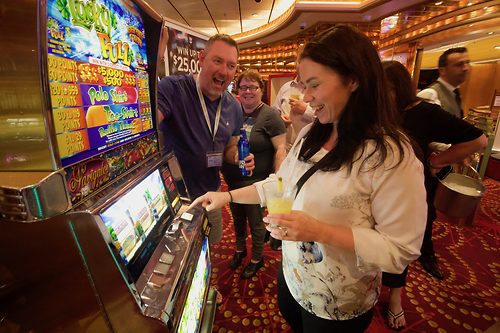 After the casino we decided to call it an early night. The ship seems to really come to life tonight; everyone was out and about getting that last drink or enjoying the entertainment on board.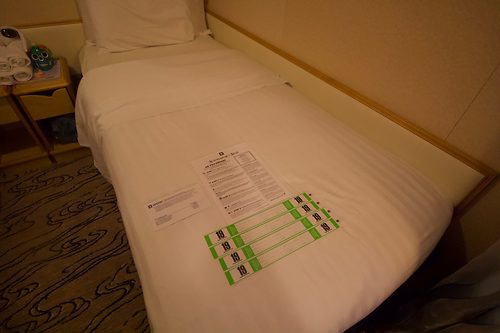 Navigator of the Seas is in great shape; they really did a great job on her last dry dock. Only area that they didn't upgrade was Boleros it still had the old décor from when the ship launched and likely the same chairs.
The crew on board were so friendly, and almost zero wait at any bars no matter where you went. The diamond lounge host – JJ was the nicest I've ever seen. She had over 150 members in here at any given point and made sure to talk to every one. The next sailing she said over 700 Diamond members will be on board for the 9 nights.
The VOOM worked well, never disconnected from our devices. The Solarium is the only place I saw issues getting online. I did try to stream a few times and it wasn't able to hold the connection. As far as my bar tab vs drink package cost, I ended up spending around $75 on drinks paying as I go.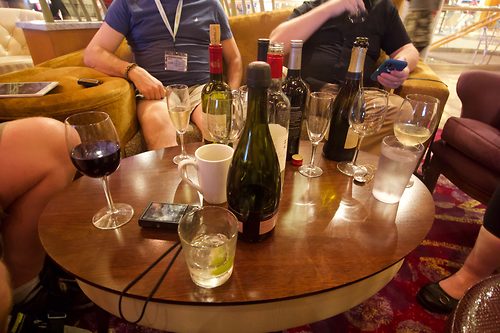 I did spend a lot more time in the diamond lounge taking advantage of free drinks on this sailing than I have before. Going forward, this will be my new plan on board unless of course it's a Royal Caribbean Blog group cruise.
Thanks for following along this week, feel free to comment below if you have any questions. My live blog is ending here, as I won't live blog this weekend on Enchantment of the Seas. I'm going with 50 people for the Super Bowl cruise and want to spend majority of my time with them. Feel free to follow me on Instagram for updates.
See you the first week of March for a back-to-back live blog on Brilliance of the Seas!