In:
The second and final day of our Navigator of the Seas media cruise brings us to Ensenada, Mexico.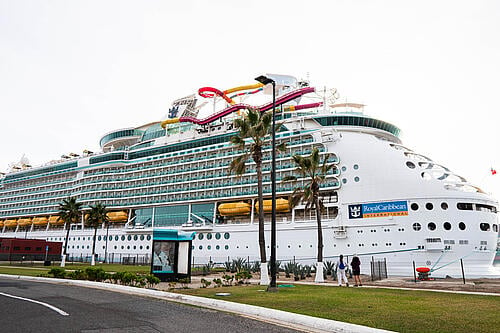 This morning, I woke up early to walk around the running track on Deck 12 and catch some great views of the ship on its way to Ensenada. I ended up walking around the pool deck and promenade deck for around an hour, and I enjoyed the calm seas and slightly chilly weather.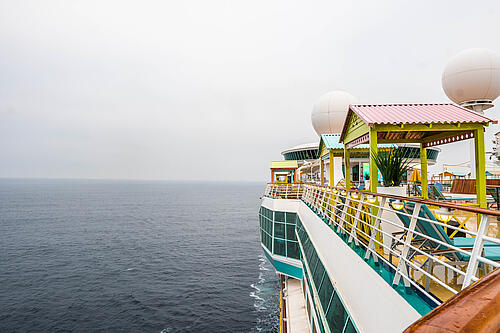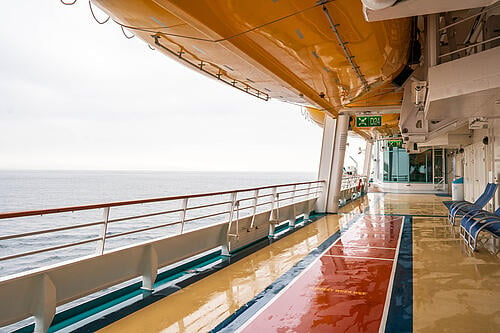 I also ventured to the Helicopter Pad down below. The Helipad is only available to guests on Radiance, Freedom and Voyager class ships, and is one of my favorite places to go to have some peace and quiet while watching the ocean.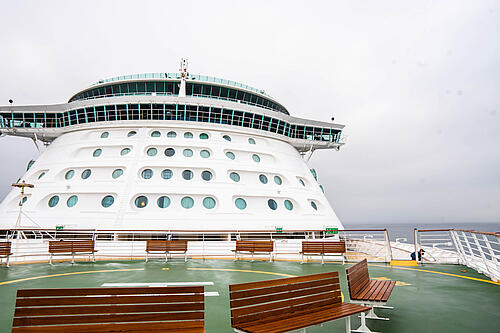 We ordered room service for breakfast this morning. One of my favorite things to do when I have a balcony room is to enjoy a nice, private breakfast on the balcony. Our room service arrived right as the ship docked in Ensenada.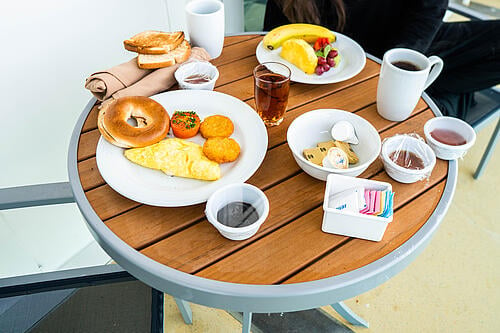 Ensenada is south of Tijuana and Rosarito in Baja California and it definitely has a different feel compared to Royal Caribbean's stops in the Yucatan Peninsula of Mexico. Whereas Cozumel is very green, humid, and flat, Ensenada is dry and mountainous. And while the Caribbean side of Mexico is known for its beaches and Mayan ruins, Ensenada offers different activities such as winery tours, horseback riding, and whale watching excursions.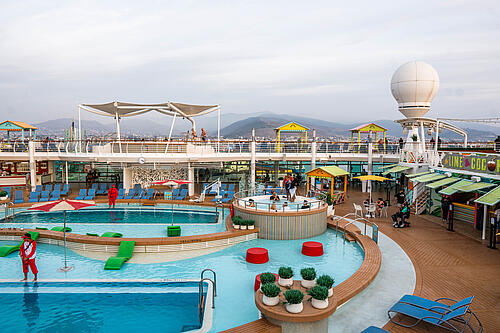 Navigator of the Seas docks near downtown Ensenada. You can get to the main part of town via a short shuttle bus or by taking a stroll along the boardwalk in the harbor. We opted to go on foot, and it was an easy five minute walk to town.
We had nothing planned for our day in Ensenada, but we knew we wanted to experience a more local side to the city. Uber conveniently works in Ensenada, so we grabbed a ride to Mercado Los Globos, a large local market about ten minutes away. I love exploring markets in whatever country I visit, as it gives a great perspective into the local culture, cuisine, and traditions.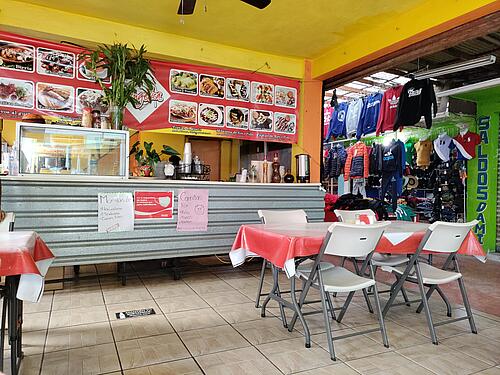 When we arrived at the mercado, our time in Ensenada quickly turned into a food tour. The market was packed with fresh produce, restaurants, and juice stands. We started off our food tour by tasting fresh fruit and snacks.
For lunch, I grabbed a Jamaica juice from one stand in the market and chilaquiles from another. It's hard to go wrong with Mexican food, and the offerings at Mercado Los Globos are varied and authentic.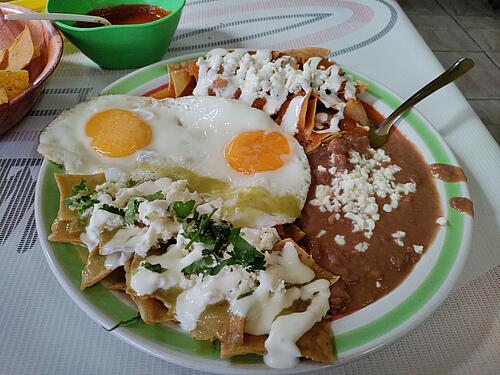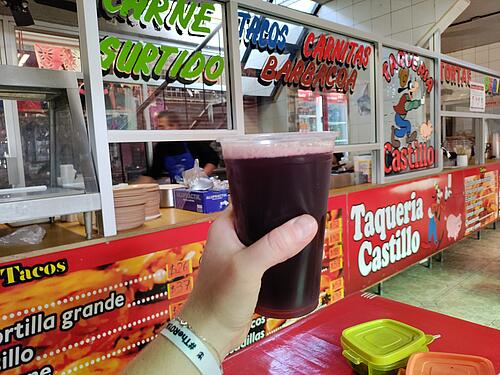 Following lunch, we continued exploring the market before taking an Uber back to the main tourist strip in Ensenada near the port.  There, we walked around the shops to pick up a few small souvenirs to bring home.
Ensenada is filled with street food vendors, though, so our food tour continued! First up was ceviche at La Guerrerense, a famous spot for locals and tourists alike. In fact, Anthony Bourdain named La Guerrerense one of the best street food carts in the world! If you like fresh seafood, this is a great place to try in Ensenada.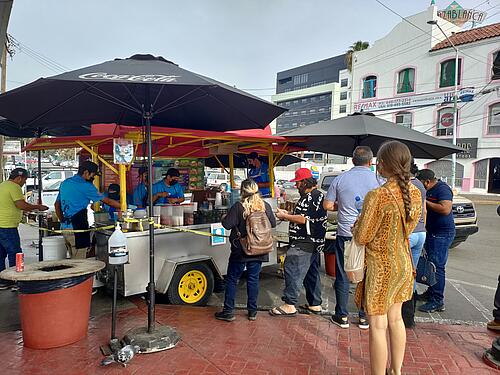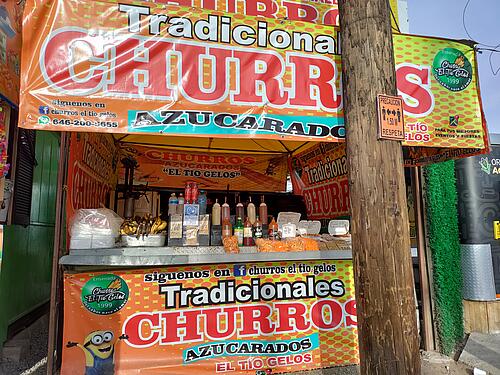 We ended our food tour with my personal favorite, churros filled with chocolate and dulce de leche, before heading back onboard Navigator of the Seas.
After a short walk around the promenade deck, I headed to the pool deck to watch the ship sail away from Mexico.
Sailaway happened right at sunset, and tonight's sunset was magical. With vibrant colors and smooth seas, it may have been the best sunset I've ever seen while at sea.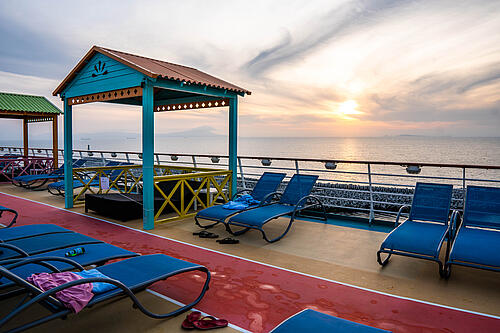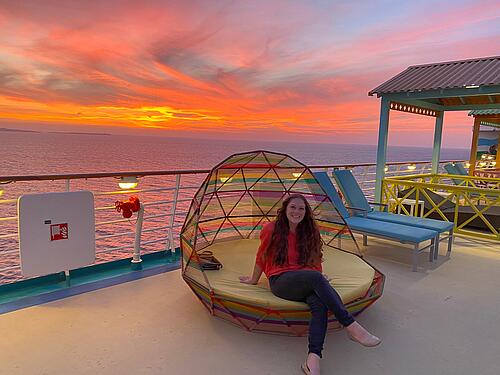 I originally planned to attend tonight's ice skating show, but the sunset was so beautiful that I couldn't make myself leave the pool deck! I did, however, run down to Studio B to check it out for a few minutes and the show was quite impressive.
I especially enjoyed the synchronized drones that lit up at the start of the show.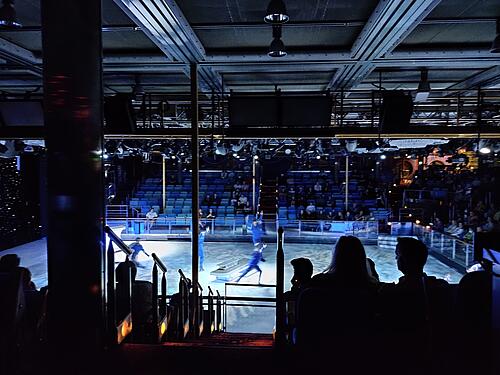 After watching the sunset, we went to Playmakers to play pool, shuffleboard, and Mrs. Pac-Man while enjoying a sampler of wings and truffle french fries.
Playmakers is one of my favorites venues on Royal Caribbean, and tonight the space was packed with guests, creating the energized ambiance that every sports bar should have.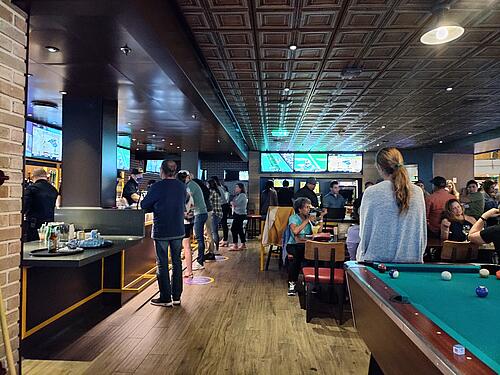 After a brief rest in my stateroom, I spent some time listening to the pub singer at the Copper & Clover, which is always a relaxing way to end a busy day on a cruise.
Due to the extensive food tasting in Ensenada, I wasn't very hungry for a big dinner, so I grabbed some pizza from Cafe Promenade. While not as fancy as last night's dinner at Chops Grille, it definitely hit the spot.
Lastly, I headed to the theater to watch Showgirls before going to bed.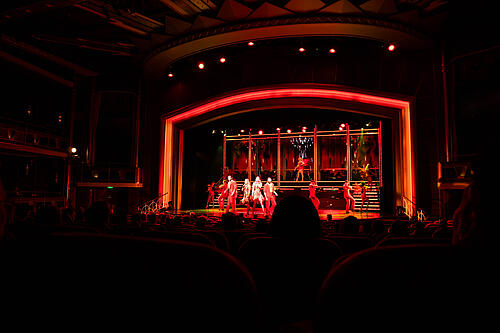 This two night cruise went by quickly and I'm sad to say goodbye to Navigator of the Seas tomorrow. At the same time, I'm excited that the ship will continue to sail out of Los Angeles and add more Royal Caribbean presence on the west coast.