All about Ovation of the Seas' conveyance in one infographic
In:
Royal Caribbean's Ovation of the Seas began her conveyance down the River Ems yesterday and Royal Caribbean has a brand new infographic to show everyone just how impressive a feat this is.
This graphic helps explain what you need to know about the conveyance process and everything that goes into it.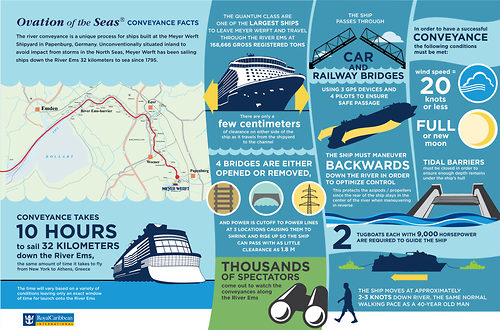 The conveyance is a unique process for ships built at Meyer Werft as the shipyard is situated inland along the banks of the River Ems and the ship must make the trip from Papenburg down the river backwards to get to the North Sea. The journey will be completed in 12 hours.
At 346 meters long (1,138 feet long) and 41 meters wide (136 feet wide), this 167,800 gross ton ship is one of the largest ever to go through conveyance. Thousands of revelers from the surrounding local villages typically line the 26 mile route along the river bank to watch and celebrate the ship's journey.
Ovation of the Seas will be officially launched in April 2016, when she departs Southampton, England for Tianjin, China on a 52-day Global Odyssey. She will begin her first homeport sailing season in China from Tianjin on June 24, 2016. Ovation of the Seas, together with Quantum of the Seas, Mariner of the Seas, Voyager of the Seas and Legend of the Seas, will make up the largest fleet of any cruise line sailing in China.