In:
If you're used to visiting the Caribbean, you will want to know what to bring on a cruise to Alaska that might be different from anywhere else.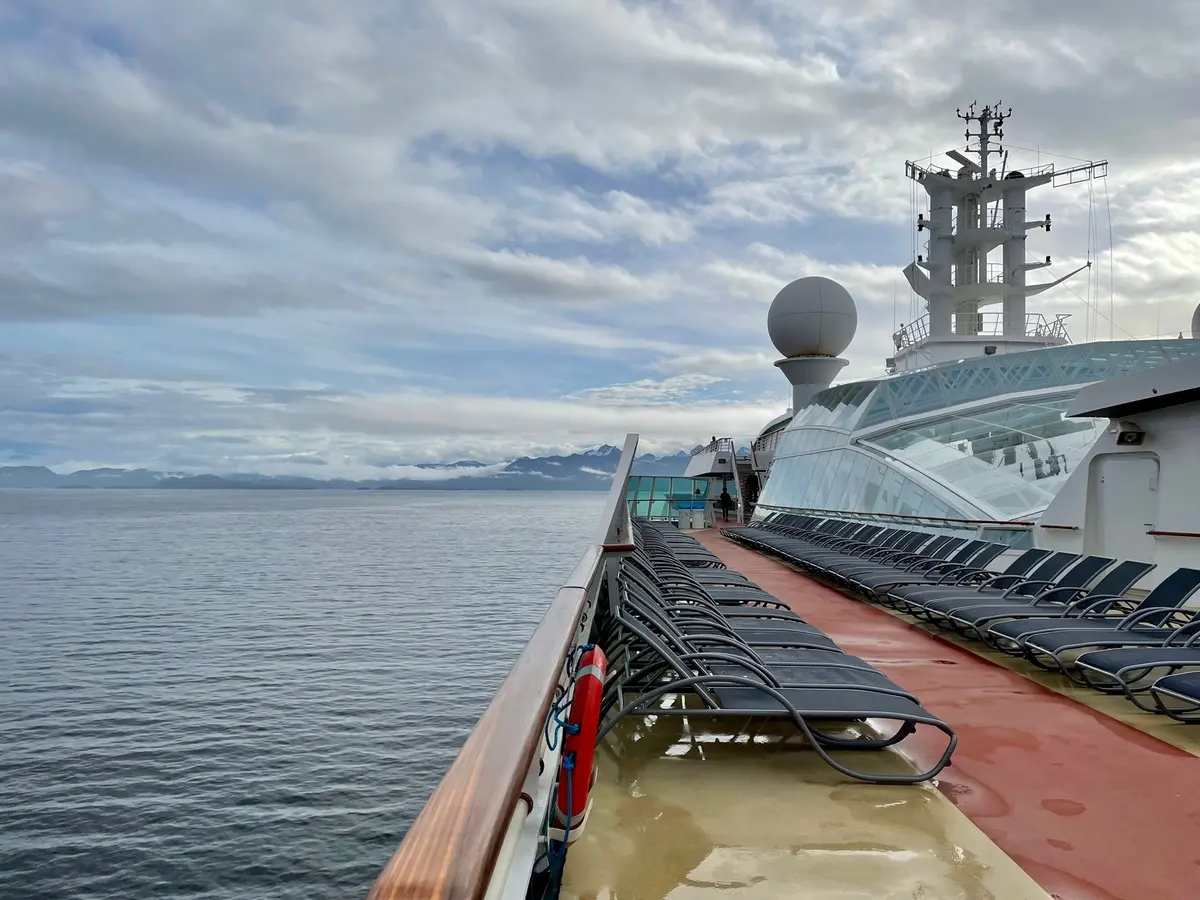 Having cruised to the last frontier, I quickly learned that there's a different approach to packing for an Alaska cruise.
You likely already know planning for a cruise to this region is different than other sailings. And while a summer cruise up to Alaska will not be frigid or even as far north as you might imagine, there are nuances to planning a great cruise.
A good mantra for any traveler is to be prepared, and you certainly don't want to get to Alaska only to realize you should have brought something truly important. Maybe it's something to enhance your trip, or it could be a real game-changing tool. In either case, learning about what you need now can save time.
While we have a comprehensive Alaska cruise packing list, I thought about the things that you really should consider bringing that would not be obvious. Here's my list of eight important things to bring with you to the 49th state.
Read more: 50 Best First Time Alaska cruise tips
You will find in this article links to products that we receive a small commission for when you purchase them. This costs you absolutely nothing extra, but the small commission helps support our site.  As an Amazon Influencer, I earn from qualifying purchases.
Binoculars
You'll be surrounded by nature's beauty throughout your Alaska cruise, and a pair of good binoculars can really make a difference.
From the bald eagles that are pretty much everywhere, to whale sightings, remote villages, and even bears, there is a lot to spot.  While you might be able to get a glimpse with the naked eye, having binoculars makes a world of difference.
Binoculars are so helpful for kids because they can really get a sense of detail when trying to view nature.  Adults can enjoy them too for the same reason, and with the benefit of having a little more patience to look around.
When you get close enough to see a glacier, binoculars are so important so that you can see the jagged edges of ice. Plus, the colors pop so much more when viewed closely.
Read more: Top 5 binoculars for an Alaska cruise
Waterproof and thermal insulated jacket
If you buy one piece of clothing for Alaska, it should be a light and insulating waterproof jacket.
The weather will change a lot during your cruise, even hourly, and you'll need to adjust to it.  And it will likely rain too, but because it changes so often, you will need the right clothing.
On my first cruise, I bought a Columbia 2-in-1 jacket that was insulated and also waterproof. The only thing worse than being wet and is being wet and cold!
You will likely hear about the importance of layering on an Alaska cruise, and the outermost layer should be a good all-weather jacket to keep you dry. Don't get something puffy or bulky. You want a jacket that can be easily folded up or tied around your waist when the sun comes back out later.
Read more: Alaska cruise outfits: ideas of what to wear
Waterproof shoes
I didn't think about my footwear when planning my first Alaska cruise, and I regretted not having waterproof shoes.
Not only can it rain, but you'll encounter puddles and damp trails in the towns you visit.  Plus, some of the terrain may be slippery or not paved.
It makes sense to get a pair of hiking shoes that are waterproof to keep your feet dry no matter where you go.  
I can deal with wet hair and even wet clothing, but wet feet turn cold quicker (thanks to being in the extremities of your body) and that will sour almost any outdoor experience.
Read more: 6 mistakes & 3 things we did right on our Royal Caribbean cruise to Alaska
Sunglasses
When you imagine visiting Alaska, is a bright shining sun what you picture? Probably not, but there's plenty of sunshine too.
Summer in Alaska is a lot sunnier than most people anticipate, and you will actually need to bring sunglasses with you.
If you have plans to visit a glacier by helicopter or seaplane, sunglasses are essential to avoid the glare of the sun off the surface of the ice.
Insect repellant
I've got to be real with all of you and warn you that mosquitos are an unfortunate reality of going to Alaska in the summer, especially during the warmest months.
There are plenty of mosquitos around Alaska throughout the summer.  In fact, there's a running joke that the mosquito is the unofficial state bird of Alaska. Given how much wetlands, slow moving rivers, and stagnant pools there are, it's a prime breeding ground for them.
Mosquitoes are usually worse inland than on the coast, so bringing insect repellent is extra important for those doing a Cruise Tour to Denali and other interior destinations before or after their cruise. 
It's a good idea to pack a can of insect repellent spray, wipes, or lotions.  There are many varieties, but you should buy one before you leave from home to ensure you don't pay higher tourist prices in Alaska.
Another option are mosquito-repellent wristbands because of how easy they are to use, especially for kids. 
Of course, you could also wear long sleeves and pants to avoid giving mosquitos a target to land on, but there's always exposed skin somewhere.
Read more: The weirdest Alaska cruise questions
Waterproof backpack
Just like how rain can make you wet, it can also get your belongings wet, so it's important to have a waterproof backpack with you when you go on shore.
When I sail to the Caribbean, we might bring a beach bag, but a backpack elsewhere seems unnecessary. 
Read more: What to bring on a Caribbean cruise
In Alaska, however, backpacks are far more useful because you will need somewhere to put extra clothes, souvenirs, binoculars, and other important items.
Water resistant backpacks should be sufficient in most scenarios, although 100% dry bags can be a safe option, too (affiliate links included here).
Some backpacks are able to be packed down into a very small size (affiliate link), which can be helpful for those traveling on airplanes or with limited room in their suitcase.
Sleep mask
People aren't exaggerating when they say it doesn't get dark in Alaska.  During the summer, the sun stays up well into the night and might only go down for a few hours before rising again.
Whether you're a light sleeper or night, the natural light could interfere with your sleep routine and some people find it quite difficult to fall or stay asleep with the light coming in from their cruise ship balcony or window.
It's a good idea to invest in a quality sleep mask so that you can have it pitch dark when you sleep.
I used the Manta Sleep Mask (affiliate link) for my first transatlantic flight to go on a European cruise earlier this summer, and it worked perfectly.
Water bottle
You already know how important it is to stay hydrated, but I found I was getting parched far more often in Alaska than elsewhere.
Even hiking on flat paths will drain you, and having water makes such a difference.
I think it's a great idea to also bring with you a reusable water bottle that you can bring on any shore excursion with you.
Our staff love the Hydro Flask (affiliate link) as their top pick for bringing on a cruise.