In:
What to pack for an Alaska cruise is not as difficult as it may seem. While packing for a cold weather cruise may require more preparation than a cruise to the Caribbean, a few key layers should suffice in nearly all weather conditions.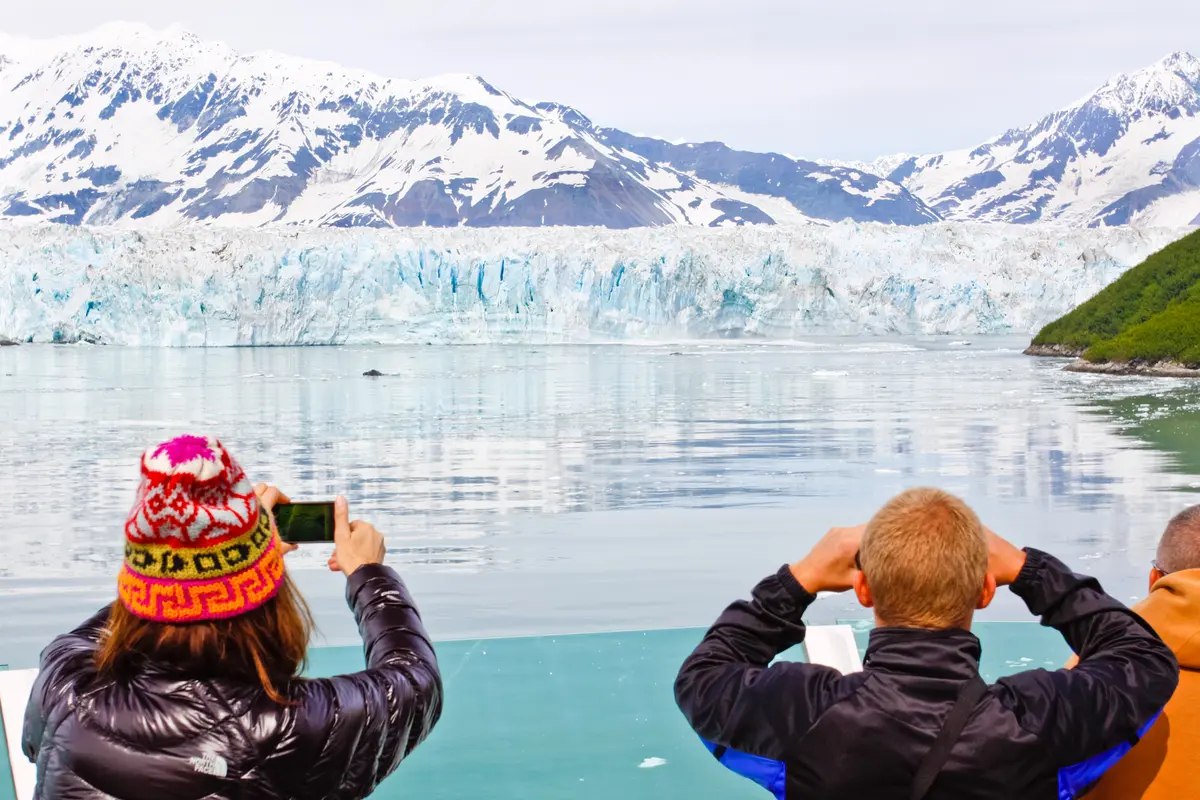 Packing for an Alaska cruise is not necessarily problematic, but it does require some careful planning and consideration. The weather in Alaska can be unpredictable given the range of temperatures.
When looking at a map, you may be surprised to see just how far south Alaska cruise ports are located.  While Alaska cruise marketing tends to show images of snow and glaciers, it's not necessary to pack for Arctic-level temperatures. In fact, you probably already have most clothing items you'll need for an Alaska cruise at home!
While packing for an Alaska cruise may require a bit more thought than packing for a trip to a warmer destination, with some careful planning and consideration, you can ensure that you have everything you need for a comfortable and enjoyable voyage.
Alaska cruise: the basics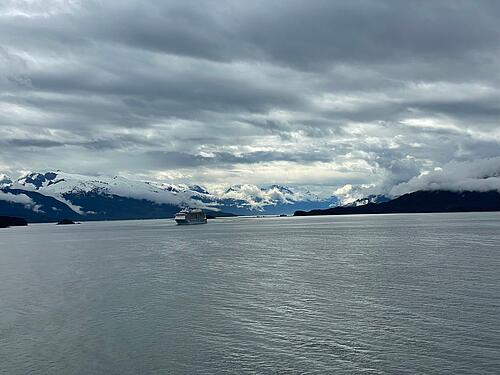 Before starting to pack, it's important to understand the basics of an Alaska cruise so you know what to expect both onboard and in port.
Royal Caribbean's Alaska cruises are generally 7-night sailings, offering 3 or 4 days in port with 2 or 3 days at sea. Cruises visit towns along Southeast Alaska, the panhandle of the state, which borders British Columbia, Canada.
Southeast Alaska is quite a ways away from the Arctic Circle and polar bears, so you may be surprised to encounter nice weather while visiting the state. Alaska cruises are offered during the warmest months of the year, from April to September, so it's not uncommon to experience warm, sunny days.
Related: What is the best time to cruise to Alaska?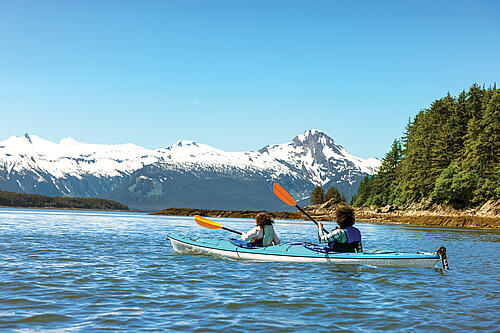 The month you sail can have a huge impact on what you need to pack as well. For cruises in June, July, and August, you may want to pack more short sleeve shirts than in May or September. And while wool socks and warm hats are recommended at any time of the year, it's especially important to pack warm layers in the very beginning or end of the Alaska cruise season.
Related: What it's like to go on an Alaska cruise at the end of the season
The main thing to remember when packing for an Alaska cruise is to plan for any and all types of weather conditions.
What to pack for an Alaska cruise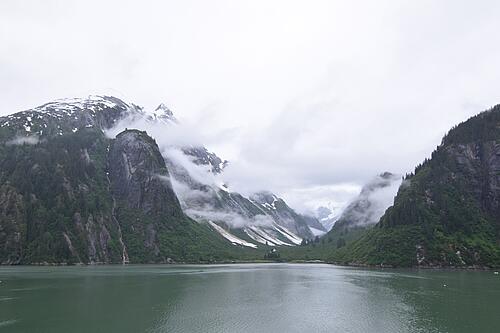 Layers
Packing layers is necessary on an Alaska cruise. Morning and evening can be much colder than what you may experience in mid-afternoon, so having the flexibility to put on or take off clothing will be well appreciated.
Your base layer will be a short or long sleeved t-shirt and a pair of jeans, leggings, or other lightweight pants. On the warmest of days, shorts may be preferred whereas the coldest days may have you layering both leggings and jeans.
Over your base layer you'll want to pack a warm layer. Sweaters, sweatshirts, and fleece or down jackets will help keep you warm no matter the weather, and they're easy to take off if it gets too hot.
In addition, don't forget to pack a waterproof layer. Due to strong winds and ease of use in crowded areas, we don't recommend packing an umbrella. Therefore, it's important to pack a waterproof jacket with a hood. This should keep you dry in the wettest of conditions.
Footwear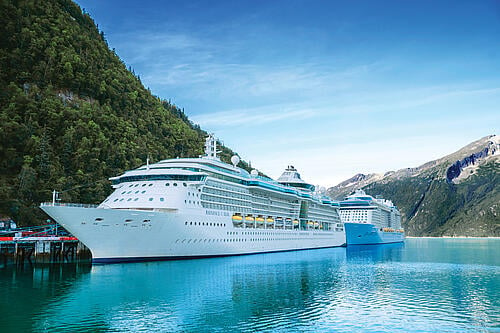 An Alaska cruise calls for a wide range of footwear, as you'll need a sturdy pair of shoes to wear in port and shoes to wear onboard. A pair of water-resistant sneakers or lightweight hiking shoes is recommended, as they tend to keep your feet comfortable and warm while providing enough support for a range of outdoor activities. Active sandals, such as Chacos, can be nice in the summer months as well.
Packing a pair of comfortable lounge shoes for the ship is a good idea, too. Slippers, flip flops, or comfy sneakers can be nice to have when walking around the ship and your stateroom.
Whichever type of shoes you decide to bring, make sure the soles of your shoes have plenty of grip. You may encounter slippery or rocky surfaces on shore excursions or while exploring on your own, so you want to make sure your shoes have enough friction.
Accessories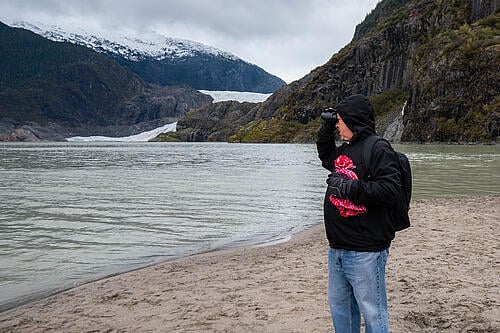 Outside of your main clothes and footwear, don't forget to pack accessories for an Alaska cruise. From hats to wool socks, scarves, gloves, sunscreen, and sunglasses, there are many accessories that you'll want to bring with you to Alaska.
Related: What should you bring on an Alaska cruise?
A water-resistant daypack is one of our top Alaska cruise packing tips. You'll need somewhere to put your valuables during the day, so making sure the pack is water-resistant or waterproof is crucial. A backpack will be the most comfortable option and can fit everything you'll need for a busy day in port.
Binoculars may be of interest to you as well, especially if you plan to do any wildlife viewing excursions. Being able to see the state's wildlife and nature up close is well worth the cost of an entry-level pair of binoculars.
Cruise clothes
Outside of what you'll wear in port, remember to pack for your time onboard the ship! Don't forget to pack clothes for formal night, your swimsuit to wear in the pool, and comfy clothes for lounging in your stateroom.
While it's not necessary to pack an entirely new outfit for dinner each night, rotating 2-4 outfits can be a nice way to ensure you have dressier clothes to wear while still keeping your packing relatively light.
Related: What to wear on a cruise formal night
Alaska cruise packing list
Clothes
Waterproof jacket with a hood
Fleece or down jacket
Sweaters and sweatshirts (to wear onboard and in port)
T-shirts and long sleeve shirts
2-3 pairs long pants (jeans and slacks for dinner)
1-2 pairs leggings
1-2 pairs shorts
Formal wear for dinner (2-4 dresses, collared shirts, etc.)
Swimsuit
Pajamas
Casual loungewear for onboard
Underwear and socks
Clothes for the onboard fitness center
Footwear and accessories
Water-resistant shoes with a sturdy, non-slippery sole (hiking boots, sneakers)
Dress shoes for dinner
Comfy shoes for walking around your stateroom/ship (sandals or sneakers)
Water-resistant daypack
Hat (baseball cap, beanie, etc.)
Gloves
Binoculars
Sunglasses
Scarf
Camera
Waterproof case for cellphone
Portable cellphone charger
Things to do onboard (books, card games, etc.)
Sunscreen
Bug spray
How to avoid overpacking on an Alaskan cruise?
It's really easy to find yourself overpacking for an Alaska cruise because of the wide temperature swings involved in a typical sailing.
One area of the cruise you can probably ease up on in terms of packing is what to wear for dinner.
In general, the dress code tends to be more casual at dinner.  While there are still formal nights on Alaska cruises, you'll see far more guests opting for just jeans and a collared shirt rather than a suit or tuxedo.
I've also noticed most women not wearing dresses to dinner on an Alaska cruise and instead nice jeans, pants, and sweaters.
You can also reduce the amount of clothes you bring to Alaska by relying on laundry services.
Royal Caribbean offers laundry on its ships that you pay for, but if that means packing half the clothes you might otherwise pack, that could save a lot of space (and perhaps baggage fees from the airlines).
More Alaska cruise tips: