In:
An Alaska cruise aboard Royal Caribbean will take you on a journey to visit some of the most magnificent natural beauty and local culture you'll find anywhere in the world.
Alaska truly is one of those places you have to see to believe, and a Royal Caribbean cruise is a fantastic way to visit the Last Frontier. Planning a vacation to Alaska means knowing where you want to visit, what you want to do in port, and how to save money along the way.
From the majestic scenery, to amazing wildlife, delicious seafood, and diverse history and culture, Alaska has a lot to offer.
In this comprehensive guide, we're sharing everything you need to know about planning an Alaska cruise to ensure you have the best vacation possible and make memories to last a lifetime.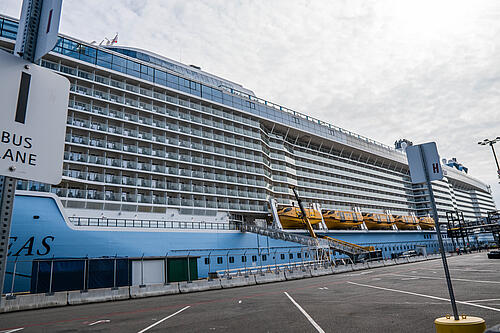 Cruises to Alaska visit ports primarily along Alaska's Inside Passage, visiting small, picturesque towns, some of which are inaccessible by road.
Juneau is the most commonly visited Alaska cruise port and state capital. It is the largest town visited in Alaska on a cruise and offers the most excursion options of any Alaska port. Activity highlights in Juneau include whale watching, exploring Mendenhall Glacier, and riding the Goldbelt Tramway up Mount Roberts. Don't forget to taste local seafood, either, with Juneau's king crabs, salmon, and halibut among the best in the world.
Related: Top 10 things to do in Juneau, Alaska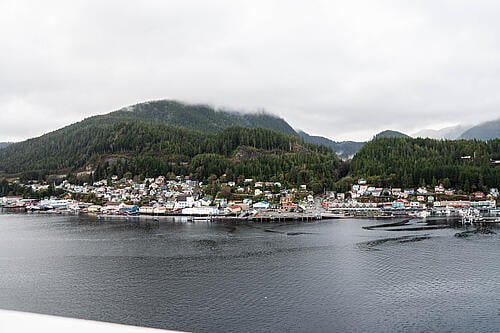 Ketchikan, the southernmost Alaska cruise port, is a quaint waterfront town surrounded by the Tongass National Forest. The town's gold rush history alongside its Native culture offers a chance for visitors to experience Alaska through history.
Walking through Creek Street can give insights into the town's historic red light district, and visiting the Saxman Totem Park provides a lesson on the Native Tlingit peoples' culture and traditions. Kayaking, hiking, the Great Alaskan Lumberjack Show, and walking through downtown are all great options for a day in Ketchikan as well.
Related: Top 10 things to do in Ketchikan, Alaska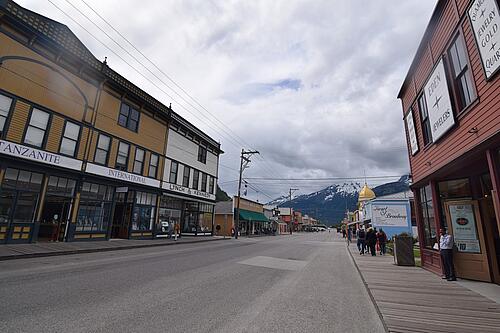 Skagway is further north in Alaska's Inside Passage and, while small, is filled with Alaska's gold rush history.
Located on the Lynn Canal, panoramic vistas surround Skagway and the town is a gateway into Canada's Yukon Territory. Many passengers choose to ride the White Pass & Yukon Railroad, taking visitors through a mountain pass once climbed by those hoping to strike it rich in the gold-rush era.
Others may choose to cross the border into Canada, kayak the Lynn Canal, or rent a scooter and explore Skagway on their own.
Related: Top 10 things to do in Skagway, Alaska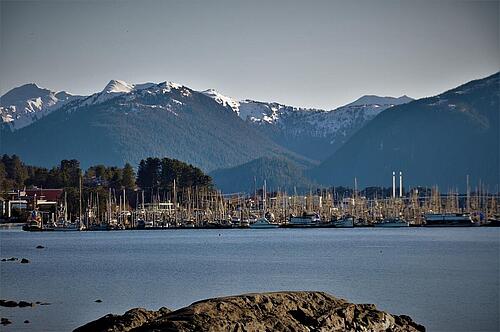 Sitka is home to a blend of American, Tlingit, and Russian influences and was once the capital of Russian Alaska.\
A visit to the Baranof Castle State Historic Site is an option for spending the day in Sitka, which was where the formal transfer ceremony of Alaska from Russia to the United States took place. Strolling along the forest at the Sitka National Historical Park is a popular activity, too, which preserves the site of a battle between the Tlingit people and Russian traders.
Downtown Sitka is a charming place to walk around, where you can view the city's cultural influences on every street.
Related: Top 10 things to do in Sitka, Alaska
Icy Strait Point, while less commonly visited on an Alaska cruise, offers a chance to get closer with nature in a tranquil environment. The port, near the town of Hoonah, is Alaskan Native owned-and-operated, founded by the Huna Tlingit Native Alaskans in 2004.
Getting close to nature and wildlife is recommended while in Icy Strait Point, with whale watching and ziplining popular activities to book. Cultural excursions are another option, where guests can learn more about the Huna Tlingit people through song and dance at Icy Strait Point's Native Heritage Center Theater.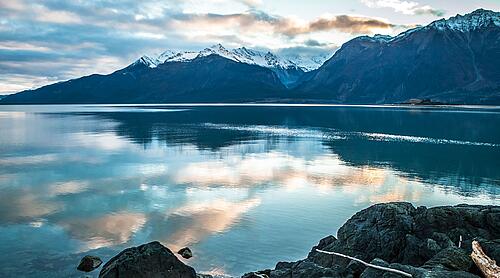 Haines, Alaska is a relatively new port for Royal Caribbean cruises to visit. Located on the way to Skagway along the Chilkoot Inlet, Haines is a small port accommodating just one large cruise ship at a time. Kayaking, hiking, hunting, and wildlife viewing are all popular activities in Haines. Flightseeing tours can be booked from Haines to visit sights like Glacier Bay, one of the most beautiful glaciers in Alaska.
Victoria, British Columbia is a port visited on Alaska cruises from Seattle. While in Canada and not Alaska, Victoria still offers an array of landscapes and culture to explore. Visiting the Butchart Gardens is a popular destination in Victoria, where visitors can wander among 55 acres of floral display that date back to 1904.
Outside of port stops where passengers disembark the ship, Alaska cruises offer scenic cruising days to glaciers along the Inside Passage. Passengers do not disembark the ship on these days. Instead, the ship slowly sails within a view of a glacier, often completing a 360 degree turn to ensure all guests onboard can have an excellent view of such amazing scenery.
There's also the opportunity to spot harbor seals, wolves, brown bears, and other wildlife that call these areas home.
Tracy Arm Fjord is another glacier visited on scenic cruising days. The deep, narrow passage of the Tracy Arm Fjord travels over 30 miles alongside the Tongass National Forest, with the twin Sawyer Glaciers at the end of the passage.
Endicott Arm & Dawes Glacier will surely impress cruise passengers, featuring a scenic sail through the Endicott Arm Fjord followed by a panoramic view of Dawes Glacier, a 600 foot tall, half-mile wide active icecap.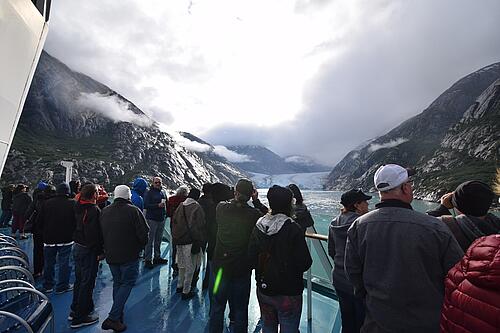 Hubbard Glacier is a glacier commonly visited on an Alaska cruise. Located in Disenchantment Bay, Hubbard Glacier is an astonishing sight. The glacier's ice is 400 feet tall, 76 miles long, and 1,200 feet deep.
Depending on your cruise itinerary, there may be a chance to book an excursion on a scenic cruising glacier day. Some glaciers offer a "Wilderness Explorer" excursion, during which passengers disembark the cruise ship and embark a small vessel, allowing them to get up close and personal to glaciers. Be sure to check if this shore excursion is available on your Alaska cruise.
Most Alaska cruises depart from either Seattle or Vancouver on round-trip 7-night sailings. Some cruises to Alaska are one-way only, though, starting in Vancouver and ending in Seward, Alaska or vice versa. This is to allow for pre and post-Cruisetours to Alaska or Canada, allowing guests to experience more inland destinations like Denali National Park and Reserve and Banff National Park.
Deciding whether to start your cruise in Seattle, Vancouver, or Seward is one of the first decisions you make when planning an Alaska cruise.
If you're from the United States and have to fly to an Alaska cruise port, flying to Seattle tends to be cheaper than getting to Vancouver or Seward. A passport isn't necessary when cruising out of Seattle, either, although it is recommended.
Sailing from Seattle will likely offer an Alaska cruise vacation on Royal Caribbean's big ships and is your best bet for someone new to the itinerary.
Related: Top 20 tips for planning your Alaska cruise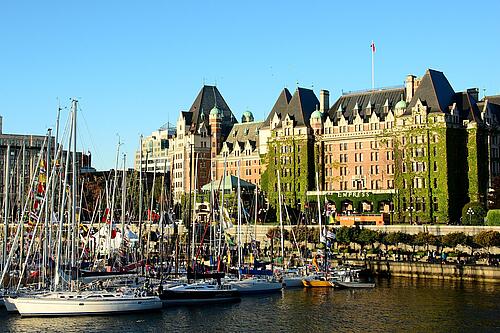 Cruises departing from Seattle include a stop in Victoria, British Columbia, as the Jones Act requires foreign-flagged cruise ships to visit a foreign port when departing from the United States. Therefore, cruises leaving from Vancouver tend to include more port stops in Alaska itself as there is no legal obligation to stop in Victoria.
Starting your cruise in Seward is recommended for those who plan to travel in the interior of Alaska ahead of time, whether independently or on one of Royal Caribbean's organized Cruisetours. One-way Alaska itineraries tend to be more port-heavy, as well, as there is less distance to cover than on a round trip sailing.
Smaller ships tend to sail from Vancouver whereas larger ships sail out of Seattle. This is due to the fact that Quantum Class ships are unable to fit under Vancouver's Lion Gate Bridge outside of a very low-tide. Therefore, ships like Radiance of the Seas, Serenade of the Seas, and Brilliance of the Seas sail out of Vancouver instead.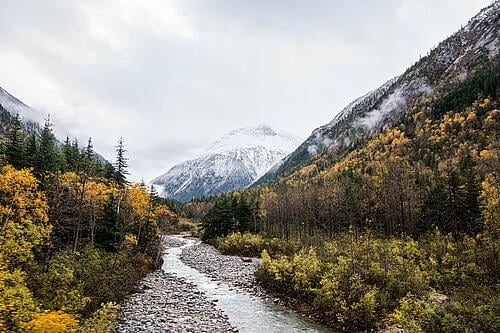 There is no "perfect" itinerary for an Alaska cruise, and one itinerary is not necessarily better than another.
While cruise ports do differ in history, local attractions, and size, many ports offer the same type of excursions to book. Activities like whale watching, kayaking, nature walks, gold rush towns, museums, and food tours are available in nearly every cruise port.
Likewise, every Alaska cruise will sail through the Inside Passage, meaning you won't miss the state's beautiful scenery on any itinerary. Oftentimes it's just as enjoyable sitting on the pool deck and watching Alaska's scenery pass by as it is to explore the ports you visit!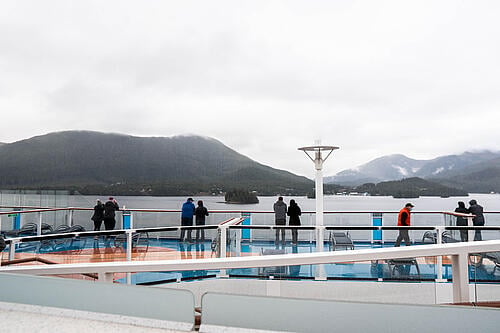 Being flexible on an Alaska cruise is important, especially when it comes to your cruise itinerary. High seas and storms can change your port stops at the last minute. Oftentimes another port is visited in place of your original destination. If this happens, be flexible! You may end up enjoying the replacement port even more than you would have enjoyed the original itinerary.
Related: How to choose the right Alaska cruise itinerary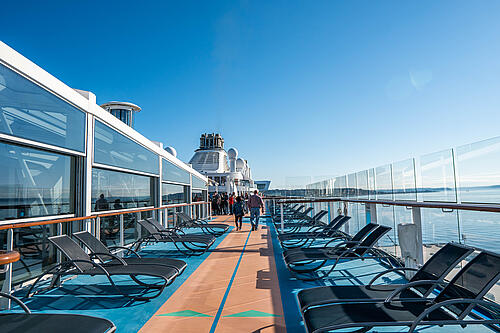 The Alaska cruise season generally runs from April to October, and each month offers its own advantages and disadvantages. While there is no best time to cruise to Alaska, knowing what to expect in terms of weather, wildlife, and activities is helpful before booking your cruise or shore excursion.
Read more: How far in advance to book an Alaska cruise
Cruising to Alaska in the early season, April and May, brings lower crowds and prices. Expect to see daily temperatures with highs in the mid 50s and lows around 40 degrees. Less rain is expected during the early season, as April, May, and June are among the driest months of the year in Alaska. (However, this is Alaska, so don't forget to pack a rain jacket!). Daylight hours will increase each day leading up to the summer solstice, with daylight hours from 4AM to 10PM in late May.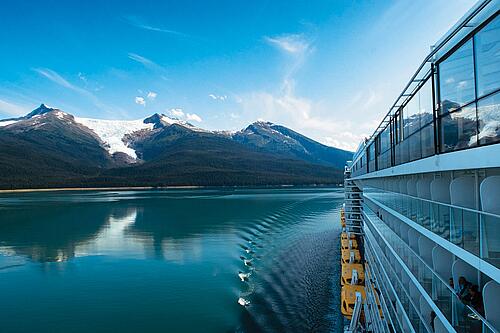 Alaska's peak cruise season is from mid-June to August, coinciding with the school vacation schedule. During the summer, visitors can expect to see the warmest temperatures and most hours of daylight. More crowds are to be expected during the summer, too, both onboard and in port.
Read more: Top ways to avoid crowds on an Alaska cruise
Making sure you book shore excursions early is important when cruising to Alaska during the peak season to ensure tours do not sell out.
Related: When should I book my Alaska shore excursion?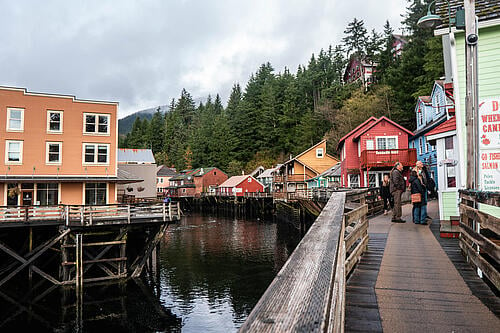 The fall shoulder season in Alaska is during the month of September. As days become shorter and temperatures cool down, cruise crowds and prices tend to be lower. In fact, September is the cheapest month for an Alaska cruise.
Wildlife is harder to spot during the fall and rainier weather is likely. That being said, it's possible (though not guaranteed) to see Alaska's northern lights in September, which is a plus for those planning an Alaska cruise in the fall.
Related: What it's like to go on an Alaska cruise at the end of the season
If you're trying to figure out the best time to visit Alaska, there's advantages to every month. The key is to prioritize if weather, crowds, or price is the most important to you.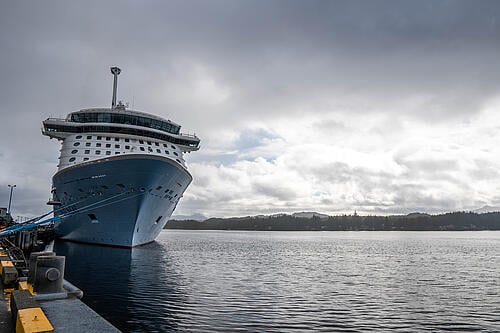 An Alaska shore excursion will allow you to explore what each of the ports have to offer, including taking in the natural beauty of this part of the world.
Alaska cruises tend to favor outdoor activities, whether getting active on a hike or taking a relaxing canoe ride down a river. Exploring the state's mountains, glaciers, trails, and lakes is a fantastic way to spend a day in port, although choosing the best tour to book can be a tough decision.
Related: Best things to do on an Alaska cruise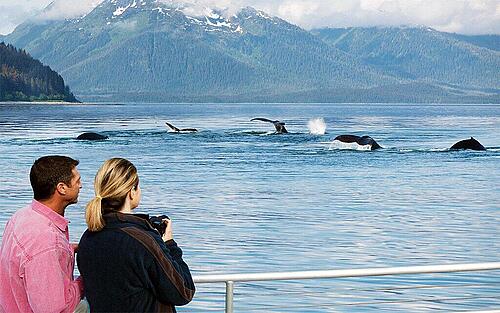 Whale watching tours are one of the most popular shore excursions to book on an Alaskan cruise, as many visitors hope to catch a glimpse of some of the largest mammals on Earth. A variety of whales are able to be spotted on an Alaska cruise, including grey whales, killer whales (orcas), and humpback whales.
Certain ports, such as Juneau and Icy Strait Point, tend to offer better whale watching opportunities than other Alaska cruise ports. Be sure to read our whale watching guide before booking your whale watching excursion to ensure you book it at the right port and time of year.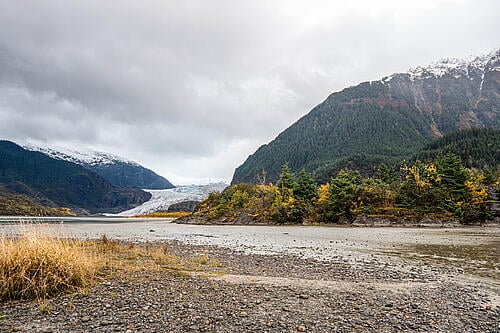 Visiting glaciers is another recommended activity on an Alaska cruise. Mendenhall Glacier in Juneau is the most easily accessible glacier for cruise passengers, where visitors can view the glacier from easy walking trails and visit the Nugget Falls waterfall. Most cruise itineraries to Alaska will include a scenic cruising day at a glacier as well, such as Endicott Arm & Dawes Glacier or Hubbard Glacier.
Related: Visiting Mendenhall Glacier in Juneau
Active cruisers will enjoy kayaking through Alaska's fjords and lakes, hiking on glaciers, and biking through the rainforest. Magnificent scenery can be viewed on day hikes up Alaska's dramatic mountain peaks or when paddling a kayak near glaciers.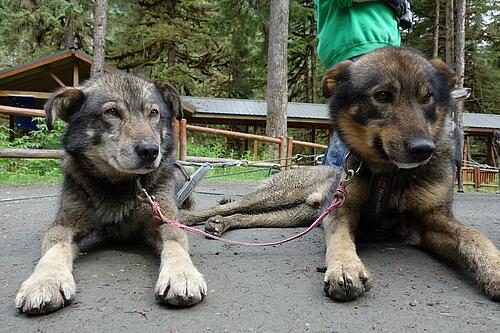 Animal lovers are in luck on an Alaska cruise, too, as they can choose from a plethora of wildlife-viewing excursions. Outside of whale watching tours, cruisers can visit the Fortress of the Bear to observe Alaska's black bears, the Sitka Raptor Center to learn about the state's birds of prey, and wildlife cruises during which seals, sea otters, salmon, and bald eagles may be spotted. Dog lovers will enjoy learning about dog mushing, Alaska's state sport, and go dog sledding on top of a glacier!
Related: What is the best time of year to see wildlife in Alaska?
Other popular excursion options on an Alaska cruise include:
Salmon bakes
Cultural tours to learn about Alaska's Native Tlingit people
Ziplining through the rainforest
Rafting
Fishing
Walking around historic towns
Relaxing at restaurants and saloons
Read more: Where to eat like a local on your Alaska cruise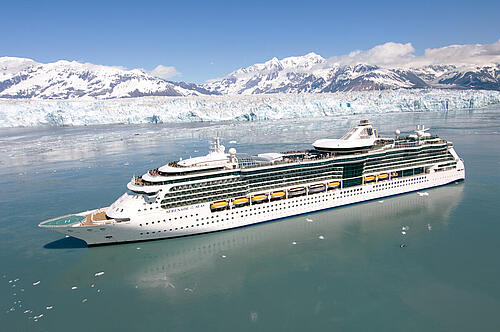 Royal Caribbean sends 4-5 cruise ships to Alaska each summer, with each ship offering a different layout, amenities, dining options, entertainment, and stateroom options. Some of Royal Caribbean's smallest and largest cruise ships sail to Alaska, so it's important to consider which ship works best for you before booking an Alaska cruise.
The following ships will sail to Alaska in 2023:
Ovation of the Seas (Quantum Class)
Quantum of the Seas (Quantum Class)
Radiance of the Seas (Radiance Class)
Brilliance of the Seas (Radiance Class)
Both the most technologically advanced, large Quantum Class ships and the smaller, more traditional Radiance Class ships will offer a wonderful Alaska cruise experience. 
Related: Comparing the Royal Caribbean ships sailing to Alaska in 2023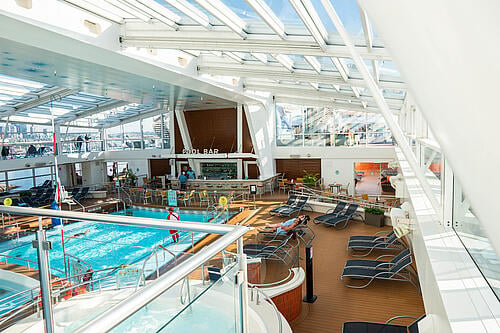 Most ships Royal Caribbean sends to Alaska offer plenty of indoor features, meaning the ship can be enjoyed in all types of weather. From each ship's enclosed, temperature-controlled Solariums to the indoor pools on Quantum Class ships, guests can enjoy their ship even in the chilliest of temperatures.
Quantum Class ships can be a great choice for families, as they feature the SeaPlex, an indoor sports court and arcade where guests can enjoy activities like bumper cars, circus school, rollerblading, basketball, volleyball, and more. They also feature RipCord by iFLY, an indoor skydiving simulator, and the North Star, a 360 degree observation pod taking guests 300 feet above sea level.
Radiance Class ships offer a more traditional cruising experience. While there are still activities for guests of all ages onboard, there are less options overall for dining, staterooms, entertainment, etc. Smaller cruise ships offer more itinerary options in Alaska, though, visiting destinations such as Haines, Icy Strait Point, and Hubbard Glacier.
Related: What's the difference between a large and small cruise ship?
Like any cruise ship, there may be a better ship choice for your family depending on what you are looking to do and experience as part of your vacation.
Most people going on an Alaska cruise are most interested in the destinations, with the ship choice a secondary consideration. Given the long hours spent in port, having a ton of activities or whizz-bang features may not be as important.
However, families with kids are always going to appreciate having more options available to them, especially on sea days.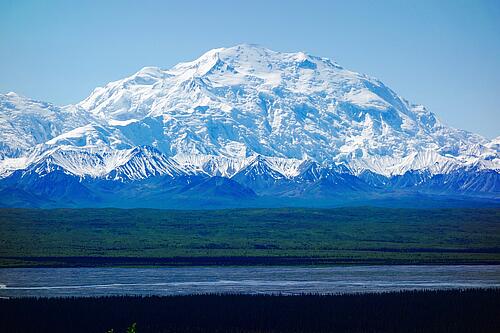 In addition to a 7-night Alaska cruise, you can extend your trip with a land-based tour.
Known as pre or post-sailing Cruisetours, these extended trips can range between 9 and 13 nights, including the 7-night cruise. These land tours are arguably the best way to see Alaska's interior and the most popular destinations.
Highlights of a Cruisetour include visiting Alaska's biggest city of Anchorage, going back in time at a former gold mining boomtown, traveling by train on the scenic Wilderness Express, or marveling at the unbelievably high mountain peaks of Denali National Park.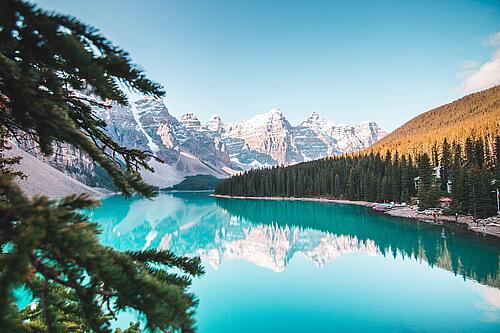 Cruisetours in Canada are also offered, which feature a comfortable overnight train ride through the Rocky Mountains and visits to Jasper and Banff National Parks, including an overnight stay at Lake Louise.
While Alaska's Inside Passage provides awe-inspiring views of Alaska's fjords, glaciers, and mountains,  cruisetours offer the opportunity to see more of Alaska or Canada, which you can book before or after your one-way cruise in Alaska.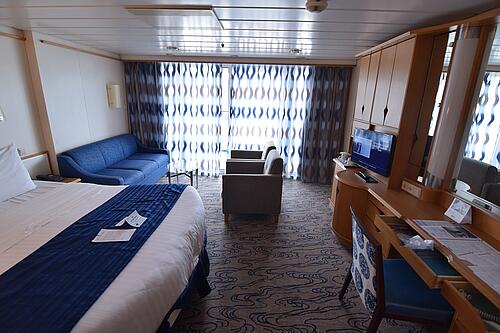 Your budget for an Alaska cruise can affect your ship choice, sailing date, stateroom category, excursion options, and onboard add-ons. Knowing how much Alaska cruises cost in advance is helpful to ensure you can budget and save for such an incredible vacation.
Related: How much does an Alaska cruise cost?
There is no set cost for an Alaska cruise. Cruise fares are dynamic, with prices constantly shifting based on demand. The shoulder seasons of May and September will see the lowest prices whereas June, July, and August see the highest cruise fares.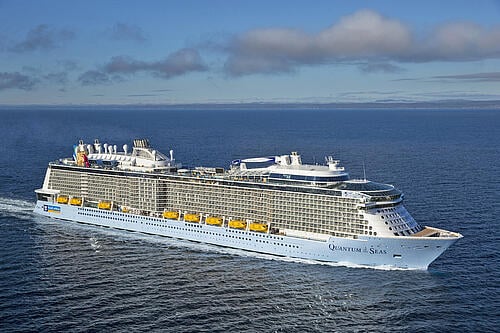 A 7-night cruise for two adults in an oceanview stateroom on Serenade of the Seas in July may be around $2200 whereas the same cruise in September can be around $1600. Newer ships, such as Ovation of the Seas, will often be priced $300-500 more expensive than smaller ships on a similar itinerary.
Related: 45 ways to save money on a Royal Caribbean cruise
Newer cruise ships have more balcony staterooms available, though, so balcony staterooms on ships like Quantum of the Seas are not usually significantly more expensive than interior or oceanview cabins.
As smaller ships like Radiance of the Seas have far fewer balconies available, booking a balcony stateroom on a small ship can be much more expensive than other cabins.
Related: How to cruise to Alaska on a budget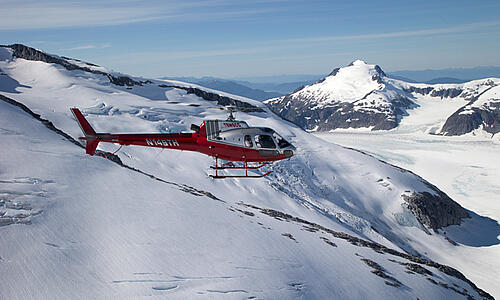 Shore excursion prices can quickly add up while on an Alaska cruise. While booking early will help lock in a low price, some Alaska shore excursions are simply more expensive than others. Activities like helicopter tours, luxury whale watching, and dogsledding can easily cost a few hundred dollars per person.
Luckily, there are plenty of ways to save money in port. Royal Caribbean offers more budget-friendly excursions that still take you to some amazing destinations. As an example, a wildlife safari and bear viewing tour in Haines will run around $89 per adult, whereas a ride on the White Pass Scenic Railway in Skagway is around $100 per person.
Exploring ports through independent tour operators or on your own is another option. All Alaska cruise ports have complimentary attractions and nature activities right near where the ship docks, so it's not always necessary to book an excursion.
Related: 5 quick and easy tips for finding a great shore excursion on your own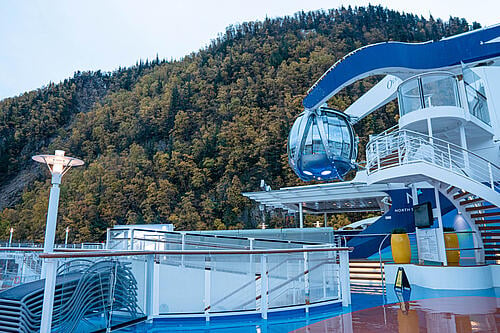 Packing for an Alaska cruise does not have to be stressful. A bit of research and preparation will get you far when deciding what to bring on an Alaska cruise.
Your Alaska cruise packing list should focus on layers, as the weather can change rapidly… and several times per day!
Having the following layers is recommended, especially on port days:
Base layer: t-shirt, jeans, yoga pants
Warm layer: fleece, down jacket, sweater, long sleeve shirt, sweatshirt
Waterproof layer: thin waterproof jacket
Read more: Alaska cruise outfits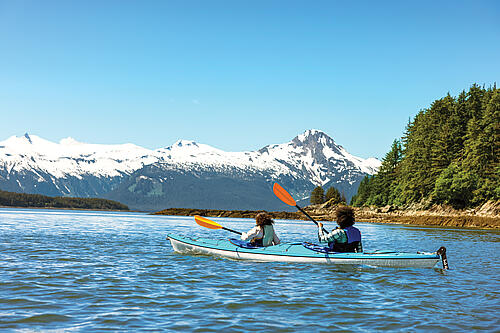 Those cruising to Alaska in the peak of summer may find the weather surprisingly warm, making it comfortable to wear just a t-shirt during the day. Those cruising in the shoulder seasons, on the other hand, will want to make sure they have warm layers in case of inclement weather.
Water-resistant shoes are also a must, as many excursions take guests through hiking trails or near lakes and streams. In addition, water-resistant shoes can be a lot more comfortable and warm on rainy days in port.
Other accessories, such as binoculars and cameras, are nice to have as well, whether when on an excursion or watching scenery from onboard the cruise ship.
Booking your cruise in advance is always a good idea, but Alaska cruises are so popular that you really need to book early to get the prices. Ideally, if you can book your cruise at least 12 months in advance, you will likely get some of the best prices.
In fact, when Royal Caribbean announces new Alaska itineraries is the best time to book. Royal Caribbean almost always announces new Alaska cruises in late November for the season to come in two years.
If you want to book a balcony or suite, then booking early becomes even more important. Since so many people value a private balcony on Alaska cruises, demand for these categories is even higher than on Caribbean or European itineraries.
The same can be said for booking shore excursions, too. Booking shore excursions early ensures you can pay the lowest price possible and reserve a spot on a tour on the chance it sells out.
Related: When should I book my Alaska shore excursion?
How to prepare for an Alaska cruise in 2023
Sailing to Alaska this season? There are a few ways to prepare so your cruise goes as smoothly as possible.
First, if you're flying to your cruise port, make sure to fly the day before your cruise begins. Airline delays are common, and you don't want to miss your cruise because of a canceled or delayed flight! Spending the night at a hotel in Seattle or Vancouver before your cruise can help ensure your vacation is off to a great start.
In addition to booking travel, we recommend purchasing travel insurance before your cruise. Travel insurance can protect you in case of any unexpected travel delays or medical emergencies during the sailing. While most travelers who purchase travel insurance won't end up using it, you will definitely be happy to have it if you need it!
You can purchase a travel insurance plan directly through Royal Caribbean upon booking or through an outsider provider. If you travel frequently, we recommend an annual travel insurance plan that covers you all year round.
Related: Should you buy annual travel insurance plans?
Another tip for 2023 Alaska cruises is to check in online 45 days prior to your cruise. You can check in on Royal Caribbean's website or the Royal Caribbean app. The earlier you check in, the better chance you have at selecting an early boarding time at the cruise terminal. Getting onboard early means more time to enjoy your vacation!
Once onboard your Alaska cruise in 2023, be sure to complete Royal Caribbean's eMuster safety drill as soon as possible. This safety drill consists of three parts:
Watching a lifejacket demonstration video on the Royal Caribbean app
Listening to the emergency horn sound on the Royal Caribbean app
Visiting your muster station on the ship to confirm you have completed the muster drill
Every guest must complete the eMuster drill before your cruise ship can depart, and getting it done quickly on embarkation day is recommended.
Finally, make sure to book pre-cruise add-ons as soon as possible for a 2023 Alaska cruise. From dining packages to shore excursions, it's always better to book in advance before add-ons increase in price or sell out.