In:
Nearly all Royal Caribbean cruises to Alaska include a stop in Alaska's picturesque capital city of Juneau. Whether hiking at Mendenhall Glacier, booking a whale watching tour, or traveling by floatplane, Juneau and the city's surrounding area boast a variety of outdoor and cultural activities for cruisers to enjoy.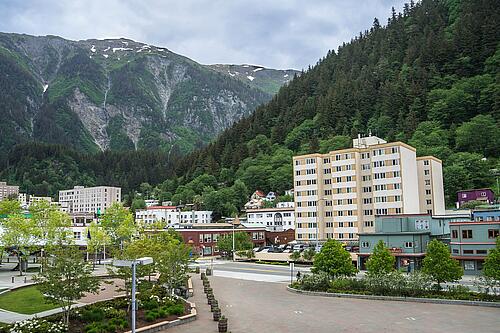 While Juneau is Alaska's second most populous city, its population is only around 32,000, making it a comfortable destination to explore on a day in port. Surrounded by ice fields, mountains, and waterfalls, Juneau is a favorite port for many on an Alaska cruise.
Choosing what to do in Juneau on a cruise can be a difficult decision in the planning process, as the city offers a wide range of options for all interests and fitness levels. Let's take a look at the best activities to do on a cruise to Juneau.
Mendenhall Glacier Recreation Area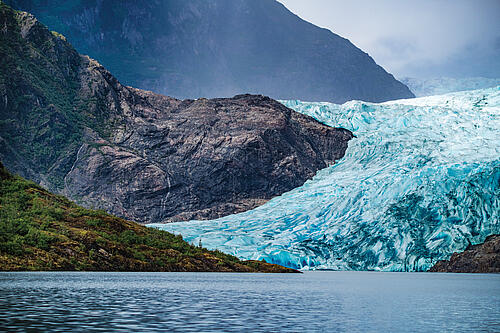 One of the most popular places visited by cruise passengers in Juneau is Mendenhall Glacier. While the glacier can be accessed via helicopter or boat, most visitors arrive by road to the Mendenhall Glacier Recreation Area.
The recreation area is quite big, with five short walks and hikes to choose from as well as an informative visitor's center. Stunning views are available in every direction, whether spotting eagles in the trees, marveling at huge mountain peaks, or taking in glacier views across the lake.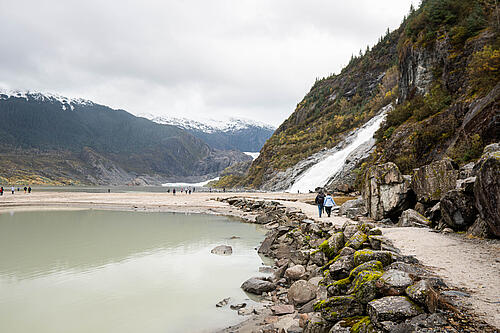 A recommended trail at the recreation area is the trail to Nugget Falls, a 377 foot waterfall located near Mendenhall Glacier. This is a popular trail due to its short length of just 1.5 miles roundtrip on a gravel path.
You can purchase a tour that visits Mendenhall Glacier, but we recommend taking a taxi or shuttle bus so you can explore on your own time. A shuttle bus can be found right outside the pier once you dock in Juneau, with round trip tickets around $45 per person.
Helicopter glacier tour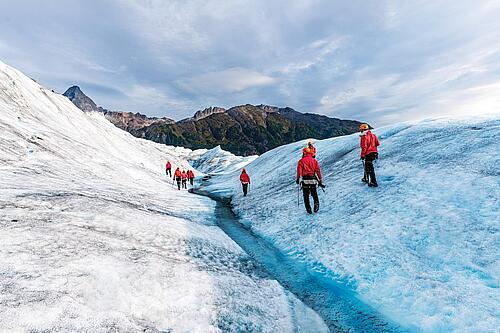 Alaska's nature is breathtaking, and a great way to truly grasp the scale of Juneau's mountains and glaciers is by helicopter. The most common spot for helicopter tours in Juneau is Mendenhall Glacier.
Helicopter tours usually include either a guided walk on the glacier or a dog sledding excursion. Guests on a helicopter tour will wear glacier boots for a secure walk around the ice and marvel in the spectacular scenery of Juneau's icefields.
Helicopter tours are not cheap, with prices around $340 per person or more. Despite the higher cost, though, they are often a highlight of an Alaska cruise, offering a completely unique experience that cannot be replicated at the majority of cruise ports around the world.
Whale watching excursion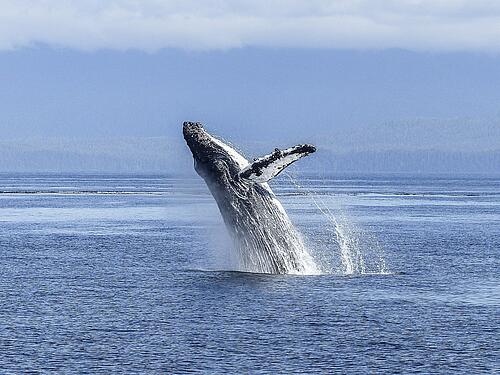 Juneau is one of the best Alaska cruise ports for whale watching, with humpback whales being most commonly spotted. Around 600 humpback whales call the waters near Juneau home in the summer months, leading to many sighting opportunities for cruise passengers.
Whale watching tours are offered through Royal Caribbean shore excursions or can be booked directly through local providers. Some tours combine whale watching with tours of Mendenhall Glacier, salmon bakes, and additional wildlife viewing opportunities.
Tour operators will often give a $100 cash refund (or partial refund) to guests on the chance that no whales are spotted on a tour. During the summer months, though, spotting whales on a tour is very common so a refund is rare.
Goldbelt Mount Roberts Tramway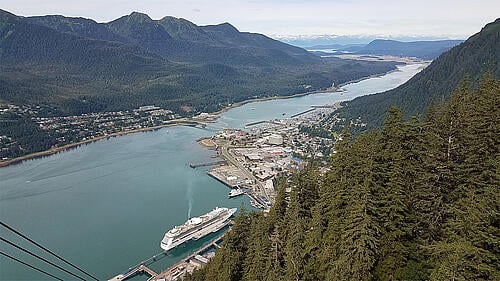 The Goldbelt Mount Roberts Tramway brings riders from 56 feet above sea level to 1,800 feet up Mount Roberts (about halfway up the mountain). 
At the top of the tram, passengers can view downtown Juneau, the Chilkat Mountains, Gastineau Channel, Douglas Island, and Admiralty Island.
The Goldbelt Tram provides more than just a scenic view once at the top, though. On top of the mountain are hiking trails, tourist shops, a Nature Center, and a restaurant. An accessible trail is available as well.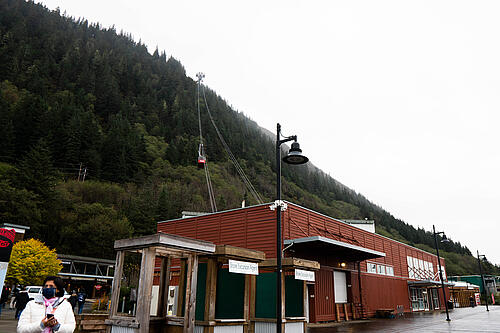 Ambitious hikers may want to hike the rest of the way up Mount Roberts via a trail near the top of the tram which leads to the peak.
The Goldbelt Tramway is located about a five minute walk from the ship in Juneau, making it a convenient activity for guests to enjoy. The tramway is $45 for adults, $30 for children ages 3-12, and free for children 2 and under. The price includes unlimited rides up and down Mount Roberts throughout the day. Tickets can be purchased in advance or at the ticket counter once in Juneau.
Red Dog Saloon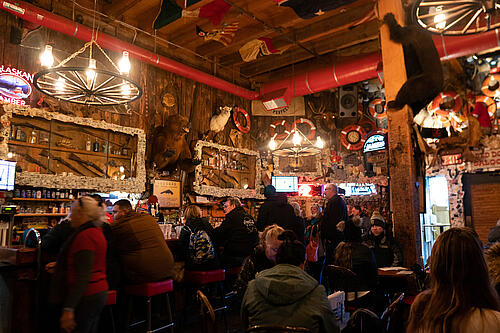 Established in Juneau's mining era, the Red Dog Saloon is an iconic place to grab a drink near the cruise port in Juneau. Filled with eclectic decor and memorabilia including a historic gun, paper currency from around the world, and a walrus oosik, the Red Dog Saloon is a fun place to hang out while in Juneau.
The menu at the Red Dog Saloon includes three signature drinks: the Duck Fart shot, Glacier Margarita, and Miners Scratch Hard Lemonade. In addition to signature drinks are beers, wine, liquors, cocktails, and nonalcoholic drinks. A food menu is available as well.
Hanging out at the Red Dog Saloon is great to do on days when the weather is particularly cold and rainy, or before you board the ship after a long day exploring Juneau.
Take a floatplane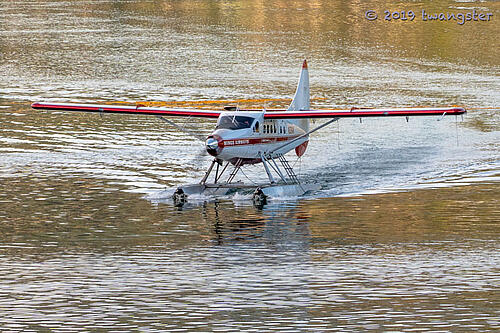 Taking a floatplane from Juneau while on a cruise can take you to destinations further away from the city less visited by tourists. They also give a completely different perspective of Alaska's scenery than what you can see from the cruise ship.
Some floatplane excursions take off in Juneau, fly around the area, and land back in Juneau. Others, such as the "Brown Bear and Wildlife Search by Floatplane" excursion, include a stop at a remote stream with high concentrations of brown bears. The plane lands near the stream, allowing guests to catch close-up glimpses of brown bears in their natural habitat before flying back to Juneau.
With aerial views of the Juneau icefield, glaciers, waterfalls, rainforests, and mountain peaks, flying on a floatplane is sure to be an unforgettable excursion.
Kayak near glaciers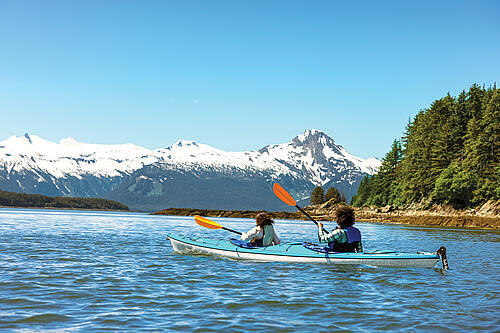 Juneau's nearby scenery provides some of the best kayaking experiences visitors can experience anywhere, and kayaking excursions are a popular choice for those looking to get active.
Popular kayak spots in Juneau include the Mendenhall wetlands and Smuggler's Cove. Guests hoping to get a closer look at Mendenhall Glacier will be in luck on a kayak, with some tours offering loops of Mendenhall Glacier Lake.
Kayaking can also get visitors closer to wildlife, offering the opportunity to spot whales, seals, salmon, otters, and more from the water.
Go hiking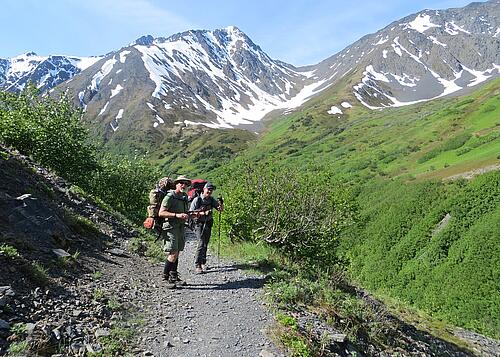 Outdoorsy cruisers will love the access to both beginner and challenging hiking trails near downtown Juneau. Aside from the excellent trails at the top of the Goldbelt Tramway and Mendenhall Glacier are other day hikes to consider.
One of these is Perseverance Trail, a 4.6 mile out and back through the forest, offering views of the valley and waterfalls along the way. The hike's trailhead can be accessed via a steep, 1 mile uphill walk or taxi.
Those looking for a shorter, more casual walk may be interested in the Gold Creek Flume Trail, a 1.4 mile out and back hike. Much of the trail is on a boardwalk and is suitable for beginners and kids while still offering wonderful views in all directions.
Learn about and experience dog sledding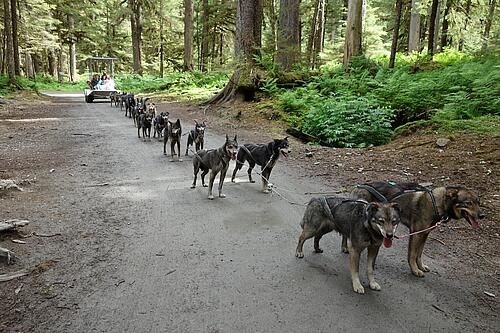 Dog sledding tours are a popular excursion choice for animal lovers in Juneau, offering the chance to learn more about dog mushing, Alaska's state sport.
It's estimated that dog mushing has been a reliable form of transportation in the Arctic for thousands of years, though the earliest archaeological evidence of dogsledding is dated around 1,000 A.D. Today the sport is popular throughout Alaska, with the state home to the famous Iditarod Trail Sled Dog Race, a long distance sled dog race traveling from Anchorage to Nome.
While dog mushing is traditionally a winter sport, there are still ways to experience it while on an Alaska cruise.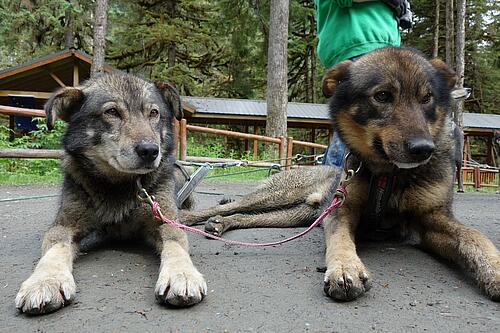 Some tours will begin with a helicopter tour over Juneau, landing on Mendenhall Glacier for a dog sledding ride on top of the glacier. Others will travel via shuttle bus to Juneau's Musher's Camp, where visitors can meet and cuddle with husky puppies before a mile-long ride through the forest.
The helicopter and dog sled combo tends to be on the higher end of excursion prices, whereas a visit to the Musher's Camp comes at a more reasonable price.
Read more about a sled dog excursion here.
Eat seafood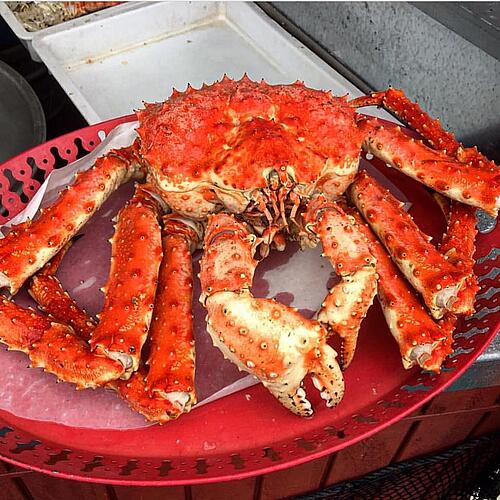 Photo credit: Tracy's King Crab Shack
While Royal Caribbean cruise ships offer fantastic dining options, don't forget to taste local cuisine while on an Alaska cruise, specifically Alaskan seafood.
The most popular restaurant for visitors to try is Tracy's King Crab Shack. Located right near the cruise port, Tracy's King Crab Shack, as the name implies, focuses on dishes made with king crab. From king crab legs to crab bisque and crab cakes, this is a go-to spot for many hoping to taste the freshest Alaskan seafood around.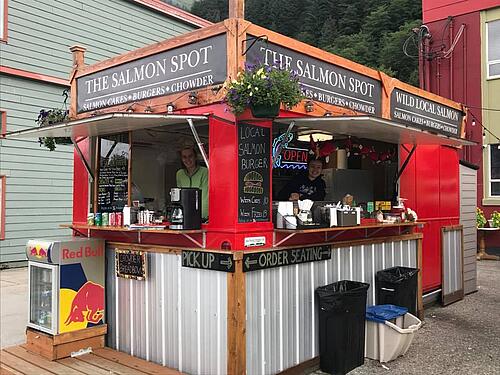 Photo credit: The Salmon Spot
If you're hoping to try salmon while in Juneau, look no further than The Salmon Spot. While it's easy to miss this small food stand at first glance, The Salmon Spot offers fresh salmon patties, salmon burgers, and salmon chowder. As a plus, it's conveniently located near the cruise port, making for a quick, delicious meal before heading on an excursion or back onboard.
Another option for tasting Alaskan salmon is through a salmon bake. Some excursions in Juneau may include an Alaskan salmon bake, where guests can dine on salmon, chicken, and side dishes in the rainforest.