In:
A whale watching tour is one of the most sought after shore excursions on an Alaska cruise, and for good reason. Viewing some of the largest mammals on earth in their natural habitat is breathtaking and one that will be a highlight for many on an Alaska cruise.
Deciding where to book a whale watching excursion, what to bring with you, and what to expect can be confusing, so here are a few tips and tricks to make your whale watching experience as unforgettable as possible.
Types of whales to see in Alaska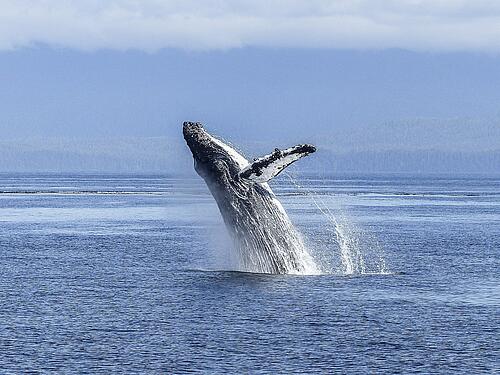 There are four main types of whales to see in Alaska: humpback whales, gray whales, killer whales (orcas), and beluga whales.
Humpback whales are the most common to spot on a whale watching excursion, and are most prevalent in June and July.
If you're traveling to Alaska in the early season, you may be able to spot gray whales as they migrate further north. Gray whales are most likely to be seen in late April to early May.
Killer whales, or orcas, can sometimes be spotted on a whale watching excursion as well. Orcas are quick moving animals, though, and have more unpredictable movement patterns than humpback whales, so they are less common to see.
Beluga whales are unlikely to be spotted on an Alaska cruise, as they spend their time further north in the Bering Sea and Arctic Ocean. Occasionally they may go as far south as Turnagain Arm near Anchorage, but it is highly unlikely you will spot a beluga whale on a typical southeast Alaska cruise itinerary.
Other whales, such as minke and fin whales, are present in Alaska although far less common to see on a whale watching excursion.
Best ports for viewing whales in Alaska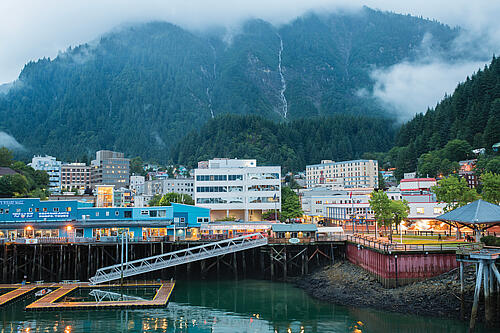 While it's possible to view whales in any Alaska cruise port, two of the most popular whale watching destinations are Juneau and Icy Strait Point. Both locations are home to feeding grounds for humpback whales, making sightings extremely common.
Juneau is the most popular whale watching port. Not only is it a more common port stop than Icy Strait Point, but it offers the biggest chance of spotting whales.
That being said, Juneau is a port offering an abundance of other activities to enjoy, from hiking at Mendenhall Glacier to the Goldbelt Tram Cable Car and drinking in saloons. Some guests opt not to book a whale watching tour in Juneau and instead book it in a port where there are less excursion and activity options.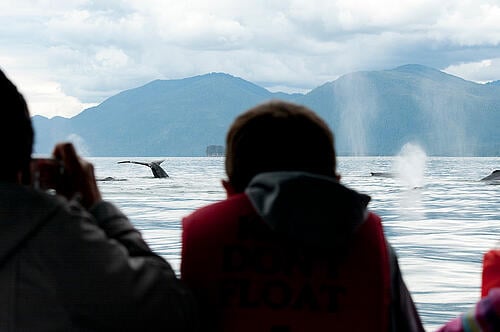 In Icy Strait Point there are fewer excursions to choose from, leading many to save whale watching for their day in this port instead.
Seward, Alaska is another recommended port for whale watching. If you are doing a one way cruise to or from Alaska, consider a whale watching tour in Seward before or after the cruise. This can be a good option for guests interested in other excursions while on the cruise but still wanting to book a whale watching tour before heading home.
Although not in Alaska, Victoria, British Columbia can be another excellent port for whale watching.
It's common for whale watching excursion providers to offer a guaranteed whale sighting. If you do not end up seeing a whale, they may offer you a partial cash refund. Be sure to read your tour operator's policies before booking to be aware of the details.
Whale watching in your cruise departure port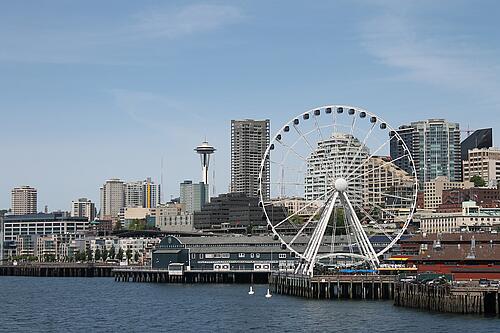 If you don't want to book a whale watching tour while in Alaska, consider booking one in your cruise departure port. Both Seattle and Vancouver offer whale watching opportunities, so this can be a nice way to add another day of excitement to your vacation before or after a cruise.
Plus, by booking a whale watching tour in your departure port, more time is opened up while in Alaska to book other types of shore excursions.
Viewing whales from the cruise ship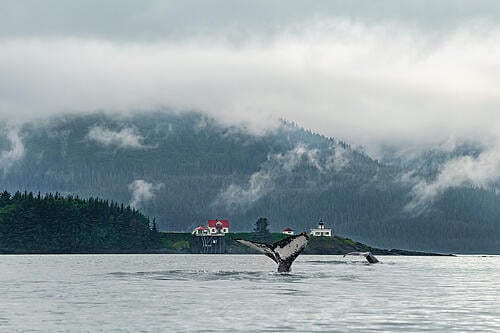 If a whale watching excursion is out of your budget, you are prone to seasickness on small vessels, or you prioritized other activities while in port, you may still be able to spot whales while on an Alaska cruise.
While the ship is sailing through the northern Pacific waters, whales can sometimes be spotted from the ship. This can happen in the open ocean on the way to or from Alaska, or while the ship is sailing through the Inside Passage.
When whales are spotted by the captain, an announcement will be made on the loudspeaker to let guests know there are whales near the ship. When this happens, expect a flood of guests quickly heading to the outside decks eager to catch a glimpse of whales.
The best spots onboard to watch whales from the ship are from a private balcony, Promenade deck, upper pool deck/running track, and outdoor area at the Windjammer.
Bring binoculars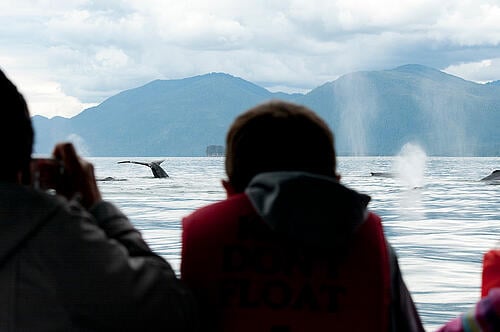 It's a good idea to bring binoculars on an Alaska cruise regardless of if you booked a whale watching tour or not. Alaska's scenery is so vast that sometimes a closer look through binoculars at mountains, glaciers, and wildlife is helpful.
The same is true on a whale watching excursion. Pack a pair of binoculars with you for your tour to ensure you can catch the best glimpse of whales if they happen to be far away. While a binocular is not necessary for every person in your travel party, having a pair to share with the group is recommended.
Get your camera ready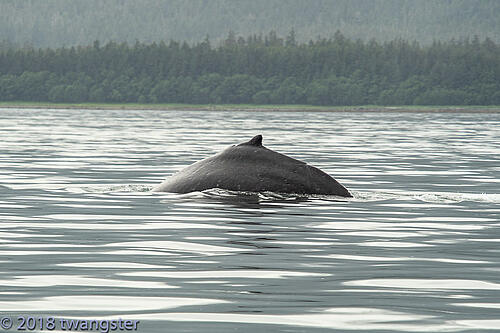 Make sure your camera and phone battery are fully charged before your whale watching excursion. Photography aficionados may want to bring a full camera setup with a telephoto lens to ensure they can capture the best pictures possible.
Whichever camera you bring, though, remember to spend some time away from the lens and view whales without the use of a screen or camera viewfinder. While capturing photos is something you may value, it's just as important to spend time during the excursion away from your electronics.
Seasickness medication or remedies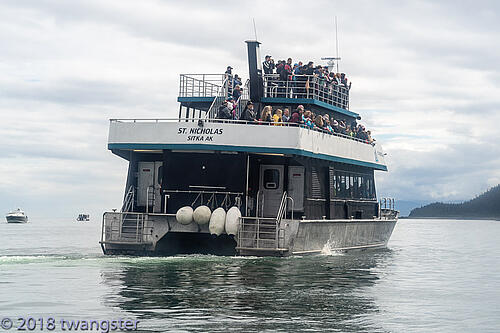 Whale watching boats are usually quite small and can encounter choppy waters. Even on the smoothest of days, the rocking of a small boat can make some passengers feel seasick.
If you are prone to seasickness, don't hesitate to pack seasickness remedies with you for your whale watching excursion, whether medication or natural remedies.
Whale watching excursions with other activities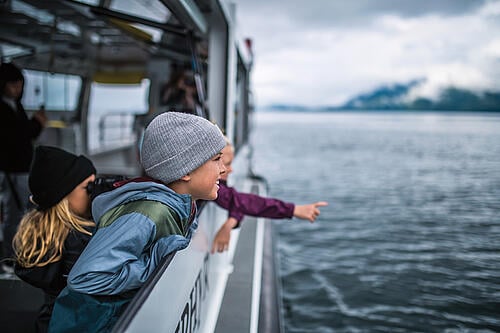 Some guests may want to go whale watching but combine the tour with other popular activities in port. This gives the opportunity to not only spot whales, but experience what else a port has to offer.
In Juneau, for example, you can book the "Mendenhall Glacier, Whale Watching, and Wildlife Quest" excursion which brings you on a whale watching tour followed by free time to explore Mendenhall Glacier. This can give guests the best of both worlds by experiencing two of Juneau's most popular attractions.
In addition, some excursions may not be listed as a 'whale watching excursion' but may offer the opportunity to spot whales. In Icy Strait Point, guests can book a kayaking excursion that brings them on a tour through the waters of Port Frederick. This is a route commonly followed by humpback or killer whales, so passengers will have a chance of spotting whales while on a kayak.
Planning a cruise to Alaska? Be sure to read more of our tips for an Alaska cruise: