In:
Going on an Alaska cruise is a bucket-list worthy vacation, but how much does it cost?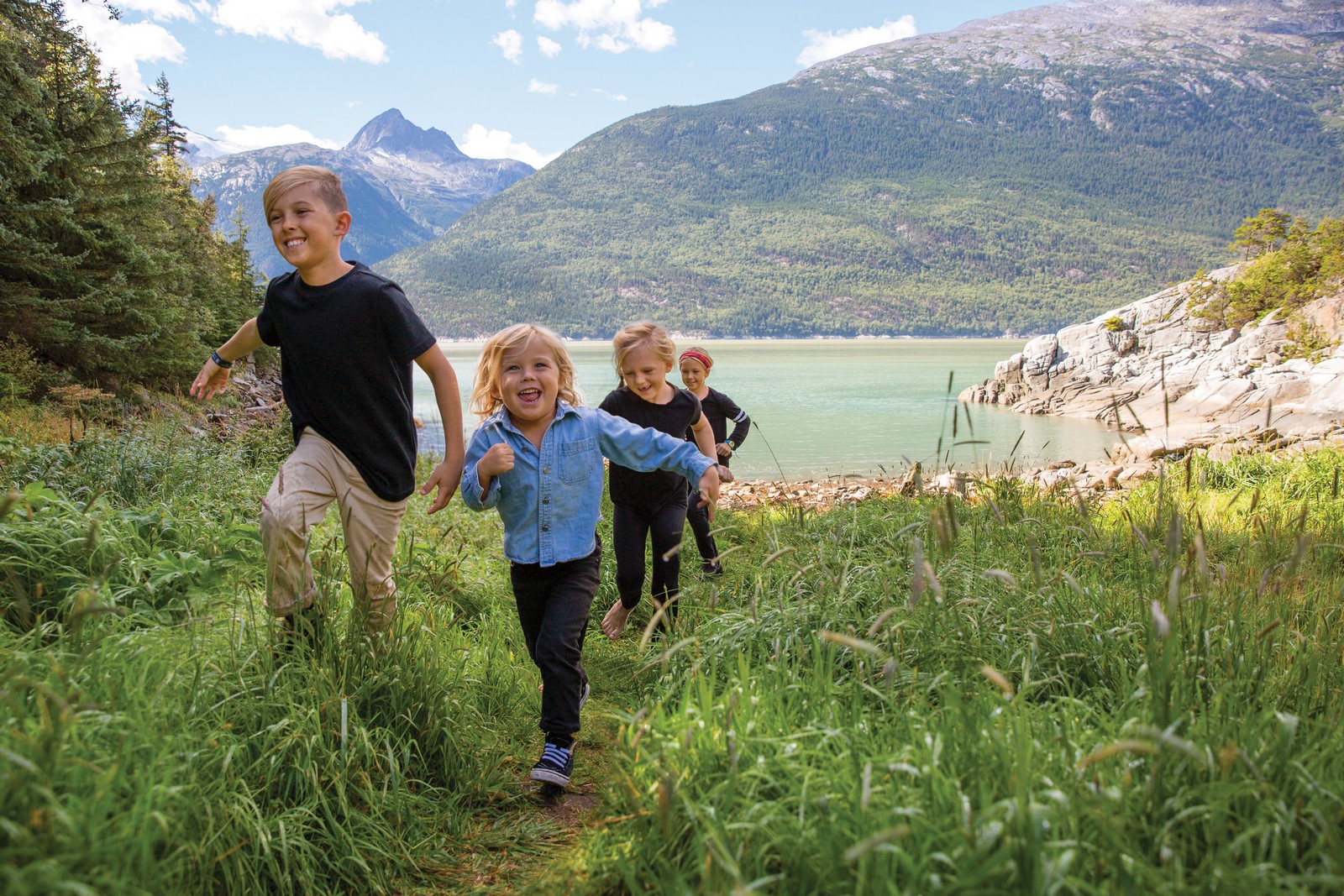 The price of an Alaska cruise can vary widely depending on the month you sail, stateroom you choose, and excursions you book.
Cruise fare prices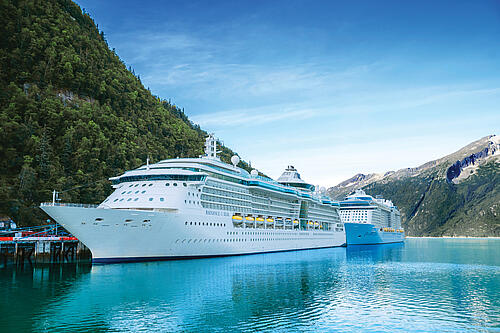 Cruise fares are dynamic, so that means how much a cruise costs could be slightly or significantly different from the price of a cruise to Alaska tomorrow. There are two main considerations when determining the price of a cruise: the month you sail and the type of stateroom you book.
The price of an Alaska cruise can vary greatly based on which month you sail.
The Alaska cruise season usually runs from May - September. The most popular times to cruise to Alaska are during the summer months of June, July, and August. Because of the higher demand at this time of year, cruise fares can be more expensive.
The shoulder seasons of May and September, on the other hand, can see less demand and therefore lower prices.
Stateroom selection can also have a huge impact on the price of an Alaska cruise. Interior, ocean view, balcony cabins, and suites all come with varying price points.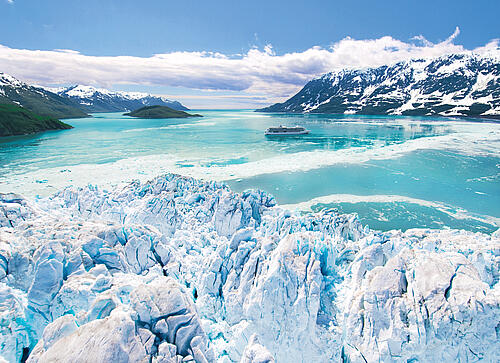 Different ships offer different stateroom availability as well. Some ships, like Quantum of the Seas and Ovation of the Seas, have more balcony staterooms available than smaller ships like Enchantment or Radiance of the Seas. Therefore you may find balcony staterooms more affordable on a Quantum-class ship than on smaller ships.
As an example, I priced out the different cruise fares available for two sailings: a 7-night Southbound Alaska & Hubbard Glacier cruise on Radiance of the Seas and a 7-night Alaska Dawes Glacier cruise on Ovation of the Seas.
The cruises I priced out were for 5 and 7 months in advance from the time of writing this article. The price reflects the total cruise fare for two guests as well as taxes and fees:
Radiance of the Seas: 7-night Southbound Alaska & Hubbard Glacier Cruise
July:
Interior: $1774.52
Ocean view: $2216.52
Balcony: $5779.52
September:
Interior: $1426.70
Ocean view: $1626.70
Balcony: $2910.70
Ovation of the Seas: 7-night Alaska Dawes Glacier Cruise
July:
Interior: $2185.14
Ocean view: $2445.14
Balcony: $3488.14
September:
Interior: $1775.50
Ocean view: $1935.50
Balcony: $2538.50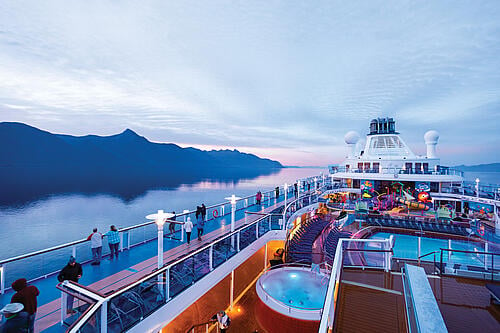 Unlike in destinations like the Caribbean and Europe, sailing on an older and smaller ship does not necessarily mean the cruise fare will be cheaper than a new ship. Because smaller ships can fit into more Alaska ports, demand for those ships are often higher than the larger ships.
We recommend booking a cruise as soon as you decide you would like to sail to Alaska. Waiting for a lower price usually does not pay off, as cruise fares tend to get higher closer to the sale date.
Plus, with Royal Caribbean's Cruise with Confidence policy, you are able to reprice your cruise as many times as you want up to 48 hours before your sail date. If you notice the price is lower, you will receive the fare difference in onboard credit.
Excursions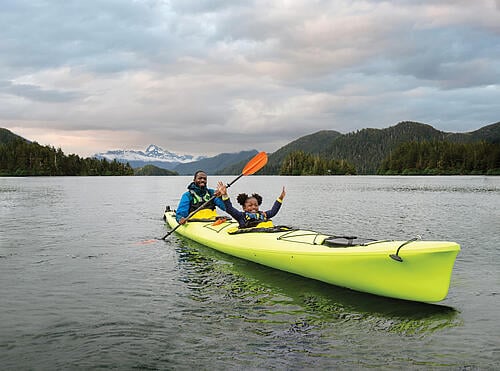 An Alaska cruise is itinerary-focused, meaning that you will want to plan your days in port to get the most out of your visit. Budgeting for excursions is important to ensure you will be able to do what interests you most.
Royal Caribbean offers both budget-friendly and more exclusive shore excursions. Here are a few examples of excursions and their prices on the day of writing this article:
Exclusive Alaskan Whale Discovery in Juneau: $169/adult, $99.75/child
White Pass Scenic Railway in Skagway: $95.99/person
Ketchikan Pub Crawl: $93.99/person
Wildlife Safari & Bear Viewing in Haines: $89/adult, $69/child
Haines Scenic Byway & Summit: $69/adult, $49/child
Chilkoot Trail Hiking and Rafting in Skagway: $129/adult, $79/child
Bike and Brew Glacier View in Juneau: $109/adult, $79.75/child
Exclusive Coastal Drive, Wildlife Cruise & Oyster Farm in Ketchikan: $188.99/person
Last Frontier Food Tour in Tracy Arm Fjord: $121.99/person
Wildlife Quest Cruise & Fin Island Lodge in Sitka: $214.99/adult, $158.99/child
Best of Sitka: $99/adult, $79/child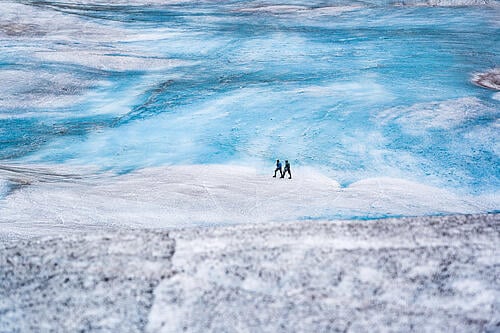 There are also some higher-end excursions which can offer a truly unique opportunity to view Alaska's scenery from a different perspective.
The "Mendenhall Glacier by Helicopter and Guided Walk" excursion brings guests on a helicopter ride above the Tongass National Forest before landing on Mendenhall Glacier. Following the landing, guests will put on glacier boots for a guided walk around the ice. The cost for this excursion is $339/person.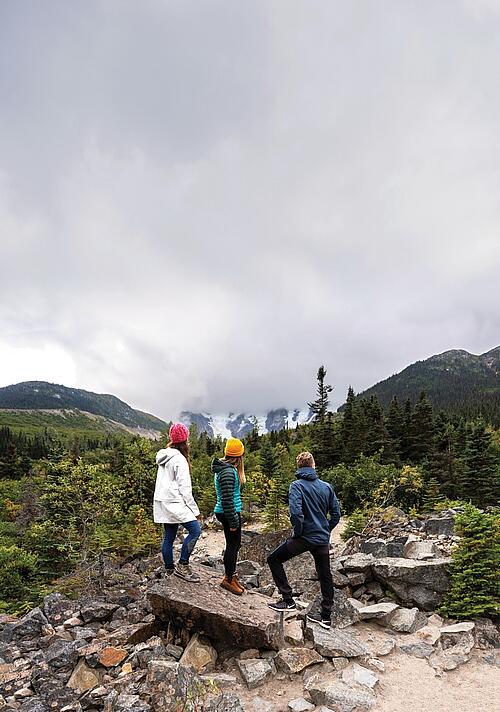 Those looking for a more comfortable whale watching experience may be interested in the "Luxury Whale Watching" excursion in Icy Point Straight. In this excursion, guests will set sail on a yacht while enjoying sparkling wine and looking for humpback whales and orcas. The cost for this excursion is $399/person.
Whatever your budget, you will likely be able to find a shore excursion that works well for you. You may also wish to search for excursions through outside providers or explore on your own.
Exploring on your own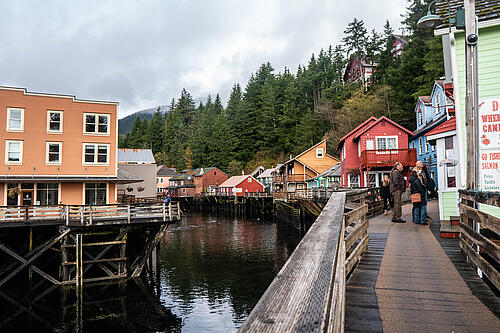 If you don't plan on booking excursions, you may choose to explore Alaska's ports on your own. Most Alaska cruise ports are just a short walk from the main area of town, where you will find restaurants, saloons, historical districts, museums, and nature to enjoy.
You can also visit popular destinations within the ports on your own as opposed to booking an excursion. As an example, instead of purchasing an $80 excursion to Mendenhall Glacier in Juneau, opt to take the express bus. Located just outside the pier in Juneau is a stand that sells roundtrip tickets to the Mendenhall Glacier Recreation area. The total cost for the roundtrip bus ticket was $45 as of 2021 and included the entrance fee into the park.
Cruise Tour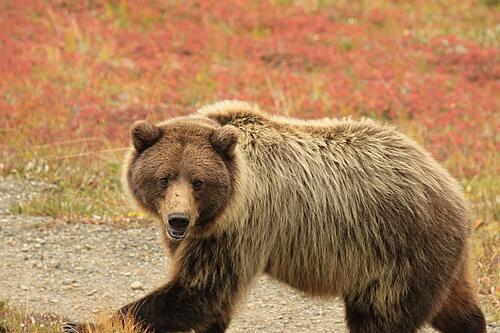 Royal Caribbean also offers land-based Cruise Tours before or after an Alaska cruise. These are 3-6 day land tours in either Alaska or Canada that bring guests to destinations inaccessible by cruise ship.
Prices for a Cruise Tour vary depending on how many days the tour runs and the tour's location.
Those looking to visit Denali can book the "Destination Denali" Cruise Tour which includes a 7-night sailing on Radiance of the Seas followed by a 3-night land tour exploring Seward, Anchorage, and Denali National Park and Reserve. The total cost of the cruise and land tour begins at $1410 per person for an interior cabin.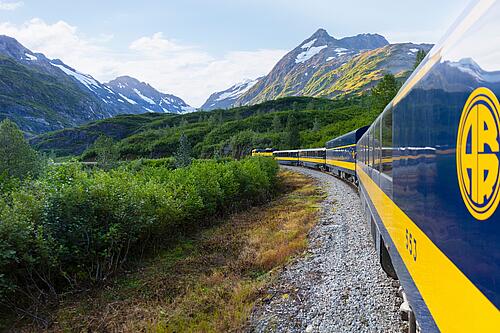 A more in-depth Cruise Tour is the "Fjords and Tundra National Parks Explorer". This tour combines a 7-night sailing on Radiance of the Seas followed by a 4-night land-tour that visits Seward, Anchorage, Denali National Park and Reserve, and Fairbanks. The price for this Cruise Tour begins at $2300 per person for an interior cabin.
The Mountain Resort Experience Cruisetour is the most expensive option available, with prices for a 7-night cruise and 6-night land tour beginning at $4,200 per person for an interior cabin. This tour begins with a visit to popular Alaska destinations such as Sitka, Juneau, Skagway, Haines, and Tracy Arm Fjord before beginning the Cruise Tour, which visits Jasper, Banff, and Calgary, Canada.
The total cost of my Alaska cruise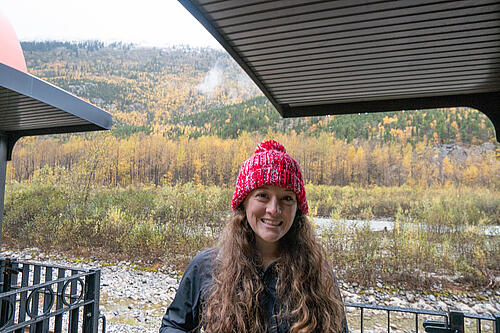 How do all of these pricing options play out when pricing out your Alaska cruise? To put these samples into perspective, I broke down the expenses I encountered on my recent 7-night Alaska cruise on Ovation of the Seas.
Cruise fare & Gratuities: $727.88
To make up for lost revenue from the Covid pandemic, Royal Caribbean's Alaska cruise season ran into October in 2021. When I sailed to Alaska on the last cruise of the season, I was able to find a fantastic deal. My 7-night cruise fare with gratuites added on Ovation of the Seas was only $727.88 total for 1 person in an interior virtual balcony room.
While this price could be seen on another sailing, the extremely low cruise fare combined with the fact that there was no single-supplement fee made it a deal you don't come across very often.
Excursions: $200.98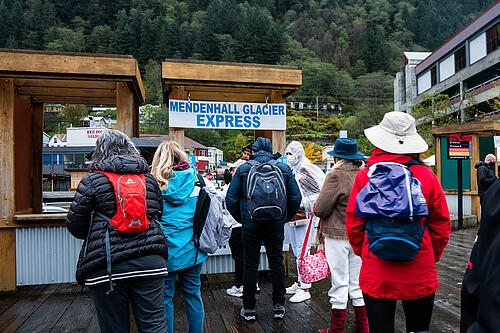 On my Alaska cruise I was able to find shore excursion opportunities that fit my budget while still providing wonderful insights into Alaska's culture, history, and nature.
In Ketchikan I split my time between a Royal Caribbean excursion and exploring the town on my own. I booked the Saxman Native Totem Village excursion for $59.99, which took me on a bus ride to the village of Saxman for a few hours of cultural insight into the native Tlingit people. The rest of the day was spent walking around Ketchikan with no expense other than lunch and souvenirs.
In Juneau we opted to take the $45 Mendenhall Glacier Shuttle Bus that leaves from the cruise port to Mendenhall Glacier and back throughout the day.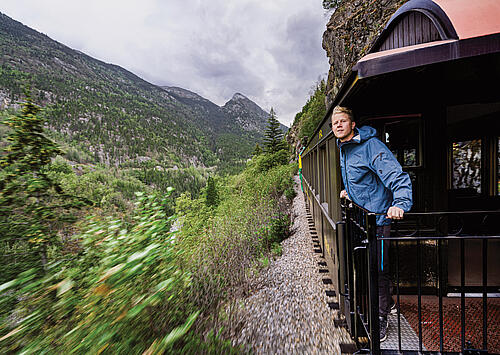 Skagway was the most expensive excursion of the three ports with a ticket on the White Pass & Yukon Railway for $95.99. The ride was definitely worth the cost in my opinion, as it brings passengers on a ride through Skagway's majestic mountain scenery.
Additional onboard and in-port expenses: around $200
As with any cruise vacation, I incurred extra expenses onboard Ovation of the Seas and when walking around ports. I estimate that I spent around $200 extra on drinks, food, and souvenirs.
Approximate total cost of my Alaska cruise: $1128.86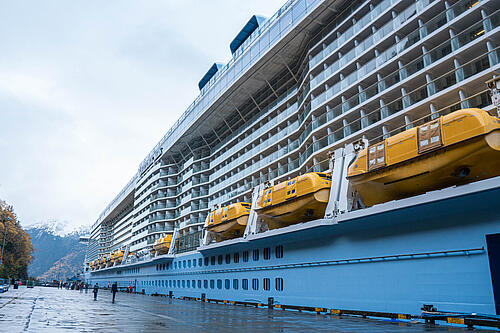 My Alaska cruise was significantly cheaper than most passengers will encounter due to the fact that it was at the very end of the season and that I was traveling solo. However, even if my cruise fare had been a more "normal" price, such as around $1500, my cruise still would have been relatively budget friendly.
I found it easy to pick excursions for my budget, and since most food and expenses are complementary while onboard, a cruise can be a nice way to visit Alaska without incurring as many expenses as you might on a land-based vacation.
The total cost of an Alaska cruise will vary widely based on the month you sail, stateroom you book, and excursions you reserve while in port, but there are options to fit any vacation budget.
Planning an Alaska cruise? Check out these articles: