In:
If there is a cruise destination worthy of anyone's bucket list, it has to be Alaska. Royal Caribbean is one of the biggest cruise operators that offers regular service to Alaska and it is one of the top destinations in cruising today.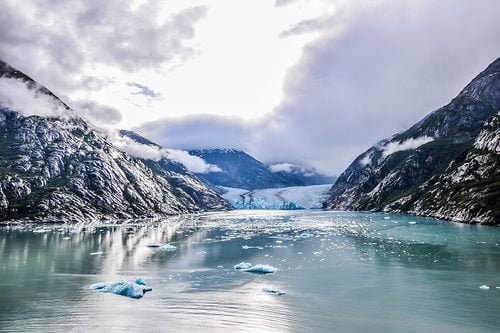 Here are the fundamentals of planning a cruise to Alaska to kickstart your approach and ensure a great trip to the last—and vast—great frontier.
Invest in clothing essentials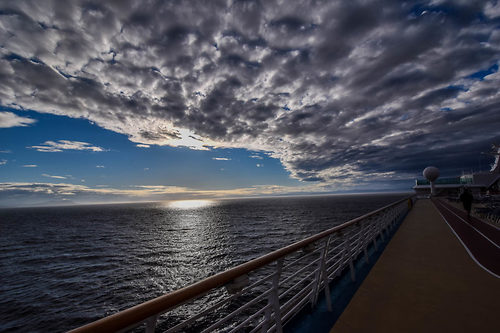 Even though your Royal Caribbean cruise will take you to Alaska during the warmer months of the year, it can get downright cold (and wet) during your Alaska cruise.
Given its northerly position and varied geography—from mountains and oceans to glaciers and tundra—you can experience several microclimates in a short amount of time, which can mean extreme temperatures in one place, and mild conditions in the next.
There are plenty of great packing choices to consider, but here are the top things to have before heading to Alaska:
All-weather jacket
Convertible pants
Closed-Toe, Comfortable Shoes
Lightweight knit hat, gloves and scarf.
Pro tip: If buying an all-new wardrobe sounds expensive, consider buying clothes on eBay.  A quality jacket is an especially costly item, but buying a gently used one from eBay can save lots, especially for kids.
Pick the right cabin (without overpaying)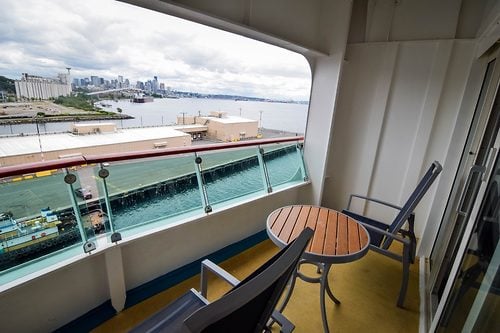 One of the lessons we learned from our first Royal Caribbean cruise to Alaska was that while a balcony cabin is nice to have, it is not nearly as essential as others lead us to believe.
If a balcony stateroom is in your budget, then definitely book one and enjoy the opportunity to have a private area to enjoy the natural beauty of Alaska anytime you see fit.  There is no denying having that easy access and private space, especially when near a glacier is a lovely perk.
However, you can still have an amazing Alaska cruise by depending on public areas to enjoy the view.  Royal Caribbean's ships feature ample deck space to enjoy the view, any time of the day.  Even when near a glacier, you ought to find great viewing opportunities.  Moreover, the price of a balcony room may be so much more expensive from a interior room, that we think it is a better investment to book the cheaper room and use the money saved to invest in an amazing shore excursion.
The bottom line is consider all room categories, but do not assume you have to get a balcony room.
Pro tip: If possible, book your stateroom as early as you can.  Prices for Alaska cruises tend to only go up over time, so book early.
Book your excursions in advance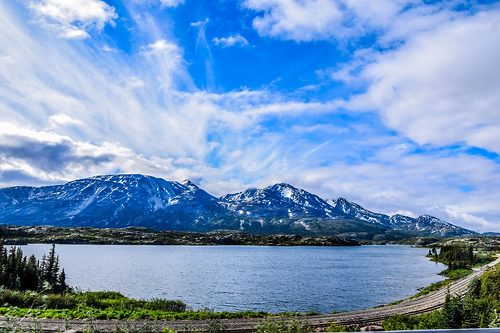 An Alaska cruise places extra emphasis on the importance of your shore excursions.  Traveling to Alaska means getting out there and experiencing the natural wonders on foot!
Unlike Caribbean cruises where you can largely "wing it" when it comes to making on shore plans, you definitely want to research and plan your shore excursions ahead of time.  There are a ton of excursion choices, both from Royal Caribbean and third-party providers, so you will need time to consider each one and read about what others have done.
Be aware that some excursions can, and do, fill up. So if there are any that you know you definitely want to do, be sure to sign up in advance online.
Pro tip: You can get first-hand shore excursion reviews and recommendations from other blog readers in our Shore Excursions message board.
Research local food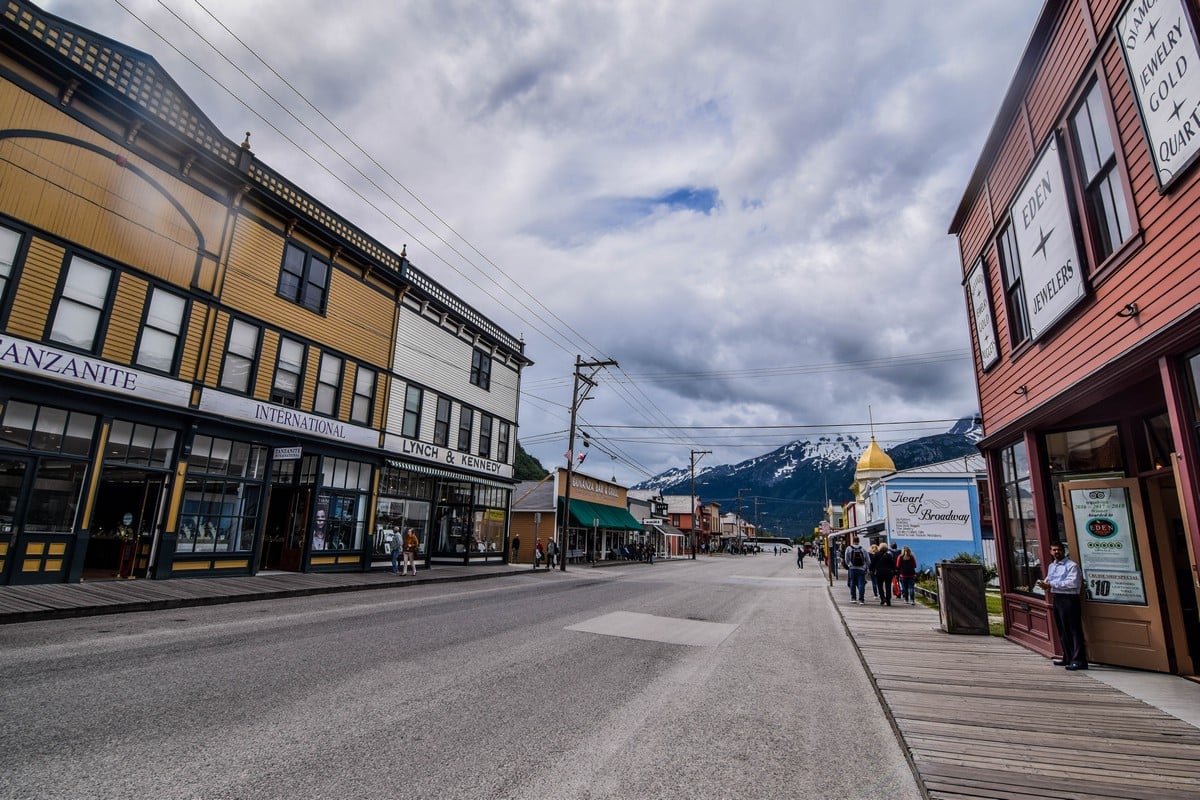 One big mistake we made on our Alaska cruise was not taking the time to research where to eat in the various ports you visit. Alaska has some amazing local cuisine, but there are a lot of pretenders alongside the great stuff.
Each port you visit will take you to some terrific spots to eat, so don't rely purely on your Yelp app once in town.  Figure out the restaurants and bars you want to go to before you leave home, especially if you are interested in enjoying the best crab, salmon and beers of Alaska.
Try not to worry about the weather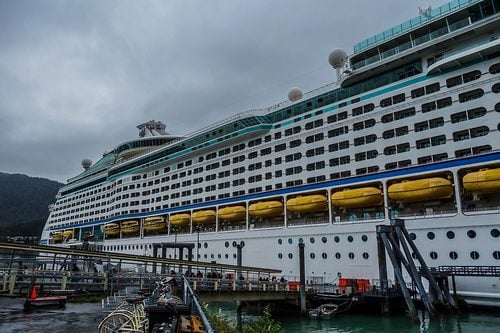 News flash: it will rain while you are in Alaska, but it is also not the end of the world.
Weather forecasts do not always match you will experience. Be prepared for changing weather daily. Be prepared with varying clothing options (i.e. wear layers).  And when it does rain, just give it a few minutes, it generally does not last long. Take it all in. And remember, many excursions go rain or shine!
Pro tip: Despite the rain, do not pack an umbrella. Instead, make sure there's a hood on your all-weather jacket. And it is worth noting that a hood takes up far less space than an umbrella, leaving more room for your gear and adventure essentials.
Bring binoculars
Alaska is all about what you see around you, and often the very best of Alaska's natural beauty and wildlife is best seen through a pair of binoculars.
You do not need to go crazy with the fanciest binocular on the market, but being able to zoom in on a bald eagle resting, or sea lions swimming is worth every penny of a binocular.
Fly into your departure port a day early
This tip can be applied to any cruise vacation, but flying into your departure port (Seattle or Vancouver) at least one day early is a really, really good idea.
If you are flying in from somewhere east, you will have to contend with a long flight and a different time zone.  Getting in a day early allows you to rest up before a busy first day on your cruise, along with more time to adjust the time zone change.
Pro tip: Speaking of your embarkation port, pick a hotel nearby the many local attractions so you can explore these exciting and beautiful cities.
Take advantage of port lectures
Royal Caribbean offers complimentary lectures presented by higher education staff on the history and culture of the ports your cruise will visit.
It is easy to overlook these type of offerings with so many other activities and things to do onboard your Royal Caribbean cruise but do yourself a favor and check these out. The lectures provided onboard offer important context for the adventures you will take on shore later in your visit.
These lectures may not offer money saving tips or pitfalls to avoid, but they do offer the kind of insider look at these ports that I think helps improve your appreciation of each city when you go to visit them later.
Alaska cruises are not like Caribbean cruises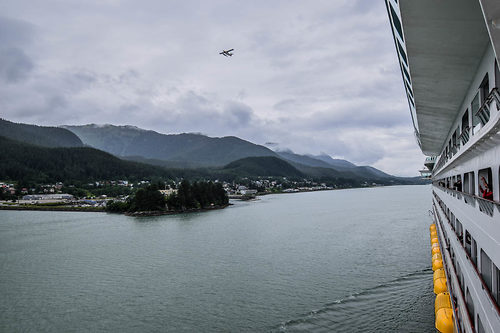 If you are used to cruising in the Caribbean, going to Alaska is going to surprise you in some ways with the different approach and experience it offers.
Cruising to Alaska is a port intensive itinerary with shore excursions that cost significantly more money and far fewer party events.  Unlike the Caribbean where the places you visit can sometimes be secondary, an Alaska cruise is all about where you visit and the onboard experience can almost become an afterthought. 
Pro tip: Always walk off the ship when in any port you visit. Even if you have nothing booked, be sure to get off the ship at every port. Sometimes the piers are a little longer in Alaska but the port towns are pretty small and easily walkable making them nice for self-guided tours. 
Consider a cruisetour
In addition to the cruises, Royal Caribbean offers expanded journeys into Alaska with its cruisetour program.
A Royal Caribbean cruise tour will take you to even more incredible destinations that no cruise ship can visit. From the coastline to the heart of the frontier, a Royal Caribbean Alaska Cruisetour land and sea package delivers all the must-see sights by ship, train, and multi-night land tour. 
Either before or after your Royal Caribbean cruise, you can book a cruise tour that combines a cruise and a land tour, which usually runs three to seven nights. Popular destinations include Denali National Park (for wildlife viewing), Talkeetna (best place for Denali views) and Fairbanks (Alaska pipeline). 
Every Royal Caribbean Alaska Cruisetour includes knowledgeable Adventure Specialists who act as guides, historians and concierges. They are by your side for the entirety of the land tour, providing insider tips and local perspective.
Your thoughts
What are your top Alaska cruise tips? Share them or any questions you have about these tips in the comments!