In:
The small town of Skagway is a popular port on an Alaska cruise. Despite the town's small size and population of just 1,240 people, Skagway boasts some of the most adventurous activities available on an Alaska cruise.
From a journey into Canada's Yukon territory to rafting the Taiya river and exploring nearby destinations via scooter, cruisers are sure to find interesting activities to do while in Skagway.
If you have an Alaska cruise booked that visits Skagway, here are 10 ideas for what to do with your day there in order to get the best out of this small, scenic town.
White Pass & Yukon Railroad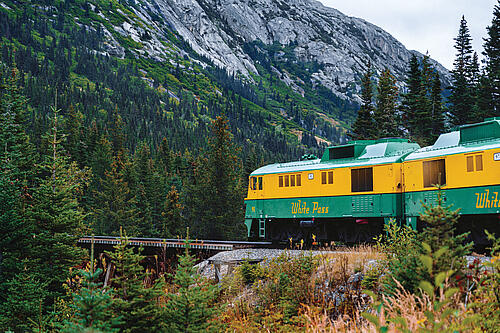 Perhaps the most popular activity to do in Skagway is book a ticket on the White Pass & Yukon Railroad. There are a few options for taking a train ride in Skagway, with roundtrip train rides between 2-8 hours.
The most common train ride to book is the journey on the White Pass Railroad, which takes passengers north of Skagway in the direction of Canada's Yukon Territory. Booking the train all the way to the White Pass Summit is recommended for maximum scenery viewing opportunities. 
During the train ride, a local guide tells stories of frontier Alaska, Skagway's gold rush history, and what life is like in Skagway today. The train cars are heated and offer large windows as well as outdoor observation areas.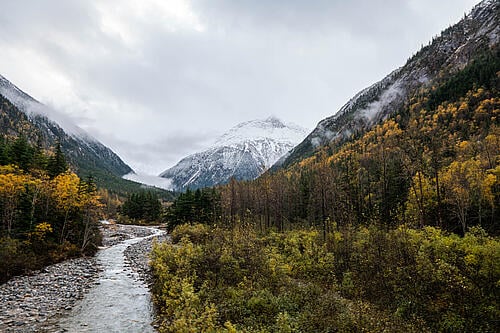 Don't worry about picking the best side of the train once you get onboard. Once the train reaches the top and turns around, passengers will switch seats to ensure everyone gets to see the best views of the scenery from out the window. That being said, if you want the most dramatic views on the way up, the left side of the train would be better.
While it is possible to purchase a train ticket via the White Pass & Yukon Railroad's website, it is recommended to book directly through Royal Caribbean as this allows you to board the train right near where your cruise ship docks.
Read more about taking the White Pass & Yukon Railroad here.
Visit the Yukon Territory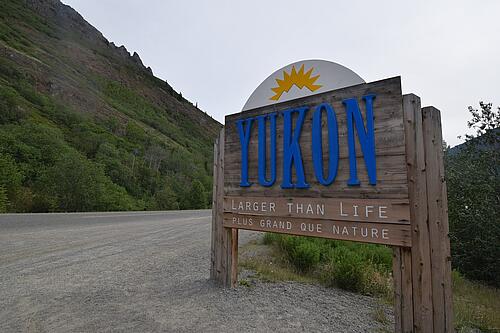 Skagway is the closest Alaska cruise port to Canada, with the border between Alaska and Canada's Yukon territory just 14 miles away. Because the Yukon territory is so remote, those looking to visit this part of Canada may want to take advantage of the opportunity to do so while in Skagway.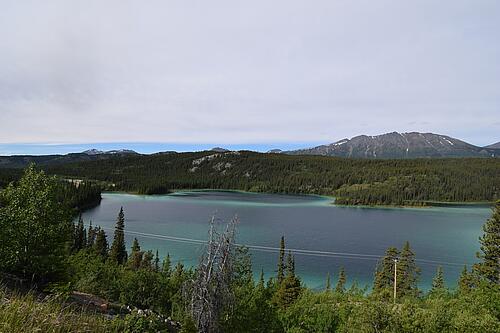 You can visit the Yukon territory through a guided tour that brings you through stunning wilderness, turquoise blue mountain lakes, and a visit to the tiny town of Carcross across the border. Alternatively, you can opt to rent a car in Skagway and explore on your own.
As a plus, by visiting the Yukon, guests will have the opportunity to take a picture with the iconic "Welcome to Alaska ' sign found at the Canada-United States border.
Read more about visiting Yukon from Skagway here.
Rent a scooter or motorcycle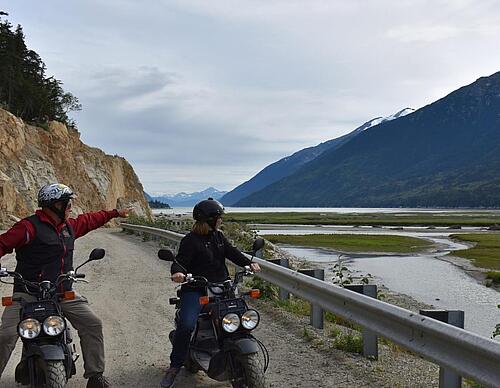 Photo credit: Skagway Scooters
If you're looking for a thrilling adventure, consider renting a scooter or motorcycle in Skagway to explore as much as possible in just one day.
Skagway Scooters offers hourly scooter and motorcycle rentals to cruise ship passengers. Renting a scooter, unlike a motorcycle, is possible with a regular driver's license.
The benefits of exploring Skagway via scooter are that you can explore the town and surrounding areas at your own pace and have complete control over where you go during the day.
A popular route to take on a scooter is to leave the town of Skagway and continue along the waterfront Taiya inlet via Dyea road. Another option is to follow the Klondike Highway north out of town and through the mountains. Whichever route you take, spectacular views will certainly be in abundance.
Skagway Scooters provides a map along with a free lesson prior to your ride in order to ensure all visitors feel comfortable on their scooter before leaving.
Ziplining at Grizzly Falls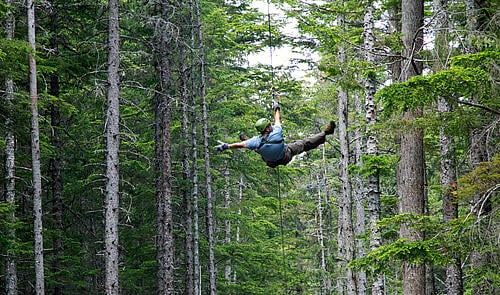 Passengers traveling with kids or simply looking for something different may be interested in a zip lining excursion at Grizzly Falls.
Excursions to Grizzly Falls meet at the cruise dock before a scenic drive to Dyea, Alaska. Upon arrival in Dyea, guests will transfer to an all-wheel drive vehicle, ascending a rugged mountain road with views of the rainforest and waterfalls.
After a safety instruction at the top of the mountain, guests will be attached to the zipline and fly through Alaska's scenery and waterfalls on 10 zip line courses. A series of suspension bridges are also available for guests to take photos and spend more time enjoying the views around them.
Float the Taiya River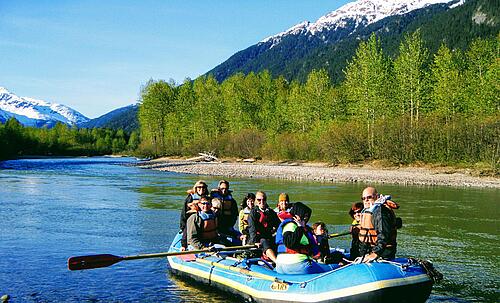 Photo credit: Shore Excursions Group
Just west of Skagway is the Taiya River, where rafting and float excursions can be found.
Most float tours are relaxed, with a guide paddling down the river and passengers enjoying the scenic views around Skagway. The guide points out wildlife and native plants throughout the tour along with telling stories of the region's history.
Some rafting tours are paired with a short hike on the Chilkoot trail, allowing for both an active and tranquil excursion.
Walking tour of Skagway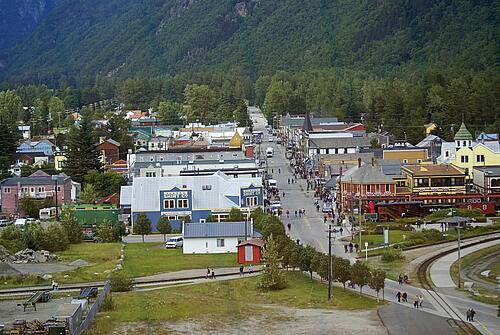 While the mountains and scenery around Skagway are massive, the town is quite small, making it easy to explore it all in one day. Those without an excursion planned or who have free time to spare after a tour may choose to wander around the historic streets of Skagway.
Visitors to Skagway can explore the town without a plan or use a self-guided walking tour.
Alaska.org has a free, interactive walking tour map available on their website that makes exploring Skagway a breeze. With 23 separate places listed, the map provides details on each of the major sites to see in town.
Food and drinks in Skagway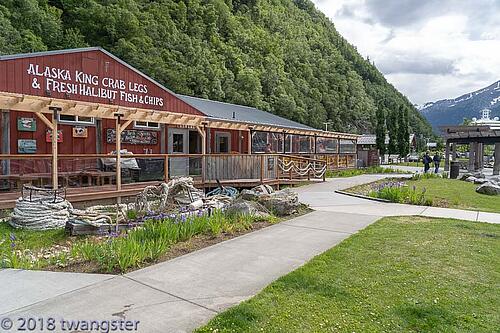 We recommend booking shore excursions in the morning on an Alaska cruise to allow for free time exploring, eating, and drinking in Alaska's ports during the afternoon.
One of the best ways to wind down after a busy day in Skagway is to enjoy the town's restaurants, pubs, and coffee shops.
Skagway Brewing Company, a three story building with a 1,500 square foot beer garden, tasting room, gift shop, and restaurant, is a great place to do this. The brewery's signature beer is the Spruce Tip Blonde Ale, made from young spruce tips hand-picked during Alaska's spring season.
The on-site restaurant has an extensive menu of fresh Alaskan seafood, classic American sandwiches, burgers, and pastas.
If you're looking for a restaurant specializing in seafood, be sure to check out the Skagway Fish Company. Their signature dish is the Jumbo Alaskan King Crab Leg. Halibut, shrimp, oysters, crab cakes, salmon burgers, fried chicken, and steak are available as well.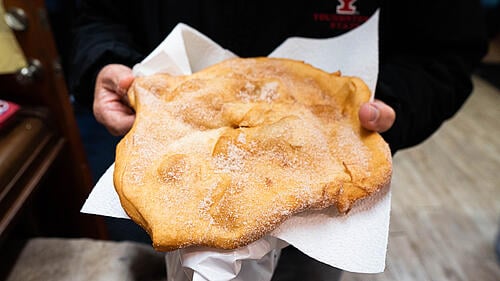 Those with a sweet tooth are in luck on a visit to Skagway, too. From homemade fudge at the Alaskan Fudge Company to Alaskan fry bread at Klondike Doughboy, there's sure to be a dessert to try as you walk around town.
Go on a day hike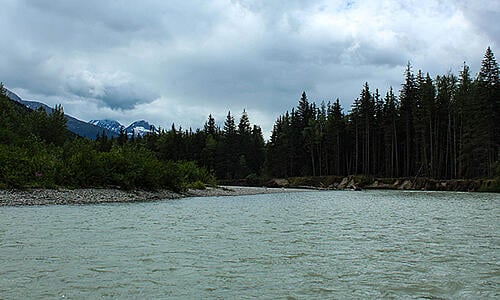 Skagway is surrounded by hiking trails, making the town's surrounding area a dream destination for outdoor enthusiasts.
The most well known hiking trail in Skagway is also the most historic, the Chilkoot Trail. This is a 33-mile path that was an expedition route during Alaska's gold rush era, in which thousands of people crossed from coastal Alaska into interior Canada. The route was originally followed by the native Tlinget people in the area, who showed the route to gold prospectors in the late 1800s.
While cruise ship passengers do not have time to do the entire trail in one day, of course, shorter day hikes of the Chilkoot trail can be a fun active, adventure that provides a historical perspective as well.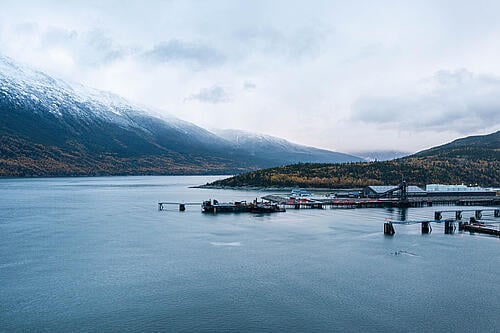 Beyond the Chilkoot trail are several other day hikes located near the center of Skagway.
The Lower Reid Falls and Gold Rush Cemetery hike is a beginner-friendly trail that takes visitors to the Lower Reid Falls waterfall just outside of Skagway. The hike is approximately four miles roundtrip and leaves from downtown Skagway, making it an easily accessible trail that should take around one hour each way.
If you're looking for something a bit more strenuous, try the trail to Lower Dewey Lake. The trailhead starts just to the east of downtown Skagway and begins with a steep, 500 ft. elevation gain ending at Lower Dewey Lake. Spectacular mountain and water views surround the trail as you loop the lake for the next 3.6 miles.
Helicopter and glacier tour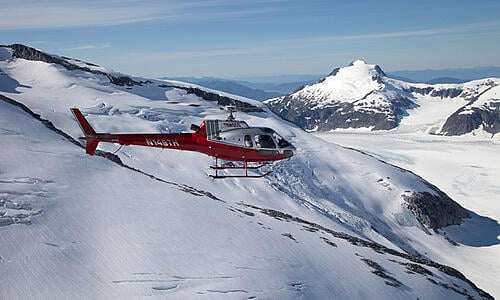 While helicopter tours to Mendenhall Glacier are popular in Juneau, cruising to Skagway also brings the opportunity to see Alaska's scenery from above.
Helicopter tours leaving from Skagway generally visit either Chilkat Glacier or Denver Glacier. Prior to landing on the glacier is a scenic tour during which visitors can admire Skagway's spectacular scenery, whether the rainforests, waterfalls, or snowy mountain peaks. Upon landing on the glacier, most tours will either include a guided glacier hike or dog sledding expedition.
While helicopter tours are not the most budget friendly shore excursion in Alaska, they offer a way to see the state's scenery from a completely different perspective and are sure to make for a memorable experience in port.
Visit Davidson Glacier via wilderness safari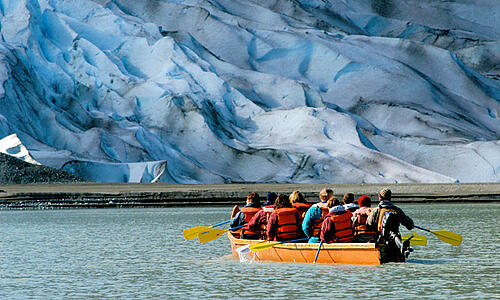 The "Glacier Point Wilderness Safari" excursion takes guests on a journey to Davidson Glacier, located southeast of Skagway. This excursion can be a great tour option for those who would love to get up close and personal to a glacier without going on a helicopter.
To arrive at Davidson Glacier, guests take a catamaran through the Lynn Canal. It's possible whales will be spotted during the boat ride and a naturalist will be onboard with the group to share information about the area's wildlife and nature.
Once guests have reached the glacier, they will board a 31-foot voyager canoe to get up close and personal with the glacier.