In:
One of the first decisions you'll make when planning an Alaska cruise is selecting a cruise ship cabin. Everything from tiny studio rooms to two-story suites are available to book, but it can be challenging to find the best cabin for your Royal Caribbean cruise to Alaska.
Let's take a look at the best cruise cabins for an Alaska cruise to fit any budget, travel party, and vacation style. Knowing which cabins are available–and at what price–will help you determine which cabin will suit your vacation best.
Best cabin for a budget traveler: Interior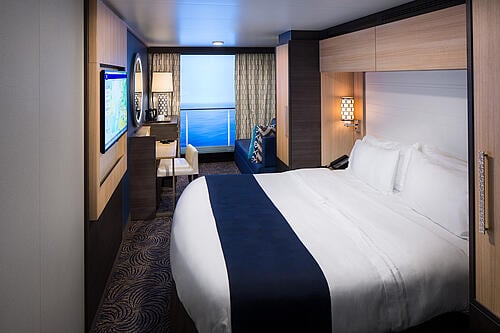 Cruising to Alaska on a budget? An interior cabin may be your best bet. While some cruisers may swear by a balcony cabin on an Alaska cruise, an interior cabin will give you the most bang for your buck.
Interior cabins have no window or balcony, and they're often smaller than most other cruise ship cabins. These cabins are usually several hundred dollars cheaper than balcony rooms, making them an excellent value on a cruise to Alaska.
Pros of an interior cabin on an Alaska cruise
Many passengers who book inside cabins do so because they don't plan on spending much time in their cabin. With so many activities and entertainment options around the ship, it's possible that you'll only visit your cabin to sleep, shower, and change.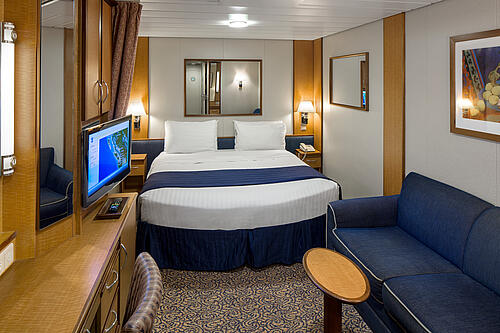 Therefore, saving money on cruise fare allows for more wiggle room in your budget to spend on extras like shore excursions, dining packages, and other pre-cruise add-ons.
Related: I tried the best inside cruise ship cabin hacks to see how well they worked
Many of Alaska's excursions are truly once-in-a-lifetime experiences, whether a helicopter ride to a glacier or traveling on the famous White Pass & Yukon Railway in Skagway. These excursions can cost hundreds of dollars, so you may want to put your vacation budget toward these experiences instead of an upgraded cabin.
One other plus of cruising in an interior cabin is that you'll find it easier to fall asleep. You may experience 18 or more hours of daylight in Alaska during the summer months. Trying to keep to a normal sleep schedule when it's still light outside at 10 PM can be difficult, but you won't have to worry about this in a pitch-black interior cabin!
Cons of an interior cabin on an Alaska cruise
The biggest drawback of cruising to Alaska in an inside cabin is that you won't have views of Alaska's scenery out the window or balcony.
It's worth noting, though, that even though interior cabins don't provide private views of Alaska's scenery, you'll often find better views from other areas of the ship than you would from a balcony.
Related: Ultimate Alaska cruise guide
Most balconies only face one side, meaning you're often seeing only half of the scenery as you sail through the Inside Passage. When you cruise to Alaska in an interior cabin, you tend to spend more time watching scenery from the pool deck and other more panoramic venues onboard.
Another con is that interior cabins can be much smaller than balcony rooms. Some interior cabins, for example, only have a small chair instead of a couch, and there is little walking room.
Spacious ocean view, balcony cabins, and suites can provide much more living space, which is especially helpful when traveling with kids or a larger group.
Virtual Balcony cabins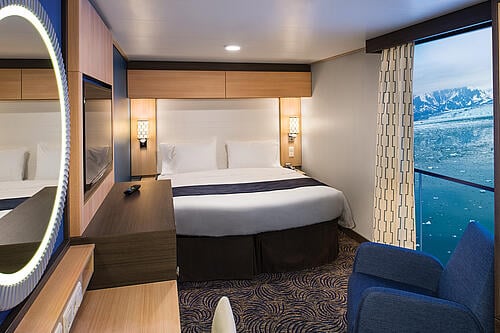 If you're cruising on either Quantum of the Seas or Ovation of the Seas to Alaska, all interior cabins feature a "virtual balcony". These virtual balcony cabins have a floor-to-ceiling television screen projecting a real-time view from outside the ship.
Virtual balconies are a nice benefit for those who want to save money by sailing in an interior cabin but still want to know what the scenery looks like outside. 
Best cabin for families: 2 connecting rooms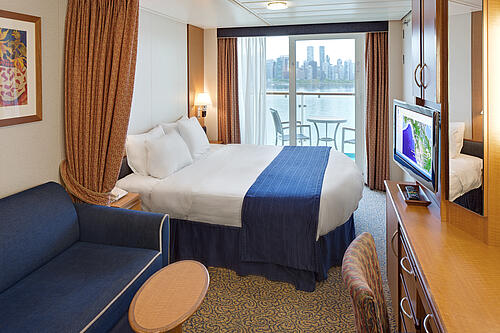 If you're traveling with kids on an Alaska cruise, we recommend booking two connecting rooms instead of one room. Connecting rooms are two cruise cabins with a door in between, which can be opened to connect the rooms together. Connecting rooms are available for interior, ocean view, and balcony cabins.
One of the biggest perks of connecting rooms is extra living space. Cramming into one room with a sofa bed or pullman bunk beds is not necessary with connecting rooms. Plus, you'll also have an extra bathroom which is helpful when traveling with kids and teenagers.
Related: Here are the absolute best cruises for families
More often than not, the price difference between two connecting rooms versus staying in one room is quite reasonable. Sometimes, in fact, the price for two connecting rooms is actually cheaper than booking four guests in one cabin.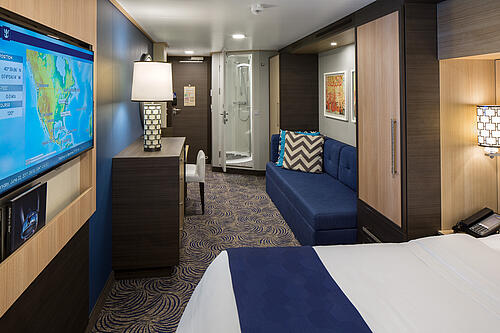 Let's take a look at a Quantum of the Seas sailing to Alaska in September 2024. I priced out the cost for one room versus two connecting rooms for two adults and two kids in an interior cabin:
1 room: $2,632
2 connecting rooms: $2,146
In this example, the cost of two connecting rooms is around $500 cheaper than staying in one room! While this type of deal does not always occur, there's no doubt that booking two connecting rooms in this example offers a much better value.
Best cabin overall: Balcony cabin
The best option for most passengers cruising to Alaska is a balcony cabin, as it gives you the chance to enjoy Alaska's nature from the comfort of your own private outdoor space.
Balcony cabins are usually around 180 square feet (not including the balcony), which is a comfortable size for most passengers. The balcony has a set of chairs along with a small table, making it the perfect place to relax with a view.
Related: Guide to balcony staterooms on Royal Caribbean
Some cruisers are adamant that a balcony cabin is a necessity on an Alaska cruise, but others are unsure of whether they should pay extra to upgrade from an interior or ocean view cabin to a balcony. Let's take a look at the pros and cons.
Pros of a balcony cabin on an Alaska cruise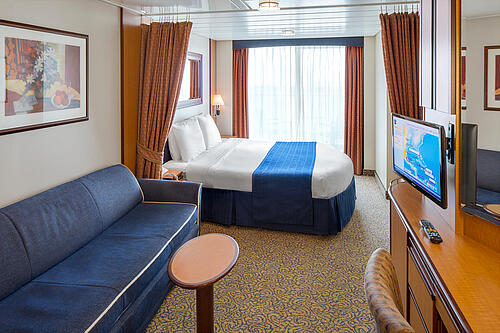 Alaska's scenery is breathtaking, and you'll find gorgeous mountain views outside nearly the entire sailing. Having a private balcony to enjoy the views is, undoubtedly, a marvelous addition to your Alaska cruise vacation.
Imagine sipping warm hot chocolate while watching glaciers pass by from the privacy of your balcony. Or perhaps enjoying a cocktail in the evening as the sun sets behind Alaska's mountains. You can experience all of this–and more–in a balcony cabin to Alaska.
Another plus is the extra space a balcony provides. Whether you're traveling with your spouse or with kids, it's beneficial to have extra room to spread out, even if it is a bit chilly!
Cons of a balcony cabin on an Alaska cruise
Balcony cabins are more expensive than interior or ocean view cabins, and you'll often find the price difference between these categories more pronounced on an Alaska cruise due to high demand for balcony cabins.
To put this into perspective, I priced out the cost for two adults to sail in either an interior, ocean view, or balcony cabin on a July 2024 Alaska cruise on Ovation of the Seas. Here were the results:
Interior: $2,647
Ocean View: $2,809
Balcony: $3,699
As you can see, a balcony is around $1000 more than an interior and $900 more than an ocean view cabin in this case. And while prices can change from day to day, you can usually expect to pay significantly more for the comforts of a balcony cabin.
Related: How to plan a Royal Caribbean cruise on any budget
Another con of a balcony cabin on an Alaska cruise is that the weather will usually be quite chilly outside, even in the summer months. You may find it too cold to relax on the balcony and stick to watching scenery from indoor spaces instead, thus lessening the value of the balcony.
Best cabin for luxury: Loft Suite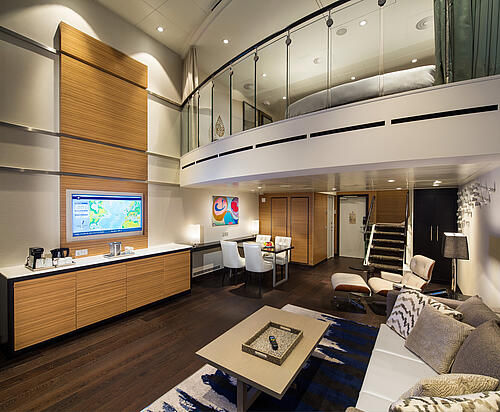 If you're sailing to Alaska on a Quantum Class cruise ship, look no further than a loft suite. These spacious suites feature two stories with massive floor-to-ceiling windows providing unbeatable views of Alaska.
Related: Royal Caribbean suites guide & review
While these suites are always in high demand, cruising in a Loft Suite can be extra enjoyable on an Alaska cruise, where you'll have the best views of the state's mountains, glaciers, and fjords out the window.
There are four loft suites available: the Sky Loft Suite, Grand Loft Suite, Owner's Loft Suite, and Royal Loft Suite. Each suite is part of the Royal Suite Class, with the Sky Loft Suite in Sky Class and the others in Star Class.
Pros of a loft suite on an Alaska cruise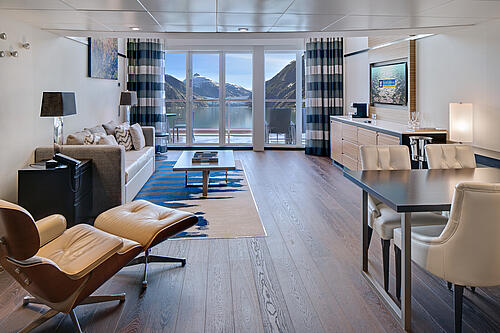 It's hard to find things not to love about a loft suite on Royal Caribbean. Not only will you stay in the most spacious, luxurious cabins, but you'll have access to the elusive benefits that come with the Royal Suite Class.
If staying in a Star Class suite, for example, you'll have access to a Royal Genie, a crew member that acts as your personal concierge and magic maker during your time onboard. You'll also receive a Deluxe Beverage Package, Unlimited Dining Package, VOOM internet, and other perks to enjoy throughout the cruise.
Related: My advice for someone using a Royal Genie on a Royal Caribbean cruise
When cruising to colder climates, it's common to spend more time relaxing and less time rushing from activity to activity onboard. Loft suites can truly be your home away from home on an Alaska cruise, and you'll likely find yourself spending more time than ever in your cruise cabin.
Cons of a loft suite on an Alaska cruise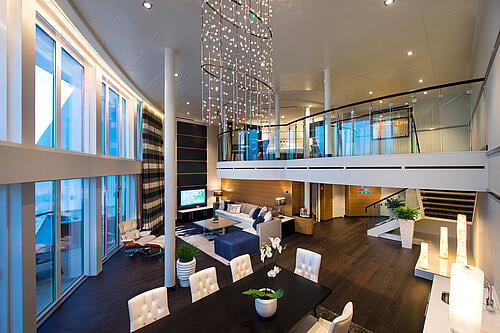 The most obvious con of staying in a loft suite on an Alaska cruise is the price. Loft suites are, unsurprisingly, quite expensive, with cruise fares as high as $20,000 common for the largest loft suites.
Considering you can book an interior cruise cabin to Alaska for as little as $1,500 (or even less), booking a loft suite is certainly way more expensive.
Other cabins to book for an Alaska cruise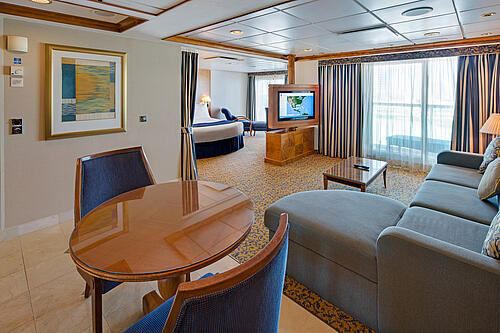 Outside of the cabins listed above, there are a variety of other stateroom categories to book for an Alaska cruise.
Before booking an interior cabin, check the price for an ocean view. The price for an ocean view cabin versus an interior is often only $100-300 extra, and the benefits of natural light and scenery out the window can be well worth the cost for some cruisers.
Traveling solo? Consider booking a studio room, as these cruise cabins are built for just one passenger. While small, booking a studio cabin means you can avoid paying a single supplement fee on your cruise fare, which leads to fantastic savings.
Related: Guide to Royal Caribbean's Single and Studio staterooms
In addition, don't assume you have to stay in the biggest and most luxurious suites on an Alaska cruise. Outside of the impressive loft suites are many other suite categories, including Junior Suites, Grand Suites, and Owner's Suites.
These suites can still provide a lavish cruise experience without forking away $20,000!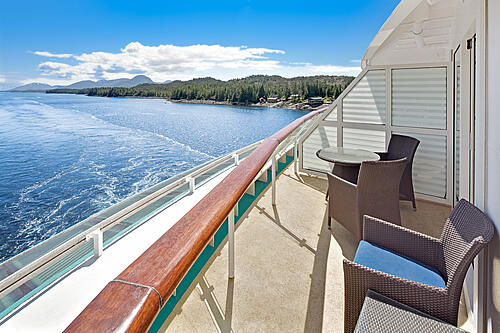 Lastly, consider an aft facing balcony cabin if sailing on a Radiance Class ship to Alaska. These cabins face backward and provide some of the best views from the ship from your private balcony.
Truthfully, there's no right or wrong cabin to pick for a cruise to Alaska, so weigh the pros and cons of each type of cabin before booking. Regardless of whether you sail in the cheapest interior cabin or most opulent of suites, any Royal Caribbean cruise to Alaska is sure to be a memorable vacation for all onboard.
More Alaska cruise tips: