In:
Ready to take your family on a great cruise vacation but want to know the best cruise ships for kids?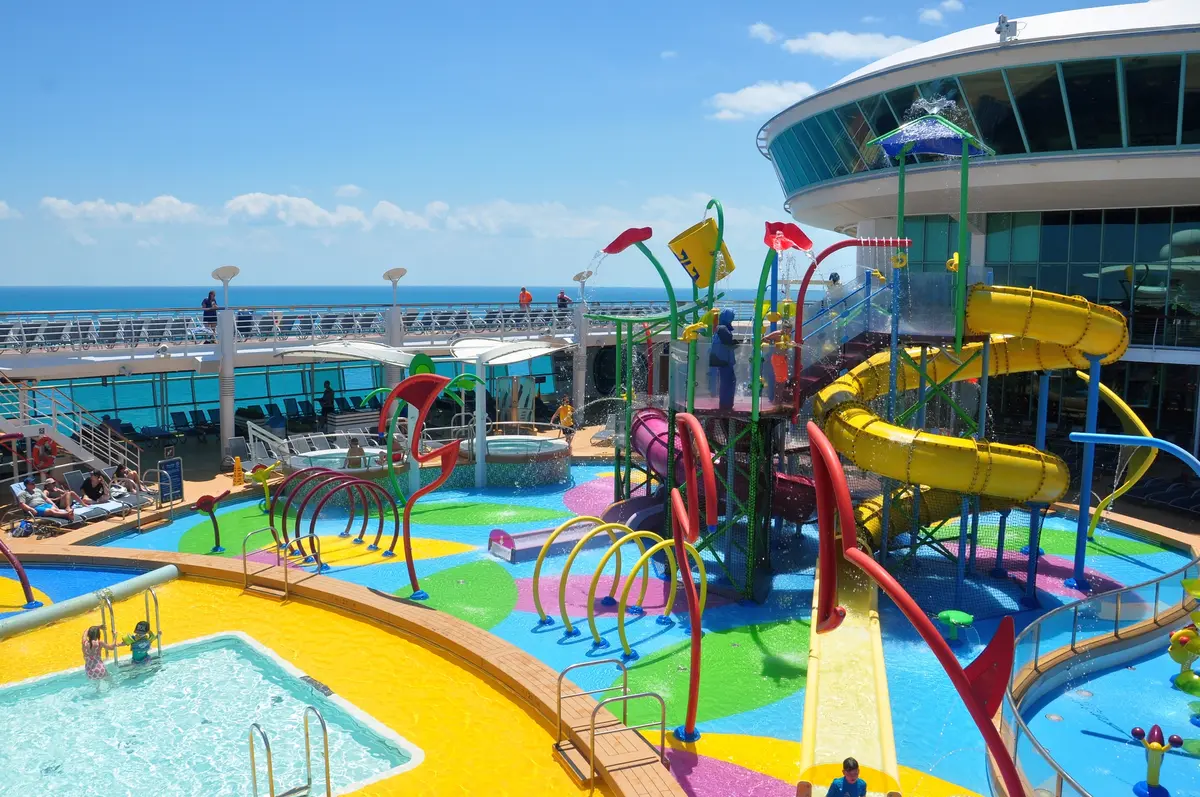 From water slides and pools to rock climbing walls and ice skating rinks, there is no shortage of fun and exciting things to do on a Royal Caribbean cruise. Additionally, the company offers a variety of family-friendly dining options and stateroom accommodations, making it easy for families to travel together and enjoy all that the ship has to offer.
In considering the perfect cruise for families, we're not just talking kids. Which ship has something for mom, grandpa, the older cousins, and your brother's girlfriend. Not an easy task for any vacation choice.
Royal Caribbean offers a range of itineraries that cater to families, with destinations that include popular family vacation spots such as the Caribbean and Mexico.
Whether you're looking for "wows", a multitude of things for the kids to do, or just a family vacation that won't break the bank, here's my top picks for the best cruises for families.
Best Royal Caribbean ship for young kids: Icon of the Seas
If you have little kids, you're going to want to sail on Icon of the Seas when she debuts.
Royal Caribbean's newest ship will start service in January 2024 and it is poised to be the top choice in the fleet for anyone with young kids.
One major reason why Icon of the Seas stands out from every other Royal Caribbean cruise ship is that there is a neighborhood for parents and their kids.  Surfside is an open-air section of the ship that has a splash area, kid-friendly water slides, and infinity pool for adults. You will also find in Surfside an arcade, carousel, playground, and lots of dining choices.
Royal Caribbean positioned Surfside right near Adventure Ocean, so you can easily drop off and pick up your kids without trekking around the ship.
There's also special family cabins and suites in Surfside that are designed to give kids and parents the space they need to enjoy a cruise together.
Read more: Guide to Icon of the Seas cabins and suites
If that's not enough to do on a cruise, there's lots of other activities around the ship, such as the main pools, water slides, minigolf, ice skating, production shows and more.
Best Royal Caribbean ship for families of all ages: Wonder of the Seas
If you want something for everyone, look no further than Royal Caribbean's newest cruise ship.
Wonder of the Seas (as well as the other Oasis Class cruise ships) is not just the largest cruise ship in the world, but it has just about everything kids, teens, and grandma will find enjoyable.
Read more: See how Royal Caribbean ships stack up by size
Oasis Class ships are packed with the best offerings Royal Caribbean has, and there's very few activities or amenities found on other ships that you can't find on these vessels.
You've got water slides, a giant aqua park, surf simulator, two rock walls, playscape, and a carousel if you need to burn some energy. Then there's the zip line, ice skating, hot tubs, and 10-story dry slide.
The adults-only solarium pool area is found on every Royal Caribbean ship, but like everything on an Oasis Class ship, the solarium on Wonder is just bigger.
Another great amenity on Wonder of the Seas are the shows. There are three entertainment venues with shows almost every night: AquaTheater, Royal Theater, and Studio B.
You can expect to see comedy shows, ice skating show, diving show and more.
If you're new to cruising, or are traveling with a wide variety of ages, it's hard to go wrong with an Oasis Class cruise ship like Wonder.
If there's a downside to going on Wonder of the Seas, it's that you'll pay more on average for a cruise on Wonder of the Seas compared to other ships in Royal Caribbean's fleet.
Read more: Royal Caribbean ship classes guide & explanation
If your budget is tight, perhaps one of the other ships in this list might be a better fit, but that isn't to say Wonder will cost you an arm and a leg either. Relatively speaking, newer ships tend to cost more.
You can save money on just about every cruise by taking advantage of certain planning tips for getting the lowest price, so there's no excuse for paying top dollar, even for a cruise on Wonder of the Seas.
Best Royal Caribbean ship for families with older kids: Odyssey of the Seas
Let's say you have tweens or teen in your family and want to go on a Royal Caribbean cruise that caters more to them than younger children.
Royal Caribbean's Quantum Class ships have always been the best choice for families with older children because of the more sophisticated offerings onboard.
Just like Wonder of the Seas, Odyssey of the Seas is the newest ship in its class and has the latest offerings available. Moreover, Odyssey is a very new ship too, which means you're going to find lots to enjoy.
If you have a teen, be sure to start off by showing them the teen club and teen sun deck.  Teens not only have an indoor area for them, but they have a reserved area of the pool deck just for them.
Read more: 6 things you can only do on Odyssey of the Seas
Then there's the SeaPlex on Odyssey of the Seas, where throughout the day activities are swapped that include bumper cars, roller skating, basketball, and more. Parents can "observe" from the nearby Playmakers sports bar located on the upper level of the SeaPlex.
Something to do with your teens would be Zone Zero, an immersive virtual reality experience where you put on a full virtual reality suit.
Everyone will be able to also check out North Star observational pod, which is a glass capsule that takes you 300 feet above the ocean.  
If your teens ever wanted to try skydiving, Odyssey has a sky diving simulator too!
Grandparents and parents will find their enclave in the Solarium, which is as beautiful to look at as it is to relax in and enjoy.
For your evening entertainment, head to Two70, which has performances that incorporate amazing technology at the rear of the ship.  You'll be wowed by how Royal Caribbean has taken traditional stage productions and infused tech enhancements.
Best Royal Caribbean ship for families on a budget: Freedom of the Seas
You want to take your family on a fabulous cruise but also need to make every dollar count? Check out Freedom of the Seas.
Royal Caribbean revamped this ship in early 2020, and it offers plenty to do without the price tag newer cruise ships come with.
Freedom is still a "big ship", so there's no compromising on what there is to do onboard. You're going to find a surf simulator, beautiful pool area, aqua park, water slides, rock climbing wall, and much more.
In fact, the resort-style pool deck stands out as a big win for families. Kids can enjoy time at Splashaway Bay aqua park while adults will find serenity at the Solarium. The Lime & Coconut spans 3 decks, which creates a fun party atmosphere onboard.
Freedom has Royal Caribbean's new take on kids club and teen area, just like the newer ships.
Since Freedom sails 3- and 4-night cruises from Miami, you can find an inexpensive price tag along with all the cruise fun.
Best yet, every single one of Freedom's itineraries visits Perfect Day at CocoCay, which means a full day of fun in the sun. So much of what you can do at CocoCay is included with your cruise fare, which is more money saved.
Read more: Do's & Don'ts of Perfect Day at CocoCay
In short, Freedom of the Seas delivers on the promise of something for everyone, but at far less of a cost than newer ships.
Best Royal Caribbean ship for families visiting Alaska: Ovation of the Seas
There's simply nothing like an Alaska cruise, and families will love everything Alaska has to offer as well as onboard Ovation of the Seas.
Royal Caribbean offers cruises to Alaska on four ships, but I like Ovation the best for families, especially if it's your first Alaska cruise.
Related: Comparing the Royal Caribbean ships sailing to Alaska in 2022 and 2023
Based out of Seattle, you'll be able to find more direct flights to get you onboard and if you're an American, at a lower price than if you flew to a ship departing from Canada.
Once onboard, there is lots to do and most of the activities are indoors. Just like Odyssey of the Seas, Ovation has a North Star, Flowrider, SeaPlex, indoor Solarium and more.
Since Ovation has an indoor pool for guests of all ages (in addition to the Solarium), it's the perfect ship for Alaska.
While Alaska is worthy of dedicating as much time as you can on shore, once you get back to the ship, there's no compromise with things to do aboard.
Best Royal Caribbean ship to take your parents: Brilliance of the Seas
Whether your kids are with your or not, if you are ready to take mom and dad on a cruise too, you might look at a ship that focuses more on the classic cruise experience.
Brilliance of the Seas is a Radiance Class ship, which is actually one of Royal Caribbean's smaller ships in the fleet.
Don't let her size fool you, there's still activities onboard to enjoy.  There's still the rock climbing wall and a fun pool deck. If you do bring young kids with you, there's a water slide on the back of the ship too.
The adults-only solarium might be my favorite solarium across the entire fleet. It's enclosed and climate controlled, and has lots of great seating for reading, napping, or both.
Something I've always loved about the Radiance Class are the floor-to-ceiling views, which are perfect for taking in the sunsets and watching your destinations come into view.
In addition to the main dining room, you'll find three great specialty restaurants worthy of a visit.  After dinner, take a show in at the Royal Theater.
So why Brilliance over her sister ships? The upgrades Brilliance received a few years ago stand out from her sister vessels (although Serenade has very similar features). Sailing from Tampa in the winter, there's also a good chance mom and dad are nearby.
Something else you'll love when you invite your parents to sail with you is the price. Quite often the value of Brilliance is unmatched.
Best Royal Caribbean ship for babies and toddlers
If you have young kids under the age of 3, there are a subset of Royal Caribbean ships you'll want to book for the better offerings they have for this age group.
Look for ships that have these important features.
Nursery
Not every Royal Caribbean ship has a Royal Babies & Tots Nursery, and it's a difference maker to go on a ship that has one.
The Royal Babies & Tots Nursery has an hourly cost to it, along with limited capacity. They are available for children between the age of 6 and 36 months old.
The fee for this service is $6 per hour between 9 am and 6 pm and $8 per hour from 6 pm until midnight.
The ship's nursery is a boon for parents because the nursery is a place you can drop off your infant or toddler and have someone take care of them for a few hours, allowing you to go to dinner, see a show, and otherwise enjoy the ship.
Heck, you can leave the child in the nursery while you get off the cruise ship in a port of call for a fun shore excursion.
Royal Caribbean ships with Royal Babies & Tots Nursery:
Allure of the Seas
Anthem of the Seas
Brilliance of the Seas
Enchantment of the Seas
Freedom of the Seas
Grandeur of the Seas
Harmony of the Seas
Icon of the Seas
Independence of the Seas
Liberty of the Seas
Mariner of the Seas
Navigator of the Seas
Oasis of the Seas
Quantum of the Seas
Ovation of the Seas
Radiance of the Seas
Rhapsody of the Seas
Serenade of the Seas
Symphony of the Seas
Vision of the Seas
Wonder of the Seas
Baby splash zone
Did you know children in a diaper cannot go in the pools or hot tubs on Royal Caribbean?
Babies still in a diaper can, however, go in designated splash zones that are part of Splashaway Bay or the H2O Zone.
Royal Caribbean ships with a baby splash zone:
Adventure of the Seas
Allure of the Seas
Anthem of the Seas
Freedom of the Seas
Harmony of the Seas
Icon of the Seas
Independence of the Seas
Liberty of the Seas
Oasis of the Seas
Ovation of the Seas
Quantum of the Seas
Spectrum of the Seas
Symphony of the Seas
Wonder of the Seas
Money saving tips for cruising with kids
No matter which cruise ship you sail on, there's a few ways you can make your money go further.
Book two cabins instead of one
My favorite family cruise hack is to get two connecting cabins rather than one room.
I love my kids, but sleeping in the same room as them is not enjoyable.  Plus, sharing one bathroom is not a great experience.
Instead of booking a suite that will cost lots, or cramming into a smaller room, book two cabins that have a connecting inside door.
You'd be surprised how affordable two cabins are, especially when compared to a suite.
Soda packages for the teens
If your children drink a lot of soda, you may be better off with a soda package for them than paying for soft drinks individually.
Royal Caribbean has unlimited drink packages that help keep your budget intact. 
The price per night of the Classic Soda Package is $12.99 per guest (excluding gratuity). If your kids can drink 3-4 sodas every day, then it can really save you money.
Look for kids sail free deals
Royal Caribbean regularly runs kids sail free deals that include the cruise fare of the third or fourth passenger in the same cabin as first two people paying normal price.
The "catch" with kids sail free are the blackout dates.  If you can find a qualifying sale, it can really save you a lot, especially if you book a suite.
Bring more baby supplies than you think you'll need
If you're cruising with a child still in diapers or drinking formula, be sure to pack much more than you think you'll need.
One lesson I learned from my kids is they go through a lot more baby supplies on a cruise than at home. 
Baby wipes, diapers, and other essentials are hard to come by on a ship or in the ports you visit.
Feed your kids at the complimentary restaurants
If you want to dine at a specialty restaurant, don't feel like your children have to eat there too.
If your kids are picky eaters, you might consider simply taking them to get a slice of pizza at Sorrento's or something to eat at the Windjammer first.  They can dine with you at the restaurant and nibble while you eat without paying for a cover charge for them.
Or drop them off at Adventure Ocean and then schedule your specialty restaurant meal after.  This tip works even for the main dining room if you have a later seating time.
Disable your kids spending ability
You have the option of disabling spending on your kids' SeaPass cards to avoid a potential problem later.
Just stop by Guest Relations and ask them to cut off your kids ability to spend.
Why Royal Caribbean ships are good if you have kids
It's important to talk about why Royal Caribbean is the best cruise line for families before we pick a ship. Someone new to cruising may not be aware of how Royal Caribbean separates itself from other lines in the family travel market.
Royal Caribbean is known in the cruise industry for building cruise ships that are floating destinations, with lots of amazing things to do onboard.
Every Royal Caribbean ship has a supervised kids club, fun activities on the pool deck, and visits to private islands in the Caribbean. Many ships have babysitting for younger children, water slides, surf simulators, bumper cars and more.
Royal Caribbean doesn't put things on its ships just for kids, rather, they design experiences that kids and their parents can enjoy together. FlowRider, bumper cars, carousels, laser tag are all things guests of all age can find fun.
If getting your adrenaline pumping isn't your idea of fun, Royal Caribbean also has Broadway musicals on select ships, parades, ice skating shows, and expansive pool decks.
Arguably as important for parent and child alike is Adventure Ocean. Every day of your cruise there's a kids club where kids can go to meet other kids and play together in a supervised environment. Adventure Ocean isn't just a large room that kids get put in. There's activities, art, games, video games, and books for kids to enjoy. 
Royal Caribbean revised its Adventure Ocean program on its newest ships and a few amplified ships, which revamped the spaces and greatly expanded the offerings.
Adventure Ocean is included in your cruise fare, with the exception of late night (after 10pm), so your vacation budget won't break.
There's even teen spaces on many ships, including dedicated lounges for teens and tweens to go and find their own enclave. The teens club is less programmed as the younger kids club, but there's still fun activities for them.  In fact, Royal Caribbean will dedicate certain times of the day at the FlowRider or other signature activities just for teens.
If you have toddlers, the nursery program is a fantastic offering for parents and kids alike. The nursery has an additional hourly cost to it, but it provides a safe place for children between 6 - 36 months to go and play, nap, eat, and play some more. For parents to have a place to drop infants off and be able to enjoy dinner and evening entertainment while their baby gets to play and be put down for sleep is a boon.
If all of this sounds great, you might be wondering how much this will cost you.  Royal Caribbean's prices are quite reasonable, with cabins and cruise fares to match nearly any family vacation budget.
Another ace Royal Caribbean has up its sleeve for families are its private islands of Perfect Day at CocoCay and Labadee.
These are ports your ship can visit on a Caribbean itinerary that are run by Royal Caribbean, which means lots of activities, beaches and a freshwater pool (at CocoCay) included with your cruise fare. A visit to either island is a highlight for nearly any family.
Other cruise lines may be more synonymous with kids, but Royal Caribbean's onboard programming stacks up favorably and offers more for children of all ages without compromising on the adult experience. Plus, Royal Caribbean routinely offers a kids sail free deal where children in the same cabin as the adults pay nothing for their cruise fare.