In:
Odyssey of the Seas, Royal Caribbean's innovative cruise ship, is a spectacular experience that combines cutting-edge technology with luxurious amenities and exciting entertainment to create an unforgettable vacation.
The ship has a rock-climbing wall and basketball court. There is also a casino, several restaurants and bars, and a theater that hosts Broadway-style shows.
What makes this ship stand out is the expansive range of activities it provides its guests. Onboard, you can find a variety of high-end restaurants, bars, clubs, and lounges, as well as live music and entertainment. Furthermore, Odyssey of the Seas offers plenty of exciting sports and leisure opportunities such as rock climbing walls, surf simulator and even a sky diving simulator! 
You can also stay connected with friends and family while onboard through complimentary Wi-Fi access. There are also various retail outlets where you can find souvenirs to take back home or pick up everyday essentials.
If you're looking for some rest and relaxation then Odyssey of the Seas has plenty to offer here too. Its Vitality Spa encompasses a variety of treatments from massages to facials for those looking for some pampering during their cruise; alternatively you can lounge at one of their tranquil outdoor pools or enjoy time in one of their hot tubs overlooking the sea.
Odyssey of the Seas overview
Odyssey of the Seas debuted in 2021, and her arrival was met with a great deal of enthusiasm as the ship brought with it some really exciting new offerings onboard.
Royal Caribbean designed Odyssey of the Seas with different areas of focus, and unlike other Quantum Class ships, she has some noticeable additions. If you have been on Anthem of the Seas or Ovation of the Seas, you may notice changes the cruise line made to the layout of the ship.
Let's focus on the major areas of the ship to get a better sense of what is onboard:
Royal Esplanade
Resort-style pool deck
Two70
SeaPlex
If you are concerned about crowds, Royal Caribbean designed the ship with enough to do so that there will be enough going on to draw guests away from always wanting to be in the same area. Odyssey has many of her best things to do in the front or aft of the ship, which helps with crowd management.
As with any cruise ship, it is a good idea to walk around the ship once you get onboard to get a better sense of where everything is located. By exploring the ship early, you can get your bearings and be able to navigate the ship better later on.
What is special about Odyssey of the Seas?
Royal Caribbean differentiated Odyssey of the Seas in a few ways from her sister Quantum Class ships.
First, it has Playmakers Sports Bar and placed it in the SeaPlex. This is the first ship to combine both venues.
Second, Odyssey does not have an indoor pool like other Quantum Class ships. Instead, Royal Caribbean went with a resort style pool approach, meaning there's two outdoor pools in addition to the enclosed Solarium.
In addition, Odyssey has the new Giovanni's Italian Kitchen specialty restaurant concept.
Odyssey of the Seas dining and restaurants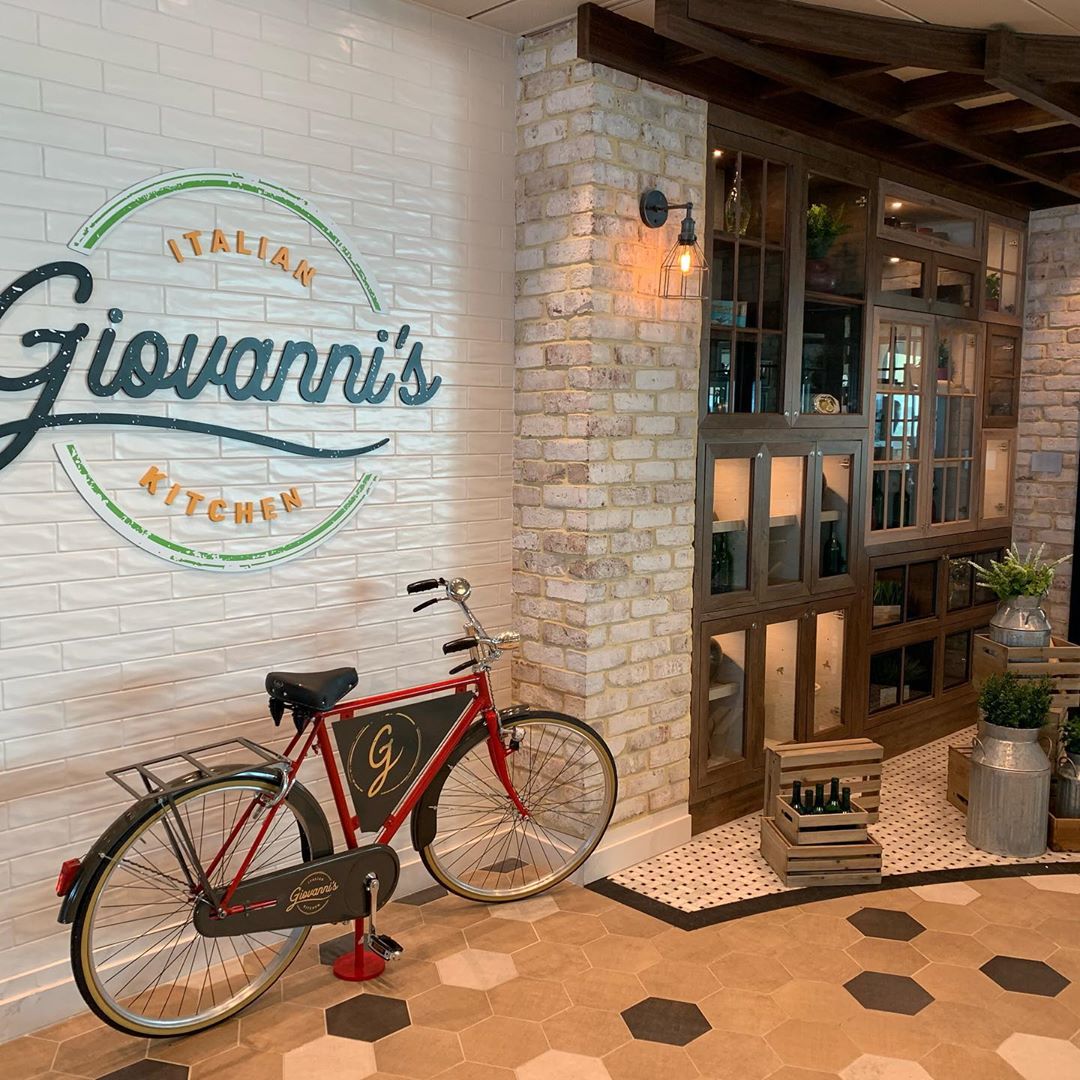 There are 17 different restaurants on Odyssey of the Seas, along with multiple bars and lounges. Royal Caribbean was certain to include many options so guests had plenty of choice and no single venue became too overcrowded.
The variety of dining venues (paid and complimentary) gives passengers a choice of cuisines, cooking styles, and price.
The complimentary dining venues are included with your cruise fare, and you will be able to find plenty of food at no additional cost for every meal and snacks inbetween. In fact, the complimentary dining is quite good, and should not be overlooked because the food included with your cruise fare is cooked fresh every day and covers a great deal of tastes.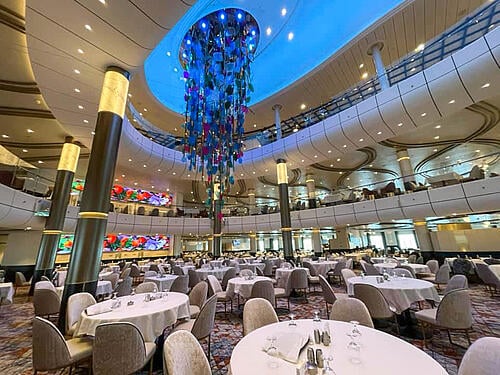 Specialty dining has an additional cost to it, and allows guests to opt into dining at these venues if they prefer. Most venues have a cover charge, where each guest pays a flat fee and all the food is included. A couple of venues have an a la carte menu, where you pay for each item individually.
The reason to go to a specialty restaurant is for a cooking style or cuisine not otherwise available on the ship. Specialty dining is a splurge, and is akin to choosing to go to  a restaurant at home instead of having something in your house: there's nothing wrong with the food you have at home, but sometimes it is nice to pay for a meal out.
Specialty dining is not cheap, but there are dining packages you can purchase before the cruise to get a discount on multiple restaurants.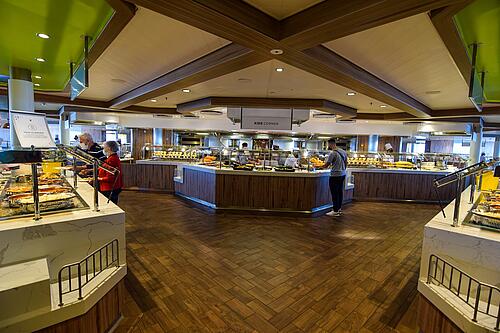 Here is a list of complimentary and specialty dining options on Odyssey of the Seas:
Complimentary dining
Main dining room
Windjammer Cafe
The Cafe @ Two70
Coastal Kitchen (suite guests only)
Sorrento's
El Loco Fresh
Cafe Promenade
Solarium Bistro
Sprinkles ice cream station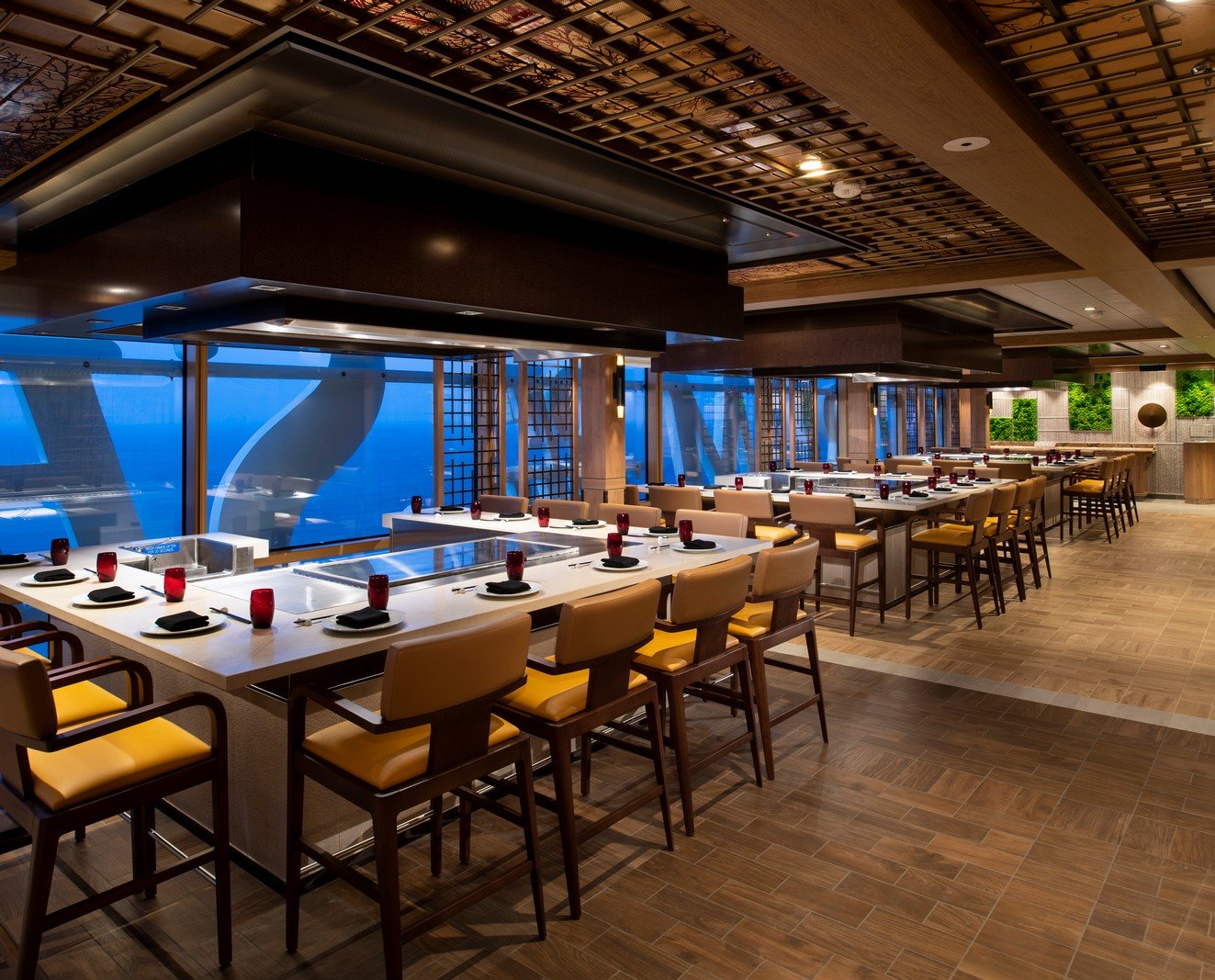 Specialty dining
Chef's Table
Wonderland
Giovanni's Italian Kitchen & Wine Bar
Chops Grille
Izumi
Teppanyaki
Starbucks
Playmakers
Room service
Pub
Should you eat at the included restaurants or try a specialty restaurant? It depends on your budget and tastes, but it is nice to mix in a specialty restaurant or two.
Most passengers focus primarily on the complimentary restaurants, such as the Main dining room and Windjammer. The ample snacks and between meal bites at El Loco Fresh and Sorrento's. In short, there is a good variety of food between these venues that will leave you satisfied.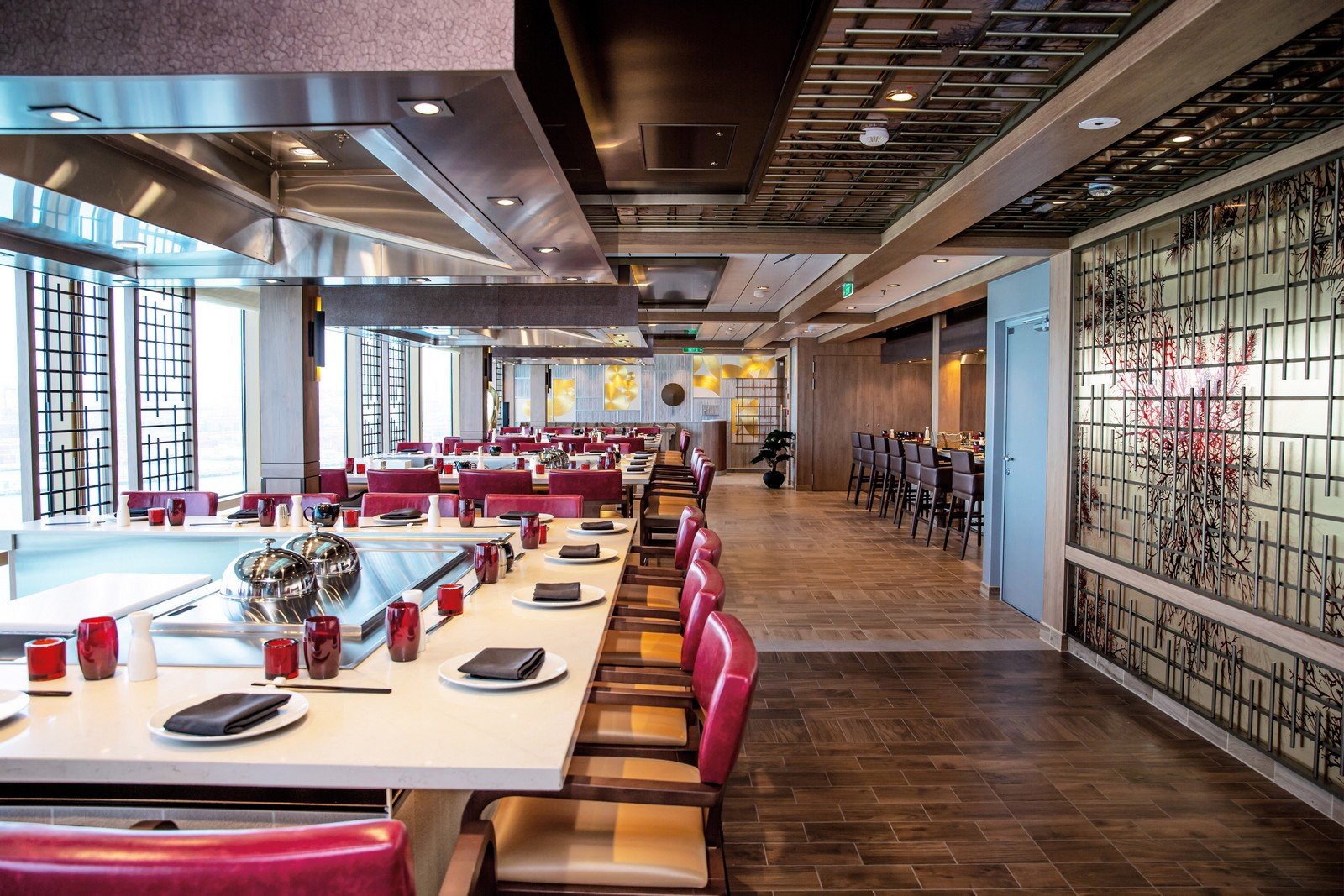 If you are staying in a suite, you should also consider going to Coastal Kitchen, which is only for suite guests and offers a completely different menu from the main dining room. Royal Caribbean fans that cruise a lot in suites swear by how good Coastal Kitchen is, and since it is included with the cost of your suite, you should plan to dine there if you can.
If you would like to dip your toe into specialty dining, consider purchasing a 3-night dining package as a way to get a good deal on a few restaurants. Some of my favorites include Teppanyaki, Giovanni's Italian Kitchen, and Playmakers.
Things to do on Odyssey of the Seas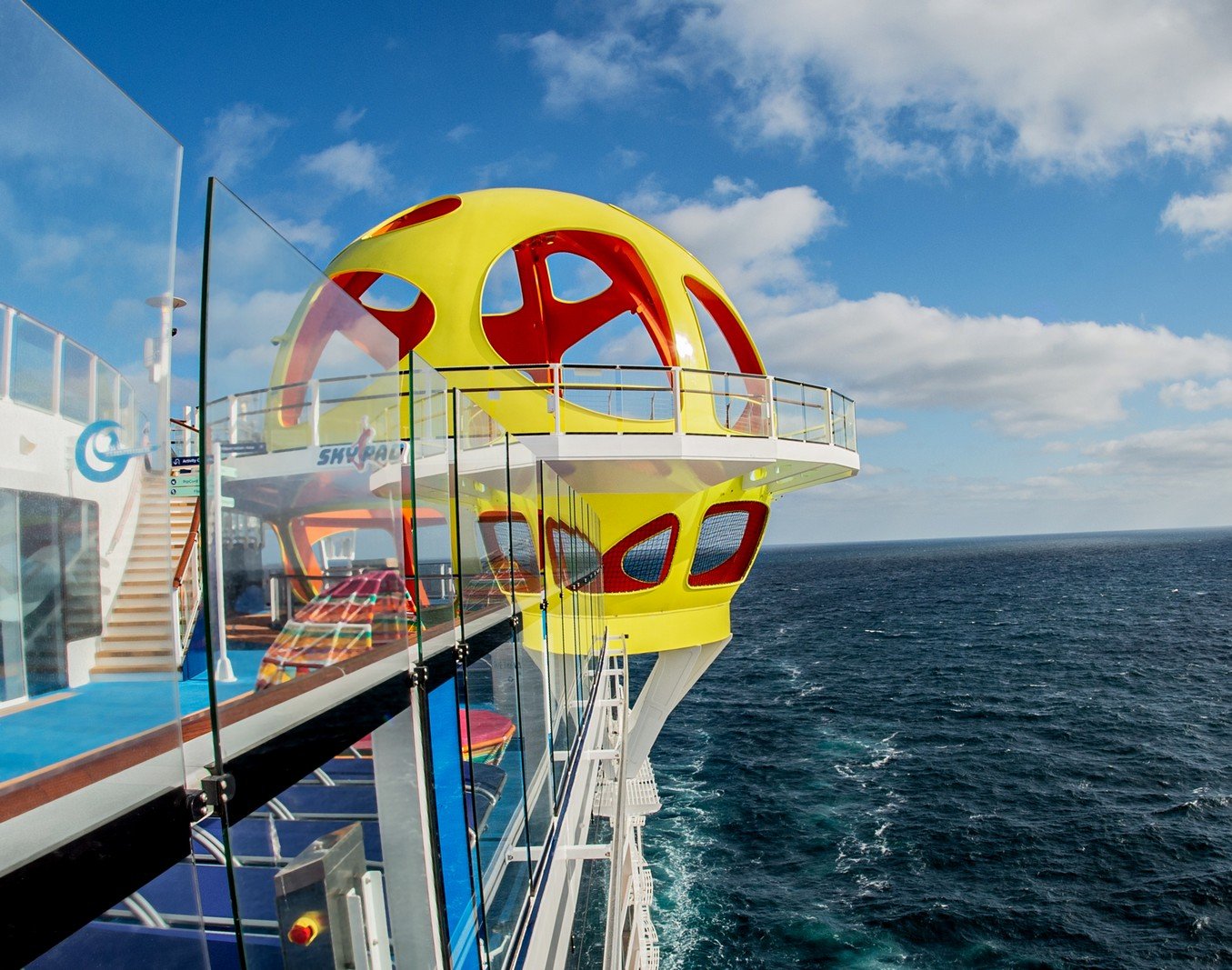 Royal Caribbean offers passengers as much to do on Odyssey of the Seas as any cruise ship, and you will quickly find there are lots of really fun things to try.
In fact, it can feel like a floating city with all the activities to consider. Your best bet to keep track of what is offered and when is to read the daily Cruise Compass. Think of the Cruise Compass as a TV Guide for everything planned that day, including hours for all the activities, dining, shows, and live performances.
A copy of the Cruise Compass will be delivered to your stateroom each evening by your stateroom attendant, and you can also view it on the Royal Caribbean app.
Signature activities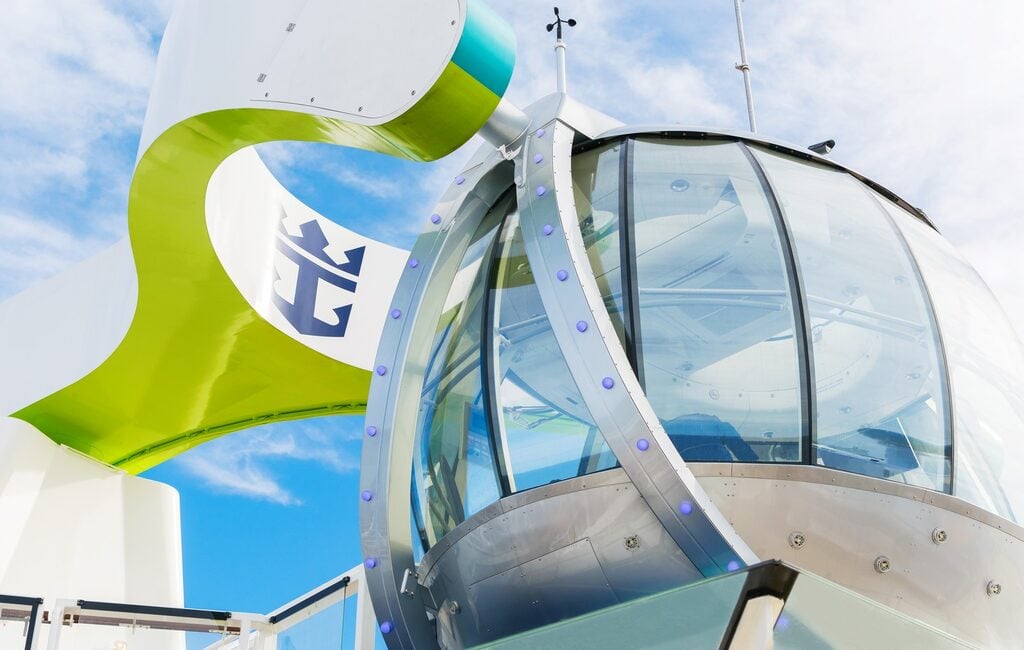 Odyssey of the Seas stands out from other cruise ship with a few notable attractions onboard that are sure to get anyone's attention.
While there are traditional cruise ship activities onboard, such as bingo, trivia, and demonstrations, there are also lots of whiz-bang things to do as well:
FlowRider surf simulator
Rock climbing wall
Ripcord by iFly skydiving simulator
NorthStar observational pod
Sky Pad virtual realty bungee experience
Zone Zero fully immersive virtual reality experience
SeaPlex activity center
Bumper cars
Music Hall
Splashaway Bay aqua park for kids
Most of these activities are completely free to do on Odyssey of the Seas, although Royal Caribbean does charge for some.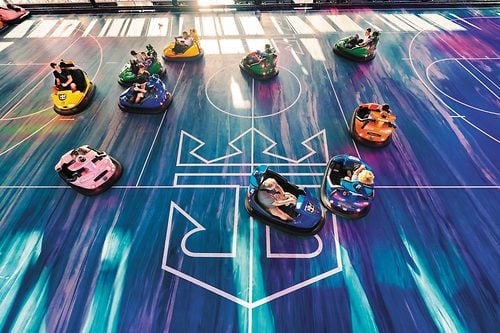 You can book certain signature activities ahead of time, either before your cruise on the Royal Caribbean cruise planner website, or via the Royal Caribbean app once you are onboard the ship.
Hours for all activities will be published daily in the Cruise Compass.
Something completely different you should try is Zone Zero, which is an immersive virtual reality experience. At a cost of $18.00 per person, you put on a full VR suit and literally walk around a VR world.  That is not to say you sit and explore like a video game; Rather, you physically walk in the real world while seeing a virtual one, where you battle pirates. Incredible stuff.
The North Star is another really fun thing to try out, where the observational pod will take you over 300 feet above sea level to see your ship and whatever is around you. Currently, North Star costs extra if you are on a sea day, but it is complimentary for port day. Schedule it on port days right when they open in the morning or late afternoon before the ship departs to get a free ride at a convenient time.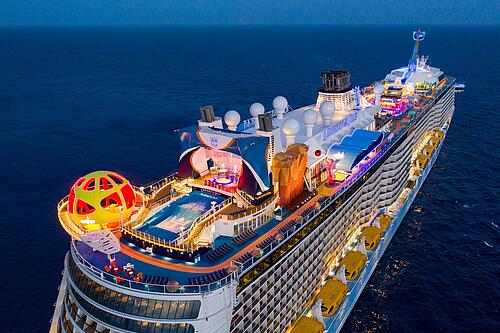 Ripcord by iFly is another popular activity, where you put on a special suit and enter a wind tunnel to get a sense of what it is like to sky dive. 
North Star, Ripcord, and Zone Zero are all bookable via the Royal Caribbean app, but book them as soon as you can because space is very limited.
The SeaPlex is a hub of activity, where you will find lots of different things to do throughout the day and cruise. Bumper cars, pickleball, soccer, basketball, dancing and more will be available. Check your Cruise Compass for times.
Something else different about the SeaPlex is the fact Playmakers sports bar is located inside. Not only can you have a drink or meal while watching the action in the SeaPlex, there are 56 televisions around the bar to catch your favorite team. It is easily the best Playmakers location on any Royal Caribbean ship.
Shows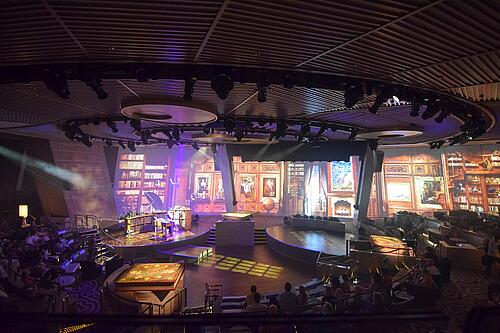 There are two main shows on Odyssey of the Seas, with plenty of other performances to check out.
All shows are under an hour in duration, which means the performances are all at a good length to not leave you overwhelmed.
"Showgirl: Past. Present. Future." is a tribute to the dance style Las Vegas showgirls have made famous for decades. It looks at the style of dance from different eras and presents it in a fast-paced original production that has a lot of energy behind it.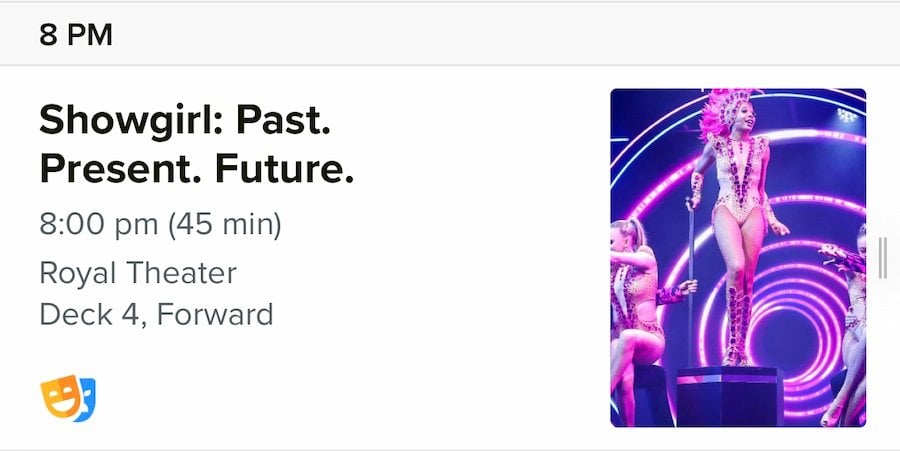 You can find Showgirl performed in the Royal Theater.
"The Book: Seven Chapters, One Adventure" is another original production that loosely tells a story of a librarian who explores the chapters of a book through song, dance, and music. It is difficult to describe this show in writing, but it is certainly a visually impressive production with lots of different elements and performing styles intertwined to create an act you have never seen before.
You can find The Book performed in Two70.
You should absolutely book reservations for Showgirl or The Book to ensure you have a spot for it, as seating is very limited (especially in Two70). There is no cost to make show reservations, and you can book it via the Royal Caribbean app once onboard the ship.
Be sure to also allocate time to see the live music on Odyssey of the Seas. Music Hall has a live band most nights, and it is as close as you can get to a rock concert on a cruise ship. 
You will also find live music in other lounges onboard, including Boleros, Schooner Bar, and the Pub. Royal Caribbean puts a lot of pride in their live music onboard, so check out as much as you can.
Pools
Odyssey of the Seas has resort-style pool deck that is not otherwise available on other Quantum Class ships, and it is a great layout.
There are two main pools for all guests on Odyssey of the Seas, along with the adults-only Solarium.
The two pools are separated by a structure in the middle, but it helps break up crowding.  You will find in-pool loungers, and lots of seating all around the pool deck.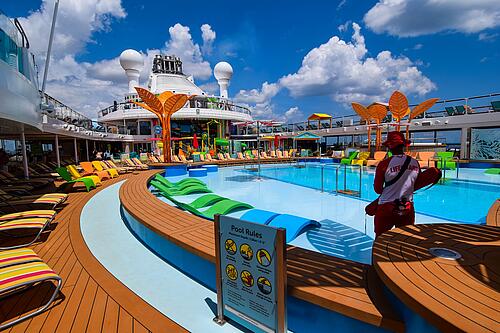 Royal Caribbean integrated the entire pool deck with the Lime and Coconut, which is a multilevel bar venue that evokes a certain level of fun with your pool day. 
On the second pool deck, you will find casitas that you can rent for an additional fee, along with hot tubs that overlook the lower pool deck. There are hot tubs on the lower pool deck too.
Pools will be closed occasionally when they need to be cleaned as well if weather or sea conditions make the pools unsafe for swimming. Otherwise, there is usually a pool and hot tub open for use.
The adults-only (age 16 and over) Solarium is a beautiful space, and it is enclosed which means the temperature is far more manageable on hot summer days.
Kids will find Splashaway Bay a fun place to get as wet as possible without actually jumping in a pool. There are water slides, drench buckets, geysers, and just about every other possible way to get soaked.
Kids programming
If you have children under the age of 18, there is an entire area of the ship reserved just for them at Adventure Ocean.
Odyssey of the Seas features the revamped Adventure Ocean that brings a new focus on activities for kids to do together, along with an infusion of some fun technology.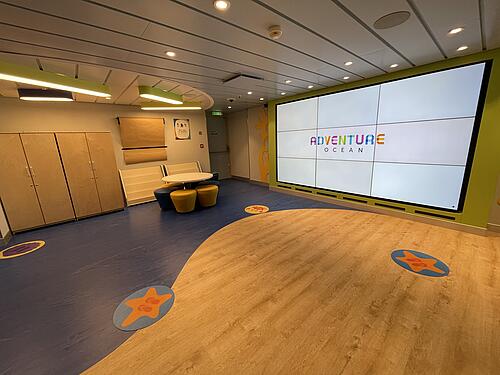 If you are unfamiliar with Adventure Ocean, programming is divided up into age-appropriate groups:
AO Junior (ages 3 to 5)
Hangout (ages 6 to 12)
Social180 (ages 13 to 17)
Adventure Ocean is complimentary during the day and evening, up until 10pm. After 10pm, there is an hourly cost per child.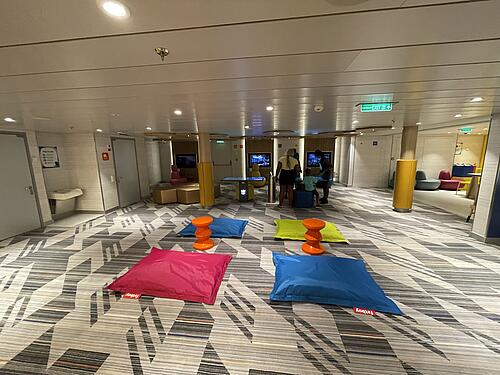 Adventure Ocean is open most of the day, but their hours vary depending on if it is a port day or sea day.  On sea days, Adventure Ocean typically opens at 9:00am.  It then closes at noon and re-opens at 2pm and remains open until 5pm.  The evening session then runs from 7pm to 10pm.
In addition, there is a Nursery for toddlers ages 6 to 36 months. The Nursery always has an hourly charge, but is designed for babies and toddlers.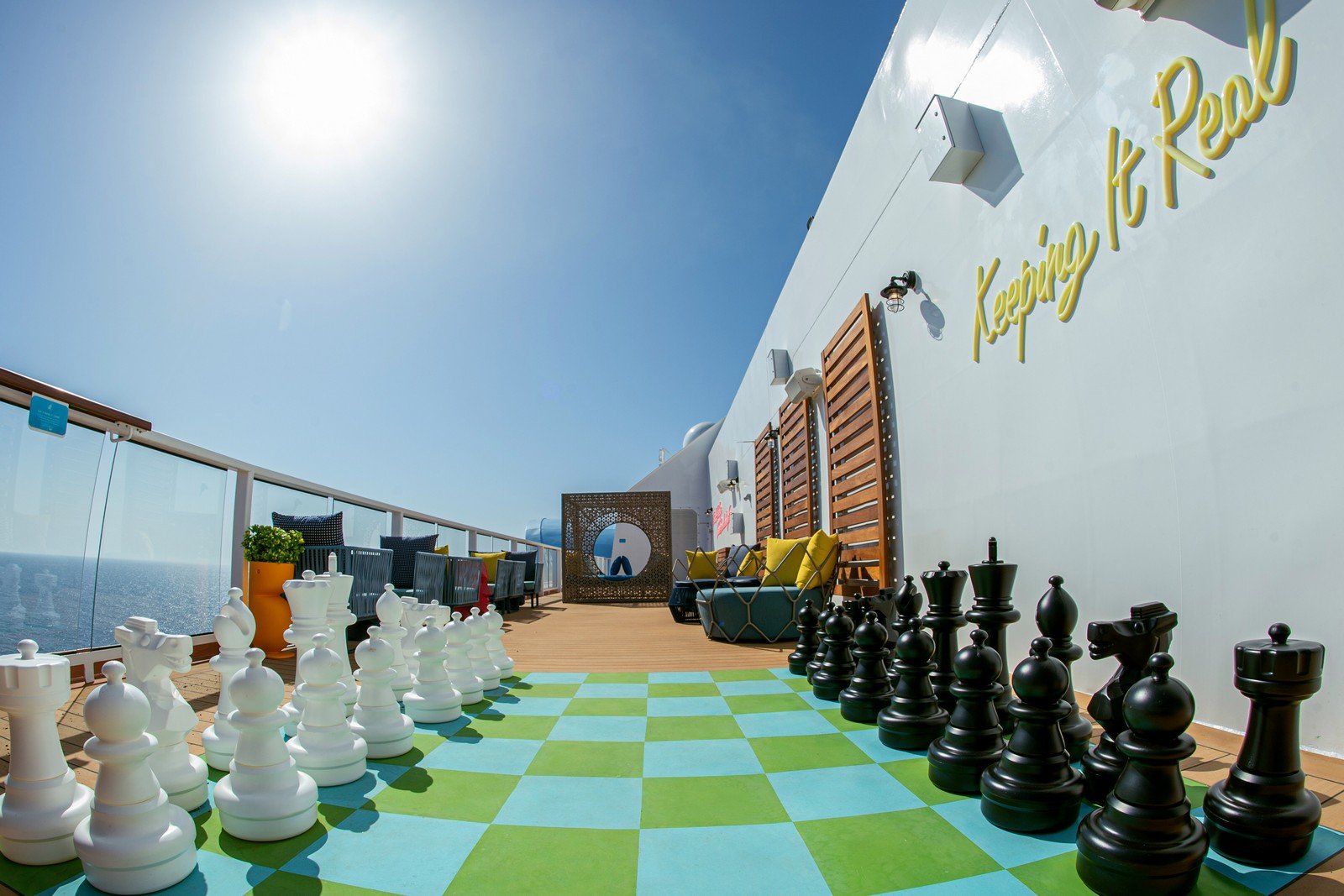 The teen club is known as Social180, and it is like a clubhouse where teens meet before they participate in an activity there or elsewhere on the ship. Often there are teens-only events, such as bumper cars or FlowRider time.
How to plan your Odyssey of the Seas cruise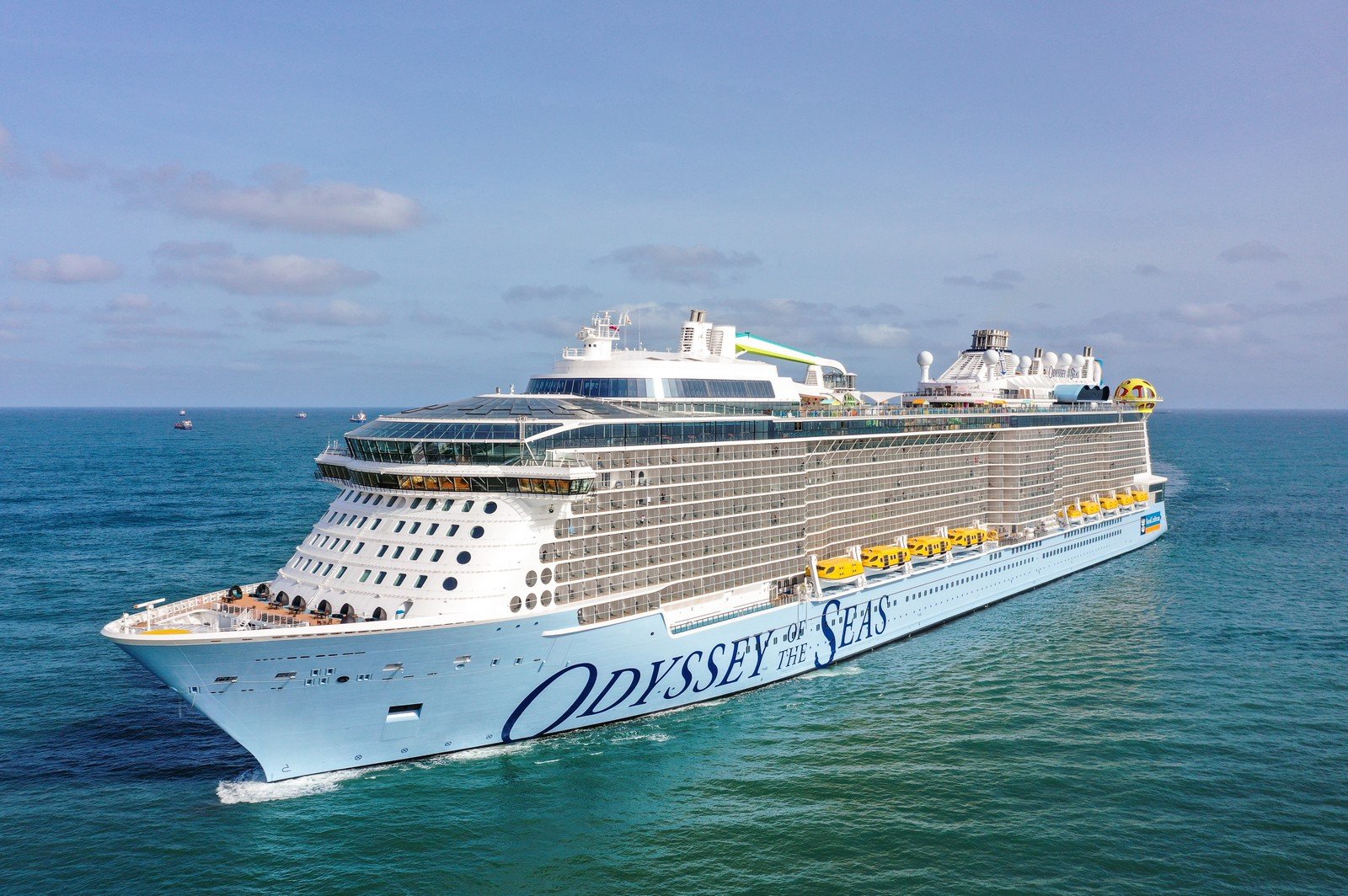 As with any Royal Caribbean ship, planning ahead of time is very important to ensure you get to do everything you want.
At some point in the future, you will be able to book entertainment and shows ahead of time via Royal Caribbean's Cruise Planner website. 
For now, you can only book these activities once onboard the ship via the Royal Caribbean app. So be sure to have the app downloaded and ready to go before you get onboard. You can download the Royal Caribbean app from either the iTunes App Store or Google Play Store.

The app is capable of providing a digital SetSail pass once you complete online check-in. Just like a boarding pass for an airline, you can show the pier agents your SetSail Pass via the app and get onboard.
Make sure you complete the online check-in for your cruise as early as possible to get an early check-in time. Royal Caribbean enforces their check-in times (they didn't use to care about arrival times), so getting an early time is important.
Odyssey of the Seas frequently asked questions
Is Odyssey of the Seas the biggest ship?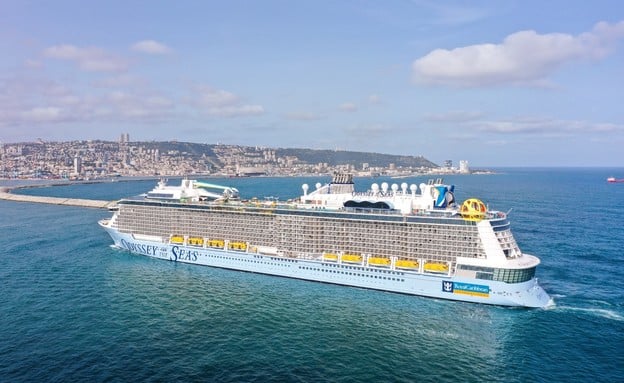 If you're wondering of Odyssey of the Seas is the biggest cruise ship in Royal Caribbean's fleet or the biggest cruise ship in the world, the answer to both questions is "no".
Odyssey of the Seas is a Quantum Ultra class ship, and she comes in at 347.1m long and 41.1m wide and has a gross registered tonnage of 169,300t. While that is no small ship by any means, she is still smaller than any of the Oasis Class ships.
The biggest cruise ship in the world is Symphony of the Seas (soon to be eclipsed by Wonder of the Seas).
Symphony of the Seas measures 228,081 gross tons and is 1,188 feet 1 inch in length (362.12m).
What is a Quantum Ultra class ship?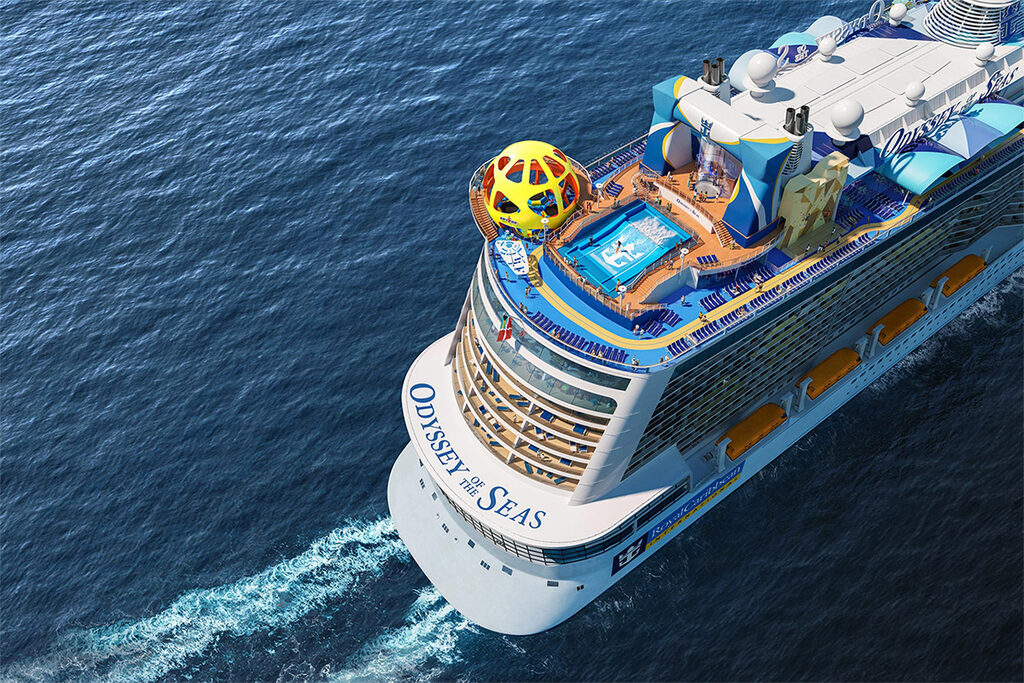 When you read about Odyssey of the Seas, you may hear she is a Quantum Ultra class ship and wonder what makes that different from Quantum Class ships.
In practice, the difference between a Quantum and Quantum Ultra Class ship is less noticeable than the difference between other classes of ships. Think of it more like a sub class of the Quantum Class, rather than a completely different categorization of Royal Caribbean vessel.
Odyssey has the same basic layout and signature activities of a Quantum Class ship, such as the North Star, SeaPlex, Ripcord by iFly, a Royal Esplanade and more.

The real difference is when you look at the layout and additions Royal Caribbean has made compared to her older siblings. Odyssey has been reworked a bit, with a unified main dining room, a SeaPlex that features Playmakers sports bar, and a new resort-style pool deck.
Some other changes you will find on a Quantum Ultra class ship include a SkyPad, the indoor pool is now outdoor, a Teppanyaki restaurant, and a slightly larger size.
Read more: All about Royal Caribbean's ship classes
Does Odyssey of the seas have Central Park?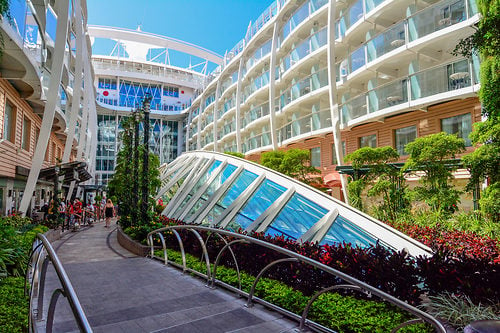 No, the Central Park area is only found on Royal Caribbean's Oasis Class ships.
How many pools are on the Odyssey of the Seas?
There are two main pools on Odyssey of the Seas, and an adults-only Solarium pool.
The main pools have a resort-style theme to it that have in-pool loungers.  Something else different is there are hot tubs on the upper pool deck with a see-through side.
There is a smaller version of Splashaway Bay for kids to enjoy.  While it is not a pool, there are drench buckets, a kids slide, geysers and plenty of ways to cool off.
Does Odyssey of the Seas have laser tag?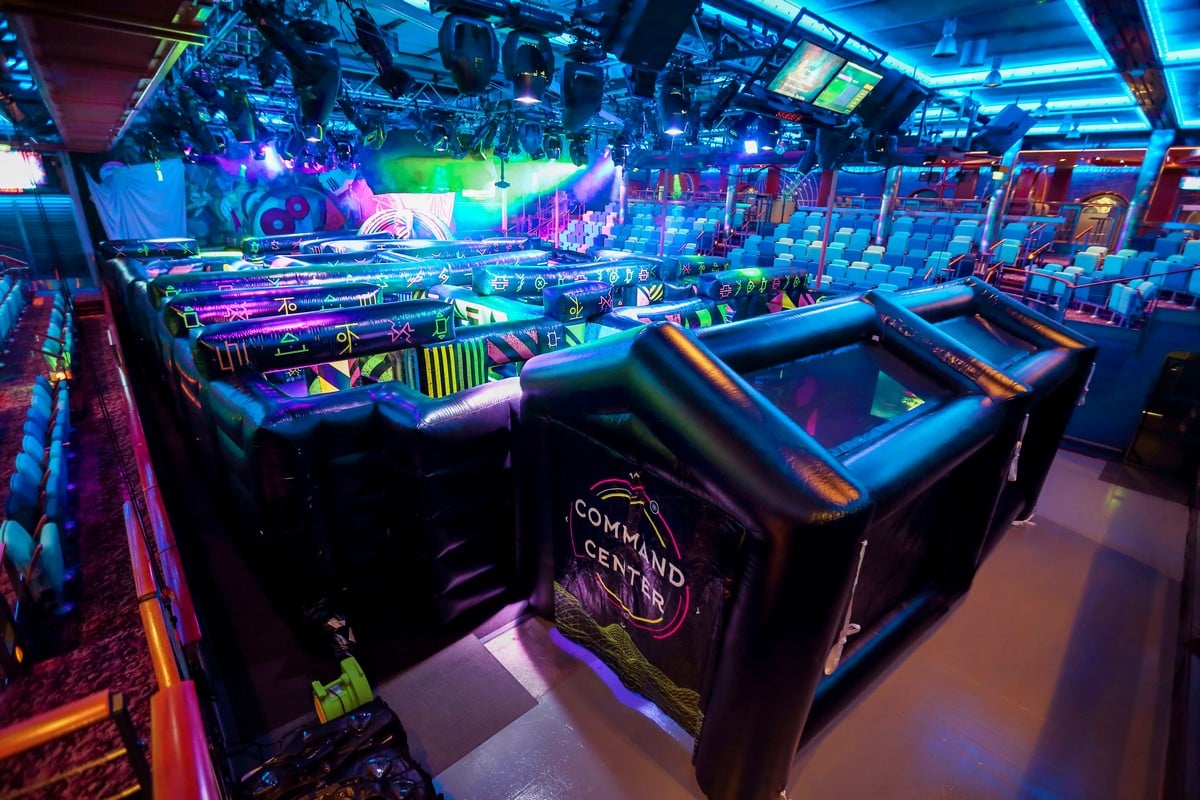 No, laser tag is not offered on Odyssey of the Seas.
Royal Caribbean offers laser tag on ships that have a Studio B ice skating rink, so that space can easily be converted over to laser tag when necessary.
Does Odyssey of the Seas have a Bionic Bar?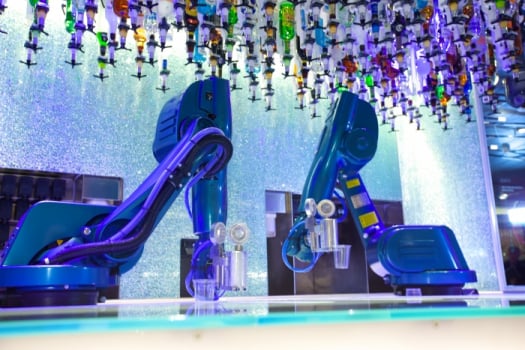 Yes, there are robot bartenders on Odyssey of the Seas that can serve you drinks.
The Bionic Bar is located on deck 5 next to the shore excursions desk.
Anyone can order a drink from the Bionic Bar, as it can make alcoholic and non-alcoholic beverages.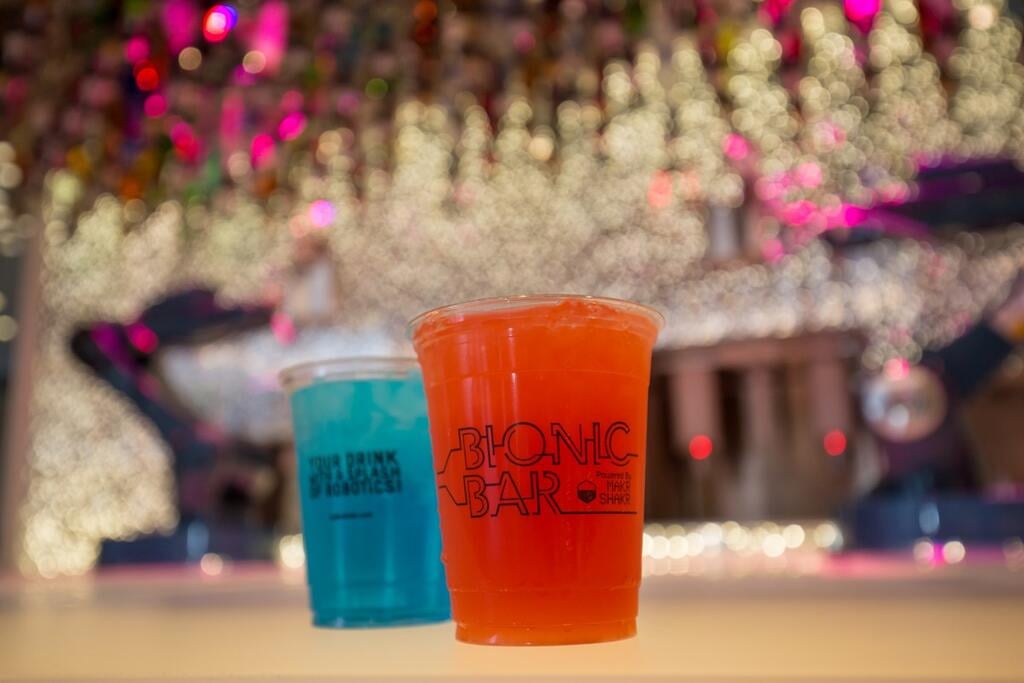 Just go to the one of the nearby tablets and place an order. You have the choice of selecting from pre-defined drink recipes, or creating your own concoctions.  
After submitting your drink order, the robots assemble and serve the drink in the order they came in.
Does Odyssey of the Seas have an escape room?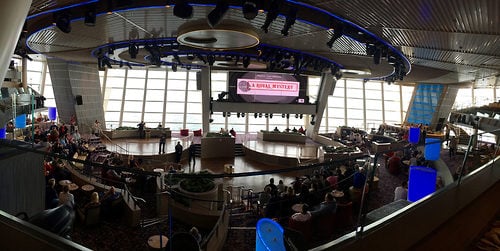 While there is not a dedicated escape room on Odyssey of the Seas, they still offer an escape room game you can play.
Known as "A Royal Mystery" puzzle challenge, it is a game developed by the same company that creates the escape rooms for Royal Caribbean on other ships.
Held in Two70, this is a complimentary escape room game where teams try to solve a series of puzzles based on clues hidden throughout the room to help solve a whodunit murder case.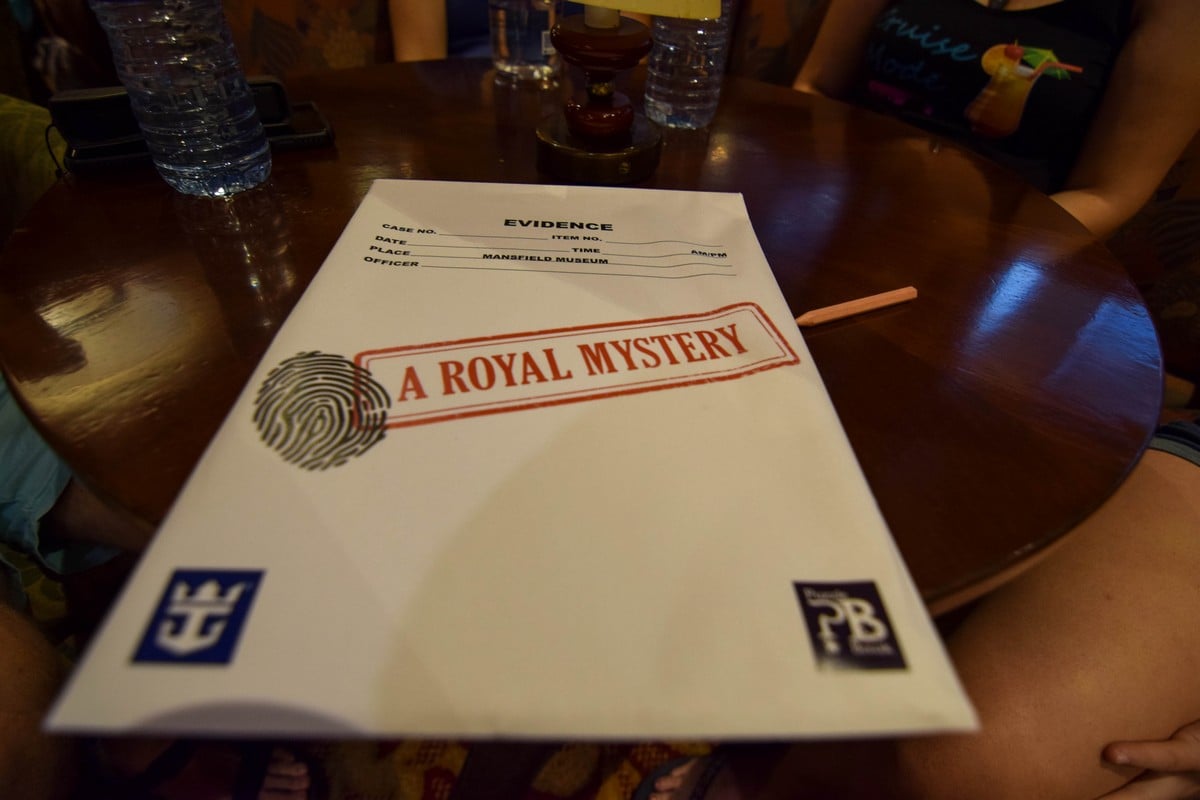 Guests participating have a set amount of time to comb over the details provided, as well as clues and puzzles they will discover until they can solve the case.  
Check the Cruise Compass for when A Royal Mystery will be offered.
Where is the Odyssey of the Seas right now?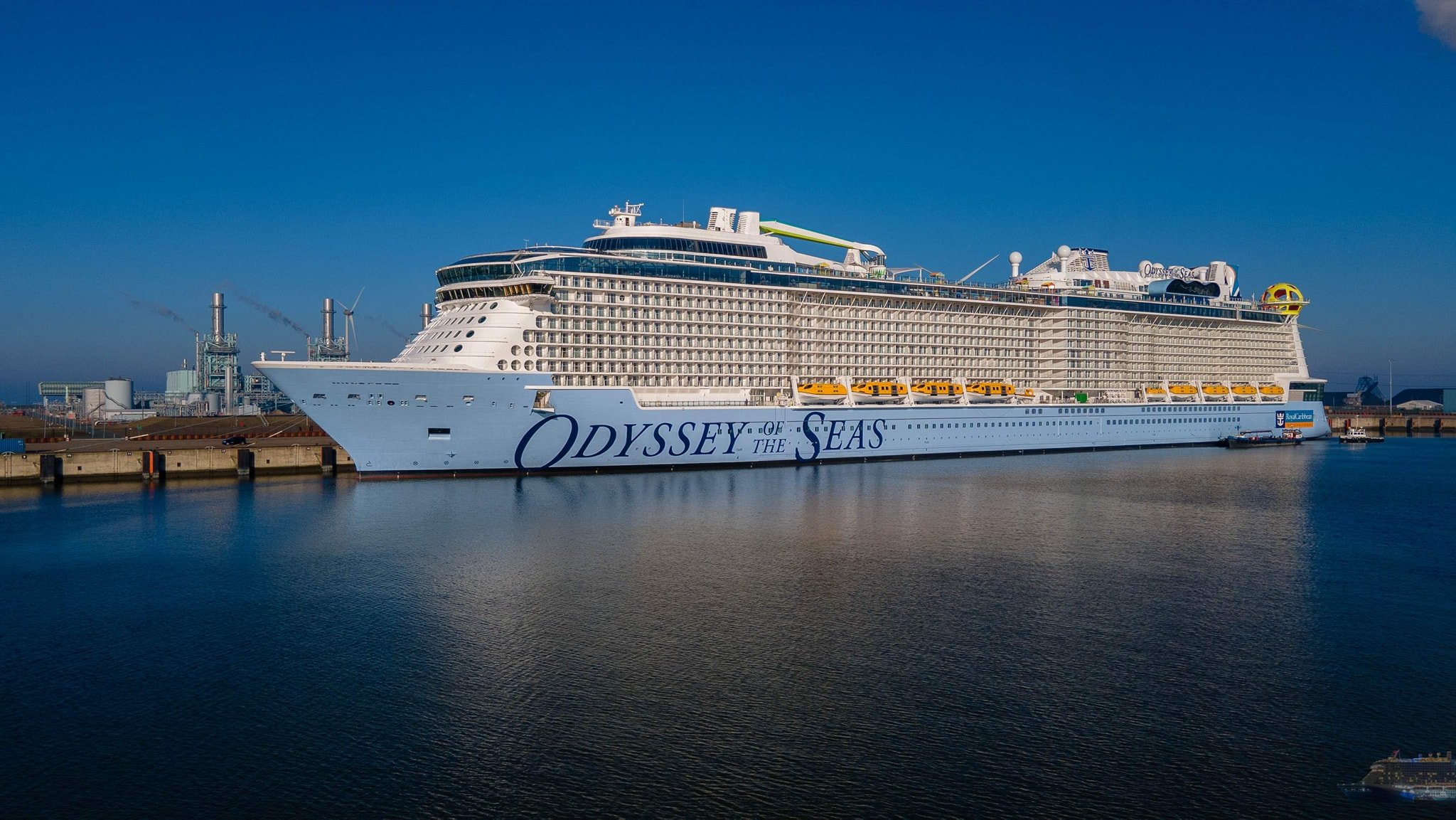 Odyssey of the Seas is offering roundtrip cruises from Port Everglades in Fort Lauderdale, Florida for winter 2022-2023.  There are 6- and 8-night sailings to choose from while the ship sails from Florida.
In summer 2023, Odyssey will transition to offer Mediterranean cruises.
Which restaurants are free on Odyssey of the Seas?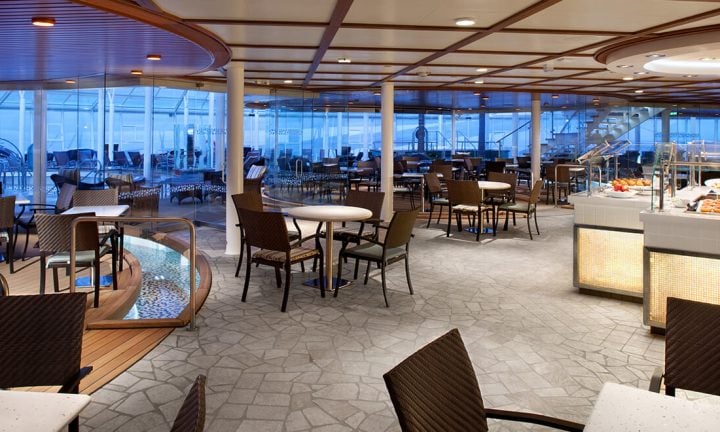 Royal Caribbean provides a number of restaurants that will cost you nothing extra onboard.
Main dining room
Windjammer Cafe
The Cafe @ Two70
Coastal Kitchen (suite guests only)
Sorrento's
El Loco Fresh
Cafe Promenade
Solarium Bistro
Sprinkles ice cream station
In addition, there are specialty restaurants you can dine at that cost extra, but offer cuisines and/or cooking styles not otherwise available onboard.
Read more: Odyssey of the Seas restaurants
Does Odyssey of the Seas have a water slide?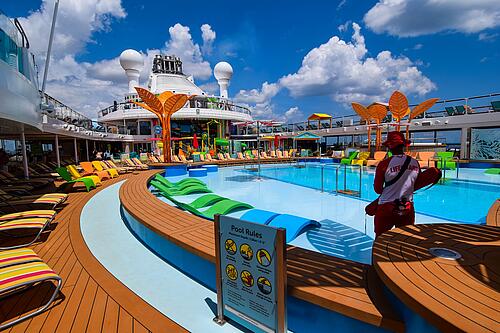 Splashaway Bay does offer kids a water slide, but Odyssey of the Seas does not have the Perfect Storm water slides found on other ships for guests of all ages.
Located on deck 14, there are two slides for kids to enjoy in Splashaway Bay, a small traditional slide and a tube slide.