In:
Whether you are a foodie or just enjoy lots of options when eating, Royal Caribbean's Odyssey of the Seas has a lot of great restaurants to choose from.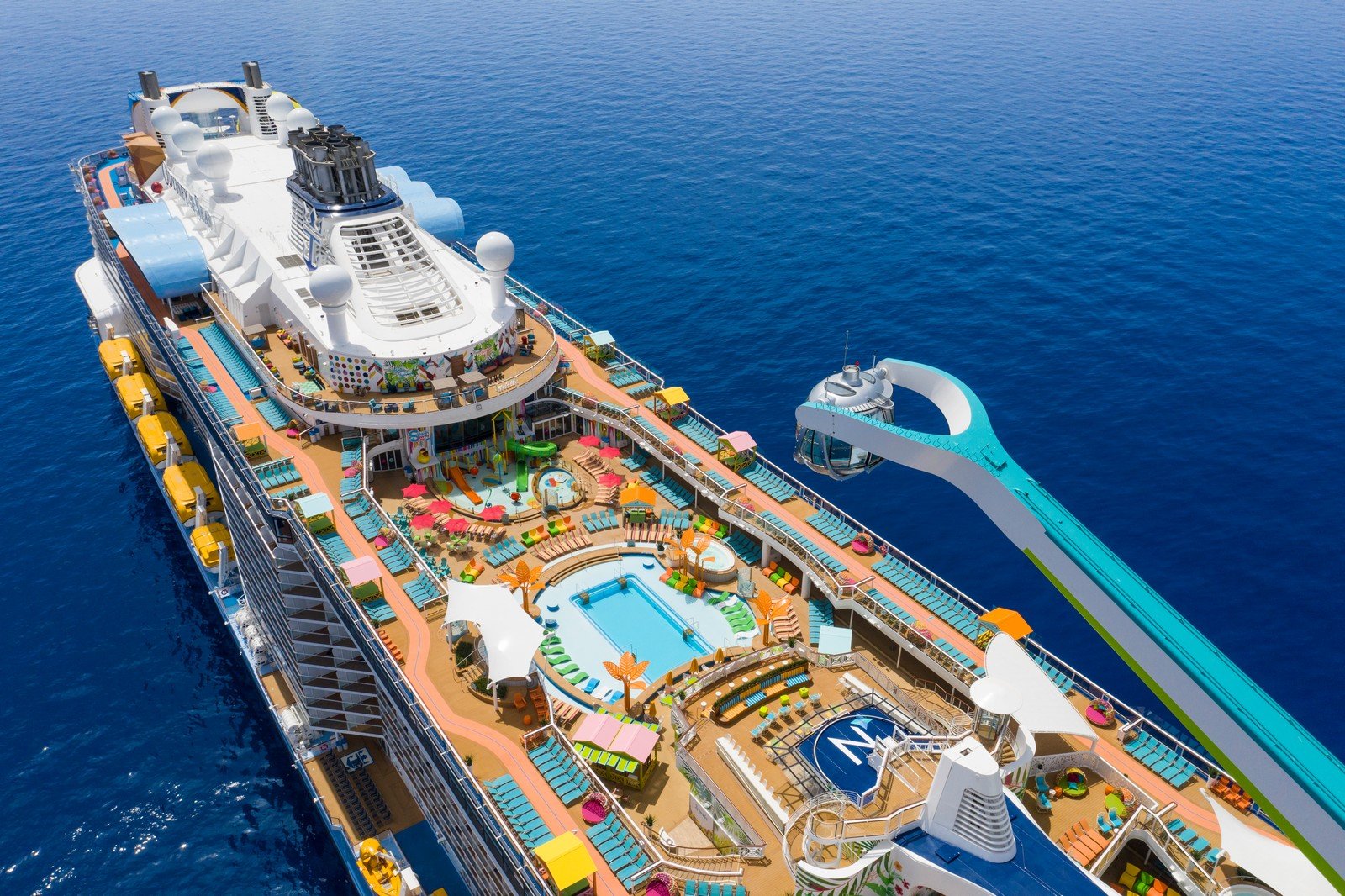 Most of the dining venues on Odyssey of the Seas are included with your cruise fare, along with optional specialty restaurants that cost extra to dine there.
From steak to omelets to sushi, there is a good variety of food available to consider.
If you have a cruise on Odyssey of the Seas and want to get a sense of what options are available to you, bring your stretchy pants and let's talk all things food!
Restaurants included with your cruise fare
Unlike other Quantum Class cruise ships, Odyssey of the Seas has a different layout for its complimentary dining, primarily in the main dining room.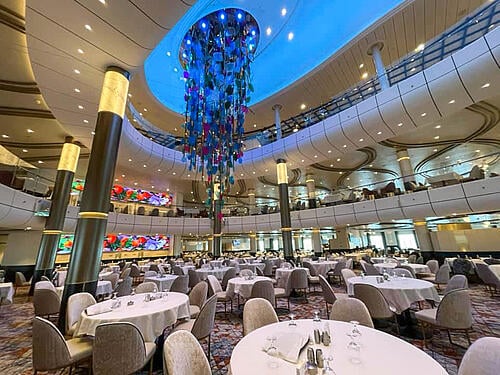 Odyssey of the Seas has a large and inviting two-deck main dining room that is as stunning to look at as it is filled with great food throughout the day. Previous Quantum Class ships had smaller and separate dining rooms instead.
The main dining room is open for breakfast and dinner every day, with lunch served on sea days. The lunch and dinner menus change daily, while the breakfast menu remains the same.
Guests have a choice of having a set time and table for dinner every day of the cruise, or they can choose to dine in the main dining room at their discretion, subject to availability. Check out our guide on My Time Dining versus Traditional Dining for more information on these choices.
Another popular complimentary option is the Windjammer, which is the buffet on deck 14.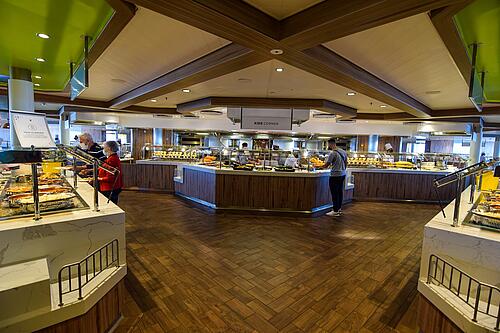 The Windjammer serves breakfast, lunch and dinner everyday (dinner is served assuming the ship is at least at 50% capacity), and has just about any kind of food you would want.
There are cooking stations, carved meats, soups, salads, vegetarian options, desserts and everything between. Picky eaters will love the variety of choices in the Windjammer, and the choice of international foods is a nice touch as well.
Crew members serve you food from one of the many food stations, at which point you then take your food to a table nearby.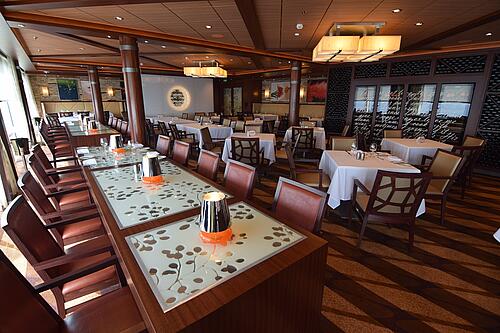 If you are staying in a suite, Coastal Kitchen is another complimentary restaurant available to you every day of the sailing.
Coastal Kitchen is open for breakfast, lunch, and dinner for suite guests (Junior Suite guests can only dine there at dinner), and Royal Caribbean describes it as a mix of California and Mediterranean style dining).
Just like the main dining room, the menu changes daily, and the food served here is different from the main dining room.
Since it is a perk for suite guests, it is included with the price of your suite and many suite guests consider Coastal Kitchen to be a "plussed version" of the main dining room.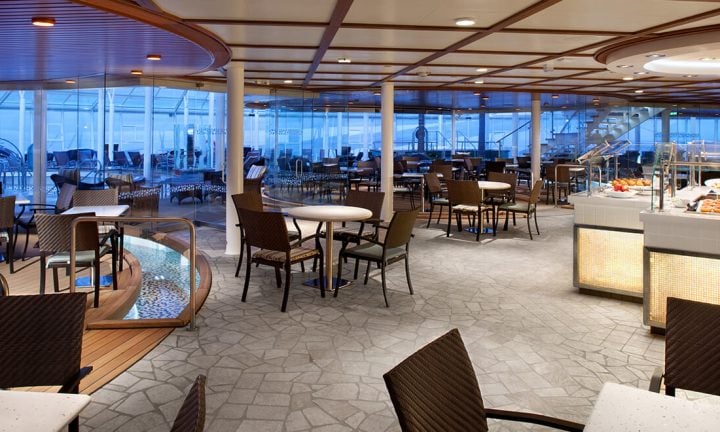 The Solarium Bistro is a hidden gem, and complimentary to all guests.
Solarium Bistro is located on deck 14 at the forward part of the ship near the Solarium. While the Solarium is for adults only, the restaurant is open to guests of all ages.
You will find a good variety of food in the Solarium Bistro, which is open for breakfast, lunch and dinner. Since many guests are unaware it exists, it tends to be far less crowded than the Windjammer or other dining venues onboard.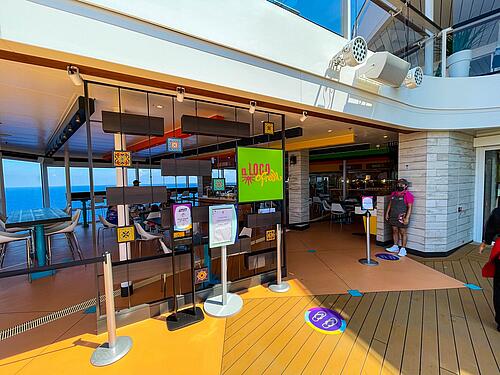 On the pool deck you will find Royal Caribbean's new complimentary Mexican restaurant, El Loco Fresh.
El Loco Fresh has a create your own menu of tacos, quesadillas, and burritos. Simply start with a base, and then take it to the toppings bar to add as much (or little) toppings you like, such as guacamole, salsa, cheese, jalapeños and more.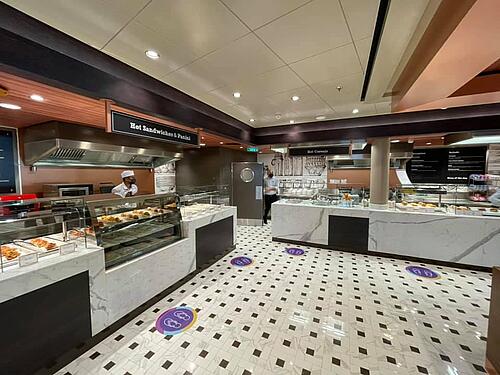 Let's move to the grab-and-go dining options included with your cruise fare, beginning with [email protected] on deck 5.
Serving small bites throughout the day, [email protected] is where you can go to get a cup of coffee, sandwich, bagel, doughnut or panini. For a smaller venue, it has a surprising amount of choices. Be sure to try the Kummelweck sandwich for a really good roast beef sandwich.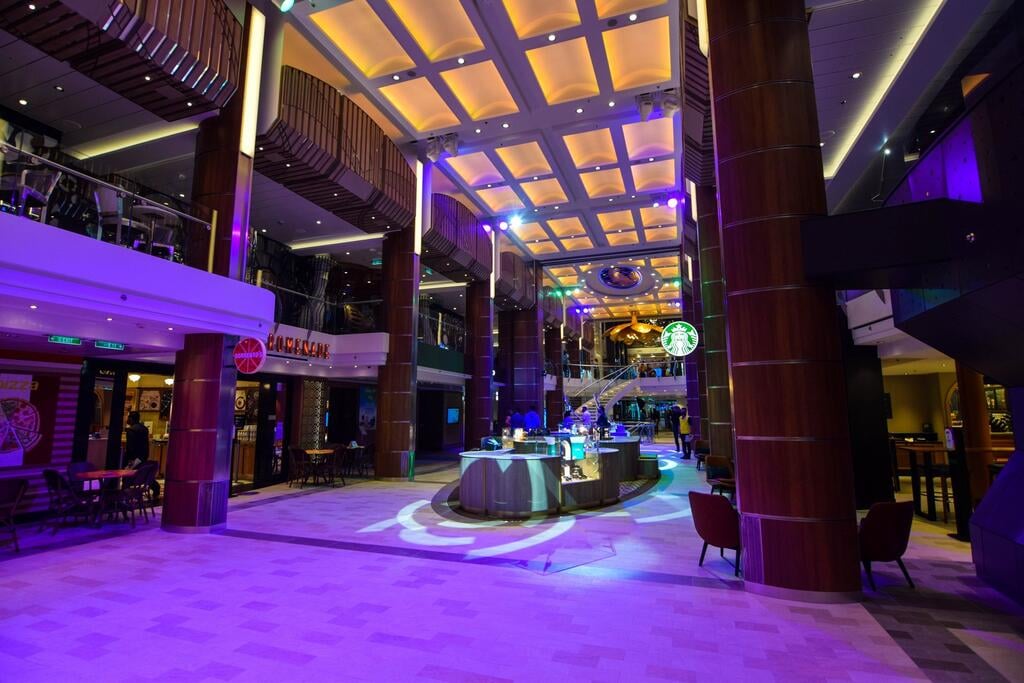 A staple of any Royal Caribbean ship is Sorrento's Pizza, which has hot pizza during the day, and well into the evening.
There is usually a few variety of pizzas to choose from, with special selections changing daily.  You will always find cheese and pepperoni offered, and usually one or two other options. 
Not only is the pizza good, but it is open for late night slices.
Nearby is Café Promenade, which has sandwiches, coffee, and desserts.
Read more: Everything I ate on Royal Caribbean's Odyssey of the Seas
Restaurants that cost extra
Specialty dining on Odyssey of the Seas offers guests cuisines and cooking styles otherwise not available in the complimentary venues.
Whether you are looking to change things up on one night, or dine exclusively at specialty dining, there are excellent choices to consider.
All specialty restaurants are open for dinner, although some are also open for lunch. Check the Cruise Compass for exact hours, but usually Izumi and Giovanni's Italian Kitchen are open for lunch on sea days.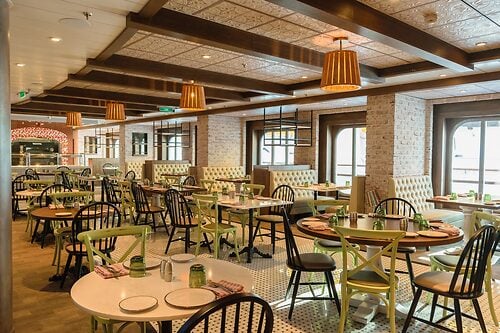 Odyssey of the Seas is home to Royal Caribbean's revamped Italian specialty restaurant, Giovanni's Italian Kitchen.
Passengers dining here have a wide selection of Italian favorites, including freshly cooked pastas, pizzas, and lots more. The appetizer menu in particular is quite large, and when you compare this restaurant to Royal Caribbean's previous generation of Giovanni's, you will quickly notice a jump in quality.
Be sure not to overlook the pizzas, as these are of a significantly higher quality than the pizza found in Sorrento's. There are quite a few varieties, and Royal Caribbean invested a lot of time to get these just right.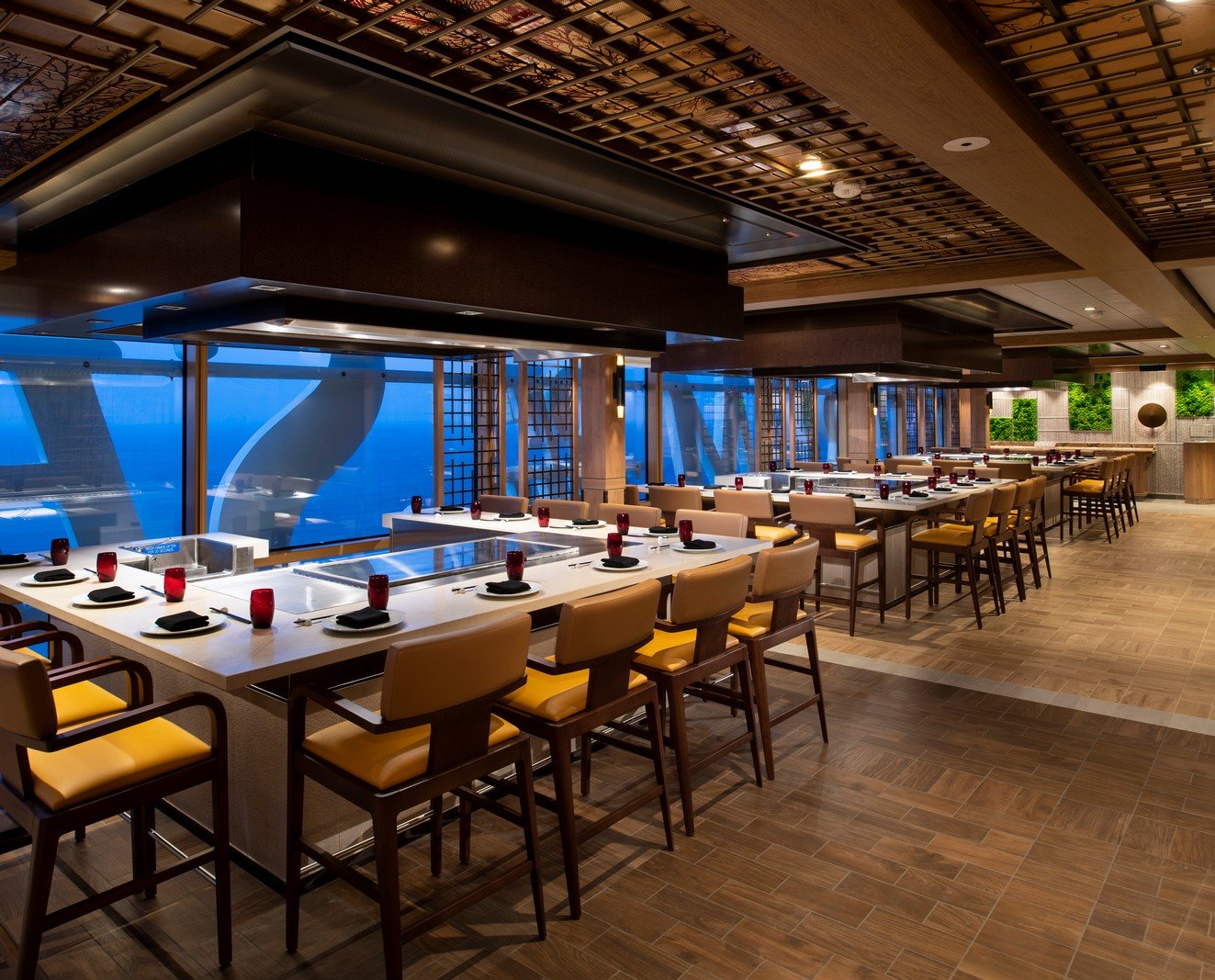 If you are looking for a crowd-pleasing specialty restaurant, look no further than Teppanyaki.
Hibachi dining is where guests sit around a cooking table and enjoy their chef cook all of the food, while performing a number of fun gags and making jokes along the way.  
Teppanyaki is a popular choice with limited seating, so advanced reservations are a good idea.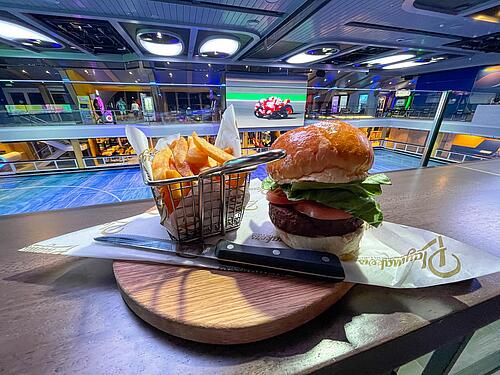 Another great venue on Odyssey of the Seas is Playmakers Sports Bar and Arcade, located in the SeaPlex.
You will find beers and bar food galore here, with some really tasty options to enjoy as you watch the game, play a game, or talk to friends about something else (perhaps a game?). The appetizers in particular are fantastic.
You will also find 56 TV's around the bar, meaning there is no bad seat.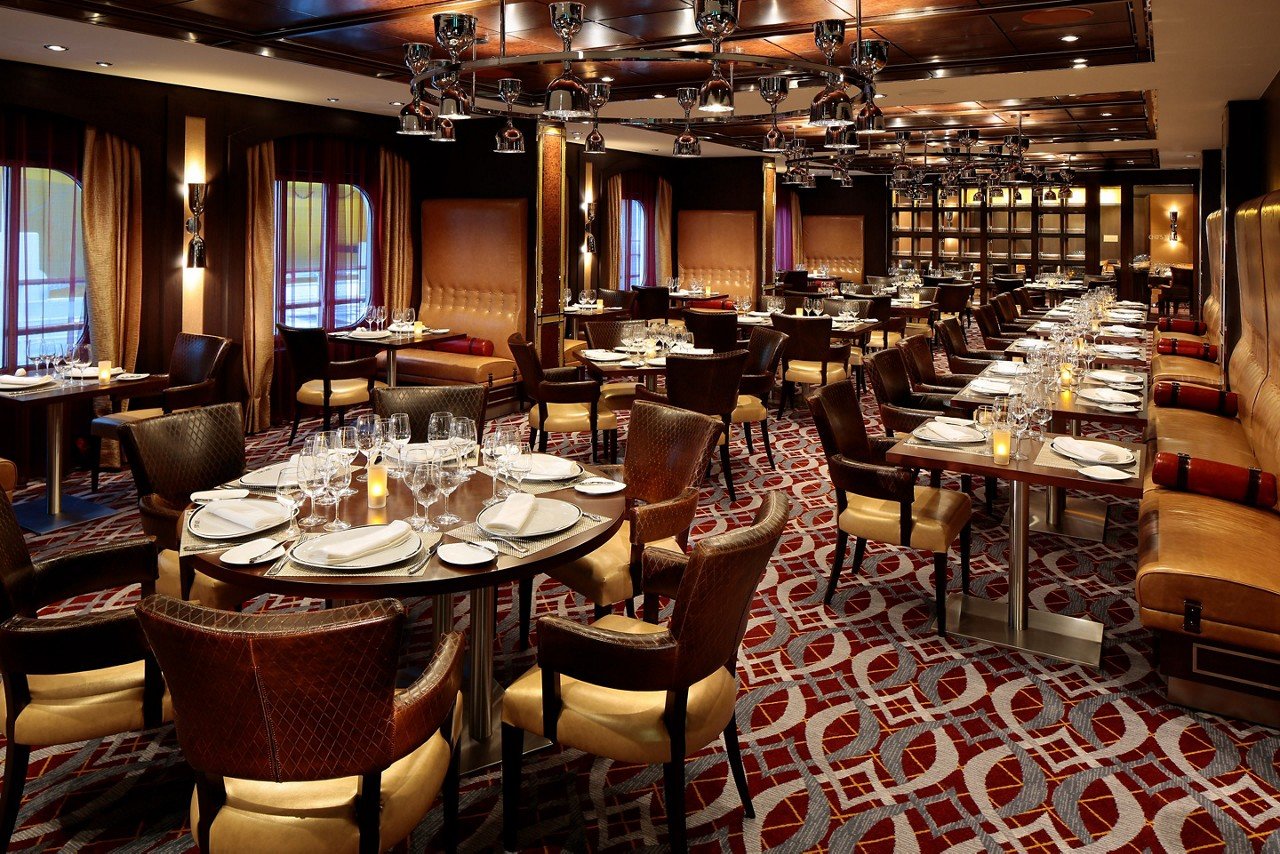 No Royal Caribbean cruise ship is complete without a Chops Grille, the cruise line's tried-and-true steakhouse.
You will find a variety of cuts of steak at Chops, along with plentiful sides. 
If you like sushi, Izumi is a great choice for your favorite roll. Royal Caribbean separated the sushi operation from the hibachi on Odyssey of the Seas, which means more space for each.
Open for lunch and dinner, Izumi offers a good mix of traditional and bold rolls, along with other Japanese cuisine.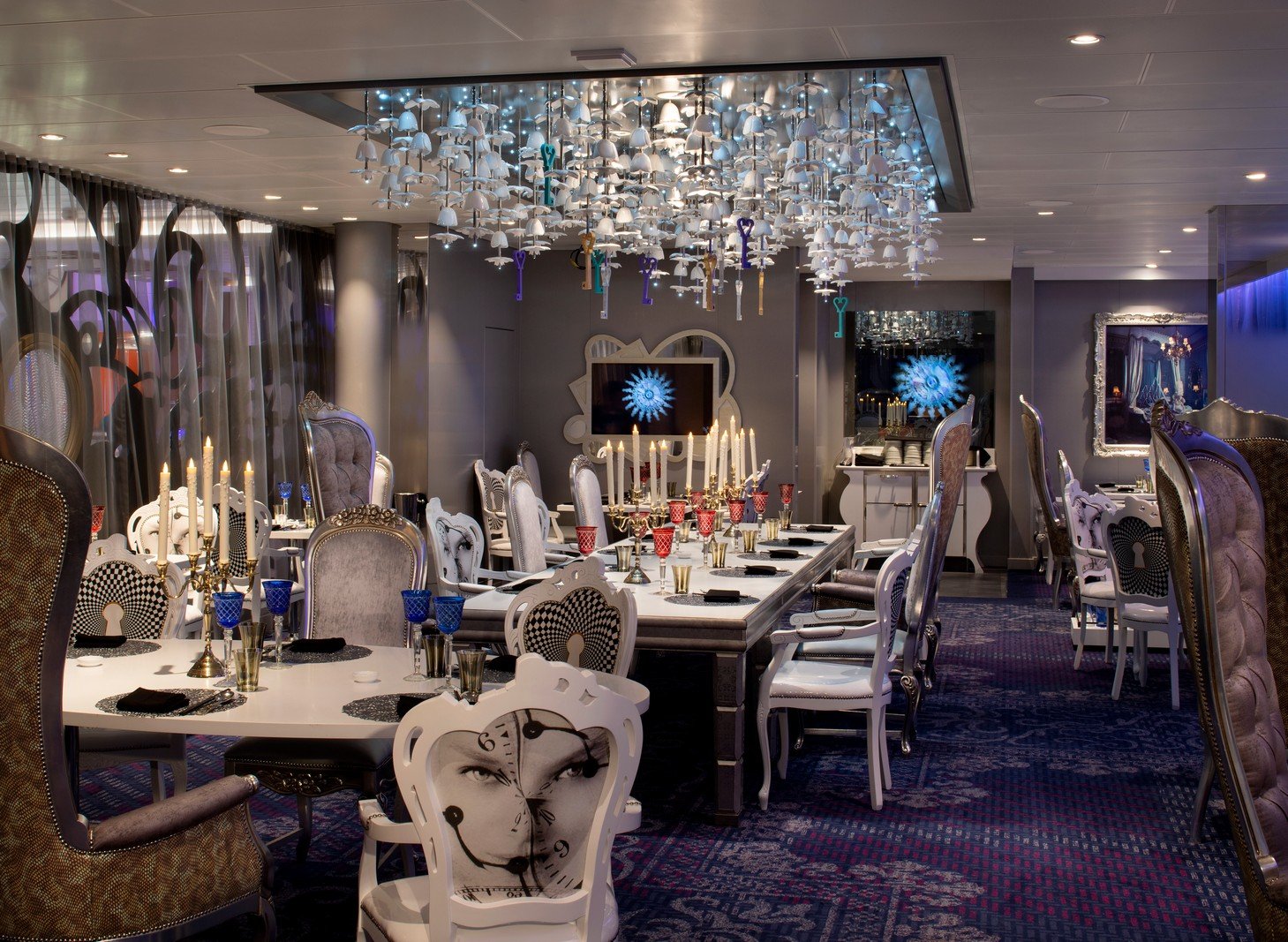 For something completely different, head to Wonderland for a restaurant loosely inspired by Alice in Wonderland.
Everything in Wonderland is meant to look different than you expect, but in the end, the way the food is presented is secondary to the actual taste.  Some dishes (especially the appetizers), will cause you to stop and question what exactly you are about to eat, but it all tends to end up come off as satisfying.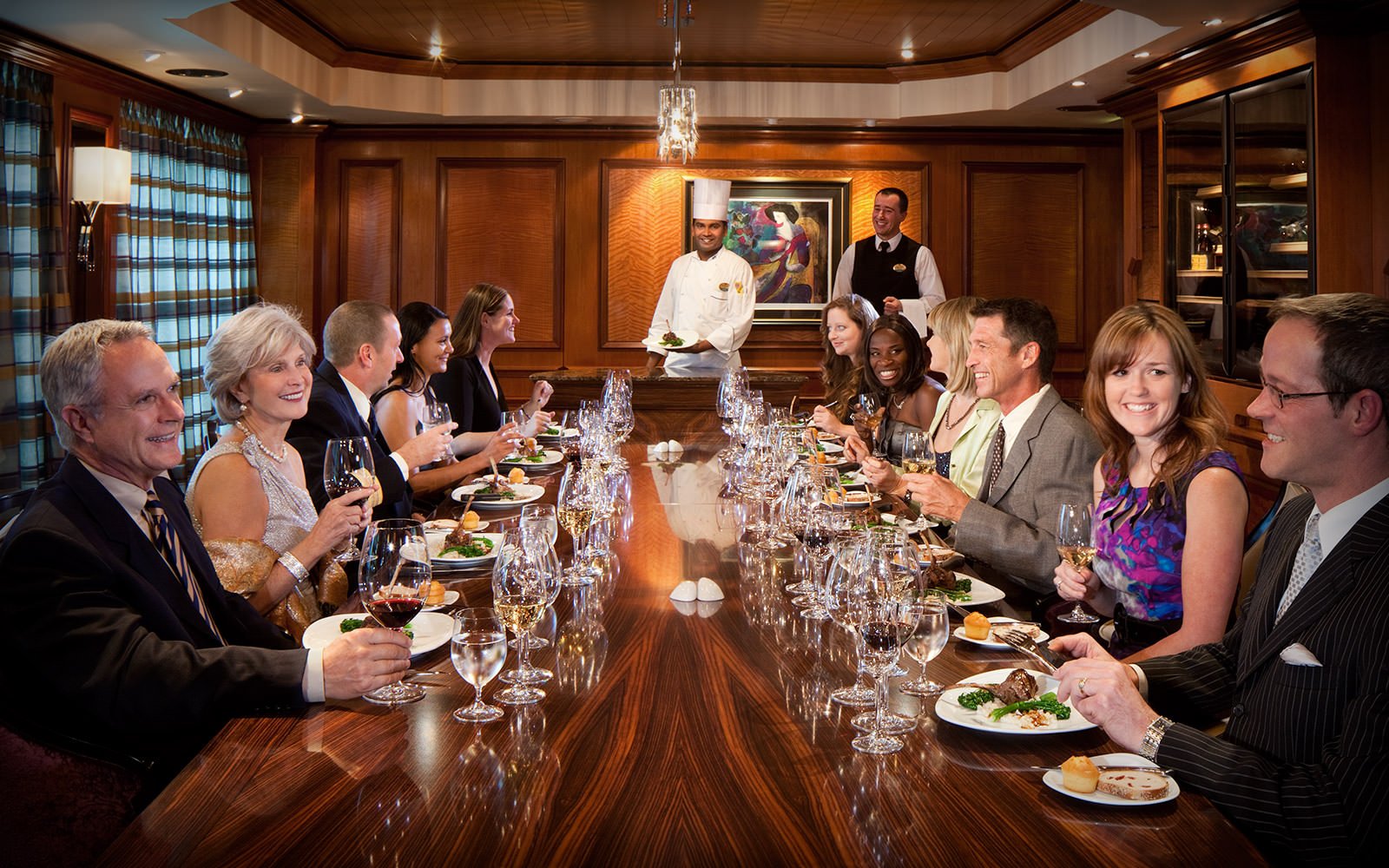 If you are a truly adventurous eater, then consider booking Chef's Table for an epic fully curated meal. 
You and a group of other passengers will enjoy a 5-course meal that is paired with glasses of wine along the way.  Be sure to allocate plenty of time, as it can take many hours to complete, but cruise fans rave about the quality of this fine-tuned meal.
How to see the menus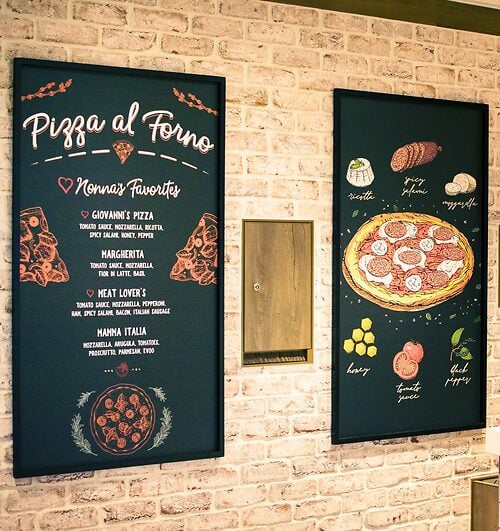 If you are curious what's on the menu for Odyssey of the Seas restaurants, you can view the menu from all of the restaurants on the Royal Caribbean app before your cruise.
Royal Caribbean's app is available on the iTunes App Store and Google Play Store.
Once in the app, go to your sailing and click the Dining icon from the bottom menu. From there, you can browse the menus of all the dining venues onboard Odyssey of the Seas.