In:
Royal Caribbean's Odyssey of the Seas has arrived in the United States for the first time.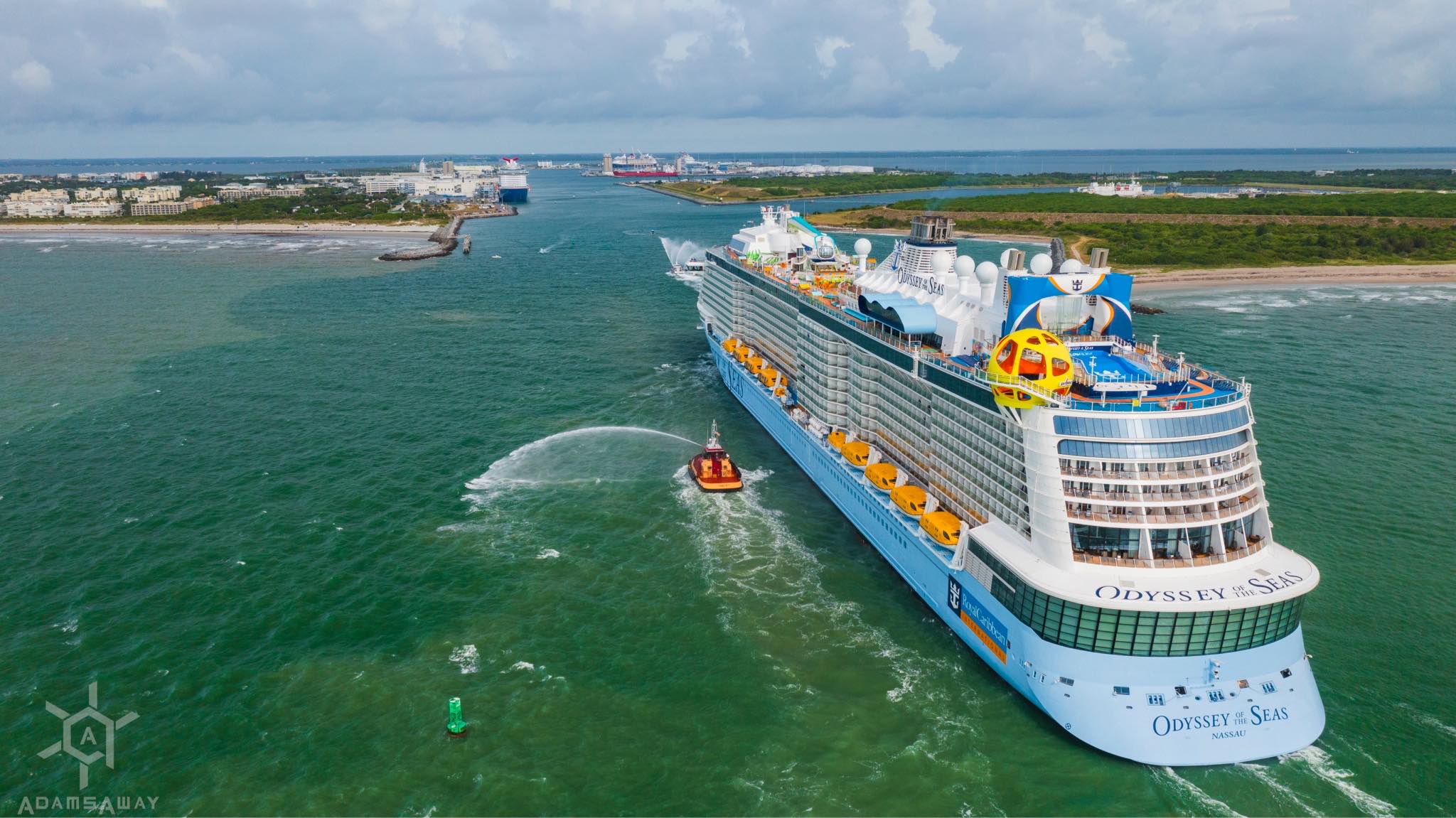 Photo by AdamsAway
The newest cruise ship in Royal Caribbean's fleet sailed into Port Canaveral just before 10am on Friday.
She will be in port at Terminal 1 until she departs on Sunday.
Odyssey was re-routed to the United States after her inaugural season was cancelled from Haifa, Israel. Like the rest of Royal Caribbean's fleet, she is in a state of limbo until the cruise industry can get approval to restart sailings.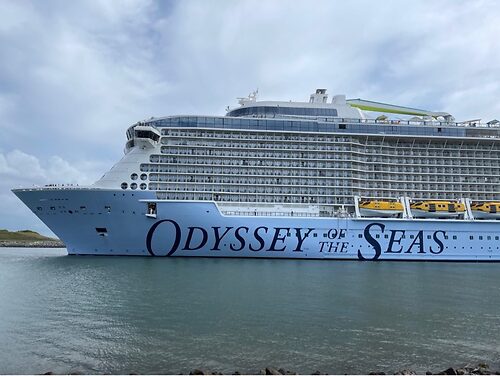 Photo by AdamsAway
Odyssey of the Seas can accommodate 4,180 passengers and is a 16-deck-high, 1,138-foot-long ship. 
Presumably, the crew on Odyssey will be receiving their Covid-19 vaccines while the ship is docked in Port Canaveral.  Royal Caribbean has been systematically bringing ships into Florida ports for short stops so that crew onboard can get vaccinated.
It was reported, although never confirmed, that Odyssey's crew was not able to obtain vaccinations in Israel, which may have played a role in the ship's season being cancelled.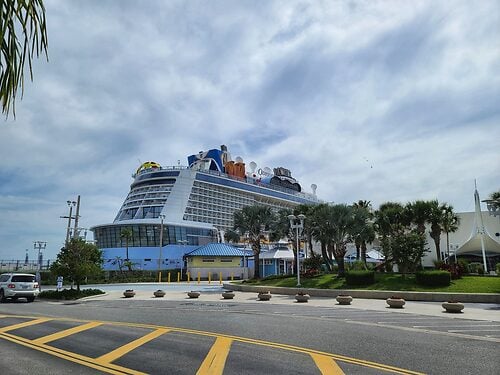 Photo by Paul Crow
As of now, Odyssey of the Seas is scheduled to begin cruises from Fort Lauderdale, Florida in November 2021, although there are rumors she may start sailings sooner than that.
Royal Caribbean confirmed Odyssey of the Seas will definitely sail from Florida, but did not specify which homeport.
During a recent webinar with travel agents, Royal Caribbean's Senior Vice President, Sales, Trade Support and Service, Vicki Freed, confirmed Odyssey will sail from Florida, "Where in Florida is she going to be? Well, this is like musical chairs, musical ships. So we will be telling you and sharing with you where in Florida as soon as we have more details."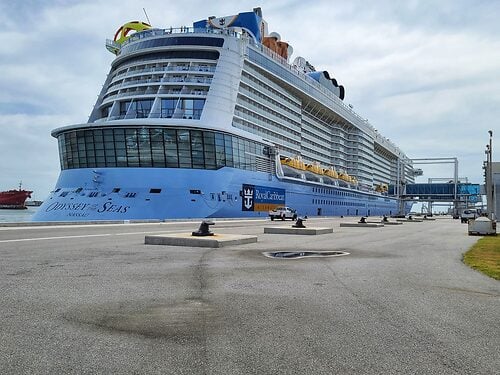 Photo by Paul Crow
Odyssey of the Seas was originally scheduled to be delivered in 2020, but that was pushed back to 2021 due to the global health crisis.  Then Odyssey's inaugural season from Italy was cancelled, and then redeployed to Haifa, Israel.
What makes Odyssey of the Seas different?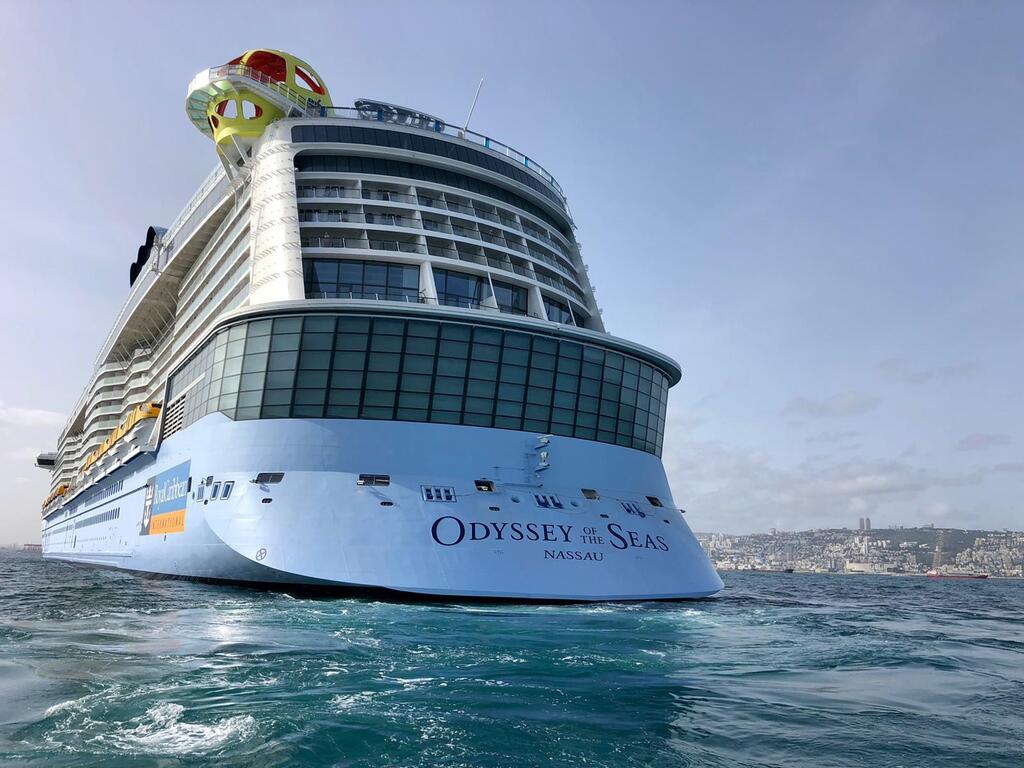 Guests sailing onboard Odyssey of the Seas will find plenty to enjoy onboard.
While not the largest cruise ship in the world (that distinction is held by Royal Caribbean's Symphony of the Seas), Odyssey packs a lot to do onboard, including multiple pools, aqua park for kids, surfing simulator, observation pod, and sky diving simulator.
There are even bumper cars you can ride, along with an array of complimentary and specialty restaurant options.
Caribbean-inspired pool deck– Sporting a whole new look across two decks, Odyssey's two open-air pools, four whirlpools and Splashaway Bay, anchored by a Quantum Ultra Class first – The Lime & Coconut bar – are designed for all travelers to enjoy the sun and stars in style.  
SeaPlex – The next-generation of a longtime Quantum Class favorite, this SeaPlex is the largest indoor and outdoor activity center at sea, and debuts this venue's first Playmakers Sports Bar & Arcade.
Giovanni's Italian Kitchen & Wine Bar and Teppanyaki – Two Royal Caribbean restaurants new to North America join the varied lineup of dining options on board. The fresh take on the cruise line's signature trattoria is the first to introduce its new wine bar concept while the other serves up East Asian flavors in the traditional Japanese style for which its named.
Action-packed top deck – Returning guest-favorites include the gravity-defying SkyPad virtual reality bungee trampoline adventure, FlowRider surf simulator, skydiving with RipCord by iFly, and the iconic North Star all-glass observation capsule that boasts 360-degree views from 300 feet above sea level.
One-of-a-kind entertainment – In typical Royal Caribbean fashion, Odyssey's full-scale productions take top billing in teched-out venues such as the Royal Theater and Two70, where immersive technology, unparalleled special effects and world-leading performers and aerialists take the stage alongside six agile Roboscreensfor a multidimensional live show.