In:
Royal Caribbean offers its guests two choices for enjoying dinner in the main dining room: My Time Dining or Traditional Dining.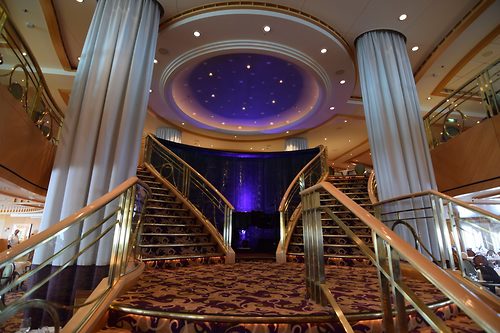 Each option allows for a style of meal aimed at the individual cruiser's preference and if you are wondering if My Time Dining is a better choice or if traditional dining is the way to go, then this blog post should help sort it all out.  
Traditional Dining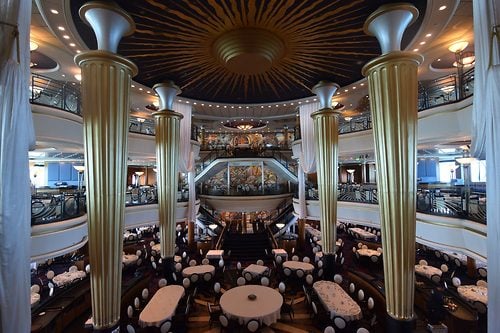 Traditional dining is an option for dinner where you choose between an early or late seating (sometimes referred to as "first seating" or "second seating").
In traditional dining, you are assigned the same table to dine at for each evening of your cruise and you will have the same dining time, table mates, and wait staff for each evening of the cruse.  
In some cases, you may be seated with other guests from the cruise (especially if you are traveling in a smaller group).
The advantages of traditional dining are:
Simple planning: Same time each night for dinner, so nothing to plan ahead
Personalized waiter service: Since you will have the same wait staff each evening, they will make an effort to get to know your habits.
Great for larger groups.
Evening show times are often scheduled around traditional dinner times.
My Time Dining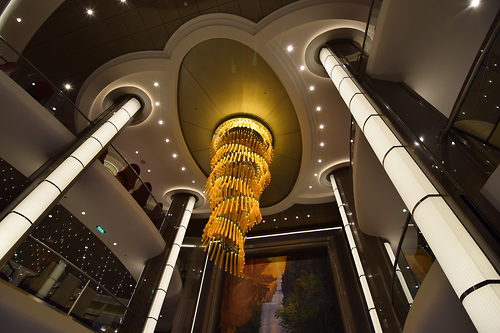 My Time Dining is a choice you have to have dinner at the Main Dining Room, where there is no assigned time or table.  Rather, you have the choice of making reservations in advance or simply showing up and waiting for an available table.  
You can make reservations for My Time Dining either before the cruise on Royal Caribbean's site, or once you are on the ship.  My Time Dining is a lot like dining out in your local town, where you can opt to call ahead and make a reservation or walk up to the restaurant and see what availability there is.  Moreover, the flexibility in dining times means being able to eat dinner on your schedule.
With flexibility comes responsibility, as it is up to you to make reservations when to dine.  While you can show up and wait for a table, we highly recommend making reservations in advance to limit wait times.  
If you like, you can request the same wait staff each evening, but it may result in a longer wait for an available table.
The advantages of My Time Dining are:
Greater choice of dining times: My Time Dinner is available each evening between the hours of 6:00 and 9:30 p.m.
Great for scheduling around shore excursion plans.
Getting a table is simple for smaller groups.  
Less likely to be seated with other guests.
Choosing between My Time Dining and Traditional Dining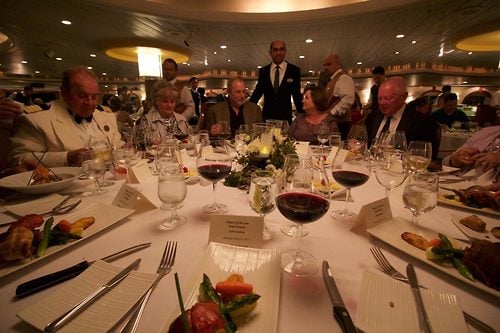 Ultimately, the decision of which option is better will come down to your personal preferences, as well as some other factors related to your group.
In a nutshell, My Time Dining offers greater flexibility in what time you eat, but there can be waits for to be seated.  Sometimes the wait can be as long as 45 minutes during peak times.  This can be mitigated by making reservations in advance, although for some people planning ahead defeats the point of My Time Dining to some extent.
Traditional dining is a simpler approach to dinner in the main dining room since it requires very little work up front.  Traditional dining requires you to adhere to one of two dining times, which may be too early or too late for your taste. Moreover, you may be seated with other guests and that has been hit or miss in terms of personalities clashing.
Larger groups (more than six people) will find it significantly easier to stick with traditional dining so that they can have the same table assignment each evening.  Getting larger groups seated near each other at the same time in My Time Dining is not a simple task.
If you place a high priority on seeing the shows each evening onboard, you can go with both, but traditional dining times are usually already scheduled around the entertainment.
Both My Time Dining and Traditional dining adhere to the main dining room dress codes each evening, which includes formal night.
Your thoughts
Which dinner option do you prefer? Is there an advantage to one over the other, in your opinion?  Share your experiences and post your questions in the comments below.