In:
Odyssey of the Seas is Royal Caribbean's newest cruise ship in 2021, and included onboard are some terrific dining options.
Royal Caribbean has steadily improved its onboard food over the years, and Odyssey of the Seas represents some of the best culinary options you can find on any cruise ship.
In the name of research, I took it upon myself to sample as much of the great food you can eat on Odyssey of the Seas.  I did not manage to eat everywhere, but I tried my best to hit up as many places as possible.
Here is a look at all the food I ate onboard the Odyssey of the Seas restaurants, and which items truly stood out as the best.
Windjammer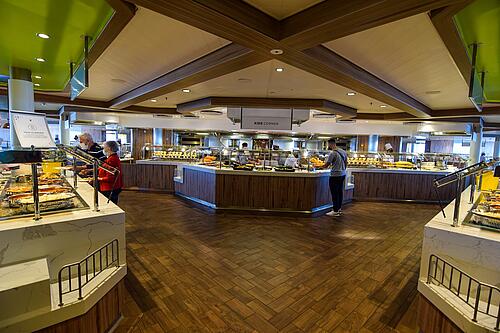 No Royal Caribbean can properly begin for me unless I eat lunch in the Windjammer because this is one of my personal cruise traditions. Every cruise I have been on has begun with embarkation day lunch at Royal Caribbean's signature buffet.
The Quantum Class Windjammer is massive, with plenty of buffet stations to choose from. Salads, soups, sandwiches, curries, cheeses, pasta and more.
Lunch on embarkation day would end up being the only time I ate in the Windjammer, but chalk that up to so many good choices.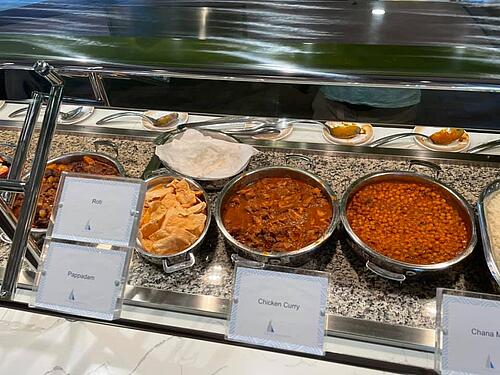 Ultimately, I had to go with my all-time favorite food Royal Caribbean offers in the Windjammer, and that is Indian curry.
I had a serving of chicken curry and chana masala over a bed of rice.  Combine the two, and you get some excellent flavors.
I was content with just that, until I saw Odyssey has an ice cream station featuring more than just vanilla, chocolate and strawberry.  They had coffee ice cream, which is my all-time favorite flavor.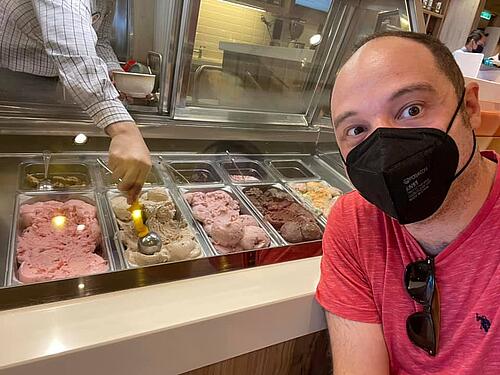 Izumi Teppanyaki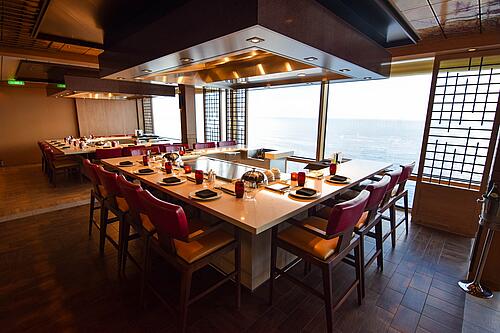 Perhaps there is no better crowd pleaser for dinner on any Royal Caribbean ship that the hibachi dinner at Izumi Teppanyaki.
On Odyssey, the Izumi sushi and hibachi are separate restaurants, which allows both restaurants to have plenty of space.
Before we get to the food, the views were outstanding given you can see the ocean behind the chef.
Besides our chef (Orlando) being really good, the food was even better.  Freshly cooked meats, vegetables, and rice served with a heaping amount of garlic is a recipe for success.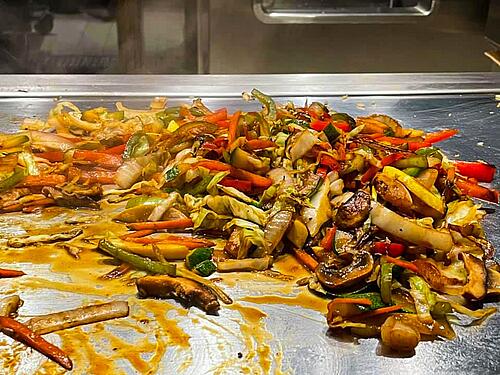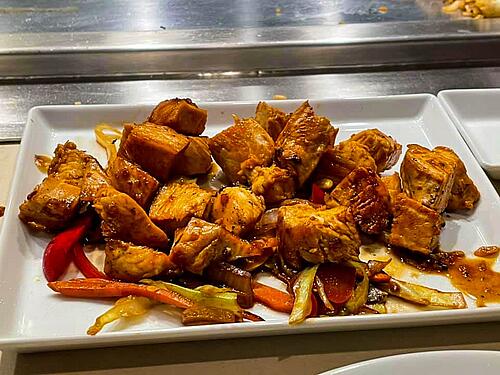 I had the chicken option with my meal, and it really hit the spot.
Cafe @ Two70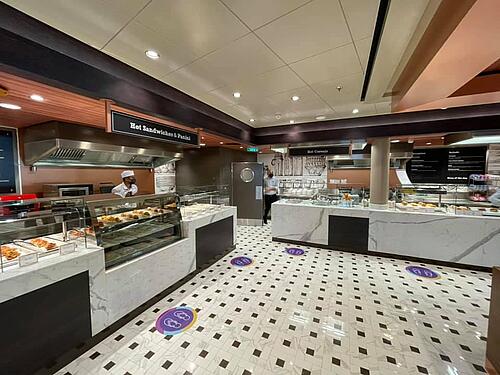 If you are in a rush, the best place to get a good breakfast and coffee is at the rear of the ship in Cafe @ Two70.
Similar to Park Cafe on other Royal Caribbean ships, Cafe @ Two70 has a good assortment of grab-and-go breakfast, such as bagels, muffins, wraps and more.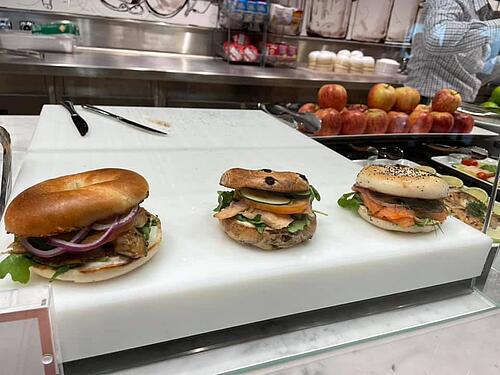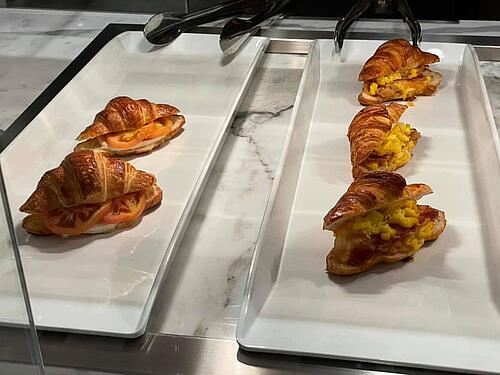 Of course, they also have a good selection of coffees, which are valid if you have a Royal Caribbean drink package.
A iced caramel latte is the best way to start any day on a Royal Caribbean ship.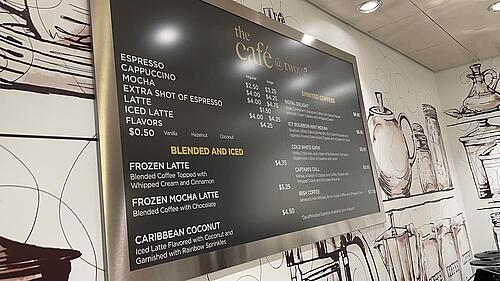 Playmakers Sports Bar & Arcade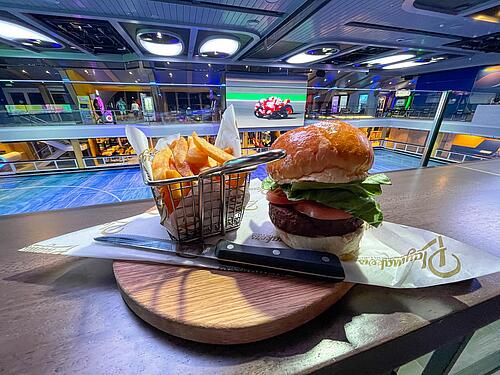 Following a fun day in the sun at Perfect Day at CocoCay, we decided to keep it casual and head to the SeaPlex for dinner at Playmakers Sports Bar & Arcade.
I love that Royal Caribbean put Playmakers in the SeaPlex, because it perfectly compliments the sports action below, as well as better utilizing space in the upper part of the SeaPlex.
Between our group of friends, we ended up ordering nearly one of everything, and two items really stand out as the best of the best.
First, is the Pile On Nachos.  Personally, I enjoy nachos that are overloaded with veggies, guacamole, cheese, and whatever else they pile on.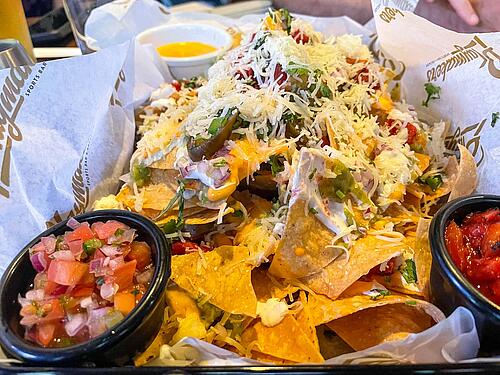 And then there is the Campfire Cookie, which is so darn good. 
I know at the end of every meal you are thinking "I'm stuffed, there is no way I can eat dessert", but the Campfire Cookie is worth it.
Main Dining Room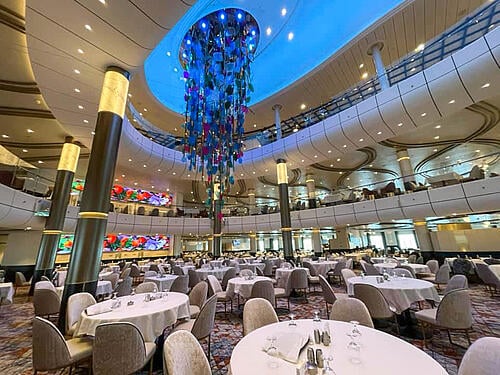 Just like the Windjammer, I only made it to the main dining room once, but I do not regret my visit here at all.
I had breakfast on the first sea day, and I purposefully went here so that I could enjoy the aesthetics of the dining room.  In short, it is a beautiful space and I love how Royal Caribbean altered the look of the dining room on Spectrum and Odyssey so that it fits in more with the flow of the ship.
I ordered an omelet just the way I like it, and it came out perfectly.  The nice thing about eating in the dining room is the slower pace, so you can sip your morning coffee, check the news, and then have breakfast brought to you.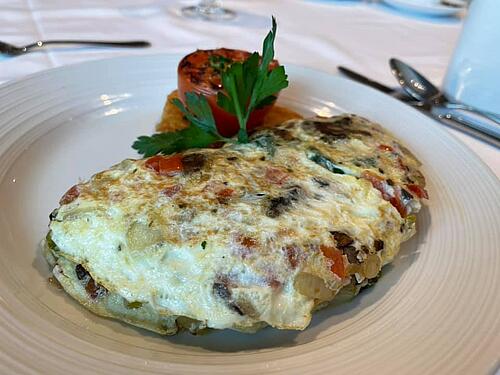 I wish I could have eaten dinner here as well, because of how impressive the space looks. Maybe next time.
Solarium Bistro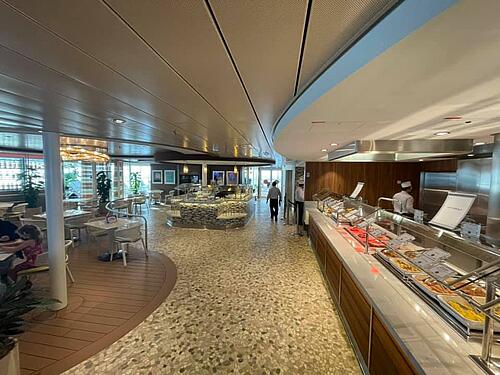 An easily overlooked restaurant on Odyssey of the Seas is the Solarium Bistro, which is open for breakfast, lunch and dinner and costs nothing extra!
I think most people are unaware it exists until perhaps later in the cruise, and I love how there is a much greater variety of choices than at other restaurants.
Read more: Top 10 Odyssey of the Seas hidden secrets
Solarium Bistro has long been an excellent choice for vegetarians, but I find plenty I like to eat here too. The Mediterranean salads are what draw me in every time, although the German sausages and bratwurst looked so darn good.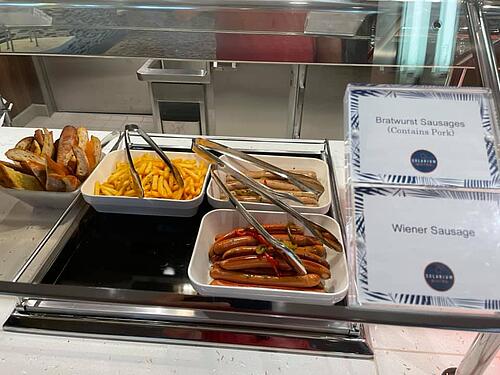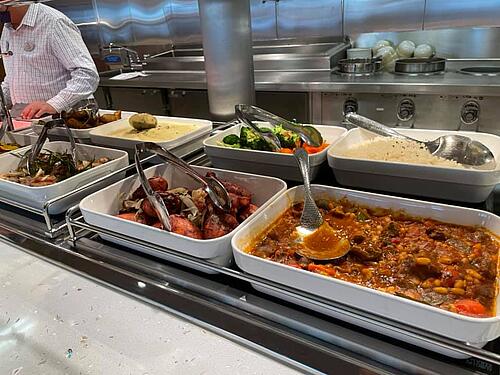 Just like the main dining room, you can have breakfast here and enjoy omelets cooked to order.
El Loco Fresh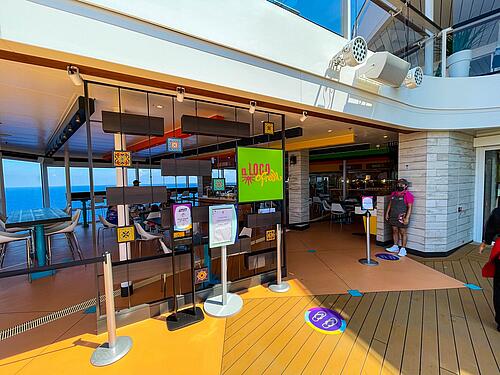 I am a sucker for fresh salsa on just about anything, and El Loco Fresh has plenty of it to go around.
Located on the pool deck, El Loco Fresh has quesadillas and burritos, but do yourself a favor and skip the pre-made ones and go right to the made-to-order area.
You are given a fresh tortilla, and you can load it up with rice, beans, chicken, beef and all sorts of toppings.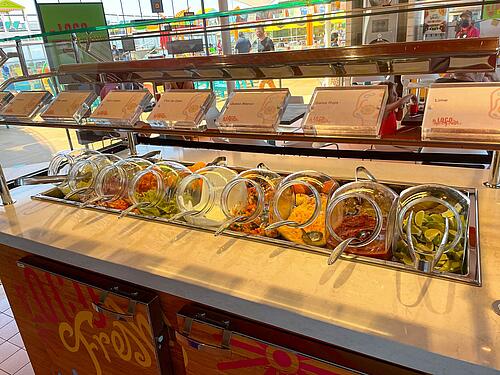 Giovanni's Italian Kitchen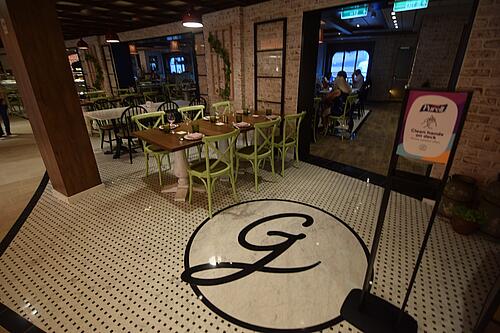 When I boarded Odyssey of the Seas, I knew dinner at Giovanni's Italian Kitchen would be at the top of my list of things I was looking forward to doing.
I sampled the menu on Freedom of the Seas, so I was eager to get back and try the food out again here.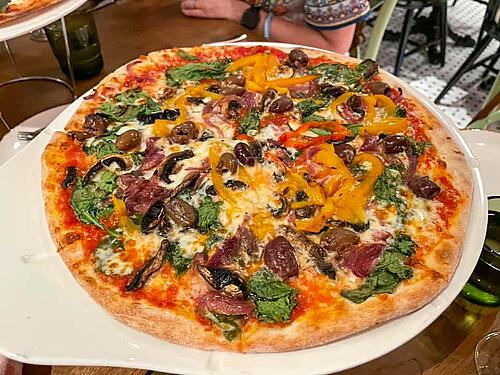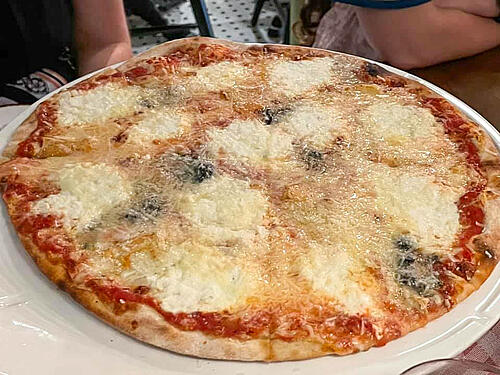 Luckily, it did not disappoint.  Truly the "problem" with Giovanni's is there are so many good items on the menu to choose from.
I think their pizzas are fantastic, and all their pastas are made fresh daily so it would be a crime not at least eat some.
Let us not forget about the appetizers, which are served family style and just try not to pick at them while it sits on the table.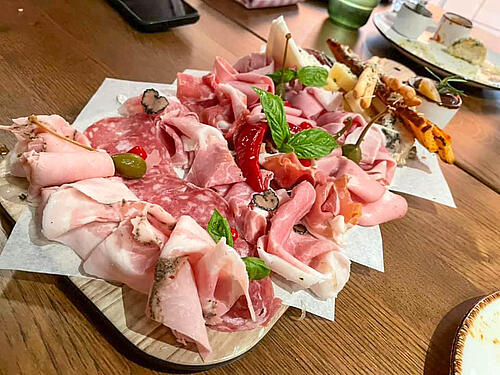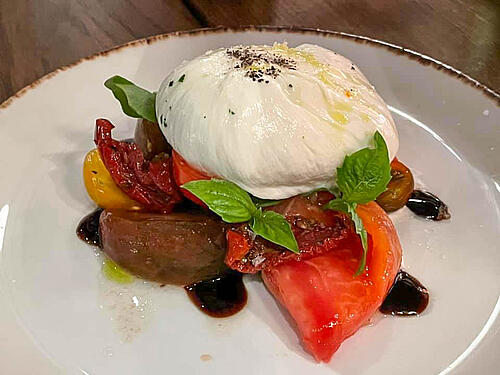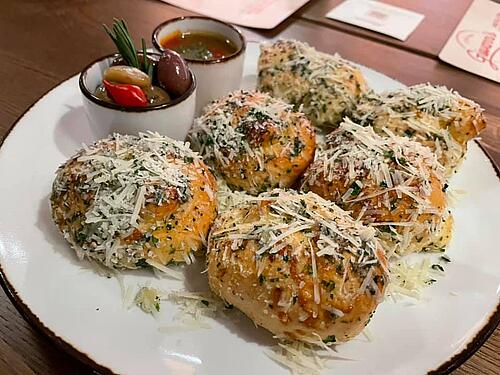 To that point, I have to confess I just had to try the meatballs, which contain beef and pork. I do not eat pork, but they looked so darn good that I just had to give it a go and it did not disappoint.
This time around, I really liked the margherita pizza the best of all the pies we had.  Whenever I go to an Italian restaurant, chicken parmigiana is my go-to order.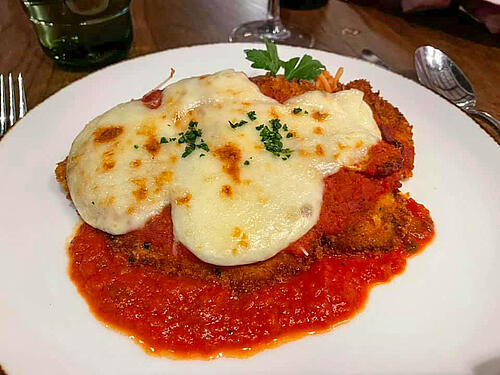 Along with the side of pasta, it hit the spot.
Chops Grille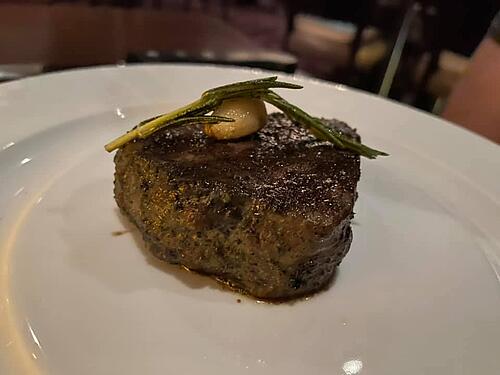 A last-minute decision was to go to Chops Grille, and it is one of those restaurants on any Royal Caribbean ship you can bet on being a solid meal.
Given it is a steakhouse, the steaks are what everyone orders when they visit and it is tough to beat their filet mignon (although I prefer the filet at the Coco Beach Club restaurant).
My personal favorite item on the menu is actually the tuna tartare, which has a lot of raw tuna and guacamole.  Such a great combo.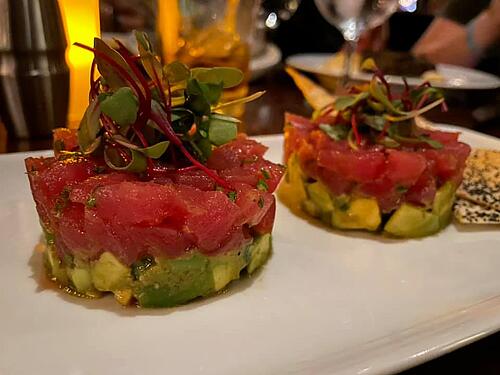 Giovanni's Italian Wine Bar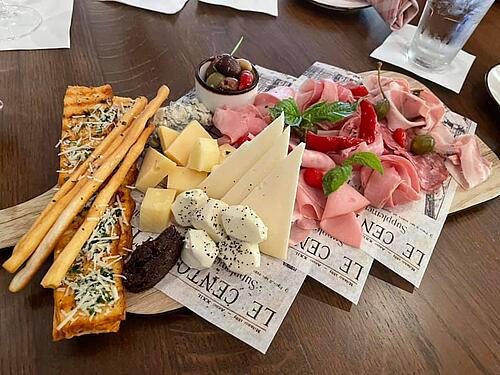 Another great change Royal Caribbean made to Odyssey of the Seas compared to her sister ships was to transform Vintages Wine Bar into Giovanni's Italian Wine Bar.
In addition to the selection of wines, you can order food from Giovanni's Italian Kitchen.  There are even two items only available at the Wine Bar: the arancini and lasagna bites.
A good tip to remember is if Giovanni's Italian Kitchen is ever too full to seat you on a whim, go next door to the wine bar for basically the same food.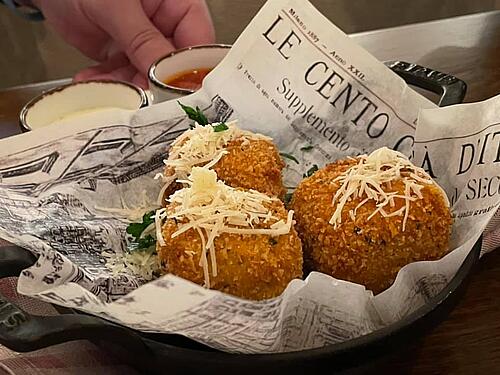 Just like at Giovanni's Italian Kitchen, we also ordered a large sampling of food and got to revisit some favorites from the previous night.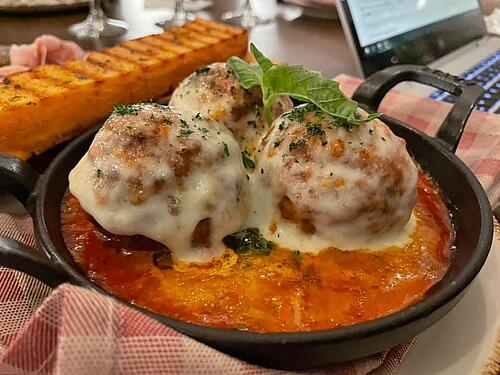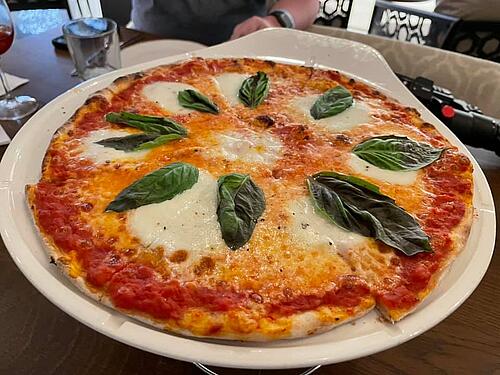 I think Italian food fans are going to really enjoy so many options.
Wonderland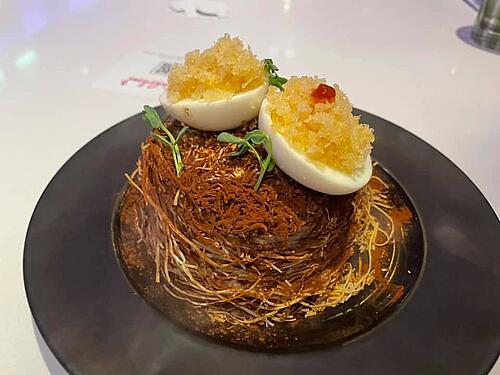 Our final meal on Odyssey of the Seas was Wonderland. We chose Wonderland because there was some friends with us that had never dined there.
Wonderland is a blend of over-the-top decor, odd looking food, and exploration inbetween.  It may never be my favorite restaurant to dine at purely for the food, but I do think it is a fun experience.
Our waiter took us through the entire meal and provided fun entertainment as we went through the various courses.  Nearly all of it looked odd, but most tasted better than it looked.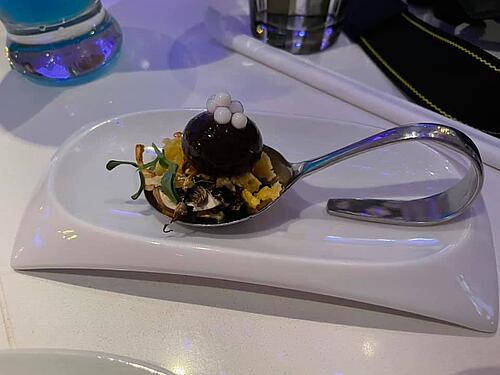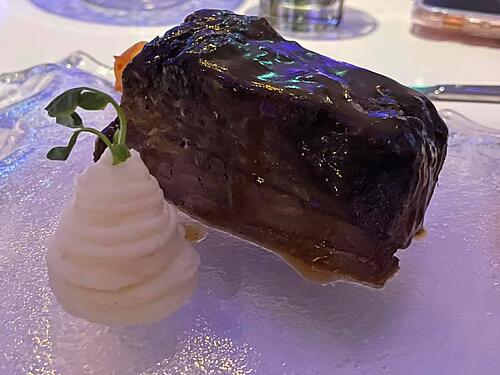 Top 5 things I ate on Odyssey of the Seas
Now that I have listed all the restaurants I dined at while on Odyssey of the Seas, I wanted to list my top picks of what I enjoyed the most.
There was a lot of good food, so needless to say I did not leave the ship hungry or disappointed.  So I wanted to share which dishes truly stood out as my personal favorites.
1. Pile On Nachos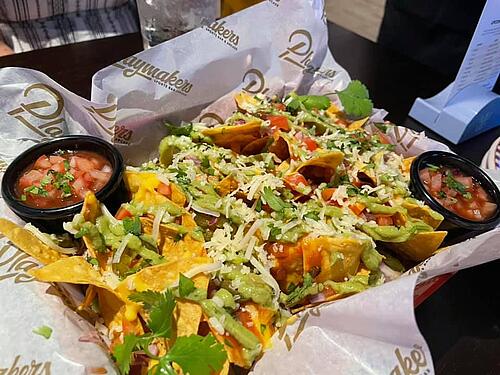 2. Lasagna bites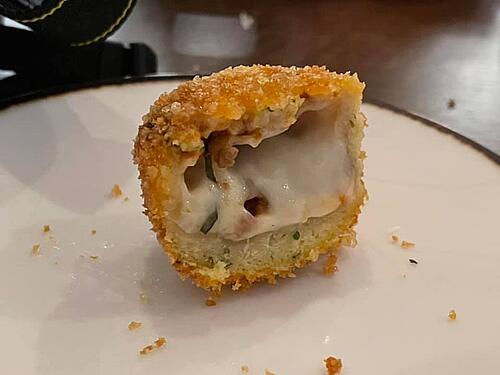 3. Hibachi dinner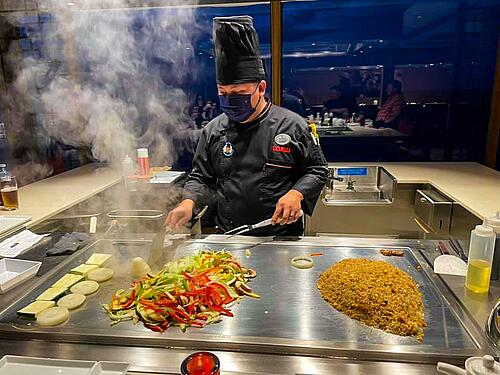 4. Margherita Pizza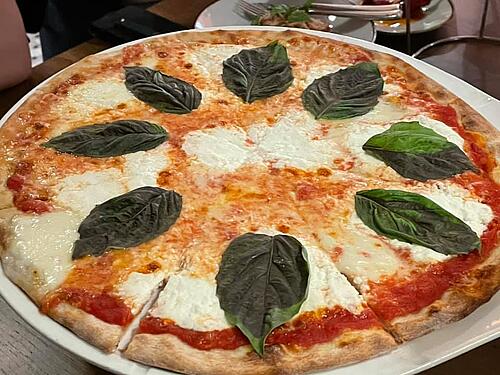 5. Indian curry