In:
If you've got a cruise book on Royal Caribbean's Odyssey of the Seas, I've got ten lesser known tips and tricks to share with you about this amazing ship.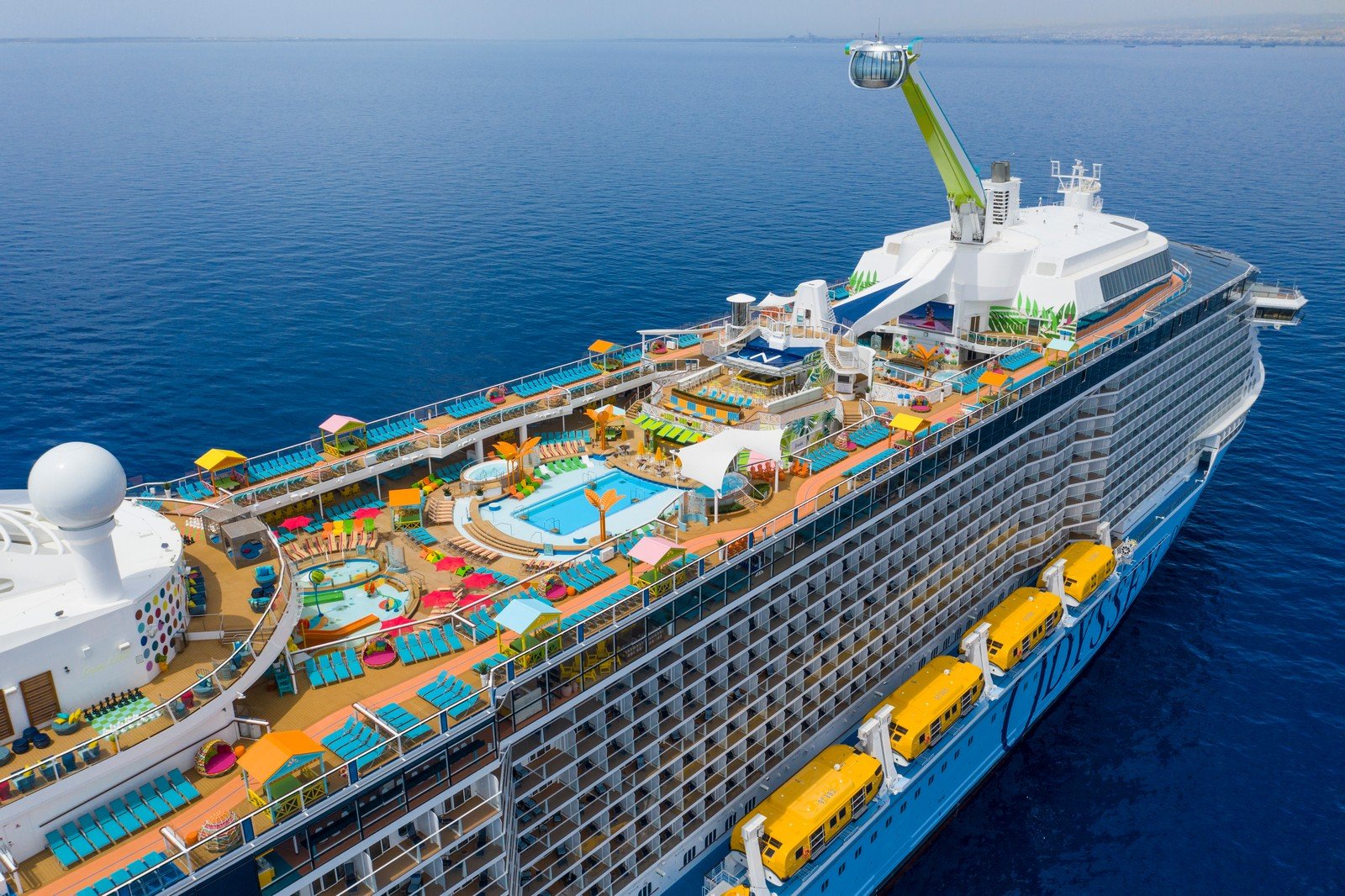 Odyssey of the Seas is a Quantum Ultra class ship, and Royal Caribbean has packed her with so many things to see and do, and inbetween are a few good tidbits that might enhance your cruise or give you a heads up on what to expect.
All cruise ships have their own style to them, and you can usually find something unique or hard to find onboard that most other guests easily overlook.
After scouring the ship, I'm sharing my top 10 Odyssey of the Seas hidden secrets so that you can know all about them before you sail!
10. Solarium bridge wings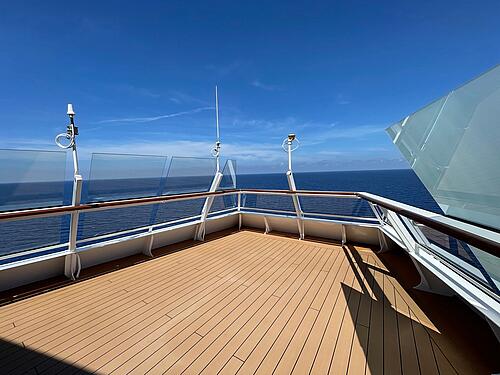 If you want the best vantage point for a selfie, check out the bridge wings at the front of the ship.
On both sides of the Solarium are viewing areas you can walk to and enjoy a view of the ocean and side of the ship.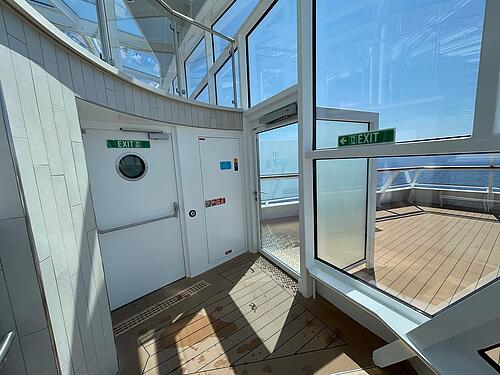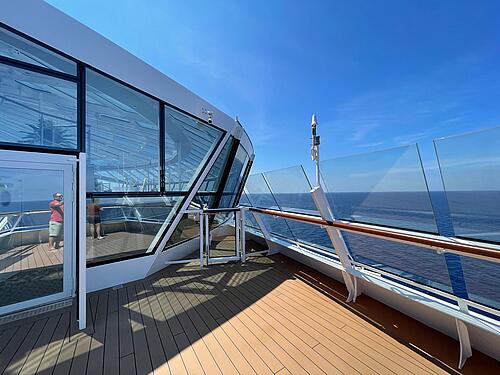 To get to the wing viewing areas, go to the Solarium and proceed all the way forward.
9. Zone Zero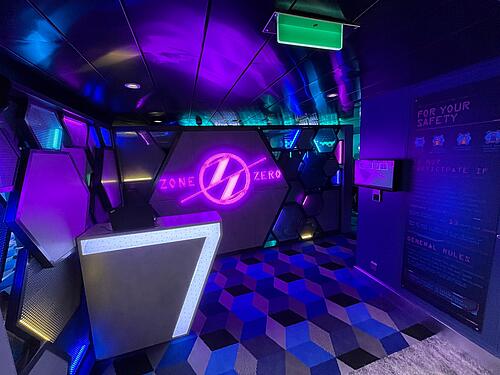 Zone Zero is less a secret as much as it is an easily overlooked experience onboard.
Odyssey of the Seas has the SkyPad virtual reality trampoline experience, but there is another virtual reality game you can play onboard in the SeaPlex.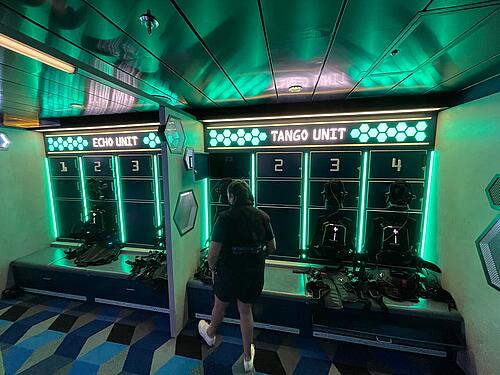 Zone Zero is a complimentary virtual reality experience for up to 4 guests at a time, and it is only available on Odyssey of the Seas.
8. Least crowded restaurant: Solarium Bistro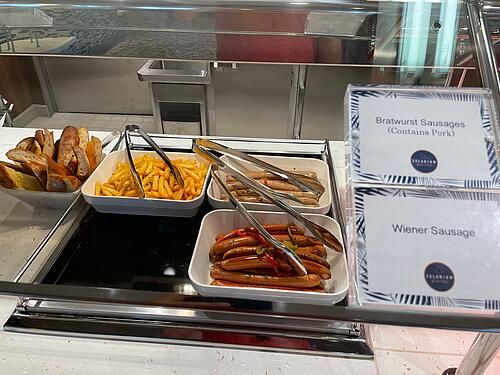 If you want something different to eat and avoid crowds, check out the Solarium Bistro.
Located in the Solarium (although the entrance is near the stairwell), Solarium Bistro is a complimentary restaurant most guests have no idea exists.
Regardless of which meal you want to enjoy, you will find barely any crowds.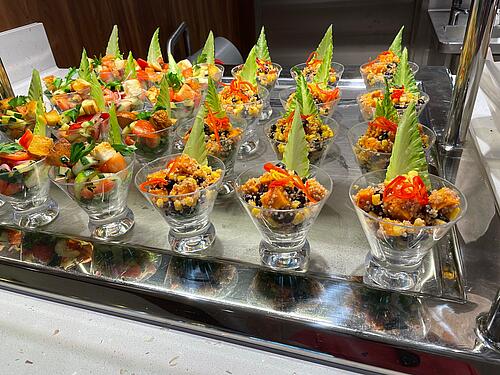 In addition, Solarium Bistro is a boon for vegetarians or just anyone that wants to eat a little bit healthier. There is a large salad bar, as well as a good mix of Mediterranean inspired dishes.
And yes, kids can dine at the Solarium Bistro despite being in the Solarium.
7. Secret Solarium entrance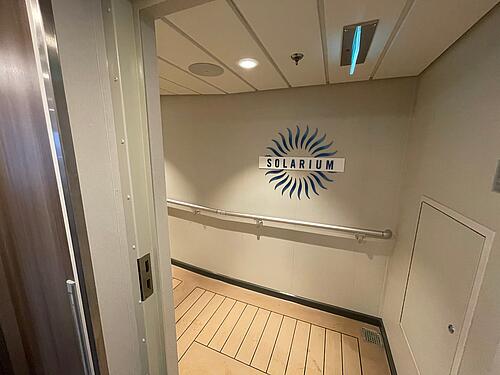 On deck 13, you will find a door leading to the Solarium without having to go up to the pool deck first.
On deck 13 forward, if you walk all the way forward past all the staterooms, there is a door that leads right out to the lower level of the Solarium.
This is especially helpful if you book a cabin on deck 13 to be able to quickly get in and out of the Solarium.
6. Skypad glass walkway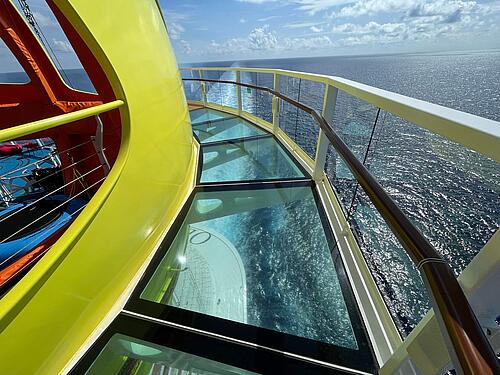 If you like glass floors, you will find a rather large one on the side of the SkyPad.
Guests can walk around the SkyPad to see the ocean as well as people below jumping on the trampolines.  Half of this walkaway is made of glass, providing a view straight down to the ocean below.
5. See-through floor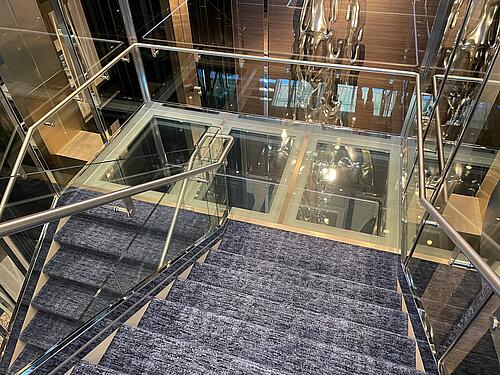 Yet another glass floor is found between deck 13 and 14 in the aft stairwell.
Royal Caribbean added this see-through floor for one of the steps, which allows guests to peer down more than 10 decks to the Royal Esplanade.  
Be sure to bring your camera, especially when kids see this for the first time.
4. Comfy outdoor chairs
On sea days the pool deck is a beacon for many passengers, but if you want to enjoy some super comfortable chairs with a breeze, head to the SeaPlex.
Right outside the SeaPlex are day beds, padded chairs, and couches you can enjoy.  Many of these are also in the shade, which makes it a little more comfortable.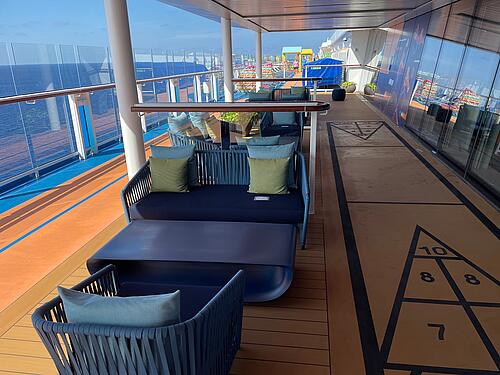 You can find these seats by walking to the back of the ship on the upper pool deck, or find the doors that lead outside from the lower level of the SeaPlex.
3. Thermal spa pass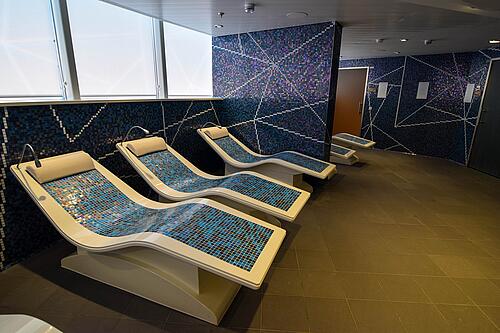 The Vitality Spa on Odyssey of the Seas has a special pass you can purchase to provide you with unlimited access to the thermal suite.
The thermal suite is made up of four areas that you can enjoy all cruise long:
Heated stone chairs
Rainforest shower room
Caldarium chamber
Laconium dry heat chamber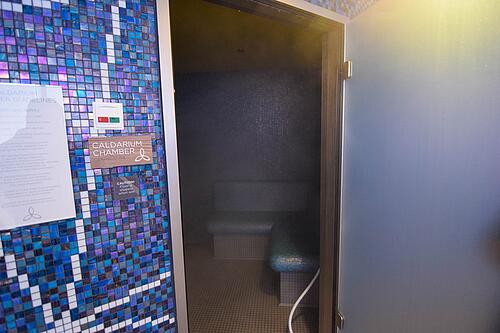 The cost for an unlimited pass is $99 per person.
2. The pub has food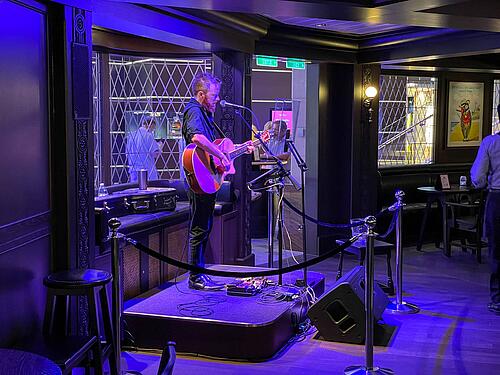 While there is an English style pub on almost every Royal Caribbean ship, most do not have food you can order, but there are food options on Odyssey of the Seas.
At the Crown & Compass Pub, you will find a selection of bar bites that includes fried pickles, soft pretzels, poutine, burgers and even deep-fried apple pie.
After a few drinks, you can order food to enjoy without having to leave your favorite table.
1. Giovanni's Wine Bar has a food menu too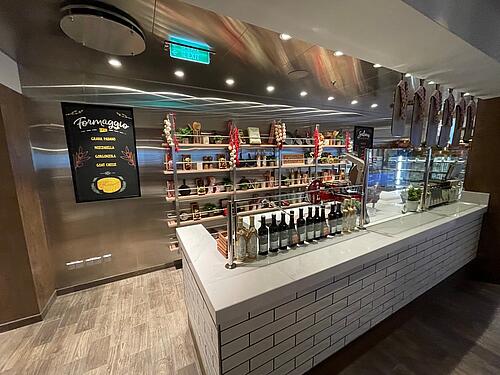 Royal Caribbean decided to replace Vintages with a new wine bar concept attached to Giovanni's Italian Kitchen, which includes its own menu.
In addition to the standard Giovanni's Kitchen menu, you can stop in at the wine bar for various platters, antipasta and more.
The menu includes an assorted meat & cheese platter, fried lasagna bites, stromboli and pizza.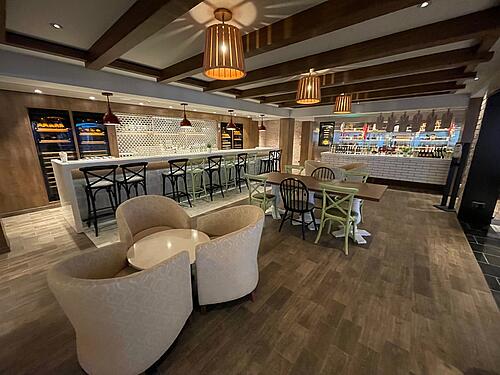 The wine bar can be a great alternative if you cannot get a reservation at the main restaurant.
Did I miss any Odyssey of the Seas secrets? Share them in our comments!