In:
Odyssey of the Seas cost Royal Caribbean nearly $1 billion, and it has so many things for everyone in your group to do that there's no room for being bored.
Whether you are into dining, activities, events, or games, there is a lot to see and do across Odyssey's sixteen decks.
Having a good time on Odyssey of the Seas doesn't mean you have to pay extra for fun either.  Royal Caribbean includes a great deal of things to do that are included with your cruise fare.
Here is my list of 15 free things to do when you sail on Odyssey of the Seas.
1. Find the stowaway piano player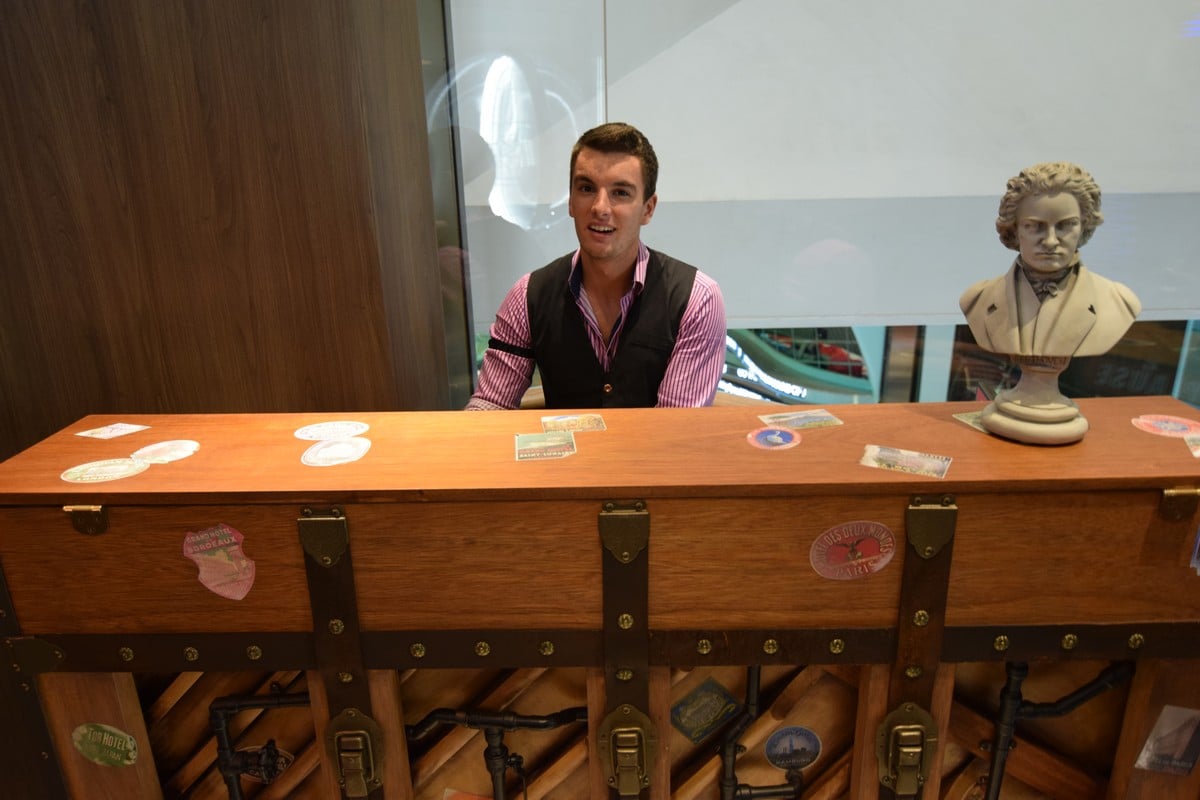 Live music is something Royal Caribbean does well, and Odyssey has a really fun approach to hearing live music with the stowaway piano player.
Unlike other musicians onboard that have scheduled sets in a specific location, the stowaway piano player performs in random places at random times. The idea is you can stumble on him and literally run into a great performance.
The reason why the piano player is referred to as a "stowaway" is because the story Royal Caribbean tells is the piano player snuck onboard and is playing music for fun while avoiding getting caught.
Since there is no published times to find the stowaway piano player, keep an ear out for music emanating from an usual direction and then follow the tunes.
2. Bounce on the Sky Pad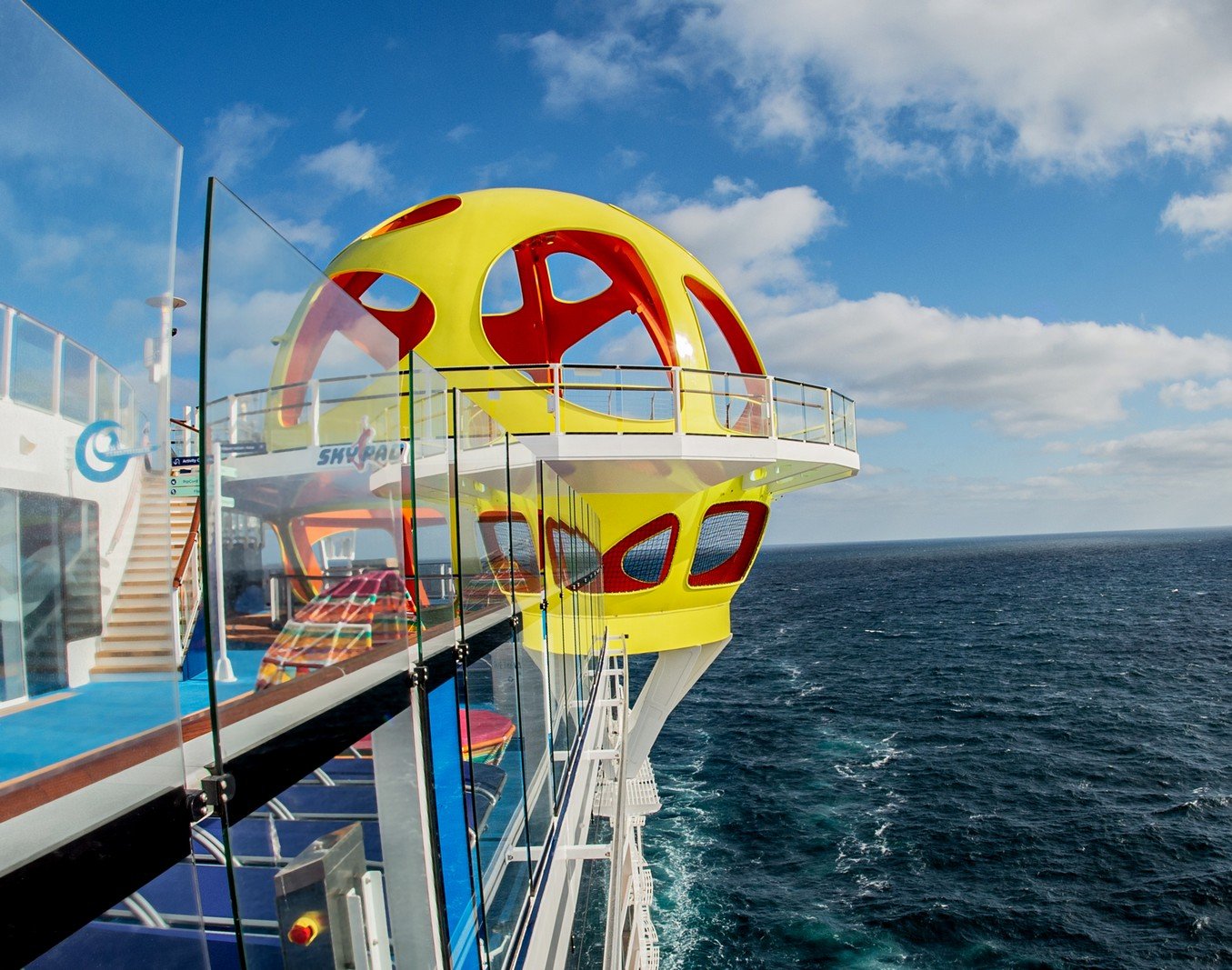 Odyssey of the Seas has its own Sky Pad, where you can bounce along on a trampoline to a virtual world.
After being hooked up to bungee chords, you put on a virtual reality visor and explore a virtual world while bouncing up and down on a giant trampoline!
There are three different games to try, including being transported to another time and planet to bounce over moon craters or compete in intergalactic games.
If you prefer, you can do this without the virtual reality helmet and instead look out over the ocean as you leap toward the sky.
3. Splashaway Bay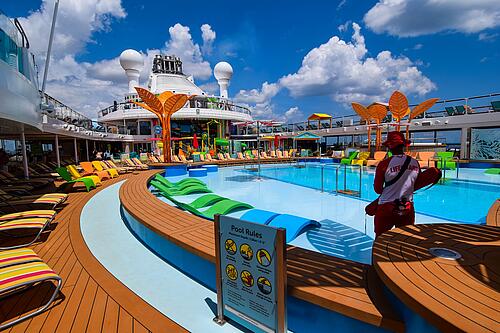 While there are no water slides on Odyssey of the Seas, kids can splash around at Splashaway Bay.
This aqua park is designed for kids to enjoy, and does have a few short slides to enjoy, along with drench buckets, geysers, and pretty much any excuse to get soaked.
On sea days, you will find kids running through Splashaway Bay over and over again.
4. Go surfing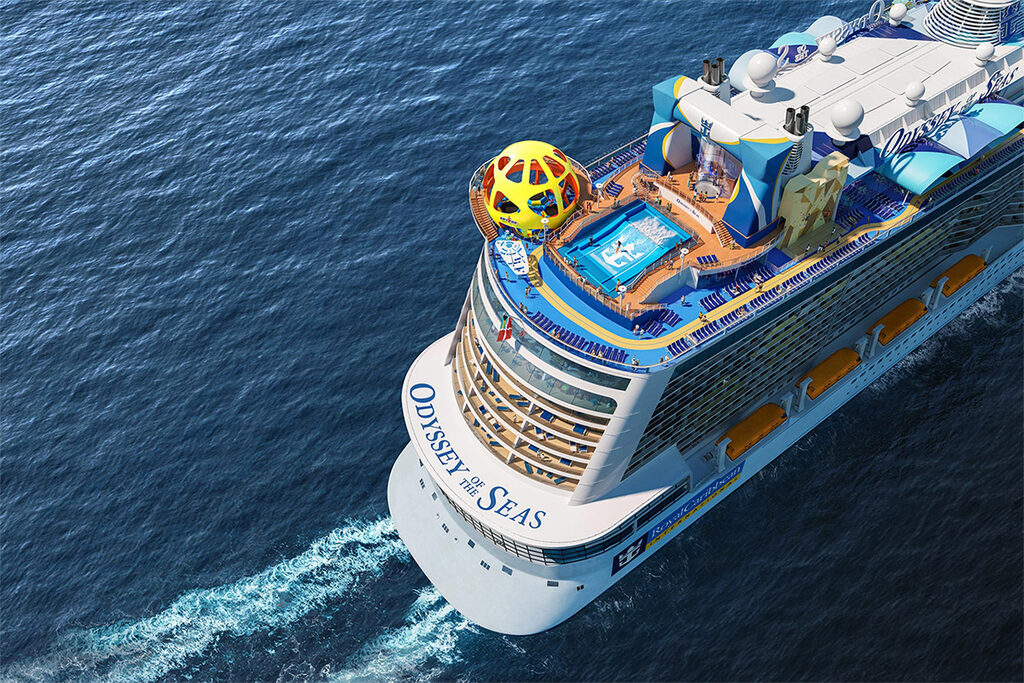 If you ever wanted to learn to surf or boogey board, Odyssey of the Seas has a Flowrider surf simulator on the back of the ship you can try.
The FlowRider is a simulator that sends water a very high speed across a small area that mimics what it is like to surf on the ocean.
Each guest takes a turn until they wipe out, and staff assist in trying to improve everyone's skills.
5. Climb the rock climbing wall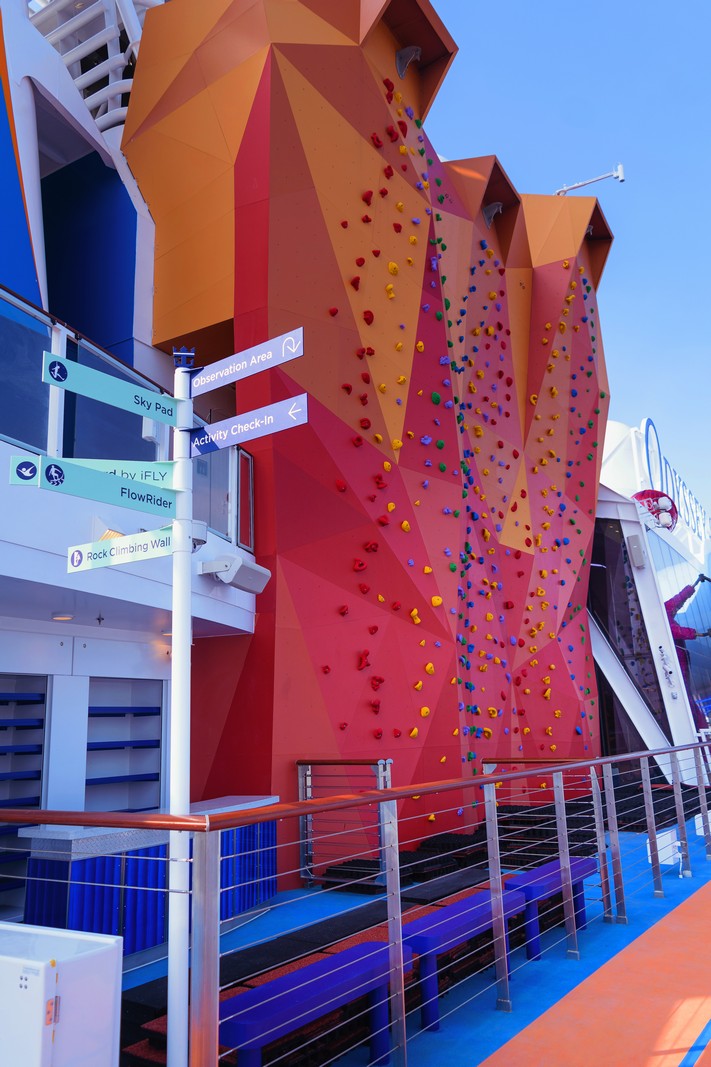 Any Royal Caribbean ship will have a rock climbing wall, where you can try your best to reach the top and ring the bell.
This is a great personal challenge that also has the added benefit of providing some fantastic views of the ocean from. Don't worry about safety, because you are harnessed in at all times.
6. Take a ride on the North Star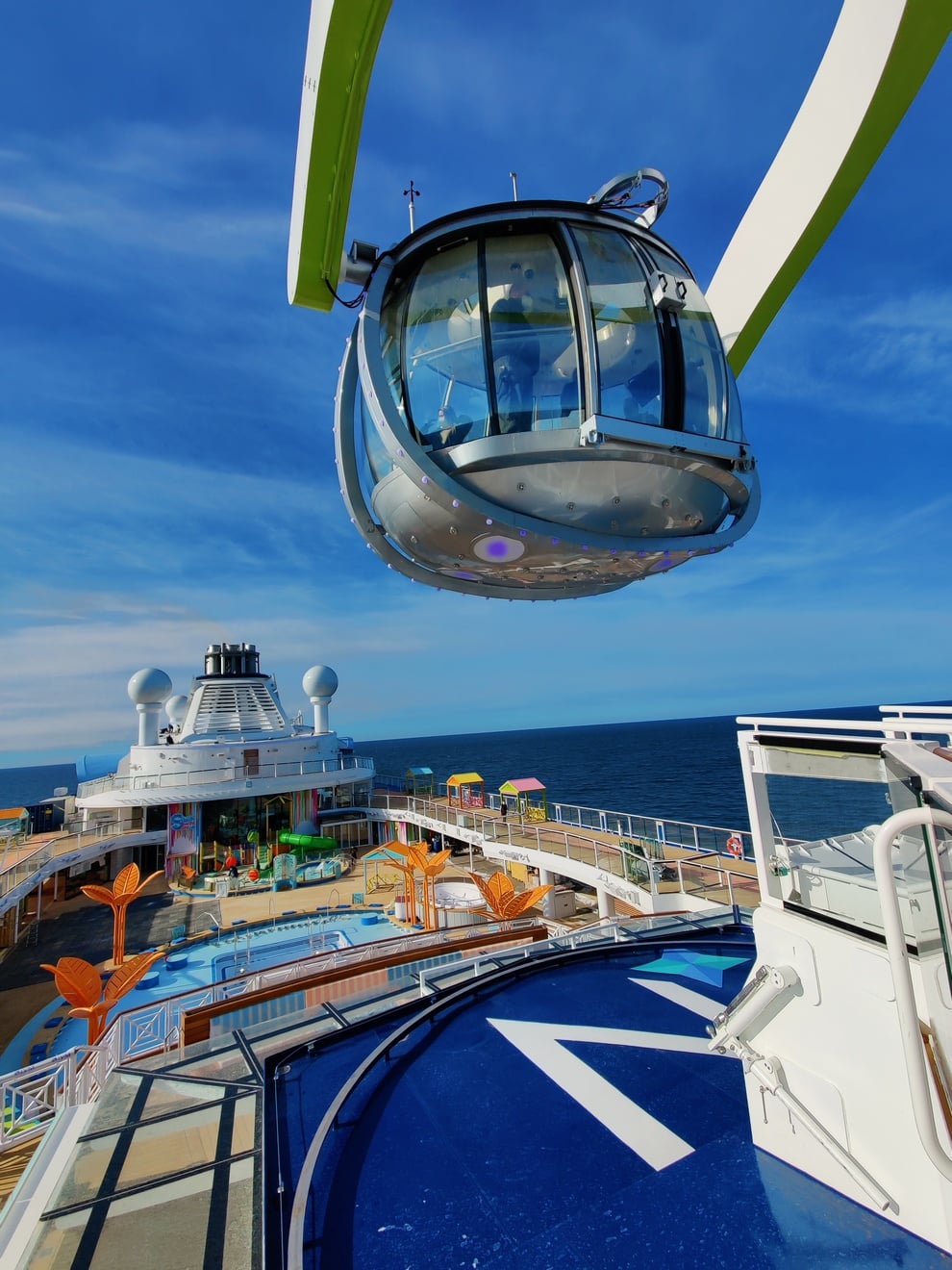 North Star is a signature Quantum Class ship feature, where you can board an observational pod and go up more than 300 feet above sea level to see everything around you.
North Star moves slowly, and provides incredible views of the ship below and everything else around you for miles.
Rides on North Star cost extra on sea days, but it is still complimentary on port days.
Be sure to reserve a ride as soon as you can via the Royal Caribbean app to ensure you have a spot.
7. See what it feels like to sky dive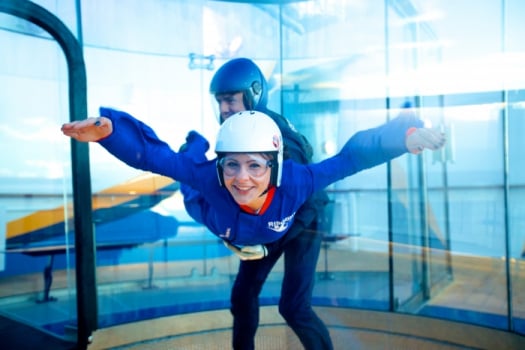 Plenty of people want to try sky diving, but having to jump out of an airplane seems a bit much. Luckily for them, Ripcord by iFly solves that problem.
After a safety briefing and putting on a flight suit, guests take turns going in the air tube where high powered fans provide the sensation of what it is like to sky dive.
Trained instructors are with you the whole time in a totally controlled environment.
RipCord is going to be one of those experiences that you tell your friends and family about when you get home because it's not too often you get to experience something like this.
8. Bumper cars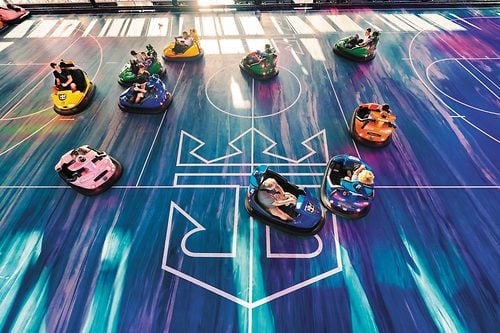 There is a lot to do in the versatile SeaPlex, but the signature event held here is bumper cars.
This multi-deck facility offers basketball courts, ping pong tables, dance floor, circus school, dodge ball arena and even bumper cars to ride.
Strap into your car and then see how fast you can go while evading others, or be that guy and try to slam into as many others as you can.
Sometimes the bumper car sessions are themed, like "90's Bumper Cars" or teens-only sessions.
9. Soft-serve!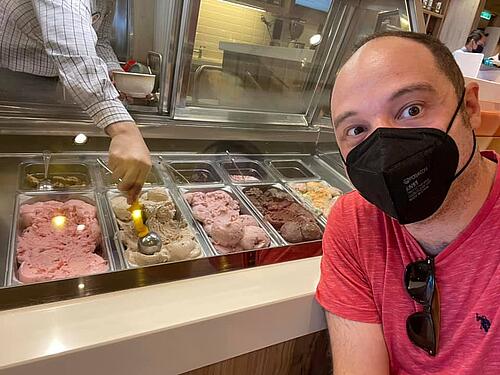 No matter how old you are, or what you're doing, a quick pit stop for free ice cream is a great idea.
You will find a soft serve frozen yogurt station on the pool deck where you can have as many ice cream cones as you like.
Complimentary ice cream can also be found in the Windjammer (among other places), which has a wider selection of flavors.
10. The Book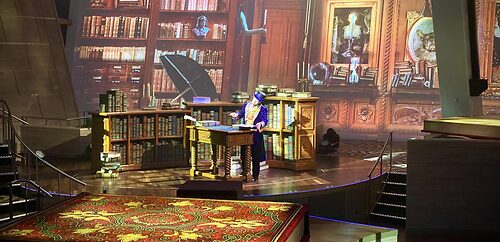 "The Book: Seven Chapters, One Adventure" is an original Royal Caribbean production that loosely tells a story of a librarian who explores the chapters of a book through song, dance, and music.
The Book is about a librarian who's in his mysterious library and he takes a few chapters from his favorite books, and then puts them into one bespoke book to take the audience on a journey.
The show features robots, performers dropping out of the ceiling, contortionists popping out of baskets, and the stage itself transforming throughout the performance.
11. Watch a game at Playmakers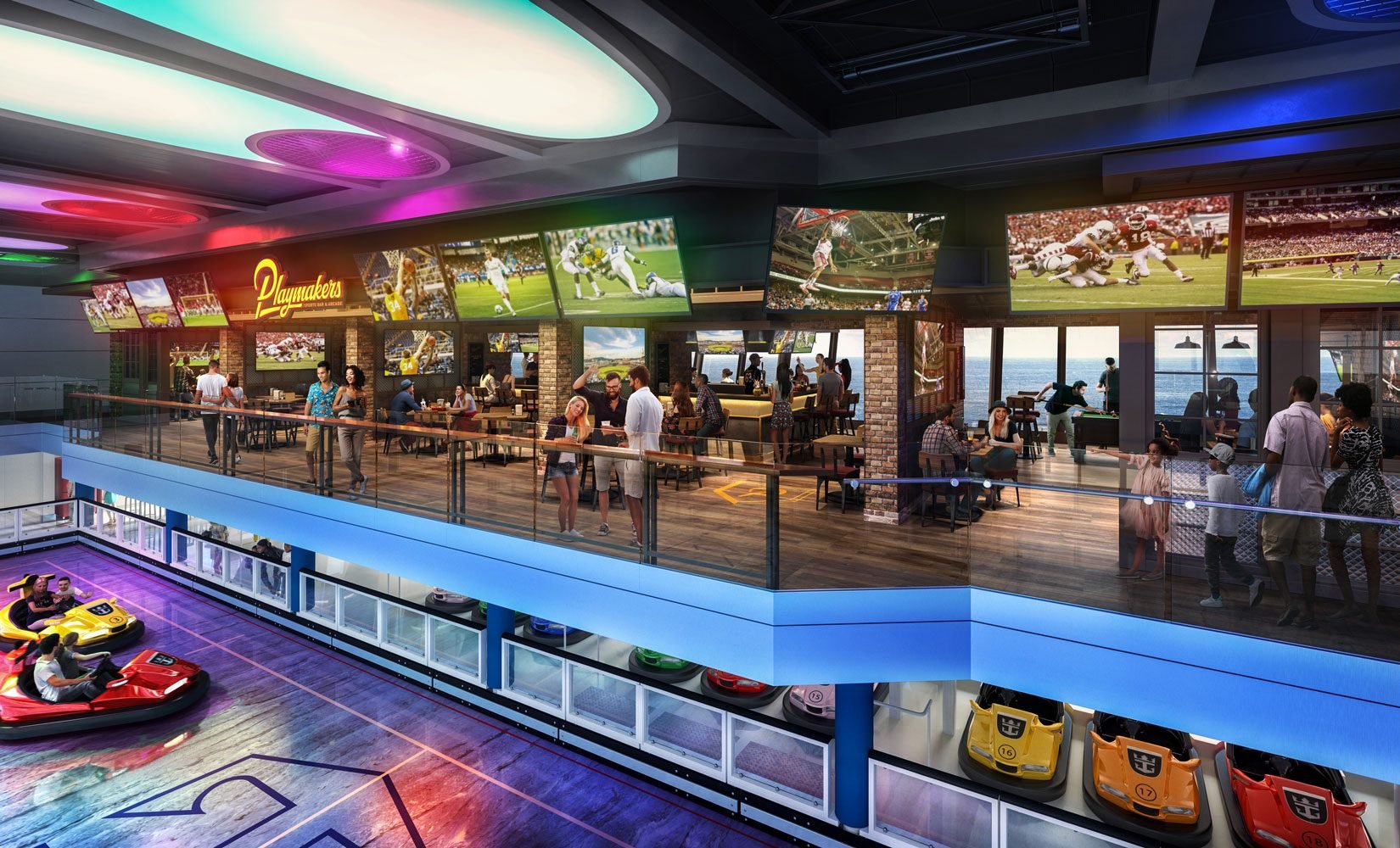 The food and drinks at Playmakers Sports Bar are not free, but there is nothing stopping you from enjoying this space and all the games being shown without paying a dollar.
Across the dozens of televisions, you will find any game the ship receives, and when there is a big game being broadcast, this is the place to go. Sports fans will love the ambiance of Playmakers, and there is nothing quite like rooting your favorite team along with a crowd of other sport fanatics.
12. Poolside movie
Did you know you can watch recent blockbuster films on Odyssey of the Seas?
A giant screen at the pool deck plays recent flicks for no additional cost, which means you can watch it from a nearby chair, the pool, or the hot tub.
13. Showgirl: Past. Present. Future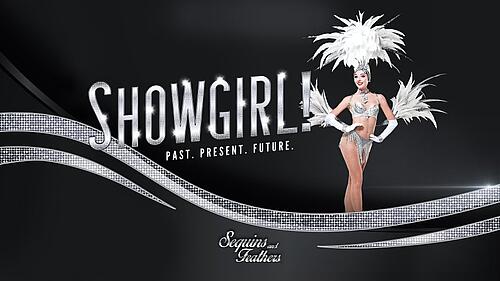 Another must-see show on Odyssey is "Showgirl: Past. Present. Future", which pays homage to the dance style Las Vegas showgirls have made famous for decades.
A showgirl is a female dancer or performer in a stage entertainment show, and Las Vegas is famous for utilizing show girls in their acts, going back as early as the 1940s. Traditionally, Las Vegas Showgirls are classically trained dancers with skills in Ballet and Jazz dance.
Performed in the Royal Theater, Showgirl packs in a lot of energy and plenty of songs you likely know the words to.
14. Effectors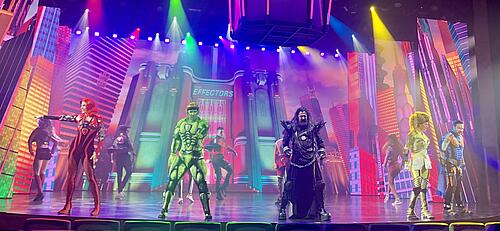 Speaking of shows to see, add The Effectors to the list.
Royal Caribbean added this new show at the end of October 2021, and it incorporates the superhero genre into Royal Caribbean's entertainment lineup.
Some superheroes are known for powers like ultra-fast speed, laser vision and titan-strength — but The Effectors draw their powers from their ability to create. Now, this band of heroes will have to face off against the ruthless Crash™, their arch-nemesis who's bent on stopping the show and destroying the world. 
15. Silent party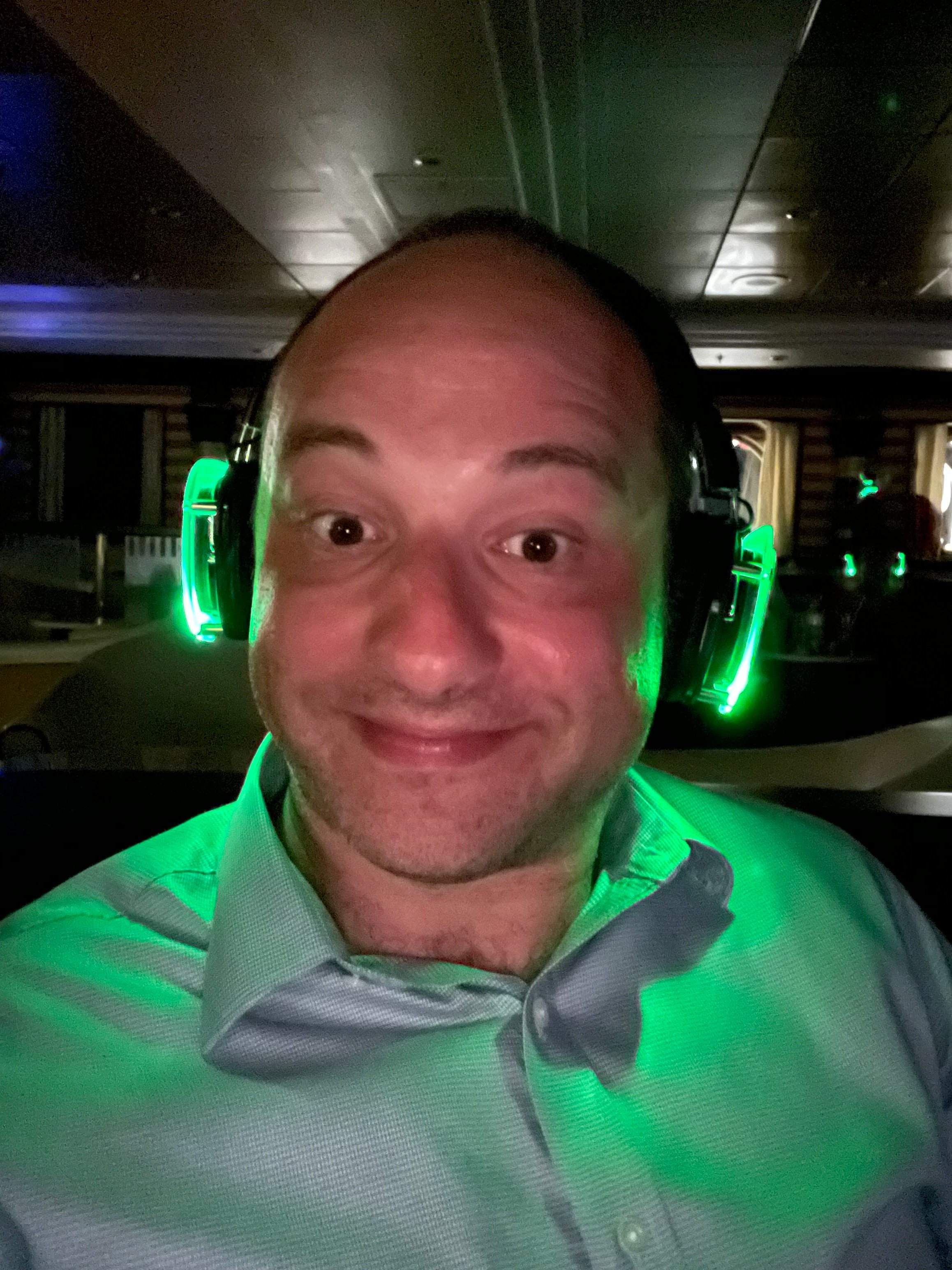 Every evening features different music and parties, but one of the most fun has to be the HUSH Silent Party.
Held in the Music Hall, guests are given headphones to wear, which can be tuned to one of two music stations. Put on the headphones, choose your music, and then rock out.
Depending on which station you select, the color of your headphones change so you know who's listening to which track. Since everyone is wearing headphones, in reality everyone is dancing in a room without any music playing unless you have the headsets.
16. Watch a gameshow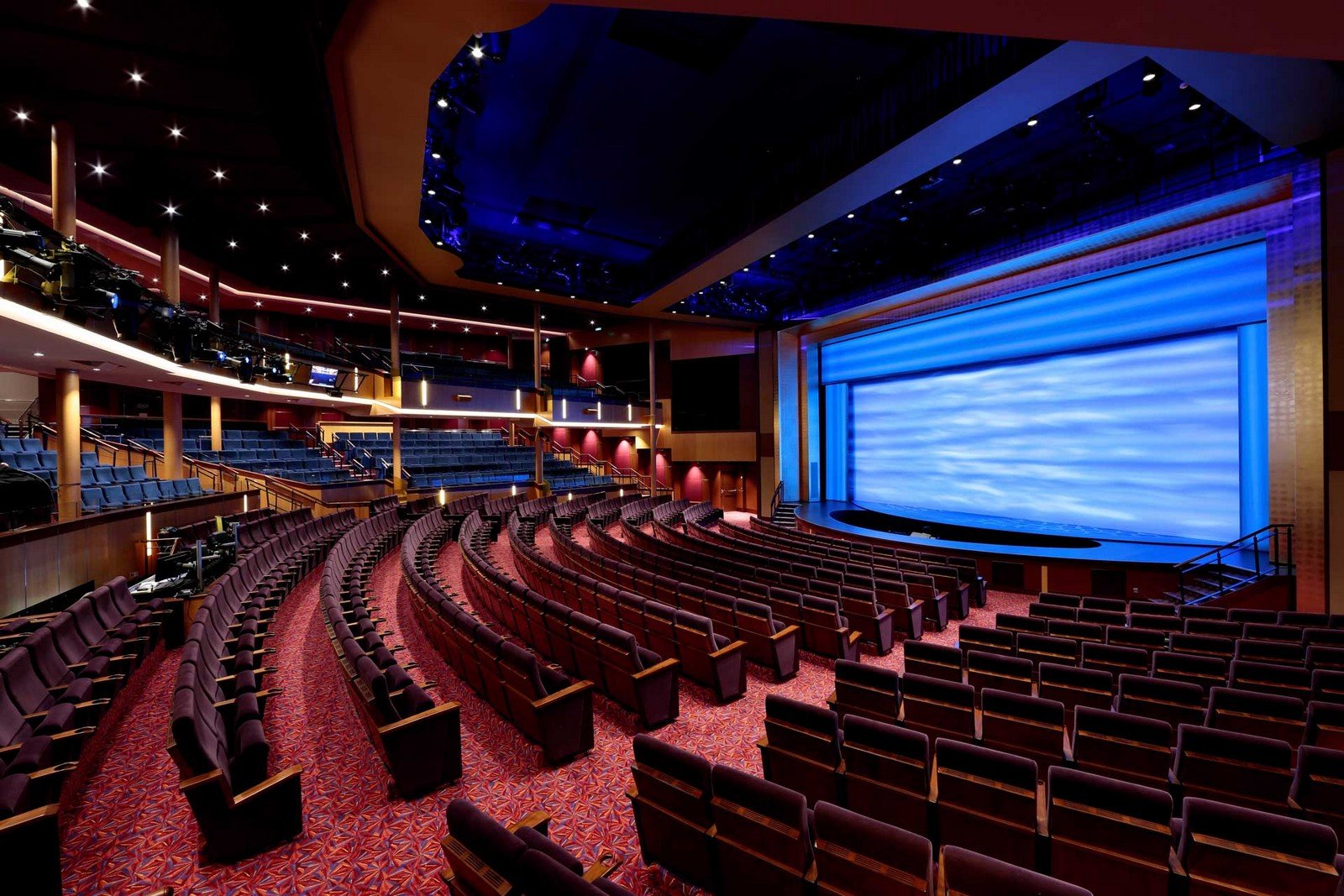 Onboard Odyssey of the Seas you will find different gameshows you can play or be a part of, and see how far your fellow guests will go to win.
Shows such as Majority Rules, Blankety Blank, Family Feud and more are offered during your sailing.
These shows have no additional cost, and it's up to you if you want to participate or just watch the fun from the audience.
17. Karaoke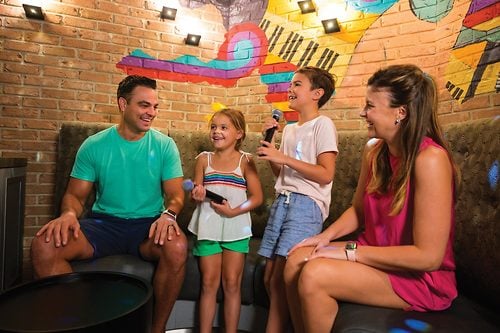 There is nothing quite like karaoke because you get all sorts of guests who step up to the mic to belt out their favorite songs.
There is usually karaoke on every night of the cruise held in the Music Hall and there is no cost to watch or sing.
18. Complimentary gaming lessons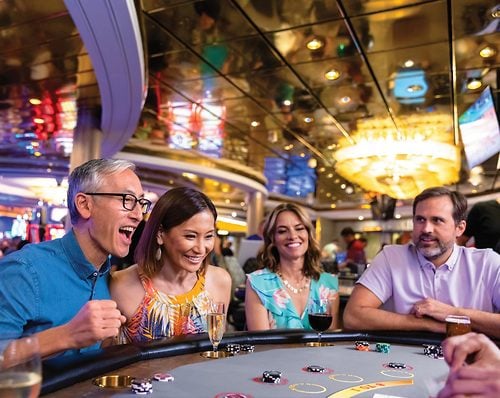 The casino is about as far from free as you can get on a cruise ship, but the staff do offer complimentary lessons if you want to learn how particular games are played.
These sessions are about educating guests on how table games work, including crap, blackjack, and more. 
If you have ever wondered how the games are played, but are not ready to put money down to try yet, then these complimentary gaming lessons in the casino might be a good (and free) start.
19. RED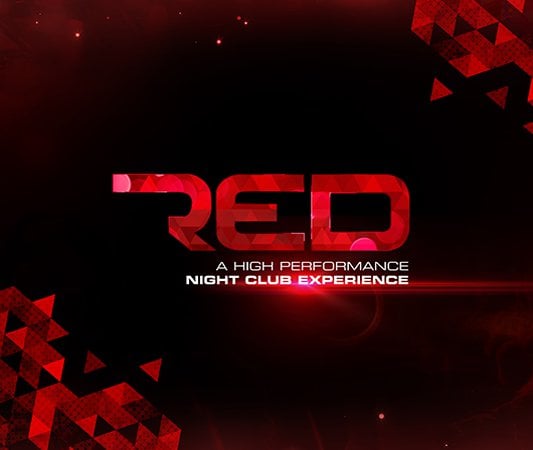 If you are looking for the best nightclub party on Odyssey of the Seas, check out RED - A Nightclub Experience.
Held in Two70, RED is planned to be the party onboard with all the hits, dimmed lights, and yes, lots of red lights all around.
20. Test your knowledge in trivia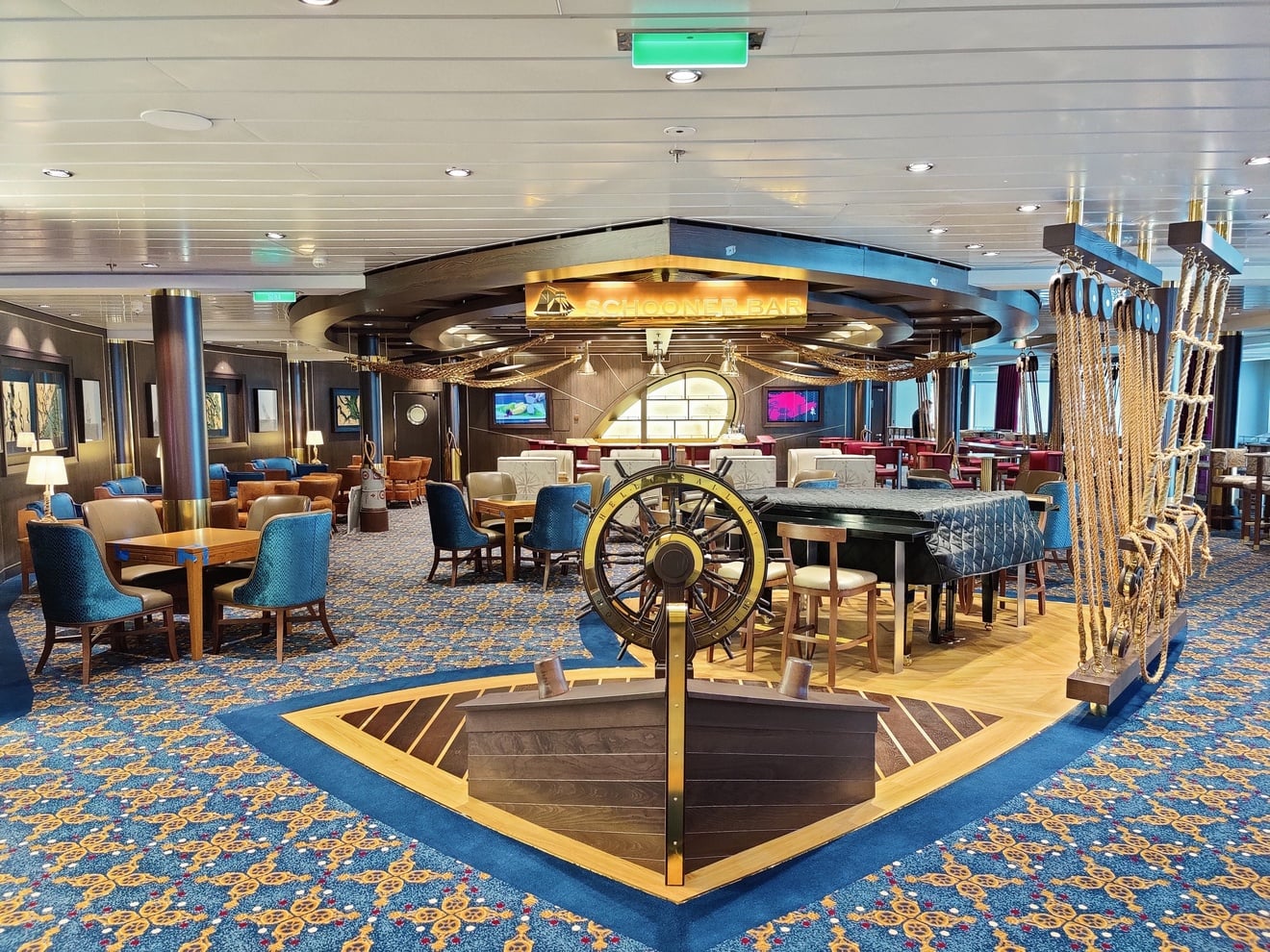 Perhaps one of the most well-known cruise ship activities, there are multiple trivia contests held every day of your cruise.
Trivia is primarily held in the Schooner Bar, and there is usually a theme to each session. Music, geography, Broadway, and even pro wrestling, you will find all sorts of topics to tackle.
Teams of guests compete to get the most correct answers, with the winning team walking away with a novelty gift, such as a highlighter or pen.
Read more: Top 10 Odyssey of the Seas frequently asked questions
What is your favorite thing to do on Odyssey of the Seas? Have you sailed and tried one of these? Share with us your top picks in the comments below!