In:
Odyssey of the Seas will be Royal Caribbean second Quantum Ultra Class ship when she debuts in November 2020, and she already promises to offer a number of firsts for guests to enjoy.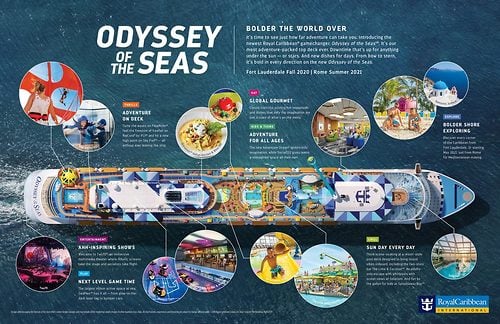 The days of subsequent cruise ships in a class being carbon copies of the ships that came before them are gone, and when Royal Caribbean builds a new ship, it starts with a blank canvas to bring new ideas, enhance existing venues, and spice up everything else along the way.
While we do not know quite everything yet about Odyssey of the Seas, here are five ways Odyssey will be different from any other Quantum (Ultra) class ship that came before her!
First Quantum Class ship with Giovanni's Italian Kitchen & Wine Bar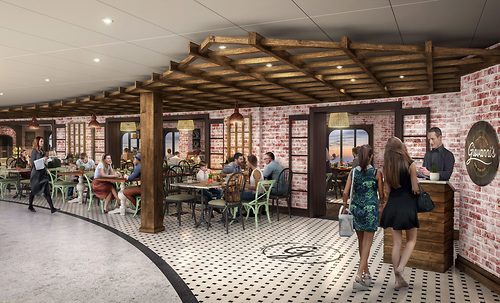 Odyssey of the Seas will be the first Quantum Class ship to offer guests Giovanni's Italian Kitchen & Wine Bar. 
Not only is this the first Quantum Class ship not to offer Jamie's Italian, it also will be one of the first ships in the fleet to offer Royal Caribbean's refreshed look at Giovanni's Table.
Royal Caribbean promises pizza, cured meats and specialty cheeses, as well as an impressive selection of wines and limoncellos. 
Playmakers in the SeaPlex
The addition of Playmakers Sports Bar & Arcade to Odyssey of the Seas is a first for the Quantum Class, but Royal Caribbean went above and beyond by moving it to the SeaPlex.
Located on the second floor of the SeaPlex, Playmakers will serve up the beers, wings, sliders and burgers it is known for, while giving guests a choice of watching the action below them in the SeaPlex, or catching a game on one of the many televisions throughout the bar.
On other ships, Playmakers has been located either on the Royal Promenade or Boardwalk. With views of the ocean on one side, and the SeaPlex fun on the other, I think this Playmakers location may be the best one yet.
Revamped Adventure Ocean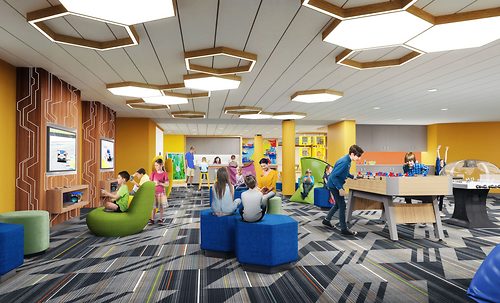 Odyssey of the Seas will usher in the cruise line's new take on supervised fun for kids with the new Adventure Ocean club.
Adventure Ocean has been completely revamped, and was first offered on Navigator, Oasis and Freedom of the Seas.  
Children and their families can choose their own immersive adventures and discover whimsical rooms with climbable creations at Play Place; hands-on art, science and tech fun at Workshop; friendly competition in physical, interactive games at Arena; and make new friends over gaming consoles or while just sitting back in Hangout.
Younger children (ages 3-5 years old) have their own space and will benefit from experiential activities at the multipurpose AO Junior area.
Just like other Quantum Class ships, babies and toddlers will have access to AO Babies.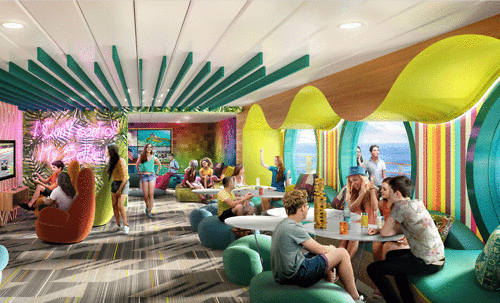 Royal Caribbean has also redesigned its teen club concept with Social180. Located just outside the SeaPlex, the new teens-only area features gaming consoles, music and movies in their own lounge or out on the private patio.
Two-level pool deck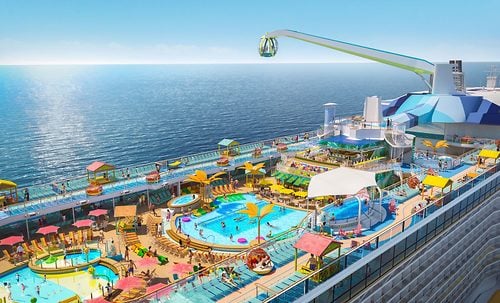 I think families are going to love the new approach to the pool deck with the two resort-style pools and four whirlpools.
Odyssey of the Seas will feature two open-air, resort style pools that are surrounded by casitas and hammocks. This new pool deck concept has been a hit on other recently Amplified cruise ships, and it promises much more pool deck space than on other Quantum Class vessels.
In addition, you can expect Splashaway Bay aqua park for kids to enjoy waterslides, fountains, water cannons and more. Adults can escape to the Solarium that has swimming pools and whirlpools, a full-service bar, daybeds and hidden nooks for prime napping.
The Lime and Coconut will make its Quantum Class debut next to the pool with two stories of drinks and island vibes. If you get hungry, the first El Loco Fresh on a Quantum Class ship is available.
More to come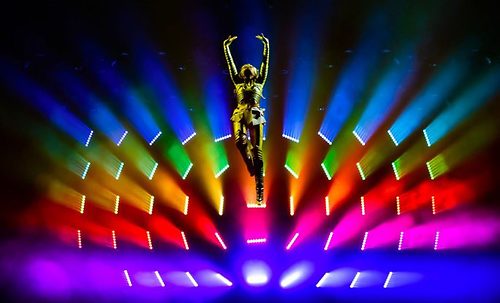 There are still more surprises to come with Odyssey of the Seas, including entertainment.
Nick Weir is the Senior Vice President of Entertainment for Royal Caribbean International, and he has hinted at some big shows and fun coming to Odyssey of the Seas.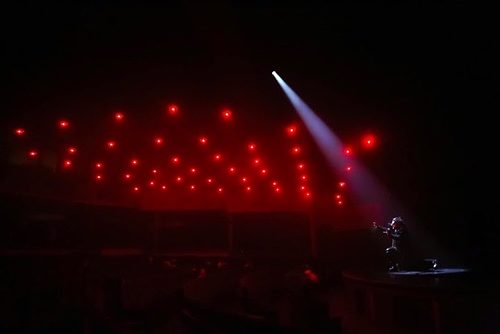 Mr. Weir has said Odyssey will feature the biggest drone project ever onboard, as well as brand new productions.  Needless to say, these new shows will be brand new to the fleet.
Coming soon in November
In November 2020, the ship's inaugural year will kick off with 8- and 6-night itineraries from Fort Lauderdale, FL. Odyssey will then sail to her homeport of Rome in May 2021 and become the first Quantum Ultra Class ship to cruise Europe for the summer. 
More Odyssey of the Seas info